From wall-mounted racks to custom-built cabinets, explore Chainsaw Storage Ideas that truly redefine workshop organization!
A chainsaw is an indispensable tool for many, but its sharp teeth and hefty build necessitate careful storage solutions. Here are some innovative Chainsaw Storage Ideas to consider.
Check out the Clever Backpack Storage Ideas here
---
Chainsaw Storage Ideas
1. Wall-Mounted Hooks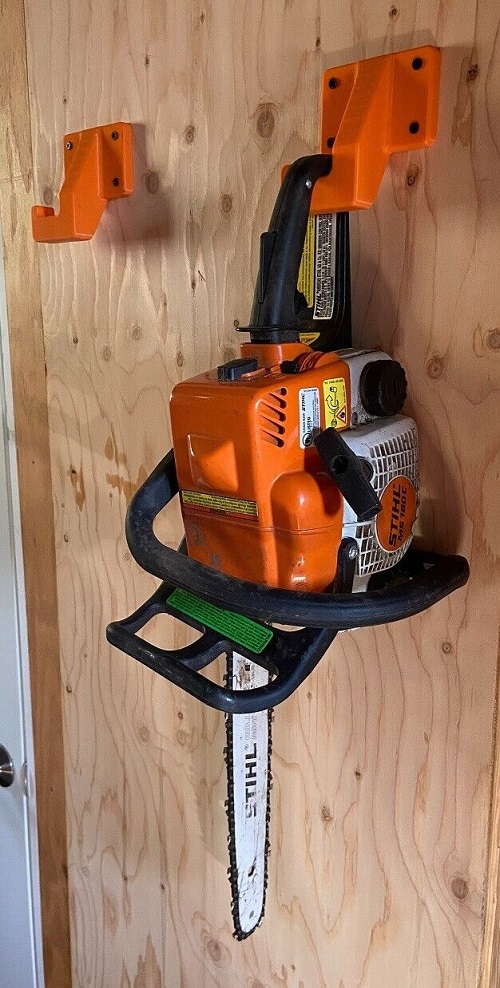 Elevate your storage game by installing robust hooks on your garage or shed wall. By hanging your chainsaw by its handle, you not only keep it off damp grounds but also ensure it's within arm's reach when needed.
2. Pegboard Setup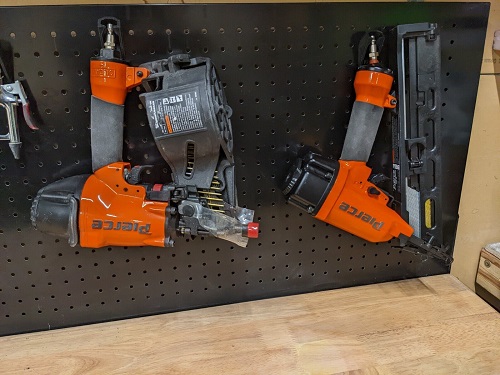 A pegboard with hooks and shelves can help you store the chainsaw, accessories, and other tools all in one place.
3. Large Plastic Storage Bins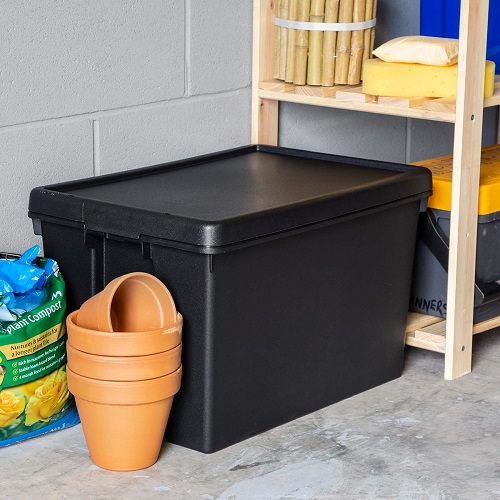 A robust plastic bin with a locking lid is what you need to protect your chainsaw from dust and moisture that can deteriorate its performance over time.
4. DIY Chainsaw Wall Mount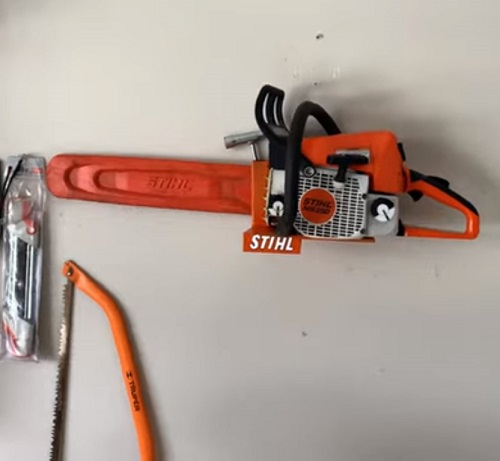 Watch this easy-to-follow video tutorial and learn how to build a sturdy wall mount to hold your chainsaw. You only need a piece of metal, cutting tools, paint, and welding skills for this project.
5. Use Old Suitcase
Breathe new life into an old, hard-sided suitcase by transforming it into a chic chainsaw storage spot. Adding foam or padding ensures an extra layer of protection.
6. Wooden Crate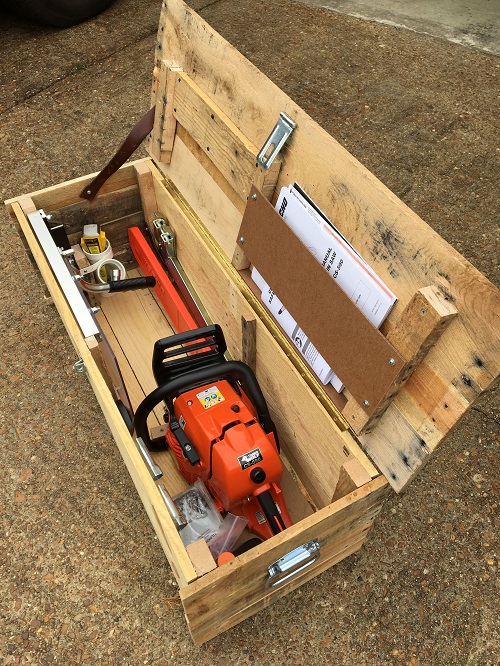 With a few modifications, a simple wooden crate provides aesthetic and functional storage space for your chainsaw and its companions.
7. Large Bucket Chainsaw Storage
A large plastic or metal bucket can become the ultimate chainsaw storage station with the addition of a sealing lid to thwart debris and moisture invasion.
8. Custom Wood Rack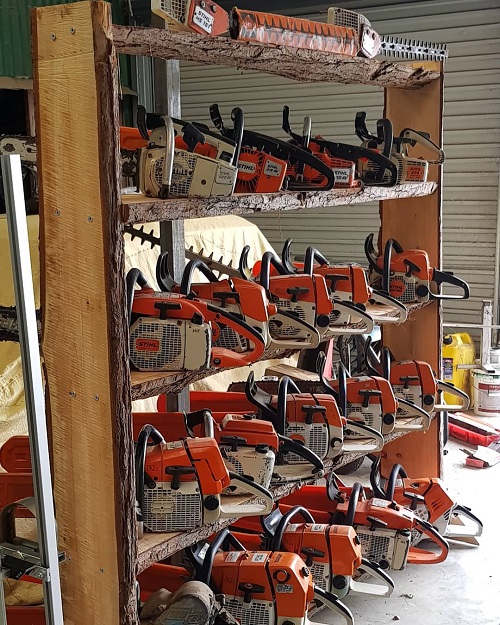 Are you looking for a storage solution for your multiple chainsaws? Create a custom rack from wooden logs and screws. It's also an excellent way to add rustic charm to your monotonous space.
9. Chainsaw Bag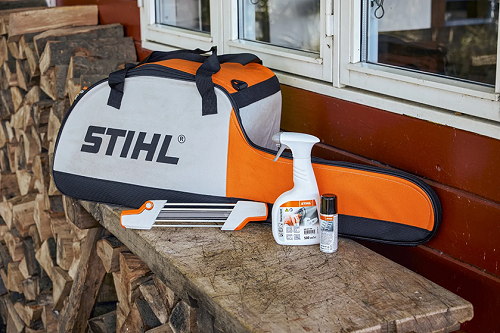 Use a heavy-duty fabric bag, similar to a tool bag, to store and transport the chainsaw. It's a safe way to carry your tool. Additionally, this also shields the tool from dust.
10. Cabinet Storage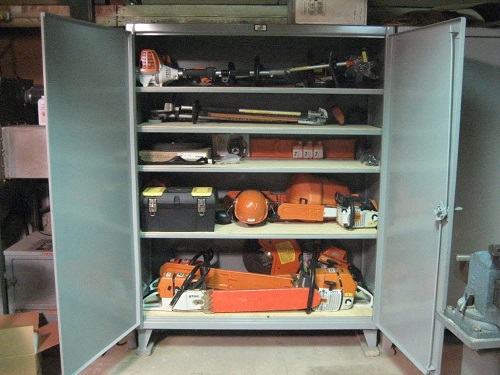 Assign a cabinet in your garage exclusively for chainsaw storage, ensuring it remains concealed from prying eyes and curious little fingers.
11. Plywood Chainsaw Case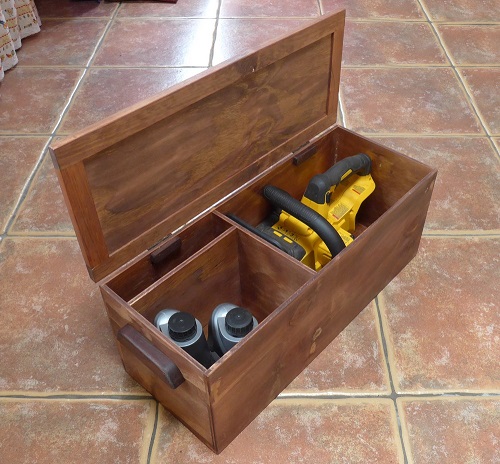 Crafting a custom plywood case adorned with handles and latches. It gives your chainsaw a protective shell and an easy transport solution. You can also use a metal case for more durability.
12. Ceiling Storage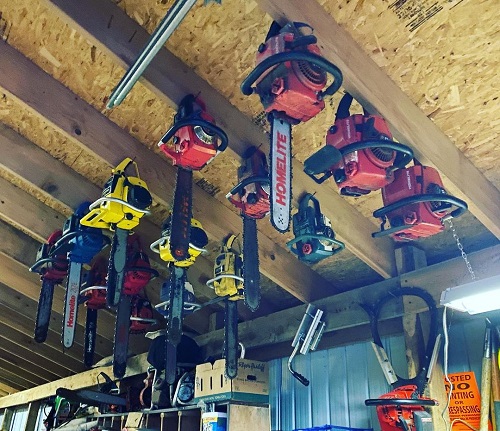 Install hooks on the ceiling of your garage or workshop to hang the chainsaw when not in use. However, make sure to secure the hooks properly to avoid hazards.
13. Wheelbarrow Turned Chainsaw Storage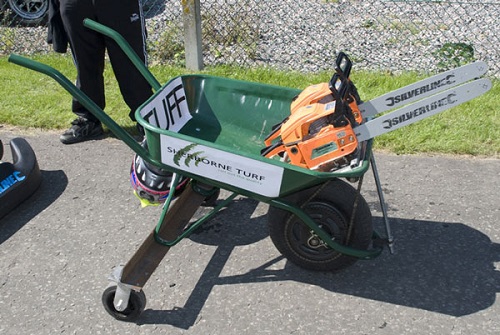 Repurpose a wheelbarrow into a portable chainsaw storage unit. Its mobility ensures the chainsaw can be transported with ease. It's the best way to utilize the wheelbarrow when it's not in use.
17. Garden Shed Hooks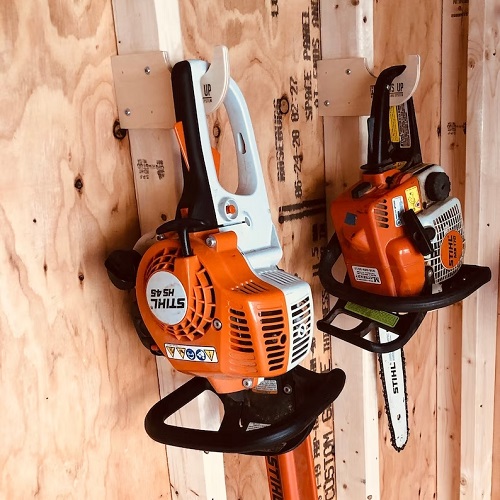 Carefully attach hooks in the garden shed to corral your chainsaws. It ensures your tool stays protected from outdoor elements and is easily accessible. Either install wooden, plastic, or metal hooks for this purpose.
Read the Clever Camping Chair Storage Ideas here