Give 5 minutes to check out these functional DIY Shoe Holder and Organizer Ideas to store to keep your shoes cleverly!
1. Place them under the bed skirt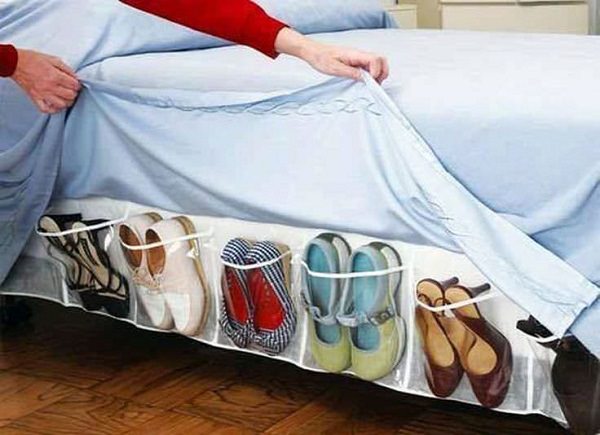 All you have to do is identify a bed skirt that actually goes all the way to the floor. Learn more here!
2. Shoe Rack made out of molding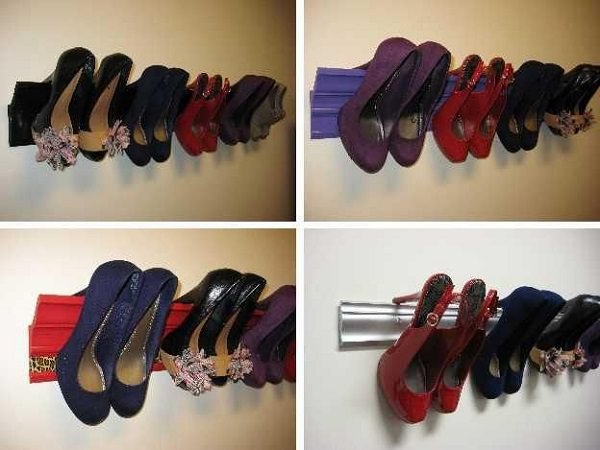 Find some molding and stick it on the walls of your room. Afterward, hang colorful sandals and shoes on it. This is not only functional but looks good as well. Learn more here!
3. Use an old ladder for hanging high heel shoes and sandals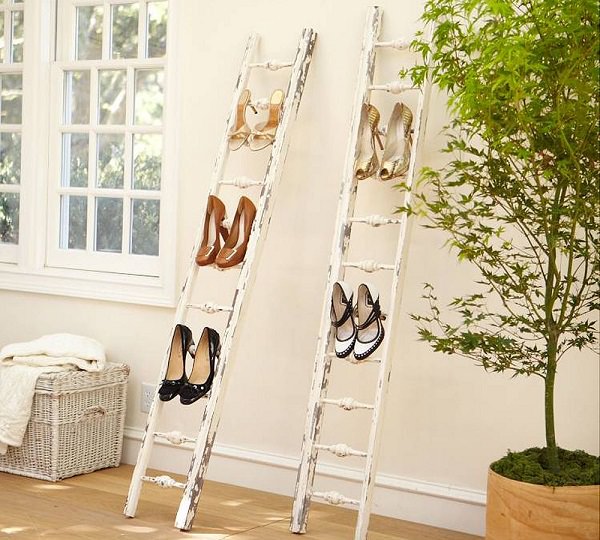 This is a fun and interesting way to make a shoe rack that doesn't take up much space. Station an old ladder somewhere, where it's easily reachable and hang all your high heel shoes and sandals on it. Learn more here!
4. Shoe rack made from PVC pipes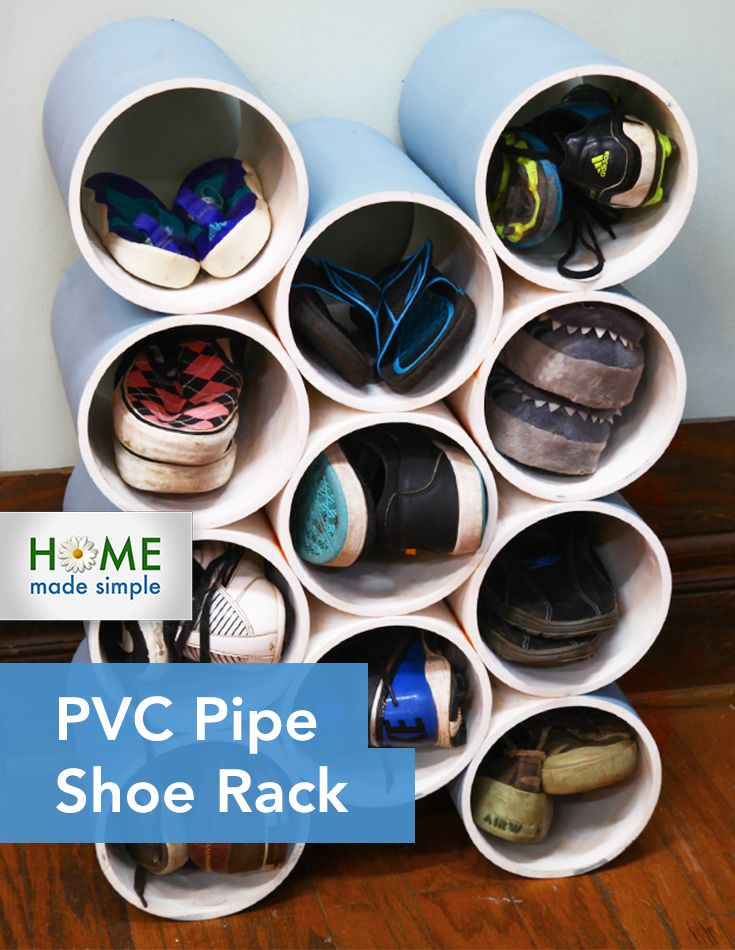 A creative and easy to do DIY shoe organization idea to follow. All you need is a PVC pipe. The step by step how-to article is available here!
5. A pegged coat rack can be a shoe rack too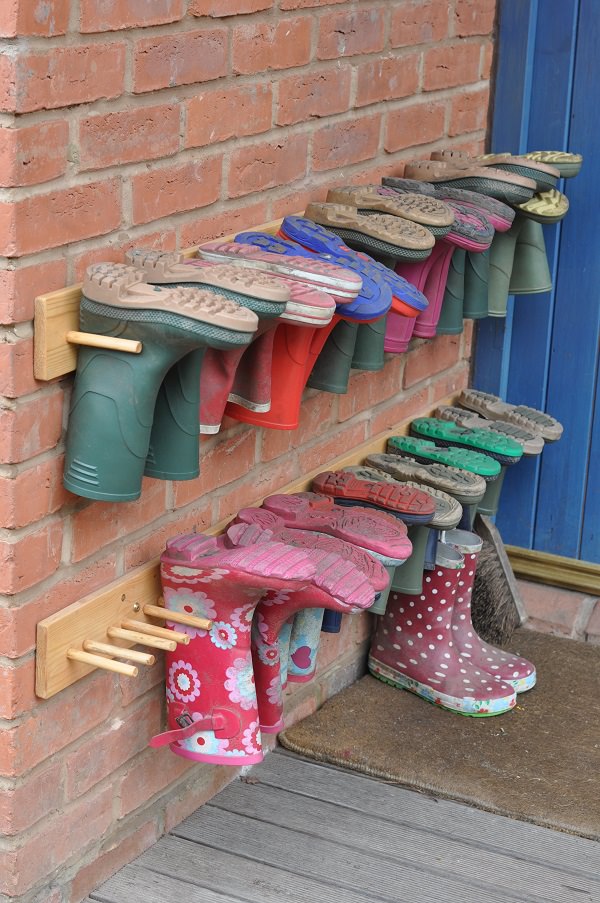 If you have a pegged coat rack in the house, convert it into a shoe rack. The pegs can hold shoes between them very well.
6. Wooden pallet shoe rack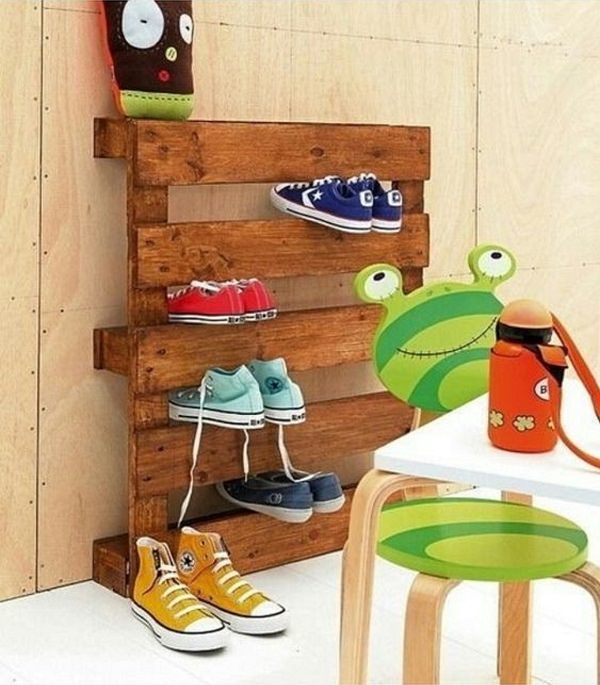 If you've pallets, you can use them to make shoe racks. Various DIY ideas and designs are available on the web. A tutorial video is available here to watch!
7. Use old school lockers to make shoe racks in boys' rooms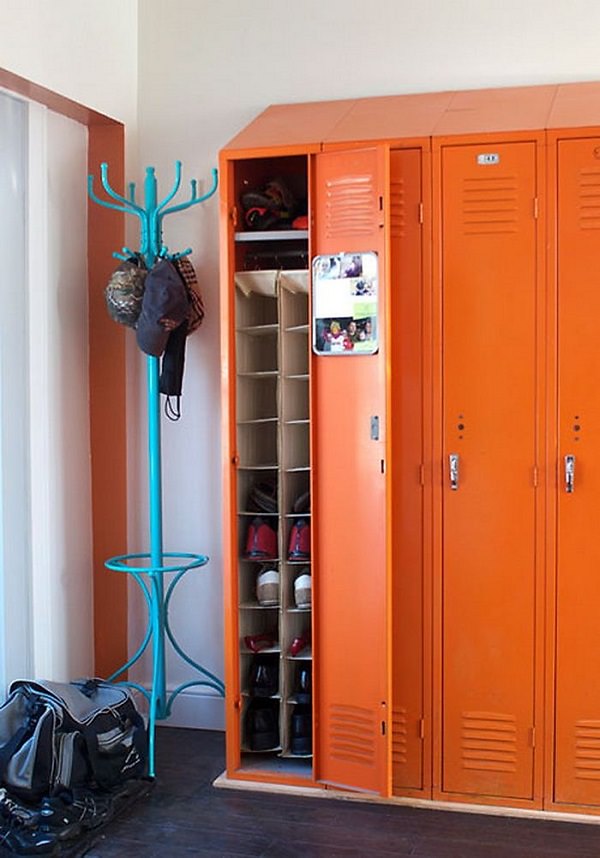 You can make shoe organization a little interesting for the boys by getting some old school lockers and turning them into shoe racks. These are eccentric and still serve their purpose, just like any other regular shoe rack. Learn more here!
8. Use special hangers to keep footwear organized
It's easy to make these hangers, and they save a lot of space when it comes to shoe organization. The step by step DIY is available here!
9. A large picture frame can also be a shoe tray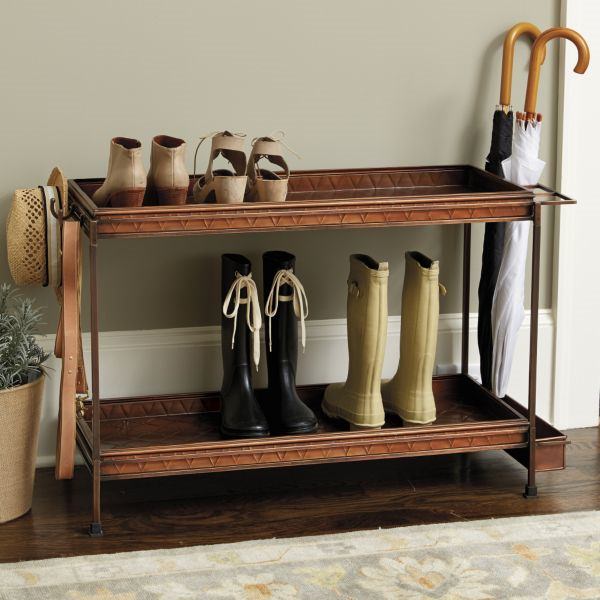 Use a large picture frame to make a slide-out drawer for your shoes. This drawer can be placed under the bed or another area around the bedroom where it does not consume too much space.
10. Use a large basket to keep your shoes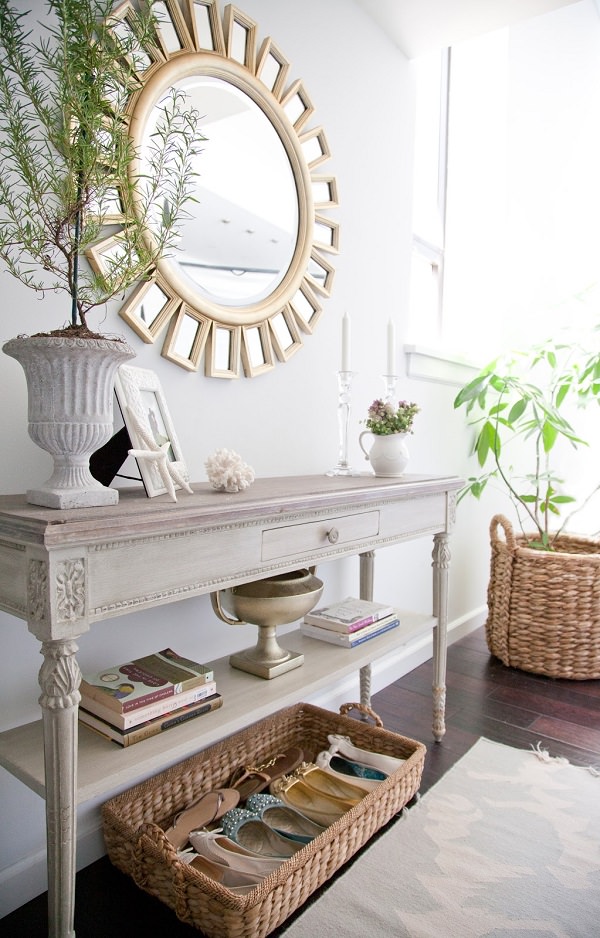 This allows you to showcase your collection and looks cute wherever you choose to place it around the house. A large basket that can hold all your pairs of shoes is a great idea for a simple shoe organizer that doesn't cost much and adds some beauty as well as order.
11. Make yourself a floating shoe rack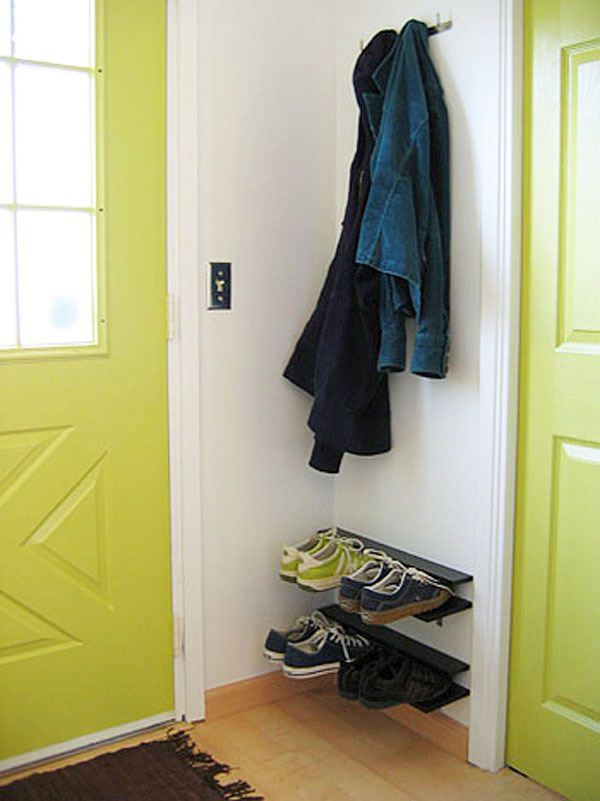 This is a simple and classy DIY that shouldn't take you much to get done. Attach the pieces of wood directly to the wall to give the shoe rack a floating effect.
12. Put tension rods at the bottom of a closet and use them as a DIY shoe holder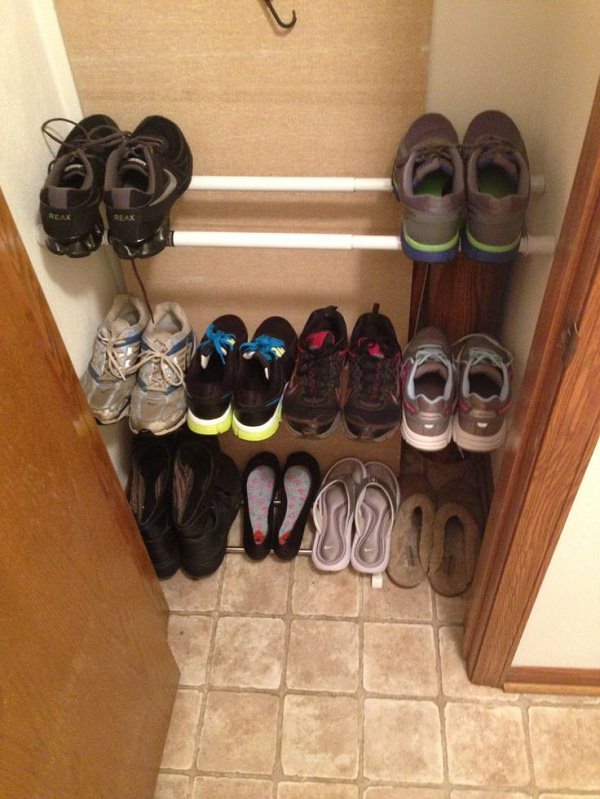 If you have a shoe explosion at the bottom of your wardrobe, you can use this simple method to get some order. Get some tension rods and fasten them below the wardrobe so that you have a level for flats and a stagger for heels.
13. Paint cans shoe rack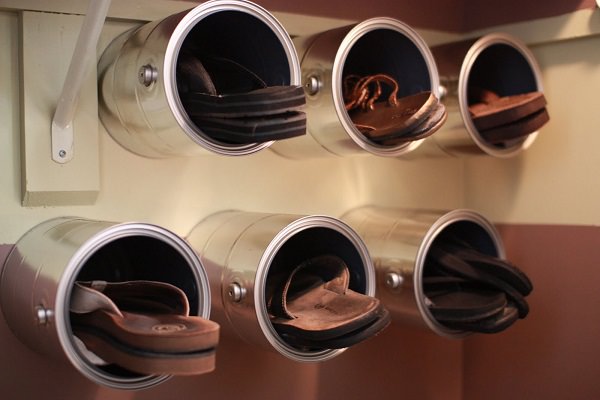 If you are having trouble finding a space for your flip flops, then this should solve your problem quickly. Get some old paint cans and screw them into the wall. You can also use this paint can rack in winters to hold gloves and scarves. Get more here!
14. Use towel rails
If you can find some old towel rails, repurpose them into a shoe rack. The racks can hold your shoes pretty well and solve the problem of having them littered around.
15. Put your shoes in buckets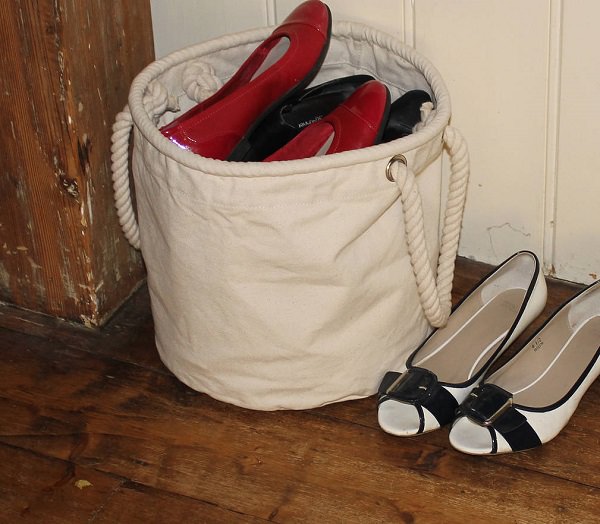 You can have a few colorful buckets to hold your collection of shoes. 3 or 4 large buckets are enough to store your pairs of shoes. You can have them in different colors.
16. Use a slipcovered bench to keep your shoes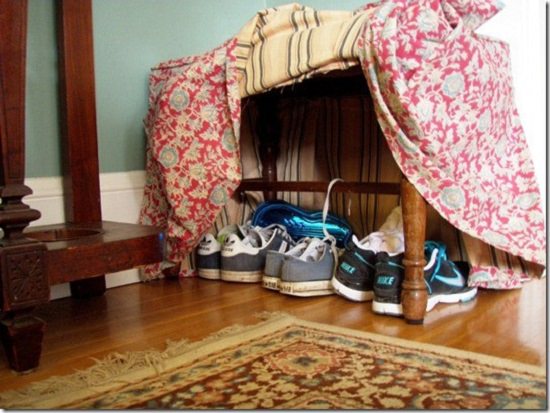 This is a nice way to keep your shoes hidden away in case you have a small space to work with. The shoes remain concealed when you are not wearing them and stay in an easy-to-reach place.
17. Repurposed Wine Crate Shoe Storage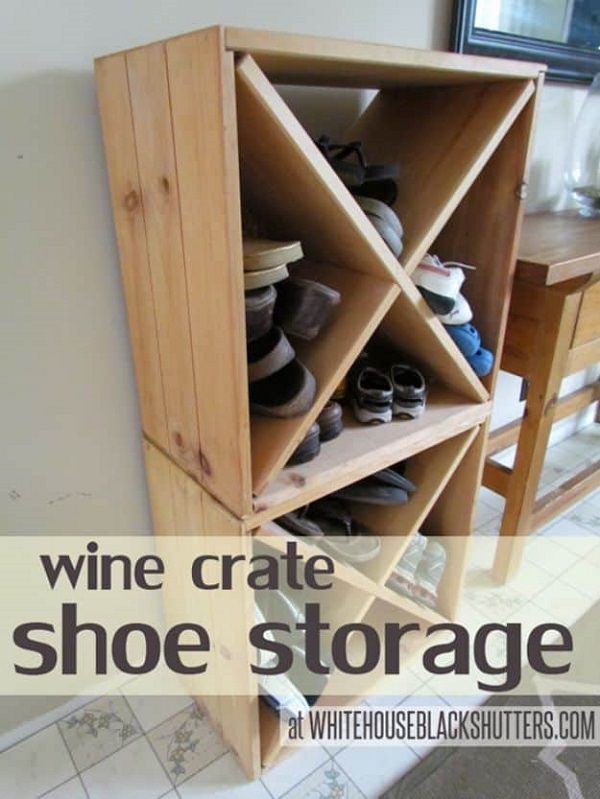 You can use old wine crates to keep your shoes as they provide a compact storage option for small space. These wine crates can be partitioned in whatever way you like. Here's the DIY.
18. Use molding to hang shoes close to the ceiling of the closet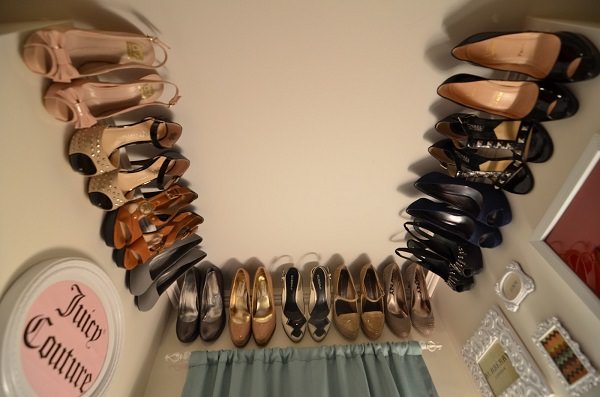 All your non-seasonal shoes can be hung here to be picked whenever you need a pair that goes with your outfit. This type of shoe rack makes things simpler since the shoes are close by for easy comparison when you are looking for shoes to match an outfit.