Spray painting is an apt and easy way to give a fresh makeover to the old items you have. Check out these 41 DIY spray paint ideas to inspire yourself!
1. Renewed Measuring Tape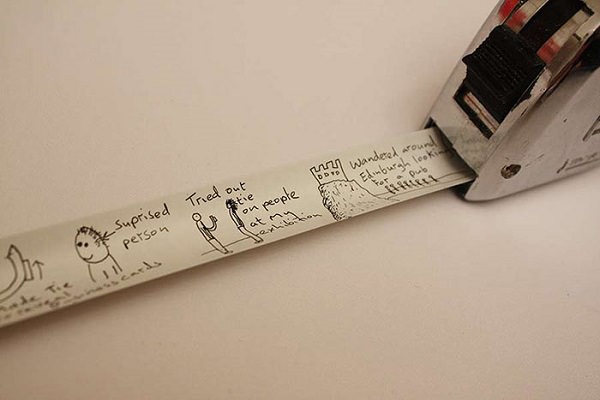 Kids hate anything to do with maths, and measuring tape is one of them. Use spray paint to convert it into a unique and interactive growth chart that your kids will love to refer to and learn from. Check here for the tutorial.
2. Spray Painted Trash Cans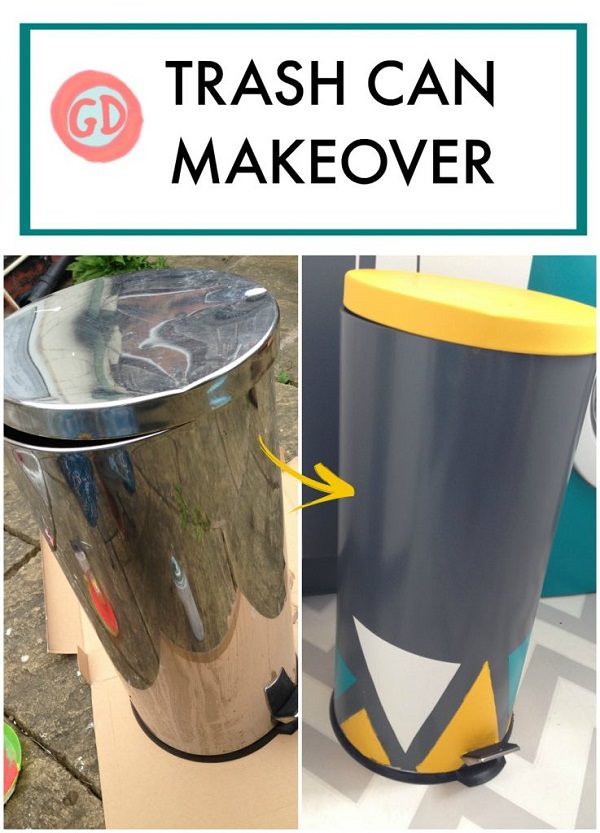 You can even change the appearance of your trash cans with this cool DIY spray paint idea.
3. Golden Branch & Leaves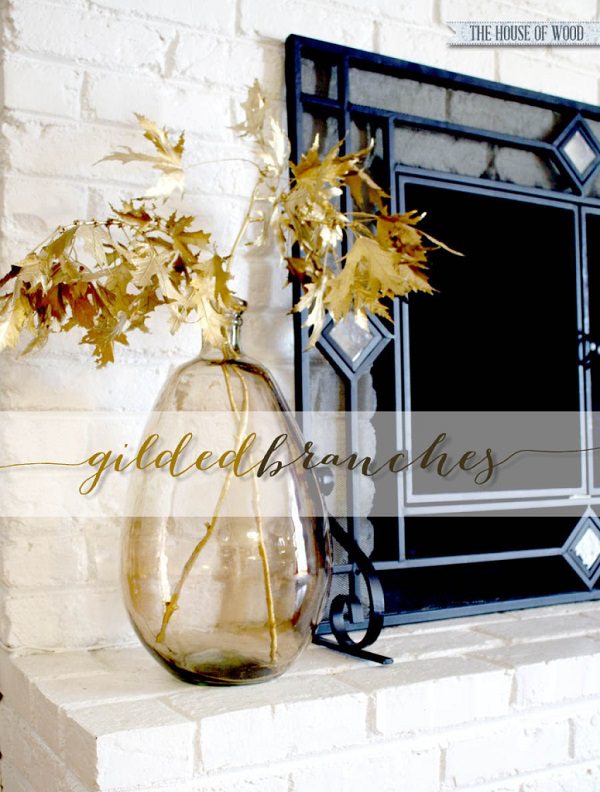 Infuse life into dead branches with golden spray paint. Arrange a few in a glass jar and place it on your patio for a curb appeal. Experiment with different colors to stay in tune with the changing weather. Click here to see the DIY!
4. DIY Mailbox Makeover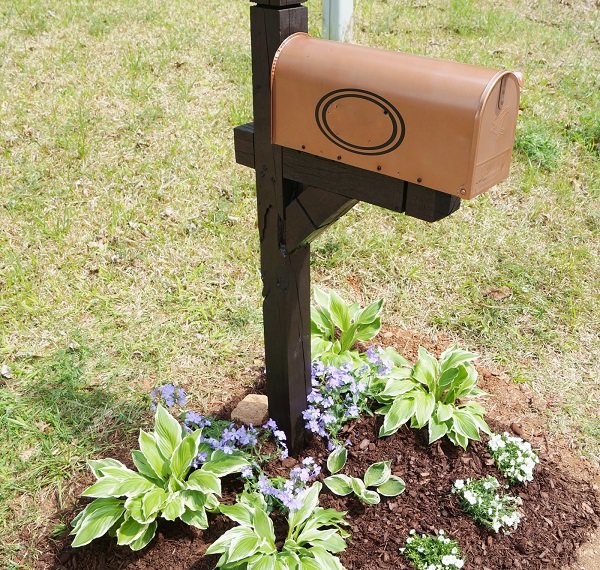 The mailbox is probably the most neglected part of the outdoor renovation. If your mailbox is ravaged by rust, mildew and peeling paint, consider updating it with some spray paint. See the step by step Mailbox Makeover Idea!
5. DIY Staircase Makeover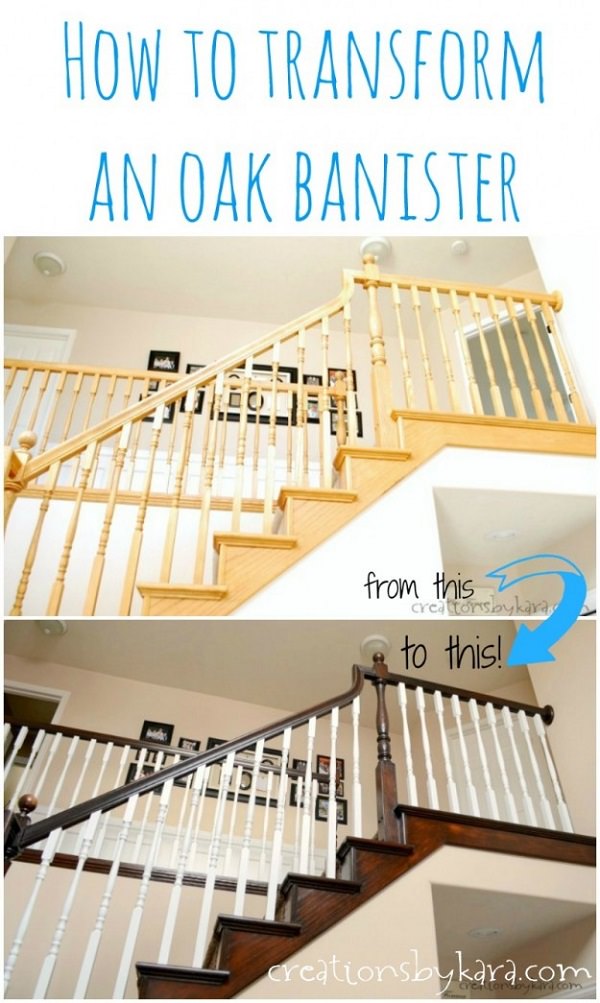 Transform an old and chipped oak banister into a classic white staircase that is sure to liven up the interiors and alter the look of the entire house in the process. The DIY tutorial is available here.
6. Spray Painted Wine Bottle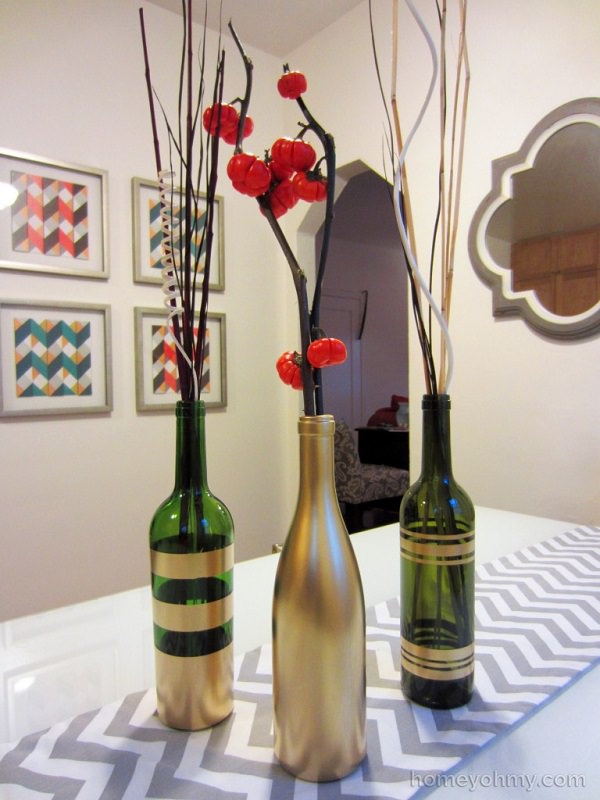 Table decorations don't have to be pricey. Repurpose your old wine bottles as gorgeous containers for holding a bunch of seasonal foliage or something like that and creating an attractive centerpiece. See the DIY here!
7. Upcycled PVC Pipe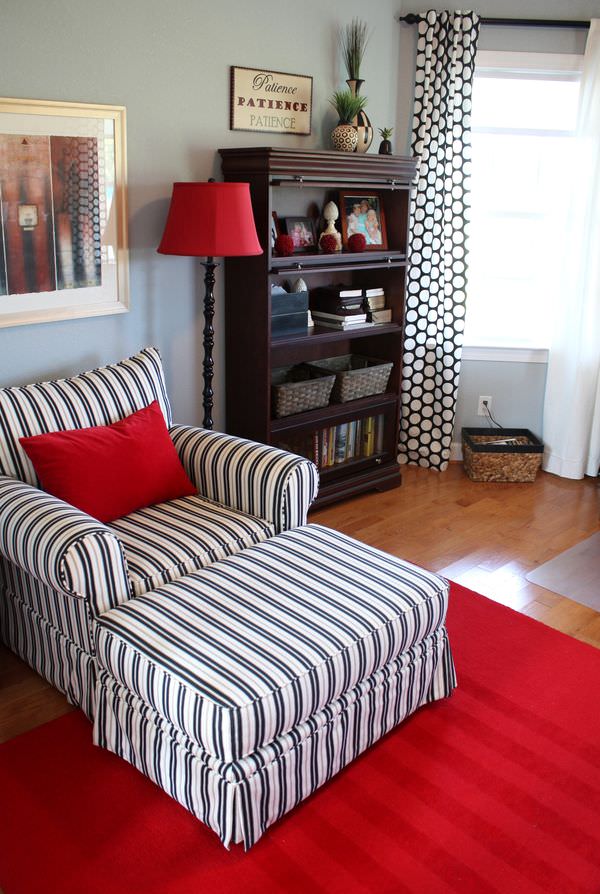 Believe it or not, these black curtain rods are actually PVC pipes. All thanks to spray paint for this dramatic makeover. See more of it.
8. Spray Painted Brass Fireplace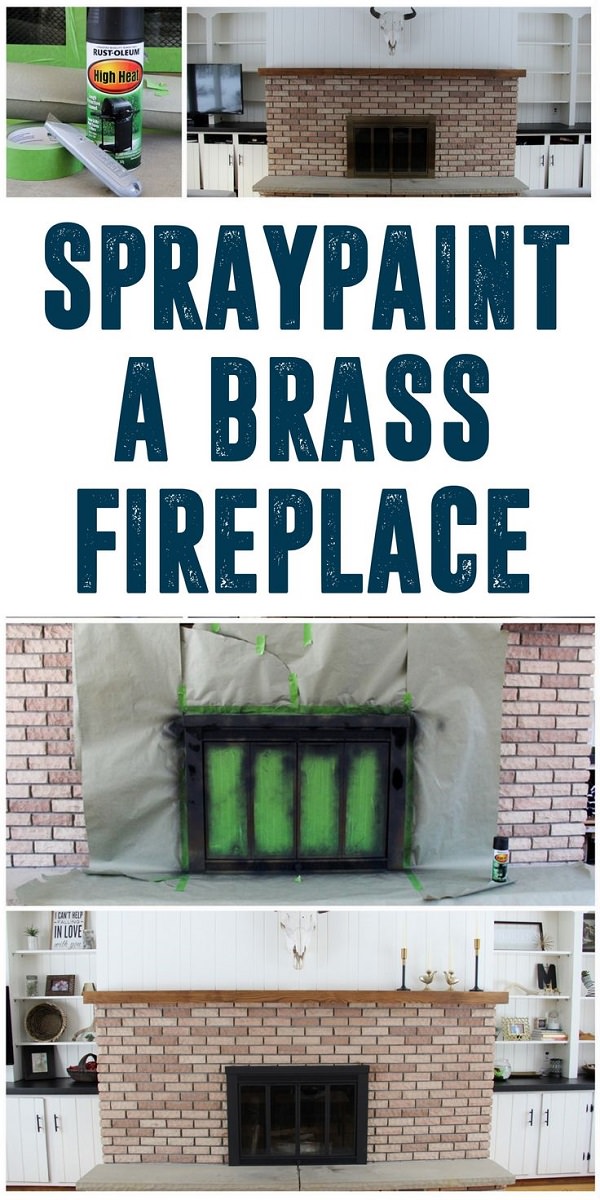 Refurbish your old and dull fireplace doors with this quick spray paint DIY and add color and attractiveness without investing in new ones. We found this DIY here!
9. Spray Paint Little Tikes Car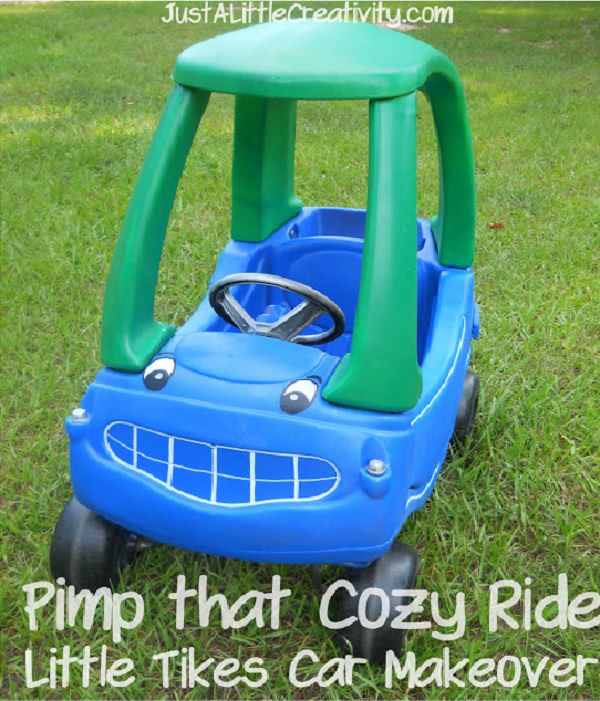 If you want to reuse a toddler's car, use spray paint to make it new. Learn more here!
10. Vintage Fan Restoration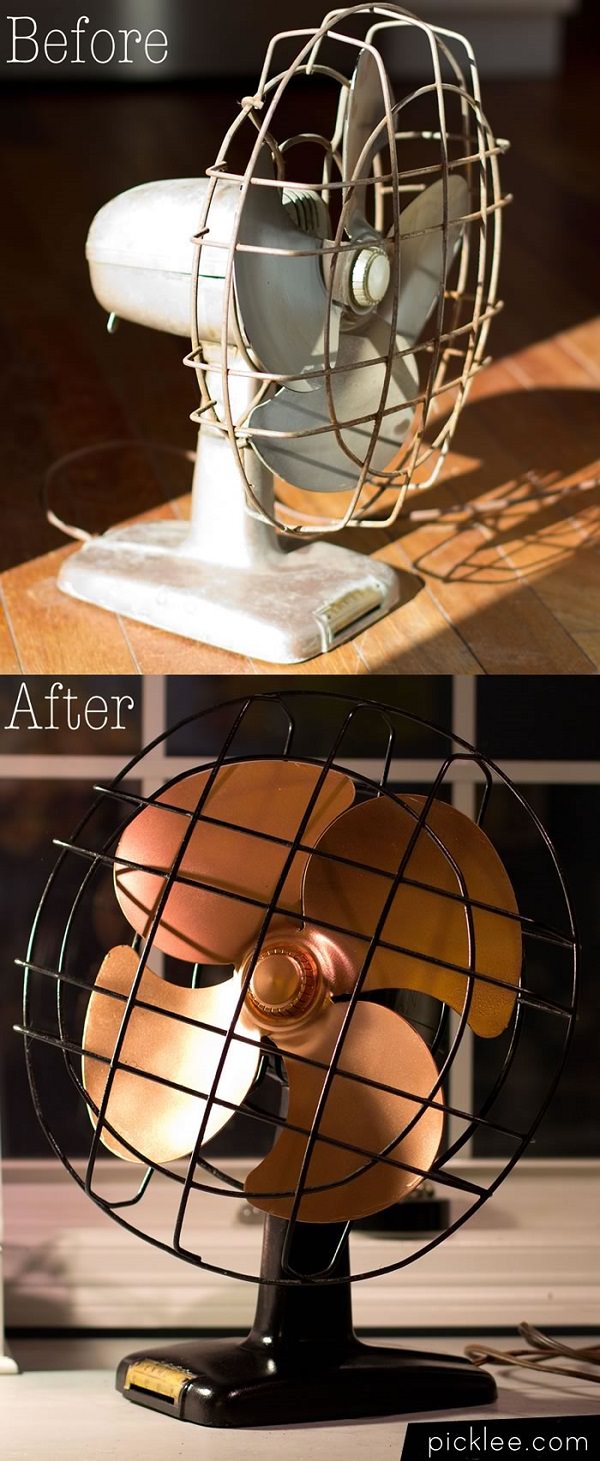 If your table fan looks all worn-out and dirty lying somewhere, it's time you opt for one of these DIY spray paint ideas to make it presentable and appealing. Metallic colors like silver, gold, and copper will lend an old-school touch and even accentuate the colors of your walls. Visit Picklee to learn more!
11. High-Gloss File Cabinet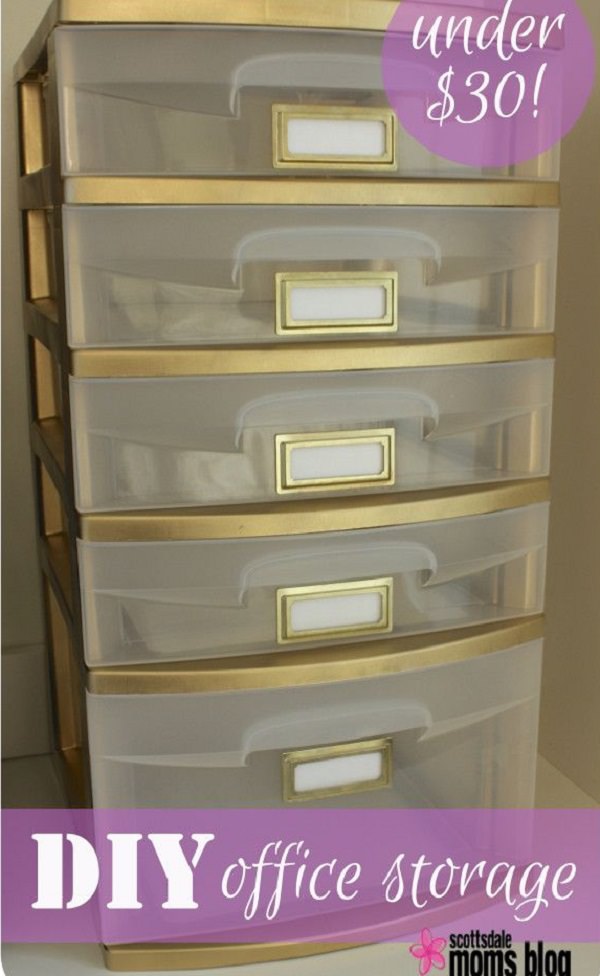 Spray paint a shabby file cabinet in trendy hues to refurbish your home office and stash away your documents in style. This amazing transformation is easy, and you'll need- some work tools, spray paint and tons of patience are all you need!
12. Easy DIY Tin Can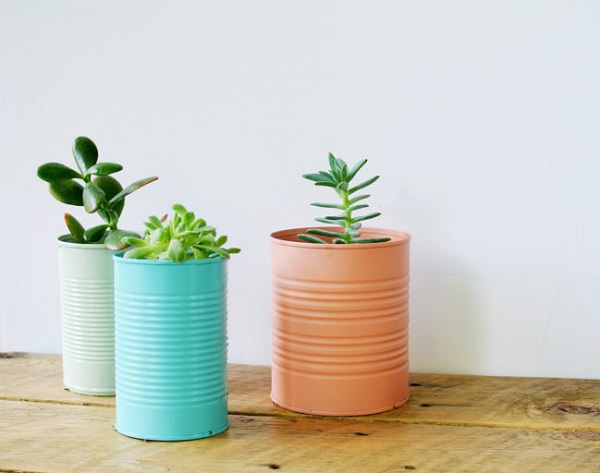 Recycled tin cans are apt as outdoor or indoor planters. Give them a touch of spray paint in any color- go for a monochromatic look, neon or multicolored. Visit Home Edit to see the DIY!
13. Raspberry Bar Stools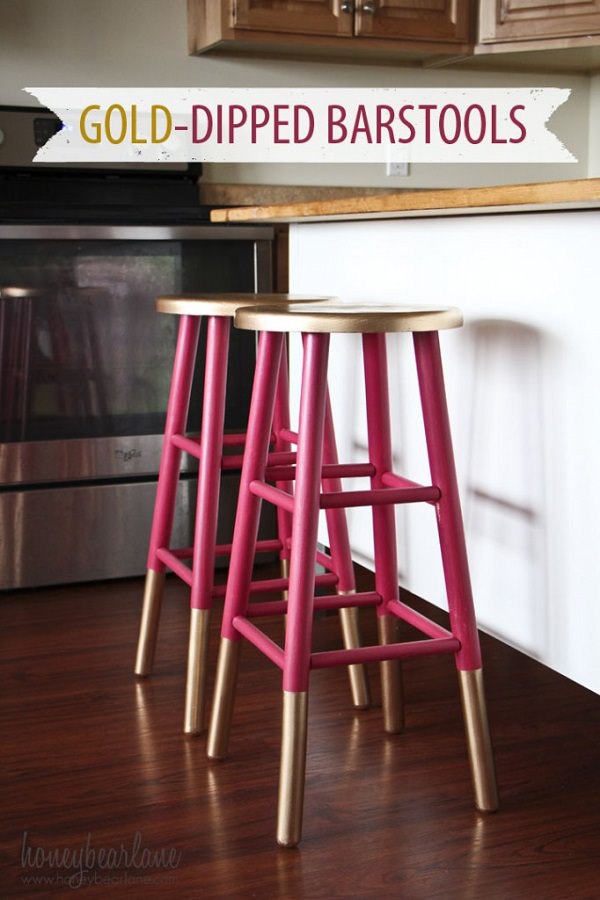 Use some spray paint to jazz up your old dull stools. You can experiment with a striking color palette to fit the theme of your home decor, as well as add a much-needed pop of color to the plain interiors. Learn more here!
14. Refinished Folding Chairs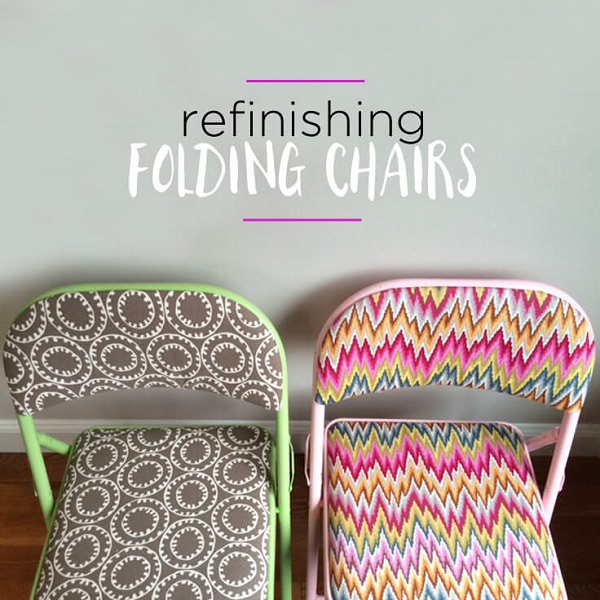 Refinish your old, monotone folding chairs into charming pieces of furniture that you would hate to fold up and keep away with the DIY available here.
15. Gold Dipped Vase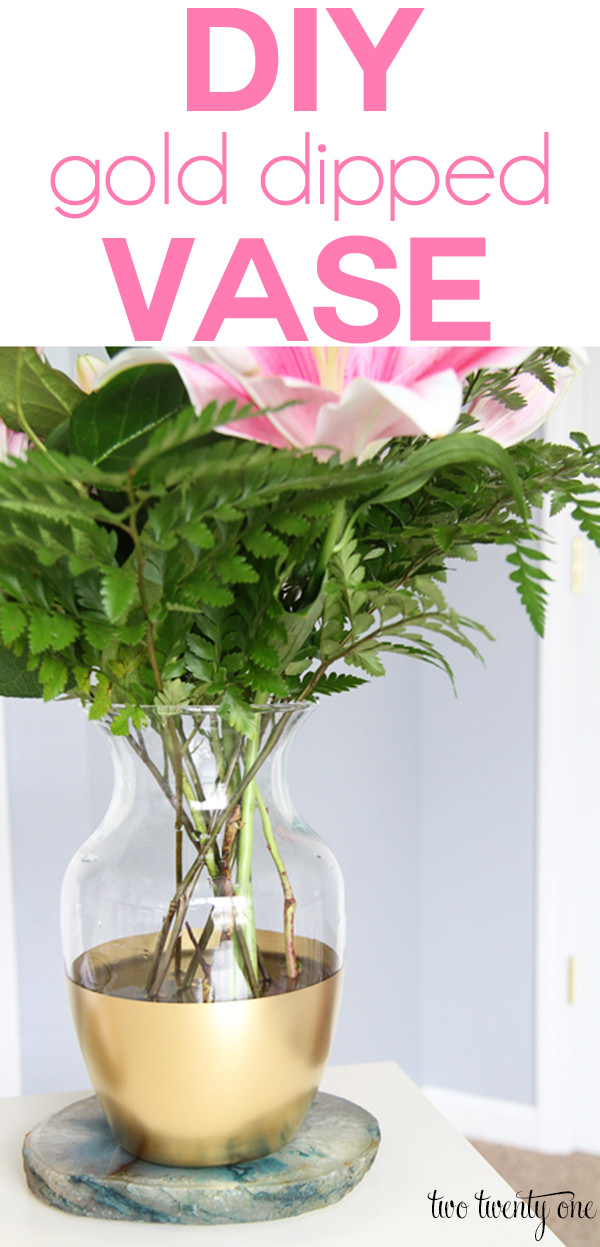 Instead of throwing away your plain vases, color them with gold spray paint for displaying your favorite succulents and fresh cut flowers. See more of it here!
16. Distressed Candle Holders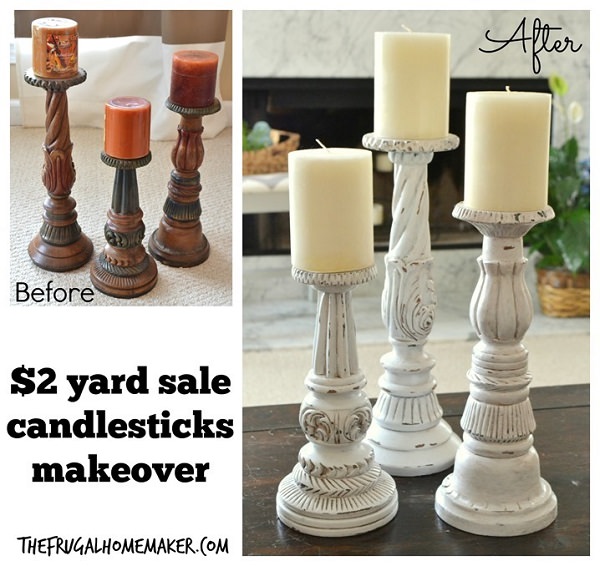 Give your outdated candle holders a much-needed makeover with some wood stain paint and white spray paint. The antique look can make them a perfect a showpiece. Visit the Frugal Home Maker to learn about this idea!
17. DIY Gold Toys & Trinkets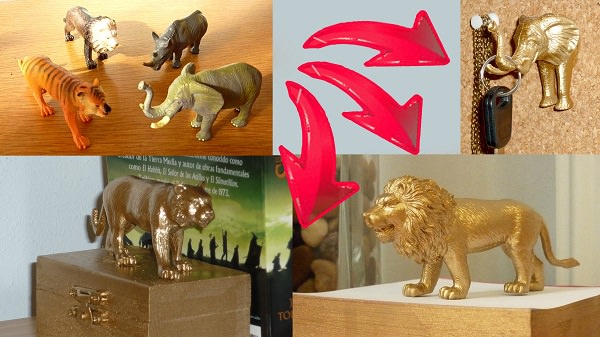 If you have some old plastic animal toys, upcycle them with a touch of metallic spray paint. This quick DIY video gives you creative ideas to breathe life into your dull toys and use them as accent pieces or bookends.
18. Gold Pencil Holder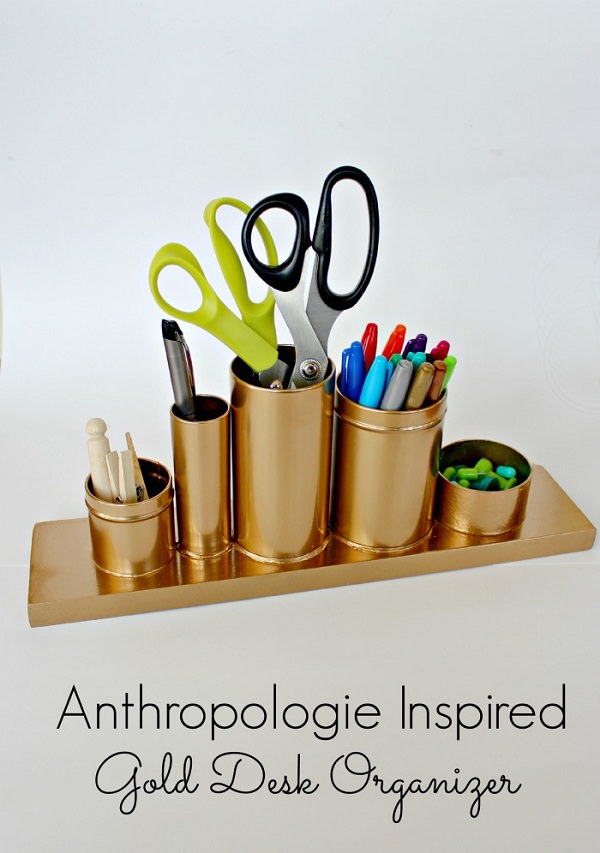 We all love things that look expensive than they actually are. This gold pencil holder is one of them. Easy to make and expensive to look at, these charming little table accessories are sure to add a unique touch to your messy desk. Check it out here!
19. Metallic Accent Lamp

Experts believe that an organized and presentable work desk is likely to cause less stress. This simple and cheap DIY project will show you how to spritz an outdated lamp with striking metallic colors to give the false impression of opulence and order.
20. Peacock Blue Bamboo Chest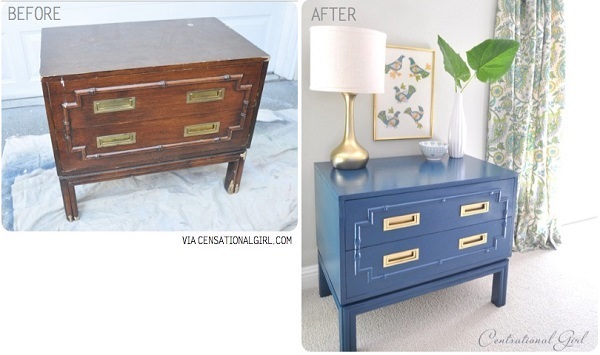 Is the wood chipping off your expensive bamboo chest? Well, a coat or two of spray paint is your answer. Use bold colors like turquoise blue, bottle green or brick-red to complement your room decor and convert an old table into an eye-catchy accent piece. The spray paint idea is taken from Censational Girl!
21. Vintage Patio Chair Makeover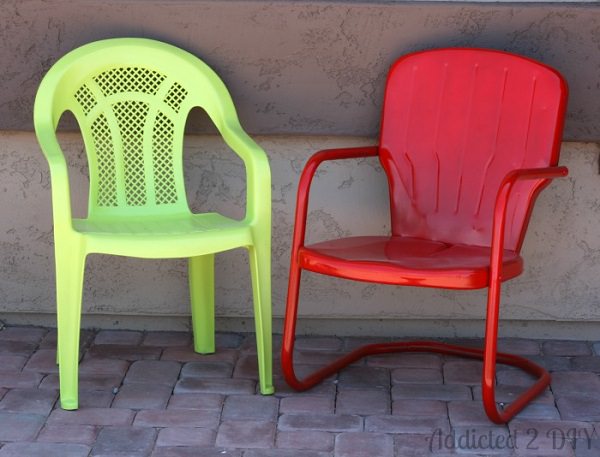 Make your old chairs new again with bold colors and place them out on your patio to show off your creative flair, as well as enhance curb appeal. See more of it here.
22. DIY Pinecone Wreath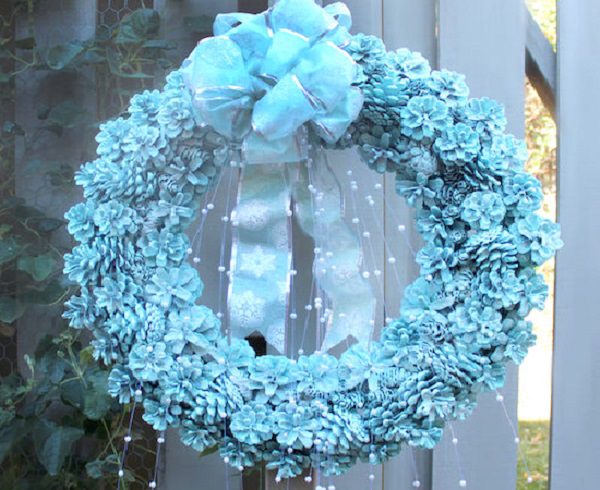 This DIY tutorial shows you how to use pine cones as building blocks for an elegant and welcoming wreath to hang on the front door. Customize with a diverse color scheme to match with the moods of nature. The step by step tutorial is available here.
23. Faux Mirror Mercury Glass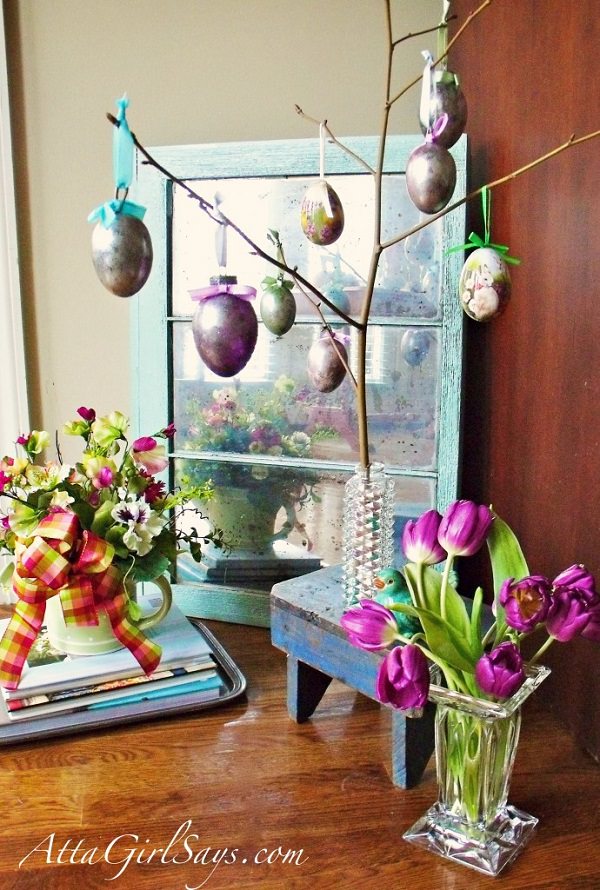 Do you have an old mirror lying around in your attic? Try this DIY project to transform it into an aesthetic piece of art that is sure to attract compliments and highlight the decor of your room. And who knows, you might even end up placing it instead on an expensive piece of furniture. See the DIY article here!
24. DIY Chic Office Chair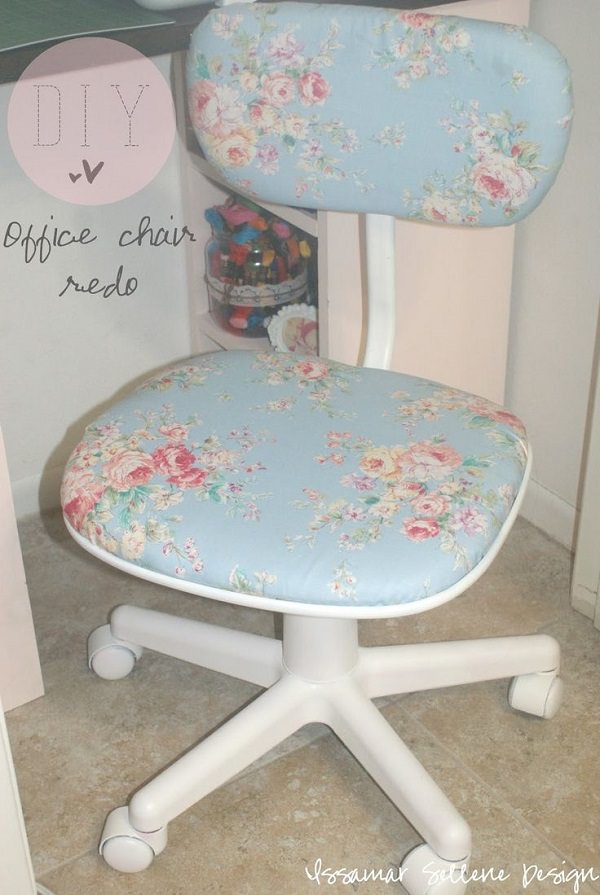 Bring interest into your boring home office with this DIY project. This office chair redo is simple and easy, check out.
25. Mint & Sisal Chandelier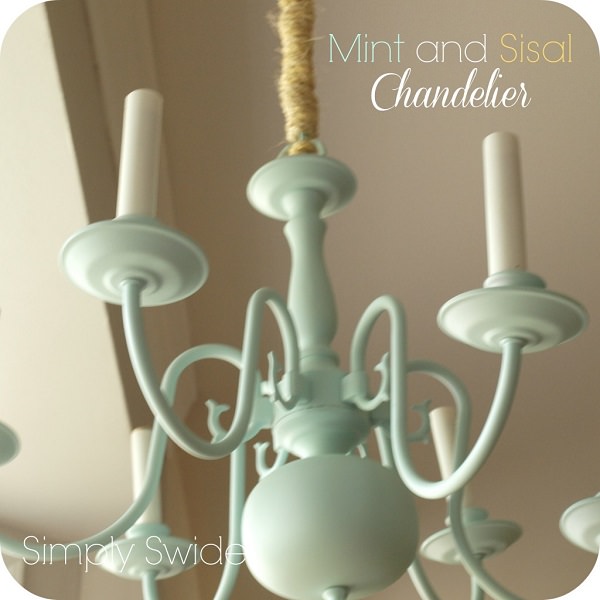 Modernize your old chandelier with a fresh coat of paint in icy, cool colors that are sure to infuse renewed charm to your home. See this DIY project here!
26. Spray Paint Ideas – Upcycled Wooden Bowls
Upgrade regular wooden bowls with colorful patterns of spray paint. This exciting splash of colors makes them appealing and useful as home decor accents. Arrange them in your mantelpiece for a welcoming sight.
27. Brass Light Fixtures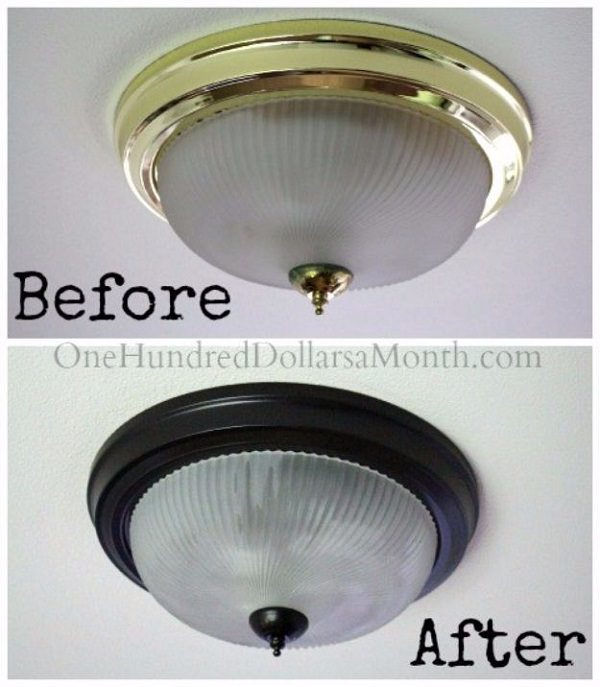 Does your ceiling fixture seem to have seen better days? Transform their dull appearance with spray paint in contemporary colors. This quick DIY project is super fun and gives your ceiling mount fixtures a brand-new look.
28. Spray Painted Antique Chair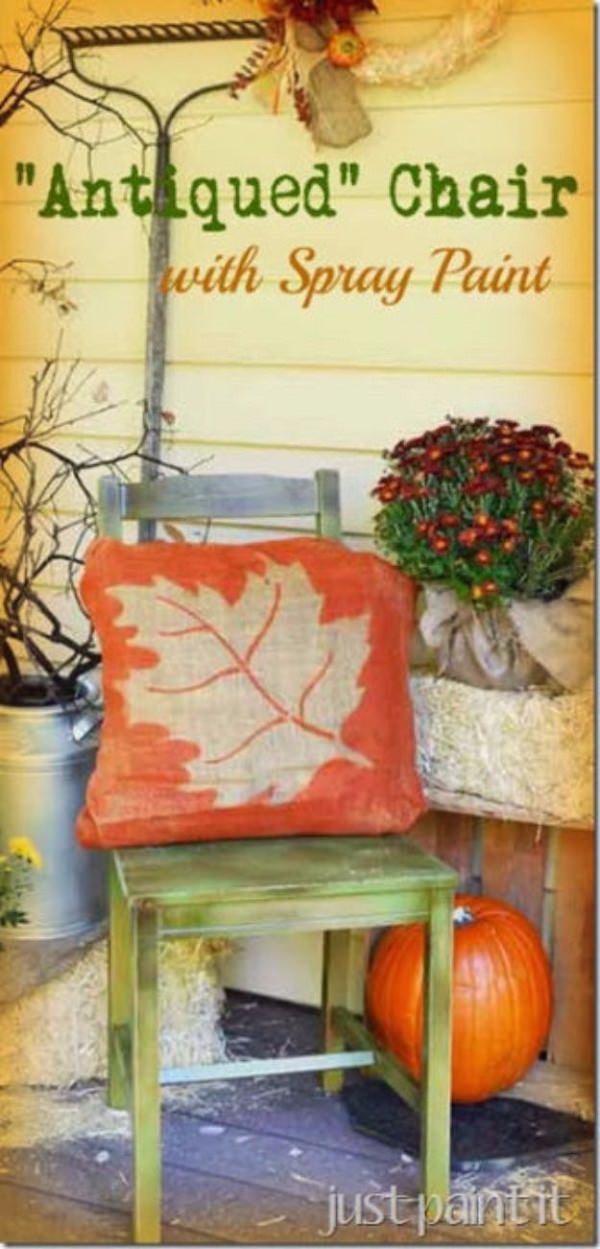 If you're looking for fun ways to decorate your patio for spring, spray paint can help. See the DIY idea here!
29. Spray Paint Dining Chairs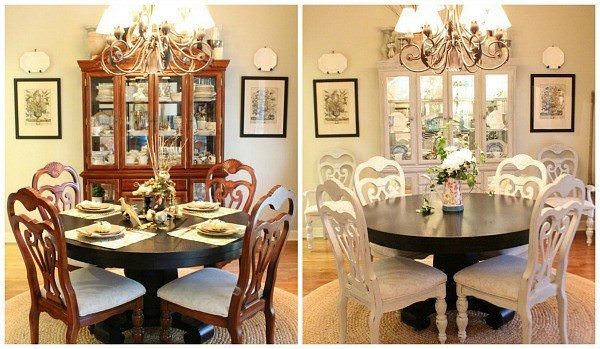 Spray painting the dining chairs to attain a fabulous facelift at a low cost is a good idea if you're low on budget. Use contrasting colors to create an attractive look that is sure to please everyone even if the food doesn't.
30. Spray Paint Wicker Baskets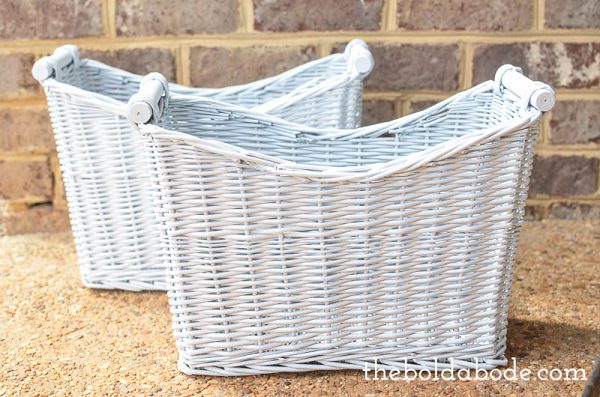 Use spray paint to transform the frayed appearance of your wicker baskets and make them look clean and pristine. This is also a nice way to stretch their lifespan and save some moolah in the process. Visit The Bold Abode to learn more!
31. Spray Painted Door Knobs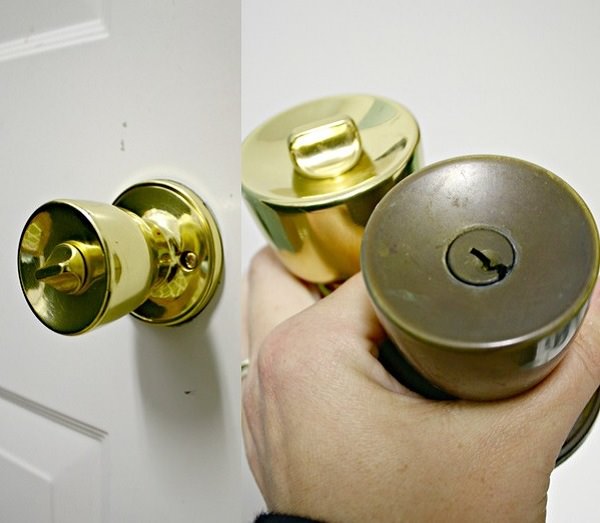 Changing door knobs is expensive, but instead of getting a new one you can use a spray paint to make it new again. The step by step post is available here!
32. DIY Ceiling Fan Makeover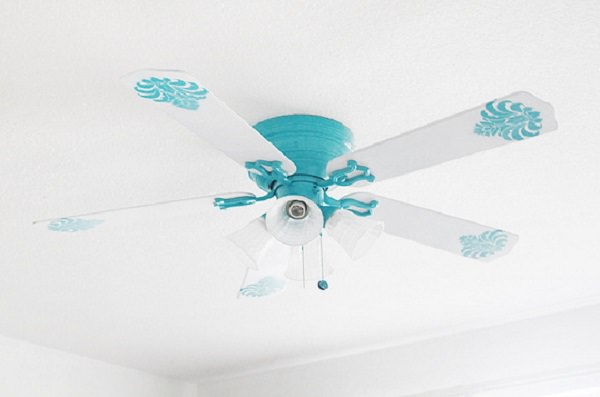 If you are stuck with an 80's fan and don't quite like the idea of spending a ton of money on a new one, consider using spray paint. This low-budget DIY is a creative way to convert a shoddy ceiling fan to a stunning focal point in your room.
33. DIY Gold Magnetic Letters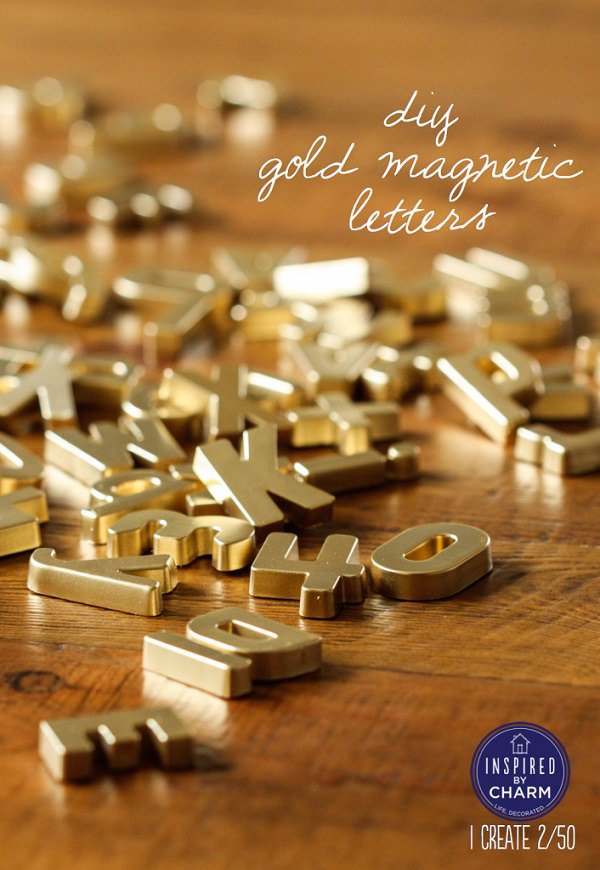 Add a touch of royalty to your refrigerator with these shimmering magnetic letters. Invite your friends for a sleepover and have fun whipping up a few of these whenever you want. Arrange them to create words that best describe your interests.
34. Spray Paint Shower Fixtures
Replace old, rusty shower fixtures with polished new ones, if they are not looking good? Well, that is not the only option, you can spray paint them, see this DIY article to learn more.
35. Remodeled Toilet Wand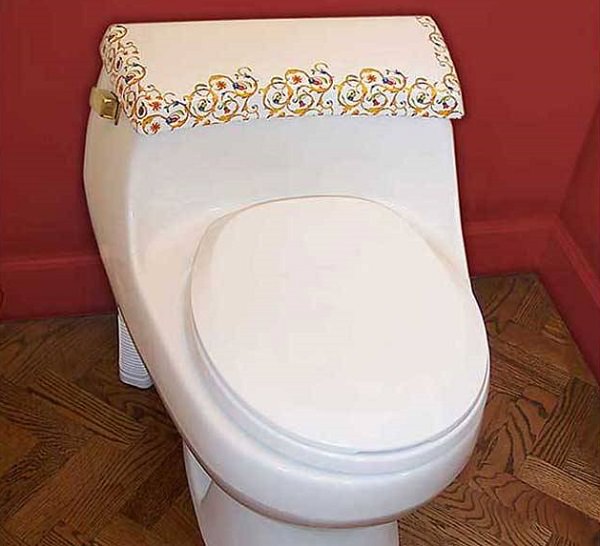 Most of us have an unsightly toilet accessory lying around in the bathroom. It can be anything, from a scrub brush to a toilet wand. Instead of throwing it away, consider transforming its look with a spritz of bright spray paint. Learn more here!
36. Spray Paint Laminate Countertops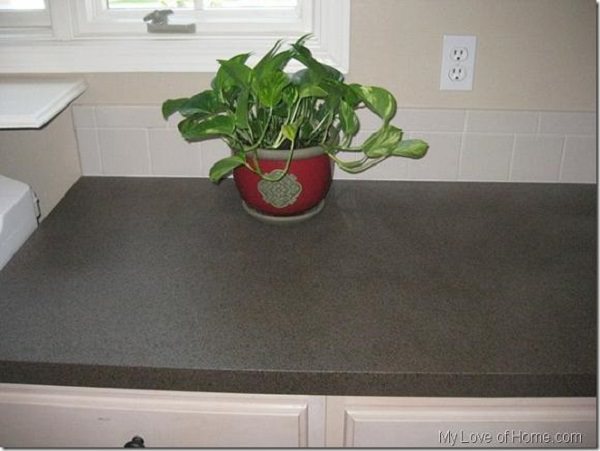 This super easy DIY shows you how to infuse new life to your kitchen with a quick countertop update. By painting it!
37. DIY Children's Garden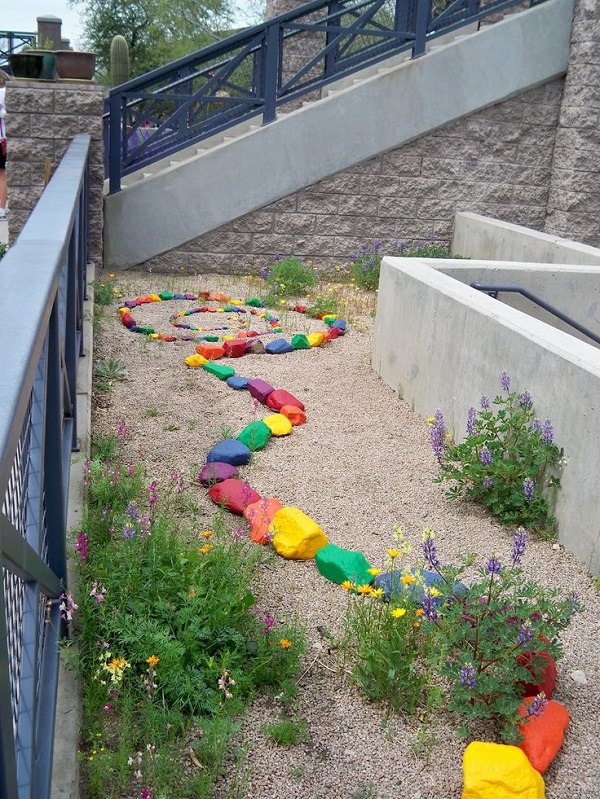 Children love bright colors and cute caricatures. Use spray paint for a rustic appeal and transform your plain backyard into a colorful spot drenched in magic and cheer for your kids. Must see this interesting post here!
38. Spray Painted Vent Covers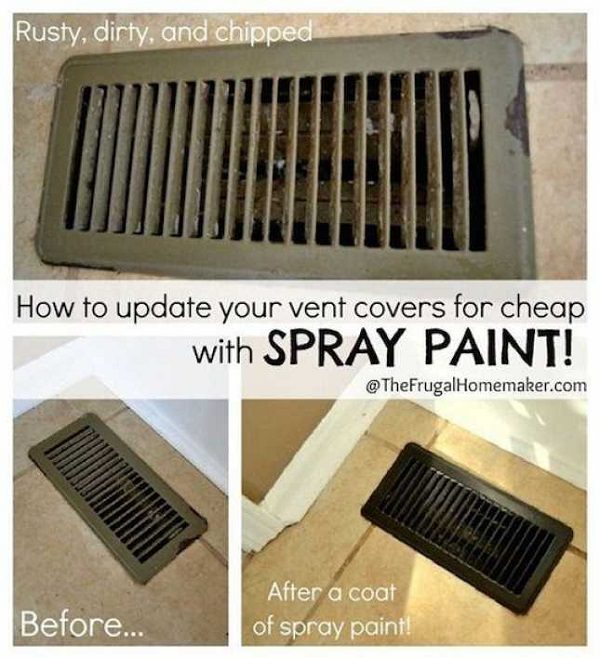 Sometimes the smallest things can make the biggest difference. If your vent covers are screaming for replacement, consider using spray paint to revamp their look. Visit the Frugal Home Maker to see the full post!
39. Spray Paint Fabric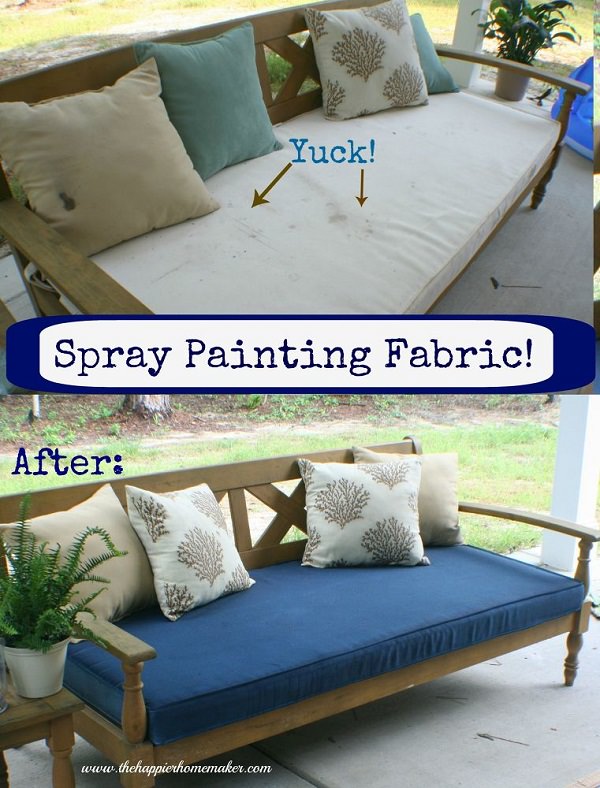 You can even spray paint the fabric. Wow! The original idea is available here to follow.
40. DIY Mirrored Gazing Balls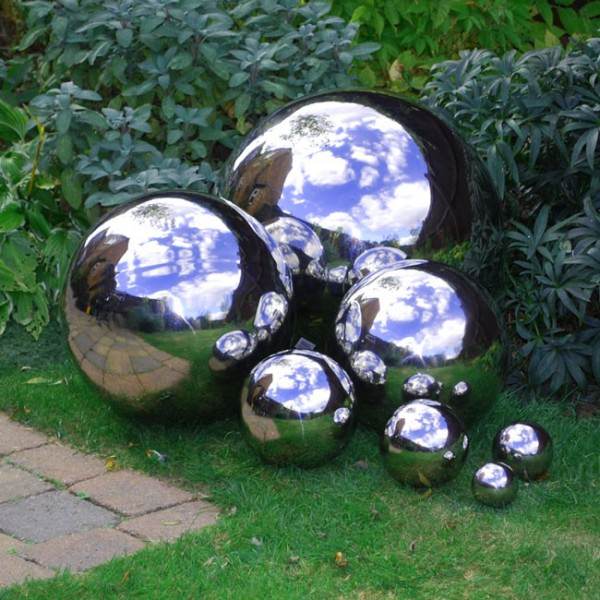 Upcycle your used bowling balls to create refined gazing balls that add light to shady corners in your garden, incredible focal point. The step by step article is available at the Garden Glove!
41. Spray Paint Ideas – DIY Flower Art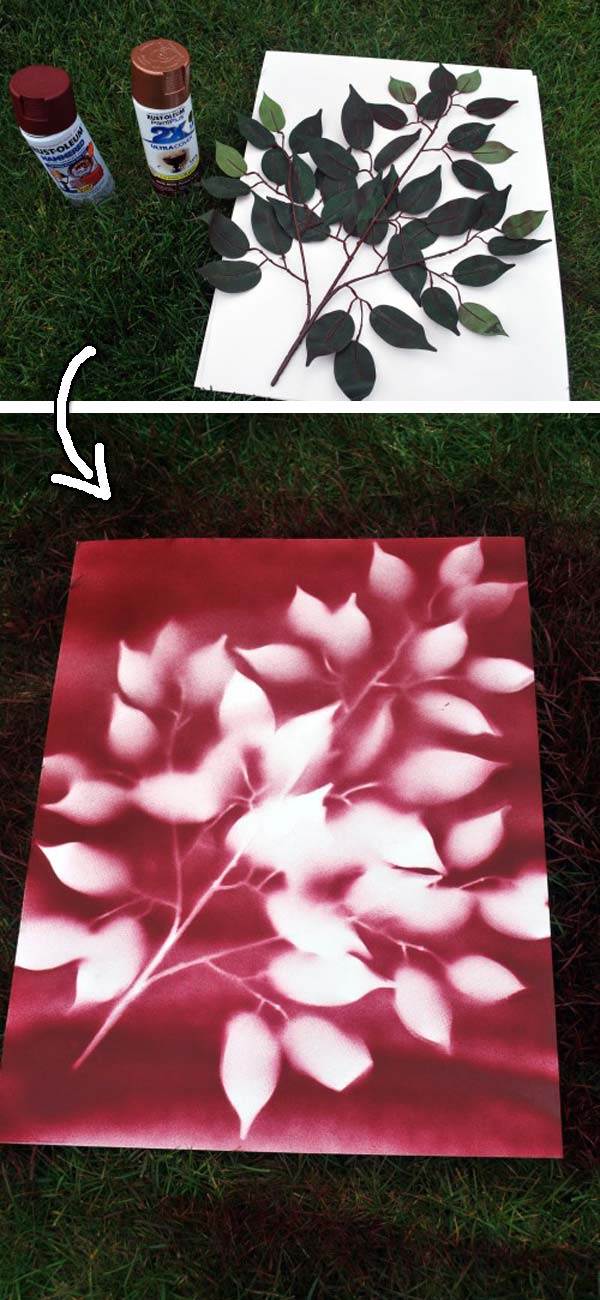 This DIY spray paint flower art idea is impressive and at the same time inexpensive to follow. Click here to learn more!