Discover how to level up your holiday decor with these stunning Nutcracker Display Ideas. This list has something for every home and style!
Nutcrackers have long been a symbol of the holiday season, offering nostalgic charm and intricate craftsmanship. However, displaying them in your home can sometimes feel repetitive. If you need some new Nutcracker Display Ideas, check out this list to make these timeless pieces the stars of your holiday setup.
Check Out the DIY Christmas Slime Ideas here
---
Nutcracker Display Ideas
1. Classic Mantel Display
A simple yet elegant way to display your nutcrackers is by lining them up on the fireplace mantel. Place them between tall candlesticks for added symmetry. This setup works especially well when incorporating color-coordinated ribbons or seasonal garlands.
2. Bookshelf Nutcracker Display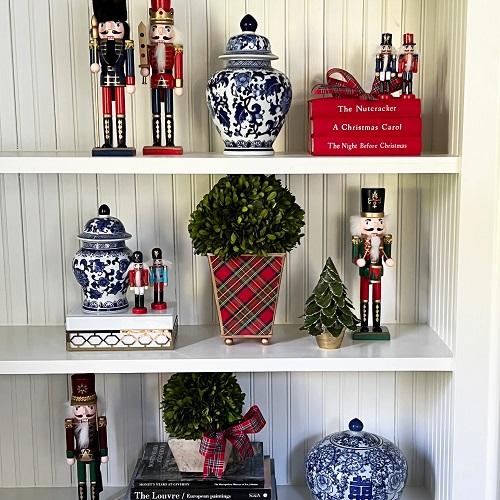 Use an existing bookshelf to showcase your Nutcracker collection. Arrange the nutcrackers in different heights or colors. By doing this, you can create visual intrigue and transform an everyday bookshelf into a holiday spectacle. Adding small LED lights can highlight each figurine effectively.
3. Window Sill Spotlight
Place smaller nutcrackers on the window sills. The natural light illuminates the figurines, making them more eye-catching. It's an excellent use of otherwise wasted space and requires no additional props. This idea is ideal for kitchens or bathrooms, where traditional holiday decor may be minimal.
4. Dining Table Centerpiece
Turn your dining table into a festive spot using nutcrackers as the centerpiece. Adorn the figurines with seasonal greenery for added charm. Enhance this centerpiece by placing it on a contrasting table runner, drawing attention to the nutcrackers. You could also surround them with pinecones and small candles for a festive tableau.
5. Nutcrackers Staircase Steps Display
Displaying nutcrackers on staircase steps can add a charming, festive touch to your holiday decor. Strategically place each nutcracker on alternating steps to create a visual ascent, drawing the eye upward as guests enter your home. Opt for various sizes and designs to keep the display interesting. Read more here.
6. Kitchen Chimney Nutcrackers Display
Does your kitchen chimney have a shelf-like space? If yes, place some nutcrackers there to add a festive twist during the holiday season. This unique location brings holiday charm right into the heart of your home. Among the nutcracker display ideas, this idea complements your kitchen's color scheme for a cohesive look.
7. Nutcrackers Christmas Tree Display
Transform your Christmas tree into a Nutcracker wonderland by hanging miniature nutcrackers as ornaments. Intersperse them with twinkling lights and colorful baubles to create a captivating focal point.
8. Shadow Box Display
Create a shadow box display with miniature nutcrackers. Hang it on the wall for a piece of interactive holiday art that can be enjoyed year after year. This is a unique, customizable backdrop for family photos or gatherings during the holiday season.
9. Bathroom Counter Display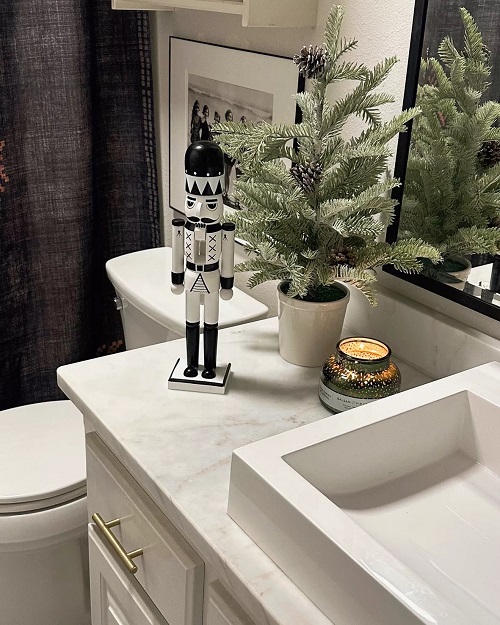 Decorate your bathroom counter with a nutcracker next to a scented candle. It's an unexpected location that adds a little extra cheer. This is a great way to bring the holiday spirit into every room, making your home feel unified and festive.
10. Porch Nutcracker Display
Bring festive vibes to your porch with a big nutcracker. This arrangement offers a grand, welcoming display that will attract a lot of eyeballs. Adding a festive wreath or potted poinsettias can make the entrance more inviting.
11. Office Desk Delight
Bring a bit of holiday spirit to your home office by placing a nutcracker or two on your desk. Choose smaller figures to keep the workspace functional. This personal touch can lighten the mood, making work during the holiday season a bit more cheerful.
12. Nutcrackers with Mantel Stocking
Hang stockings from your mantel and place nutcrackers around them. This amazing arrangement amplifies the classic holiday ambiance. Use ornamental hooks to hang the stockings, creating a harmonious look that complements your nutcrackers.
13. Corner Shelf Display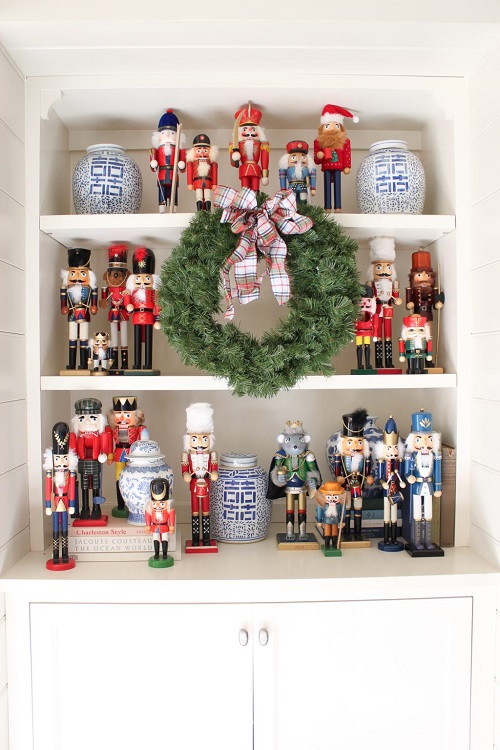 If you have a corner shelf, use this overlooked space to display nutcrackers. The arrangement naturally lends itself to a playful setup, engagingly showcasing your collection.
14. Entryway Nutcracker Display
Place two oversized nutcrackers around the front door to create an eye-grabbing festive decor. Consider adding some mini Christmas trees and fairy lights for an added glow. Among the various nutcracker display ideas, this setup invites the guests with festive cheer.
15. Bar Cart Arrangement
Add small nutcrackers between the bottles and glasses to create a unique display. This turns your cocktail station into a festive focal point for holiday gatherings. Add some holiday-themed cocktail napkins and a bowl of seasonal treats to complete the festive setting.
Read the Golf Cart Decorating Ideas here