Revamp your staircase with these innovative Tile Staircase Ideas. Explore some of the best options in this article! Don't miss out!
A staircase is more than just a functional feature in a home; it's an opportunity to make a design statement. Discover an array of Tile Staircase Ideas that elevate your home's aesthetic.
Read the Awesome Floor Decoration Ideas here
---
Tile Staircase Ideas
1. Classic Ceramic White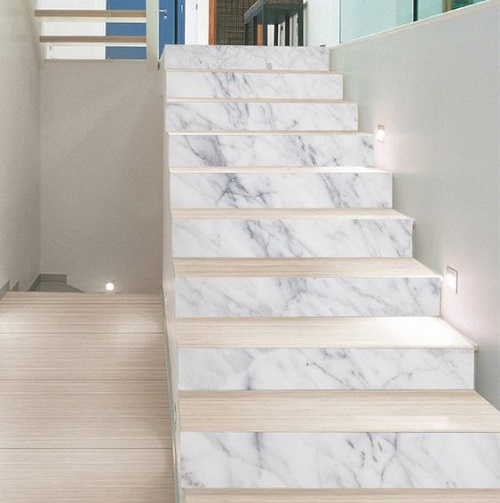 Opt for timeless, white ceramic tiles to create a clean and spacious look. Ceramic is affordable and easy to install. Whether you have a modern or traditional setup, these tiles blend in. They also offer easy cleaning options, as dirt and scuffs are visible against the white backdrop, making maintenance a breeze.
2. Monochrome Magic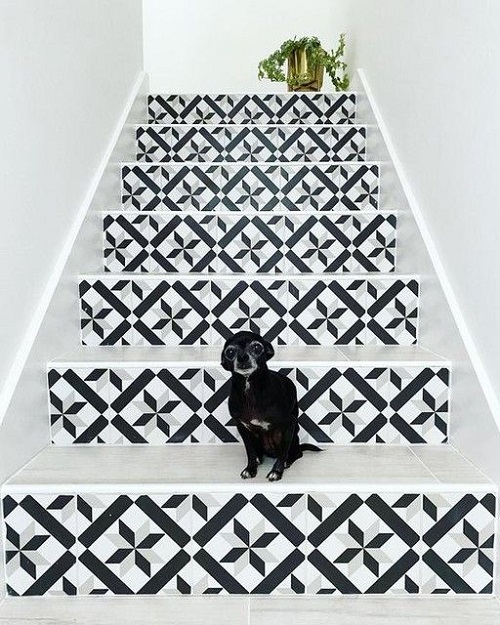 Black and white tiles offer a chic, minimalist aesthetic. The contrast provides visual interest without overwhelming the space. This style appeals to those who appreciate the retro or contemporary look.
3. Subway Style Tile Idea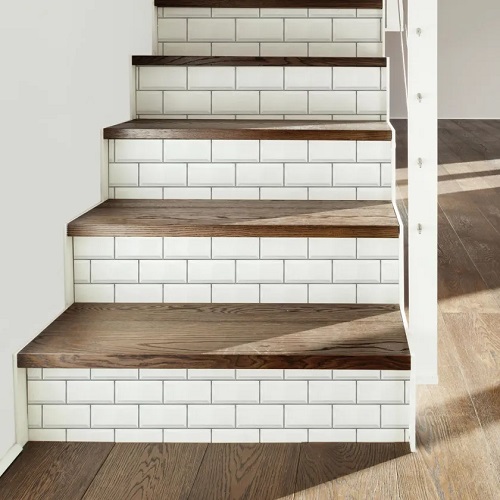 Subway tiles are an affordable way to achieve a modern look. These tiles can be arranged in various patterns like herringbone, crosshatch, or staggered rows to add extra visual intrigue. This design is an excellent addition to these staircase tile ideas.
4. Faux Staircase Wooden Tiles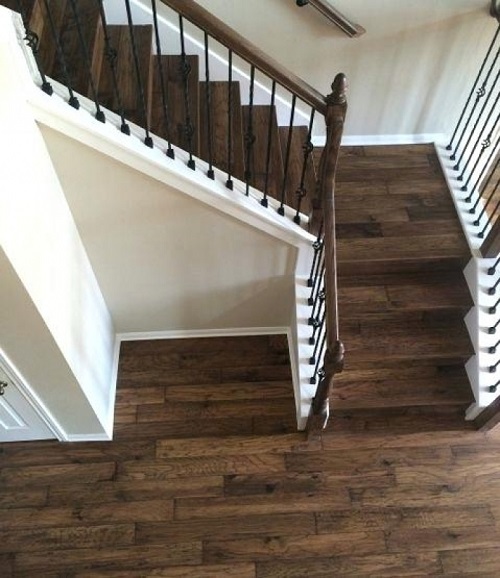 Get the rustic look of wood without the cost and maintenance. Faux wood tiles are resistant to wear and tear, making them a long-lasting, cost-effective choice. They simulate the grain and color variations of real wood. This gives your staircase a warm, inviting look while keeping the benefits of tile durability.
5. Moroccan Tiles Staircase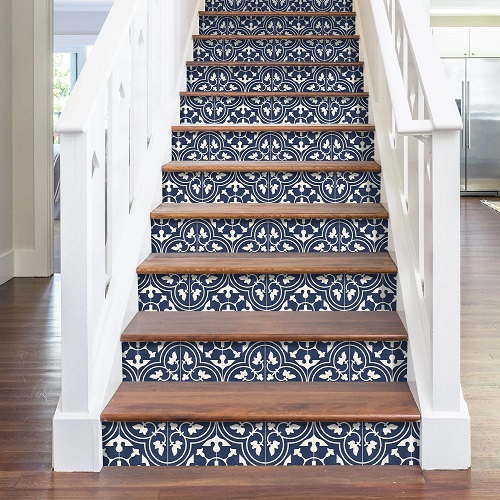 Elevate the look of your bland staircase with Moroccan-inspired tiles. The vibrant patterns add flair without the need for additional decorations. These tiles are hand-painted or embossed with intricate designs that can serve as a conversation starter. Since they're visually stimulating, you don't require additional embellishments near your staircase.
6. Natural Stone Tiles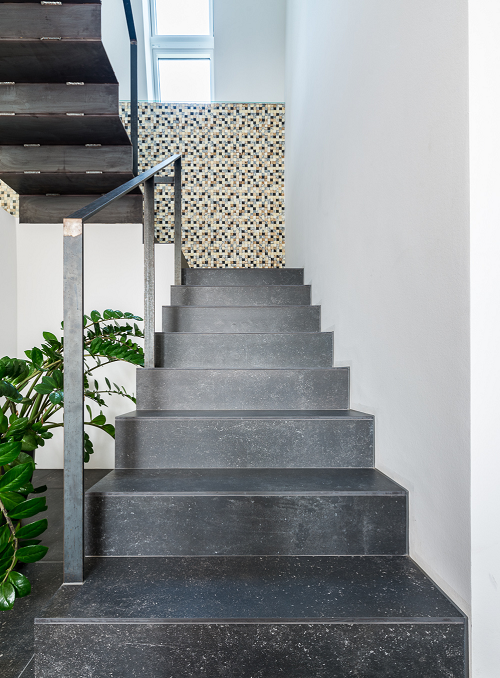 Stone-look tiles offer the appearance of natural stone without the hefty price tag. These tiles bring an earthy, organic feel to the staircase. They are typically made of porcelain or ceramic but mimic the texture and color variations of natural stone. This makes them ideal for outdoor staircases or homes looking to bring a natural element indoors.
7. Terracotta Tiles for Staircase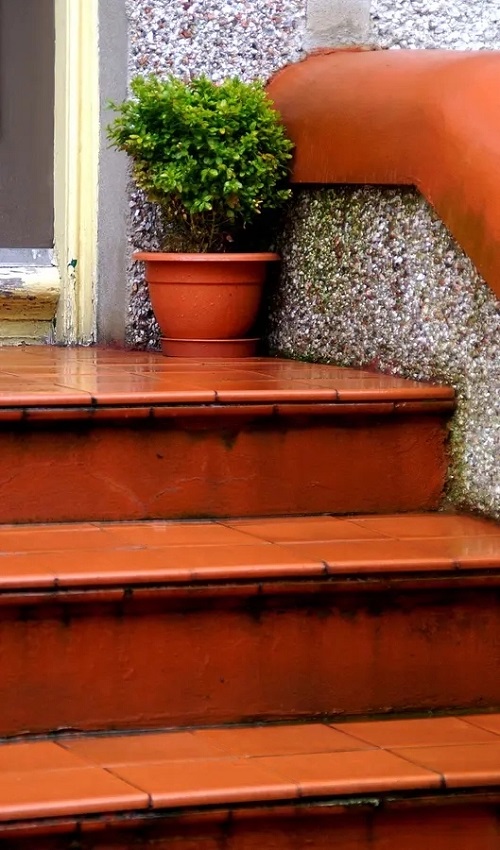 Terracotta tiles exude a Mediterranean charm that's hard to overlook. These tiles are earth-toned, giving your staircase a warm, welcoming vibe. Terracotta is also known for its durability and natural matte finish, which provides an anti-slip surface, making it a safe choice for staircases.
8. Hexagon Tiled Staircase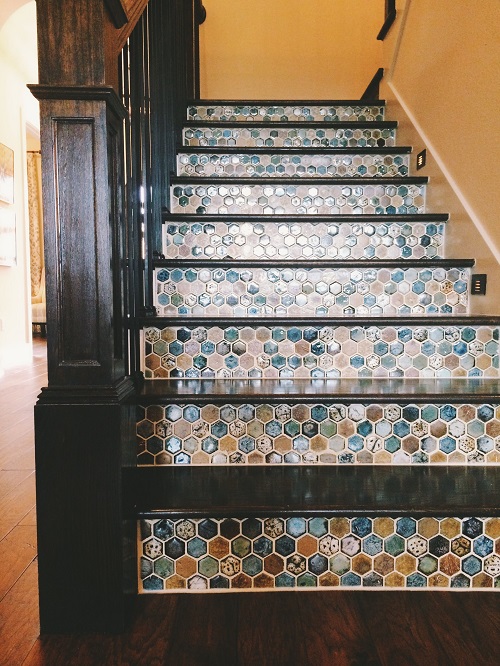 Hexagonal tiles add an avant-garde element to your space. They can be laid in various arrangements. Hexagonal tiles are perfect for homeowners looking to make a bold architectural statement. These tiles also work well when combined with other tile shapes, making them versatile for design experimentation.
9. Blue and White Striped Tiled Staircase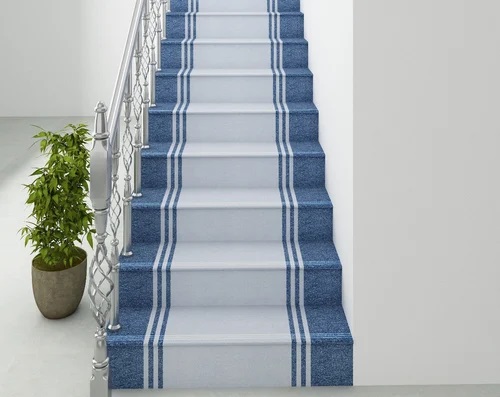 Achieve a coastal look with blue and white striped tiles. These tiles evoke feelings of the sea and sky, transforming your staircase into a tranquil escape. They're great for homes with beach-themed interiors or those situated near coastal areas.
10. Pastel Tiles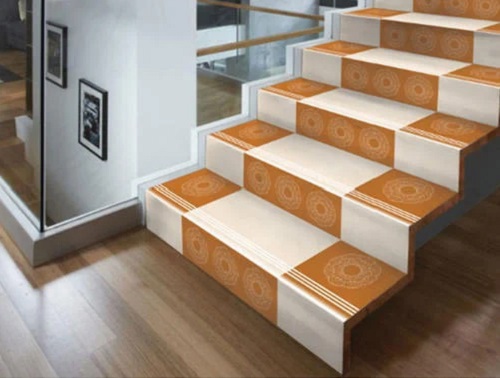 Consider pastel tiles for a soft and welcoming ambiance. Pastel tiles are often affordable and add a delicate touch to the staircase. They're excellent for homes with a vintage or shabby chic décor style.
11. Concrete Tiles for Staircase Steps
Concrete tiles offer a sleek, industrial look at an affordable price. They're also durable and easy to clean. These tiles are perfect for minimalist or industrial-themed homes, offering a no-fuss, functional aesthetic. Concrete tiles are resistant to water and heat, thus a long-lasting solution for indoor and outdoor staircases.
12. Geometric Patterned Tiles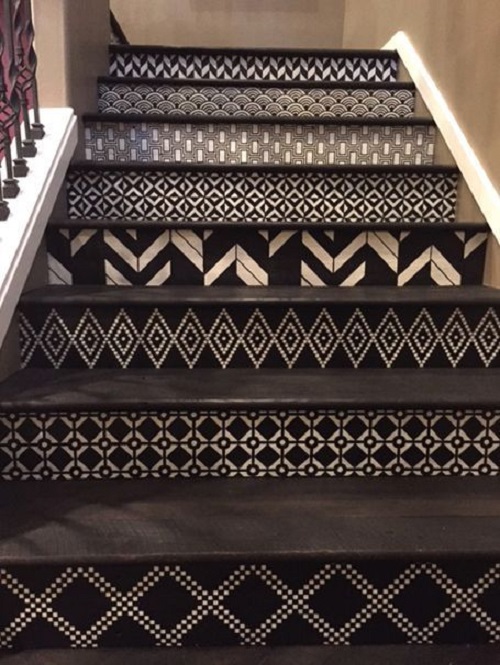 Use geometrically patterned tiles for a modern, artistic flair. These patterns draw the eye and add a touch of creativity to the space. Geometric tiles can range from simple, repeated shapes to complex, tessellating patterns.
13. Floral Themed Tiled Staircase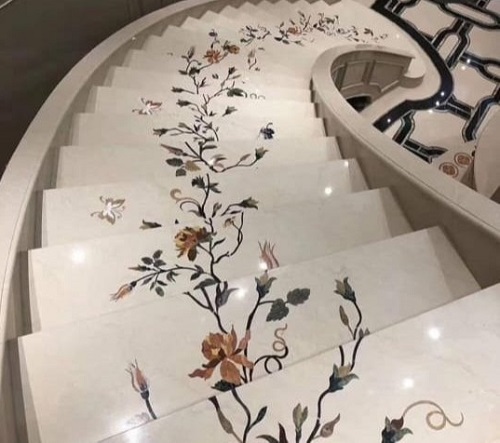 Opt for floral patterned tiles for a classic, romantic look. These are often available in cost-effective materials like ceramic. Floral tiles work exceptionally well in homes with traditional or rustic décor.
14. Colorful Staircase Tiles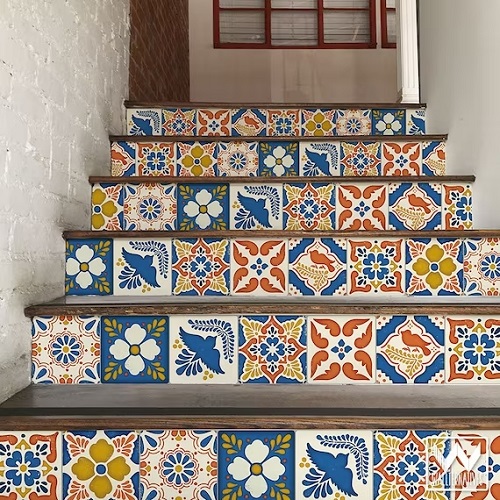 Use colorful tiles in a random arrangement for a playful, retro vibe. These tiles can make any staircase a visually appealing focal point. With a broad palette, you can mix and match as you please.
15. Metallic-Finish Modern Staircase Tiles
Metallic-finish tiles can bring a luxurious feel to your staircase. These tiles have a shimmering surface that catches and reflects light, adding a touch of opulence. They're perfect for modern homes or spaces where you want to make a sophisticated statement.
Check Out the Best Birthday Door Decoration Ideas here