These DIY glitter feathers can add life and sparkle to any boring backdrop and make it festive ready! Refer to the list in this article for the DIY.
1. DIY Gold And Glitter Dipped Feathers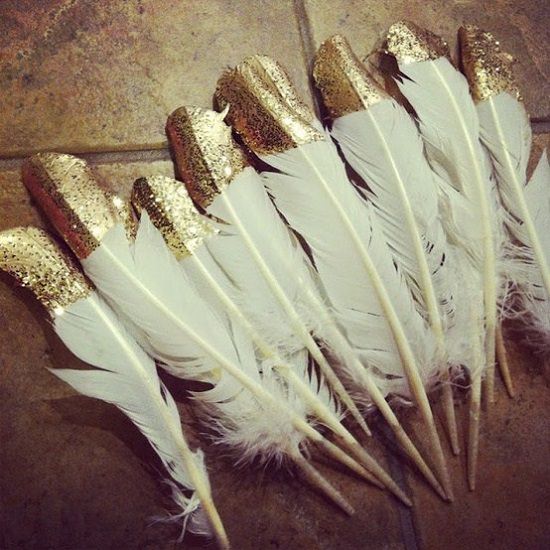 Jazz up handpicked feathers from your fall hiking trips with some glue stick, glitter and a little help from this tutorial.
2. DIY Blue Glitter Feathers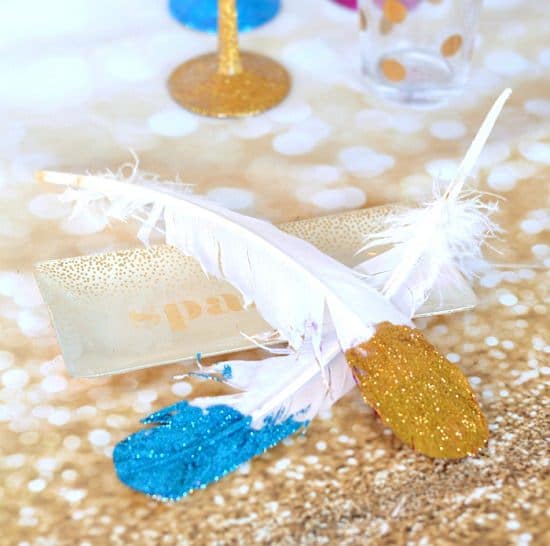 Spruce up a dull corner of your home instantly with these multi-colored, glittery feathers. You can loop them together to create a motivational banner to hang on the headboard or add them to your floral arrangement. Here's the DIY.
3. DIY Glitter Dipped Feather Garland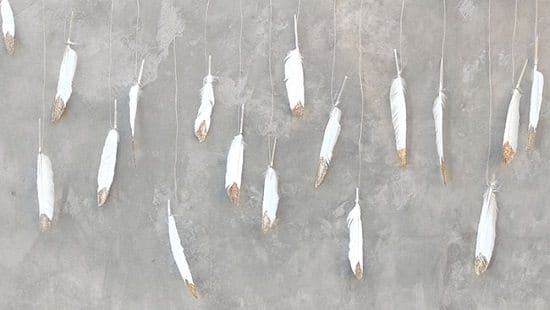 For a fun, Boho-chic backdrop to an outdoor wedding party, consider hanging glittered feathers by individual strings. The results are impressive with minimal effort. Follow this DIY.
4. DIY Wedding Party Glittered Dipped Feathers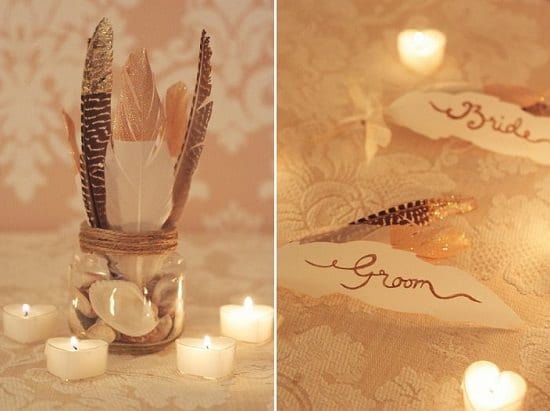 Pebbles, tealight candles and gold-dipped feathers come together in this DIY to give a fancy touch to the table and create the perfect ambiance for a romantic evening.
5. Easy DIY Glitter Feathers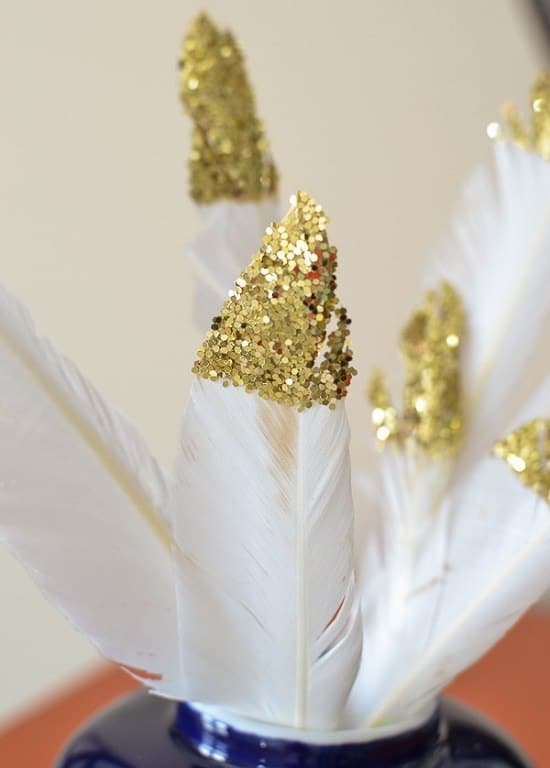 Prop a bunch of glitter-dipped feathers on a table centerpiece, or string them together to use it as a cheery backdrop for the photo booth- the possibilities are endless with this DIY.
6. Simple Glitter Feathers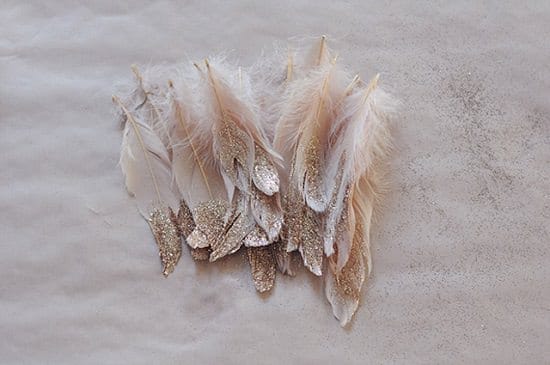 Whether you want to amp up the bling quotient of your party, or a fun accessory to beautify a handmade wedding gift, these two-minute glitter feathers are the perfect answer. Get the DIY here.
7. Paper Feather Garland With Glittering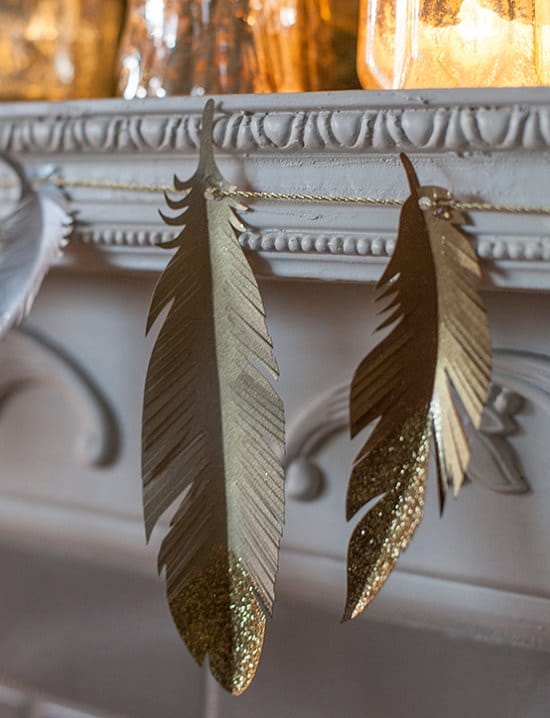 With their gold and silver tones, glitter-tipped feathers add an interesting layer of detailing to a bird-themed Christmas tree, Recreate the look with this DIY.
8. Painted Glitter Feathers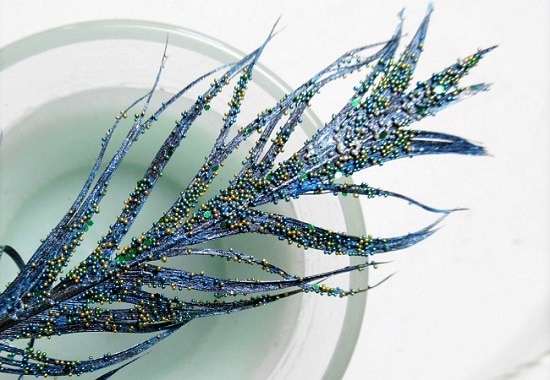 The stunning combination of turquoise blue and golden glitter gives these feathers an ethereal touch, making them a lovely add-on to a tall glass vase. Here's the DIY.
9. DIY Glitter Feathers Branch Chandelier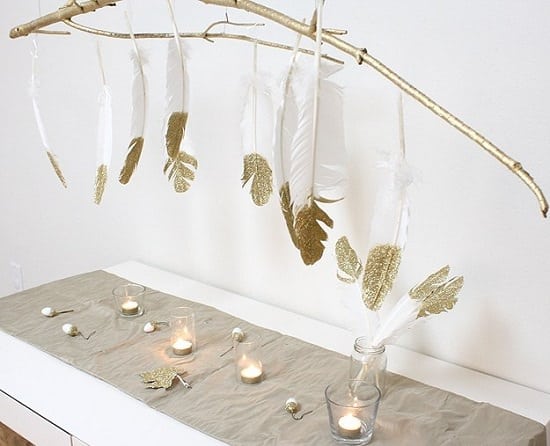 Deck up the table for the holiday party with your prettiest table runners. And for a quick dose of glitter, create a low-rung chandelier using gold-dipped feathers. Here's the DIY.
10. Glitter Feather Ornaments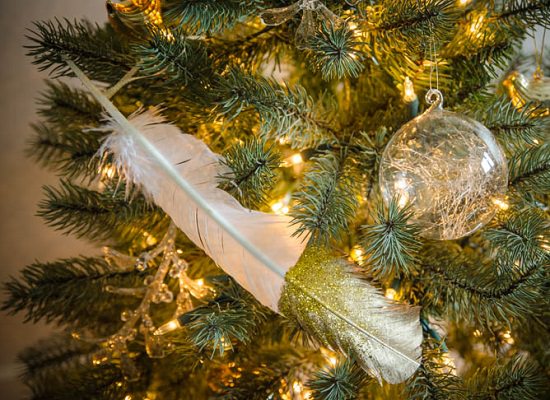 Dress up feathers with gold glitter to add a nice combination of color and texture on your wrapped gifts. Later, you could use them as ornaments for your Christmas tree. Here's the DIY.
11. DIY Ombre Glitter Feathers
Get gorgeous glittery feathers for topping holiday presents or decorating the kitchen table with this two-minute tutorial.
12. DIY Glitter Feather Lampshade
For a one-of-a-kind nightlight that lends rustic charm to your bedroom, string in gold-dipped feathers across an empty loop.
13. Glitter Embossed Feather
This easy DIY shows you how to make your glitter feathers long-lasting and worthy of holiday gifting with acrylic colors and stencils.
14. Galaxy Glitter Feathers
Convert ordinary, craft store feathers into exotic-looking works of art with galaxy glitter and Mod Podge. Instructions are in the video.
15. DIY Glitter Feather Earrings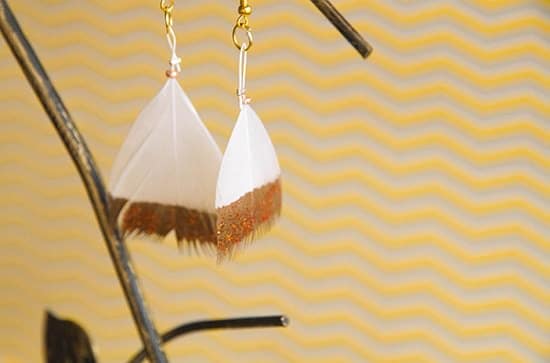 Filled with Bohemian glam, these lightweight feathery earrings are easy to make with some spray paint and glitter. Although not a decor idea, you can make these earrings with this DIY.
16. Colorful Glitter Feather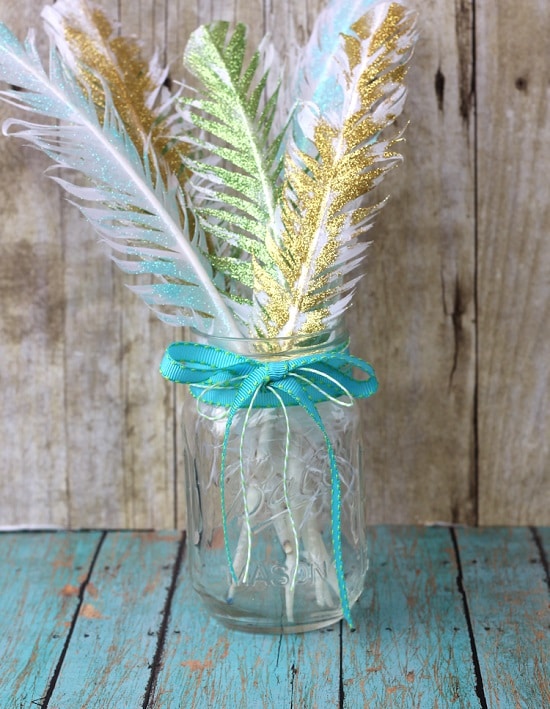 Colored glitter feathers are one such decor item that you can never get bored of-they look cute sitting on the center table, and can be a unique addition to a front door wreath. Here's the DIY to make them.
17. Gold Glittered Feather Thanksgiving Name Cards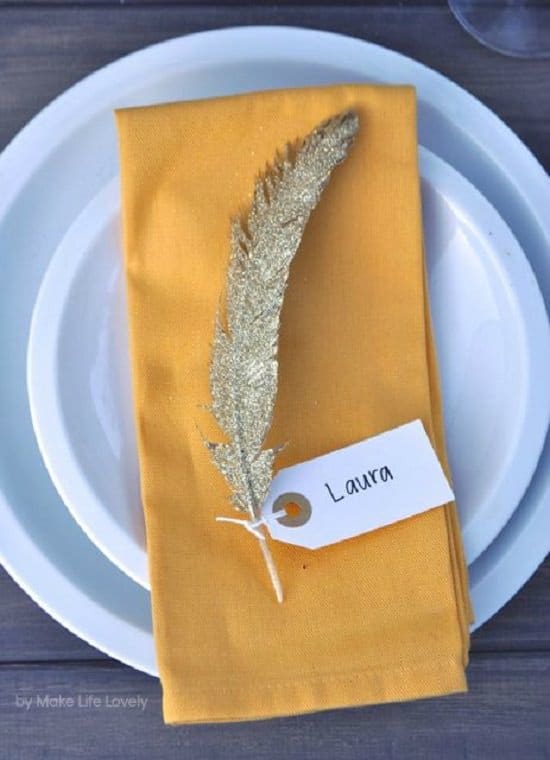 While gold-dipped feathers are great, why not slather them gold from top to bottom and add some glitter on the top for a finishing touch! After all, there's nothing like too much glitter. Details are here.