Organize your kid's storybooks and other readings like in a library with these DIY kids' bookshelf ideas that are affordable and easy to do!
1. Rain Gutter Bookshelves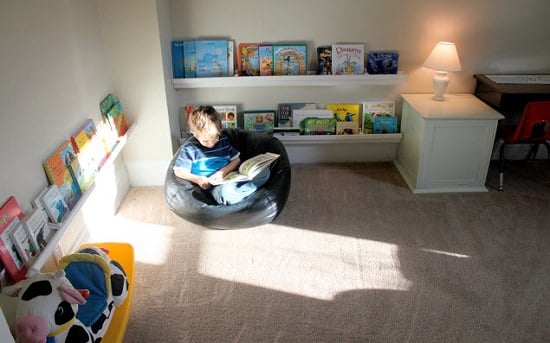 This inspirational $10 dollar DIY project gives you low-rung, rain gutter bookshelves that make storage easy for the kids and also infuse a cozy feel to the room, which goes a long way to make your kids feel engaged as they flip through the pages.
2. No-Sew Hanging Bookshelf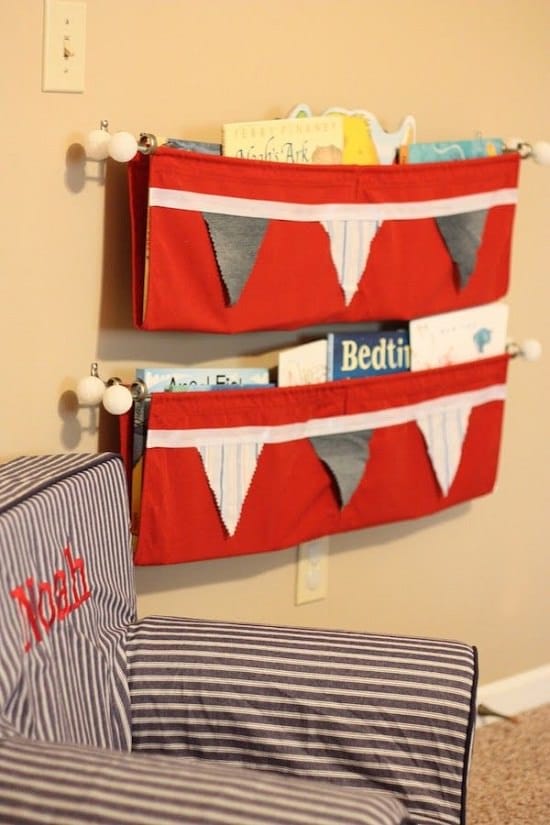 Made from chair covers, these hanging, no-sew bookshelves are super easy to make and offer individual pockets for keeping craft items in addition to books. Here's the DIY.
3. Colorful Bookshelves and Painted Wall Border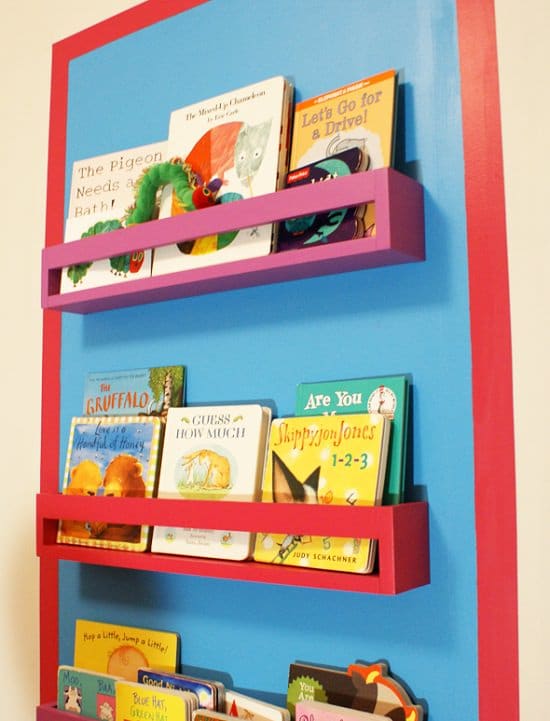 Having a pretty set of painted wall-mounted bookshelves against a framed backdrop may end up encouraging healthy reading habits in growing children. Make them with this DIY.
4. Old Ladder Bookshelf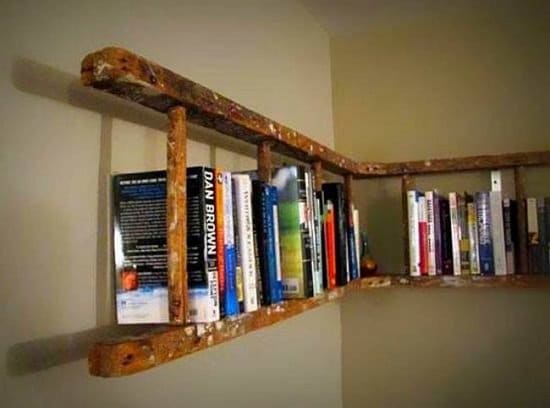 When your garden ladder gets too rickety for climbing, invert it along its side and mount it high on the wall to use as a bookshelf. Take inspiration here.
5. DIY Metal Basket Bookshelf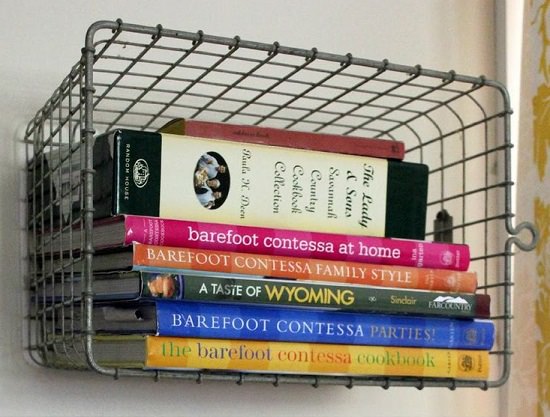 Turn a couple galvanized baskets on their ends, bolt them with screws to the wall and voila! You have neat little storage boxes for your favorite books. Here's the DIY.
6. DIY Dollhouse Bookshelf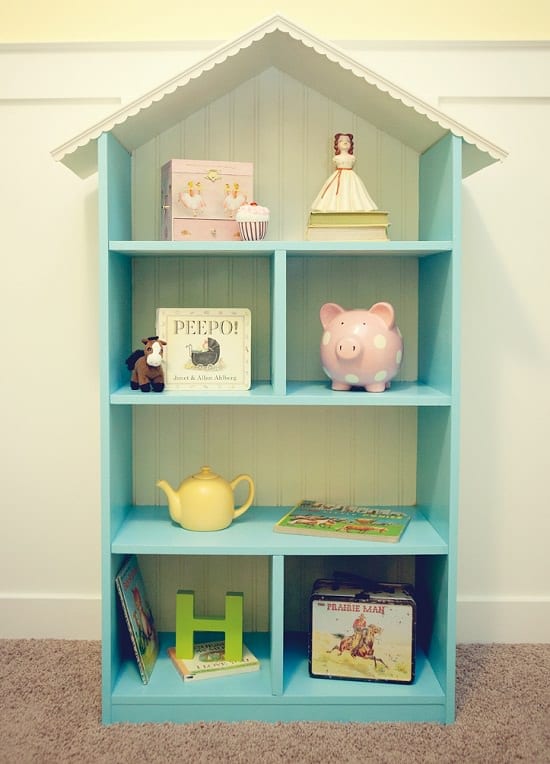 Convert an old dollhouse into a high-end book storage corner with spax screws and wood glue to add the shelves. Here's the DIY.
7. Letter A Bookshelf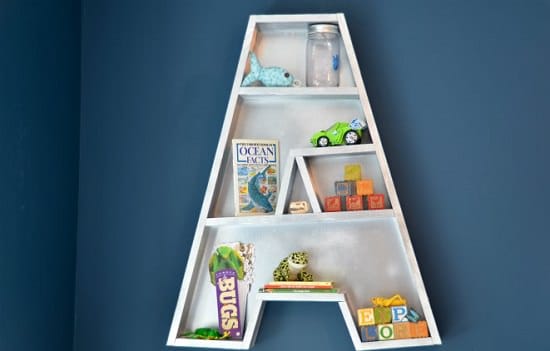 This unique monogrammed bookshelf adds a lovely customized focal point in the children's bedroom, especially when hung on the headboard. Here's the DIY.
8. Tardis Bookshelf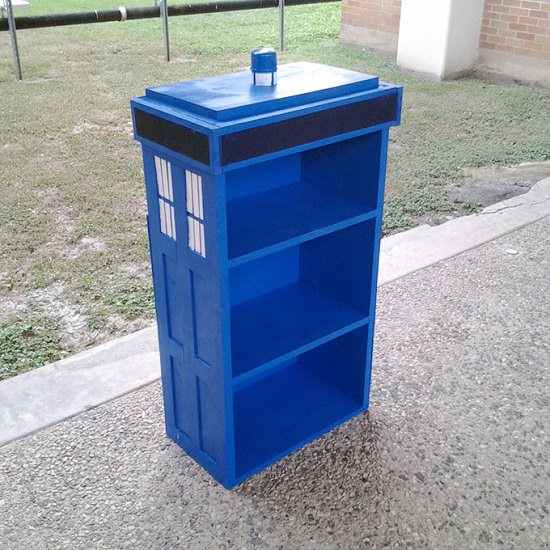 For the advanced woodworker with a fondness for Doctor Who-inspired furniture, this DIY makes the perfect weekend project.
9. Bookshelf from Spice Racks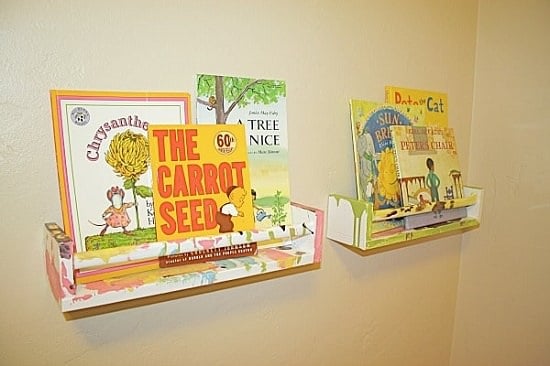 With this easy bookshelf tutorial, you can leave the creative part of the job to the kids. Just hand over a couple of Ikea spice racks and let them get busy with their paint and brushes.
10. DIY Cloud Bookshelf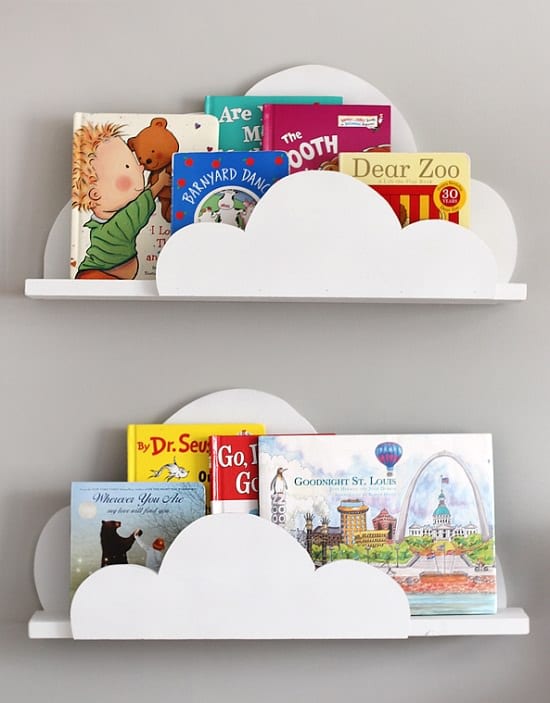 These wall-mounted cloud bookshelves are actually easier to make than you think. Plus, they take no more than 2 hours from start to finish. Follow this DIY.
11. DIY Colorful Crates Bookshelves
Spruce up box crates with fresh coats of paint and glue them up to create a stacked array that functions well as a bookshelf. Here's the DIY.
12. Wood Pallet Bookshelf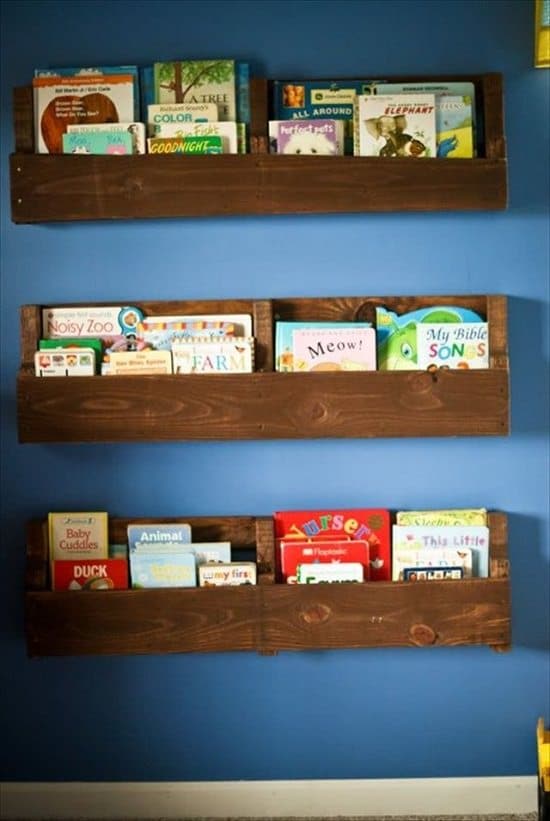 This is a great DIY to put old pallets to use, and you don't even need advanced woodworking skills-just a saw and a drill and you're good to go.
13. DIY Baby Bookshelf From Cardboard
Replicate the elegant look of wood with zero carpentry skills and some decorative fabric and cardboard handy. Details are in the video.
14. Kids Wall Bookshelf
A stack of DIY floating shelves offers compact storage solutions for keeping books of individual categories well-contained yet available for easy reach. Make them with this tutorial.
15. Easy DIY Bookshelf
If you want a more exhaustive storage solution for your never-ending collection of books, consider this wide shelf that is sturdy, lasts long and makes storage easy.
16. Nursery Bookshelves // DIY
Although designed to be kitchen spice racks, these Ikea finds are the cutest bookshelves ever. Plus, they offer ample opportunities for customization.
17. Simple DIY Kid's Bookshelf
Involved minimal hardware or woodworking skills, these DIY floating shelves are a cinch to make and super economical as well. Follow the tutorial in the video.
18. DIY Floating Bookshelf
Add a fun twist to floating bookshelves with spray paint and animal stamps to make good enough as a kids' room accessory.
19. Kids Castle Bookshelf
With hidden shelves that open up to offer individual slots for storage, this castle-turned-bookcase is pure entertainment for the kids. Make it with this DIY.
20. 5 Minute Kid's Bookshelf
Made from scrap board secured upon wrapped bricks for support, this super cheap DIY bookcase literally takes five minutes to come through, making it faster and more economical than a trip to Ikea.
21. Tree Bookshelf
Made with plywood strips, this "branched" bookshelf adds a whimsical touch to the walls, and that too without compromising with ease of storage.
22. Fabric Bookshelf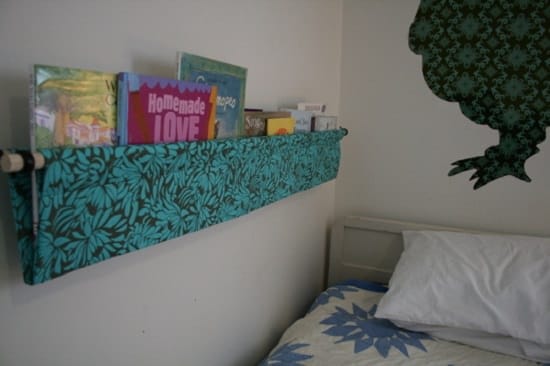 Decorate a hanging book display with a pretty piece of fabric to add a nice layer of texture to the bedroom. Here's the DIY.
23. BookShelves Made With Paint Bucket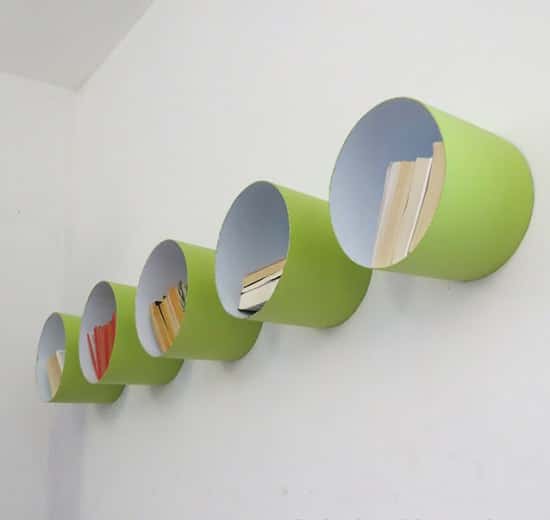 Making shelves with upcycled paint buckets is not only easy and economical but also gives you an array of storage solutions for keeping small items within easy reach. Get the DIY here.
24. Rope Bridge Bookshelf
This DIY rope bridge-style bookshelf lends a casual charm to the walls and keeps books well-preserved when they are not in use. Get the details here.
25. Custom Kids Bookshelf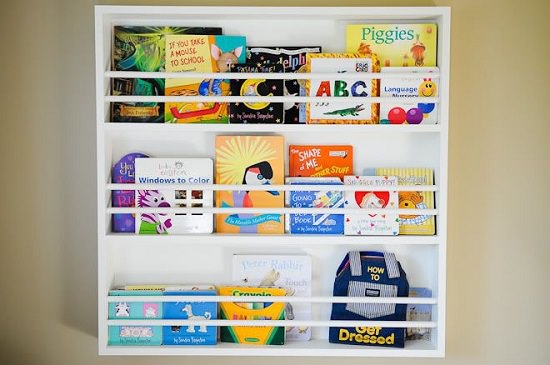 Made with a luan plywood frame for the back and dowels on individual racks, this lightweight wooden shelf has the potential to hold a large number of books without looking too messy in the process. Here's the DIY.
26. Amazing DIY Kids Bookshelf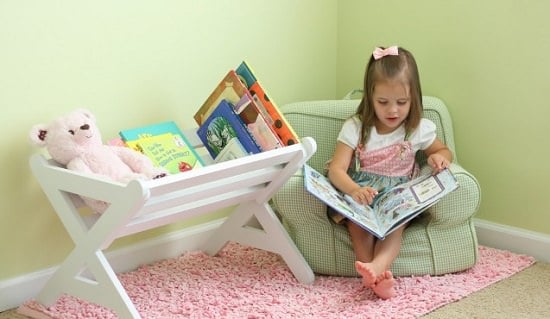 With striking X-shaped legs on the sides and a basket-like rack on top, this DIY bookshelf can be made from a single board. Follow this DIY to know-how.
27. Modern Kids Bookshelf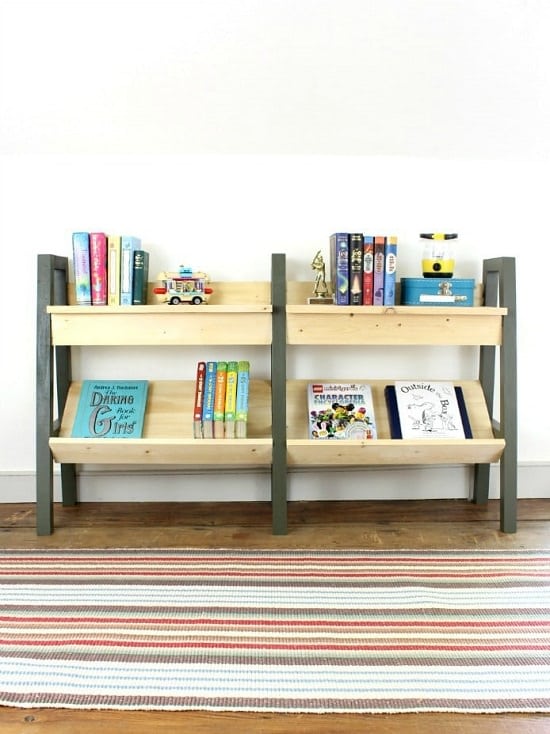 This mid-century style bookshelf features angled legs that offer added support. Also, it has just the right height to offer easy reach to toddlers. Get the DIY here.
28. Children's Wall Bookshelf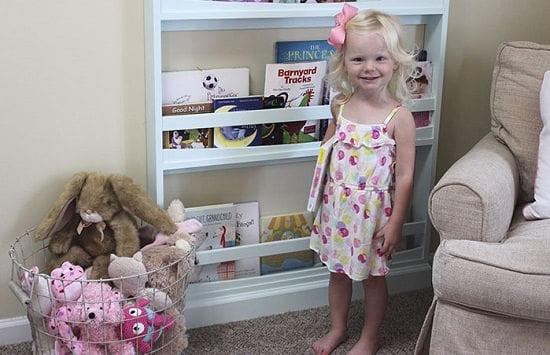 If you don't know what to do with the space between the big chair and the wall, consider fashioning this DIY sleek bookcase. It holds a ton of books and makes it easy to pick out what you want.
29. Tot Tutors Kids Bookshelf
These multi-tiered yet toddler-friendly bookshelves are lightweight enough to move around and easy to reach for quick storage.
30. Wooden Book Shelves (for a nursery!)
Give a budget-friendly makeover to empty nursery walls with a set of wooden bookshelves that offer easy storage without eating up floor space.
31. Bookshelf For Children's Rooms
With a wider bottom-to-top ratio and a sloping design, this DIY wooden bookshelf makes a fun kids' room accessory that offers purpose while creating visual interest. Built it with these instructions.
32. DIY Four Sided Kid's Bookshelf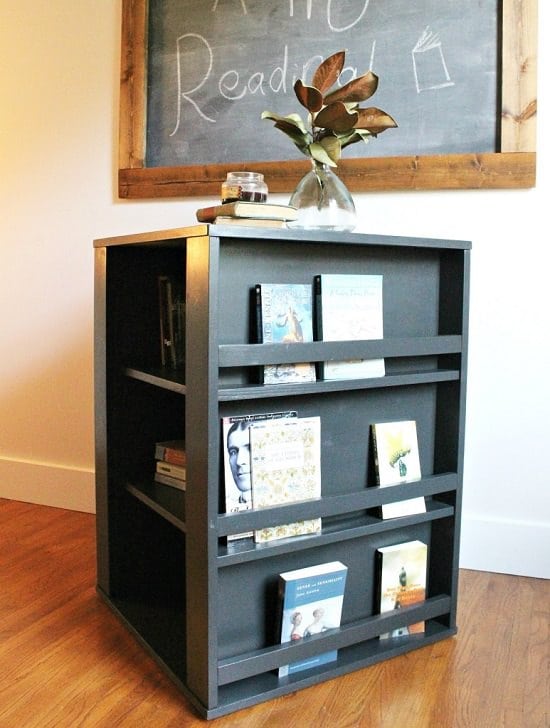 Made with plywood and lazy susan hardware,  this rotating bookshelf features both deep and shallow shelves for enhanced storage. Plus it spins, making it fun to use for the kids. Create it with this DIY.
33. Industrial Kids Bookshelf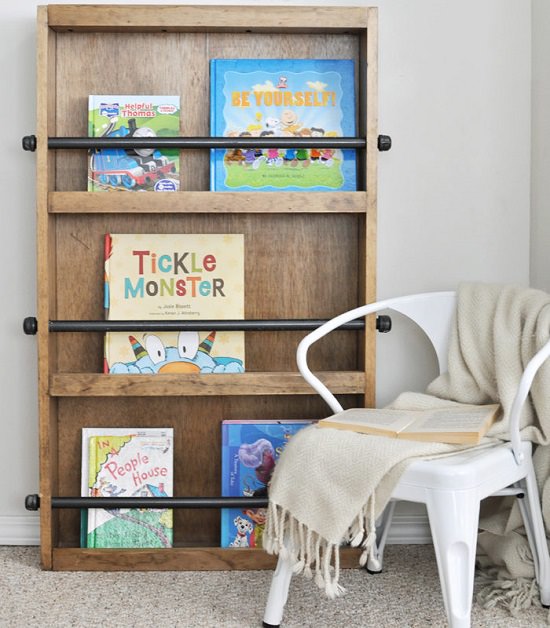 Made with plywood and metal piping, this industrial-style wooden shelving is a great fit for the children's bedroom as it doesn't topple easily and stands the test of time as well. Here's the full DIY.
34. Cute Pallet Bookshelf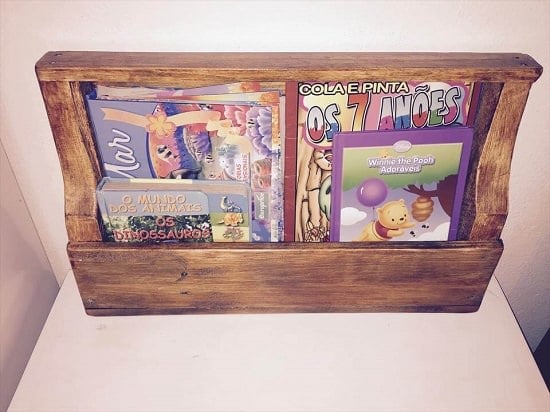 This DIY pallet bookshelf doesn't just reduce clutter but also offers easy reach to your favorite storybooks, as it has a design that looks good on the walls as on the bedside table.
35. Whimsical Cloud Bookshelf for a Kids' Bedroom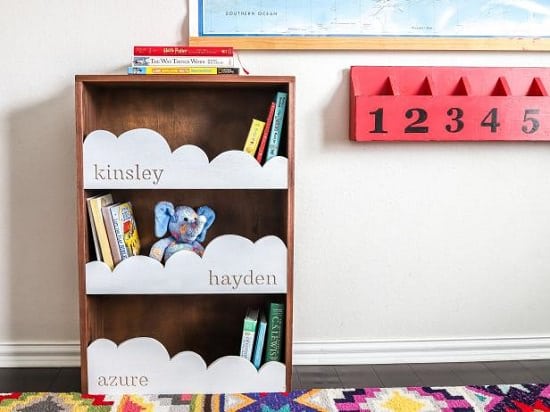 This cloud-themed bookshelf adds an eccentric touch to the children's room, and it's super easy to create with a few hardware supplies. Follow this DIY.
36. Copper Pipe Bookshelf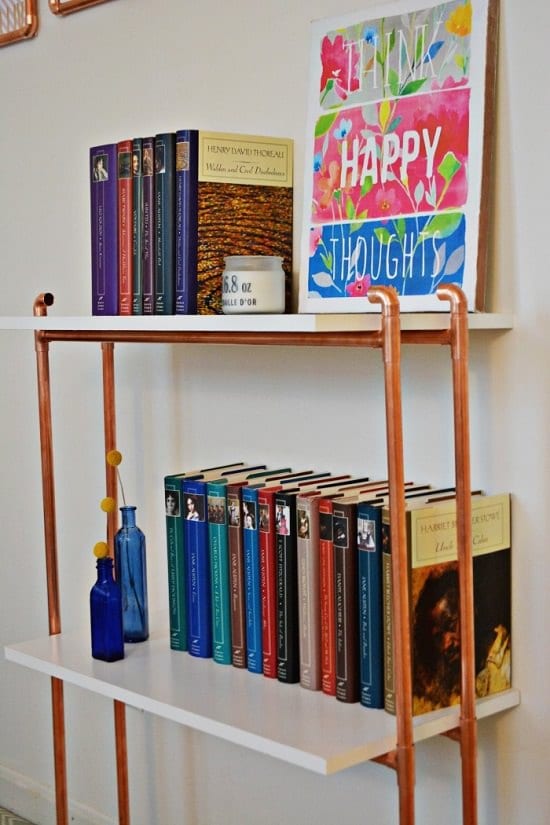 Add copper piping to plain white open shelves for some heightened drama with little effort. Here's the DIY.
 Although these DIY Kids' Bookshelf Ideas are for children, you can customize them to store your books too! Also, reading helps kids to go a long way in developing their mind and therefore these DIY Kids' Bookshelf Ideas will help you to store the pile of books.