Check out these 23 amazing DIY light switch covers to transform your dull switches into something unique and quirky!
1. DIY Wood Light Switch Plates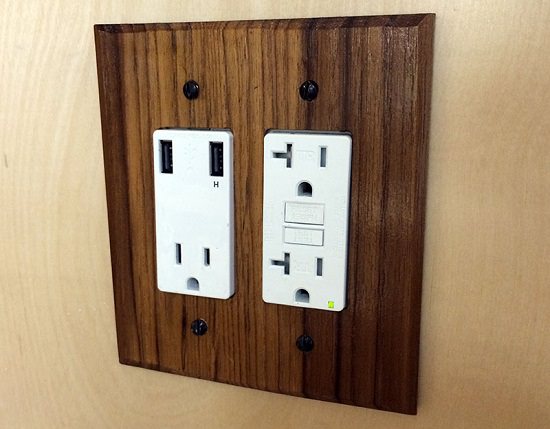 This practical switch plate cover idea is for those who want to add understated drama to the living room.
2. Washi Tape Switch Plate Cover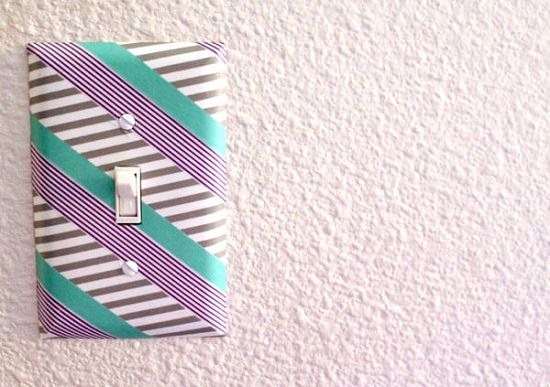 Switch plate covers with decorative washi tape offer colorful accents to plain walls.  Check the tutorial at washi tape crafts.
3. Vintage Old Plates Light Switch Plate Covers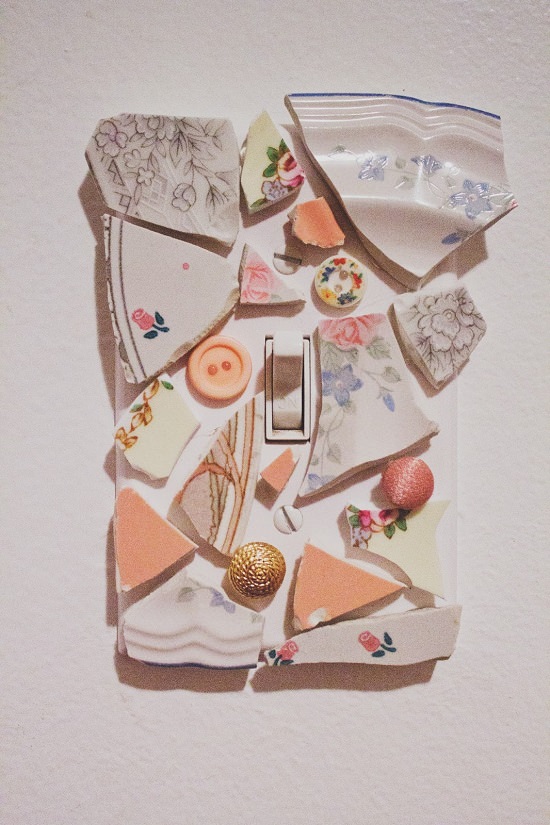 Broken pieces of porcelain plates are a smart way to add a vintage flair to switch plate covers. The tutorial is here.
4. Galaxy Themed Switch Plate And Outlet Covers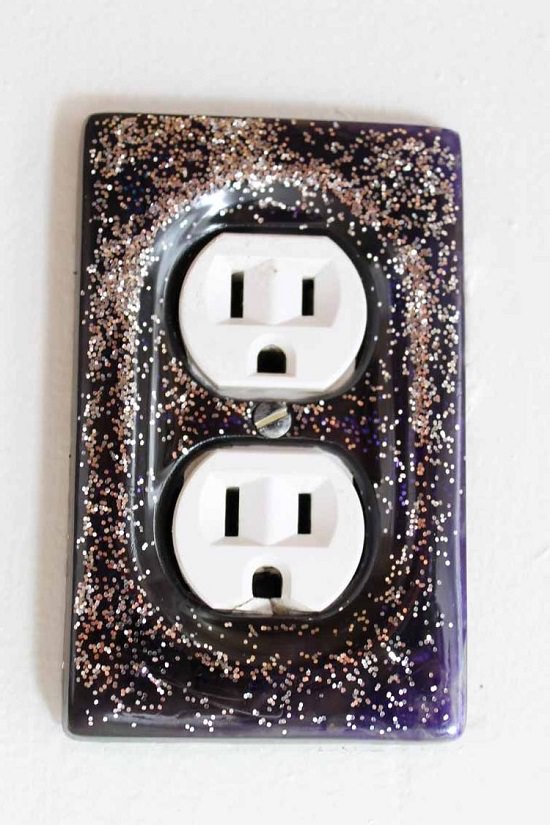 Galaxy-themed switch plates are perfect for encouraging the astronomical ambitions of your child.  More on it at resin obsession.
5. DIY Car Light Switch Cover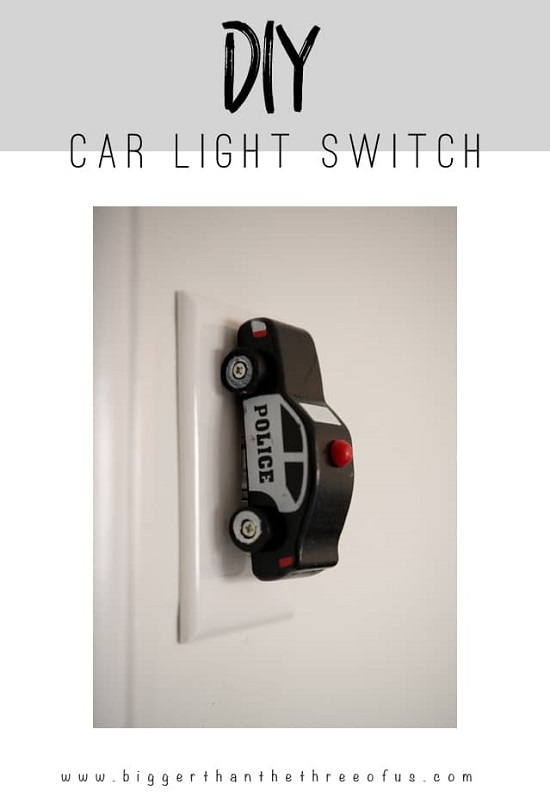 This cute car-themed light switch cover is a fun addition to your boy's bedroom.
6. DIY Sparkly Duct Tape Covers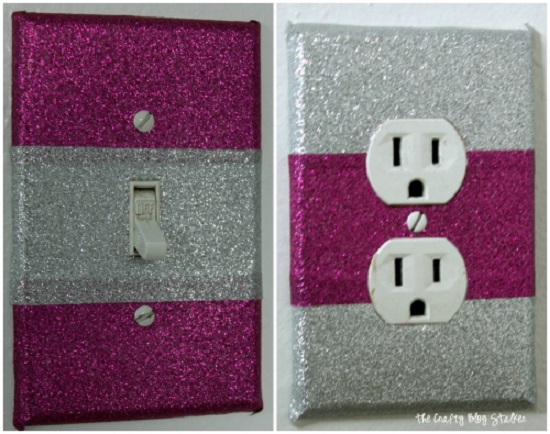 Using duck tape is an easy and cost-effective way to add a girly touch to the light switch cover. Make one for yourself following the tutorial here.
7. Industry Inspired Switch Cover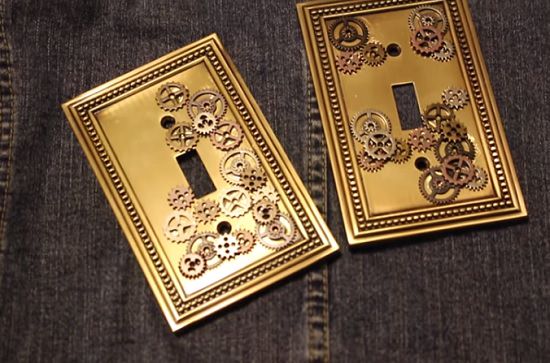 Check this YouTube tutorial to learn how you can transform any dull and boring switch plate into an industry-inspired cover.
8. Fabric Switch Covers
Here's a remarkably creative way to put your favorite pieces of fabric to good use. One of the most practical ideas among other DIY light switch covers in this list.
9. DIY steampunk switch cover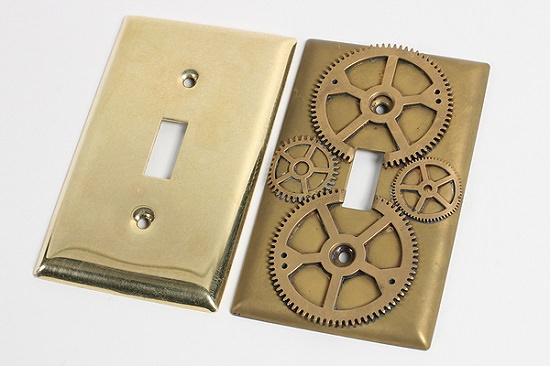 A bit difficult project requiring skills and tools, these brass plate covers create a vintage feel in your room. Steampunkworkshop has the detailed tutorial.
10. DIY Marbled Switch Plate Covers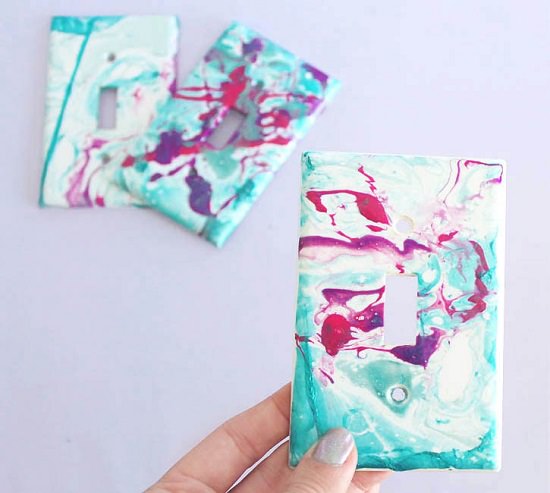 Adding marbled accents on your light switch plates help them blend seamlessly with the decor. Here's the easy tutorial.
11. Painting Light Switch Wall Plate Covers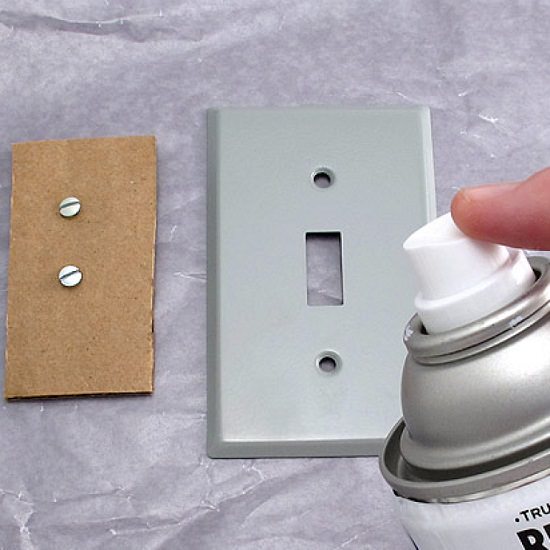 Whether you want your switch plates to match the wall color or contrast starkly with bold accents, kyleswitchplates has something for you.
12. Sharpie Art DIY Light Switch Covers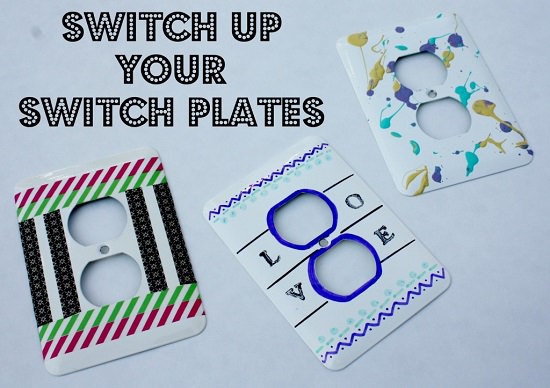 The possibilities are endless when you have Sharpie markers and washi tapes at hand.  Follow this link for step by step tutorial.
13. Beach Themed Light Switch Cover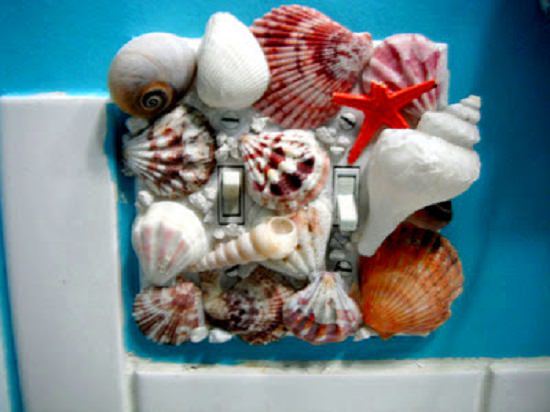 Sticking myriad colors and shapes of seashells on your outlet covers creates beachy vibes in the room. More on it here.
14. Scrapbook Paper Covered Light Switch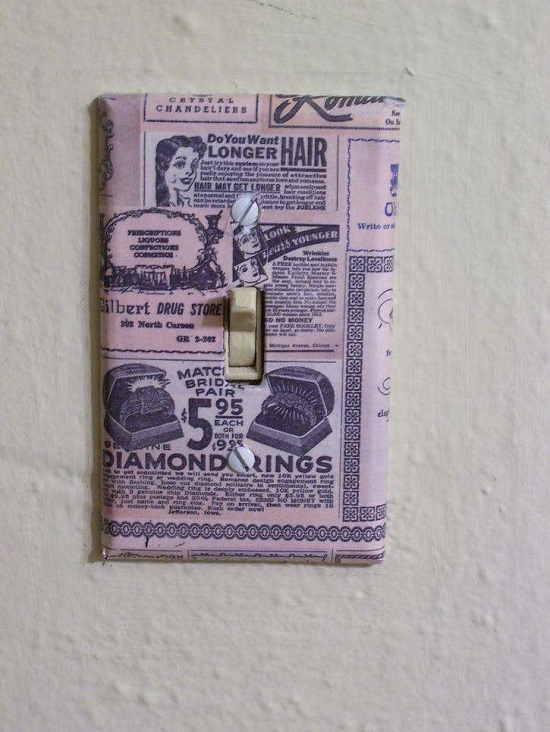 This sleek and shiny light switch stands out for its design accents and looks more like a mural decor.
15. Notes Switch Light Cover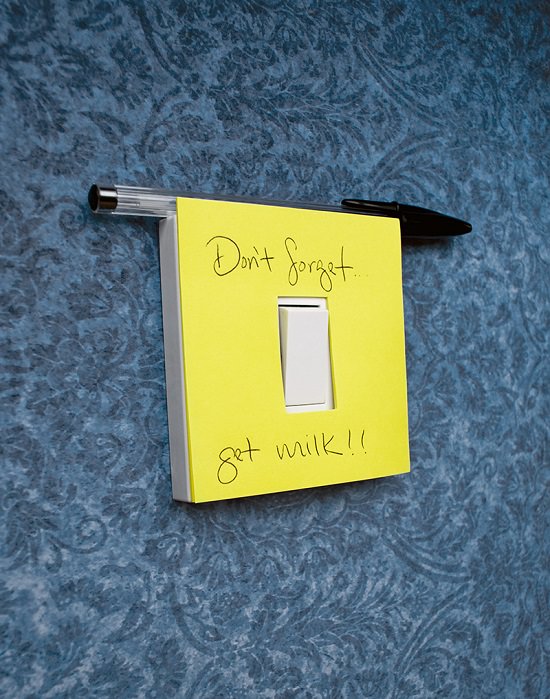 Pasting sticky notes on light switch covers is a smart way to keep small errands in mind.  Suck has this product for sale but you can easily DIY it at home.
16. Book Lover's Light Switch Cover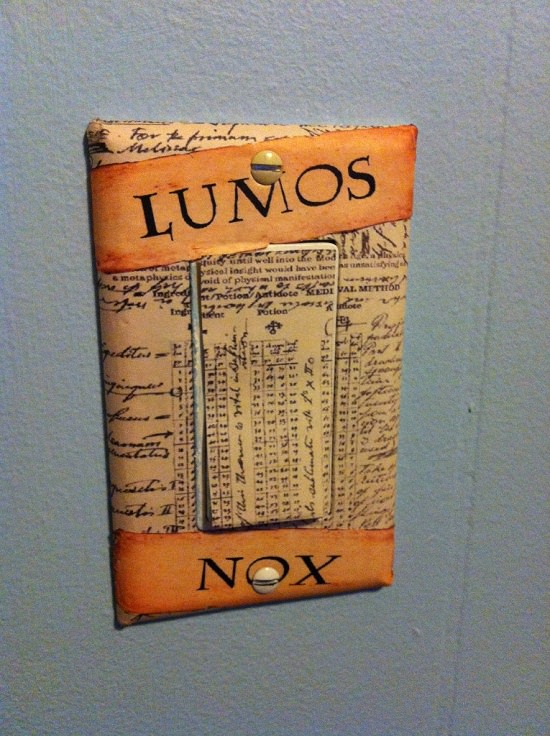 Quirky Potter-themed DIY light switch covers are sure to make a dingy room magical and perfect for the Harry Potter lover in the house.
17. Dr. Who Inspired Light Switch Cover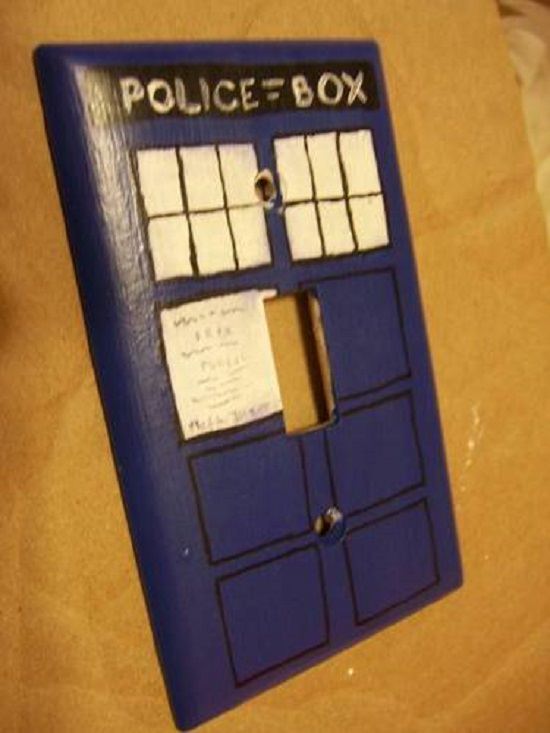 This cool Tardis prop-cum-switch cover adds a bright pop of color in your space.
18. Gift Wrapped Switch Plates Covers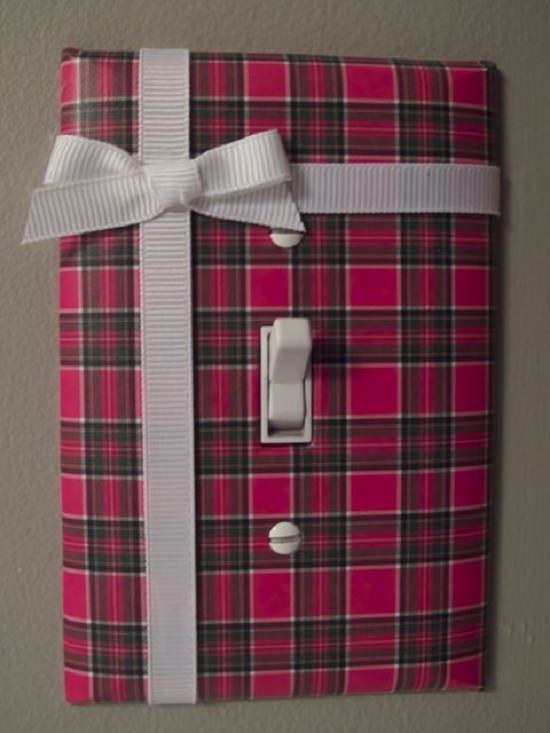 Install this festive switch cover on the front door as a lovely holiday greeting for guests. Check the tutorial on curbly.
19. Patterned card stock and Mod Podge covers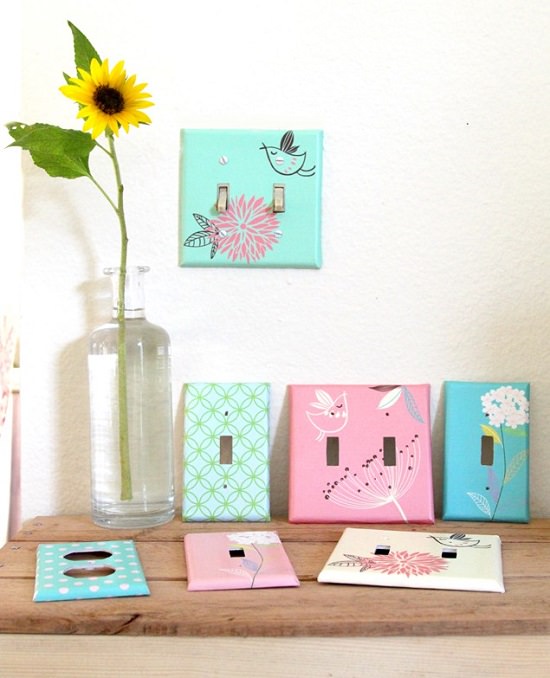 The personality and flair of these pastel-colored light switch covers are hard to miss.  Apieceofrainbow has step by step tutorial on it.
20. DIY Alcohol Ink Art Switch Plates Covers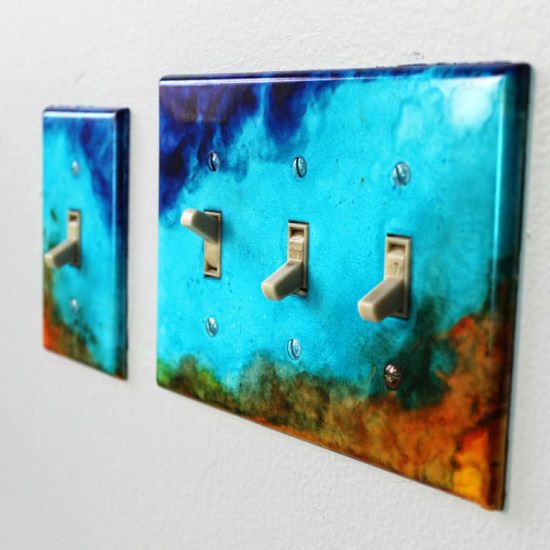 For the not so artsy DIYer, alcohol inks are an easy way to create chaotic bright patterns on switch covers. Here are the instructions.
21. Glitter Light Switch Cover Plate Covers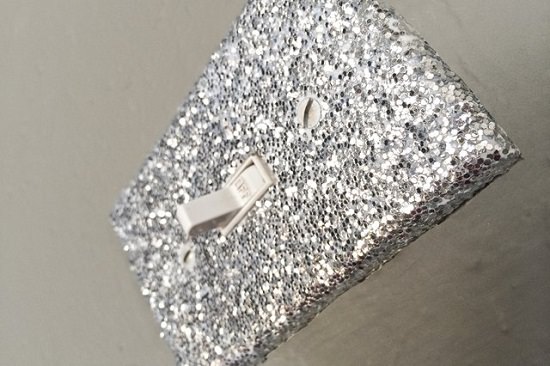 Adding a glitzy makeover to a plain light switch adds a hint of glam to a dull bedroom.  The tutorial is available at Hunker.
22. Easy Decorative Switch Plates with Mod Podge
How interesting it is to match the accents of your light switch covers with the drapes of your room! Use mod podge to create this cover.
23. DIY Mosaic Tile Light Switch Covers

Custom mosaic tile coupled with rhinestones and tiny mirrors is the perfect kind of glam covering for a light switch. Check the steps here to make it.