What to do with leftover wine corks? Well, use them to complete one of these unbelievable DIY Wine Cork Projects and Ideas available here with the tutorials!
1. Wine Glass Charms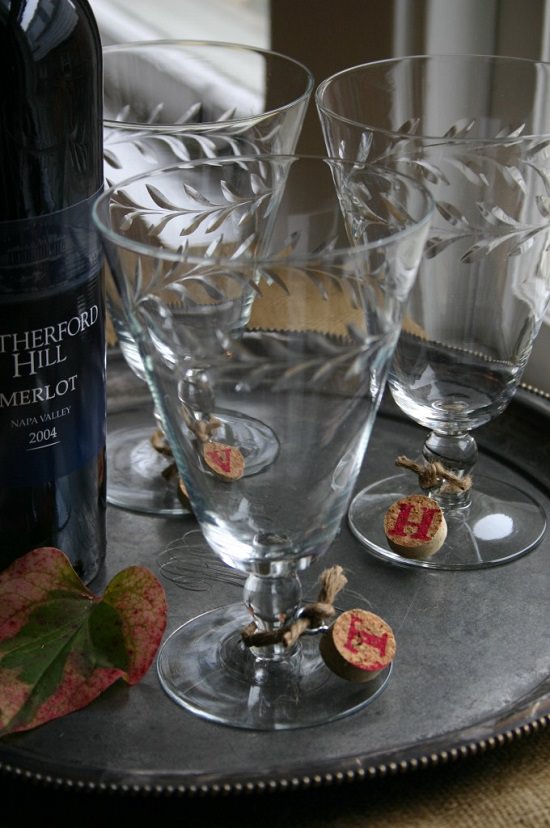 Create these purposeful and attractive wine charms using wine corks to add enticement to your parties! Visit Cfabbridesigns to get the tutorial and few more ideas.
2. Wine Cork Thumbtacks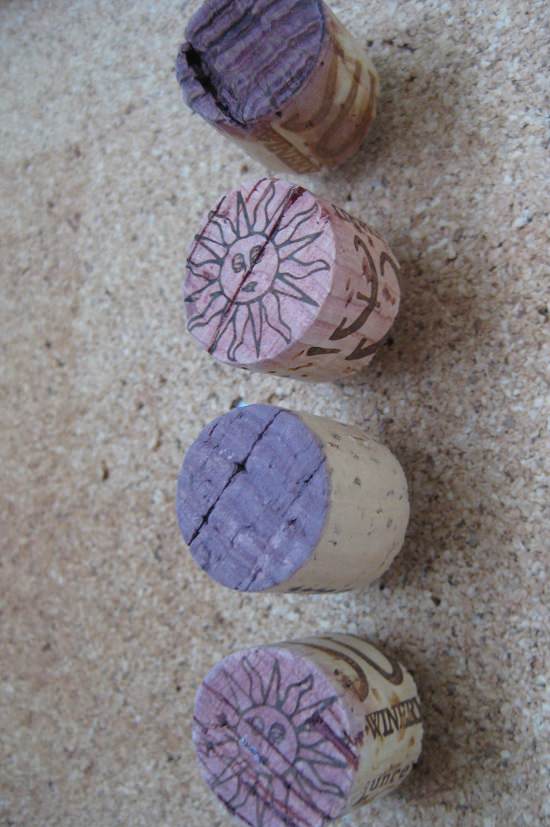 Reuse wine corks to make these thumbtacks for your bulletin board that looks astonishing! Get the detailed tutorial at The Wooden Bee.
3. Wine Cork Birdhouse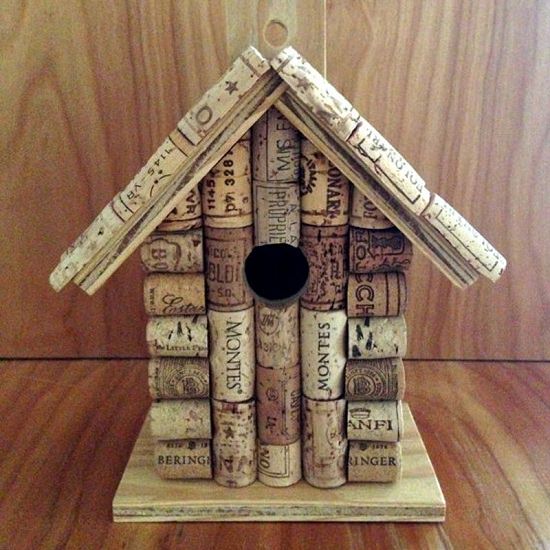 Craft this rustic and pretty birdhouse using 150 old wine corks and glue. This DIY is easy to make within an hour with the help of this video tutorial.
4. Wine Cork Photo Clips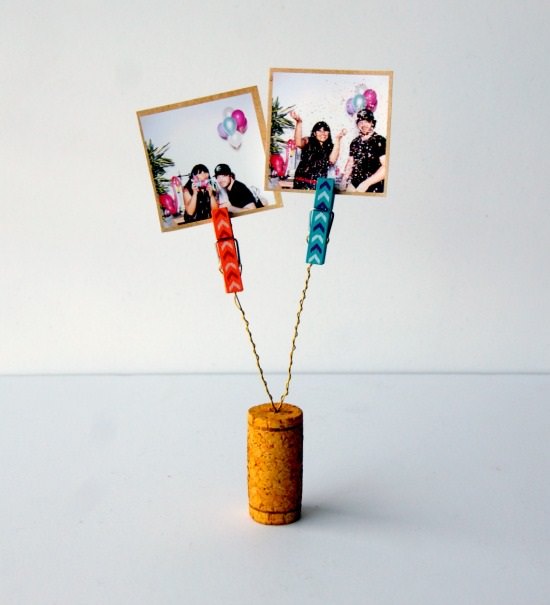 Create this simple and cute wine cork project to upcycle some spare corks into something functional! Get the detailed step-by-step tutorial here.
5. Place Card Holder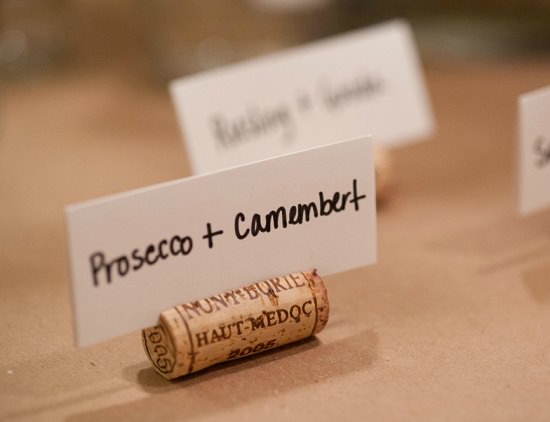 Turn wine corks into place card holders using a sharp knife and few wine corks, of course! These help you to keep your party or wedding feast table arranged tidily. Get the tutorial here.
6. Wine Cork Candle Holder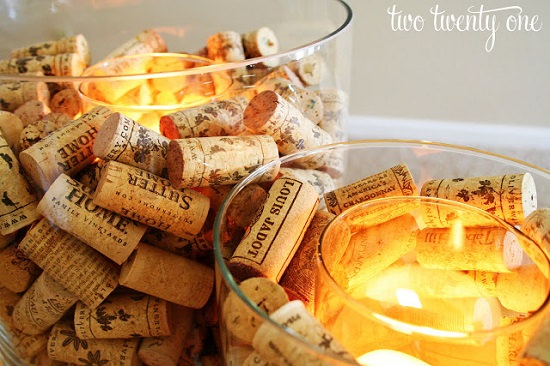 This wine cork candle holder is super easy to make, and you can use it as a centerpiece. The tutorial is here!
7. Wine Cork Vase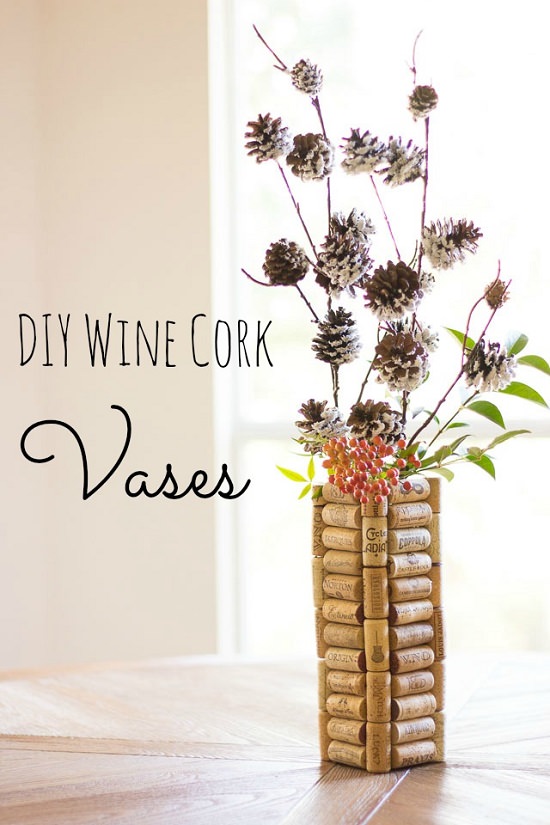 Glue wine corks to a glass vase, it's just that simple and easy. Check out the DIY post here.
8. Wine Cork Placemat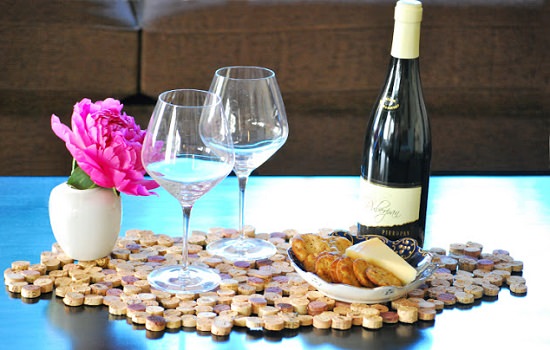 Use wine corks and glue gun to create this unique handmade placemat. Check out the tutorial at Creme Dela Craft to know more.
9. DIY Wine Cork Candles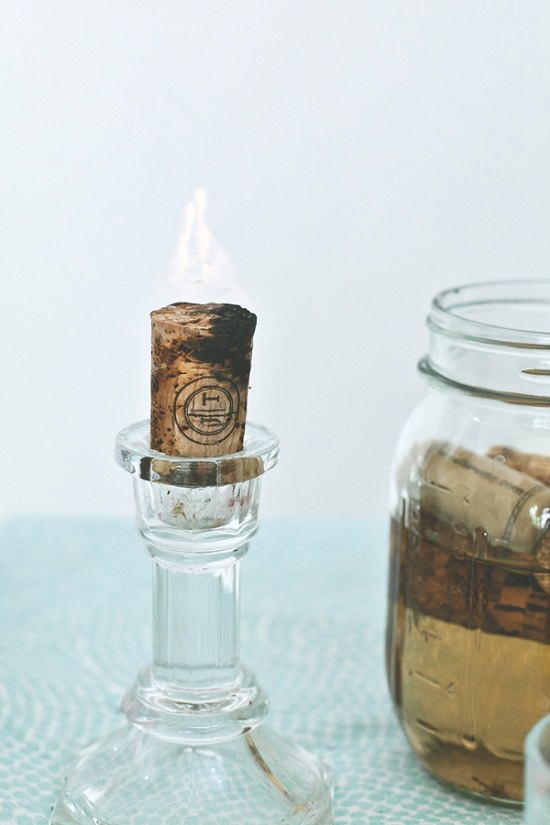 Soak wine corks in acetone alcohol for a week, and your Wine cork candles will be ready to use. Find the steps here.
10. Wine Cork Trees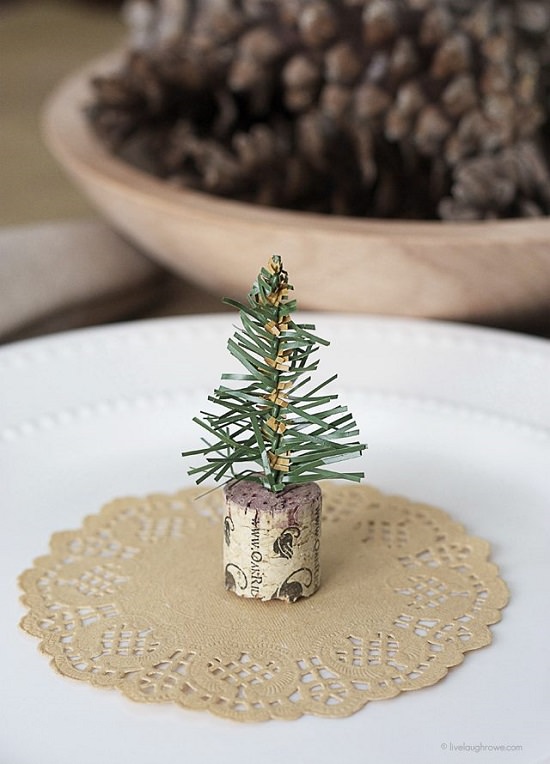 These miniature trees are fun wine cork crafts for kids. Also, they can serve as ideal handmade gifts for holidays. Here's the detailed tutorial.
11. DIY Necklace Rack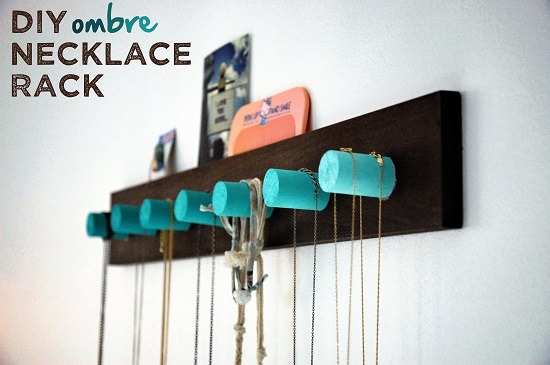 Model this necklace rack using corks and long wooden piece, to hang your necklaces in a clean and organized manner! Get the step-by-step tutorial here.
12. Wine Cork Bath Mat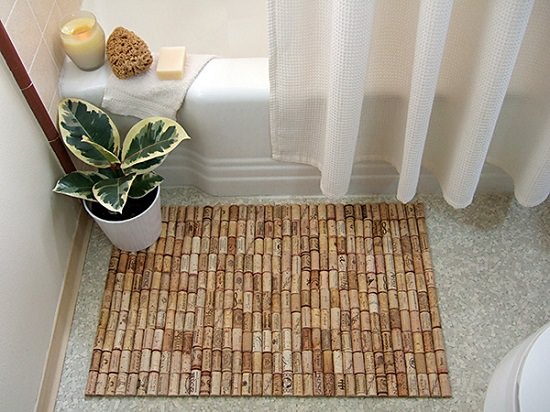 To create a spa-like appearance in your bathroom, try this wine cork bath mat idea from the craftynest.com.
13. DIY Ombre Cork Heart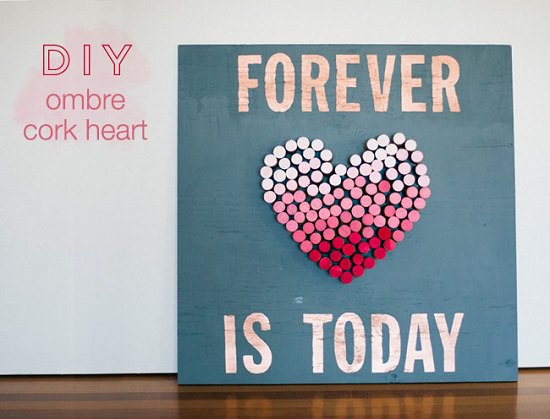 This DIY cork heart can make you win the heart of your partner. Check out the tutorial here.
14. Magnetic Cork Planters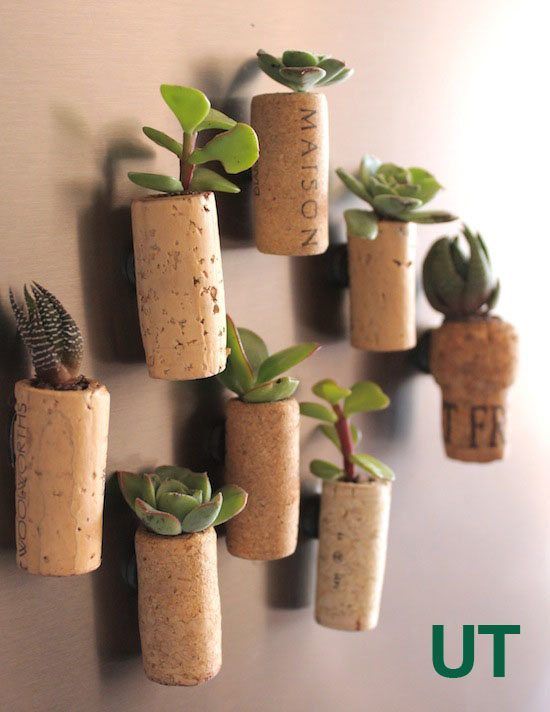 Use these magnetic cork planters as fridge magnets. Besides being cute and attractive, they are elementary too. Here's the full tutorial to follow.
15. Wine Cork Trivet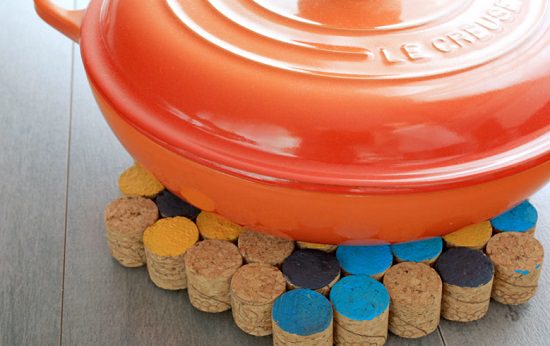 Protect your tabletop from hot cooking pot or kettle by creating this Trivet using wine corks, glue, and paint. Check out the tutorial at Everyday Dishes.
16. Wine Cork Chandelier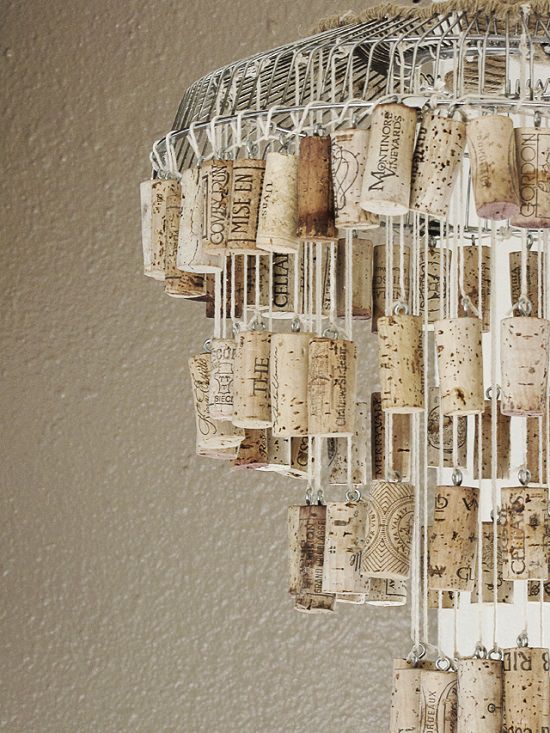 Give food to your whimsical and creative mind by replicating this DIY wine cork chandelier using the step-by-step tutorial available here.
17. State Shaped Wall Art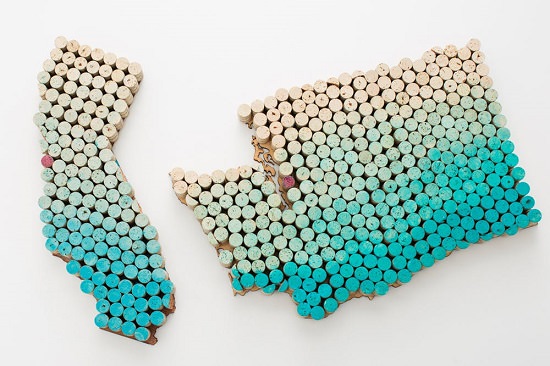 Show your love for your nation, state in the form of this brilliant state shaped wall art idea. Visit BRIT to get the tutorial.
18.  Hanging Alphabet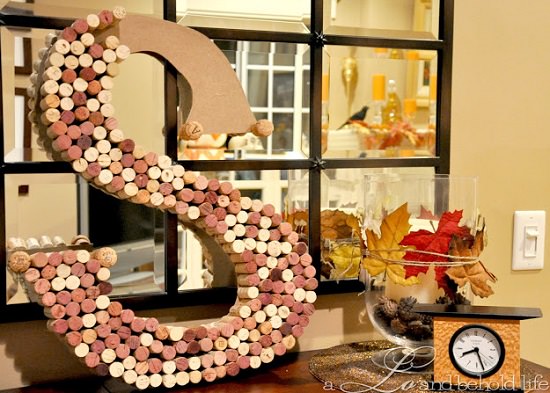 Consume your wine cork collection to make these hanging alphabets following this tutorial.
19. Cork Sculpture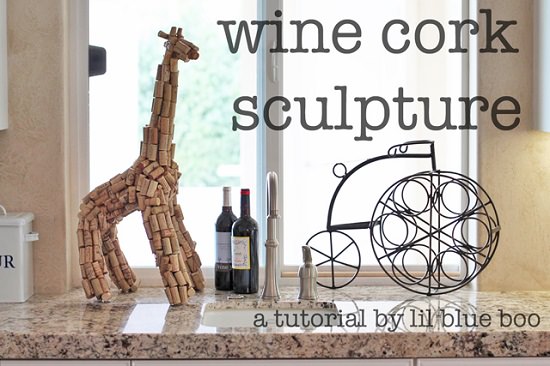 This wine cork sculpture is made using just three things–newspapers, wire hangers, and wine corks. Visit Lil Blue Boo to get the detailed and explained tutorial.
20. Canape Knives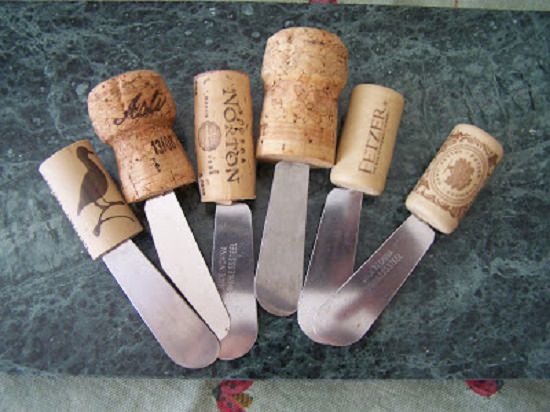 Visit Yarni Gras to know how to make a cork handle canape knife like this for yourself!
21. Cork Board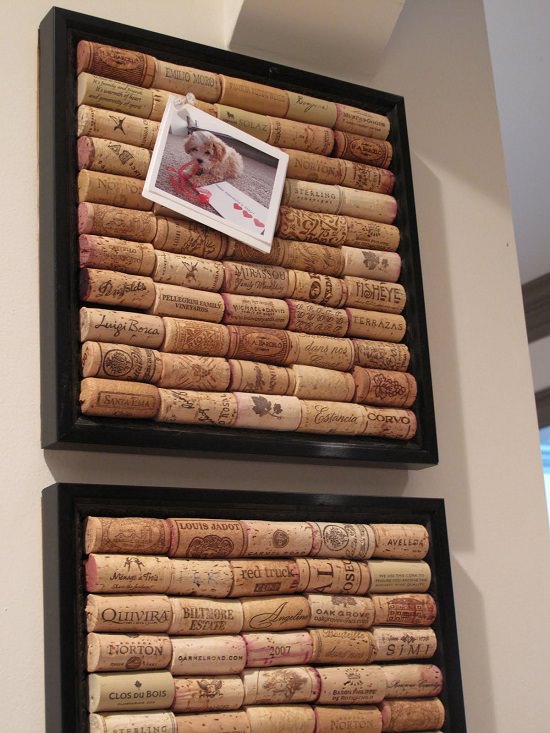 If you have been collecting wine corks for a long time, you'll love this project. DIY this custom cork board with this detailed tutorial.
22. Cork Garland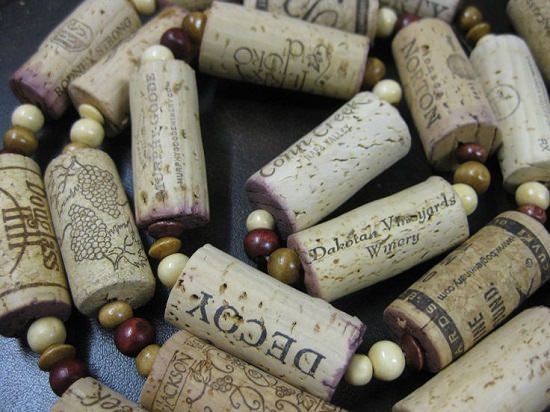 Create a stylish and easy garland using corks, ribbon, drill and some beads. It's perfect decor idea for holidays. Get the instructions here.
23. Garden Marker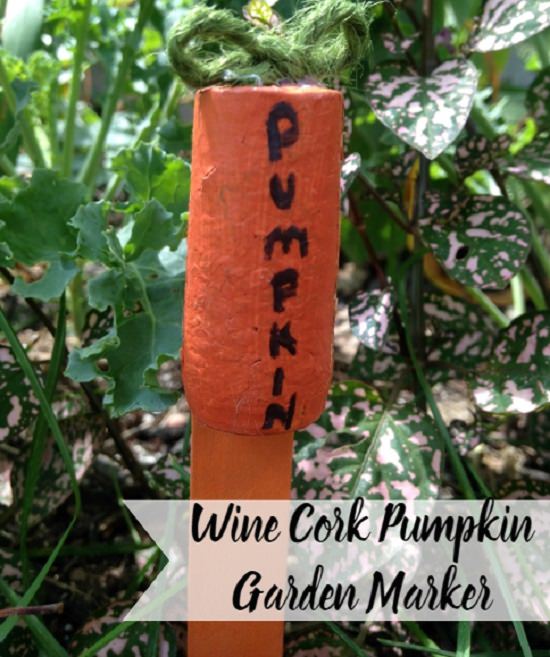 Wine cork garden markers to recognize plants easily. The detailed how-to post is available here.
24. Wine Charms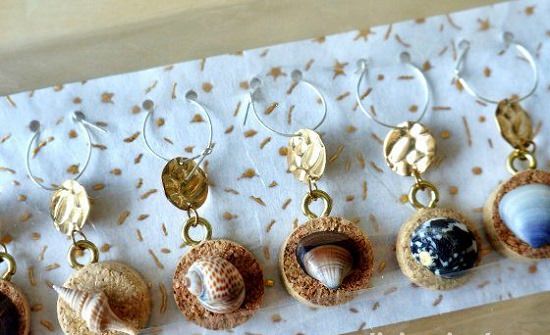 Another wine charm idea, appropriate for a party favor or homemade gift for events. Visit DIY Inspired for an intricate tutorial.
25. Wine Cork Keychains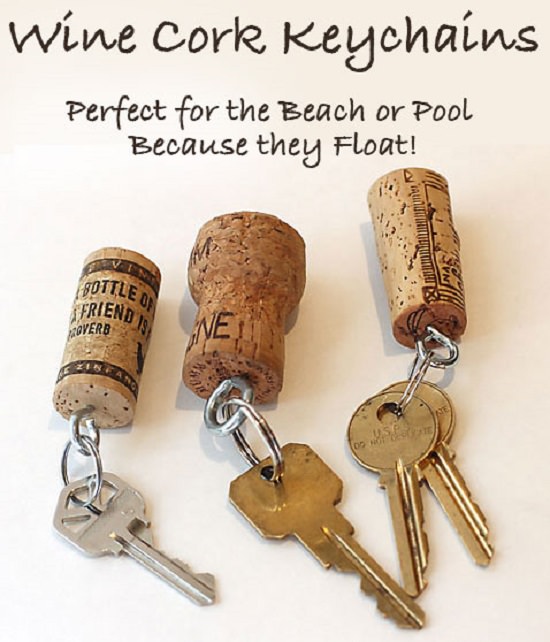 Who knew you could make keychains from wine corks! To recreate this DIY, follow the tutorial available here.
26. Cork Spools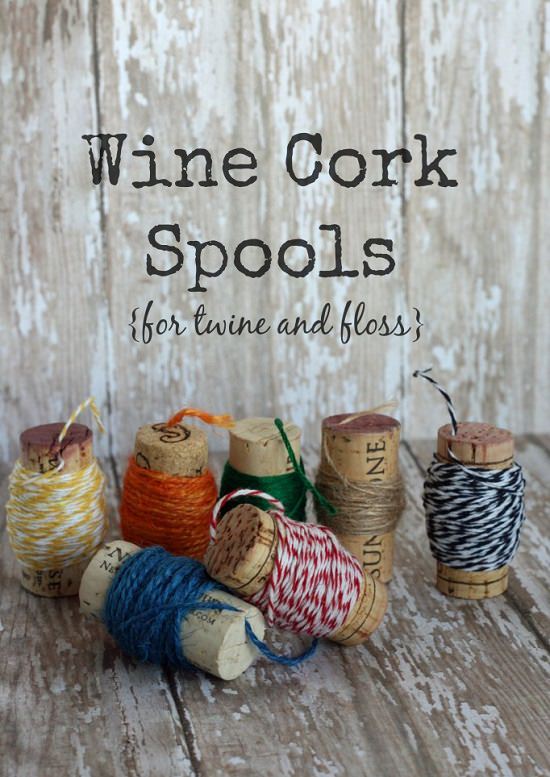 A perfect solution to the problem of messed up twine and floss, start by wrapping twine or floss around each cork and cut a tiny slit at the corner of the cork. The slit works to keep the twine or floss secured. We found the idea here!
27. Cork Place Cards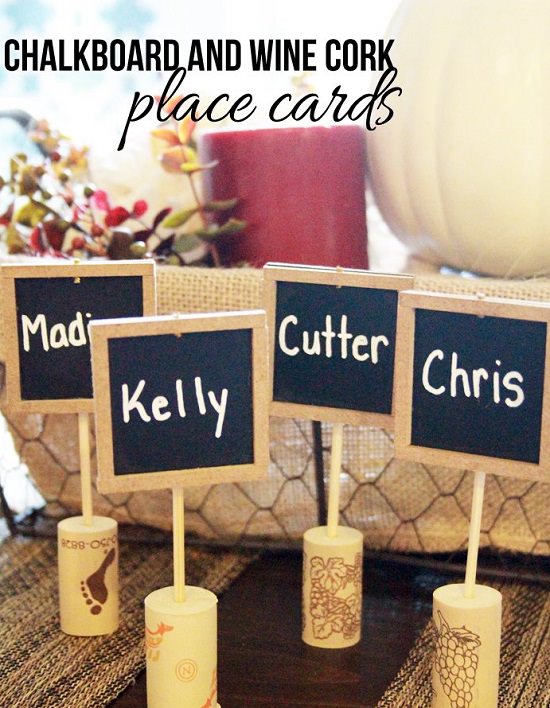 One more wine cork place card idea to follow. Although more appealing and creative than the previous one above in our list of DIY Wine Cork Projects!
28. Cork Wreath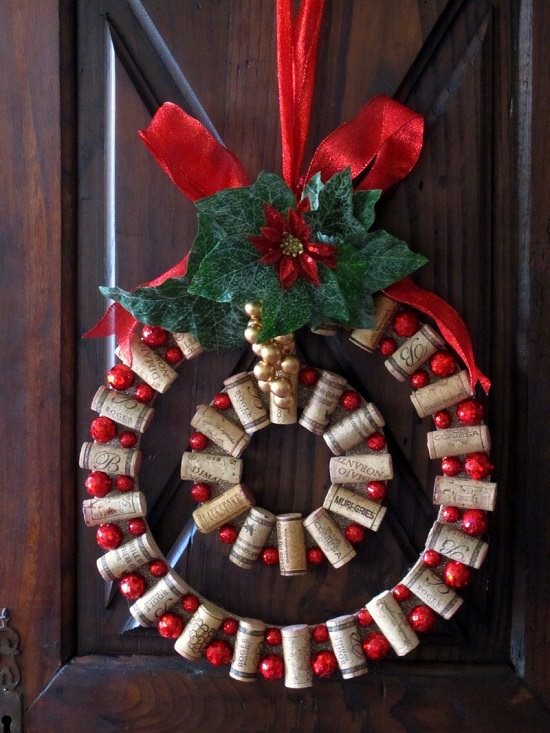 Create this Christmas decor wine cork wreath in simple and basic steps with this tutorial by Wine and Cork.
29. Napkin Rings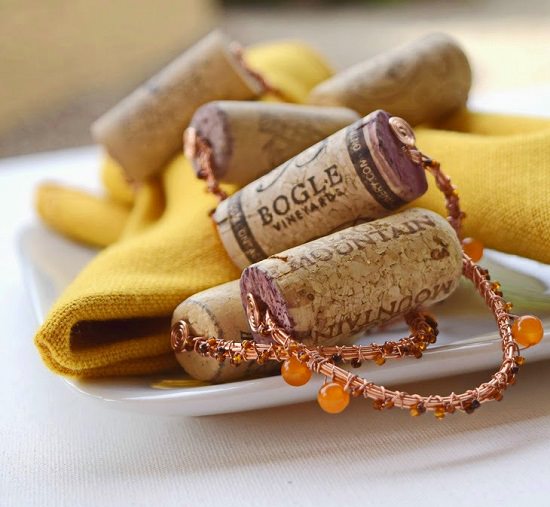 How about showing off your creativity by making these napkin rings using wine corks and a few more supplies? Well, that isn't a bad idea, check out the tutorial here.
30. Cork Pendants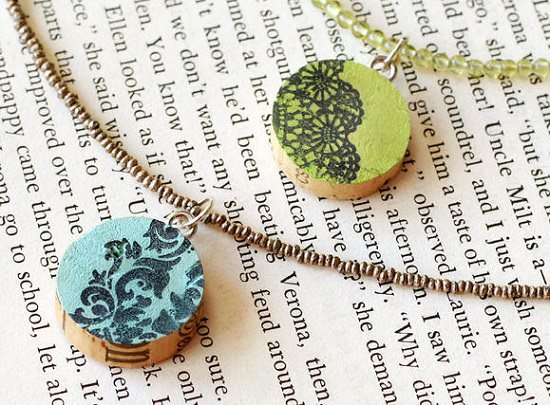 Get some wine corks to complete this necklace project, because, it's impressive! Making them is not a big deal since this tutorial makes it easy for you to understand each step.
31. Cork Heart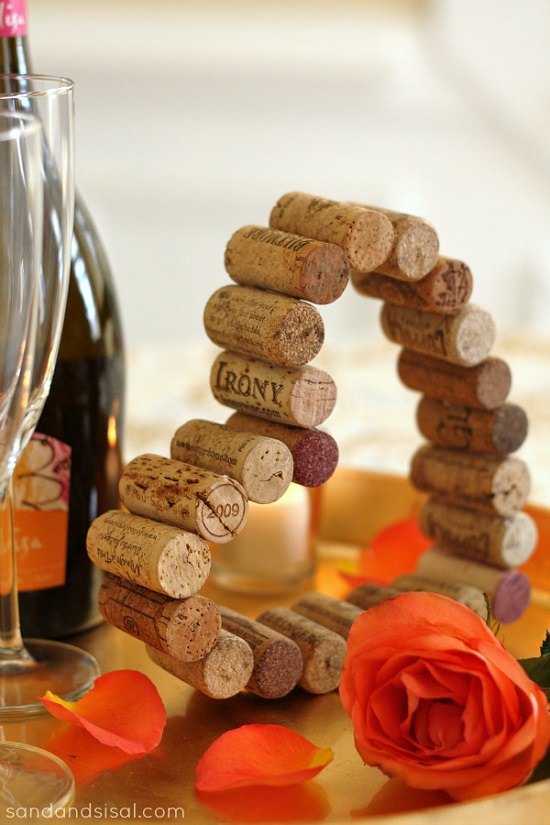 Leave your beloved in wonders by making this cute little cork heart for them on the valentine! Surely, you'll not be disappointed by this project.
32. Cork Keepsakes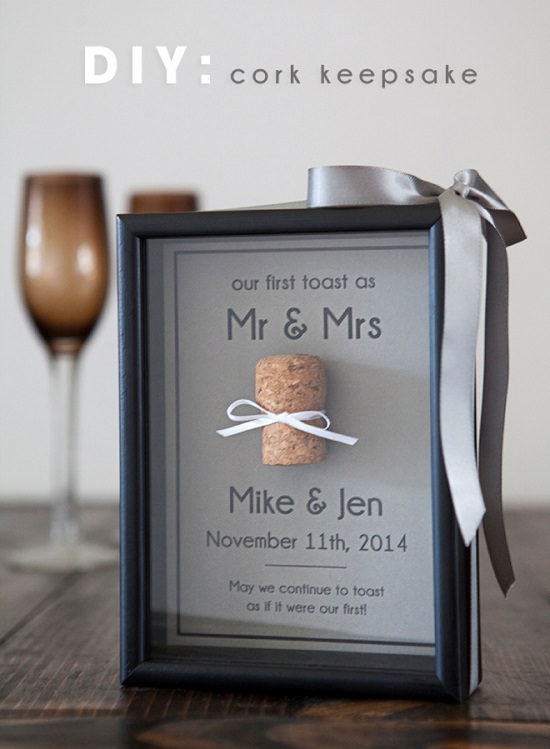 Save special and memorable memories of your life by creating this cork keepsake!  Interesting way to remember good old times, no? Get the explained tutorial here.
33. Cork Ball Decor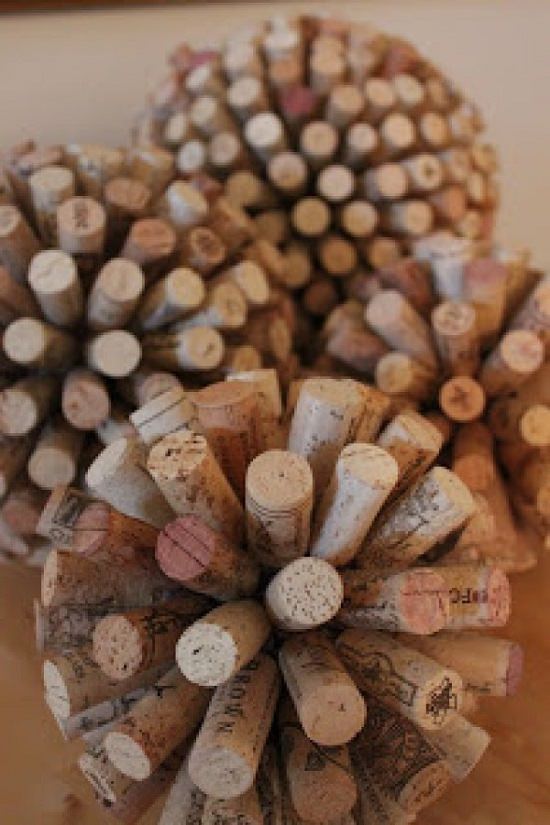 Exhibit your love for wine corks by modeling this cork ball for decoration purpose. It looks amazing and is quite easy to make too. Here's the tutorial article.
34. Cork Lampshade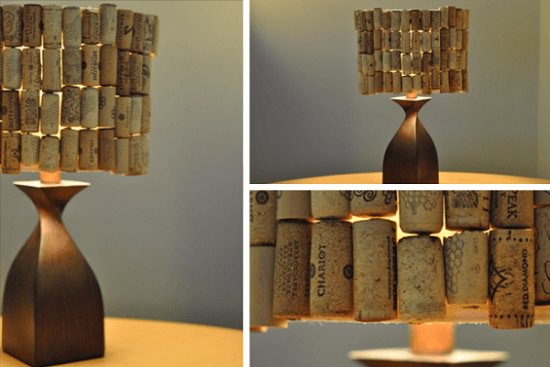 Think of how amazing it may look on your bedtable! DIY this interesting lampshade project using wine corks with the how-to guide available here.
35. Cork Utensil Holder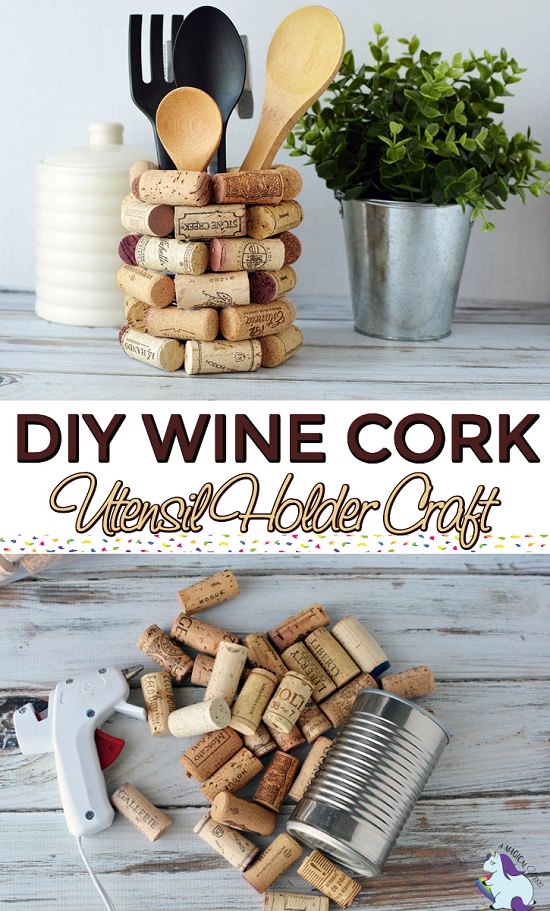 Personalize your kitchen by adding this self-made utensil holder using a tin can, glue gun and a collection of corks. You'll get the tutorial article at A Magical Mess.