Rock your family trip to Disney world with some customized Disney Shirt Ideas. They are fun and easy to design!
Are you a Disney fanatic and want to add magical bling to your wardrobe? These Disney Shirt Ideas will help you design a bunch with some simple and easy techniques!
---
1. DIY Disney Shirts – Minnie Mouse Wreath

Customize old tees into festive-themed Disney t-shirts that will not only help you curtail costs but also set you apart from other Disney fanatics in the park. Here's the DIY to this Kids Disney Shirts Idea.
2. Beauty and the Beast Disney T-Shirt

If you want a unique Disney-themed t-shirt that comes with a thought-provoking message, there can be no better than this DIY. One of the best Disney Shirts for Kids on this list!
3. DIY Bleached Mickey Mouse Shirt

Use colors that stand out and this bleaching hack to make your Disney-themed t-shirt refreshingly different than others you'll see at the park. Here's the DIY. You can also design Funny Disney Shirts following the tutorial.
4. DIY Disney Side Polka Dot T-Shirt

Add fun polka dots to your Disney-inspired design with Sharpie markers and run a heating iron over to make it waterproof. The tutorial is here. Perfect Disney Shirts for Kids, you must try making!
5. DIY Tie Dye Mickey Ears Shirts

Tie-dyed Disney t-shirts are a cinch to make, and with the simplicity of steps and the colors involved, you can get the kids to participate as well. Here's the DIY.
6. Personalized Disney Shirt

This ingenious idea of personalizing your Disney t-shirt means your child won't throw a temper tantrum and, in fact, enjoy wearing it through the day. Get the hack of these Boys Disney Shirts here.
7. DIY Bleached Out Disney Shirt

Spraying on bleach and ironing out your favorite Disney icon on your t-shirt gives fascinating results, creating a look that is easy to customize. Here's the DIY. One of the most Unique Disney Shirt Ideas on this list!
8. DIY Family Disney Shirts with Cricut

Design these classic Mickey Mouse t-shirts with this unisex DIY that keeps the red-and-black theme intact while creating fun variations with the letterings. You can also design Disney Cruise Family Shirts with this idea.
9. DIY Disney & Churros T-Shirt

If your Disneyland trip is basically going to involve a whole lot of Disney gawking and churro munching, then here's a t-shirt idea that proclaims your real intention loud and clear to the world. Perfect to design Vintage Disney Tees with your favorite quotes.
10. Disney Inspired Shirt with Your Silhouette

Use your favorite Disney silhouette on your casual t-shirt with a heat press and vinyl to design Personalized Disney Shirts for yourself. Here's the DIY.
11. DIY Matching Disney Shirts

If you're looking for whimsical and Funny Disney Shirts for your family, this DIY fits just right.
12. DIY Disney Autograph Shirt
If you're looking for a trendy and chic t-shirt to wear on your next Disneyland trip that gets you all the character's autographs in one spot, consider this uber-cool Disney Land Shirts DIY.
13. DIY Disney T-Shirt; Hat Hair, Don't Care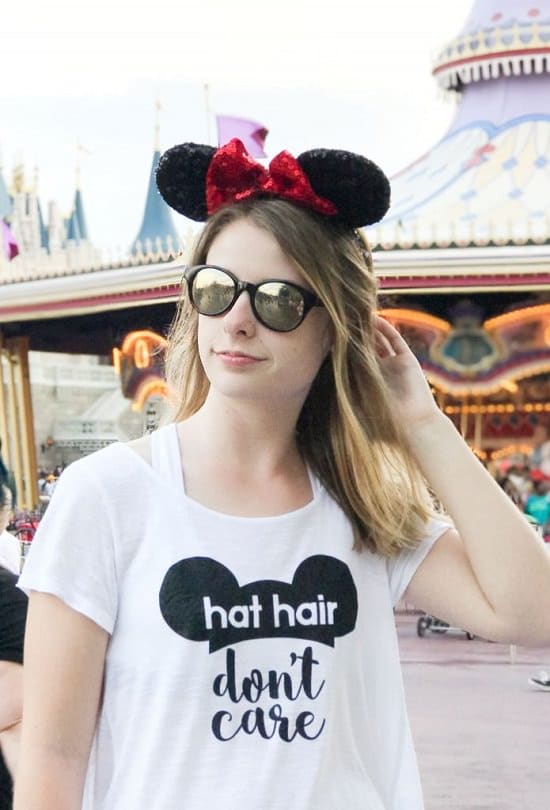 This fun DIY Mickey ears t-shirt DIY comes with a bold declaration of your unabashed attitude. And it's quite a change from the more kid-themed versions featured in this list of Disneyland Shirts.
14. Cute Disney T-Shirt Cut Files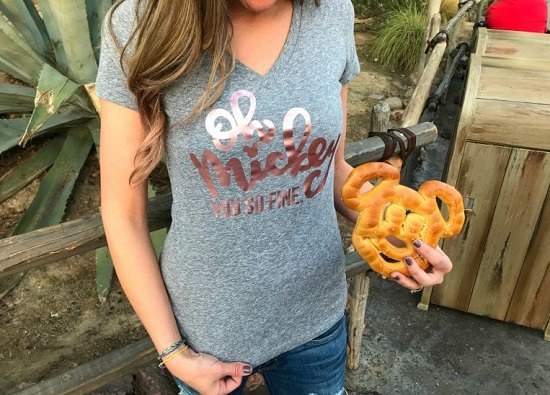 This DIY gives you a couple of basic Disney-inspired designs for dressing up the whole family. Plus, there are printables for cutout templates to get you started with this Disneyland Shirts idea.
15. DIY Disney Cruise T-Shirts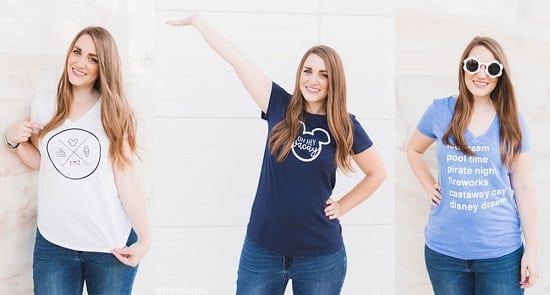 With a little help from your Cricut machine and some necessary supplies, you can whip up these unique Disney-themed t-shirts in no time. Follow this DIY.
16. DIY Mary Poppins Disney Shirt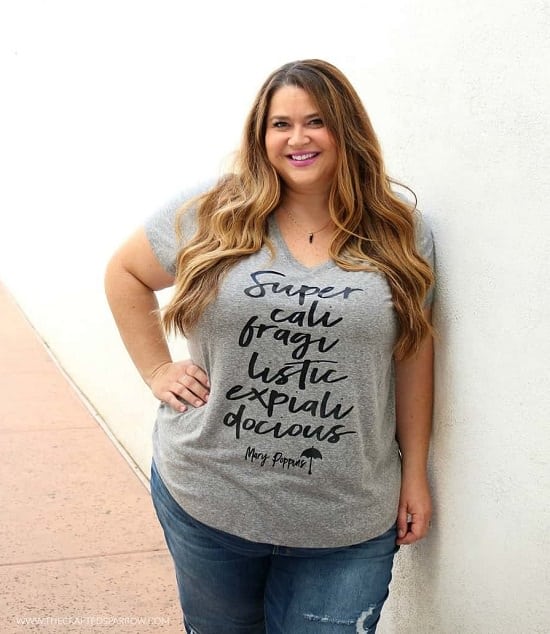 Using heat transfer vinyl gives you an easy way to fill up a plain old t-shirt with fun quotes and create a look perfect for casual days as well. Here's the DIY to this Funny Disney Shirts idea.
17. Retro Deco Foil Disney Shirt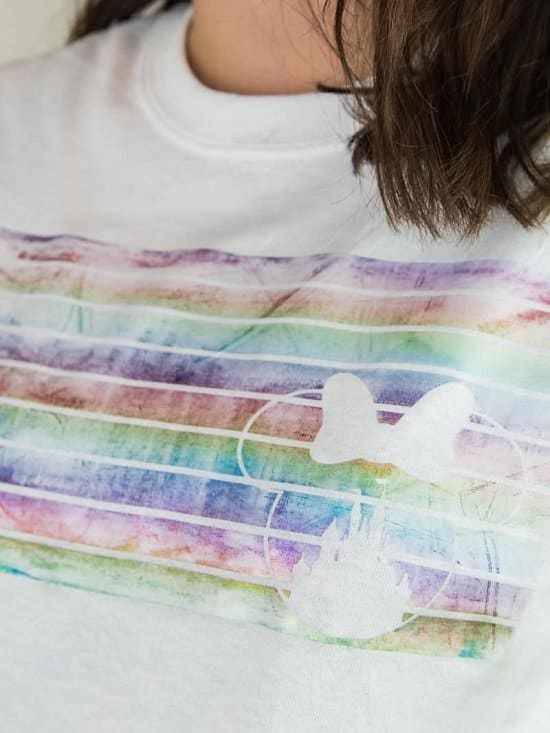 Combining a retro look with logos of iconic Disney characters, this rainbow-themed deco foil Girls Disney Shirt is a perfect summer outfit for teenage girls. Here are the steps.
18. Star Wars Disney T-Shirt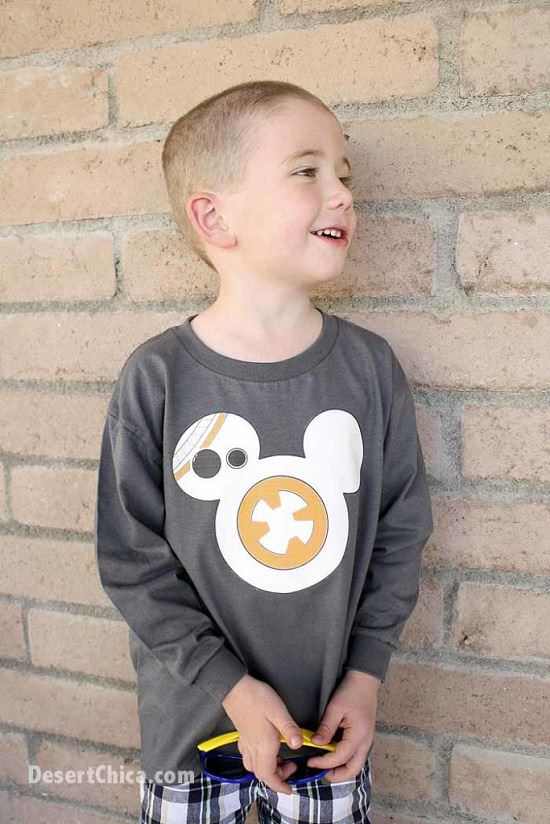 Embossing the new droid BB-8 logo on your DIY Disney shirt is a great way to give the nod to the latest Star Wars release.
19. DIY Spiral Mickey Head T-Shirts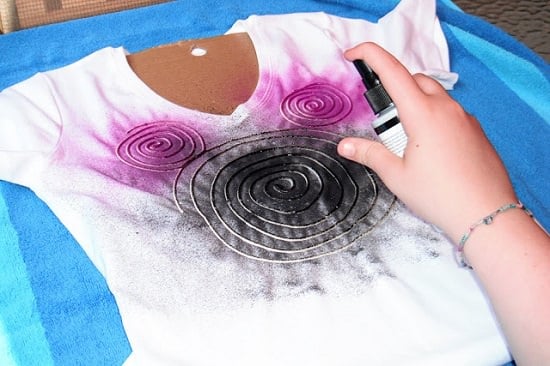 Get your old t-shirts from drab to dazzling with this unique Mickey spiral design made possible through the power of spray paint. Follow this DIY Kids Disney Shirts idea here.
20. Disney Hidden Mickey T-shirt DIY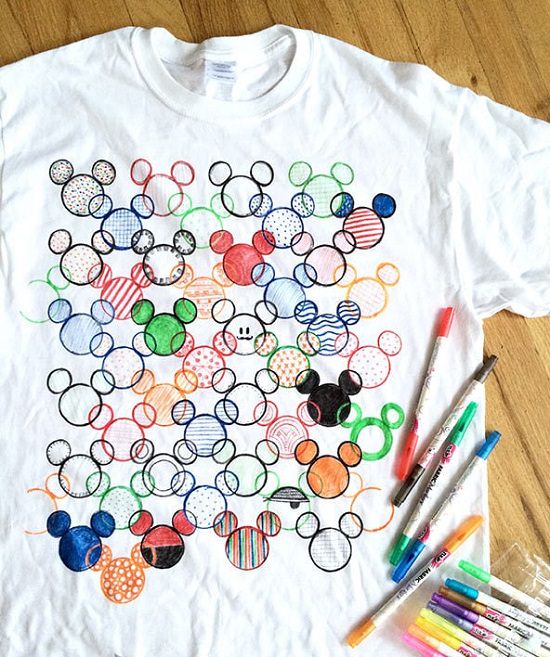 If you can't get enough of colors and glitter, ditch the old black-and-white Mickey theme and use them instead to create a contemporary and kid-friendly design on t-shirts. Here's the DIY to these colorful Disneyland Shirts.
21. Custom Disneyland Family Shirts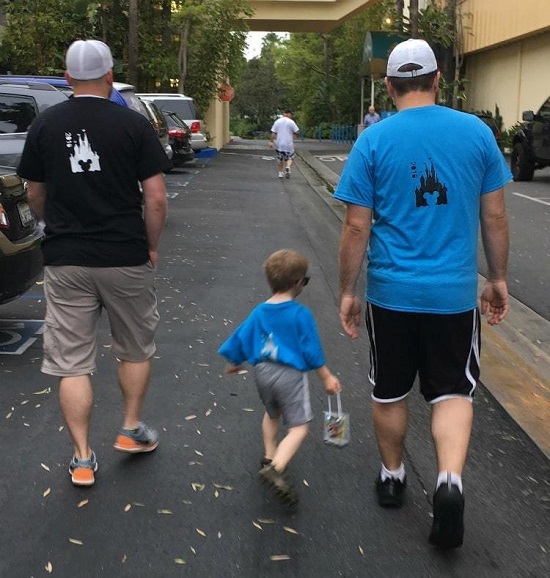 Creating matching t-shirts with the help of Cricut means you can look beyond the monotone Mickey theme and experiment with fun combinations of colors. Here's the DIY. One of the most Unique Disney Shirt ideas on this list!
22. Squad Goals DIY Disney Shirts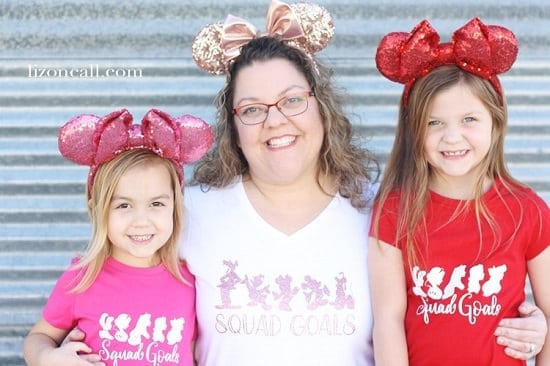 If you're looking for a basic Cricut DIY to make Disney Shirts for kids unique to their gender and color choices, consider giving this DIY a try.
23. Paint DIY Disney Shirts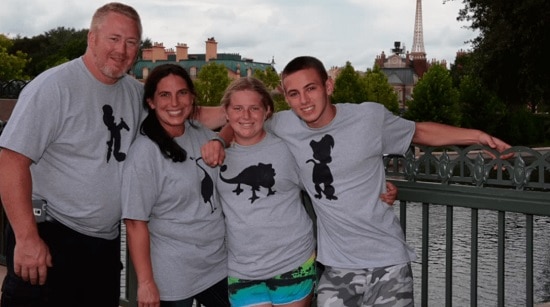 Personalize your family Disney t-shirts with different types of silhouettes that are sure to enhance the fun quotient of your trip. Here's the DIY to design your own Funny Disney Shirts.
24. DIY Toy Story Disney Family T-Shirts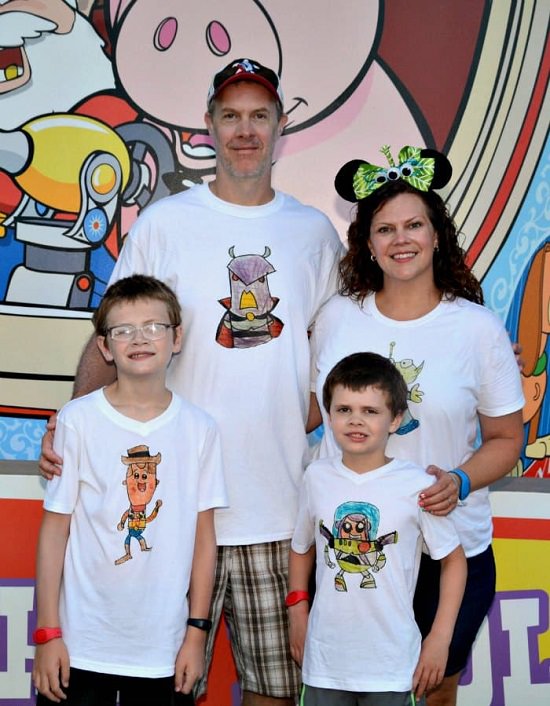 Imprint fabulous artwork of your child onto plain white cotton t-shirts to create refreshingly different outfits to wear on your next trip to Disneyland. Here's the DIY you need to follow to design these Disneyland Shirts.
25. Own Disney Shirts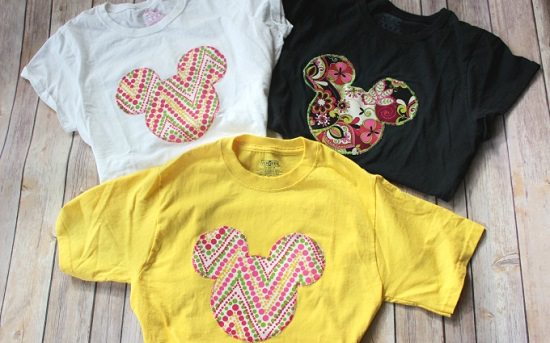 Adhere to your colorful Mickey cutout on your kid's t-shirt to create a cute outfit that your kids will thank you for. Here's the DIY to these Kids Disney Shirts.
26. Funky Disney Tshirt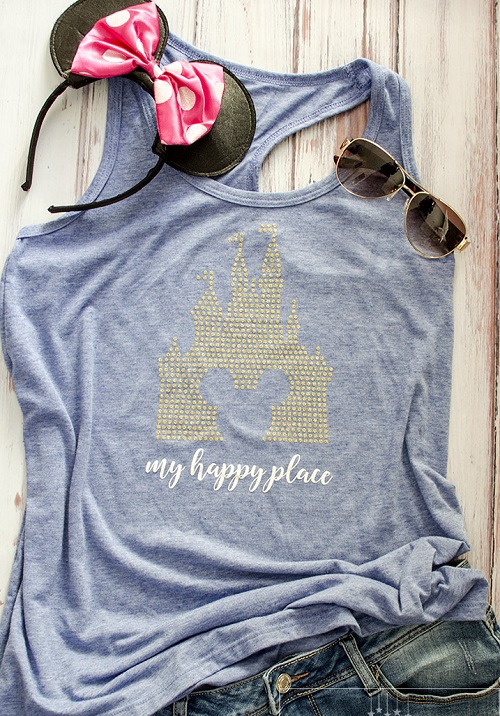 This DIY reveals an easy way to get flawless t-shirt painting done, making it a quick weekend project that will be fun for the kids as well.
27. Cute Disney Birthday Shirts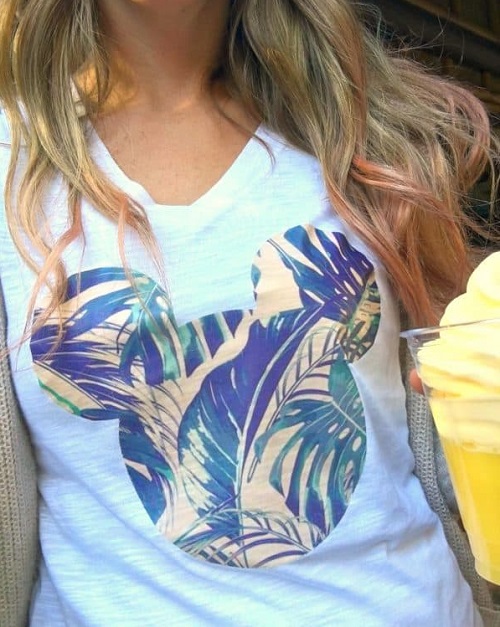 Whether you want to go classic Disney or mix it up with floral prints, this DIY gives you a versatile hack to customize and convert any t-shirt of your choice in 10 minutes.
28. Cute Disney Shirts for Kids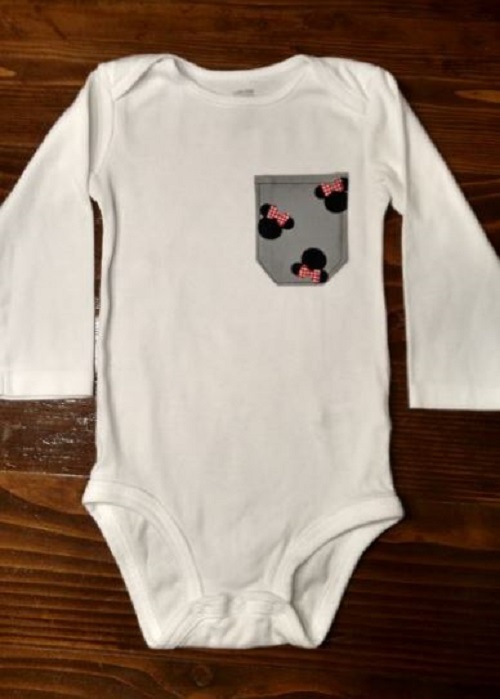 Double the cuteness of your newborn with this tutorial that'll turn the boring fabric into the signature Disney Shirts for Kids.
29. Disneyland Shirts Trio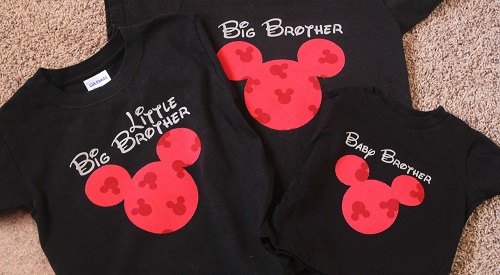 A family of three? This Disneyland Shirts trio is not something you'd want to miss. Try it for yourself with the instructions in the tutorial.
30. Halloween Party Disney Shirts for Kids
Out of all Disney Shirt Ideas, this DIY lets you add a unique eerie touch to a plain solid, color t-shirt, perfect for Halloween parties.
31. Cool Disney Shirts for Kids
Even if you lack fancy supplies, you can still make Disney Shirts for Kids on the cheap with the help of some supplies mentioned here.
32. Leopard Print Girls Disney Shirts
Transform any of your daughter's tees into an outfit perfect for wearing out at a Disney party with this simple DIY.
33. Mickey Mouse Family Shirts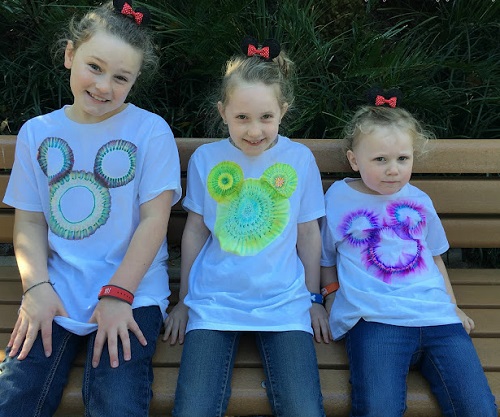 Making Disney Shirts for kids is a snap when you have the aid of plastic cups, rubber bands, paints, and this DIY for inspiration.
34. Glitter and Glow!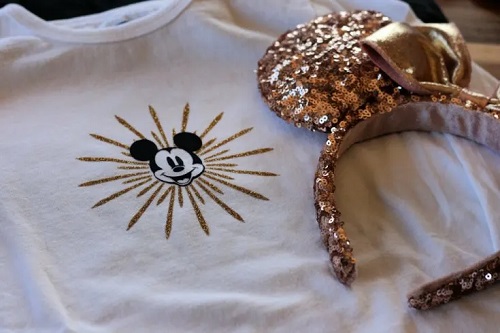 Birthdays call for glitter and a pop of color on your Disney-inspired t-shirts. Follow this tutorial to design a bunch of Disney Birthday Shirts.
35. Fantastic Disney Shirt for Kids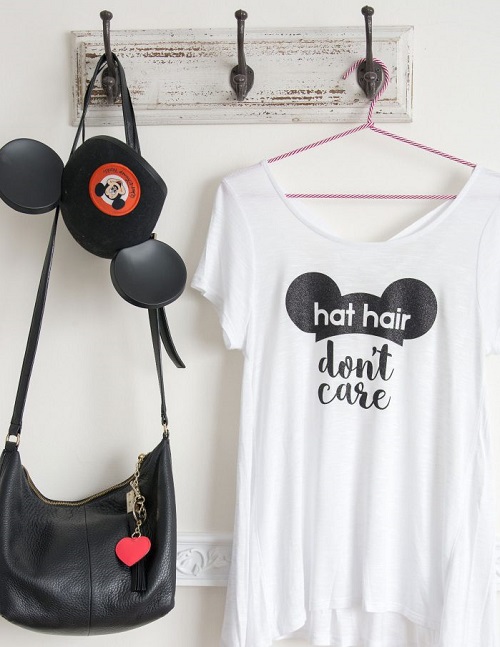 You know your Disney t-shirt is practically done when you have heat-transfer Cricut vinyl handy. Get the steps in the tutorial.
36. Funky Family Disney Shirts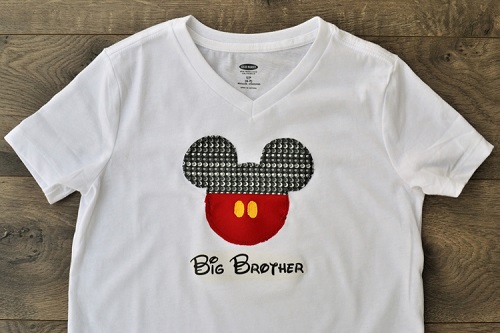 Twin with your loved ones with these Funny Disney Shirt Ideas for the whole family. The tutorial is here.
37. Pretty Pink Disneyland Shirts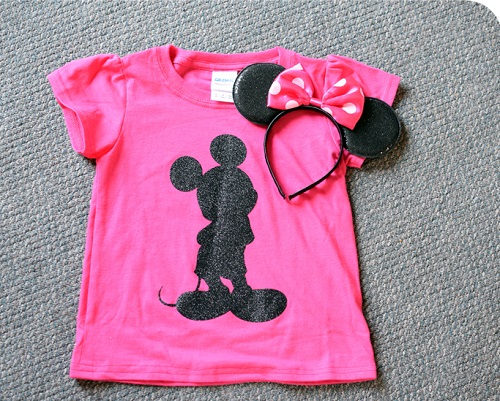 Glam up an old tee with some iron-on vinyl and the much-loved Mickey mouse outline to add a bit of bling to your Disneyland look. Get the tutorial for this Kids Disney Shirts Idea here.
38. Funky Disney Birthday Shirts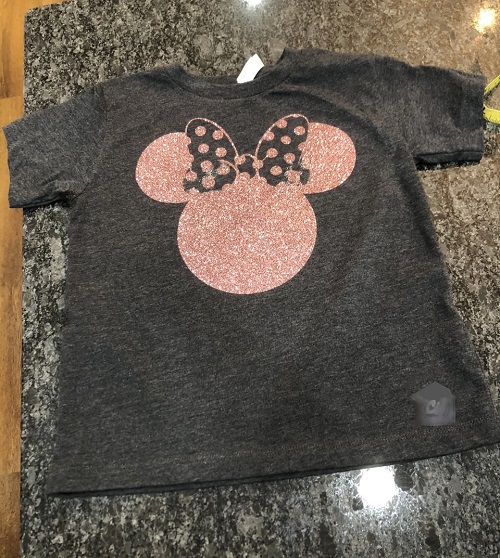 With all the jazz and glam, this Disney Birthday Shirts Idea will stand out from your friends at the party. Make one for yourself like this.
39. Valentine's Special Disney Shirt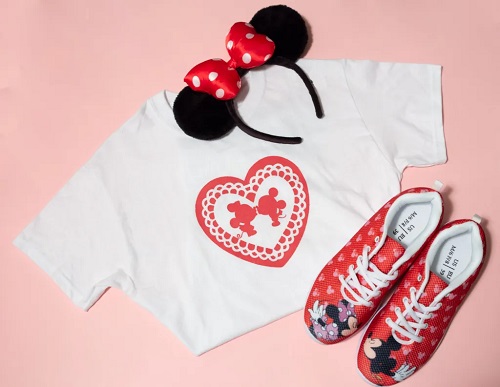 Get ready for the valentine's party with a touch of Disney glam and design these Girls Disney Shirts with cricut stencils, paints of your choice, and some solid color tees. The steps are here.
40. Trendy Girls Disney Shirt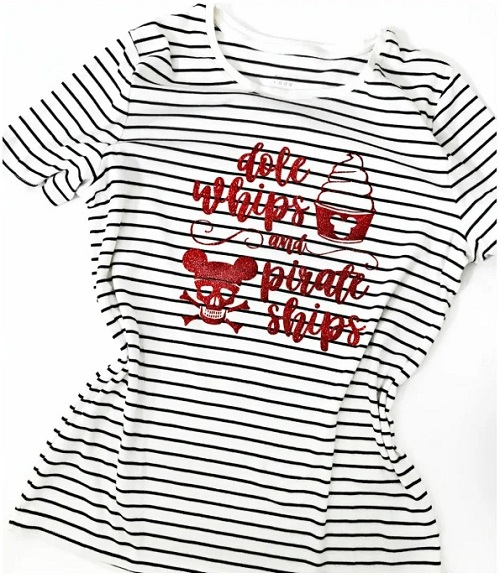 Whether for the Disney cruise or a theme park, these trendy Girls Disney Shirts will make many heads turn. Learn the steps here.
41. Whether it is for the Disney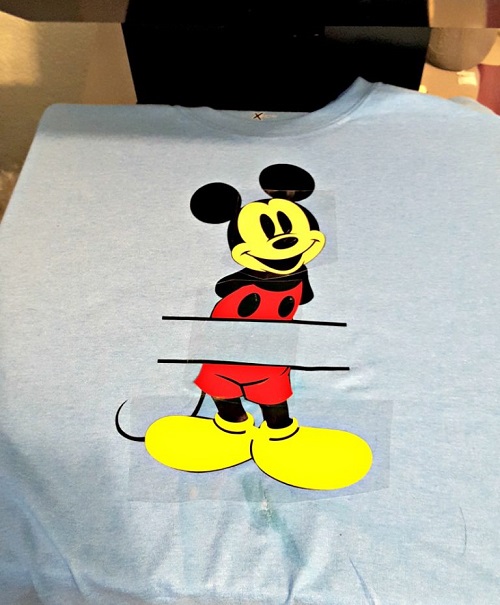 Get your favorite Disney character prints in the Cricut design space and make one each for your family members and friends. Get the tutorial here.
42. DIY Disney Cruise Shirts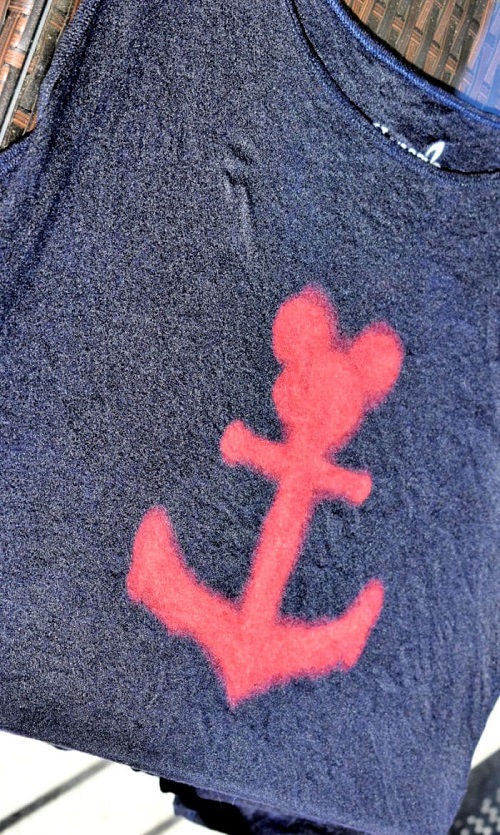 Making your personalized Disney cruise shirts is easy and comes with the liberty to make any design of your choice using bleach pens, a printer, a utility knife, and other supplies mentioned here.
43. Men's Disney Shirts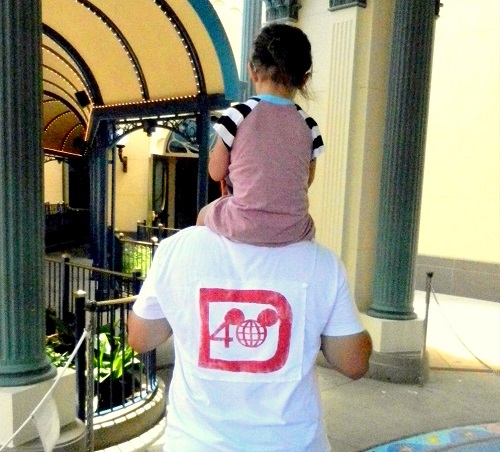 Get a white t-shirt and print your favorite Disney World signs or logos using freezer paper and fabric paint. Get inspired by the DIY to design cute Disney Shirts for Kids and other family members.
44. DIY Floral Disney Shirts for Kids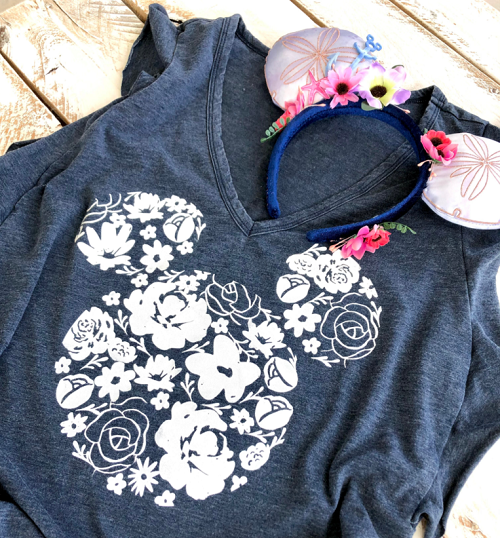 This beautiful floral Disney Shirt for Kids is perfect for giving the lovelies at your home their favorite fantasy look with a twist. Get the tutorial here.
45. DIY Disney Dole Whip Shirt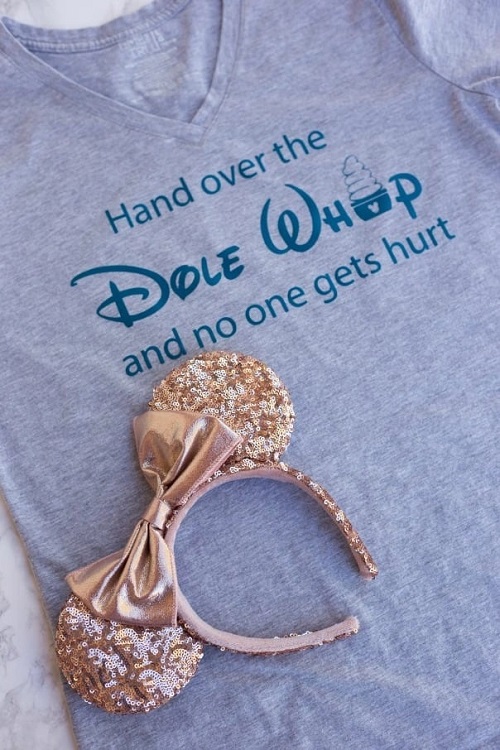 This Disney Shirt looks pretty and requires minimal investment. The best part is you can print your favorite quotes on them and create your unique style. The tutorial is here.
46. Pretty Disney Shirt for Girls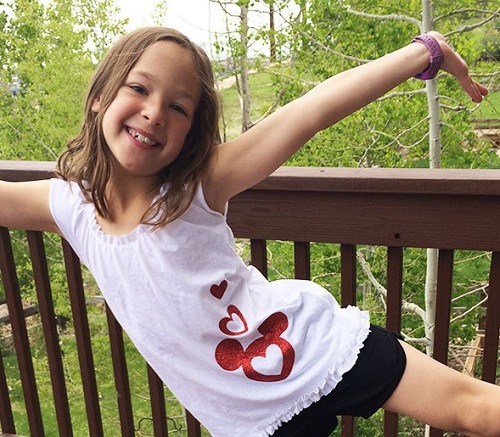 Gift the cute ladies in your house with these pretty Disneyland Shirts that give them the feel of a Disney character. Get the tutorial here.
47. Tie and Dye Bow Disney Shirt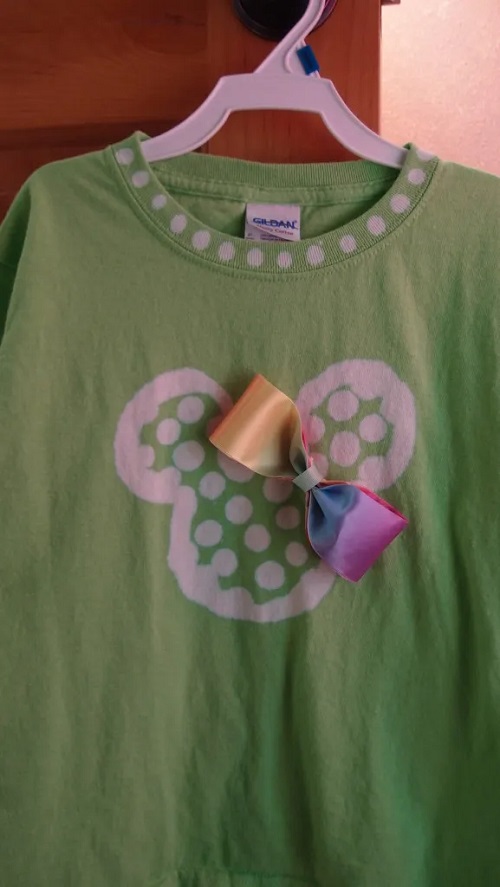 A cute bow textured in the ombre shade makes this solid-colored shirt stand out from the rest. Get your favorite shirts transformed like this.
48. DIY Disney Shirts for the Family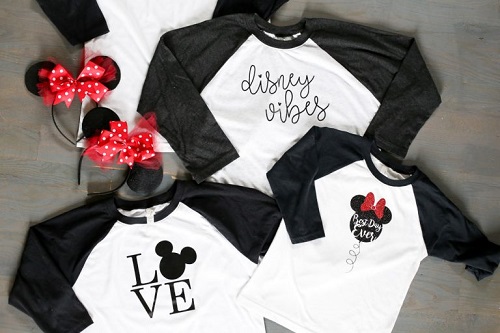 This DIY will help you design Disney Shirts for Kids with your favorite Micky and Minnie cutouts. Get the tutorial here.
49. Disney Shirts for Halloween with Quotes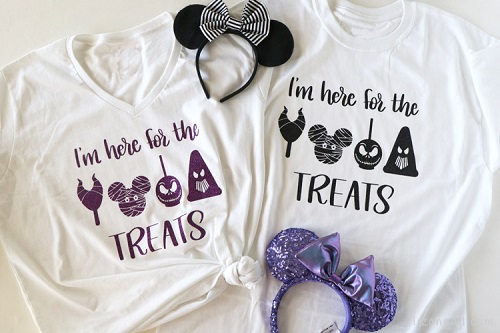 Display your foody self loud and clear with these Disney Shirts that speak out your heart! You can design your personalized quotes as well using this tutorial.
50. DIY Disney Shirts with Bow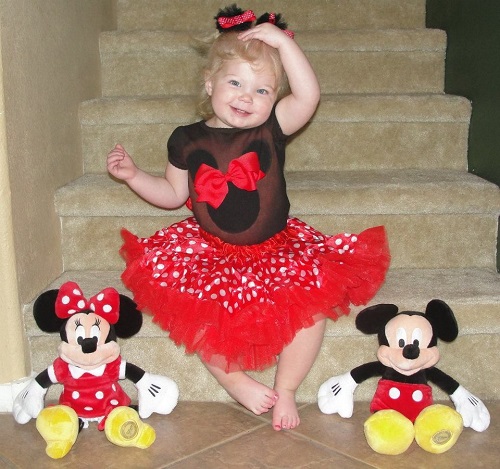 Try this fun and easy way to recreate a beautiful Disneyland Shirt for your baby girl, who will love her dreamy look. Get the tutorial here.