If you own a cat (or she owns you), these DIY Cat Shelves ideas are worth looking at and trying.
1. DIY Cat Tower Shelves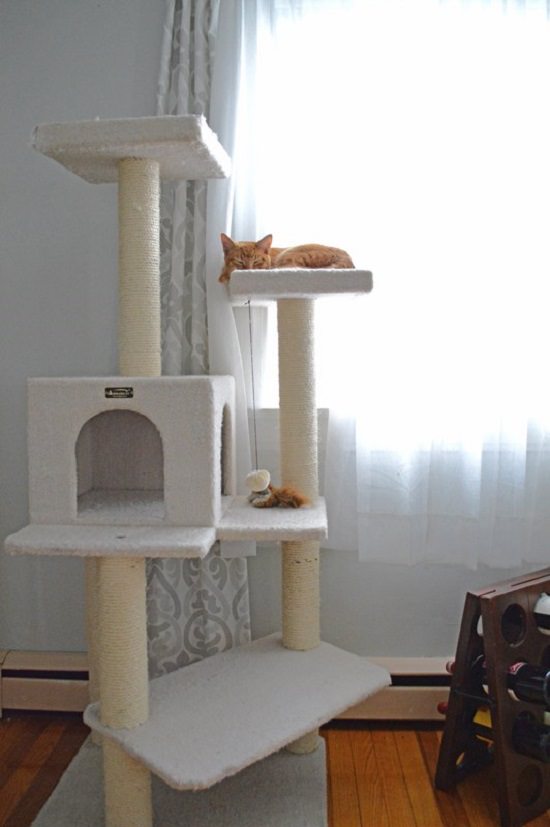 This aesthetically-pleasing cat tree offers a plush seat for your cats to sit on and relax while maintaining the untouchable air at will. The DIY is here!
2. DIY Cat Wave Shelves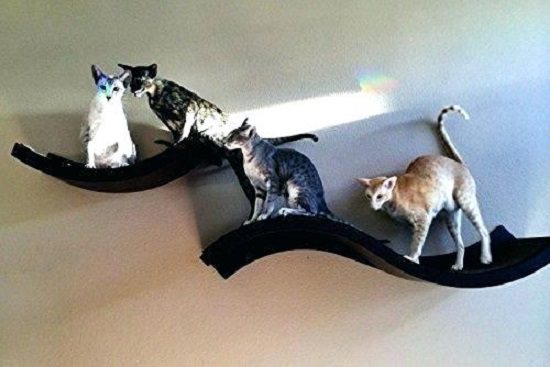 This wave design shelf is shaped to offer a cozy fit with the agile body of cats. It looks good as well. Here is the detailed DIY.
3. DIY Cat Rectangle Cube Shelves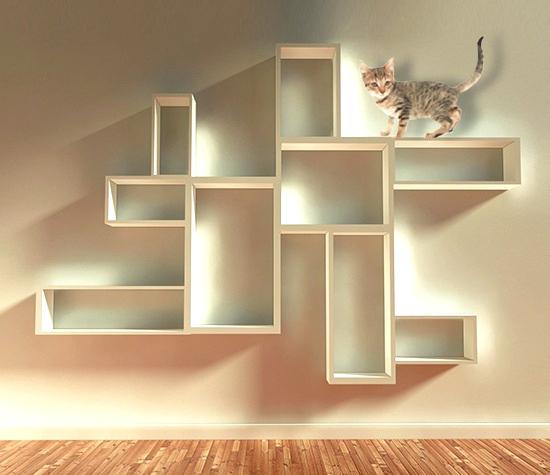 This elaborate wall-mounted array of cubicles is for the ultimate cat-lover who wants the best of things for their cats. The tutorial is here.
4. DIY Cat Shelves Stair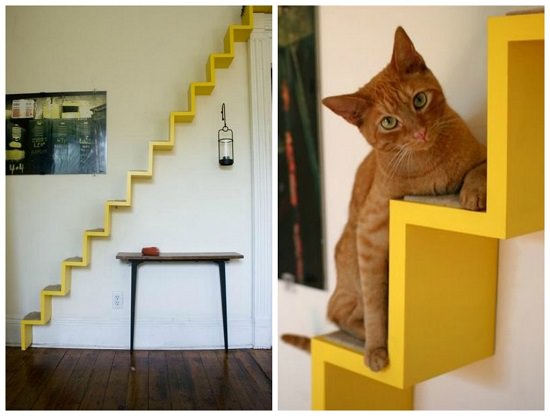 This attractive cat track is lined with non-skid carpet for smooth movement and a bright exterior to give a nice pop of color to the room. Visit Apartment Therapy for more details.
5. DIY Cat Window Shelves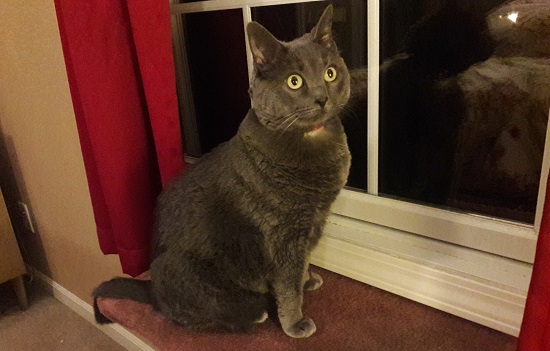 If wall space is too much to ask, consider converting your windowsill into a cushioned, lounging area for your cat. We found the DIY here.
6. Carpet-Covered Cat Climbing Shelves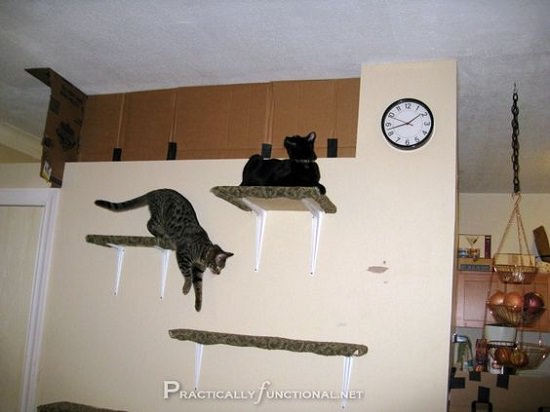 Arranged wooden planks in attractive patterns for a high-rise playground that keeps your cats busy and active. Know more here.
7. DIY Wall Mounted Cat Shelves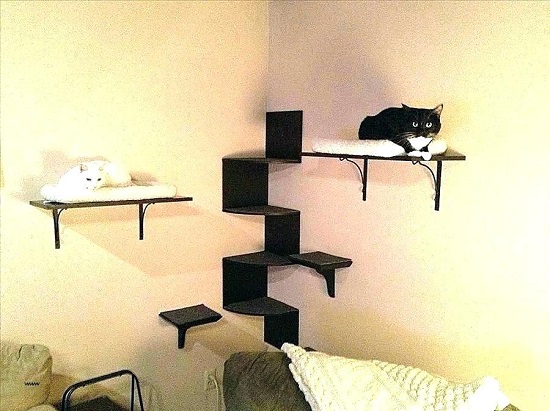 Perfect for active, adolescent cats that can't stop scurrying, this multi-arrayed structure gives ample opportunities for exploration and easy wall climbing. Check out this detailed post.
8. DIY Cat Hanging Shelves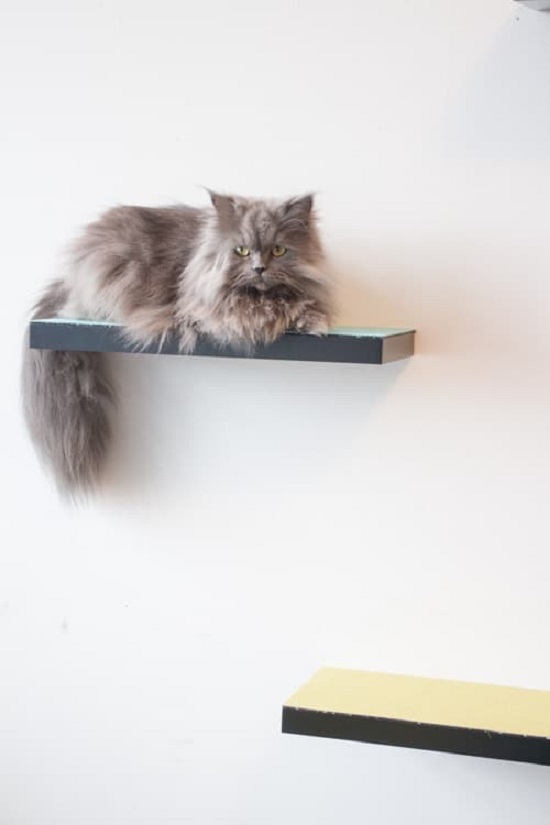 Using carpet to cover cat shelves means you have complete control over how well they fit with the home decor. The step by step tutorial is here.
9. DIY Cat Tree Shelves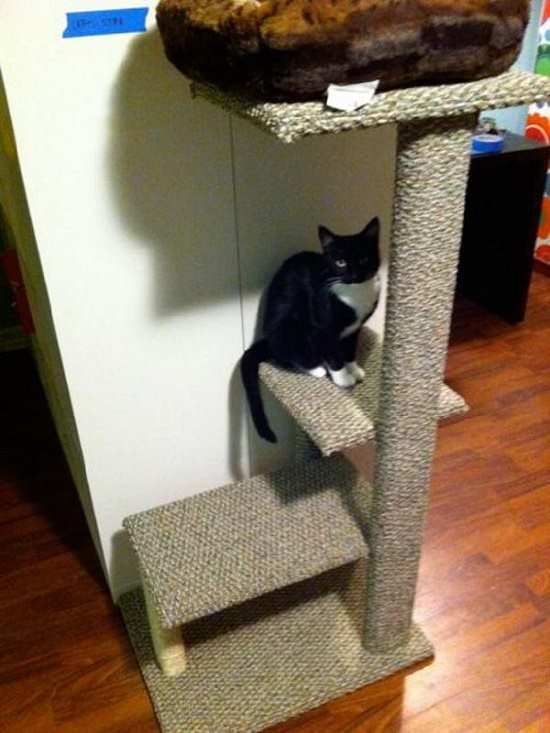 This sturdy cat tree is a fun feature to add to the living room and is perfect for the owner who never gets home early. The DIY is here to follow.
10. DIY Scrap Wood From Old Furniture Cat Shelves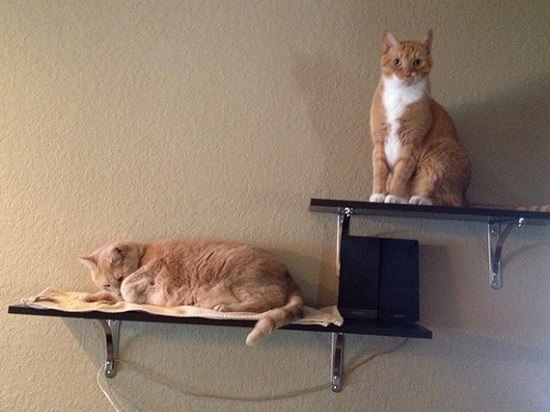 This two-tier cat shelf made from old, scrap wood is a nice gift to the cat who loves exploring and hates boredom. Check this detailed article more info.
11. DIY Cat Plank Shelves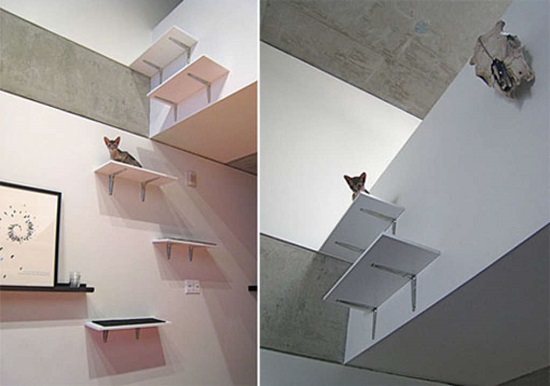 If your male tabby cats are constantly fighting, here's an easy way to ensure each one is happy in his own space. Follow this DIY.
12. DIY Cat Place Mat wall Shelves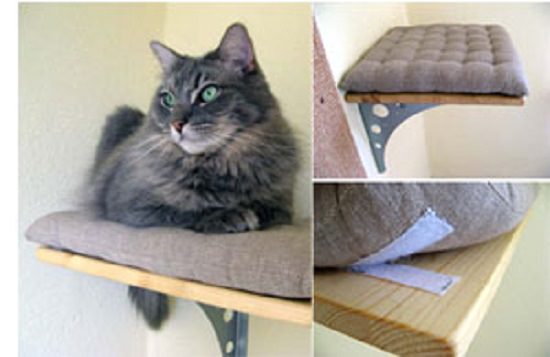 Salvaged from old, hardware shelves, this firm yet comfy cat seat adds a textural appeal to the walls. Here is the detailed DIY. Also, check out these cat house ideas.
13. Hanging Basket Cat Shelves
This cozy cat seat is a nice perch to survey outdoor scenery while basking in homely comforts. Get the tutorial on this post.
14. DIY Carpeted Cat Trees Shelves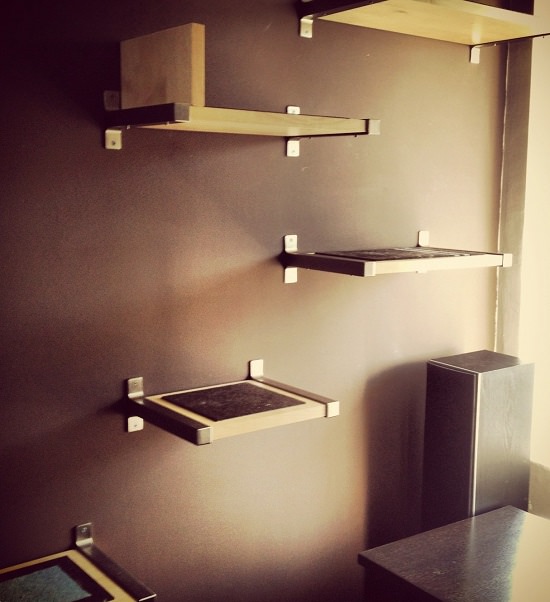 These IKEA shelves are fixed in a strategic, step-down fashion means your haughty little kitty is eventually going to find your lap soon. Click here for the DIY.
15. The Cat Walk Floating Wall Shelf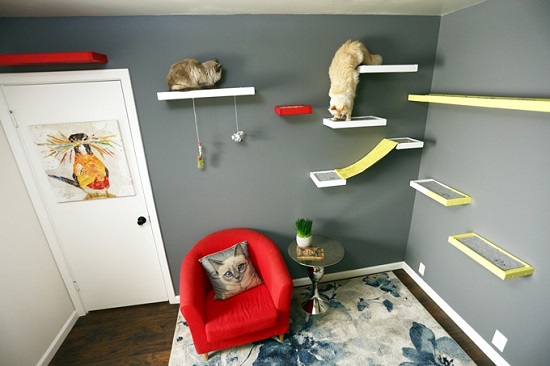 This architectural DIY cat shelves hack we found here shows you how to create a series of wall-mounted playgrounds for your cat when you're short on space.
16. DIY Wall Hexagon Cat Shelves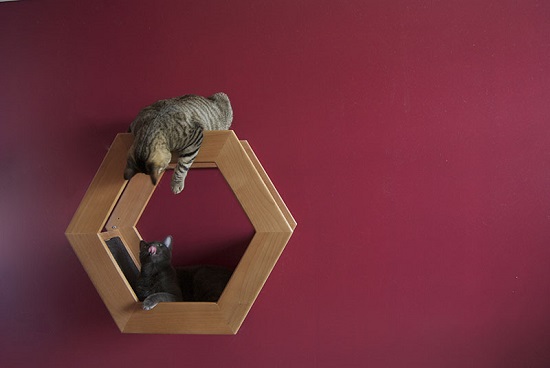 This hexagonal home for your cat acts like a safe retreat to observe the surroundings. Learn all the necessary steps here.
17. DIY Cat Bridge Shelves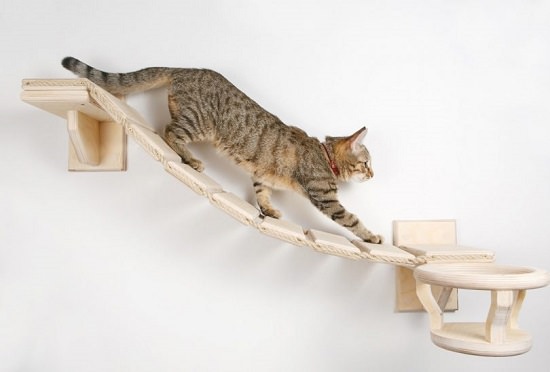 Mounting a slanting bridge on the doorway makes it easy to high-five your cat when you're leaving for work every morning. Here is how to make it.
18. DIY Wire Cat Walk Shelves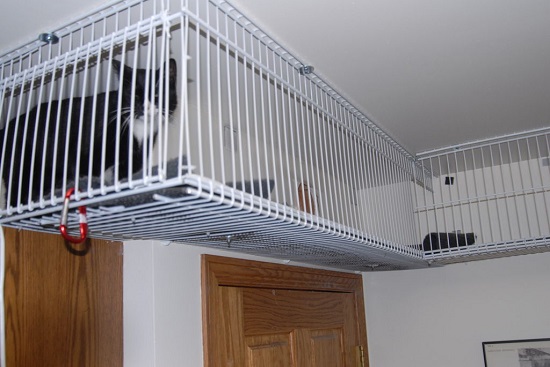 A wire-enclosed shelf offers a large, high-rise walkway while creating the illusion of privacy for your cat. We got the inspiration from here.