Even if you live in a city, you can recreate a charm of beautiful and rustic country home with these 31 Best DIY Country Decor Ideas here!
1. DIY Pallet Ampersand Art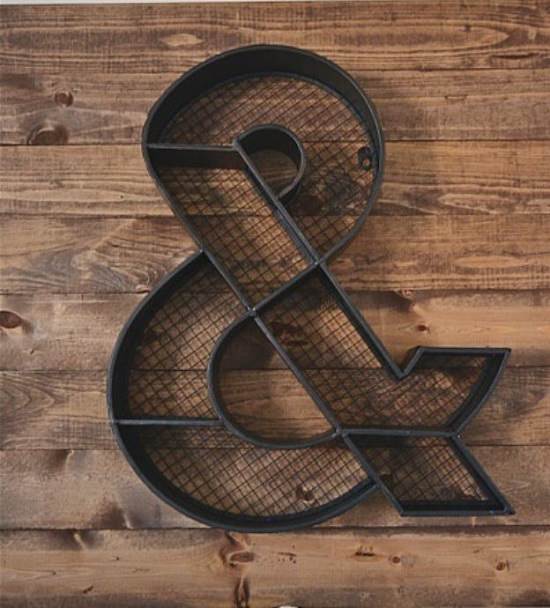 Combining wire and wood, this giant ampersand symbol is an excellent way to stylize lonely walls. Visit The White Cottage Farm to learn more!
2. DIY Curtain Rods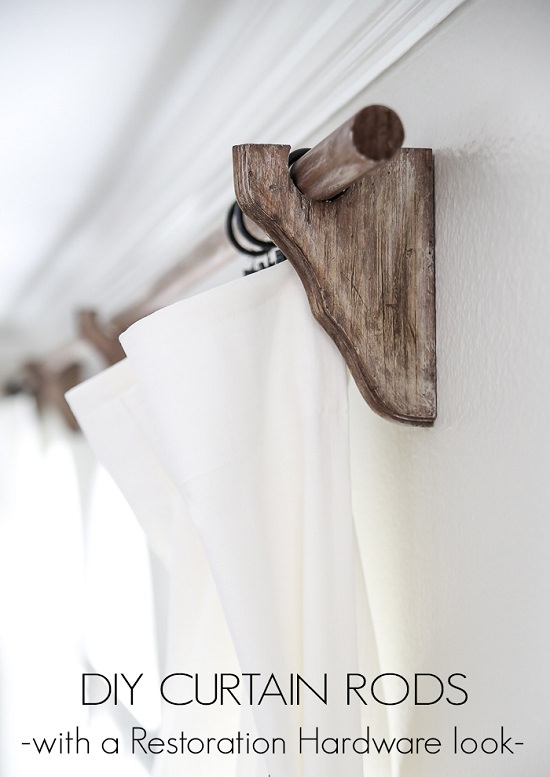 These grainy wooden curtain rods have a timeless style about them, which is why they'll stay untouched in every makeover of your home. Visit Maisondepax to learn more!
3. DIY Farmhouse Wooden Box Centerpiece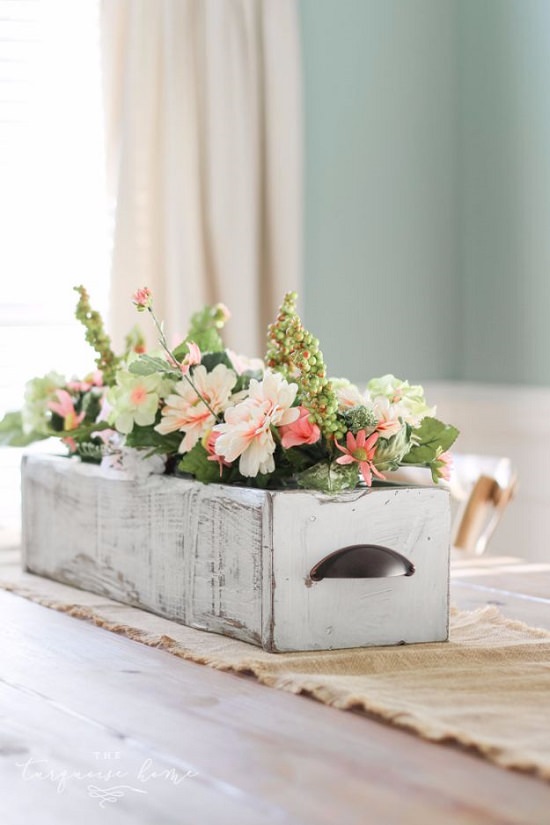 The rustic elements and the low-cost built make this stunning centerpiece a total winner. Visit The Turquoise Home to learn more!
4. Barn Wood & Bread Tins Wall Bins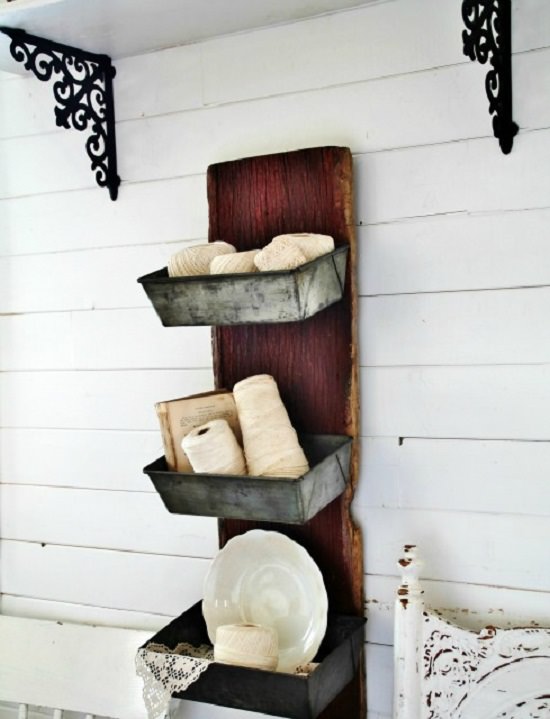 Wall bins studded with aging wood helps to keep your clutter neat and hidden from common view. Visit the Knick of Time to learn more!
5. DIY Wood Shim Wall Art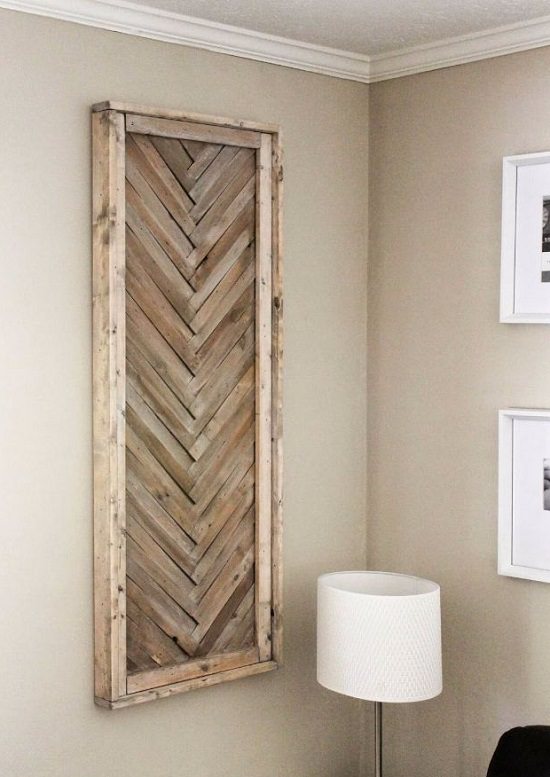 This patterned artwork made with wooden strips adds an extra dimension to bare walls. Visit the Down Oxford Street to learn more!
6. DIY Rustic Entryway Coat Rack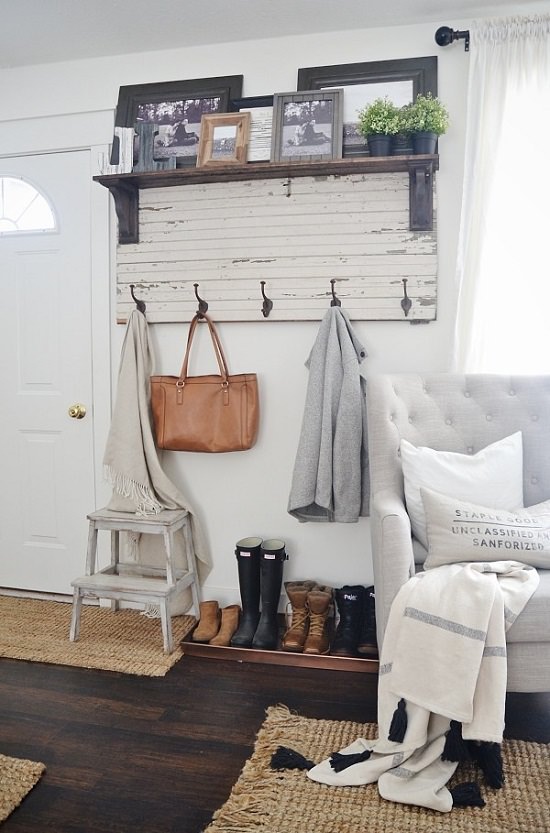 This creative blogger combines typical attic stuff and old collectibles to mimic the rural appeal of a farmhouse entryway. Visit the Liz Marie Blog to learn more!
7. DIY Rope Love Sign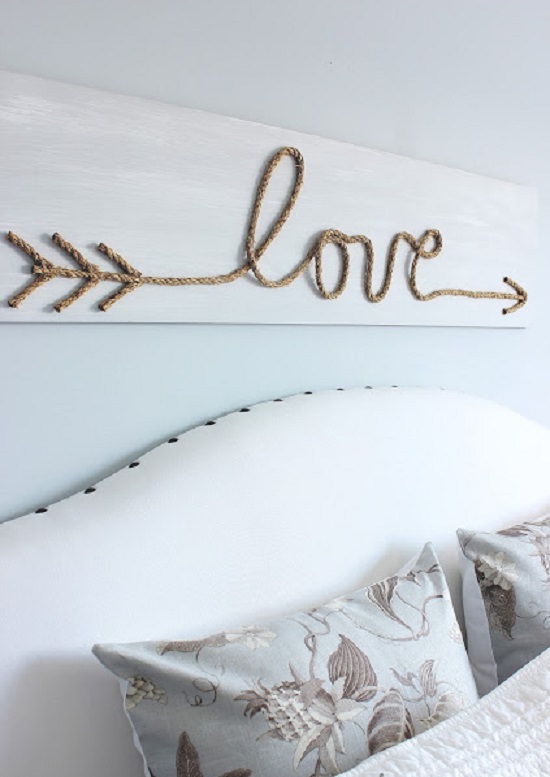 Adding this subtle sign on your bedroom wall is the perfect way to cozy up for an evening of romance. Visit the Hymns and verses to learn more!
8. Farmhouse-Style Revamped Ceiling Fan Blades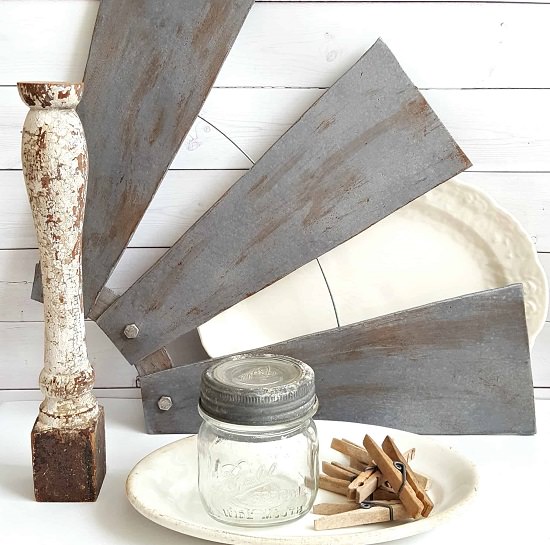 Fashion the blades of your worn-out ceiling fan into a windmill-style decor for a nice countryside feel. Visit Sadie Season Goods to learn more!
9. Farmhouse Vegetable Stand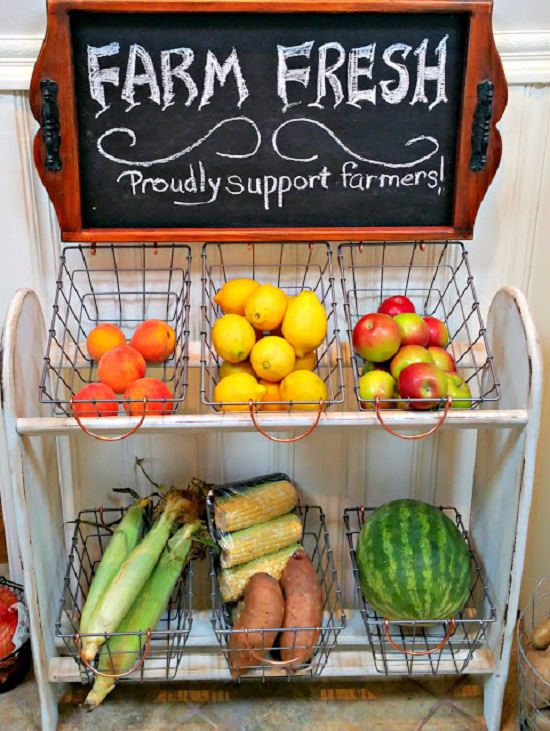 This two-tiered wire rack is just what you need to organize your kitchen stock. Visit the Redo it Yourself Inspirations to learn more!
10. Rustic Farmhouse Entryway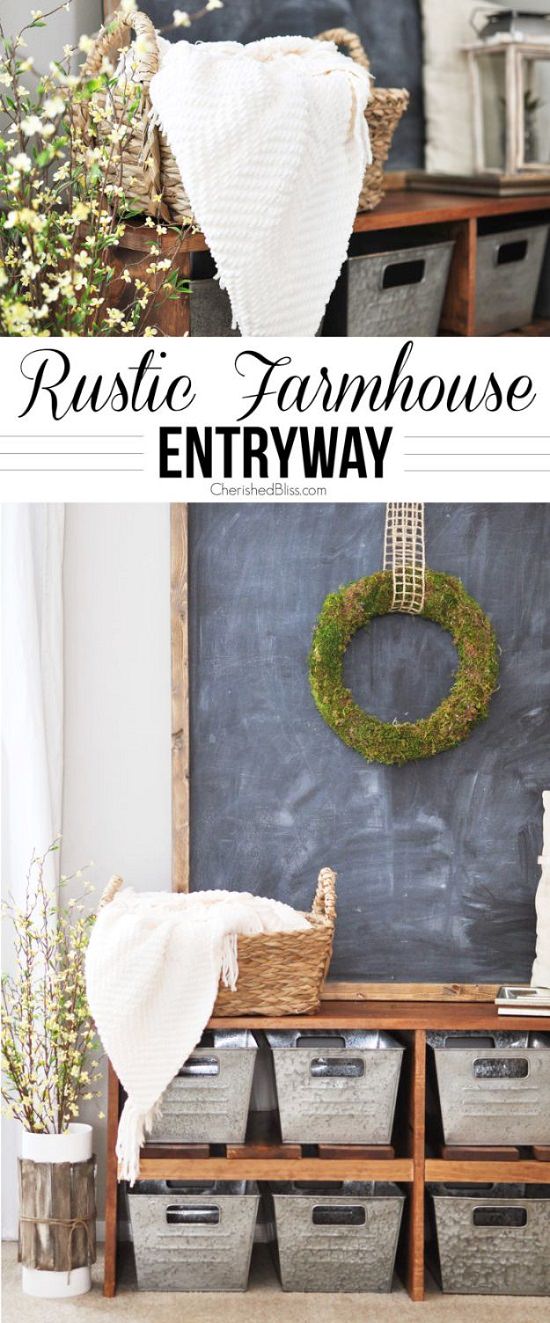 Featuring homespun items in one frame, this cottage-style entryway adds an effortless chic to your space. Visit the Cherished Bliss to learn more!
11. Rustic Wall Decoration with Mason Jar Vase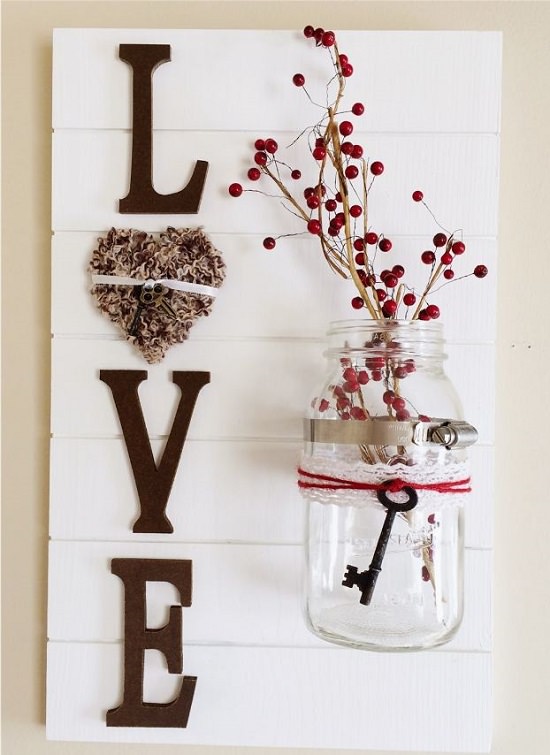 With this adorable signboard idea, you're only limited by your imagination. Visit the Find it Make it Love it to learn more!
12. Leaning Chalkboard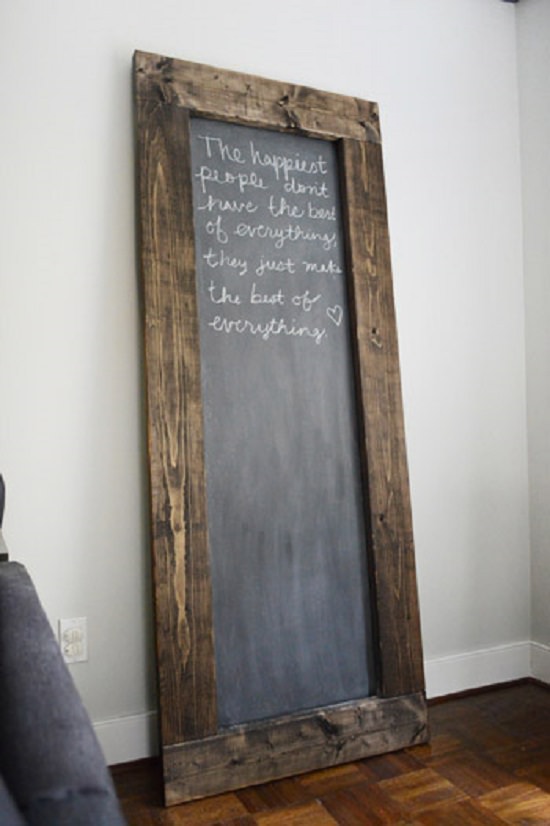 This oversized chalkboard is a fun and interactive prop for your kids to learn during play. Visit the Young House Love to learn more!
13. Farmhouse Style Hanging Wire Baskets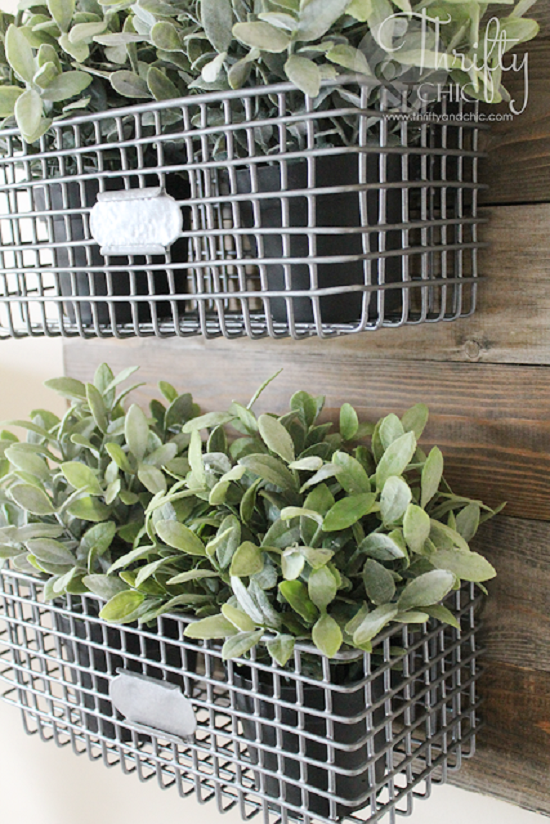 Use up empty wall space with hanging wire baskets that suit your clutter-free approach to life. Visit the Thrifty and Chic to learn more!
14. Farmhouse Style Gallery Wall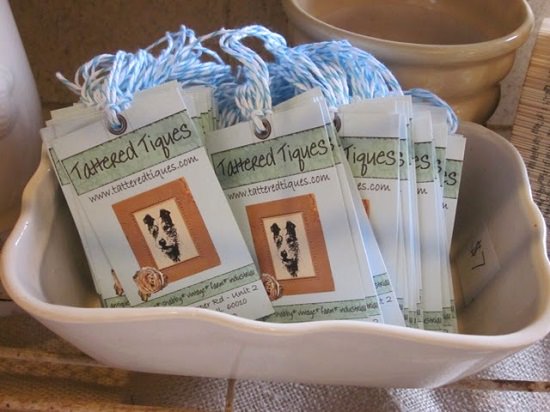 Give your country decor a boost with this DIY farmhouse style wall. Visit the Urban Farm Girl and Co to learn more!
15. Wood Slice Magnets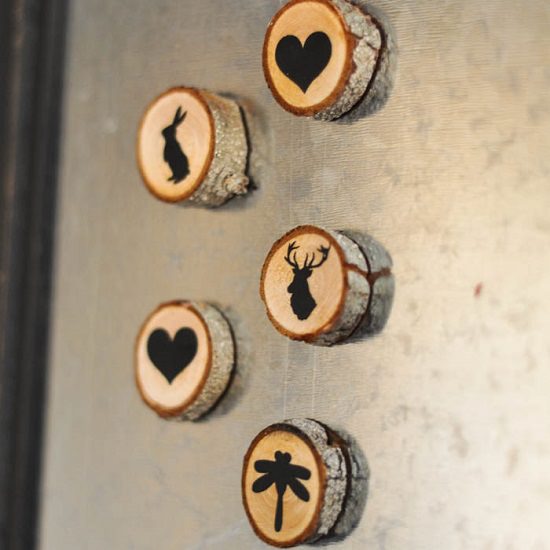 These cute animal-themed magnets offer visual appeal in the most subtle way possible. Visit the Suburble to learn more!
16. DIY Tree Stump Vase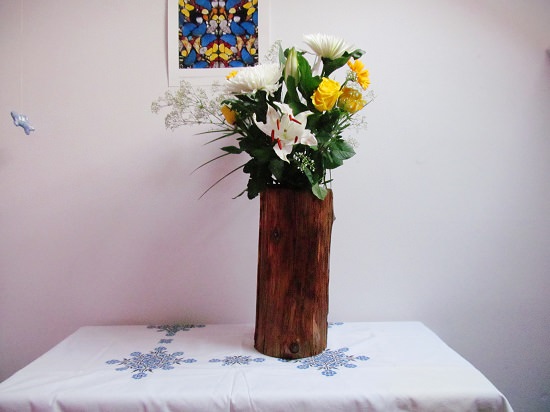 If you love having a touch of green in your home, consider using this small tree stump as a vase. After all, crystals and plastic are too mainstream, don't you think. Visit the Jessthetics to learn more!
17. Rustic DIY Mason Jar Wall Lanterns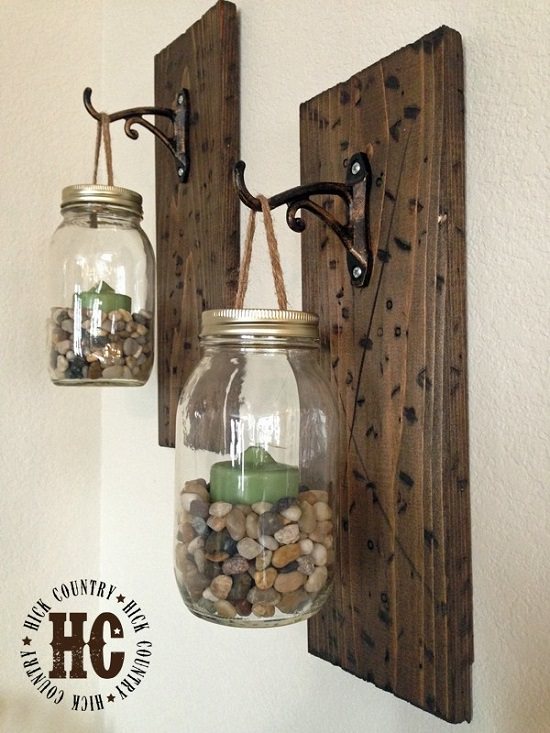 This DIY combines two things that always work: reclaimed wood and mason jars. Add decorative pebbles for more effect, and you're done. Visit A Southern Fairytale to learn more!
18. Vintage Theater Seat Entryway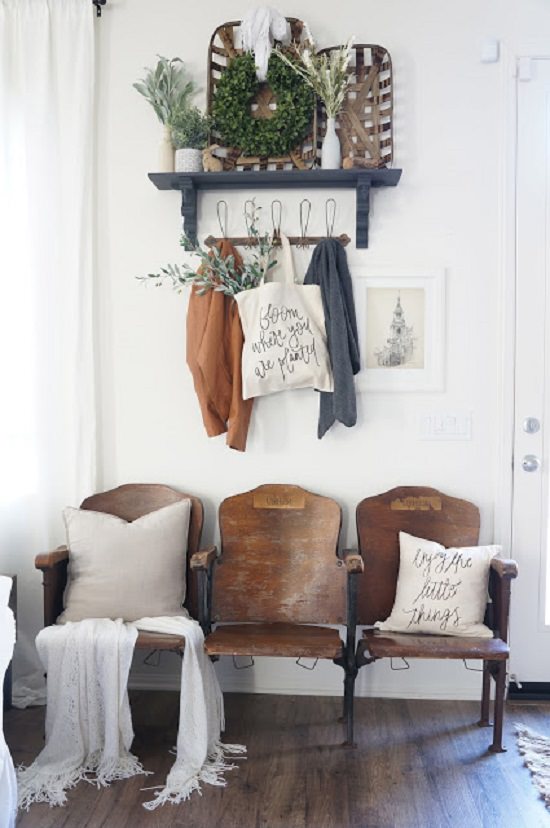 Create a vintage ambiance in your entryway with theatre-style chairs for a one-of-a-kind look. Visit Perfecting the Home Front to learn more!
19. Modern Farmhouse Towel Rack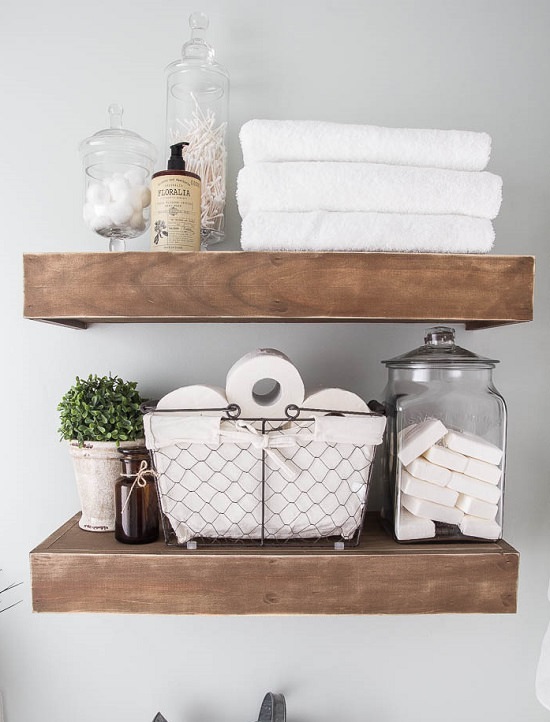 This creative blogger takes you through her journey of redecorating her bathroom using rustic elements that never fail to impress. Visit the Blesser House to learn more!
20. Hand-Painted Whitewashed "Life Is Beautiful" Sign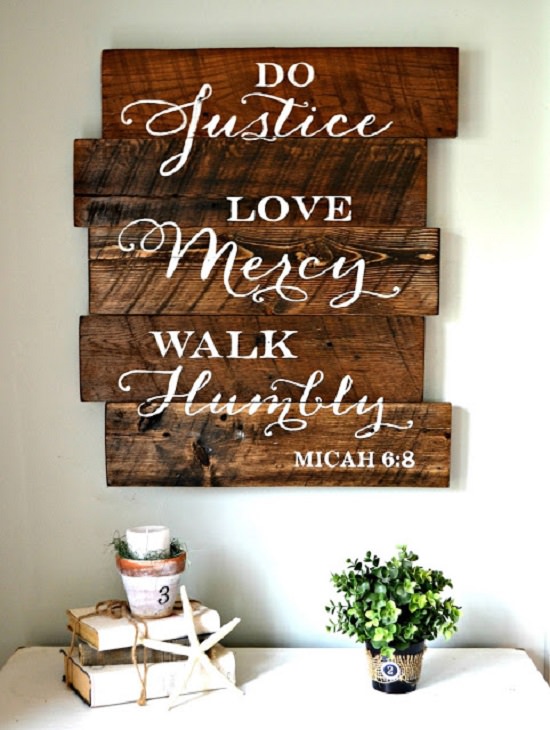 Reinforce your Monday motivational mantras with this simple DIY available at Aimee-weaver's blog!
21. DIY Farmhouse Style Wreath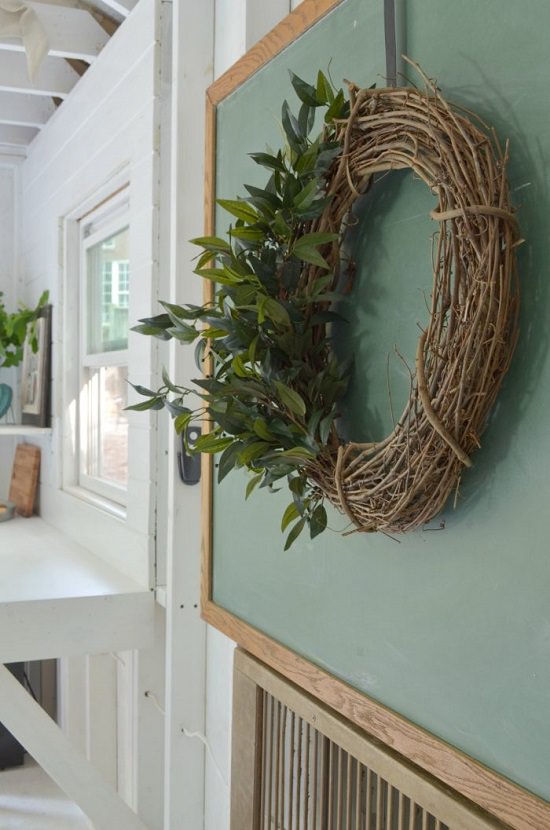 This twig-and-leaf wreath is sure to cheer you up when you come home after a harrowing day of work. Visit At Home with the Barkers to learn more!
22. DIY Farmhouse Coffee Table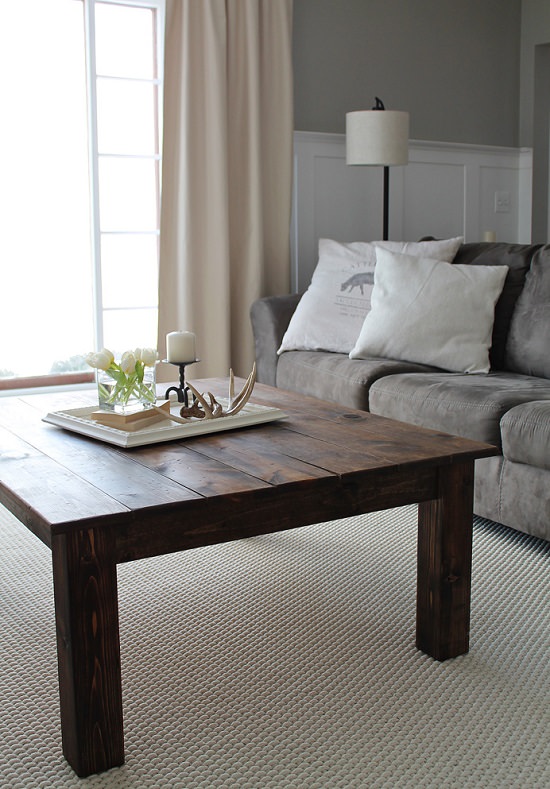 This rustic coffee table makes your country decor theme a profound look. Visit the Love Grows Wild to learn more!
23. DIY Rustic Iron Towel Rack And Shelf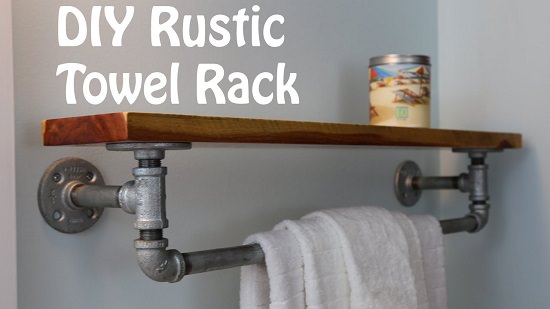 Combining industrial flair with a rustic charm, this DIY Towel rack-cum-shelf is a fine example of a conversation piece made from inexpensive things. Visit the Diy Joy to learn more!
24. DIY Cotton Branches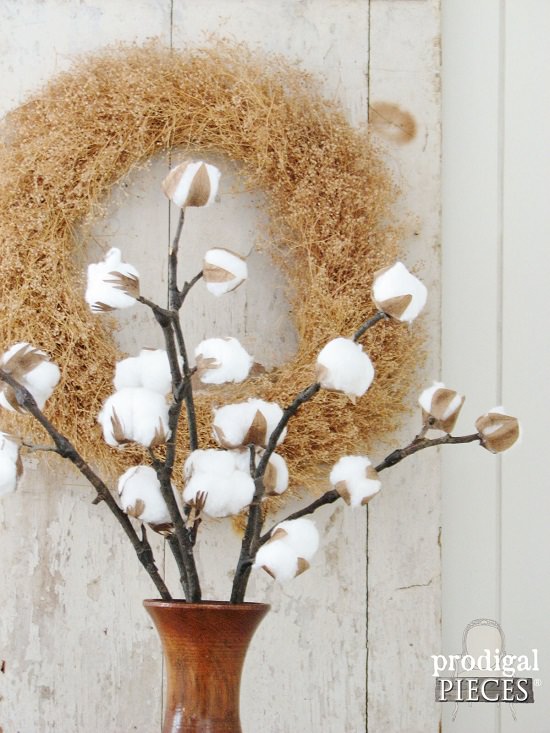 This vase full of cotton branches is a subtle way to make your space summer-ready. Visit the Prodigal Pieces to learn more!
25. DIY Farmhouse Message Board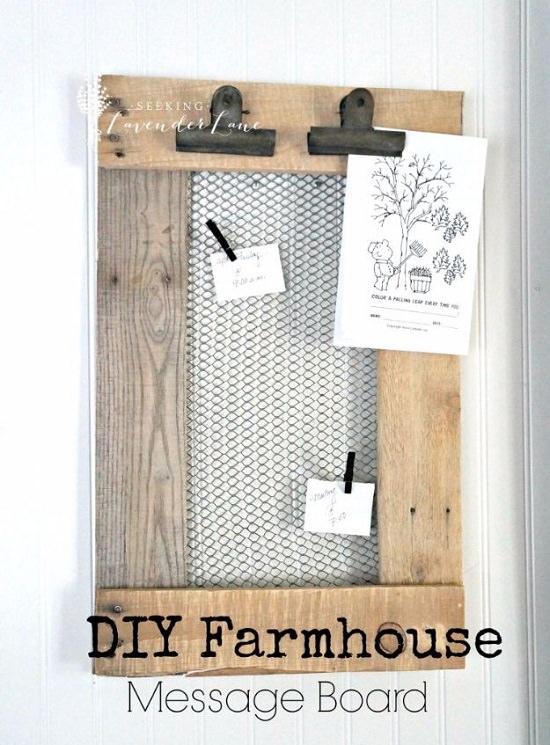 Put up important messages in a rustic style with this farmhouse style message board made from a salvaged wooden pallet. Finish up with a mesh backdrop for extra drama. Visit Seeking Lavender Lane to learn more!
26. Chic And Simple Reclaimed Wood Wall Chevrons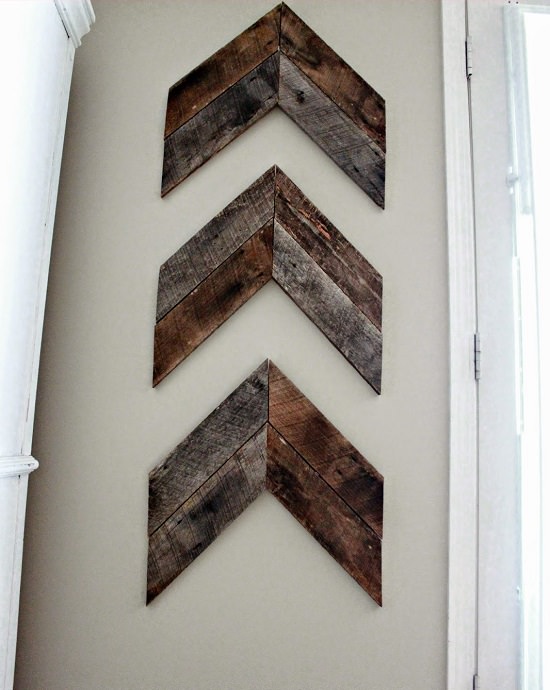 These neatly arranged wooden arrows are perfect for filling up bare walls and lending warmth in a dull living room. Visit Little-Brick-House to learn more!
27. Door Basket DIY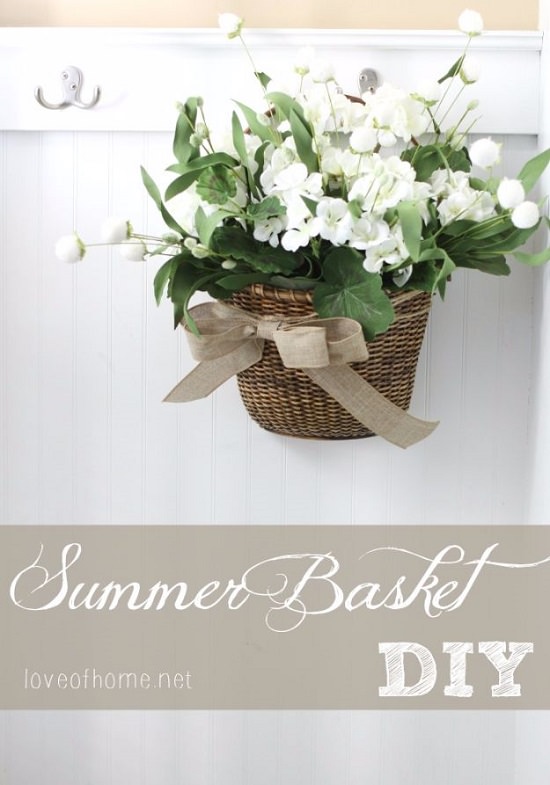 Usher in summer with this cheery basket. Use a giant burlap bow for that extra zing. Visit the Love of Home to learn more!
28. Repurposed Galvanized Side Table
If pastel is not quite your thing, go for galvanized. It lends a unique texture to your space, and you'll enjoy teaming it up with tabletop accessories. Visit Finding Home Farms to learn more!
29. Reclaimed Wood Heart Art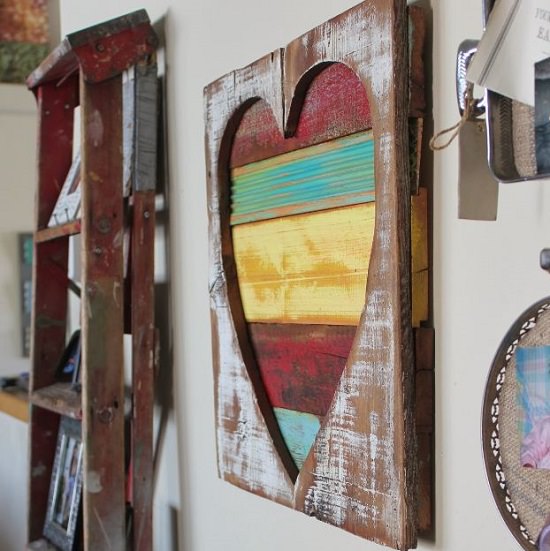 Using colored reclaimed wood is a smart way to create an interesting focal point in the home while deviating focus from the chipped paint on the walls. See this DIY heart art for instance at Beyond the Picket Fence!
30. Footboard Towel Rack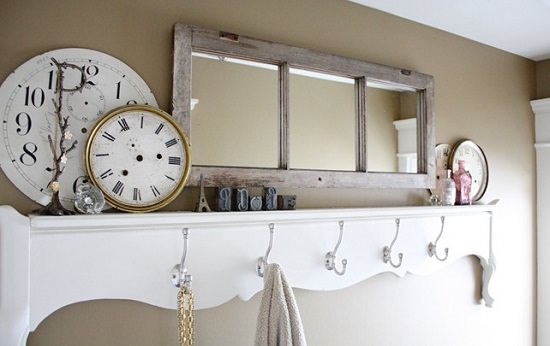 This pretty little Victorian towel rack that you see was a footboard, once. All thanks to paint of course! Visit Finding Home Farms to learn more.
31. DIY Rustic Wood Tray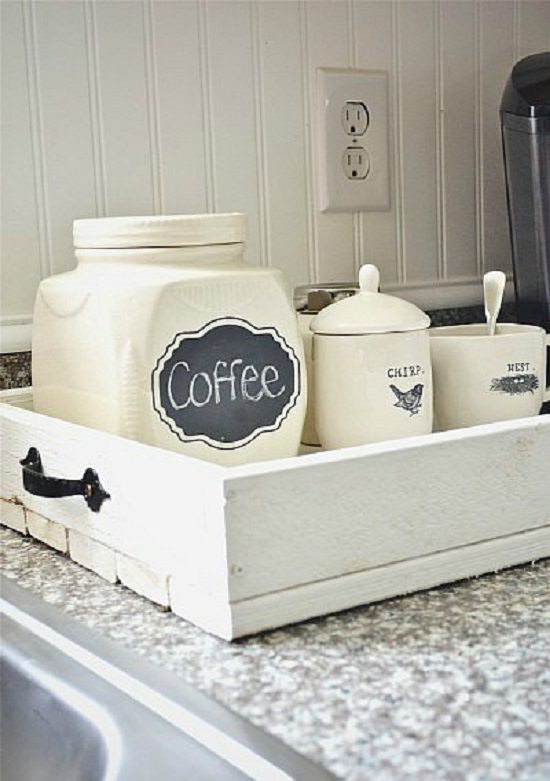 Flaunt your love for tea and coffee with this tasteful DIY wood tray that keeps everything neat and cozy on the counter. Visit Liz Marie Blog to learn more!
---
Pin it!