Store your favorite shades the best way you can with these DIY Sunglasses Holder Ideas!
1. Wood Base/Plaque Sunglasses Holder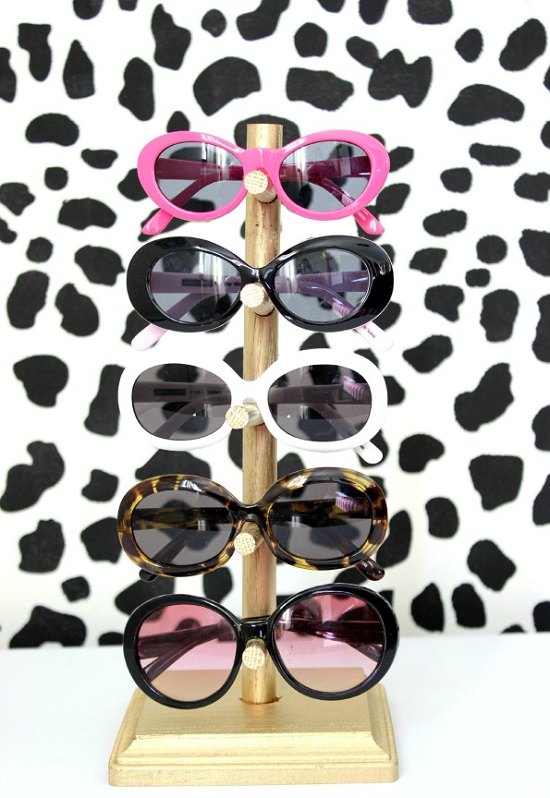 Sporting a rare combination of simplicity and function is this versatile sunglass organizer with dowels and a steady wooden base that makes it easy to move around. Get instructions to make it here.
2. DIY Wire Ring Sunglasses Holder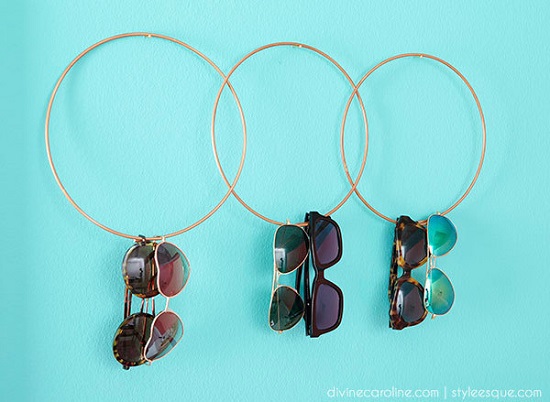 With your DIY skills and supplies, you can fashion this interesting and non-typical way to corral your shades so that they are always within reach and even contribute to room decor when not in use. Follow the steps here.
3. DIY Sunglasses Tray Holder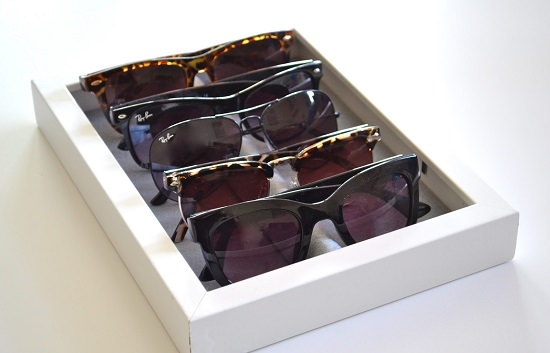 If you're looking for fuss-free DIY sunglasses holder ideas, this DIY should be your choice.
4. DIY Gold Vintage Frame Sunglasses Holder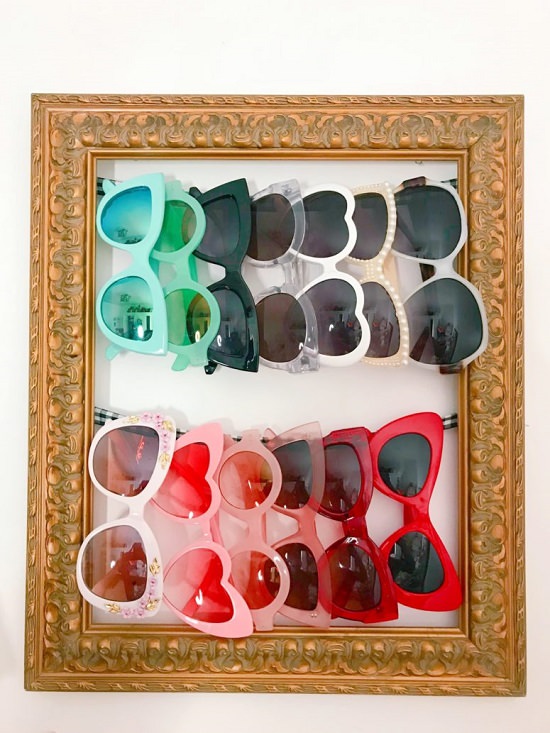 Here's a fabulous way to transform a spare frame into a gorgeous sunglass storage solution that makes it super easy for you to match one with your outfit and rush. Follow the DIY here.
5. IKEA Lamlig Trivet Rack Sunglasses Holder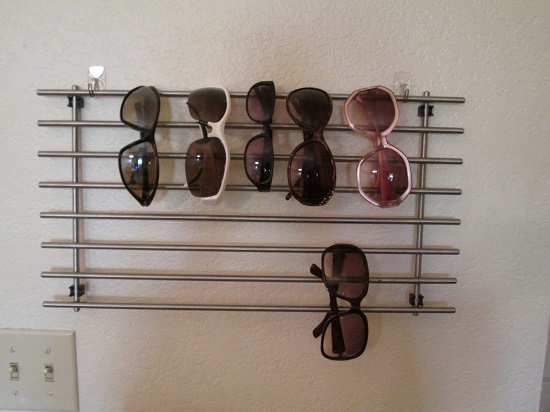 This Ikea hack uses a cooling rack and command hooks to ensure a sunglass storage formula that does minimal damage to the walls while keeping your sunnies handy for busy mornings. Find the DIY here.
6. DIY Chalkboard Sunglasses Holder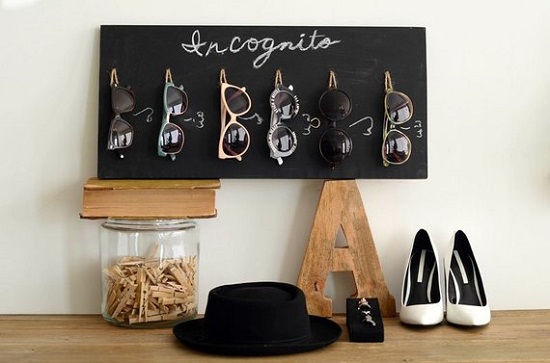 This DIY chalkboard organizer is tiny, versatile and timeless in style–Making it the best sort of sunglass display solution for any part of your home, right from the vanity area to the backdoor.
7. DIY Rustic And Twine Sunglasses Holder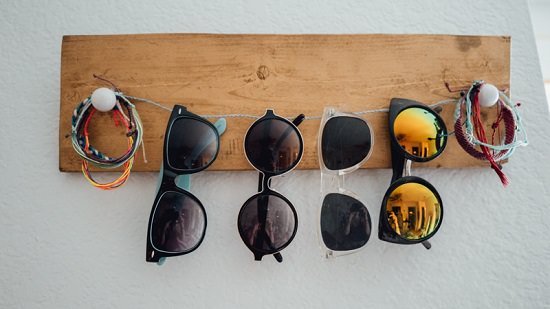 If your sunglasses are too pretty to be lying all entangled inside your dresser, consider allotting them a place of their own on the empty wall of your room with this rustic display made from spare plywood and twine. Follow the instructions here.
8. DIY Framed Sunglasses Holder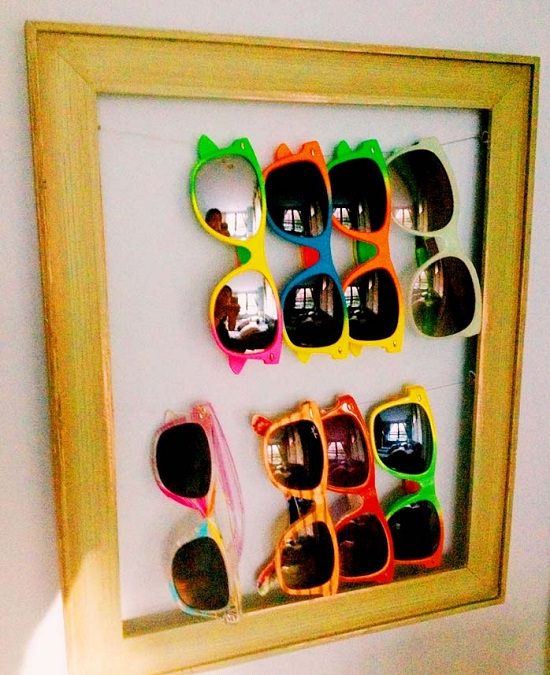 This wooden picture frame display is a nice solution for those who intend to expand their sunglass collection over the years. Plus, it offers easy customization with spray paint, glitter, and ribbons. Get the complete DIY here.
9. Command Hooks Sunglasses Holder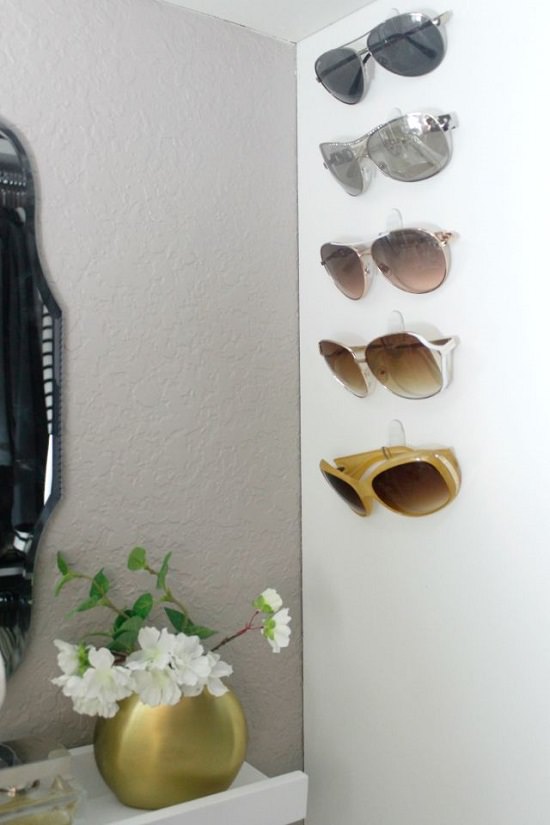 When you want to arrange your sunglasses in narrow wall space, like beside the mirror or along the entryway, consider using command hooks. It's just one step DIY. All you have to do is to get some command hooks and stick them on an empty wall. You are not limited to arranging them in a straight vertical pattern like in the image, use your creativity and arrange them in a horizontal or zig-zag pattern to make full use of your space.
Also Read: Genius Command Hook Hacks
10. Wood Plaque Board with Ruched Elastic Sunglasses Holder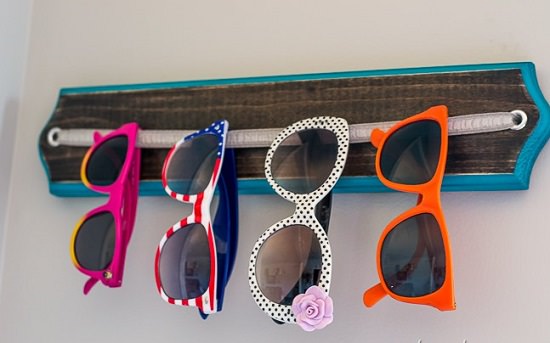 Put together a wooden plaque board, some spray paint and elastic and you'll have a neat little sunglass holder that is perfect for entryways, making it easy for you to grab your favorite pair and go. The directions are here.
11. Wooden Slabs with Scrapbooking Paper Sunglasses Holder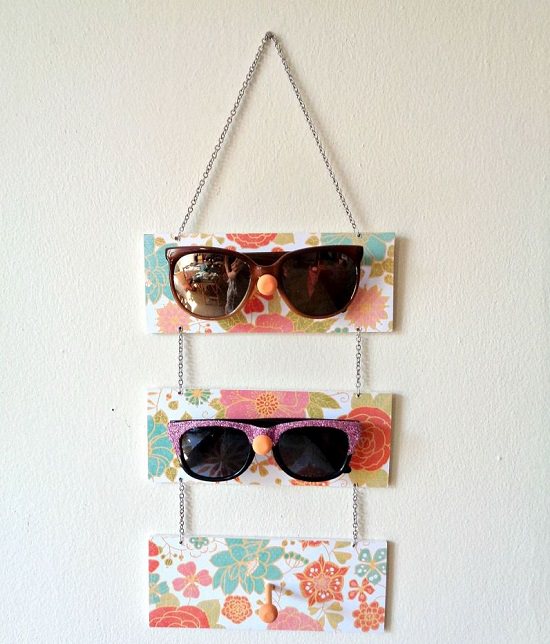 This versatile and durable sunglass organizer project is easy to customize for n number of glasses and you can complete it in any one weekend afternoon. Get the details here.
12. DIY Refined Picture Frame Sunglasses Holder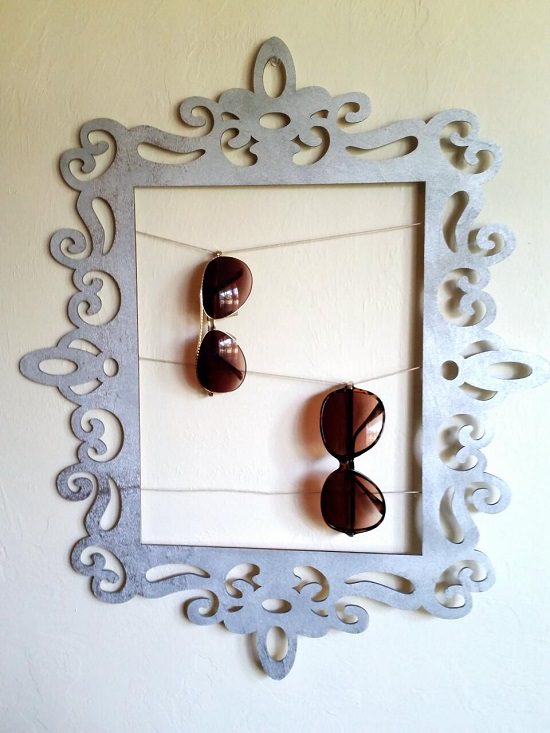 Here's an easy way to keep your sunglasses in one place in an adorable framed arrangement. Get complete instructions here.
13. DIY Sunglasses Holder On a Jewelry Holder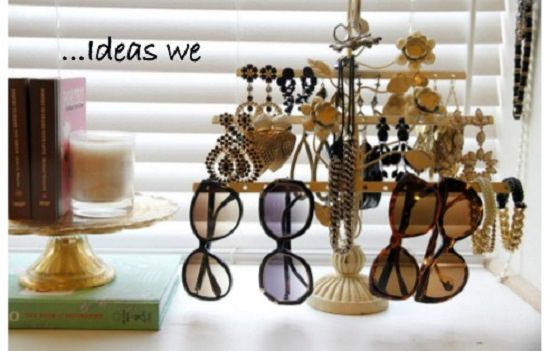 If you're looking for a creative way to organize and flaunt your collection of sunglasses, this DIY sunglass holder idea involving glittered hangers and over the shoe organizers may interest you.
14. Arrange Sunglasses in a Drawer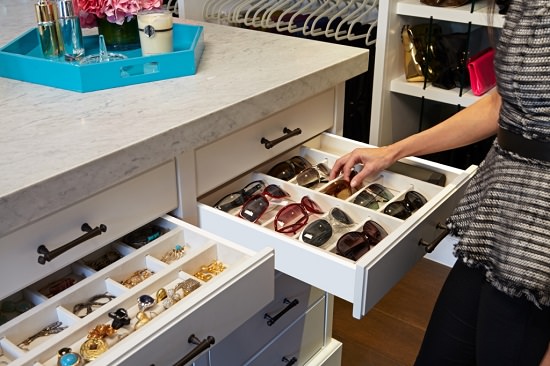 Organizing sunglasses in drawers are one more option. We found the idea here.
15. DIY Woode Shelf Sunglasses Holder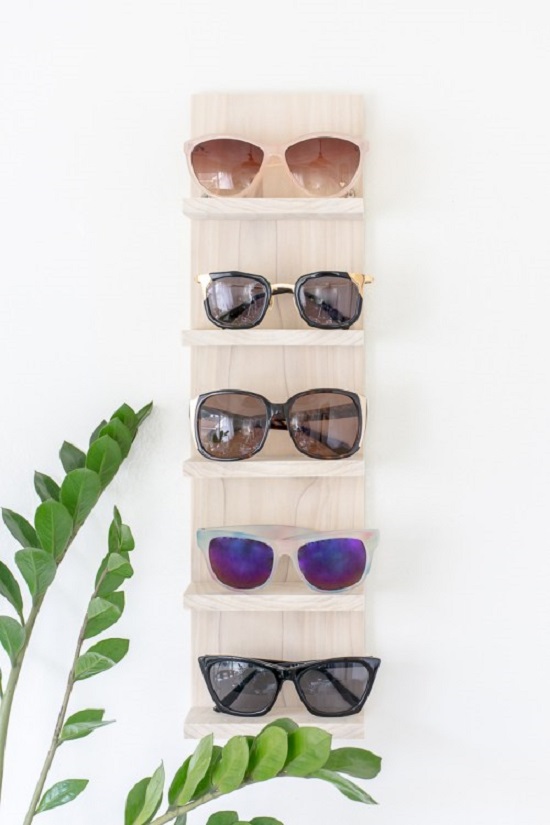 This sunglass organizer uses vertical space of your wall, making it great for the entryway or a tiny bedroom. And it's a nice reminder for those who always forget to carry their glasses on sunny days. Check out the tutorial here.
16. DIY Sunglasses Organizer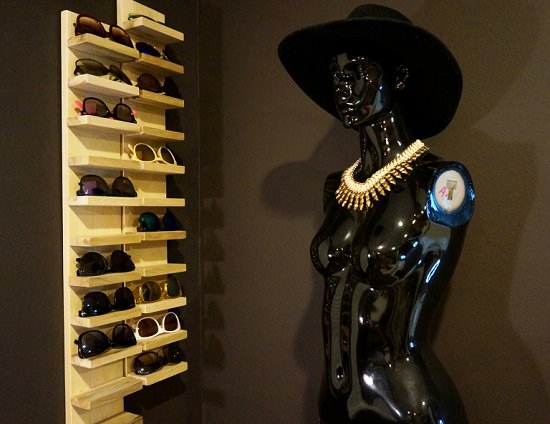 This gorgeous, showroom-style sunglass holder will not only inspire you to select a different pair every morning with ease but even make the process of sorting them out super fun at the end of the day. Get the details here.
17. Sunglasses Holder On Closet Divider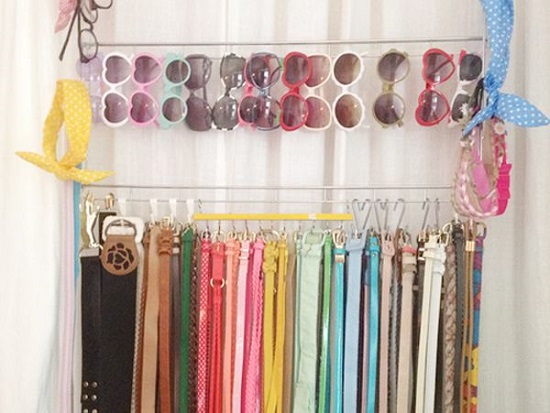 Using closet dividers is a clever way to utilize empty space in your wardrobe while storing your sunglass collection until the next summer. Find the complete DIY here.
18. DIY Bike Wheel Sunglasses Holder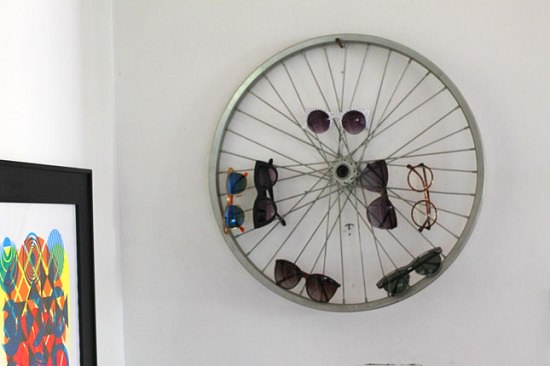 When creating a one-of-a-kind sunglass display is what you want, this spray painted bicycle wheel is a good option. Get the instructions here.
19. Thread-Wrapped Sunglasses Holder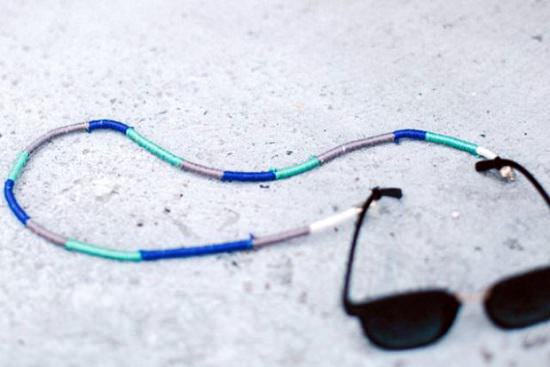 If you're in the habit of misplacing your sunglasses and are in dire need of a hack that will save you from misplacing them, this easy and artsy DIY is your answer.
20. Ribbons Sunglasses Holder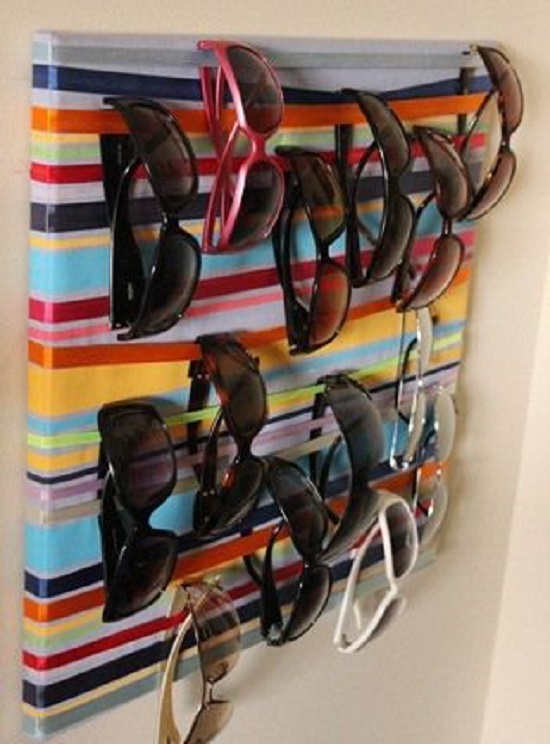 Colorful ribbons wrapped around a board are used to hold sunglasses in this chic, entry-level DIY. Check out the instructions here.
21. Hanging Sunglass Holder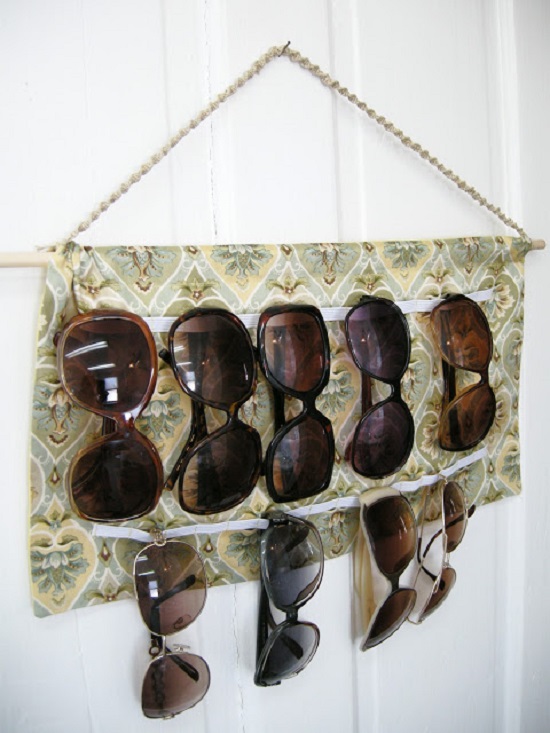 A dowel, some pretty fabric and few pieces of elastic are all you need to create this gorgeous sunglass display that comes especially handy in space-cramped apartments. Get the DIY here.