Looking for unique ways to display your prized Pyrex dishes? Check out these Pyrex Display Ideas and make your collection stand out in style!
Want to elevate your kitchen décor while showing off your cherished Pyrex collection? This list of Pyrex Display Ideas will help you make a functional and stylish display.
Read the Amazing Pottery Display Ideas here
---
Pyrex Display Ideas
1. Floating Wall Shelves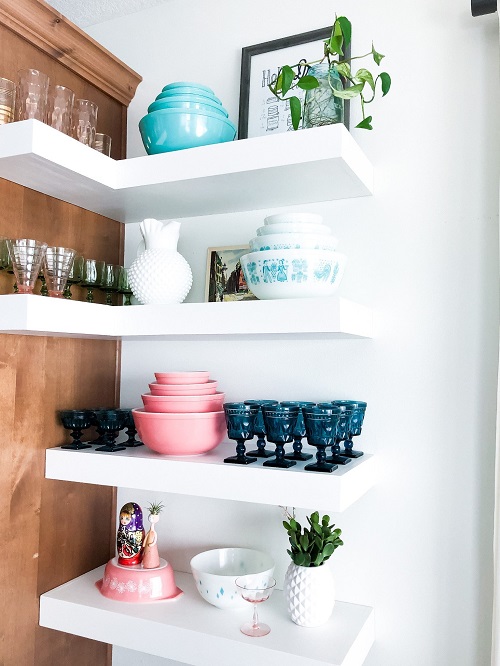 Install floating wall shelves in your kitchen to display Pyrex dishes. They are minimalist, affordable, and easy to install. Plus, they offer easy access while cooking. Enhance this display by adding LED strip lights underneath the shelves. This gives your Pyrex collection a warm glow and an effective way to spotlight your prized pieces.
2. Open Kitchen Cabinet
Convert one of your kitchen cabinets to an open design. This simple and cost-effective hack is ideal for showing off your Pyrex collection. To complete the look, consider painting the cabinet's interior with your favorite color. This not only highlights the collection but also makes it a notable addition to this list of Pyrex display ideas.
3. Vintage Kitchen Cart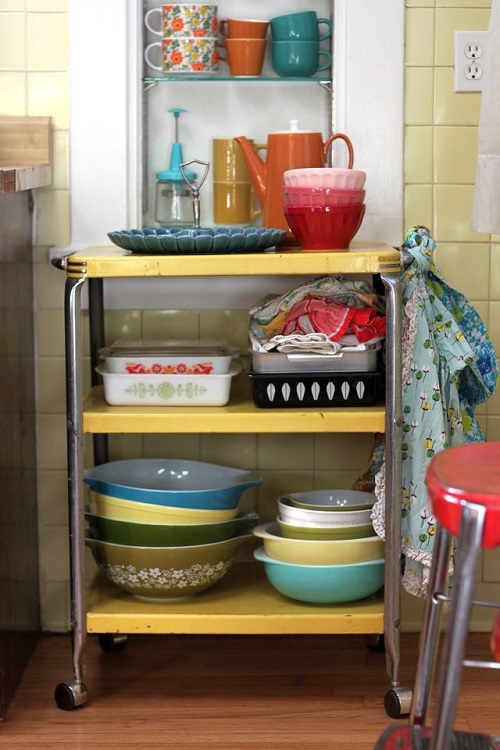 A portable kitchen cart can be a stylish Pyrex display unit. To take it to the next level, add small potted plants or kitchen utensils alongside your Pyrex. Use the bottom shelves to store recipe books or other kitchen essentials, making the cart a one-stop station.
4. Window Sill Display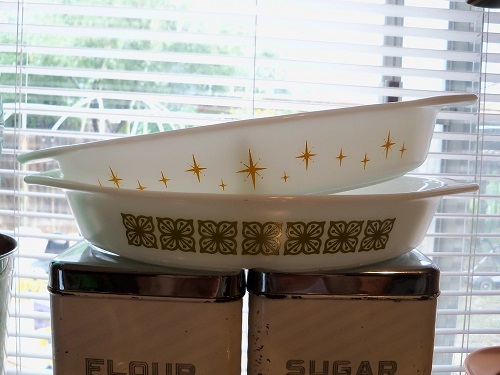 Use the kitchen window sill to display your Pyrex bowls and dishes. This spot provides natural lighting and showcases your collection without taking up extra space. To enhance this setting, place small succulents next to the Pyrex for a natural touch.
5. Use Glass-Front Cabinet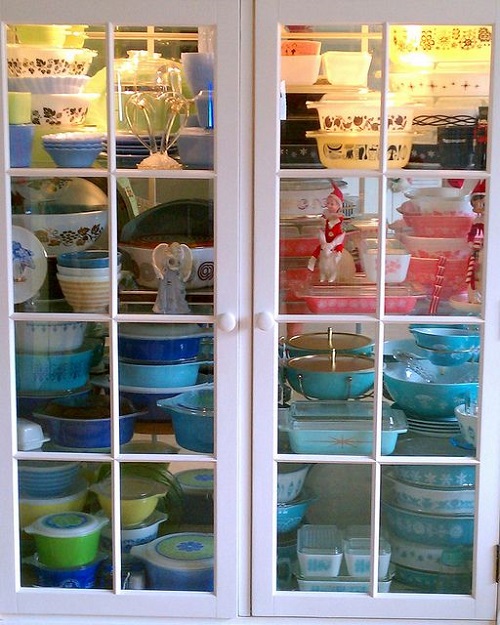 Replace the doors of one of your kitchen cabinets with glass fronts. This transformation lets you view your Pyrex collection without opening the doors. It's particularly useful for items you don't use daily but still want to show off.
6. Hutch Display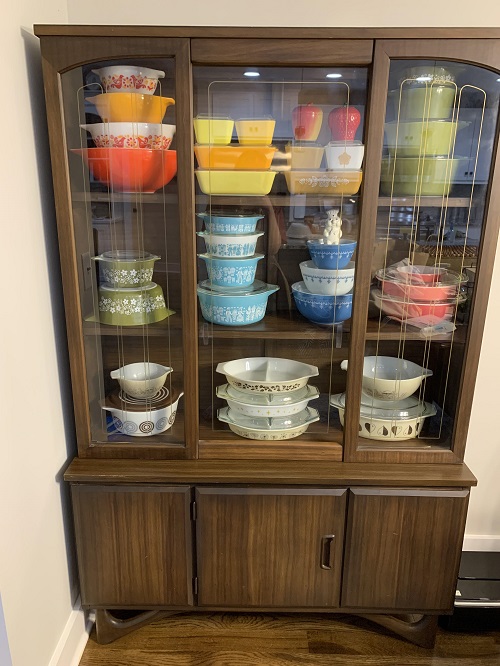 Use a dining room hutch to show off your Pyrex pieces. It's a dual-purpose idea, offering storage and a stylish setting for your collection. You can enhance the display by adding vintage kitchen tools alongside the Pyrex.
7. Ladder Pyrex Display
Use a wooden ladder as a unique, vertical display. For this, convert its steps into shelves with wooden planks to hold Pyrex pieces. To make this setup more eye-catching, drape string lights around the ladder or weave artificial ivy for a more rustic look.
8. Dish Rack Display
Grab a stylish dish rack to display your Pyrex collection. This idea combines functionality with style, making your daily wares part of the décor. For a modern look, opt for a metallic dish rack.
Discover the Amazing Cutting Board Display Ideas here