Tired of the same old tinsel and lights? Give your holiday décor the much-needed revamp with these Primitive Christmas Decorating Ideas.
Celebrate the holidays the old-fashioned way with this collection of Primitive Christmas Decorating Ideas. From burlap stockings to wooden ornaments, these rustic touches add warmth and character to your seasonal decor.
Read the Best North Pole Decorating Ideas here
---
Primitive Christmas Decorating Ideas
1. Rustic Burlap Christmas Stockings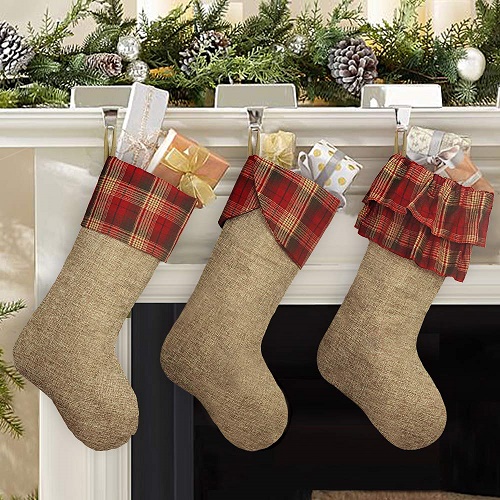 Burlap fabric isn't just affordable; it's a versatile material that brings an authentic rustic vibe. Use burlap fabric to create rustic Christmas stockings. Hang them on the mantle or a wall. They're not only inexpensive but also give that vintage, cozy feel to your home. For a more personalized touch, consider adding patches made from plaid, giving each stocking a unique look.
2. Vintage Button Garland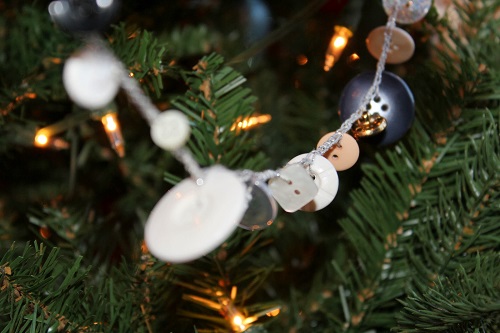 Buttons offer an opportunity for a highly personalized decoration. Thread buttons of varying shapes and sizes onto a fishing line to create a garland for a Christmas tree or mantel. For added visual interest, try creating patterns with the buttons, such as alternating sizes or colors. This brings cohesion to the garland and makes it more engaging to the eye.
3. Pinecone Garland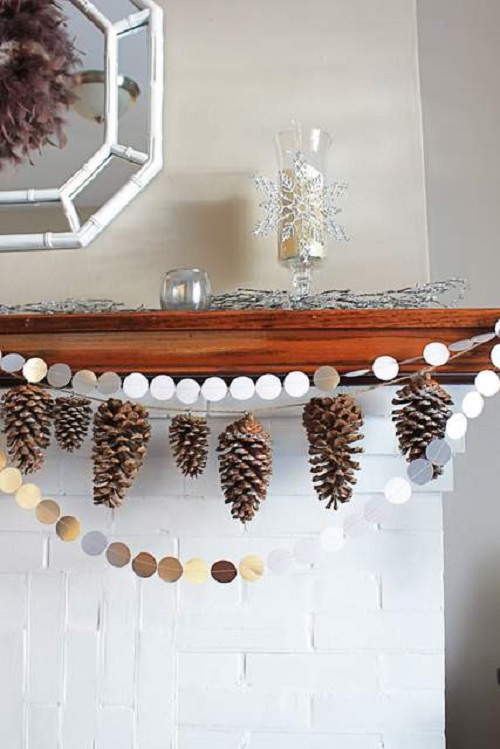 Learn how to make this easy pinecone garland in this helpful article. You can drape the garland over the fireplace or staircase for a primitive Christmas look. Consider spray painting some of the pinecones in a white or gold hue. The colors will pop beautifully against the natural brown of the other pinecones.
4. Corn Husk Wreath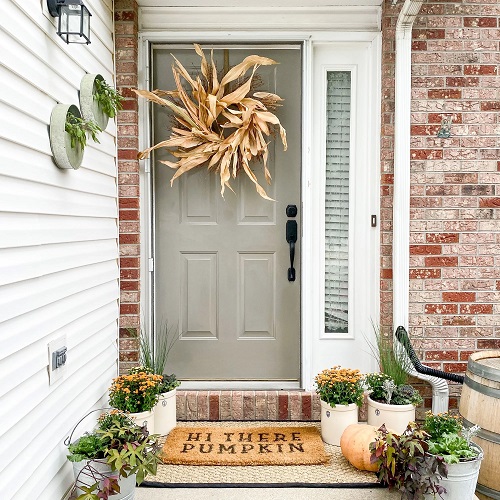 A corn husk wreath offers a unique textural element that sets it apart from traditional wreaths. Consider adding accents like dried flowers or small pinecones to make the wreath more vibrant. It's an excellent option among these primitive Christmas decorating ideas.
5. Flannel Fabric Scraps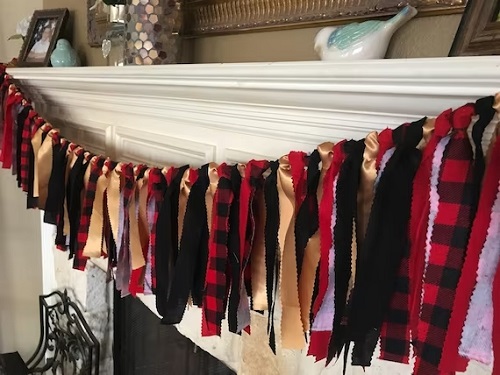 Tie pieces of flannel fabric onto a string to create a colorful, rustic garland. Drape it on your Christmas tree, or hang it over the mantle to add festive vibes. You can stick to a color scheme like red, gold, black, and white for a more cohesive look. Adding a few pieces of metallic fabric between the flannel pieces is also a nice idea.
6. Wooden Crate Display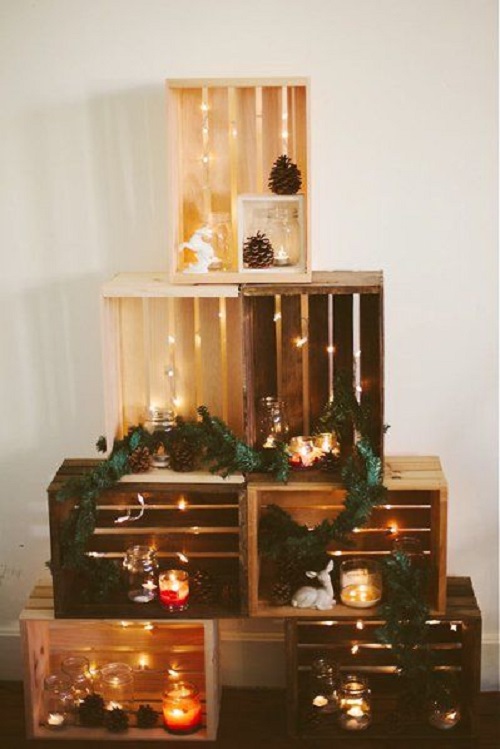 Decorate wooden crates with pinecones, ornaments, candles, figurines, and vintage finds to create a rustic holiday display. You can integrate string lights within the crates to make it more magical. This not only highlights the items inside but also casts a soft glow in the surrounding area.
7. Blue and White Check Rag Ball Ornaments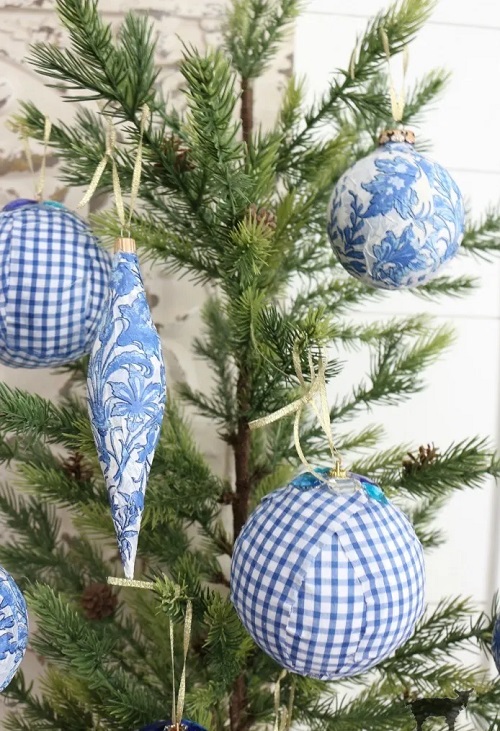 Wrap blue and white fabric scraps around foam balls and secure them with hot glue to create eye-grabbing Xmas tree ornaments. Among the primitive Christmas decorating ideas, this one stands out. Hop to this article for more details.
8. Yarn-Wrapped Stars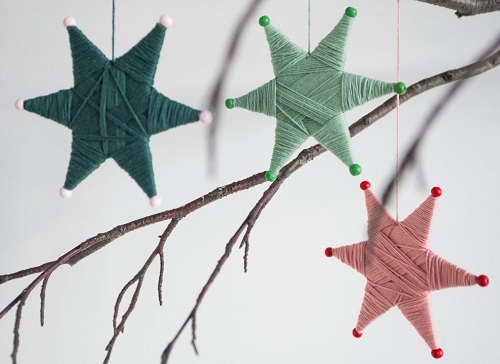 With cardboard and yarn, you can craft a few star-shaped ornaments. Cut star shapes from cardboard and wrap them in yarn. Hang these simple ornaments on your tree or use them as wall decorations. For added pizzazz, consider gluing small sequins or beads to these ornaments.
9. Antique Key Christmas Tree Ornaments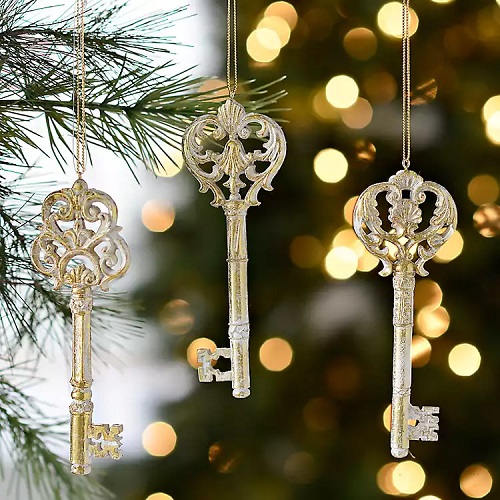 String antique keys with twine and hang them from the Christmas tree. They'll add a vintage charm that complements the primitive festive theme. Consider using keys that have a story or sentimental value.
10. Cornhusk Angel Decor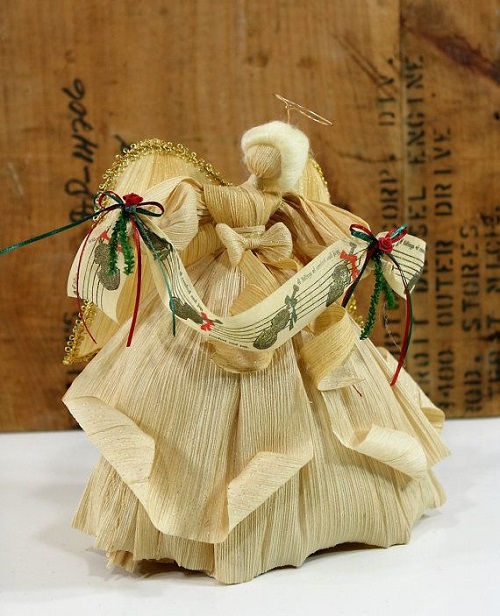 Create small angels using dried cornhusks. Hang them as ornaments or use a table centerpiece for a primitive feel. To make them more detailed, consider adding small accessories like a halo made of thin wire. This fine touch makes each angel unique and adds to their rustic charm.
11. Primitive Wooden Snowman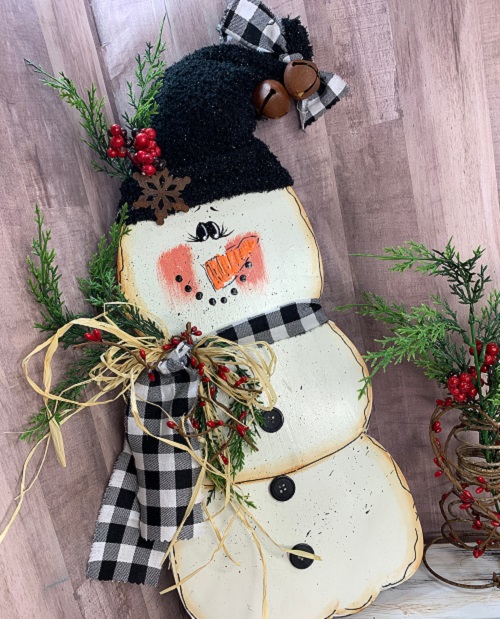 A primitive wooden snowman can easily be crafted from logs or reclaimed wood. Complete the look with a plaid scarf, red berry twigs, and corn husks. This wooden snowman is great for showcasing on a fireplace mantel.
12. Vintage Flour Sack Stockings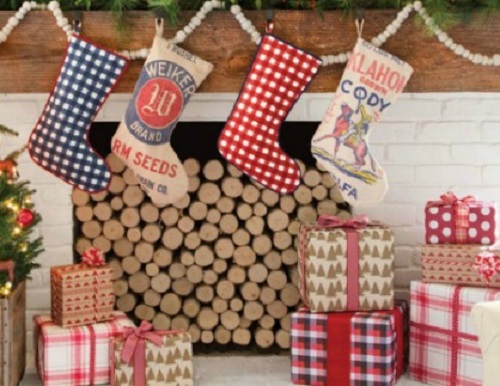 Transform vintage flour sacks into one-of-a-kind Christmas stockings for a rustic holiday touch. The typography and aged material add an authentic, retro feel. Plus, this upcycling project is a sustainable way to repurpose old fabric. Get the project here.
13. DIY Red Berry Stems and Twig Wreath
This berry and twig wreath brings the beauty of nature right into your home. Incorporate other natural elements like pinecones or dried leaves to make it more intricate. It's an excellent addition to this list of primitive Christmas decorating ideas.
Check Out the Nutcracker Display Ideas here