From wall mounts to custom ceiling storage racks, find the best way to store your ski gear in this article on Ski Storage Ideas!
Say goodbye to cluttered corners and haphazard ski gear arrangements by taking inspiration from these Ski Storage Ideas. This guide offers amazing solutions that will help you streamline your valuable winter sports equipment quite easily.
Discover Best Life Jacket Storage Ideas here
---
Ski Storage Ideas
1. Freestanding Ski Rack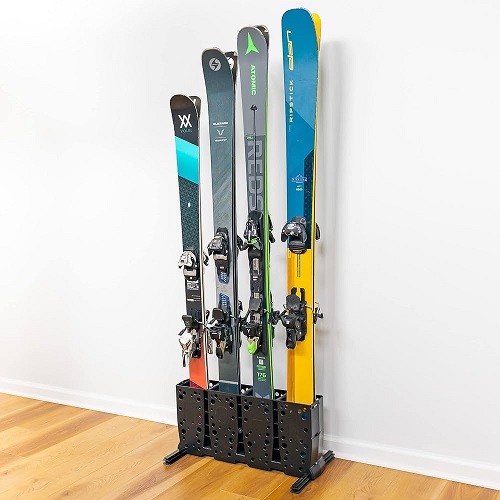 Are you looking for a renter-friendly ski storage solution? Look no further and purchase a freestanding rack. It can be placed anywhere in your home or garage, thus ideal for renters or those who don't want to make holes in walls.
2. PVC Pipe Ski Holders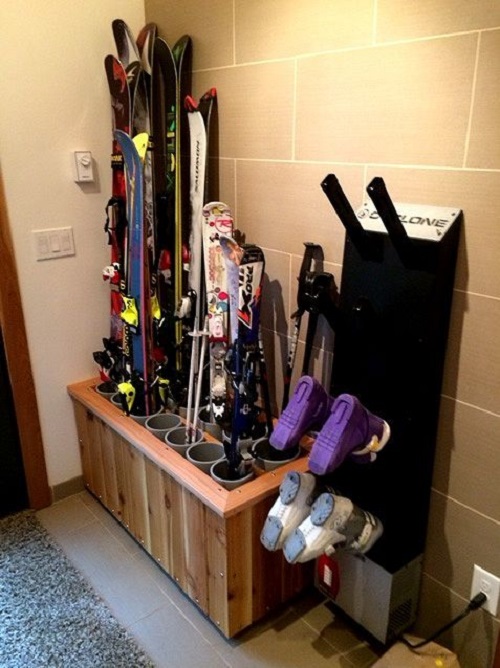 Show off your creativity and DIYing skills by making a ski storage solution using PVC pipes and wood. First, build a wooden box with a partition and then cut PVC pipes into sections and put them inside the box.
3. Ski Storage Hooks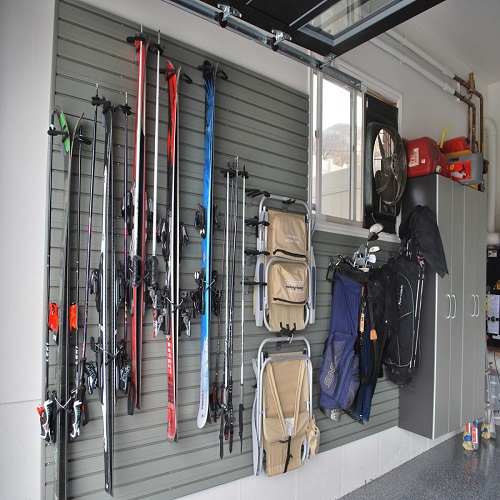 All you have to do is screw simple, sturdy hooks on the walls to create a quick vertical ski storage station. This is the best method for those apartments where floor space is at a premium.
4. Ceiling Storage Rack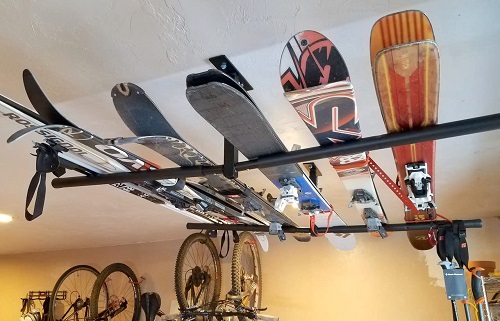 Make the most of your garage ceiling by installing a ceiling storage rack. This method saves floor space and keeps skis out of the way.
5. Under-Deck Ski Storage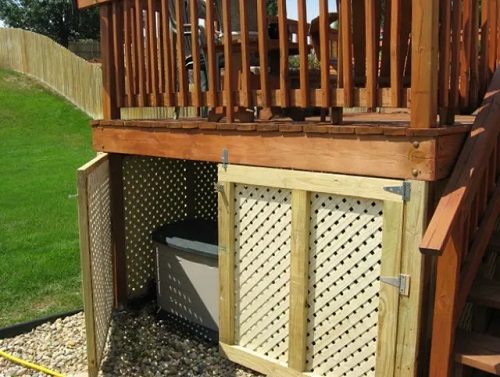 If you have a deck or raised porch, use the space underneath to store skis in the off-season. This discreet storage solution will keep your skis dry and protected.
6. DIY Ski Rack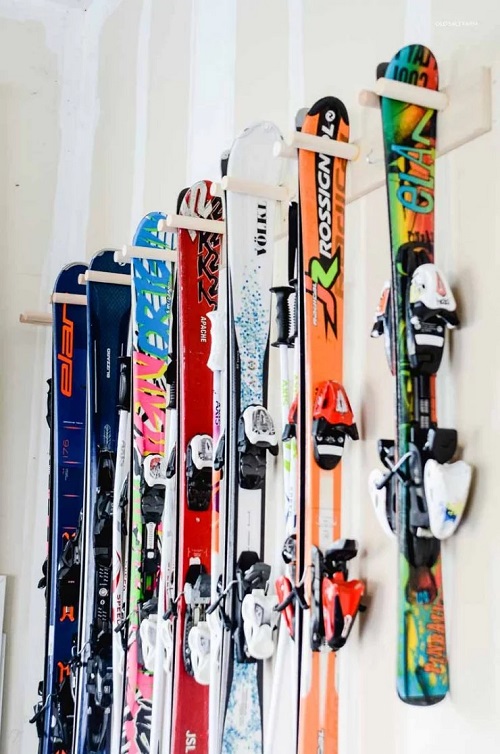 Learn how to make this easy DIY ski storage rack in an hour! It's perfect for a garage or basement in this list of ski storage ideas.
7. Ski Wooden Storage Box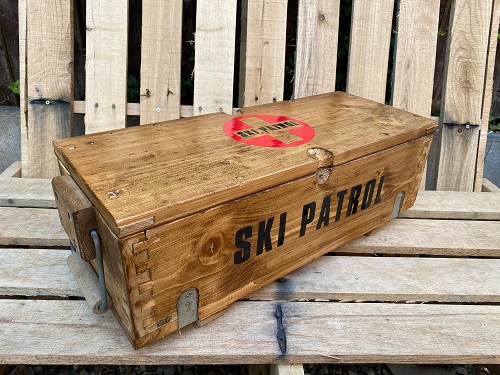 Instead of discarding an old wooden box, reuse it to organize your skis. If you don't have a box, build one at home with wood, stain, screws/nails, and cutting tools.
8. Truck Bed Ski Rack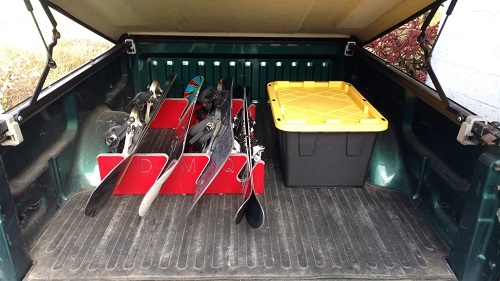 Follow this easy-to-understand instructable to build a truck bed wooden rack that easily corrals 4 skis or snowboards. You can use this rack in the garage as well.
9. Pallet Ski Holder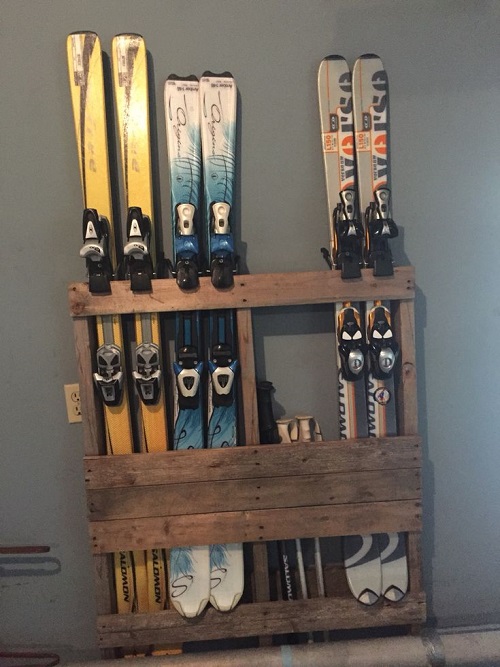 Do you have an old wooden pallet at your disposal? If yes, then transform it into a ski holding station. It's an easy, simple, and budget-friendly project.
11. Outdoor Ski Locker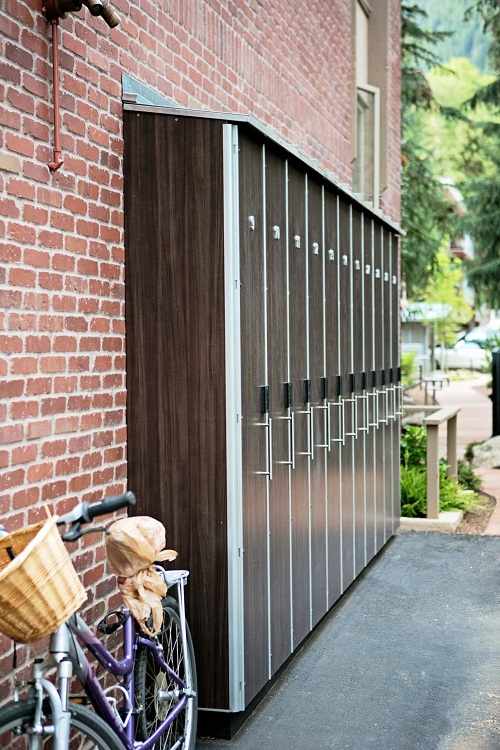 If indoor space is limited, consider installing an outdoor locker to store your winter gear. However, make sure the locker can withstand outdoor elements.
Check Out the Best Lawn Mower Storage Ideas here