Elevate your space with these creative Candle Decoration Ideas for tables. They are perfect for dinners, parties, or everyday home decor!
Transform your dining, end, or coffee table into a mesmerizing centerpiece with these amazing Candle Decoration Ideas for Tables.
Read These Awesome Patio Table Decor Ideas
---
Candle Decoration Ideas for Tables
1. Floating Candles in a Bowl
Give your mantel or coffee table an eye-grabbing centerpiece by placing floating candles in a clear glass bowl. Add decorative elements like petals or foliage for added charm.
2. Mason Jar Lanterns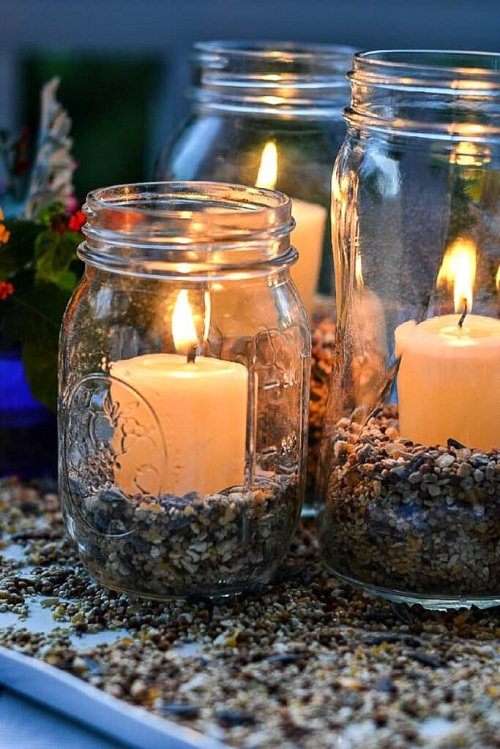 Transform mason jars into rustic lanterns with citronella candles to brighten your summer evenings. You can wrap the jar with twine or ribbon to make it more attractive.
3. Wine Glass Candle Holders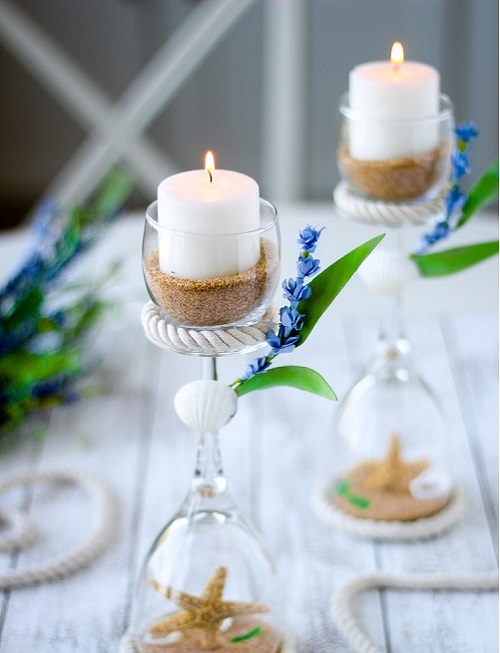 Looking for a quirky way to display candles on your party table? Simply invert a wine glass, place a candle on its table, and that's it. Underneath the glass, you can add seashells, starfish, and sand.
4. Seashell Candle Arrangement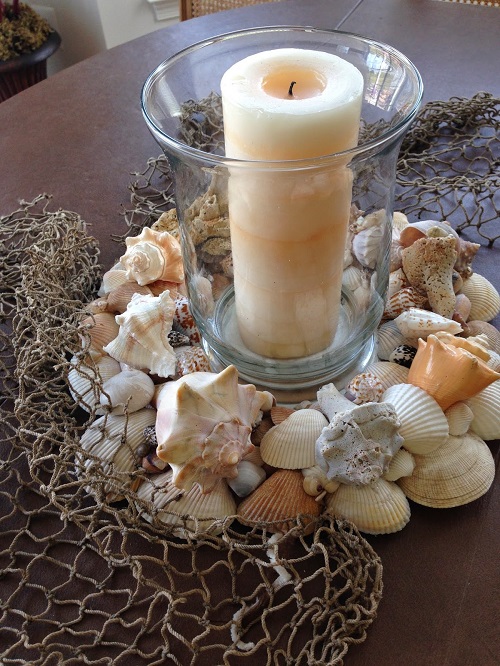 To recreate this beach-themed decor on your coffee table, you only need a tall glass jar, a pillar candle, a fish net, and large seashells. This is a peculiar and budget-friendly way to bring a coastal vibe to your home decor.
5. Burlap Wrapped Candles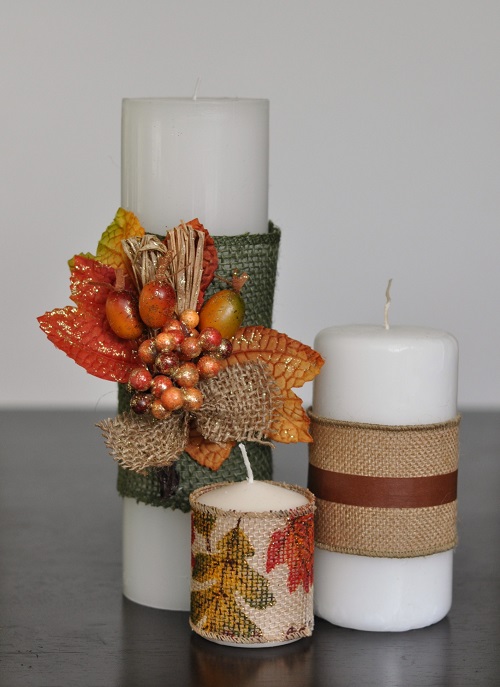 Wrap pillar candles with burlap and secure them with a decorative ribbon to make a visually appealing table setting. Among the candle decoration ideas for tables, this one stands out.
6. Candle and Succulent Tray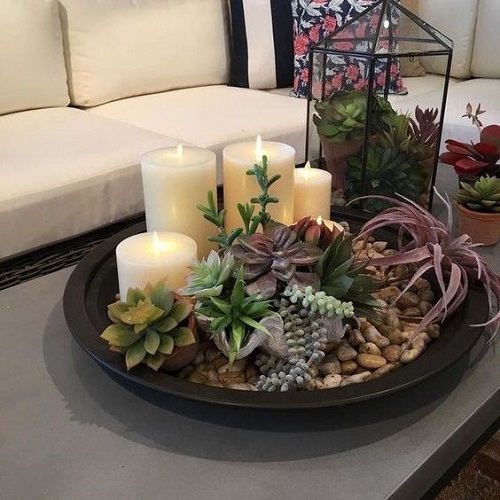 Arrange small succulents around candles on a wooden tray to spice up your home interior. It's a simple yet stylish centerpiece that's easy to make.
7. Herb-Ringed Candles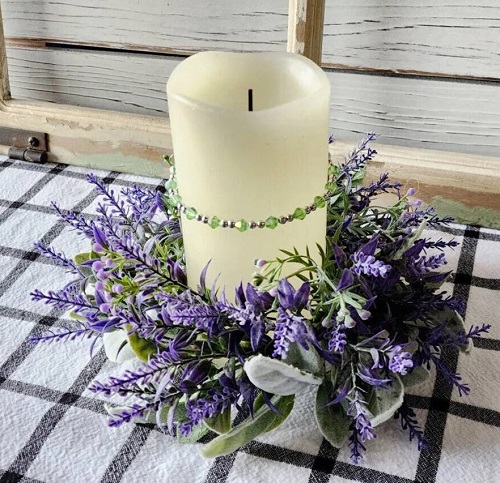 Surround candles with fresh herbs like rosemary or lavender to create a captivating table centerpiece. This setup not only looks visually appealing but also offers a subtle aroma.
8. Pebble-Filled Candle Trays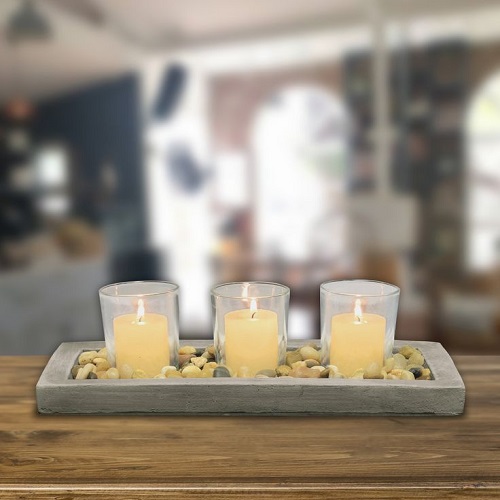 Enhance the look and ambiance of your dining table with a tray adorned with pebbles and candles in glasses. This minimalist setting is ideal for modern and traditional home interiors.
9. Vintage Tea Cup Candles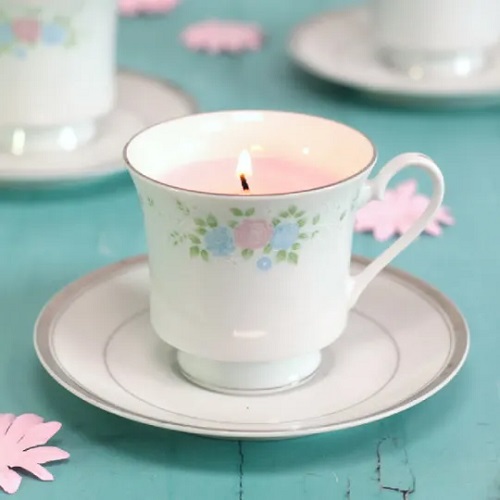 Repurpose your old tea cups into beautiful DIY candles using this detailed tutorial. They are great for afternoon tea parties, vintage-themed events, and as gifts.
10. Candle and Fruit Centerpiece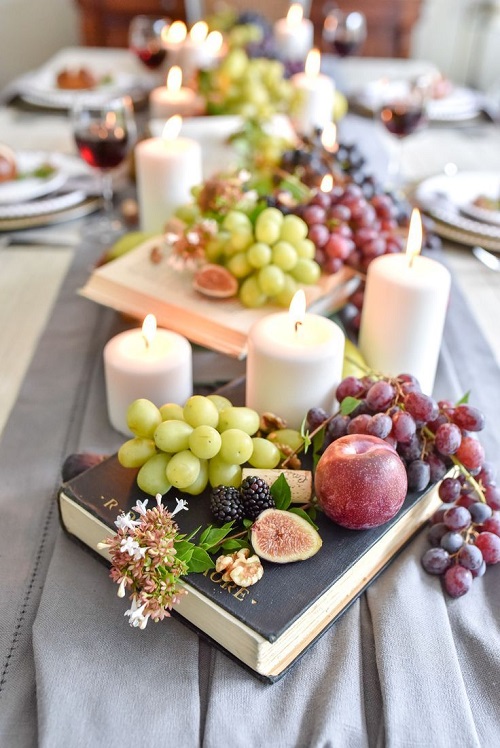 Spice up the visual interest of your table setting by arranging candles amongst a display of fresh fruits and books. It's an excellent option among this list of candle decoration ideas for the tables.
11. Candle and Pine Cone Display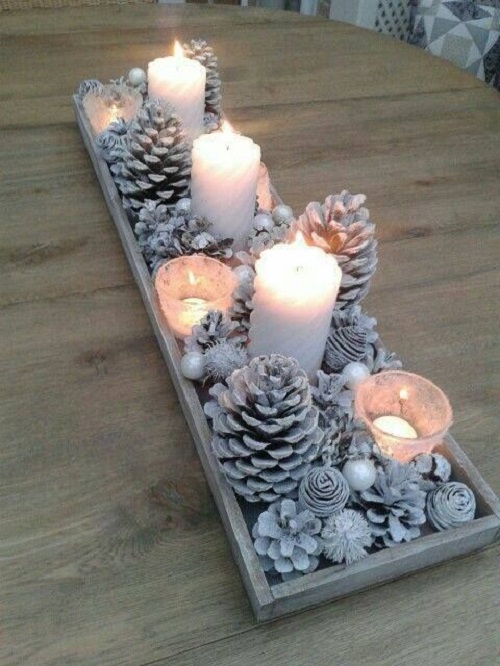 Arrange candles with pine cones and faux snow in a white-washed wooden tray for a fall or winter-themed table setting. You can sprinkle some glitter on the pine cones for extra sparkle.
12. Candle and Book Centerpiece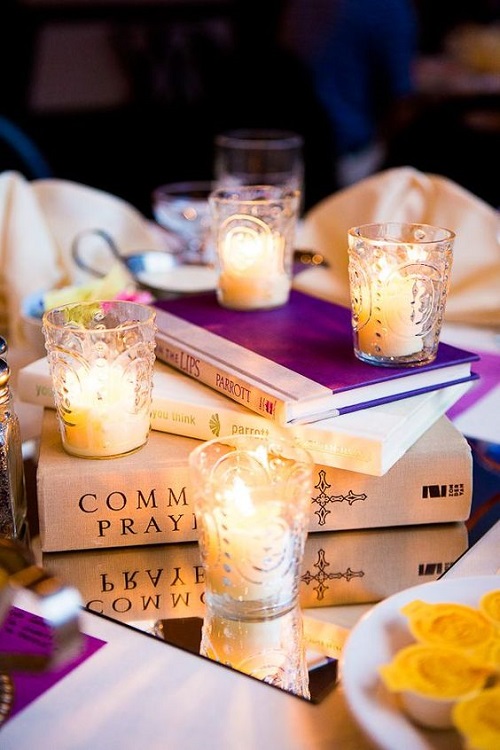 Stack vintage books and place candles on top to create a conversation-starting literary-themed table decor. This is perfect for everyday decor and special events.
13. Rustic Log Candle Holders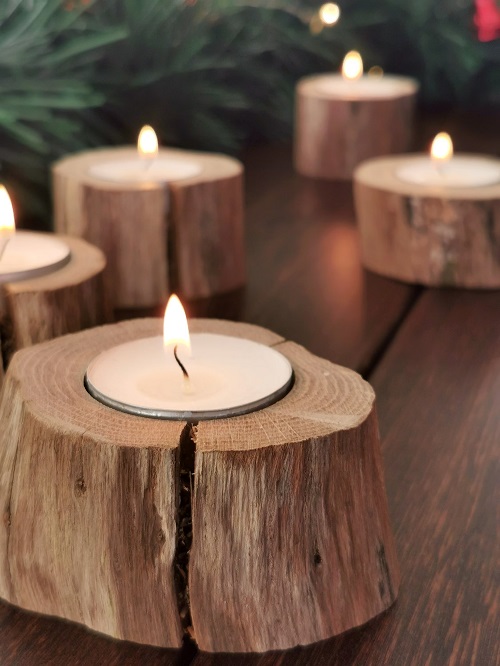 Want rustic-looking candle decoration ideas for tables? Slice a wooden log into small sections and hollow out spaces for tea lights. This rustic table decor is ideal for outdoor or country-style settings.
Here are Amazing End Table Makeover Ideas