Show off your tote bags like never before with these Tote Bag Display Ideas! These are ideal for home decor enthusiasts and store owners!
Looking to showcase your growing collection of tote bags in a way that captures attention? These amazing Tote Bag Display Ideas are designed to fit various styles and spaces. They not only showcase your bags but also accentuate the space.
Read the Best Handbag Storage Ideas here
---
Tote Bag Display Ideas
1. Pegboard Wall Display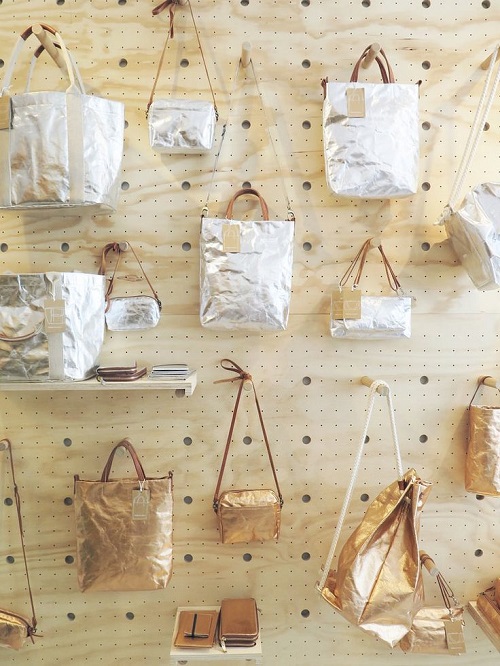 Use a pegboard to create a flexible tote bag display on a wall. Simply attach hooks and arrange your tote bags in any pattern. This cost-effective idea lets you update the arrangement easily. You can also paint the pegboard to match your room's decor, providing a cohesive and stylish look.
2. Ladder Tote Bag Display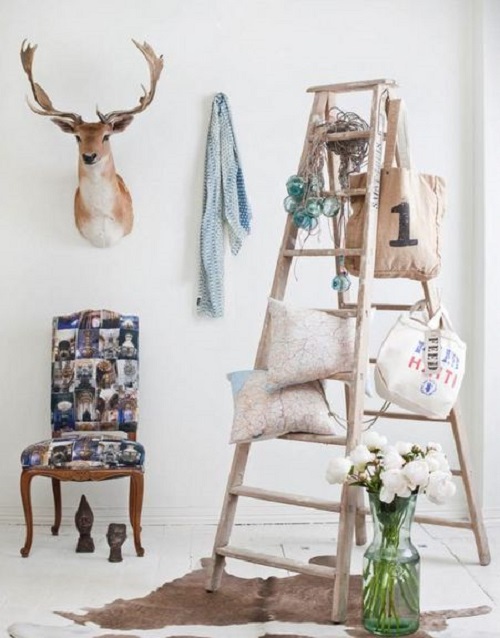 A ladder offers a rustic and trendy way to showcase your tote bags. Simply hang them on the different rungs using nails. You can also drape a few twinkling fairy lights for added ambiance. This setup adds a decorative touch to any space among the various tote bag display ideas.
3. Wall Cloth Hanger Bags Display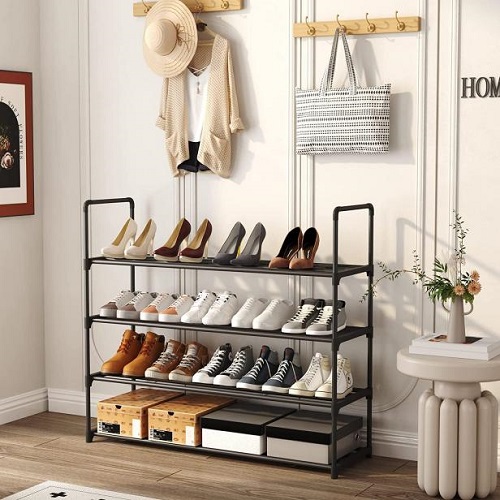 Install a wall cloth hanger to display your tote bags. It's a functional and aesthetically pleasing way to showcase your collection. Consider using hangers with multiple arms for different bag sizes.
4. Floating Shelves Tote Bag Display
Display your tote bag collection of floating shelves. This setup gives a modern aesthetic while keeping your bags easily accessible. Opt for shelves made of polished wood for a high-end look. Place some bags flat and others upright to make the display more interactive.
5. Display Tote Bags on String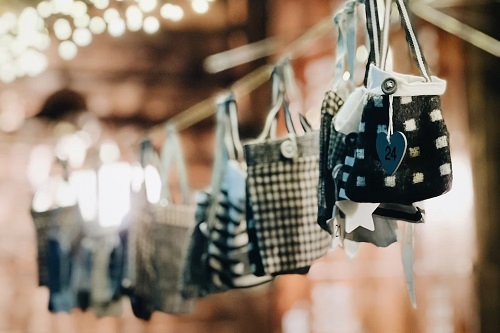 Hang your tote bags on a string against a wall or from the ceiling. This not only maximizes space but also adds a fun, casual vibe to the display. Use clips to securely attach the bags to a sturdy twine or nylon string. This is an excellent option for displaying bags with eye-catching designs.
6. Command Hooks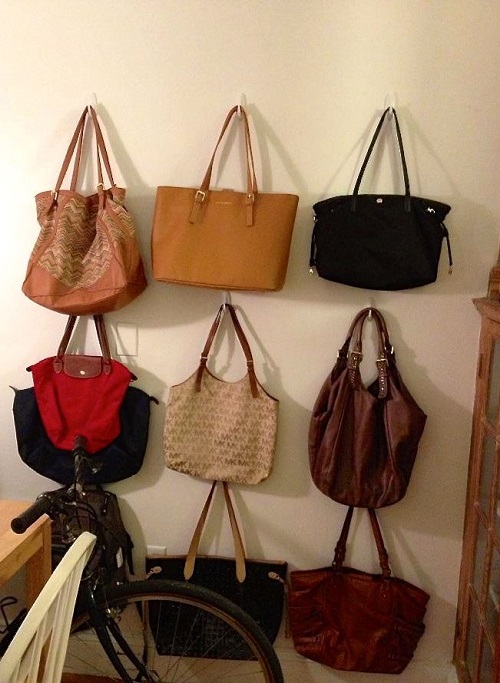 You only need command hooks to show off your favorite tote bags on an empty wall. The hooks are easy to install and won't damage your walls. It's a great option for renters, as the hooks can be removed without leaving marks. Arrange them in a pattern or line for visual interest.
7. Try Room Divider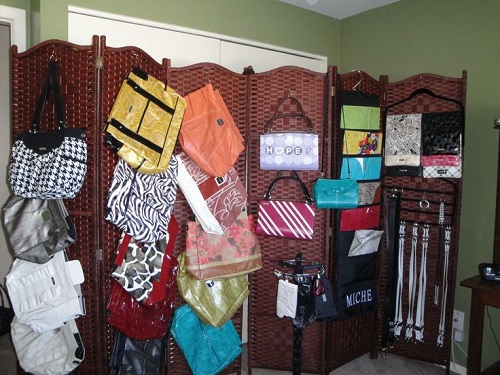 Use a room divider with mesh or slats as a backdrop for your tote bags. Attach hooks on the divider to hang the tote bags. This idea works well in large spaces and offers the double benefit of dividing a room while serving as a display area. Add some LED lighting to highlight the bags.
8. Over the Door Rack Display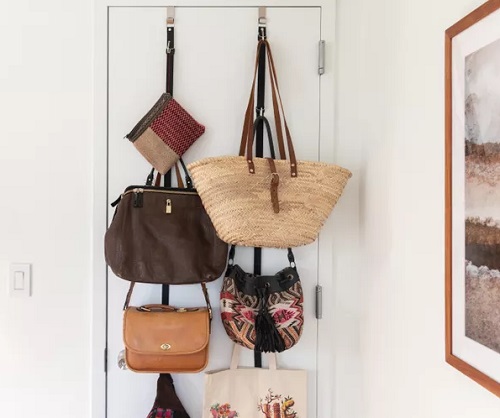 Make use of an over-the-door rack to hang your tote bags. This is a space-saving idea perfect for smaller rooms or closet doors. It keeps your bags accessible and easy to pick when you're on the go.
9. Hat Stand Tote Bags Display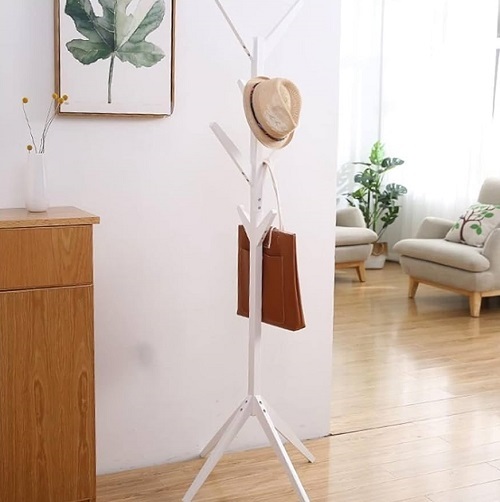 A hat stand or coat tree can double as a tote bag display. Its arms offer multiple hanging spots and take up minimal floor space. You can paint this traditional furniture or add decorative elements like tassels or beads for a modern twist.
10. Wall-Mounted Accordion Hanger
Invest in a wall-mounted accordion hanger for a vintage touch. Extend the arms to display multiple bags. This option lets you customize the space between each bag, making it ideal for collections that vary in size. The wooden design of most accordion hangers offers a cozy, rustic vibe.
11. Hanging Tree Branch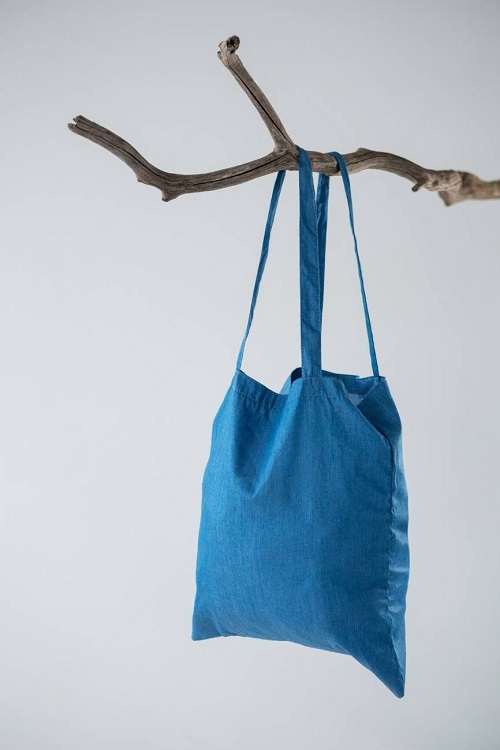 Suspend a sturdy tree branch from the ceiling using ropes or chains, and hang your tote bags from it. It adds a natural and bohemian feel to your space. You can strip the bark and varnish the branch for a polished touch.
12. Pallet Tote Bags Display Station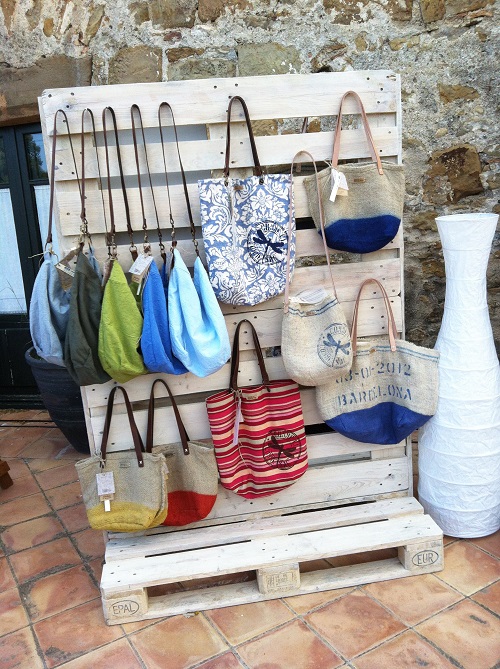 Consider wooden pallets to construct a display station for your tote bags. This is a cost-effective and eco-friendly option. Paint or varnish the pallets, and add hooks for the bags. The rugged texture of the pallets provides a contrasting backdrop for the tote bags.
13. Wire Mannequin Dress Form
For a more avant-garde display, use a wire mannequin dress form to showcase your tote bags. This display simulates a real-life usage scenario, helping customers visualize how the bag will look on them. Dress the mannequin in coordinating outfits to suggest styling options, enhancing the overall shopping experience.
Read the Chicken Wire Sculpture Ideas here