Get your stash in order with these easy and creative Yarn Organization Ideas. Say goodbye to tangled threads and lost skeins!
Struggling to keep your ever-growing yarn stash in order? Explore this guide on Yarn Organization Ideas that will help you declutter and make your crafting space as productive as possible. With solutions ranging from DIY projects to readily available storage containers, this article has something for everyone.
Check Out the DIY Craft Storage Ideas here
---
Yarn Organization Ideas
1. Clear Plastic Bins
Storing yarn in clear plastic bins with airtight lids is a cost-effective way to keep your collection neat and tidy. The clear containers offer the advantage of quickly identifying the yarn color you're looking for without opening multiple boxes. You can easily stack these bins on closet shelves or tuck them under a bed. Consider labeling each bin for larger collections based on the type or color of yarn stored within.
2. Over-the-Door Shoe Organizer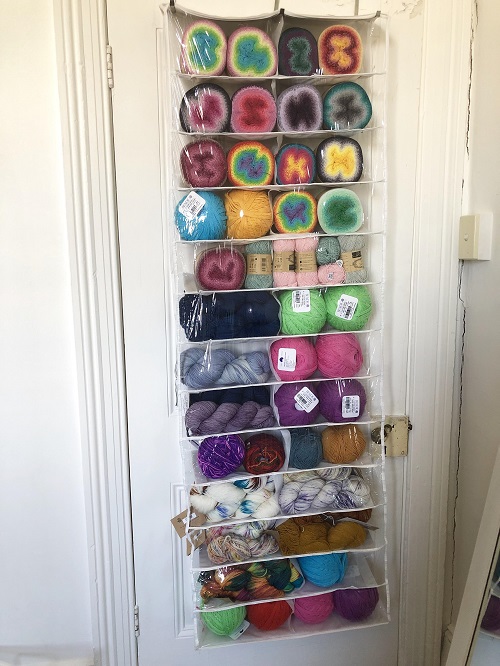 An over-the-door shoe organizer is a smart way to utilize unused vertical space. Each pocket holds one or two skeins, ensuring you can quickly grab the yarn for your next project. This is especially useful for people with limited floor space.
3. DIY Pegboard Yarn Organizer
A pegboard is a visually pleasing yet functional way to display your yarn. Use dowels to hang individual skeins or bundles. This approach enables you to create a custom organization system that can be easily modified as your yarn collection grows. Plus, your favorite colors and textures will be right at eye level. Read more in this article.
4. Ziplock Bags
Ziplock bags offer a convenient and portable solution for crafters who are always on the go. Segregate yarn by color or type and place them in individual bags. You can then store these bags in larger bins, keeping your collection dust-free and easily accessible. Thus, it's an excellent addition to this list of yarn organization ideas.
5. Wine Rack Storage
Transform an unused wine rack into a unique yarn storage system. This clever method not only keeps your yarn easily accessible but also turns your collection into a visually appealing display. It's a great way to showcase those vibrant skeins you've saved for special projects.
6. Wire Basket Yarn Storage
Wire baskets offer functional yet aesthetically pleasing yarn organization ideas. The open design ensures excellent airflow, reducing the risk of your yarn developing a musty smell. This basket can be placed on shelves, hung on walls, or tucked under tables for easy access.
7. Hanging Closet Sweater Organizer
A hanging sweater organizer is ideal for those seeking yarn organization ideas that maximize closet space. Each shelf offers ample room to store several skeins, making it a perfect space-saving choice.
8. Mason Jars
Mason jars are functional and add a touch of rustic charm to your crafting area. Use them to store smaller amounts of yarn or remnants from past projects. Place the jars on a shelf or table, where they can serve decorative and practical purposes.
9. Magazine Holders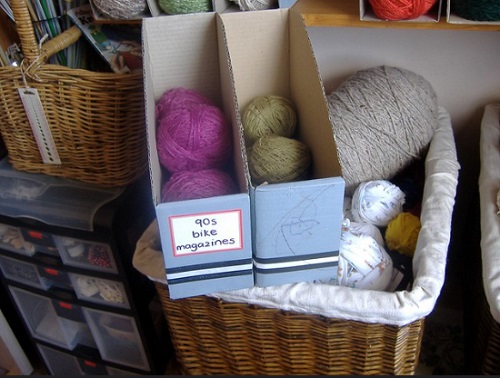 Magazine holders offer a budget-friendly approach to yarn organization ideas. Line them up on a bookshelf for a tidy, organized look. You can label each holder by yarn type to make it easier to find what you're looking for.
10. IKEA Cart Yarn Organization Idea
A rolling utility cart from IKEA offers a flexible and mobile yarn storage solution. The tiered design accommodates various yarn sizes, while the wheels let you move collections between rooms easily. You can also store your knitting or crochet tools on the cart for an all-in-one crafting station.
11. DIY Wooden Crates Shelves
If you're looking for a beautiful way to organize your stash, this custom shelving unit offers an easy, modern solution. Whether you need vertical or horizontal storage, this solution can be tailored to suit your unique needs. Hop to this detailed article for more info.
12. Picnic Baskets
Picnic baskets provide a quaint yet effective way to store your yarn. With a lidded design, these baskets keep your yarn clean and untangled. They're easy to transport, making them a good choice for those who enjoy crafting outdoors or in different locations.
13. Try Baby Wipe Containers
Repurposing empty baby wipe containers is a great way to organize smaller balls of yarn. The stackable containers have a built-in hole, perfect for yarn dispensing. Get the instructions here.
14. Strawberry Containers Yarn Storage
Repurpose clear plastic strawberry containers for a lightweight and see-through storage option. The holes in these containers let the yarn breathe, preventing mold and odors. It's a sustainable choice among the yarn organization ideas.
15. Recycled Coffee Cans
Upcycling coffee cans can lead to an ingenious wall-mounted storage solution. These cans can be painted or labeled for a personalized touch. Screw them onto a board or directly into the wall to create a yarn storage system that's both attractive and functional.
16. Cube Shelves
Cube shelves offer a modular approach to yarn storage. The individual compartments are perfect for sorting yarn by color or type. You can easily add more cubes as your collection grows, making this a scalable solution.
17. Under-Bed Boxes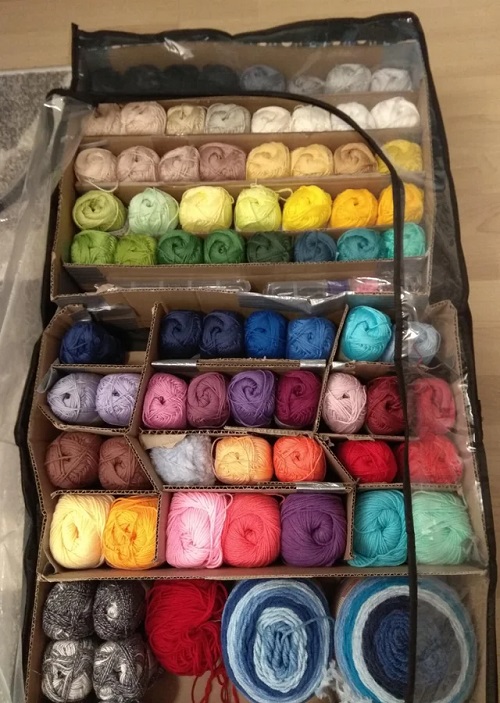 Looking for a space-friendly yarn organization idea? This hack is for you. For those tight on space, under-bed boxes offer an unobtrusive yarn organization solution. Their flat design gives easy access, and the lids keep your yarn clean and dust-free.
18. Shoe Boxes
Don't discard those empty shoe boxes; they can be recycled into a simple yet effective yarn storage system. Attach labels to each box to categorize them by yarn type, color, or project, ensuring you can quickly locate what you need.
19. Woven Fruit Basket
Woven fruit baskets are another flexible option for storing and organizing yarn stashes. They can be placed on tables, hung from walls, or set on the floor based on the available space or as needed.
20. Plastic Milk Crates
Plastic milk crates are a sturdy, easy-to-access yarn storage and organization solution. They can easily hold multiple skeins and are easy to stack, making them a practical choice for larger collections.
21. Re-purposed Crib Yarn Storage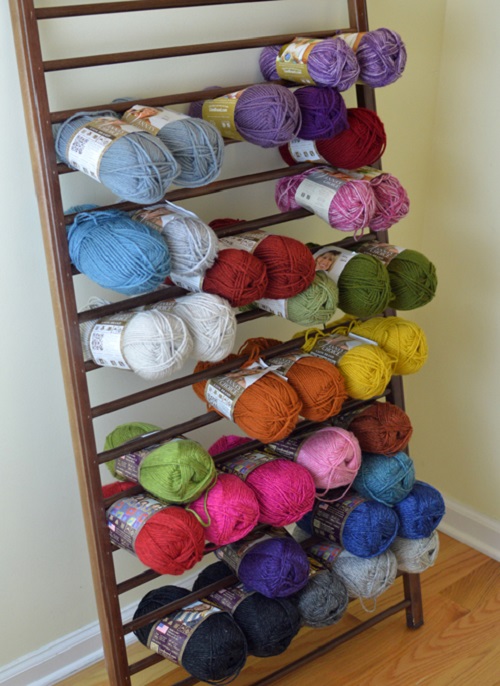 For a unique approach, consider converting an old crib into a yarn storage system. This idea offers a creative and large-capacity storage solution. For more info, you can check out this article.
22. PVC Pipe Yarn Organizer DIY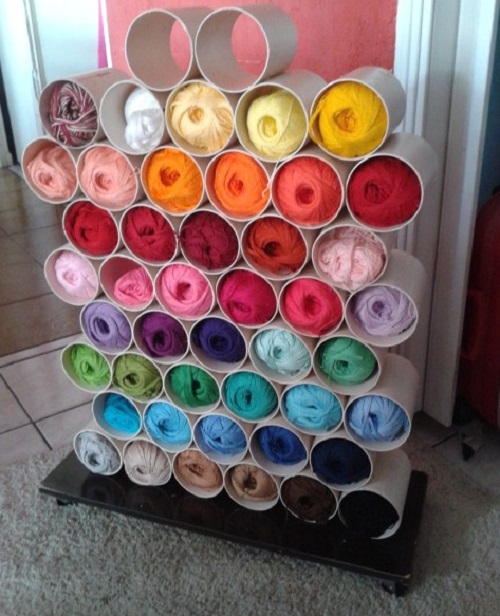 Do you have PVC pipes and wood? If yes, check out this step-by-step guide to create a thrifty yarn organizer. The design can be as simple or complex as you like, and the smooth interior of the pipes ensures that your yarn won't snag.
Read the Best DIY Pipe Fence Ideas here