Cut down 'craft clutter' in your home with these DIY Craft Storage Ideas that are economical and practical to every extent!
Whether you've piles of papers, pens, brushes, washi tapes, or heavy paint bottles, these DIY Craft Storage Ideas are a great reliever! These clever ideas are easy to make and inexpensive as well.
Read the Best Doll Organizer Ideas here
---
Craft Storage Ideas
1. DIY Washi Tape Dispenser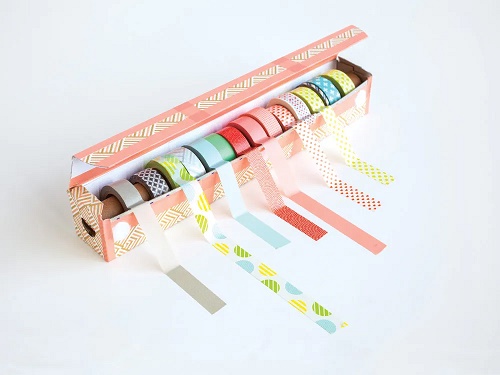 This dispenser not only organizes washi tapes but also lets you find the end of the tape quite easily. Hop to this detailed tutorial for more info.
2. Pegboard Craft Supply Organizer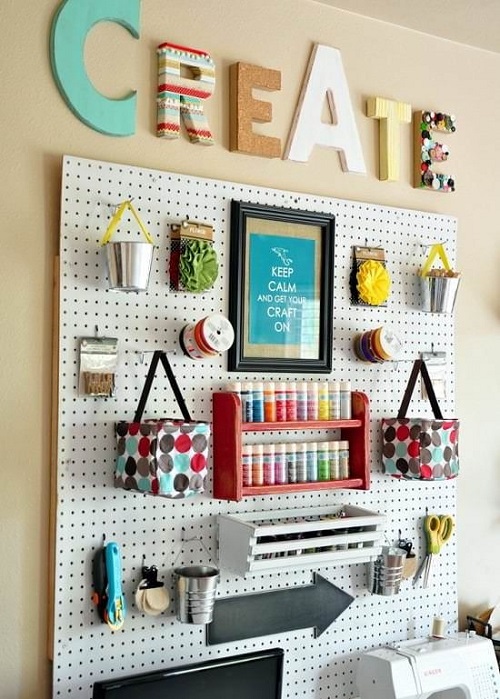 To recreate this craft supply organizer, paint a pegboard white, attach some hooks, and hang small metal buckets and wooden shelves on it. Go through this article for more details.
3. DIY Ribbon Holder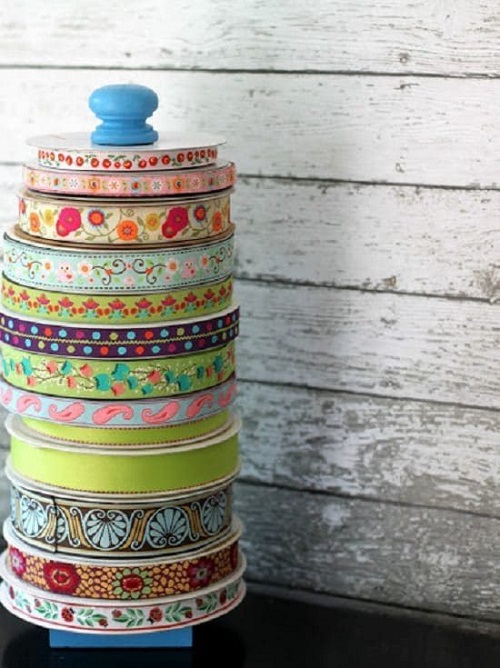 Crafted from a square trim and a dowel rod, this DIY ribbon organizer is a must-have for every craft enthusiast. It's one of the most inexpensive Craft Storage Ideas on this list.
4. Ribbon Basket Organizer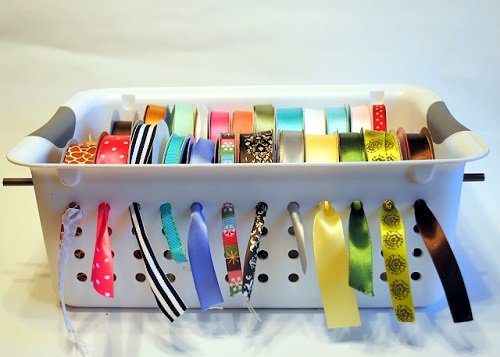 A slotted bin and a dowel rod are what you need to ensure pulling out a single piece of ribbon doesn't leave behind a tangled mess. Here's the DIY.
5. Bucket and Hook Organizer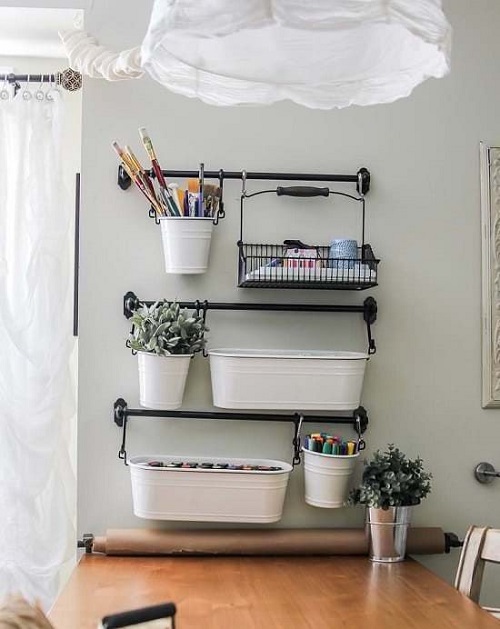 Whether you want to store heavy craft items or the ones that get lost easily, like sewing supplies, this organizer deserves your attention. Follow this inspirational idea to make one for yourself.
6. Cubby Craft Supplies Organizer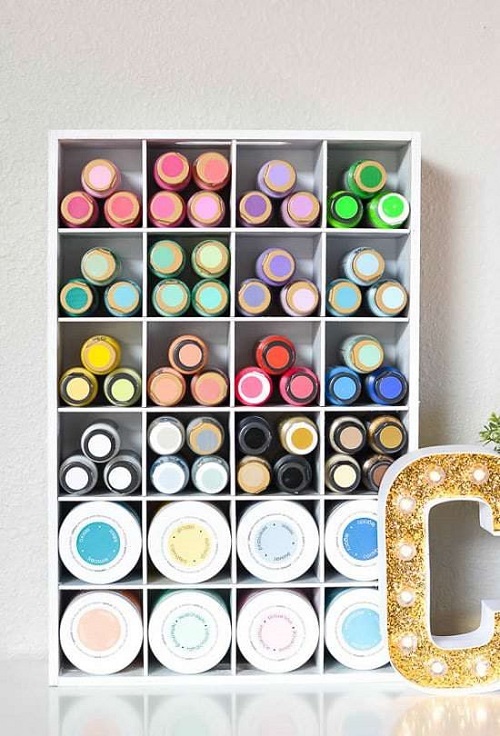 Transform an old MDF cubby unit with chalky white paint into an elegant craft station for corralling craft supplies. Hop to this article for more info.
7. Mason Jar Spools Thread Organizer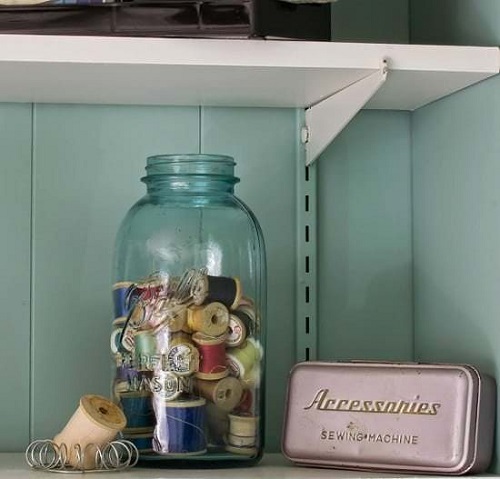 An oversized mason jar is the best place to store spools of thread and other tiny sewing supplies that keep getting lost. It's a cost-effective, last-minute craft supply storage idea.
8. Cardboard Box Organizer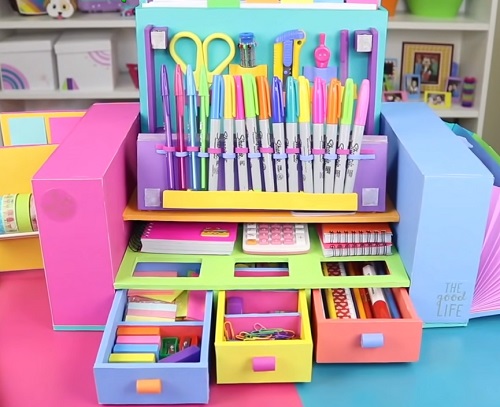 From paintbrushes, pencils, and scrapbook paper to erasers, this cardboard craft organizer is super easy to make. It's also an excellent option for gifting purposes. Watch this video tutorial for detailed instructions.
9. DY Craft Stationery Storage Unit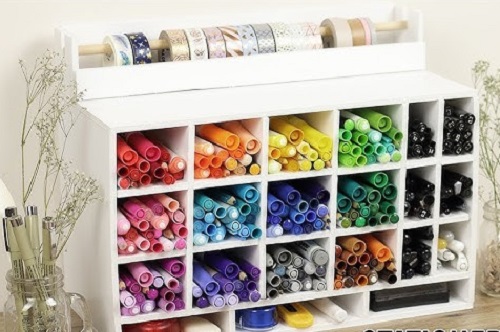 Made from foam board, this budget-friendly storage unit is great for corraling pens, pencils, markers, and washi tapes. Take inspiration from this YouTube tutorial.
10. Craft Folder Organizer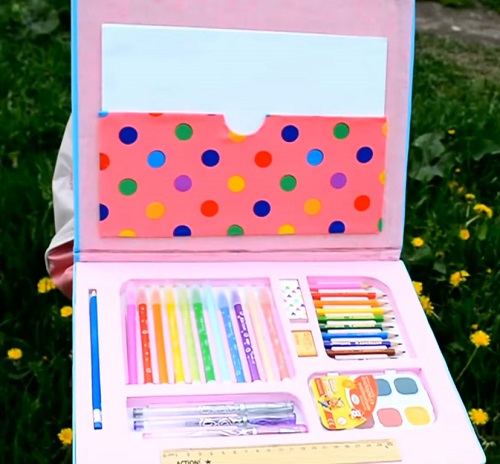 If you need a compact, grab-and-go kind of storage for your drawing supplies, take inspiration from this cardboard craft folder DIY.
11. Dollar Tree DIY Craft Organizer Caddy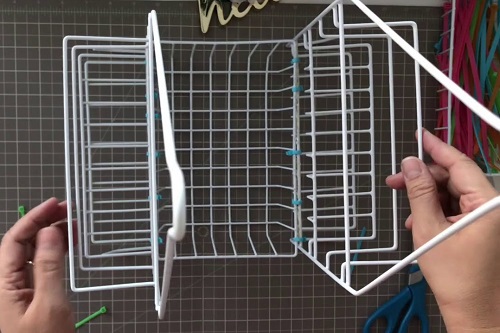 Turn a pair of shower caddies into a neat little craft supplies organizer with the help of dowel rods and zip ties. It's best to store washi tape, ribbons, acrylic paint bottles, markers, and paintbrushes.
12. Pencil Organizer from Cardboard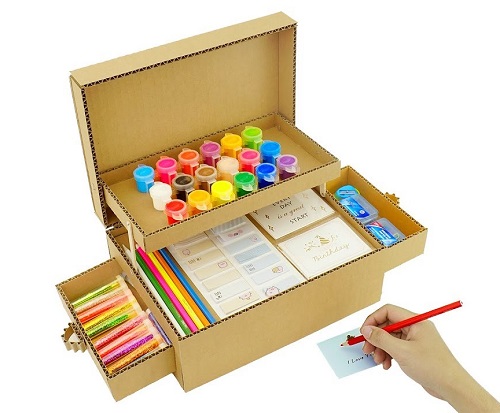 Learn how to make a crafty supply organizer on a budget with some pieces of cardboard. It's a beginner-friendly project that doesn't need special DIY skills.
13. Multipurpose Craft Wall Organizer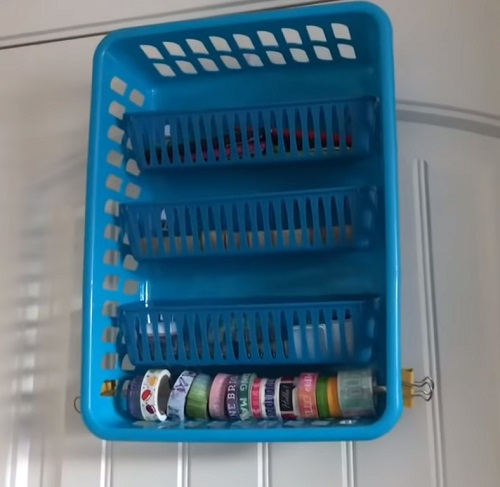 Create a hanging craft organizer with a large basket, some basket trays, adhesive hooks, command hooks, and a wooden rod. Take inspiration from this video tutorial.
14. Use Storage Bins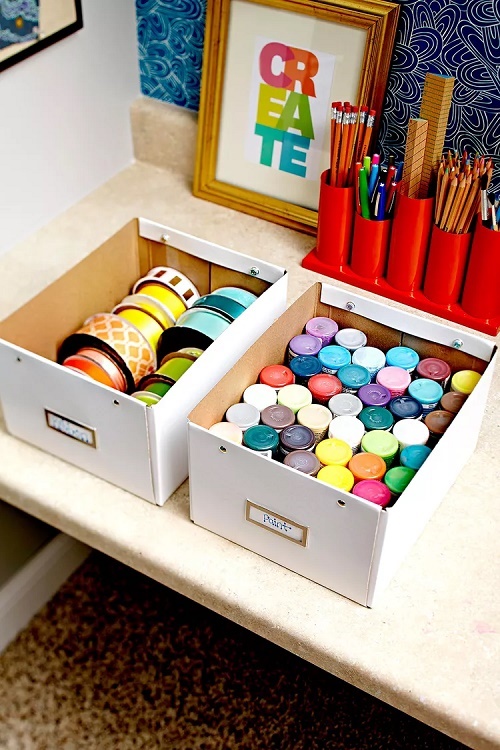 Do you have some empty storage bins? If yes, then make the most out of them by storing acrylic paint bottles, washi tapes, and ribbons in them.
15. DIY Tube Art Craft Supply Organizer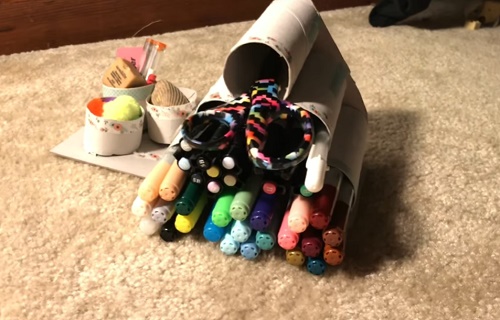 Grab empty tp rolls, cardboard sheets, and washi tapes to create a pyramid-shaped craft supplies organizer. It's super easy to make in a few minutes. The visual guide is here.
16. DIY Glass Container Craft Supply Organizer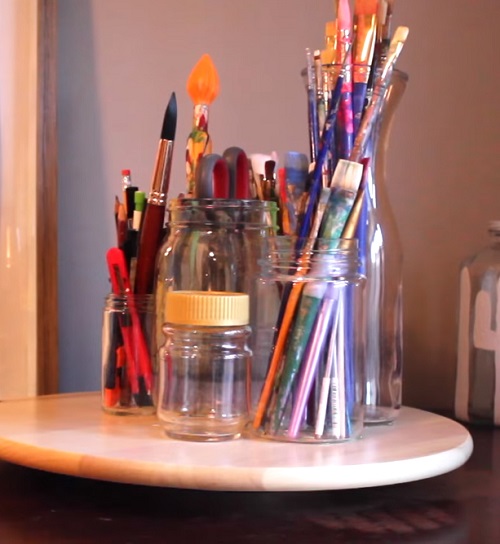 You only need a couple of mason or glass jars to say goodbye to your art and craft supplies storage woes. Get inspiration from this video how-to.
17. Upcycled Tiered Craft Organizer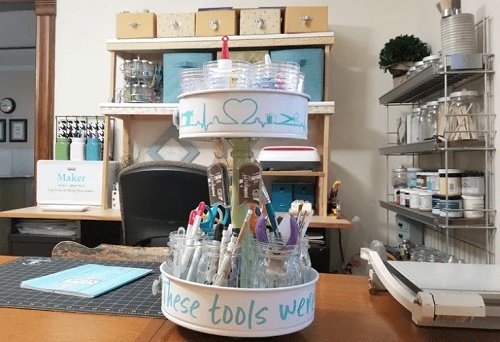 Made from springform pans, spray paint, and mason jars, this tiered craft organizing solution is space-friendly and visually appealing. Get the instructions in this article.
18. Distressed Mason Jars Craft Organizer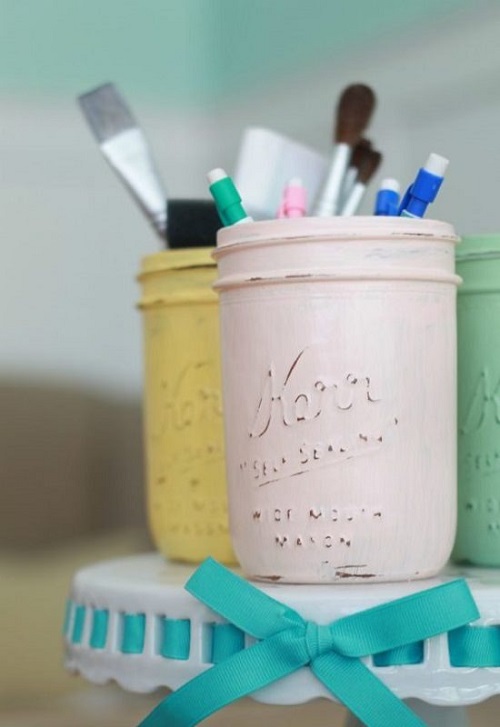 Want quick access to small craft supplies like washi tape, paintbrush, buttons, and glue sticks? Create this distressed Mason jars craft organizer that adds a vintage touch to the space as well. Here's the DIY.
19. Recycle Empty Cans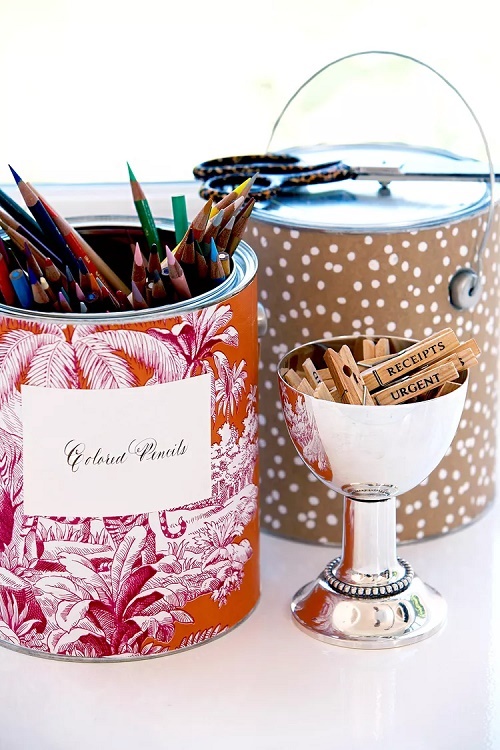 Instead of discarding empty cans, use them to house tiny craft supplies such as buttons, sewing needles, and bobbins. Don't forget to spruce up their look with decorative paper.
20. DIY Ribbon Storage And Organization Rack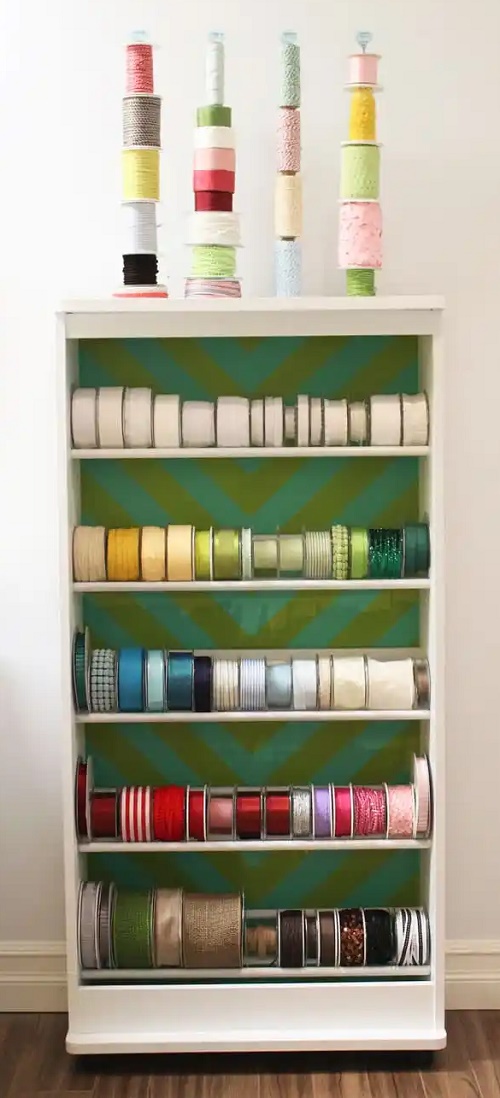 Here's another of the Craft Storage Ideas in which an old movie stand is converted into a ribbon storage rack with a little elbow grease. Hop to this article for the list of supplies and instructions.
21. Shoe Rack Craft Organizer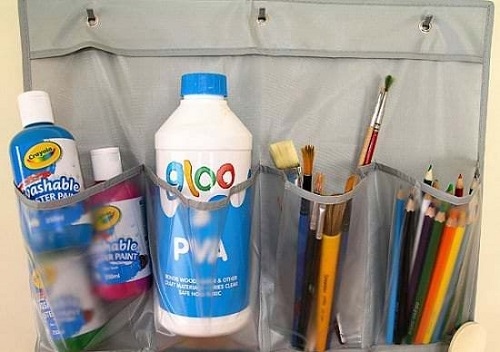 Take a shoe rack, hang it on a wall, and your affordable craft organization setup is ready. It's an excellent storage option where floor or wall space is minimal.
22. Spice Rack Turned Craft Supply Organizer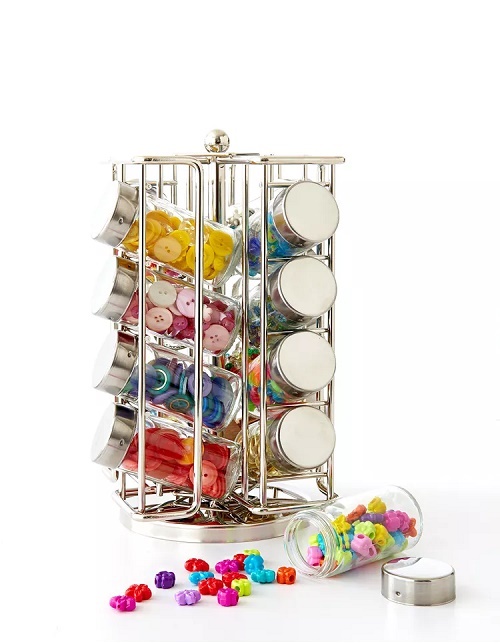 A spice rack not only lets you store buttons, beads, and glitter, but its revolving nature makes everything easily accessible. Purchase one with transparent jars to easily locate the needed supplies.
23. Organize Craft Supply In The Cart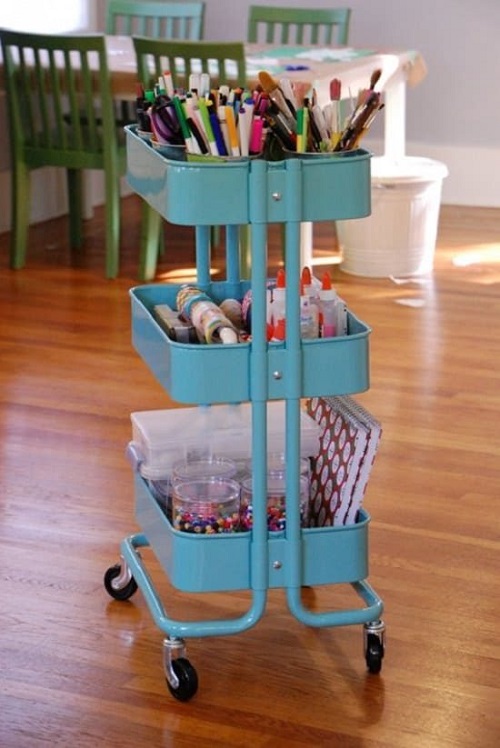 Are you looking for a movable craft station? Consider purchasing a utility rolling cart to satisfy your needs. Read the details here.
24. Crayon Roll Organizer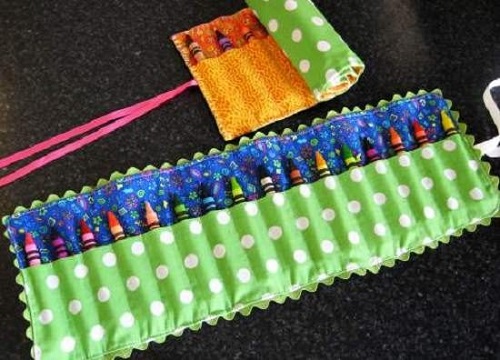 Every parent needs a stash of crayons to help a little one stay busy. This crayon roll is a fun way to keep track of crayons and have them readily accessible.
25. Label the Buckets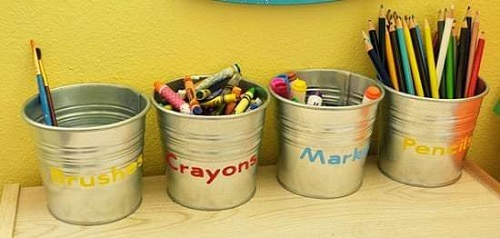 Functional and visually appealing, a row of these vinyl-tagged Ikea buckets is all you need to manage your different craft supplies. Read more about this storage idea here.
26. DIY Acrylic Paint Organizer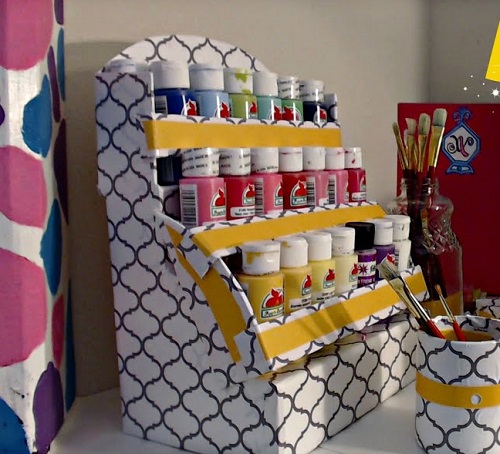 Who knew cardboard could make such a beautiful, multi-arrayed organizer? This DIY is a perfect solution for keeping acrylic paint supplies neatly arranged for instant use.
27. DIY Kids Craft Supply Organizer Tote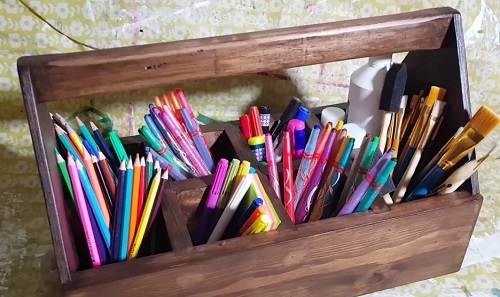 Filled with rustic charm, a wooden tote box is an excellent option to store your kids' endless craft supplies. Not only it's compact enough for under-the-bed storage, but sturdy as well.
28. DIY Rotating Craft Caddy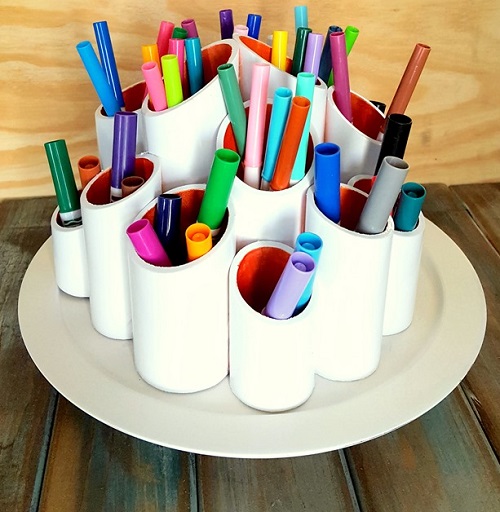 Super stylish and contemporary, this rotating craft caddy is made out of PVC pipes, a Lazy Susan, and spray paint. It's a smart way to organize messy art and craft supplies. The DIY project is in this article.
29. DIY Wire Basket Craft Organizer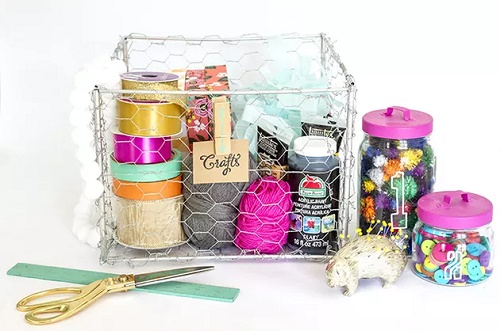 Control your clutter by making customizable wire baskets from chicken wire and aluminum pipes. If you want to build one for your craft room, check out this tutorial.
30. Mini Buckets Craft Organizer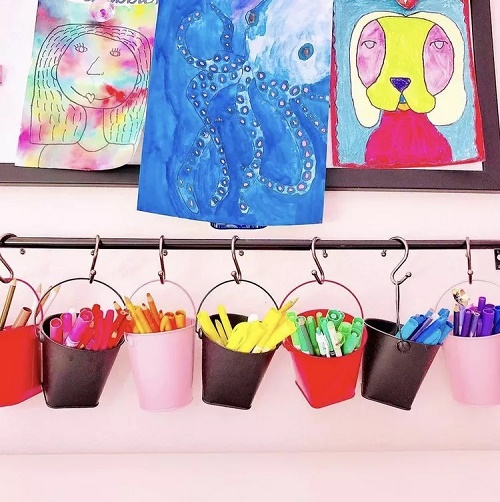 To copy this idea, you will need a curtain rod, S-hooks, and mini metal buckets. This hanging craft organizing station keeps art supplies accessible without consuming floor space.
31. Twine Wall Organizer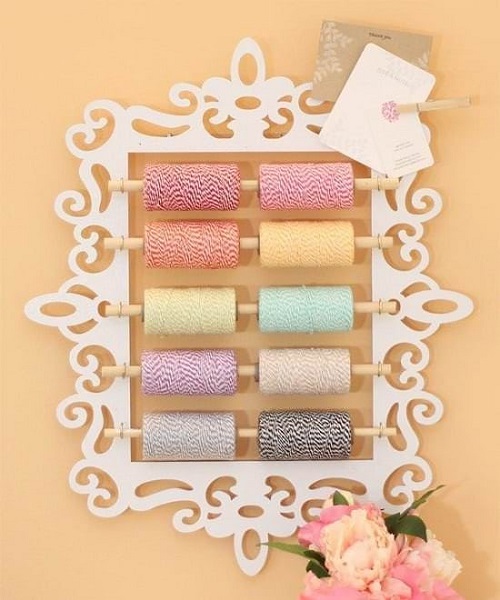 If you want to create a cute and functional organizer for your baker's twine spools, consider taking inspiration from this DIY.
32. Upcycle a Cassette Holder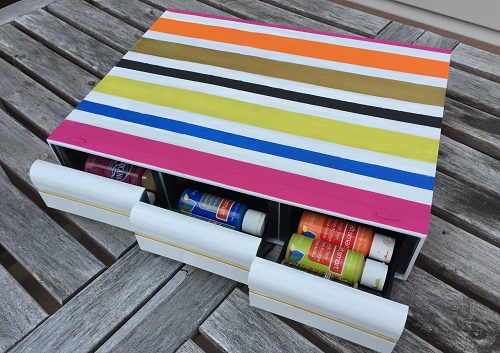 If you have an old cassette holder, convert it into a visually-appealing storage solution for craft paints using this DIY. You can also find a cheap one at your nearest thrift store.
33. DIY PVC Pipe Marker Storage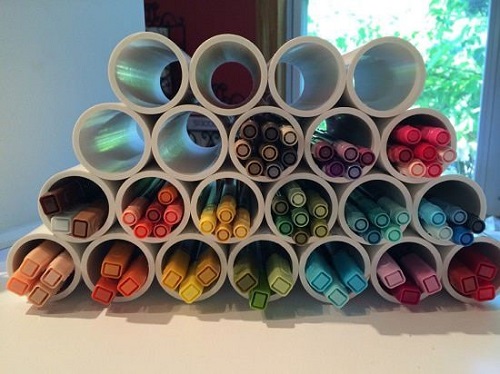 Gather a few PVC pipes, cut them into equal pieces, and attach them together to create this inexpensive marker storage. Get the tutorial here.
34. DIY Rag Rug Storage Baskets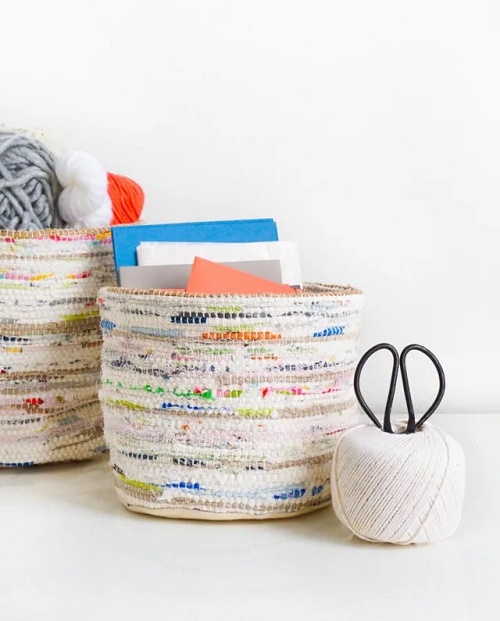 Make these unique rag rug storage baskets to manage your craft supply stash. Check out the tutorial in this article.
35. DIY Gift Wrap Organizer Station
This DIY gift-wrapping station is a space-saving boon for keeping craft supplies within arm's reach to make last-minute gifting a breeze. Here's the tutorial.
Read the Clever Bathroom Shower Organizer Ideas here