Customize these DIY fall gift basket ideas to give love and care to your relatives, friends, and other counterparts. Try them out now!
1. DIY Fall Gift Basket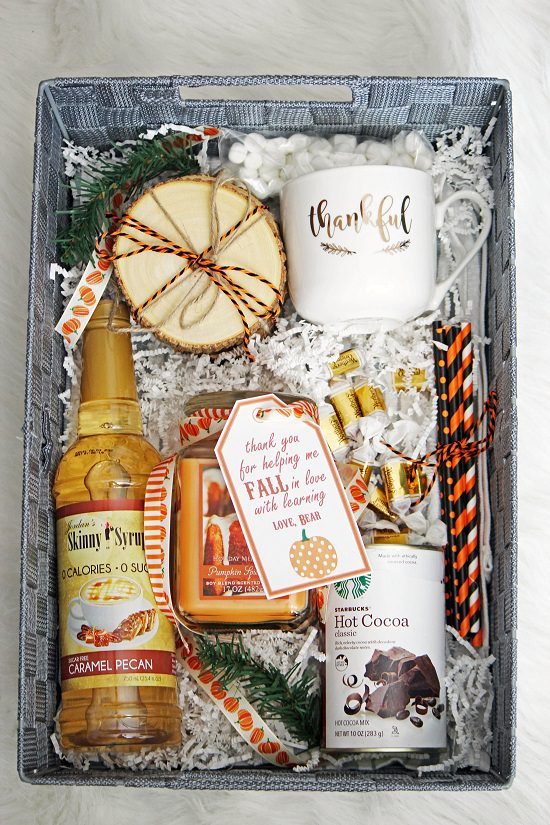 With this fall basket, what's particularly surprising is the level of detailing and customization it entails to make regular items like jam and cocoa fall-ready. Inspire here to get started.
2. Easy Gift Basket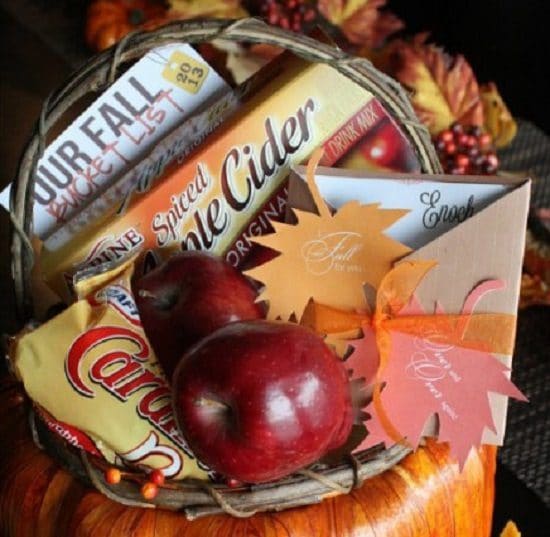 Whether your anniversary comes in fall or not, this DIY pumpkin basket is an excellent excuse to acknowledge your love for your partner. Follow this inspiration to make one.
3. Family And Friends Fall Basket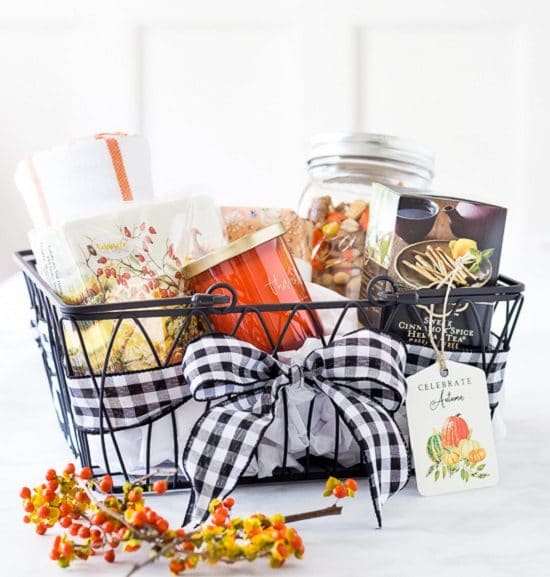 Using a black metal basket, this autumn-themed idea has some doable yet unique ideas to add to the hamper-from towels to teas, making it a lovely way to surprise an old friend.
4. Caramel Apple Basket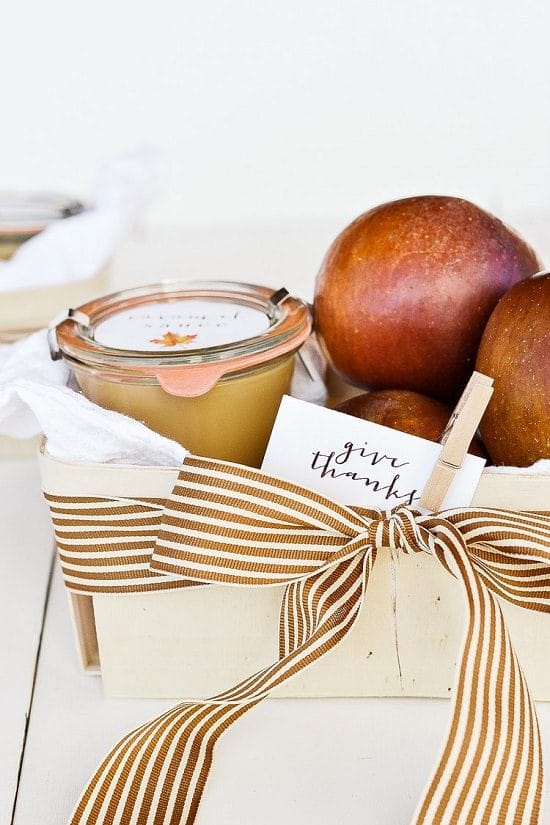 This cute and stylish fall basket with seasonal delicacies and fruits makes the perfect gift to appreciate the hostess on Thanksgiving Day. We found the idea here.
5. Beautiful Fall Gift Basket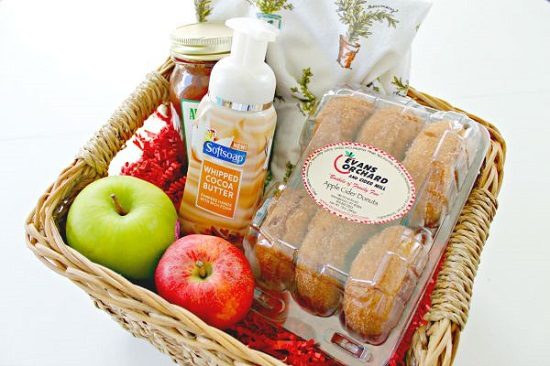 Fill up a cane basket with brightly-colored raffia to create a cozy base for holding fall gift items that show how much you care. Get the idea here.
6. DIY Basket Ideas with Vinyl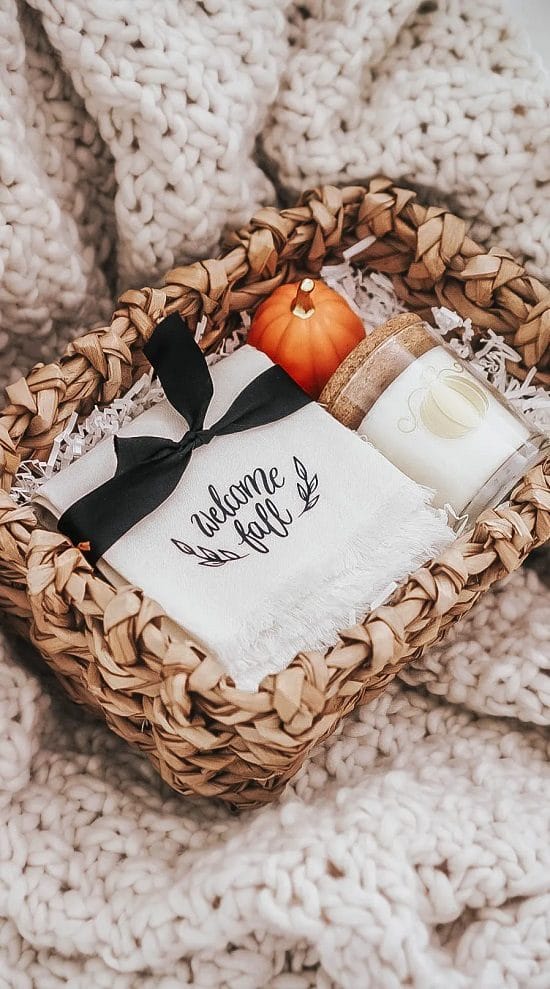 Cheer up a dear friend with this cute fall-special basket that is super easy to personalize as well. The DIY is here.
7. DIY Fall Baking Themed Gift Basket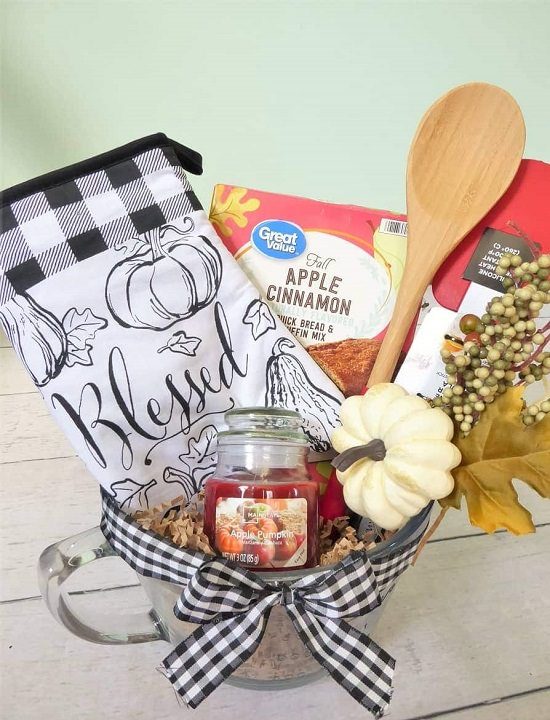 This baking-themed fall basket decked up with decorative pumpkins, and a retro-style bow makes a heartwarming gift to welcome a new friend to the neighborhood. Here's the idea.
8. Dollar Tree DIY Gift Basket
Here, burlap dolls, maple leaves made from craft paper and stray pieces of ribbon add a rustic, Barnhouse feel to your fall basket, making it look beautiful in all its raw, unfinished glory.
9. Harvest Fall Basket DIY
Watch the video to create a thrifty DIY fall basket to gift it to people around you without having to spend much on expensive items.
10. DIY Gift Basket for Fall Season
Jazz up an ordinary cane basket with an oversized bow to create an eye-catchy hamper that makes gift-giving in fall very special.
11. Essential Oil Must Haves PLUS Fall Gift Basket
For a sturdier container, use wire baskets and attach a leather strap across the ends to create a firm handle. This is a durable DIY solution for giving away essential oils in glass bottles.
12. Baker's Gift Basket
This DIYer created a lovely gift basket with ribbons and floral embellishments to offer baked goodies in the most tasteful way possible.
13. DIY Treat Baskets on a Budget
Dress up a basket with seasonal fall foliage, handwoven scarecrows, and burlap to create the perfect complement for homemade fall treats.
14. Picnic Gift Basket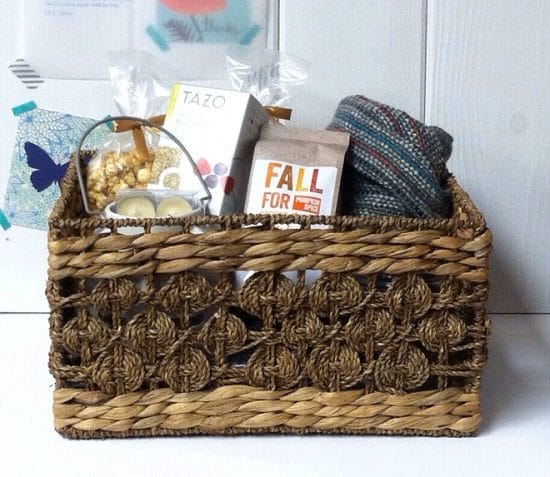 Filled with a blanket, lantern, tea and coffee essentials, and a snack or two, this idea picnic basket is an excellent idea for stargazing or lounging in the park.
Give a shot to any of these DIY fall gift basket ideas this season and overwhelm your friends and relative! Share your experiences with us in the comments section.