DIY Family Tree Wall Decor Ideas will help you keep a record of your ancestors while decorating a dull place in your house.
Treasure the sweet memory of your ancestors by compiling their pictures using one of these DIY Family Tree Wall Decor Ideas! They are easy to make and add a unique vintage touch to the indoors.
---
DIY Family Tree Wall Decor Ideas
1. Chalkboard Family Tree Photos

With chalkboard as the canvas, you have the freedom of adding beautiful and nostalgic illustrations alongside your photographs to create the cutest and most heartfelt Family Tree Wall Decor ever. Here's the DIY.
2. Vinyl Family Tree With The Silhouette

With some help from your Cricut machine, you can create an artsy-looking vinyl family tree that is a refreshing change from the flimsy ones available at sky-high prices. Here's the DIY to this DIY Family Tree.
3. Hand Print Photo Family Tree

Sometimes, a family tree doesn't need to look like a tree. Using a different motif like a handprint or umbrella adds a subtle meaning and a somewhat non-traditional look, while still allowing you to honor memories. Here's the DIY.
4. Giant Family Tree Photo

When it comes to family trees, the bigger they are, the better. This DIY shows you how to incorporate generations of memories in a single wall display. Using golden photo frames throughout keeps the Family Tree Decor looking regal.
5. DIY Family Tree Photo Wreath

We have heard of floral wreaths and pom-pom wreaths, but this Family Tree Picture wreath is quite a stunner, don't you think? Also, it's a lovely way to flaunt your creativity to people passing by your front door. Learn more here.
6. Cardboard Family Photo Tree Wall Hanging

Here, a small cardboard tree cutout gets a glamorous makeover with the help of glitter. Further, cardboard-framed 4×4 photos help to tie up the look, making it meaningful and attractive. One of the Best Family Tree Ideas on this list!
7. Simple Family Tree With Photo

Felt paper cutouts make for a beautiful backdrop with cute decoupage family photos, creating an adorable piece of art that looks great on the walls and even fits on the bedside table. Find the tutorial for this Family Tree Wall Decor here.
8. Amazing DIY Family Photo Tree

If you are good with your paintbrush, this DIY Family Tree Wall Painting is for you. Paint a giant-sized tree trunk on the wall and paste your family photos. This idea is perfect for filling up the corner walls with photos.
9. Make A Family Tree Wall Decal with Pictures

Spice up a tree-shaped wall decal using family photos as flowers to create a gorgeous backdrop that honors your family. One of the best Family Tree Wall Decor Ideas on this list! Find the tutorial here.
10. 3D Family Tree Photo

More like a family plant rather than a DIY Family Tree, this attractive potted display hosts a mixture of textures, ranging from the green leaves to the decoupage photos that mimic the flowers. Get the tutorial here.
11. Family Tree Picture! Mother's Day Gift

Painting a tree and adding pictures to the branches is a natural way to design a Family Tree Wall Decor. The results are stunning, nonetheless, making it a real tear-jerking gift for Mother's Day. Get the tutorial here.
12. Driftwood Family Tree

Cozy up an ordinary driftwood branch with precious family photos chaotically hung from twine. Here's the DIY to this DIY Family Tree Decor.
13. Family Tree Shadow Box

For a vintage touch with contemporary accents, try creating a DIY family tree shadow box whose 3-D effect is sure to act as a tear-jerker. Here's the DIY for this Family Tree Decor.
14. DIY Embroidery Hoop Wedding Photo Family Tree

Floral motifs combined with embroidery hoops form the perfect display for pulling off a last-minute Family Tree Wall decor. Follow this DIY.
15. Custom 3D DIY Family Tree

This 3-D family tree with branches in a vase is easy to update as it uses photographs for flowers. Symbolic, with an artistic touch, makes for a unique and heartfelt present for Mother's Day. Follow this DIY Family Tree here.
16. Personal DIY Family Tree Decor

The plethora of textures and colors in this vintage Family Tree Wall Decor photo decal is sure to make it the focal center of your living room. Get the details here.
17. DIY Family Tree Wreath

Something unique for your wall—this project will add an aesthetic appeal to your indoors while creating the perfect Family Tree Wall Decor and paying homage to your ancestors. Get the tutorial here.
18. Thumb Print Family Tree

One of the Unique  Family Tree Ideas, this project helps you treasure the thumb impression of your family members as a memento for life. You can also use this Family Tree Wall Decor Idea to frame your friends' fingerprints for life. Learn more here.
19.  DIY Family Tree Decor Template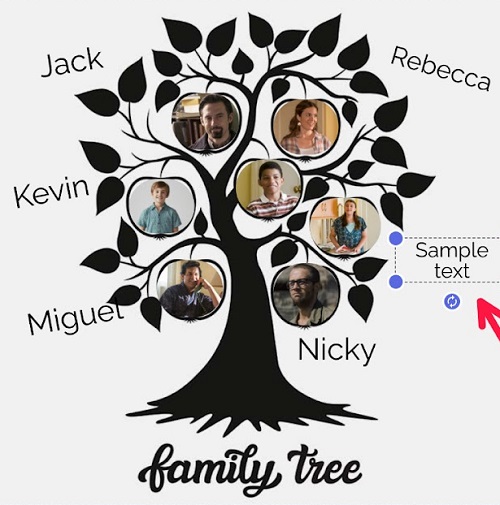 Put the technology to good work and design a template for Family Tree Picture following the steps mentioned here. It is undoubtedly one of the easiest Family Tree Wall Decor Ideas you must try.
20. DIY Family Tree Photo Frame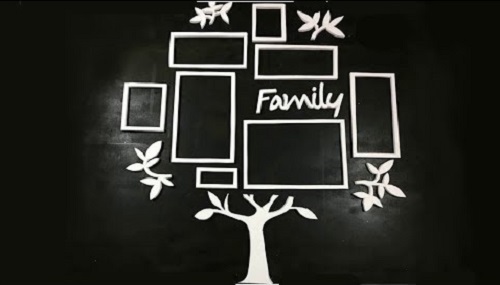 This DIY Family Tree with Pictures idea will let you make the best out of some regular supplies stationery supplies. Easy and inexpensive, this is one of the Best Family Tree Picture ideas on this list.