If you have a lifeless wall, spruce it up with your precious memories from your past with these 30 DIY photo wall ideas!
1. Ombre photo wall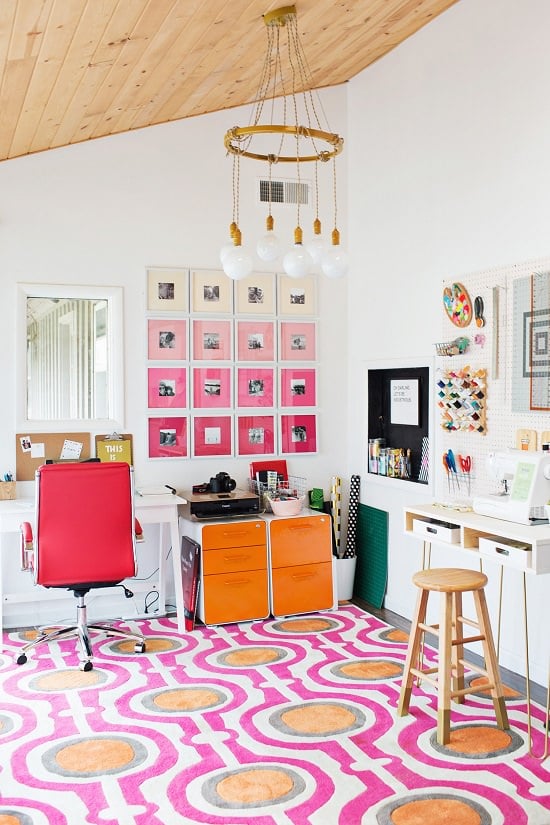 The gradual gradient of colors from pale to vibrant is what makes this DIY photo wall a lot fancier than it actually is. And the best part is that adding a new row of photos is remarkably easy without disturbing the overall look.
2. Mini Photo Wall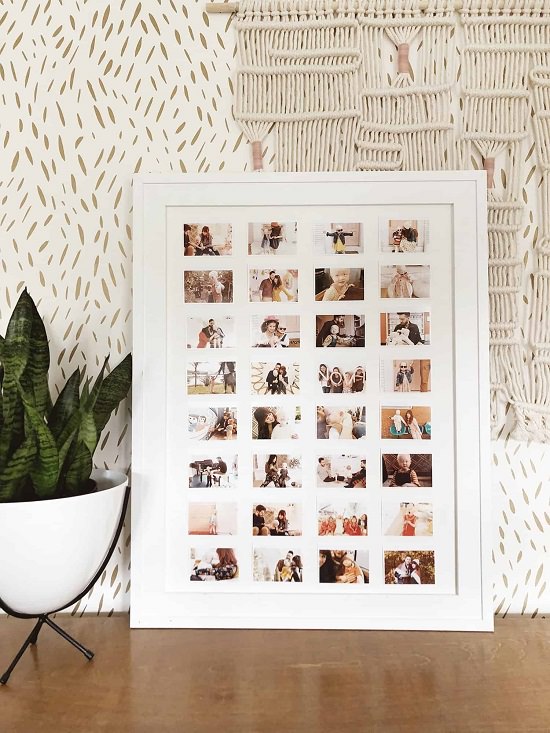 You only need a couple of tiny photographs and a large frame to recreate this sophisticated and handy photo gallery. Perfect for when you want to make a quick tableside craft. Follow this DIY.
3. Window Picture Frame Photo Wall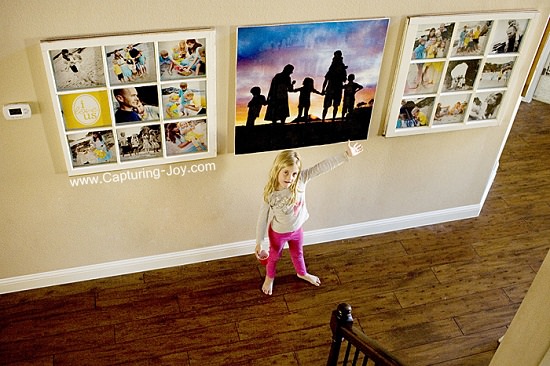 If you think about it, window panes are perfect as photo frames. All you need to do is get your pictures printed in the right size and fit them between the panes. Follow this DIY.
4. Polaroid Clothesline Photo Wall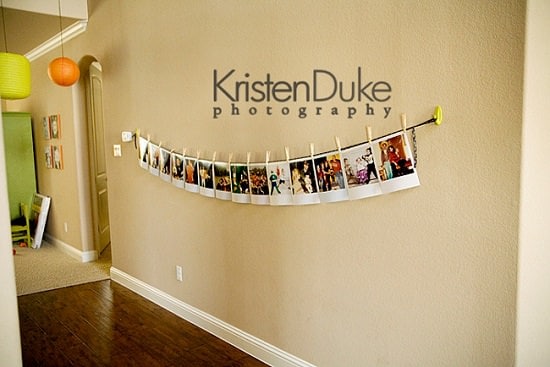 If printing and framing pictures seem like a mammoth task, just string them together through clothespins to cozy up your reading corner. Here's the DIY.
5. DIY Wood Pallet Photo Display Wall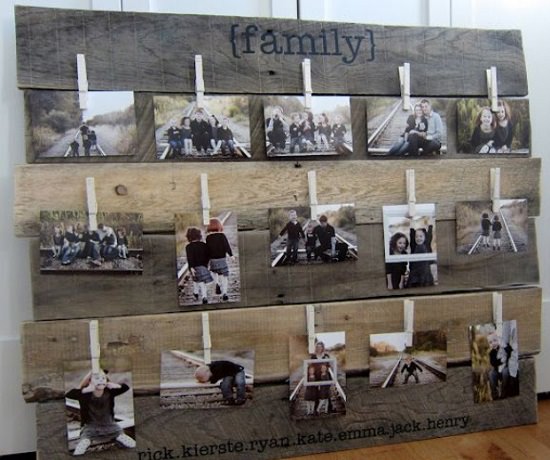 Feature your favorite photographs in a wooden pallet display for a unique rustic touch to the living room. Using pictures of different sizes is a nice way to get some variety to your art. Here's the DIY.
6. Record Frame Instagram Photo Wall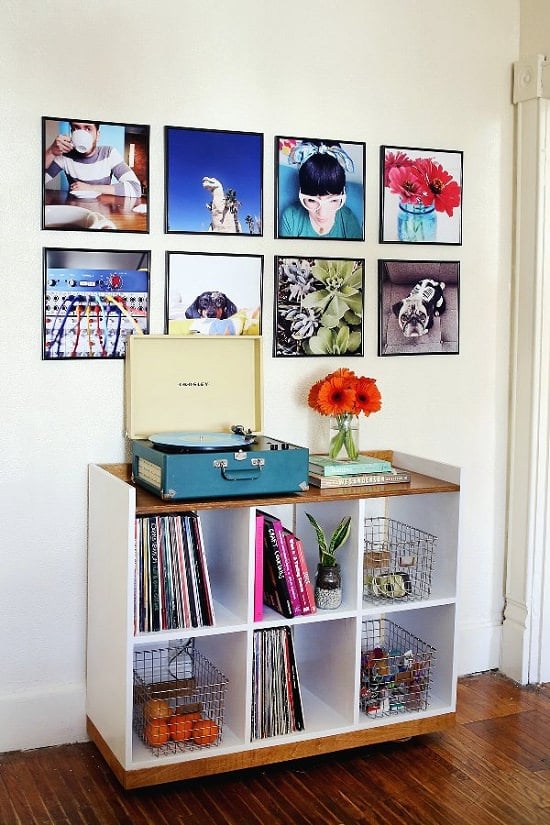 Using record frames is a great way to accentuate muted color photos or add an interesting pop of color to the bright ones. Here's the DIY.
7. Clipboard Photo Wall
For an offbeat look, consider swapping photo frames with clipboards to hold individual photos in place. Here's the DIY for more details.
8. DIY Chalkboard Collage Door Photo Wall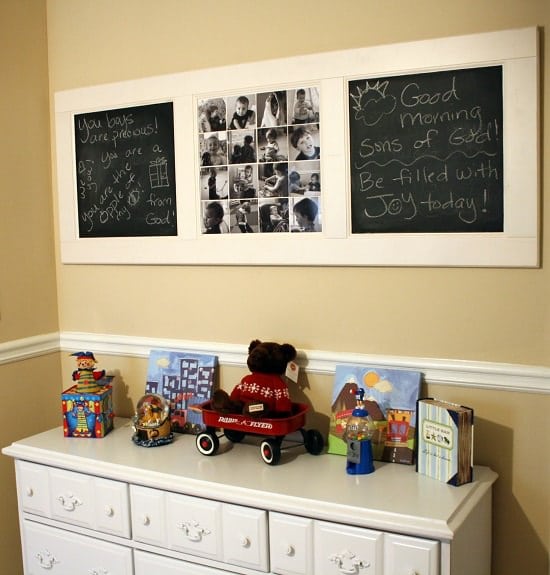 While a photo wall does speak for itself, sometimes it's nice to add a supplementary quote written on chalkboards for positivity and cheer. Here's the DIY.
9. Wall Picture Collage Wall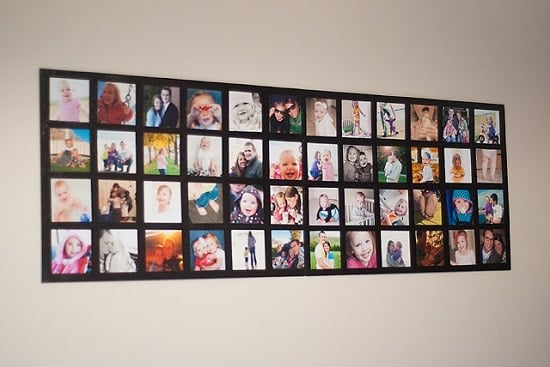 With a foam core board as the background, this DIY gives you a maximum definition for your photos, thereby creating a sleek look that seems to be professionally done.
10. Family Picture Gallery Wall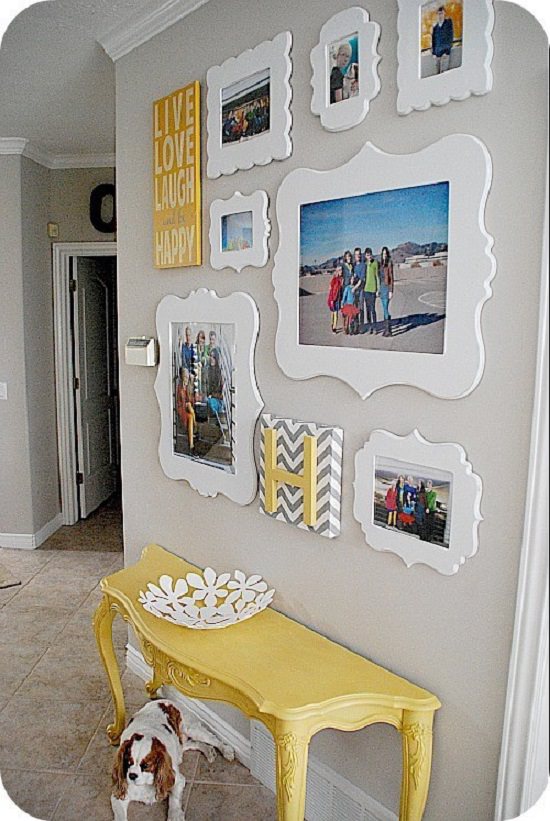 For a vintage touch to your gallery wall, instead of hanging photo frames on the wall, consider tracing frames on art paper and displaying the silhouettes. Here's the DIY.
11. Photo Wall Hanging
Hosting a variety of textures, from the Oriental charm of peacock feathers to the fuzzy feel of pom-poms, this unique photo tree hanger is perfect for adding a personal touch to the bedroom.
12. DIY Hanging Picture Display Wall
When you have little wall space to deal with, or particularly favor minimalist decor, consider this DIY. All you have do is trim your pictures in tiny squares and string them through yarn.
13. DIY Tumblr Collage Wall
Using photographs in muted colors sans additional frames gives a whimsical touch to the gallery wall.
14. DIY Photo Wall With Lights
Pictures printed in random sizes and strung chaotically below a string of fairy lights? Now that's a definite win-win DIY for the lazy ones!
15. Newspaper Photo Frame Wall
The photo frames that you see here are actually refills rolled in newspaper sheets and painted. A cumbersome DIY no doubt, but one that gives you the satisfaction of having created everything from scratch.
16. Instax Photo Wall
Don't keep the beautiful pictures stored in your Instagram profile only; recreate the collection on your walls as well. That's an easy way to liven up the room in a single afternoon.
17. DIY Polaroid Wall
If you want a more old-school look for your gallery wall, consider using Polaroid pictures. Check out the video for a full description.
18. DIY Hanging Photo Wall With Tree Branch
Create a cascading array of photographs by using a salvaged branch for support. This way you get a gallery wall that grows with you.
19. DIY Geometric String Photo Wall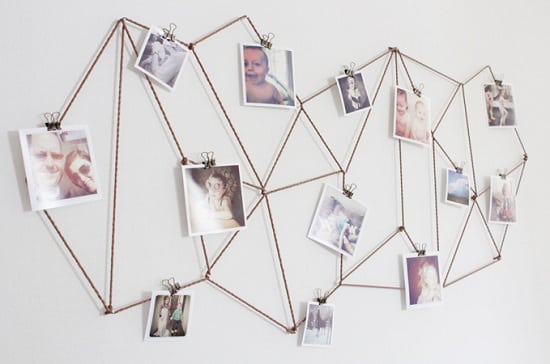 Exuding a unique asymmetric charm, this photo wall with its clean lines adds a chic look to the walls. And the chaotic pattern makes it a no-fail DIY. Get the tutorial here.
20. Hanger Made Photo Wall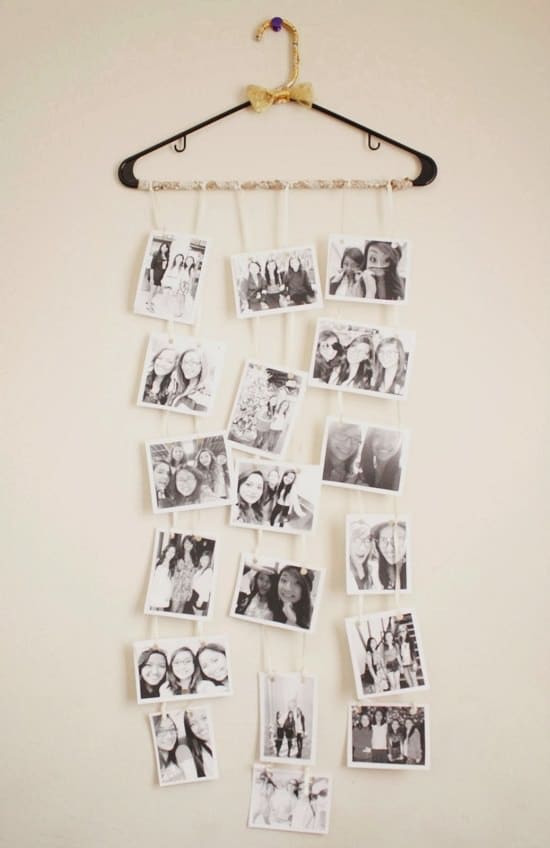 With simple household supplies like yarn, twine, and a spare hanger, you can create this artsy photo hanger to fill up empty walls. Here's the DIY.
21. DIY Amazing Instax Wall
When you have a bunch of printed photos lying in your memory box, creating a photo gallery on the entranceway wall seems like a great option. Here's the DIY.
22. Vintage Door Photo Wall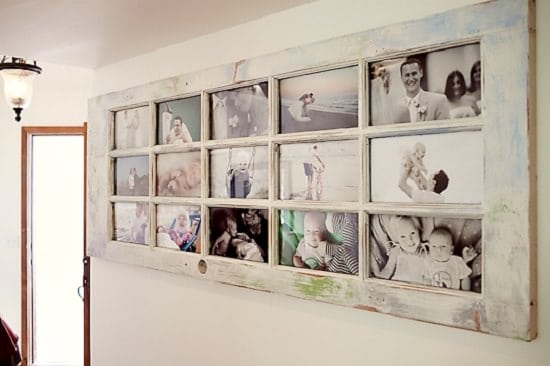 This DIYer converted every window section of an old French door into separate frames for her photos. The result was a beautiful photo gallery fit for entrance walls.
23. Wood Hanger Photo Display Wall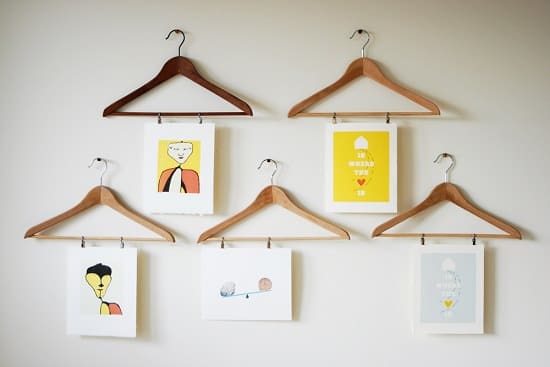 Here the sleek wooden finish of hangers forms the perfect accent to go with colorful printed pictures.
24. Chalkboard Gallery Photo Wall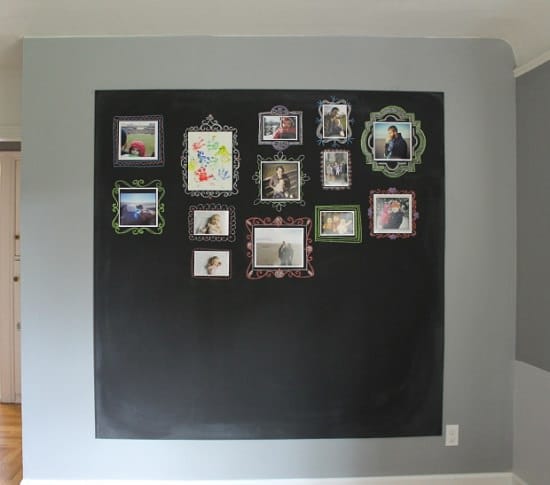 The best thing about having a chalkboard photo wall is that it's non-committal, which means you can add new photos or change any without taking down frames. Get the DIY here.
25. DIY Photo Fairy Light Wall
The magical glow of fairy lights combined with the nostalgic charm of photos is what makes this DIY wall art a must for every home.
26. Quick & Easy – DIY Photo Wall
This DIY shows you how easy it is really to create a colorful mosaic photo wall. Using a bright paperboard as the background adds definition.
27. Family Clock Photo Wall
When using black and white photos for your gallery wall, consider using two bright colors for the border and frame. Take a cue from this DIY.
28. DIY Corner Photo Wall
Refreshingly different and chic, the corner photo wall is a great project to do as you don't have to worry about cutting the photos all in the same size. In fact, the more varied their sizes, the better.
29. DIY Instagram Heart Wall
Photos printed and arranged in the shape of a heart make for a great Valentine's Day present to immortalize the moments spent together over the years.
30. Cheap DIY Photo Wall
This elaborately done photo wall is a lovely way to create a space that truly represents you and tells the story of your life. We suggest you print the happy pictures in black and white to break the monotony. Here's the full DIY.
Hope these DIY Photo Wall Ideas helped you to rejuvenate your dull and boring wall with photos that take you to your 'good old times'!