Cherish the achievements of your kids by giving their medals a handcrafted place to hang with these DIY medal display ideas.
1. Wood Letters Race Medal Display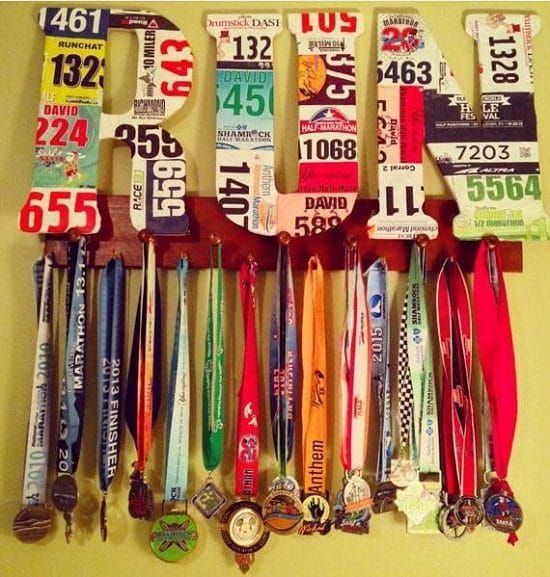 Beautify a plain old coat rack with wooden letters that spell motivational words and follow it by displaying your medals underneath. Here's the DIY.
2. DIY Medal Display Ideas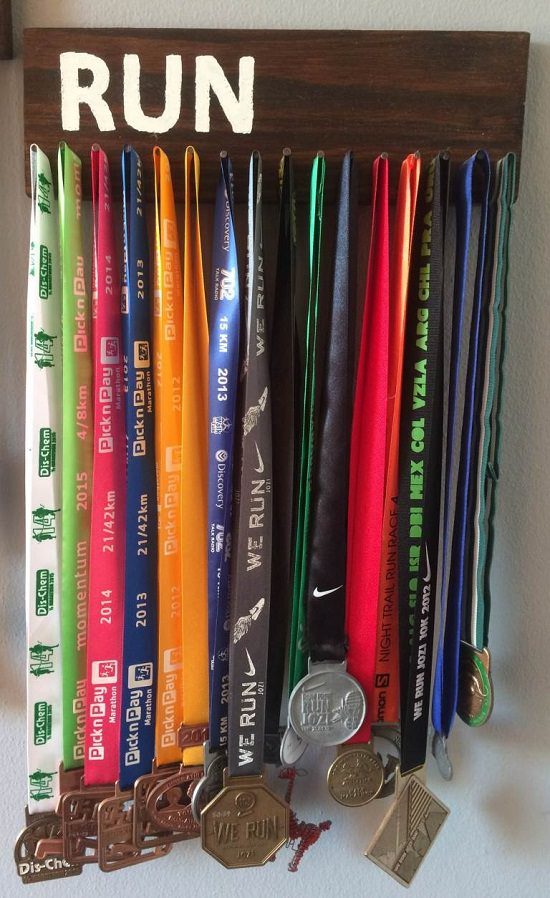 Why keep medals stashed away in a drawer when you can display them neatly on a sleek wooden holder for a visible sign of encouragement every day. Follow this DIY to make one.
3. Wooden Plank Race Medal Holder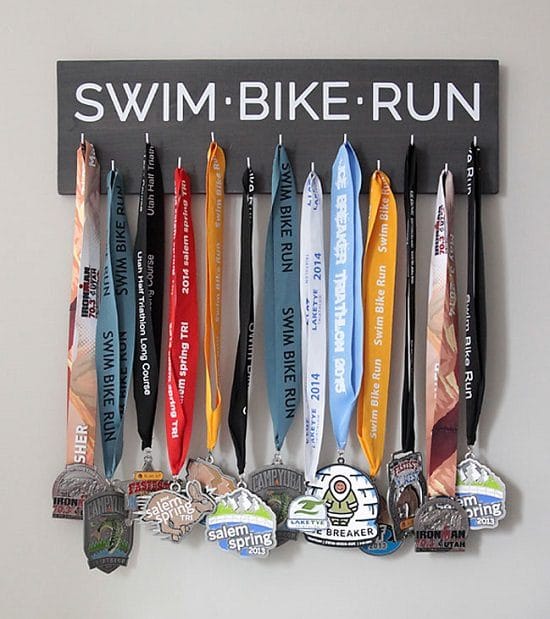 This easy and inexpensive project takes little to achieve completion- just cut a wooden slab, sand it, paint if you want, stick on vinyl letters and screw in hooks to hold your medals, that's it. Here's the DIY.
4. Medal Rack Display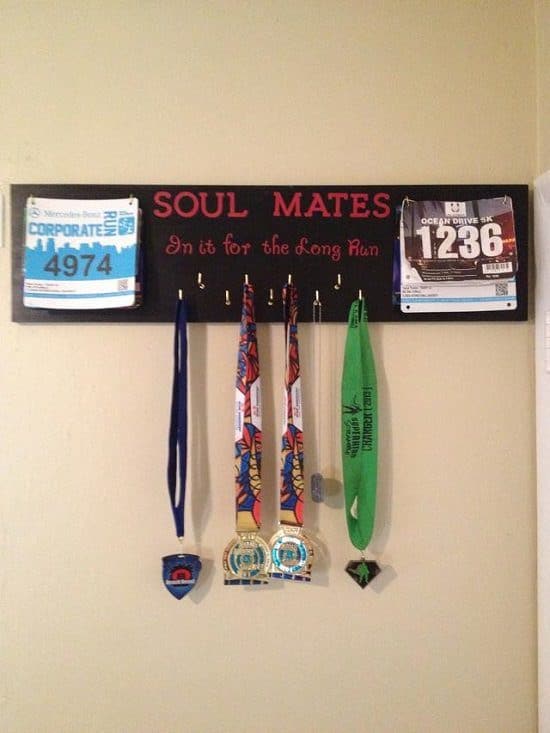 Having intricate detailing on your metal holder never hurts- you can go for a short quote or numbers indicating the miles you have run so far, or intend to run in your next marathon. This DIY will give you more ideas.
5. Race Medal Display Holder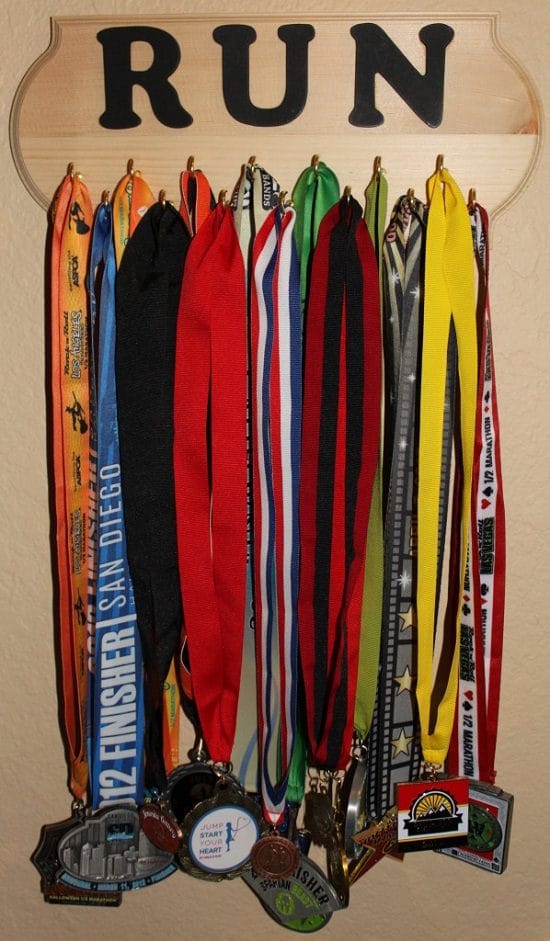 This DIY is all about assembling pre-ordered supplies, such as a medal display board, hooks, and wooden lettering. It's an easy hack to create a statement medal holder in less than an hour.
6. Old Crib Rail Medal Display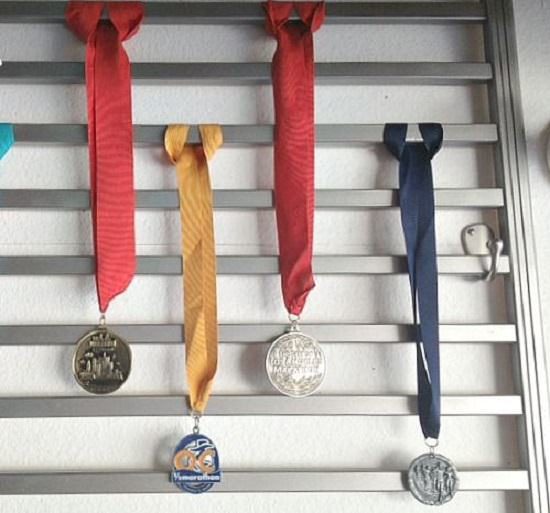 This DIYer repurposed an old crib rail with a fresh coat of stainless steel paint to mimic the utilitarian bling of her medals.
7. DIY Medal Display Ideas

Adding knobs to a wall shelf is a neat solution to get all your similar-sized medals up for display. Get the complete know-how here.
8. Running Medal Display Rack DIY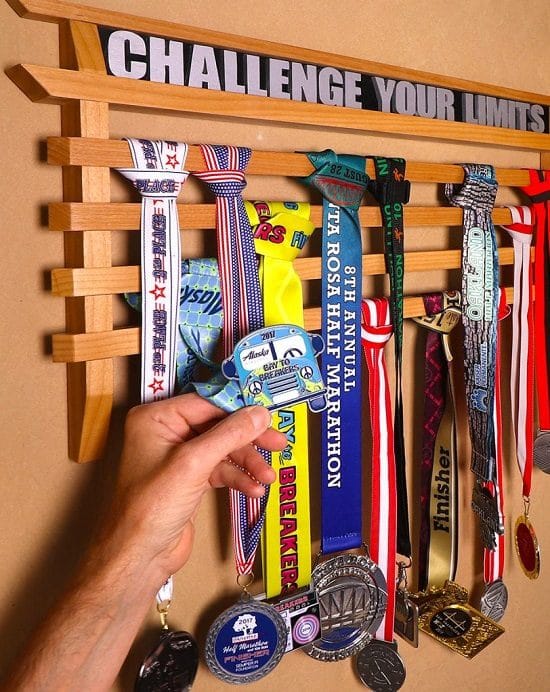 For a more grand touch, try making this wooden display rack from scratch. Add a motivational quote cut out of foam board on top to create a nice reminder of your victories. Here's the DIY.
9. Medal Hanger Display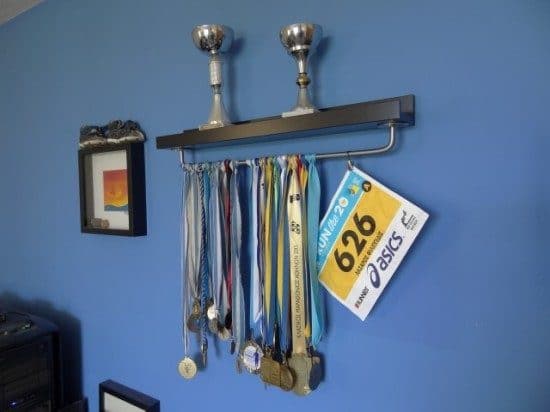 Add a medal display to your contemporary-style living room with an Ikea picture ledge customized with curtain hooks. Follow the DIY here.
10. DIY Marathon Medal Display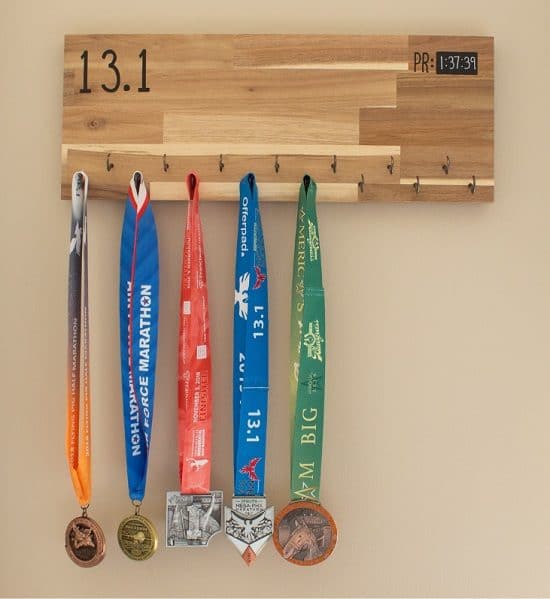 This wooden board medal organizer makes a lovely gift for the friend who takes pride in finishing marathons. Customize it with the maximum number of miles they have run and a positive quote to tie up the look together. Here's the DIY for more inspiration.
11. Pallet Medal Display
This DIY pallet board made from reclaimed wood has been revamped with vinyl lettering and brass hooks to create a part-rustic, part-industrial-style display fit for medal storage.
12. DIY Medal/Sports Display Shelf
The area underneath your wall-mounted shelf has great potential. Screw-in an array of hooks and use it as a neat little holder for your innumerable medals. Follow the tutorial in the video.
13. DIY Harry Potter Medal Rack Display
This DIY becomes easy when you have a shapely piece of wood handy. Get some tan paint and graphic paper for the rest of the detailing.
14. Sports Medal Display Frame
If you want to place all focus on that one precious medal you're particularly proud of, consider this elaborate memorabilia display featuring a race photo, the finisher medal and engraved info of the event below.
15. DIY Medal Hanger Display With Colorful Lights
Created from boring everyday items such as headbands, curtain rods, and calendar pages, this DIY medal holder comes to life at night, thanks to the discreet line of fairy lights tucked in behind.
16. DIY IKEA Race Medal Display
This versatile and practical medal holder DIY is a one-size-fits-all solution for keeping your race bibs, medals and occasional sports photographs all arranged in one spot.
17. Premier Tabletop Race Medal Display
Have your medals add bling and color to your work desk with this easy-to-assemble tabletop display. Involving practically no DIY, this is a great option for the lazy ones.
18. Personalized Medal Display DIY
This DIY personalized medal holder makes a lovely gift for a special someone who takes pride in his achievements. Also, it's a subtle reminder of his true potential.
19. DIY Finisher's Medal Display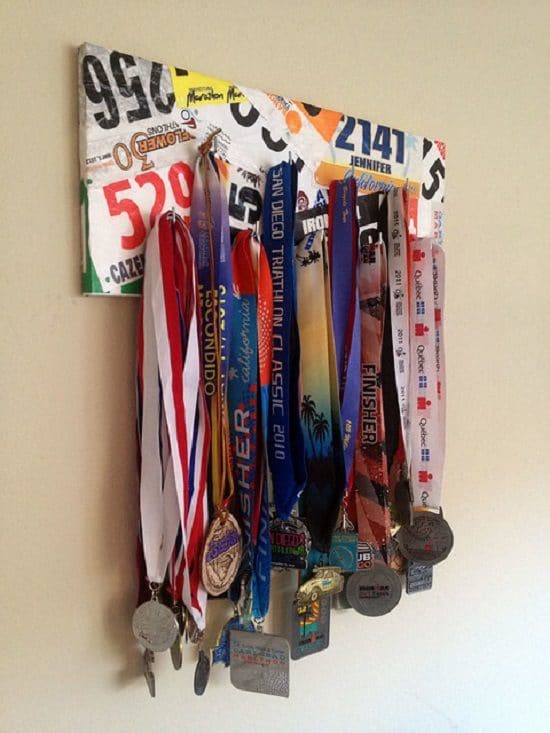 Wrap a wooden panel with race bibs in chaotic arrangements to create a shabby chic baseboard for your medals. Here's the DIY.
20. Mirror Frame Medal Display
For permanent storage-cum-display, consider encasing them in custom frames that will also add colorful accents on the wall. Get details here.
21. Cute Sign to Display Medals

This adorable wooden holder got a makeover from sanding and leftover white paint but what made it really stand out is the bold lettering done with SVG files. Get the tutorial here.
22. Glass Display Frame for Medals
A wall-mounted glass display frame is perfect for preserving the fanciest medals of your collection for the younger generations to rave about. Make one with this DIY.
23. War Medals Display Case
Inspired from a jewelry box idea, this DIY medal storage box is a handy solution to ensure your blingy pals never have to see the dust of the day again.
If you liked these DIY medal display ideas and have any other innovative display DIY to share, kindly leave them in the comments section!