You can utilize fallen leaves in more than one fall leaves art projects and craft ideas with simple instructions and supplies through this article.
1. Fall Leaf Placemat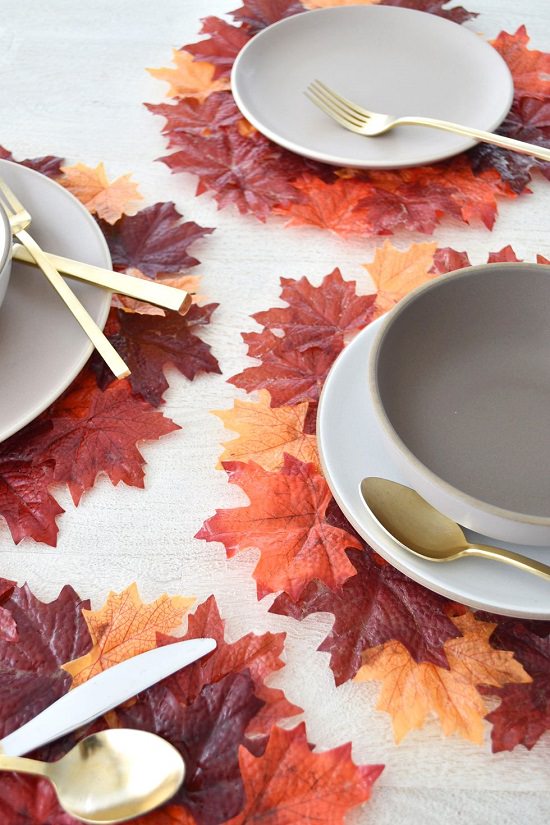 Why spend on a fancy tablecloth to organize your table when you can create these tasteful-looking seasonal placemats! Get the DIY here.
2. Autumn Leaf Fairy Lights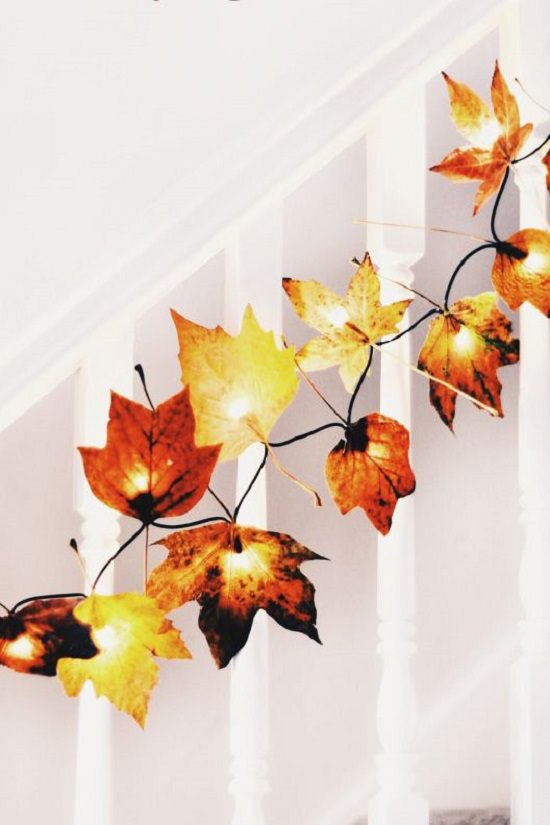 This simple fall decor idea brings some cheer and light to your home before the dull winter vibes creep in. Here's how!
3. Leaf Napkin Ring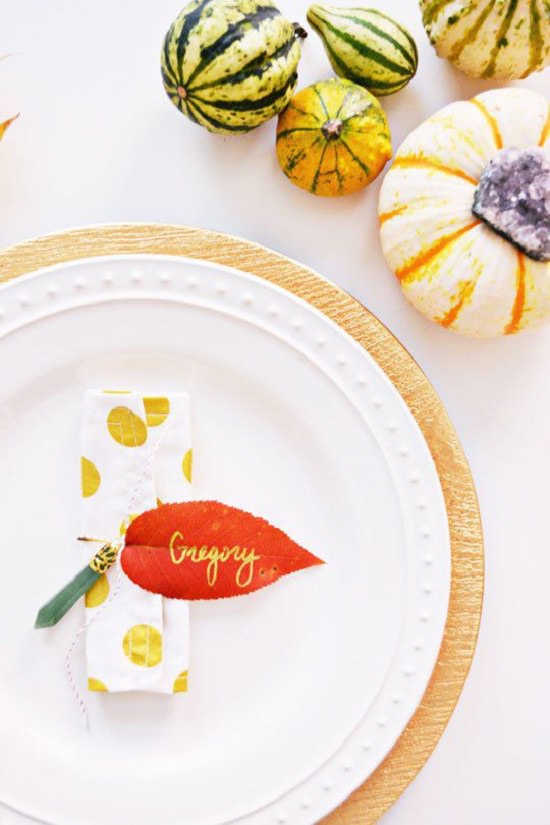 These lovely napkin rings work double duty as place cards, making them perfect for your Thanksgiving feast. Here's the tutorial.
4. DIY Fall Leaf Mobile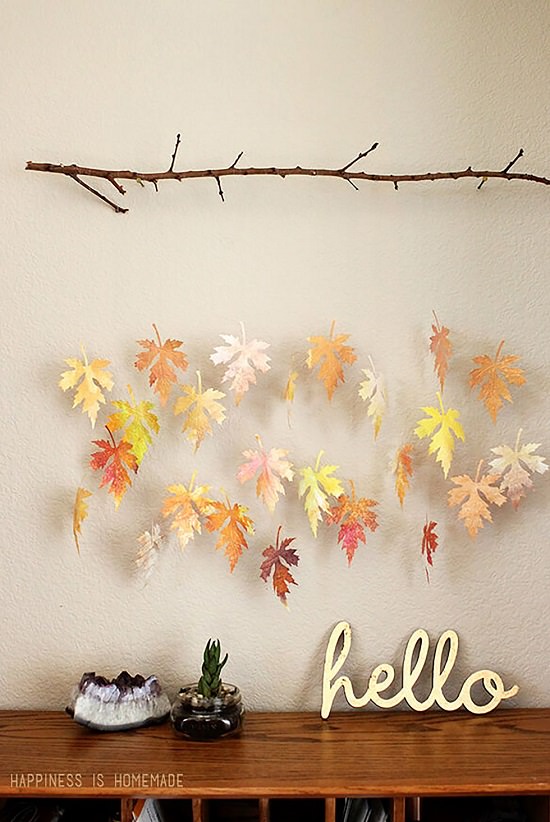 This stunning wall decor that looks like a dream while swaying to the autumn breeze. Learn how to make it here.
5. DIY Homemade Leaf Coaster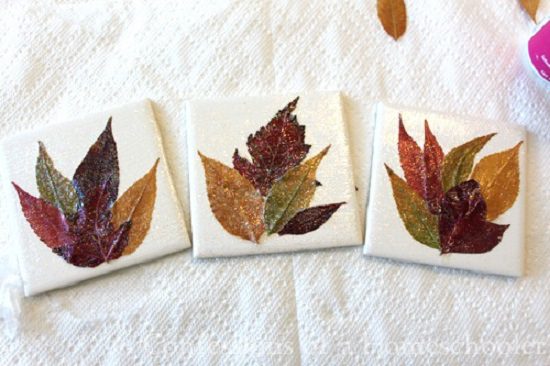 Mug coasters with pressed fall leaves add a colorful twist to the dining table. Follow this DIY to make it.
6. Fall Leaves Art Projects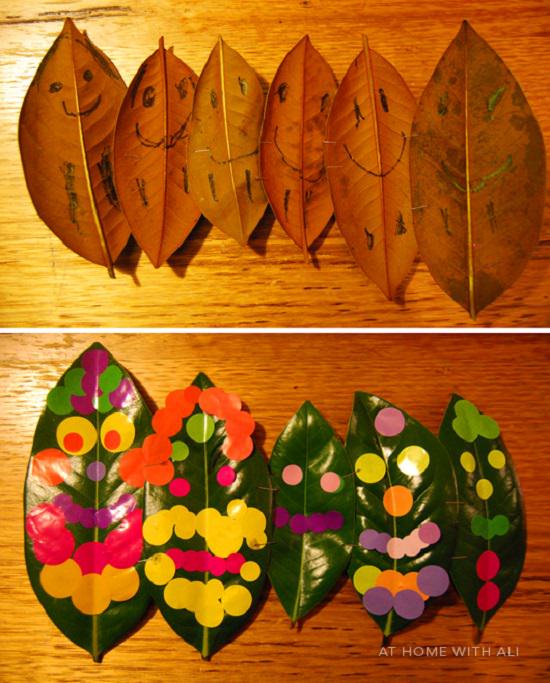 Bring fallen magnolia leaves to life with some paint and a little help from this tutorial.
7. DIY Leaf Crowns And Animal Masks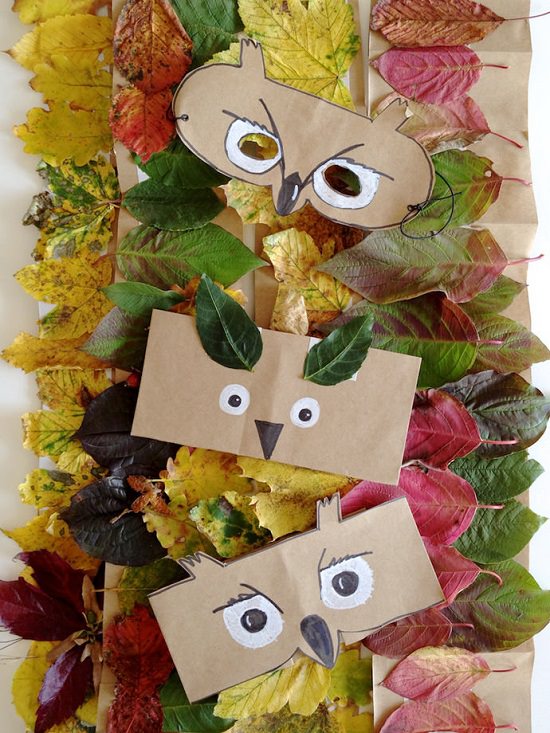 Making whimsical crowns and caricatures is a great way to put all those tons of handpicked fall leaves to good use. Click here for the DIY!
8. Leafy Wreath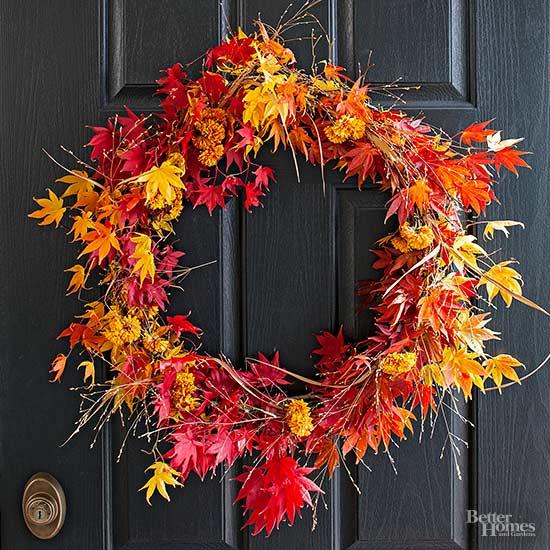 Combining all the brilliant colors of fall in a dazzling display, this DIY is sure to brighten up your mood when you come home from work. VIsit BHG for inspiration.
9. Fall Foliage Monogram Letter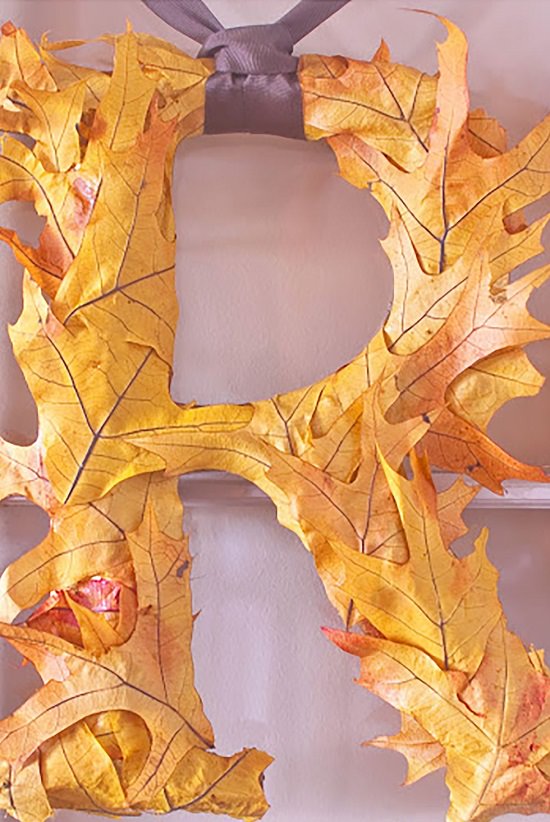 For a personalized and countryside look to your urban home, consider crafting out this intricate monogram from fall leaves. The complete tutorial is here.
10. Leaf Print Wall Art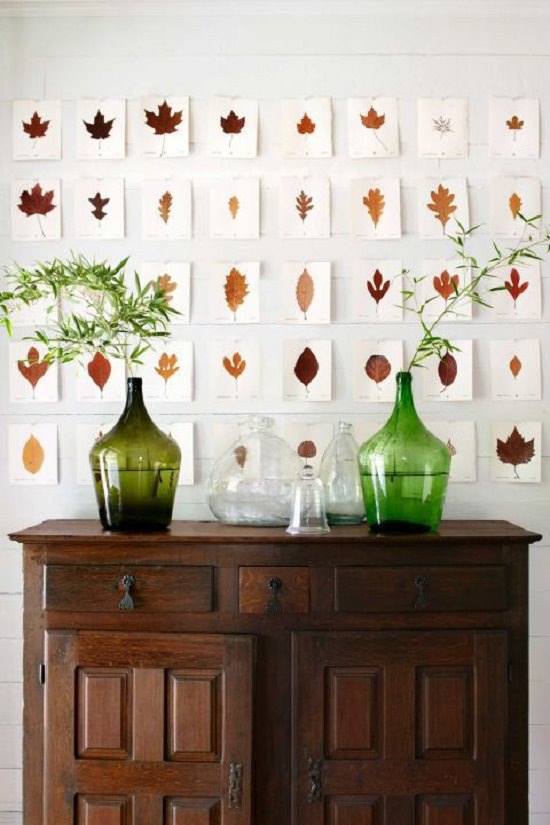 Pressing autumn leaves is the key to getting professional-grade, fall decor. Get the tutorial at Country Living.
11. Autumn Leaf Mason Jar Candle Holder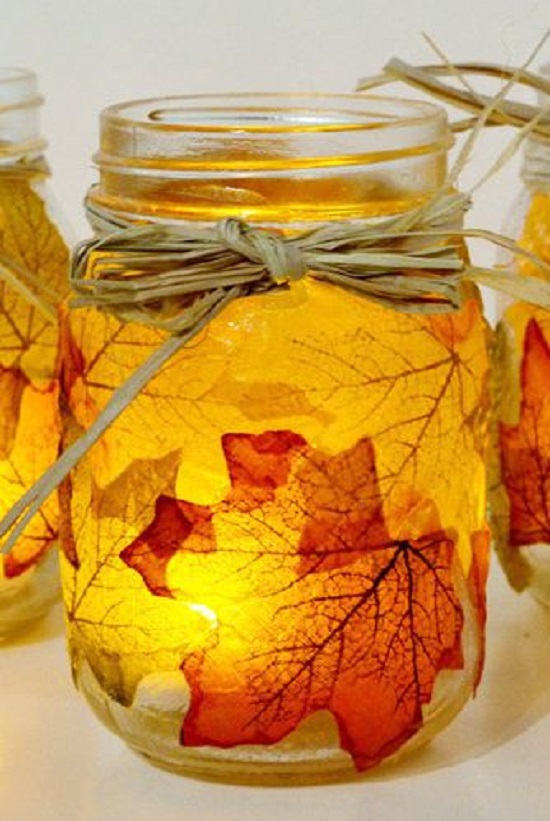 Decoupaged fall leaves on mason jars form a dreamy addition to the mantel as shown on this post.
12. Oversize Leaf Artwork
Here's a clever idea to put all that tons of fall leaves lying in your backyard.
13. Autumn Leaf Necklace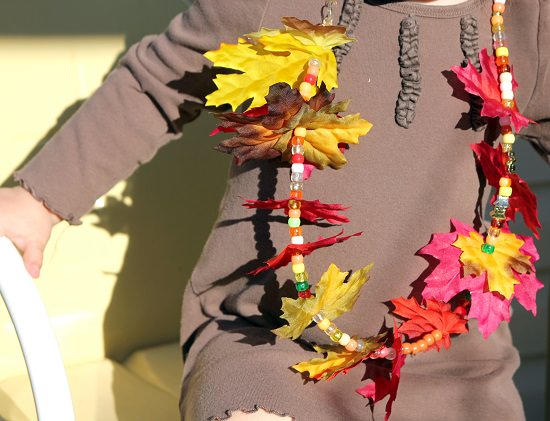 This intriguing necklace has artificial leaves and a chic look that last a lifetime. Kiwico provides the full tutorial.
14. Glitter Leaves Garland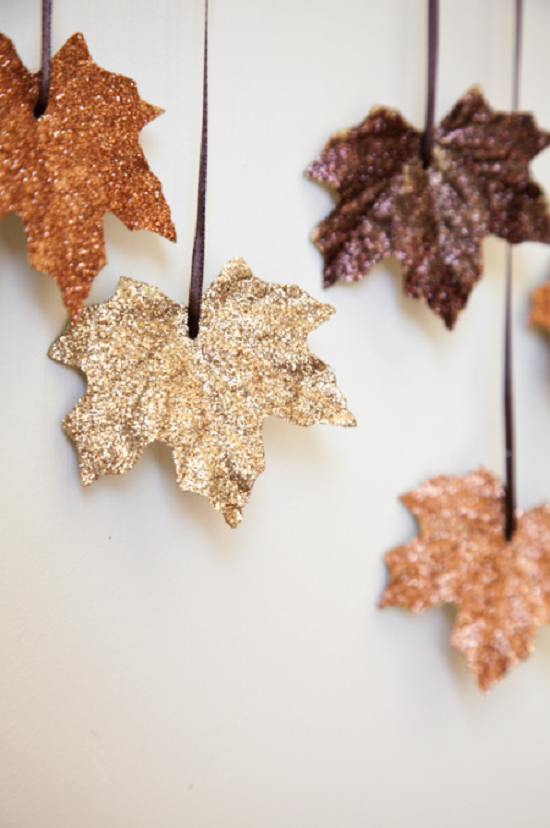 This glossy leaf garland for the front door is a subtle way to invite guests to your fall party. We found the idea here.
15. Fall Leaves Art Projects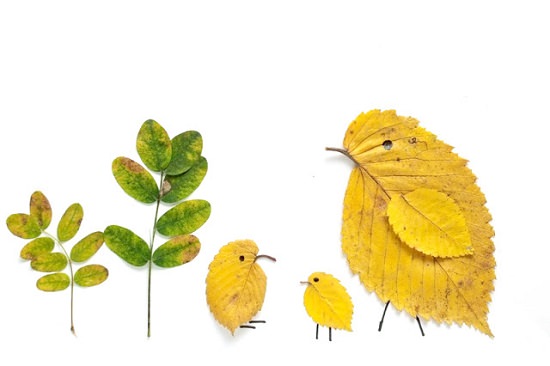 Fashioning fall foliage into woodland creatures is one of those DIYs that you can never get bored of. See the detailed post here.
16. Leaf-Printed Linens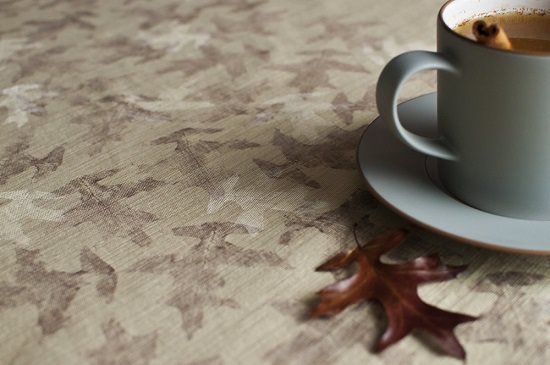 As graceful as they look, leaf-printed linens are sturdy for everyday use and even party-worthy to boot! Get the directions here.
17. Fall Leaf Roses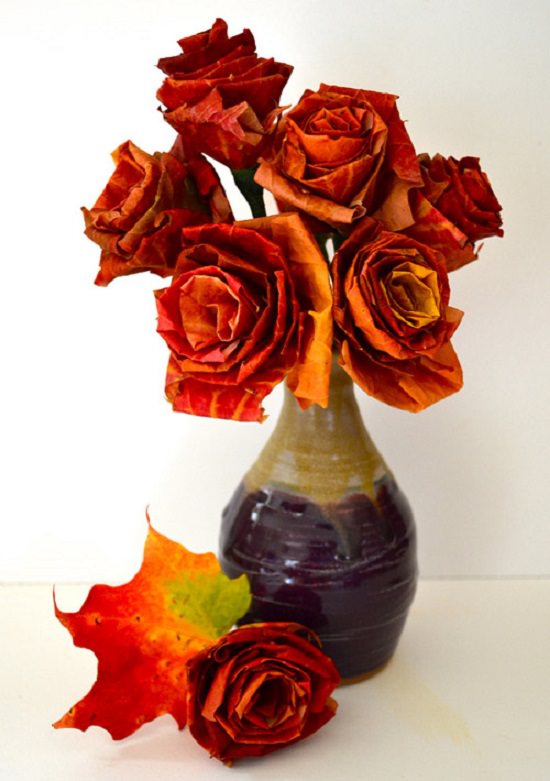 This beautiful fall bouquet lasts longer than your average vase flowers and is sure to brighten up your day. All the steps are here.
18. Leaf-Printed Paper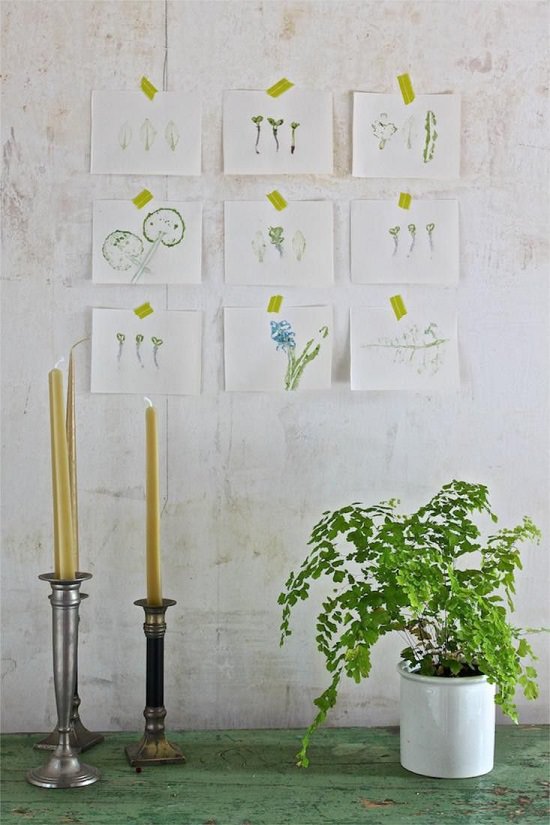 This charming wall display of leaf printed papers by remodelista makes for the perfect ode to spring.
19. Framed Fall Leaf Art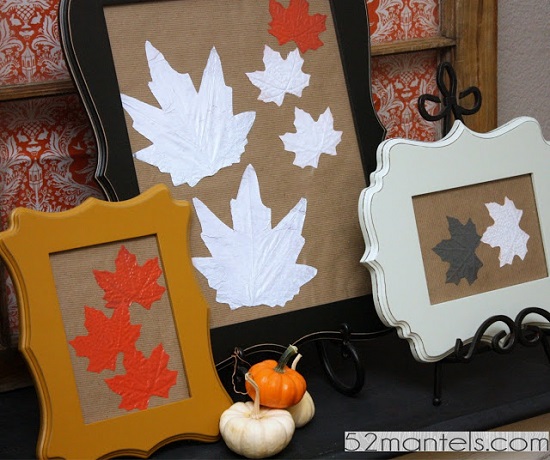 These fall-themed frames add a fun twist to your family photo wall. Check out this article to know more.
20. Leaf Magnets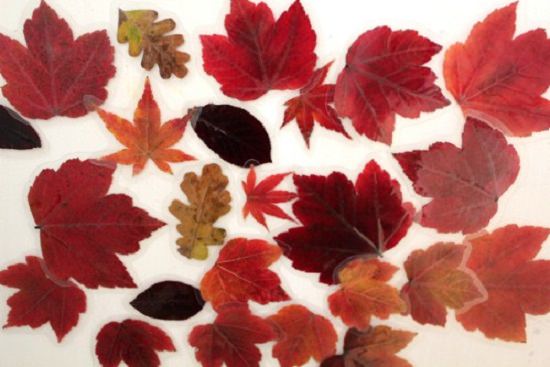 Laminated leaf magnets are easy to whip up and go with every room decor. Get the DIY here. Here is a post that'll guide you.
21. Leaf Place Cards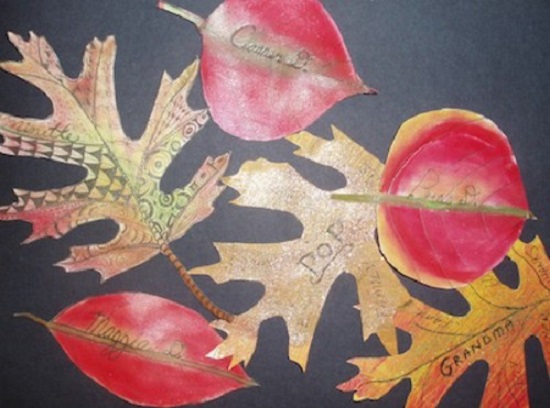 Leaf place cards are perfect for inviting guests to their respective seats in a season-special style. It'll be easy to make if you follow this tutorial.
22. Fall Leaf Book Page Banner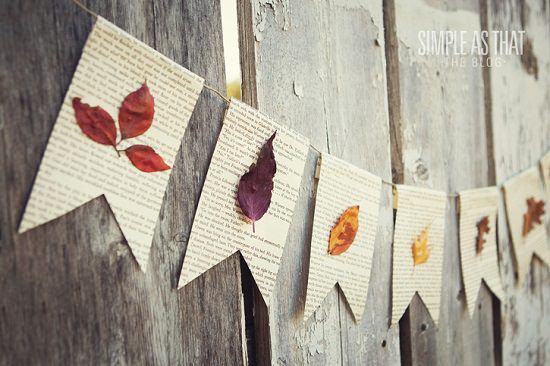 This eye-catching banner is a nice addition to your dull old garden fence. The idea is available here.
23. Hanging Leaves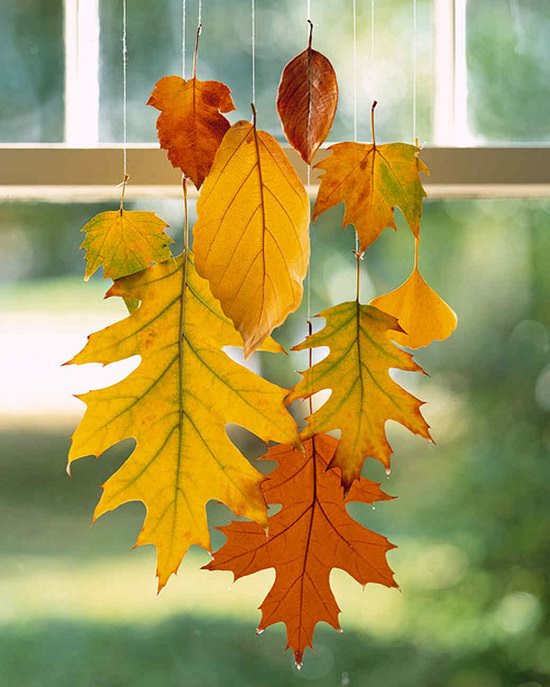 Dip your favorite handpicked fall leaves to preserve their natural beauty till months after. Visit Martha Stewart for the simple steps.
24. Copper Leaf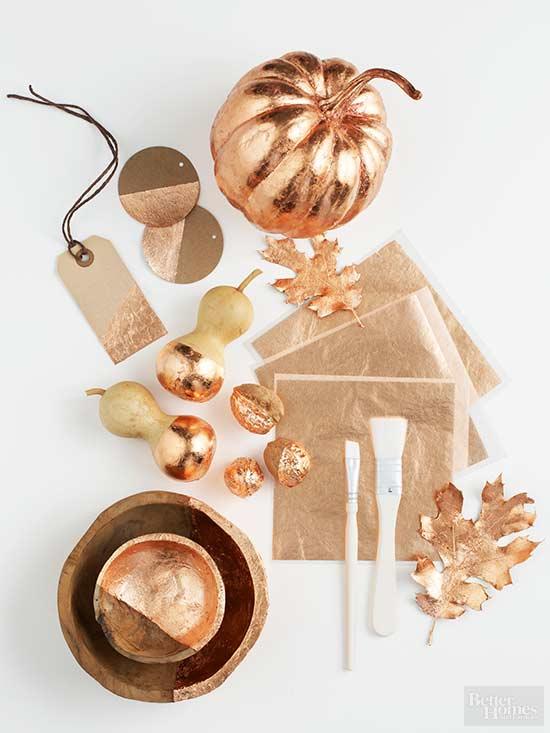 Bright metallic leaves are the perfect accent to any DIY craft you make this season-from outdoor wreaths to wind chimes. We were inspired by this post.
25. Clay Leaf Bowls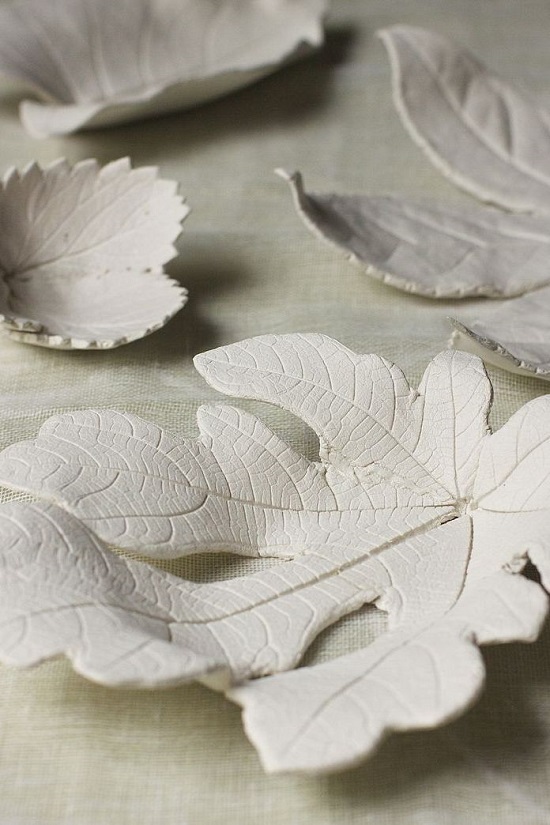 These dainty and elegant clay leaf bowls are just the right size to keep spare candy or tiny desk supplies. Everything in detail is available here.
26. Fall Leaves Art Projects Gift Tags
Get beautiful leaf prints on your homemade gifts with this easy tutorial by skiptomylou.
27. DIY Leaf Pillow Cases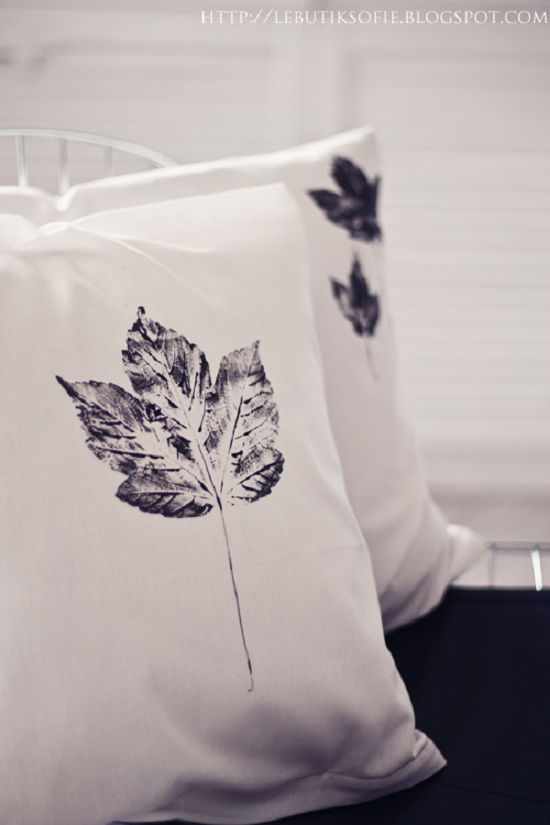 Here's an easy way to get the fall-stamp on your pillowcases. This unique design on pillowcase will surely make people wonder how you did it.
28. Leaf Wind Chime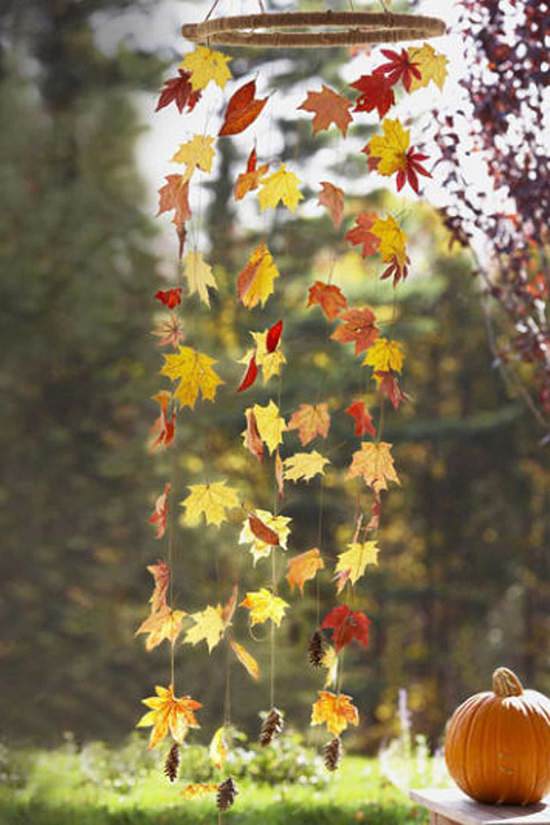 Bright-colored foliage fluttering in the wind offer interesting accents when the rest of the garden is starting to wither. Good House Keeping provides inspiration.
29. Fall Leaves Art Projects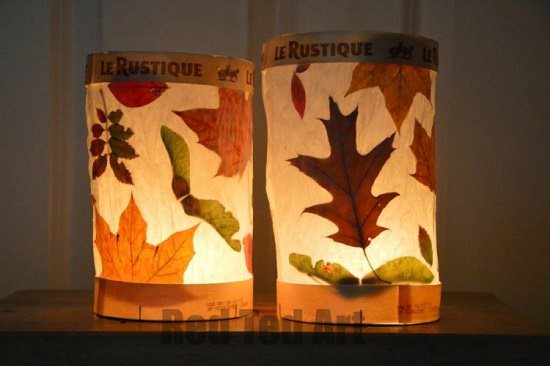 DIY leaf lanterns are perfect for creating a dreamy mood in your garden barbeque party.
30. DIY Leaf Stamped Napkins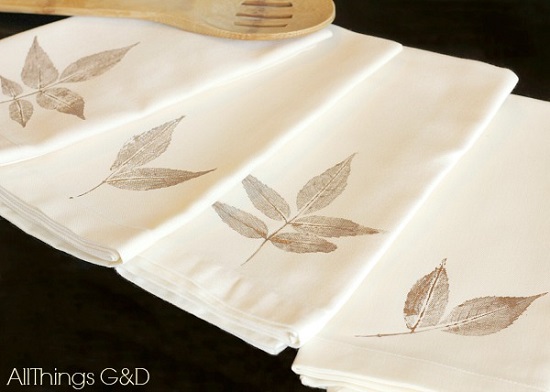 These fall-themed napkins bring a touch of nature to your dining table. Imitate it by following the steps here.
31. Paper Punching Leaves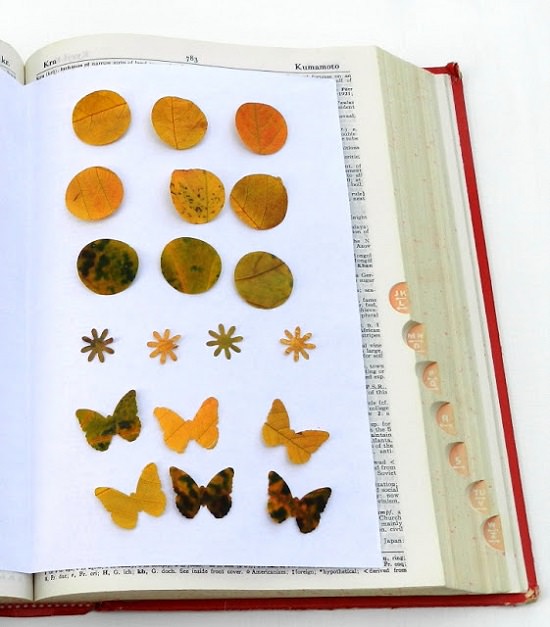 Paper punching fall leaves is an easy way to lend their interesting color patterns to your greeting cards.  Get the tutorial at elise Engh Studios.
All these fall leaves art projects and craft ideas are a fun pastime to spend time with family and kids. Some of these ideas are practical to support your day to day needs while others can be used for decor purposes. In case you've more fall leaves art projects and craft ideas to share, leave them in the comment section!