Shoot up your ornaments game and baffle guests with your creativity by creating any of these DIY melted crayon ornaments to decorate the Christmas tree!
1. Crayon Melt Glass Ornaments DIY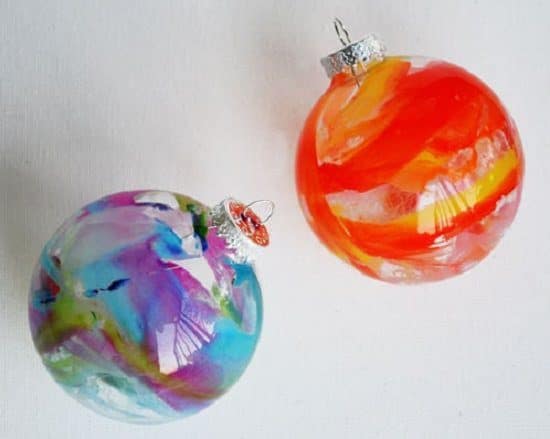 Get beautiful crayon drip ornaments with three cheap supplies and four easy steps. DIY is here.
2. Melted Crayon Christmas Ornaments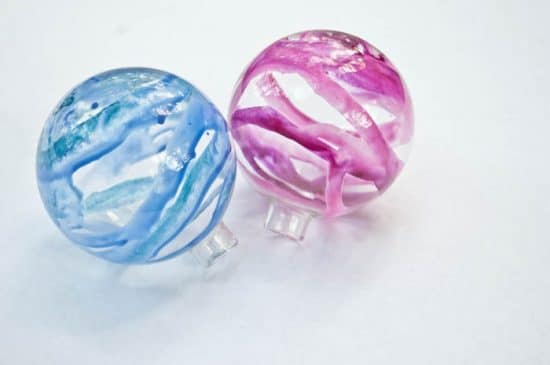 This DIY of creating melted crayon ornaments gives you interesting hacks to create myriad swirls of color that look great when combined with fairy lighting.
3. DIY Ornaments in 4 Easy Steps!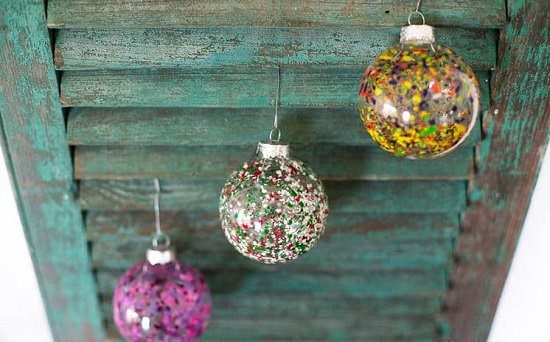 Peel off old, broken crayons to create fillings for clear glass ornaments and you have super cute and completely unique Christmas ornaments perfect for livening up any dull corner of the home. Here's the three-step DIY.
4. Homemade Christmas Ornaments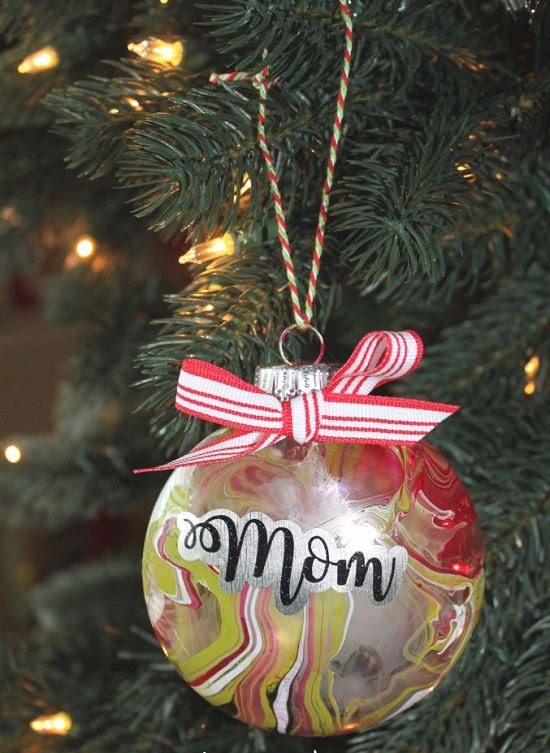 Adding vinyl lettering to your melted crayon ornaments creates a nice level of detailing to infuse an extra dose of positivity to your Christmas tree. Get the details here.
5. DIY Holiday Ornaments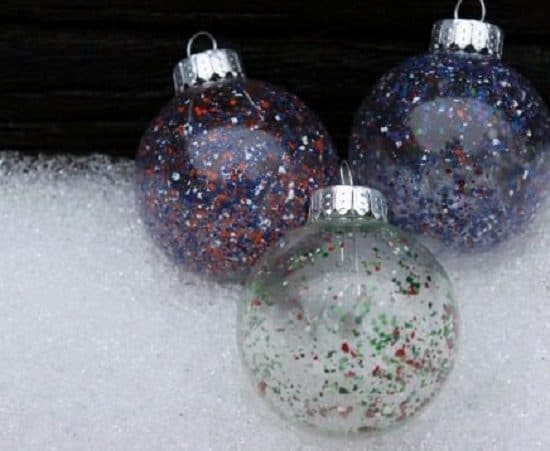 Grate colored crayons to create uniform sizes of shavings perfect for filling up clear ornaments. This DIY takes little effort and zero skills, making it a nice holiday craft for the kids as well.
6. Glass Ball Christmas Ornaments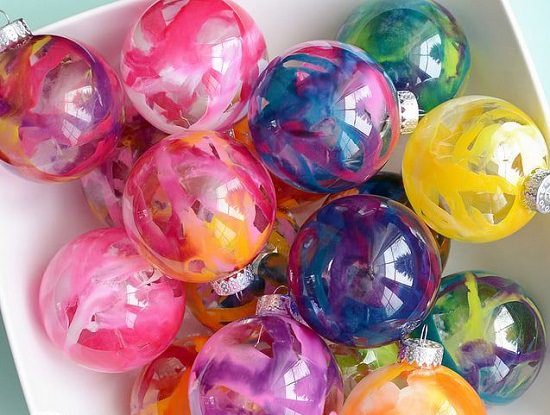 Making these stylish and professional-looking Christmas ornament balls are a great way to get into the holiday mood and engage your kids into the festive revelry. Here's the DIY.
7. Mason Jar Lid Ornaments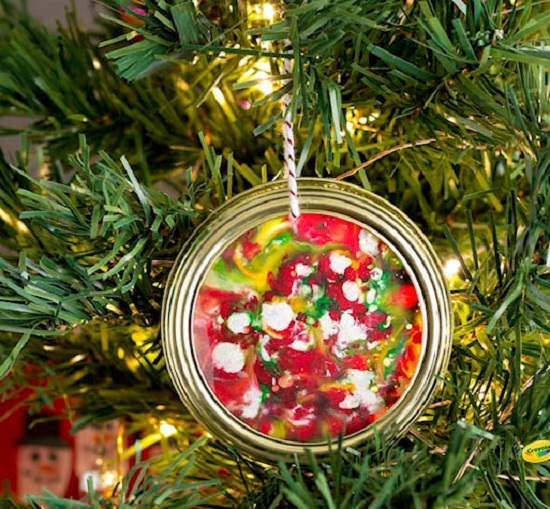 Add crayon shavings to the inside of mason jar lids and seal them with wax paper to create intriguing ornaments to hang on the Christmas tree. Here's the DIY.
8. DIY Swirled Melted Crayon Ornaments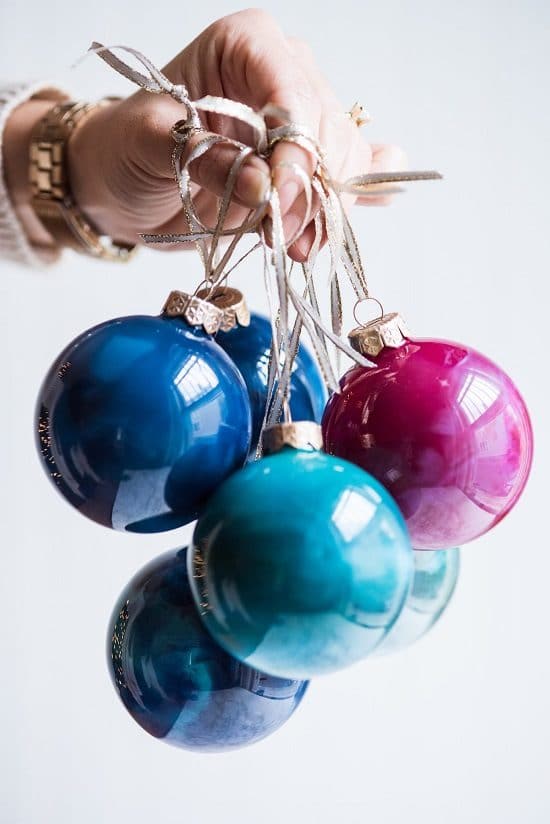 Create stunning swirls of color encased in glass balls with this easy little DIY. The best part is you can have a unique color combination for each of them.
9. Pretty Christmas Ornaments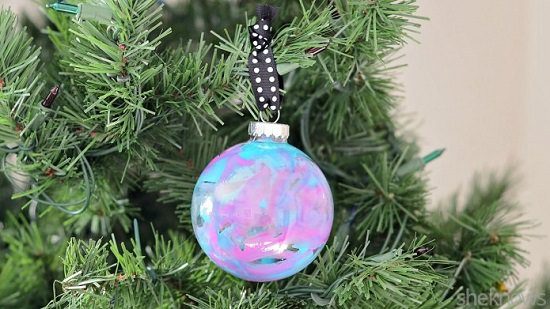 Why toss broken bits and pieces of colorful crayons when you can use their colorful goodness to fill up clear glass globes, making them perfect as Christmas ornaments! Here's the DIY.
10. Colorful Swirled DIY Ornaments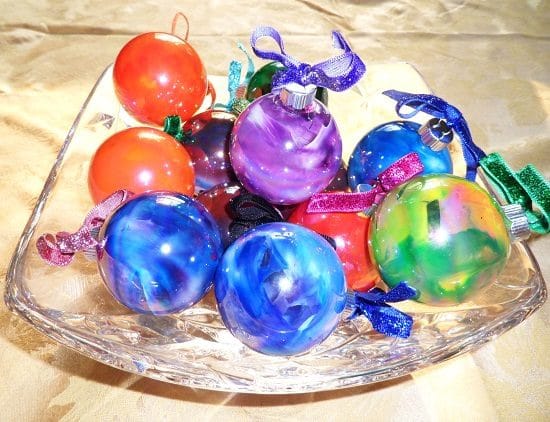 Made by melting colorful crayons into clear glass balls, these iridescent showstoppers are super fun to create and there's plenty of colors to choose from so each one is unique. Here's the DIY.
11. Easy Crayon Ornament
Snowmen caricatures and Christmas trees are all too mainstream winter crafts. This time, add a festive touch to your garden trees with these two-minute colorful globes made with melted crayons.
12. Melted Crayon And Glitter Ornaments
Jazz up globe ornaments with extra color and glitter using melted crayons. Take inspiration from this DIY video.
13. Simple Glass Christmas Ornaments
Add a gorgeous touch to your Christmas tree with these easy-to-DIY ornaments each filled with unique swirls of color.
14. Galaxy Ornament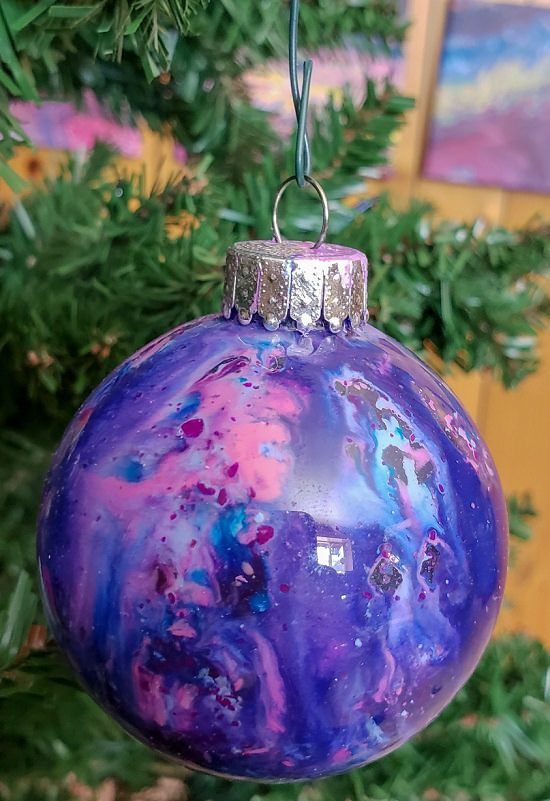 This year, you have this DIY's help to create customized Christmas ornaments that go with any of your crazy color themes or match the theme of your family party decorations.
15. Melted Crayon Christmas Tree Star Ornaments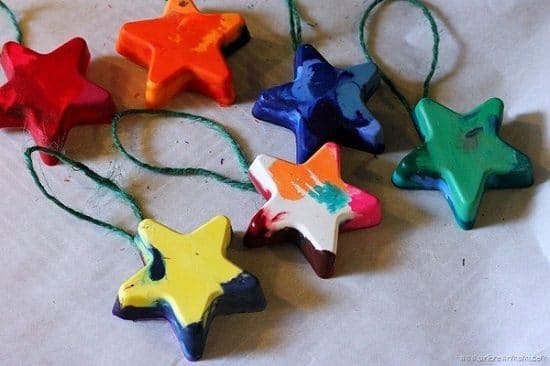 With this little baking hack, you can convert broken bits of crayons into star-shaped ornaments that are fun to put up on the tree and also make lovely gifts for the tiny tots who come to your party. Here's the DIY.
16. Shoe Ornaments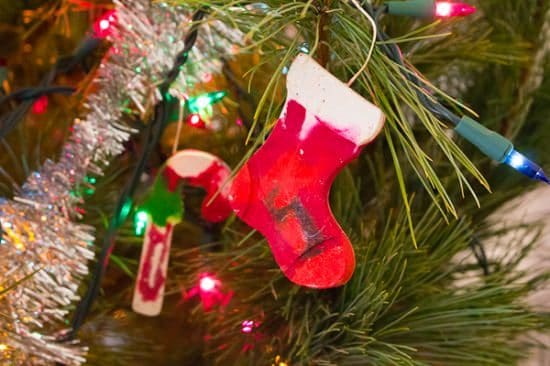 Novelty muffin tins are the secret to this DIY. They add unique detail to your project and make any color you choose super cute, with its interesting shapes.
17. Paper Plate Ornaments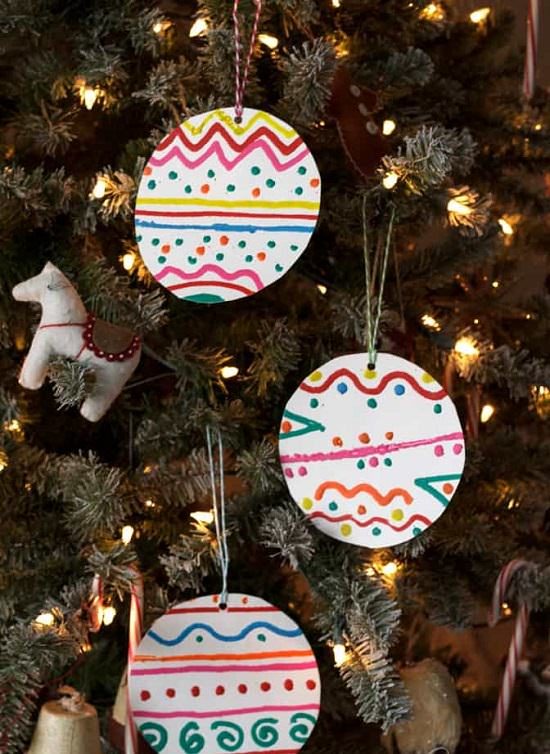 Using a crayon melter and colorful crayons, you can get lovely designs on paper plates to create ornaments for the tree. Or, you could string them together to create a banner for the front door. Here's the DIY.
18. Melted Crayon Salt Dough Ornaments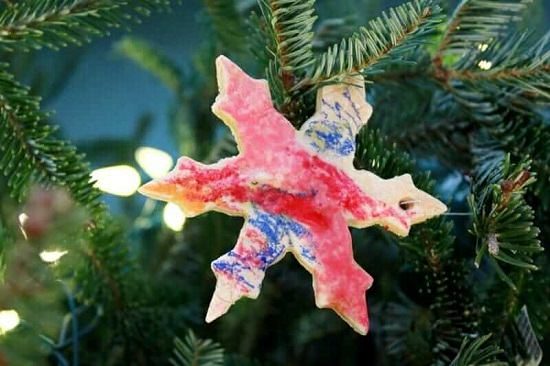 Mixing salt dough and melted crayons together gives you a more solid yet pliable batter to work with when creating forest animal mimics. Take a look at this DIY for more info.
19. Clay and Melted Crayon Snowflakes Ornaments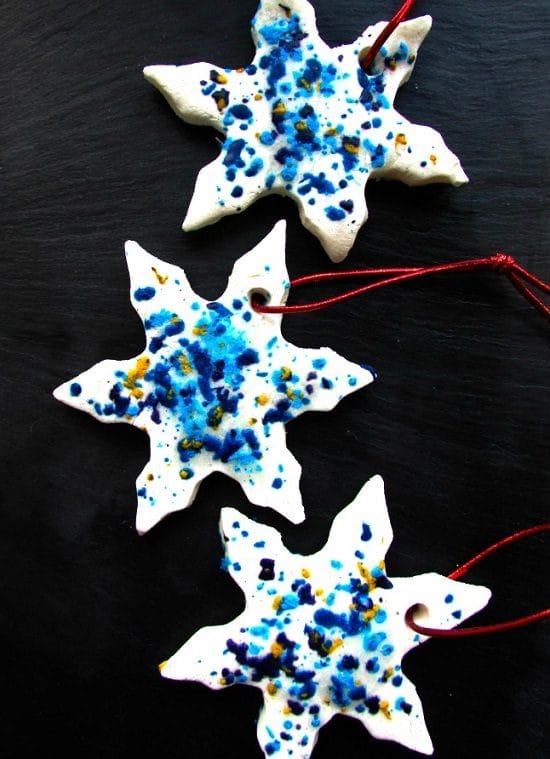 The contrast of white clay with the lively colors of melted crayons makes for a gorgeous, glistening effect similar to the real essence of snowflakes. Here's the DIY.
20. Melted Crayon Christmas Ornaments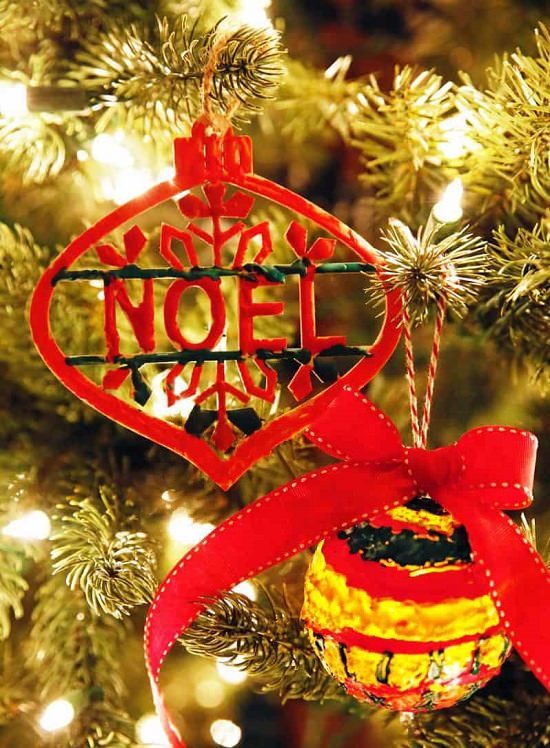 This easy DIY to add a fun quotient ornament balls using melted crayons is a great way to display your kid's creativity.
21. Wax Melted Crayons Ornaments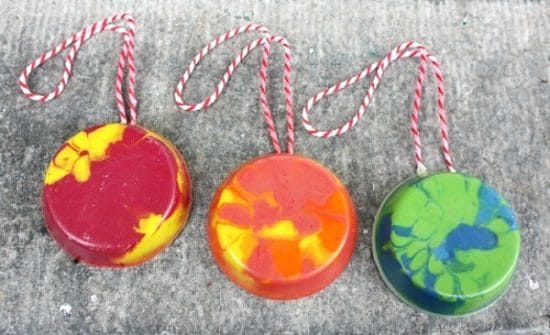 These cute little melted crayon ornaments don't just make fun accessories to deck up the tree but also act as adorable handmade gifts after the party. Check out the idea here.