All these DIY handmade gemstone jewelry ideas are sure to flatter your inner jewelry lover and take your overall look to a pretty new level!
1. DIY Gemstone Wire Chain Earrings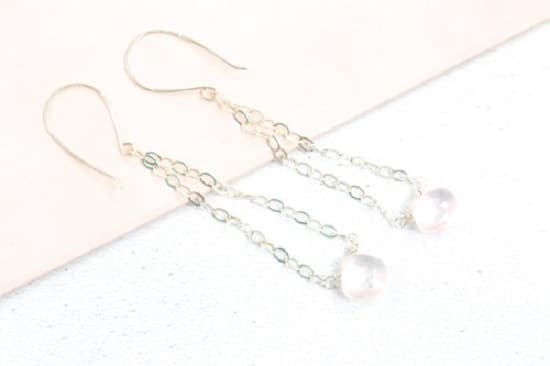 Elevate the look of your precious gemstones using metallic wires and clasps while creating unique pieces of necklaces within minutes. Here's the DIY.
2. Polymer clay Gemstone Earrings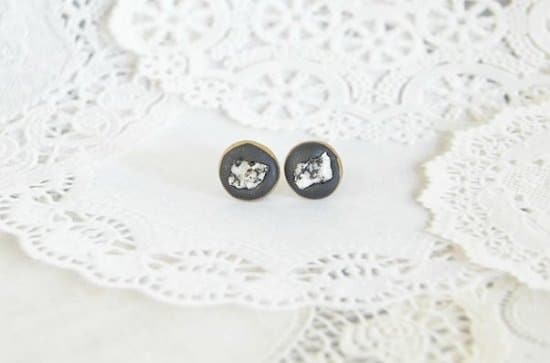 Enhance the beauty of raw gemstones by pasting them onto cabochon trays set with polymer clay for a vintage-looking piece. Here's the DIY.
3. DIY Gemstone Bohemian Chain Headpiece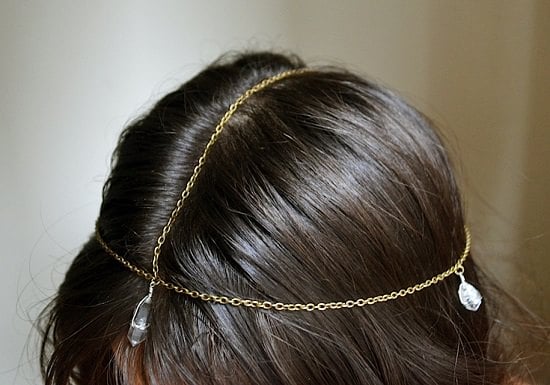 This is one of those few pieces of jewelry that every girl out there would like to have. And the best is that it's a cinch to make. All you need is a pair of metallic chains and charms. Follow this DIY.
4. DIY Handmade Gemstone Jewelry

The combination of jump rings, a metallic gauge chain, and neat geometric lines makes this lone locket an elegant neckpiece for creating impact with little effort. Follow this DIY.
5. Gemstone & Silver Pendant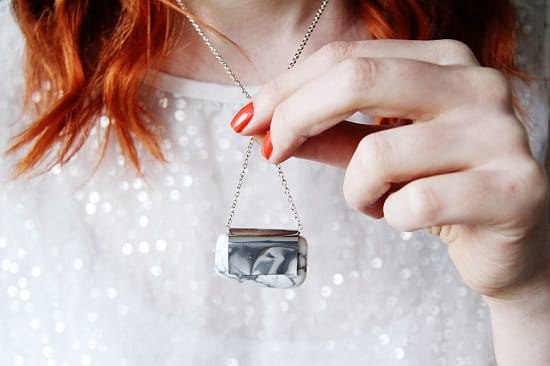 If you're wondering which jewelry will go best with your floating dresses and strappy sandals this summer, look no further. This semi-precious necklace DIY is your answer.
6. DIY Decadent Gemstone Necklace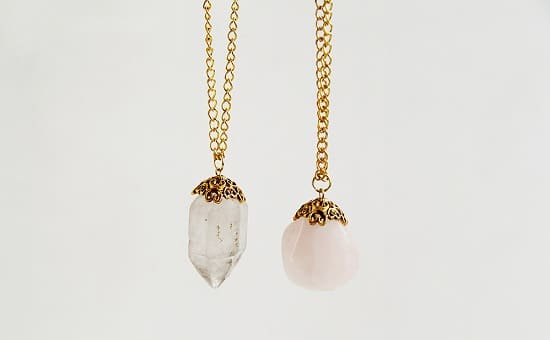 Sometimes it's okay to go overboard with jewelry, like this regal crystal necklace, for example. It gives off a mixture of royal and boho-chic vibes, making it great for when you're not shy of showing your bold side. Follow this DIY.
7. Silver Wire Gemstone Earrings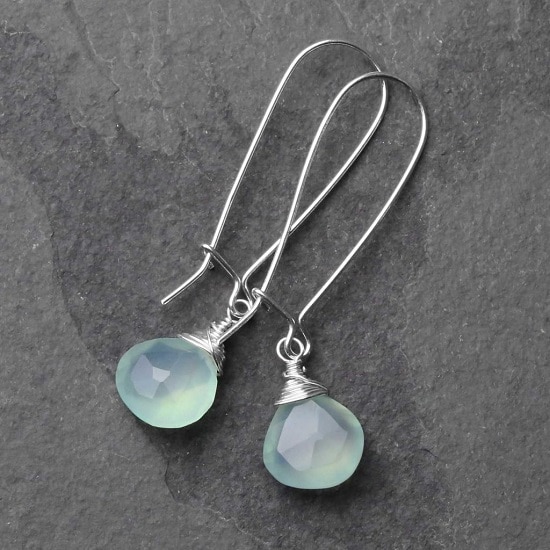 Delicately wrapped with metallic wire and clasps, these briolette gemstones are exceptional as an anniversary present for someone that loves dainty pieces of jewelry. Here's the DIY.
8. DIY Gemstone Friendship Bracelets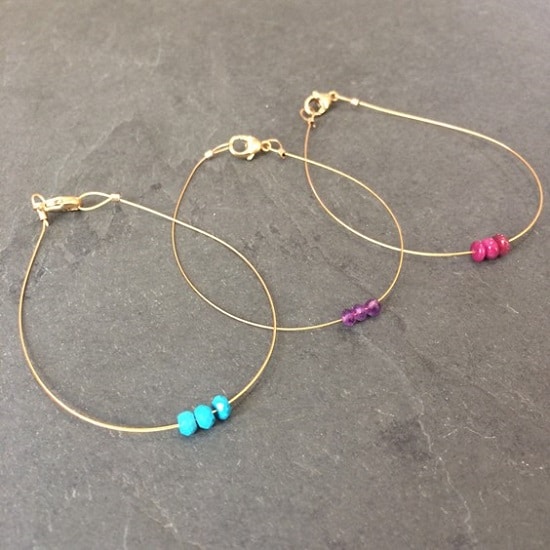 Most of the time, friendship bands are tossed in a forgotten corner of the wardrobe drawer. Make the ones you make count with these fascinating statement bracelets studded with gemstones that are sure to be worn with pride in the long run. Here's the DIY.
9. DIY Gemstone Wrap Bracelet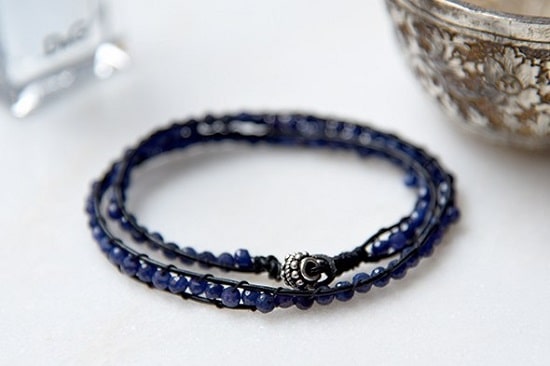 Making this trendy wrap bracelet is an excellent excuse to dig inside your stash of craft supplies. And while it does look gorgeous on its own, you can add in a silver bead as an interesting detail. Here's the DIY.
10. DIY Handmade Gemstone Jewelry

If you have a beautiful gemstone that you want to showcase in the most elegant way possible, consider wrapping it up with wire in swirls like this DIYer.
11. Ring With Crystal & Gemstone
For rings, the bigger they are, the better, like this oversized statement ring, for example. It can be made and customized within 10 minutes, provided you have the stone handy. Follow this DIY.
12. Stretchy Gemstone Bracelet
An excellent old stretchy bracelet with beads and a tiny charm in the front is going to be your go-to jewelry for those occasions when you have to look your best but don't have the time for it.
13. DIY Wire Wrap Gemstones Pendant Without Holes
Despite being stunning on their own, tumbled stones are mighty tough to work with. This DIY shows you to accentuate their appeal by crisscrossing copper wires around them for a beautiful, 3-D look.
14. Delicate Gemstone Bar Necklace
The famous gemstone bar necklace is easier to make than you think. And it's undoubtedly one of the most delicate pieces of jewelry you can wear without raising eyebrows.
15. Marble Gemstone Necklaces
If you don't have gemstones, consider replicating their look with two pieces of black and white clay for a marbled finish. The details are in this video.
16. stone Bar Bracelet
The best thing about gemstone bar bracelets is that they can be created and tailor to go with your tastes. You can do them all in one color or create a stunning combination. Follow this DIY for inspiration.
17. DIY Gemstone Ring
Give a dainty touch to a crystal gemstone with beading wire and a tiny clasp to fix the whole arrangement.
18. Pronged Gemstone Ring
If you want all the spotlight to fall on your favorite stone,  consider going with the prong setting. Plus, it's easy to accomplish, as well.
20. Gemstone Bracelet with Waxed Cord
Gemstone chipped beads embellished on a waxed cord secured with lobster clasps create a nautical look, making it perfect as no-fuss beach jewelry.
21. Gemstone-Inspired Chain Bracelets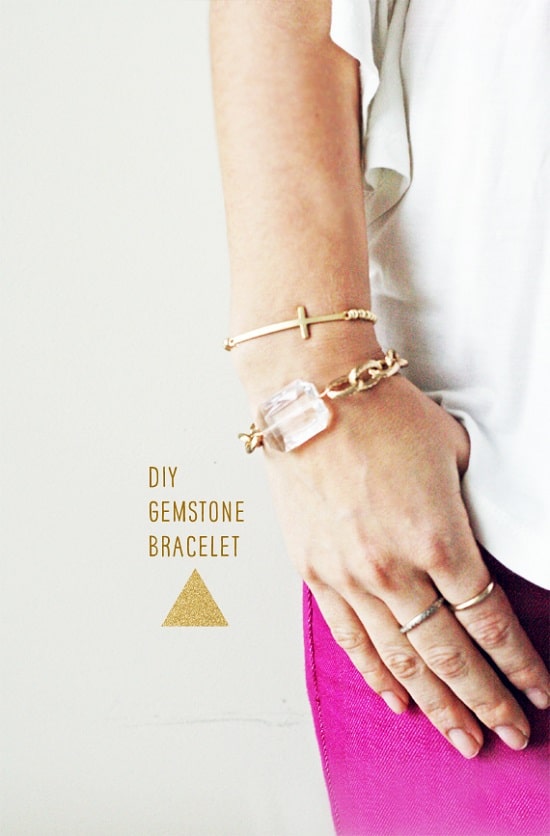 A metallic chain forms the ideal base for accentuating yet not overpower the charm of a gemstone. Pair it up with jump rings fitted with lobster clasps for more impact. Follow the DIY here.
22. DIY Gemstone Rope Necklace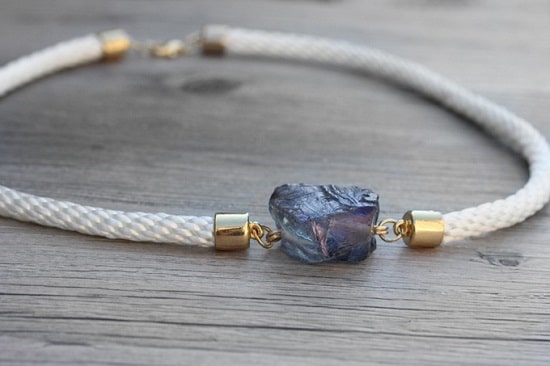 Flaunt your newfound stone treasures with this fascinating rope necklace that has a versatile design making it great for wearing as a bracelet as well. Here's the DIY.
23. Soda Tab Gemstone Necklace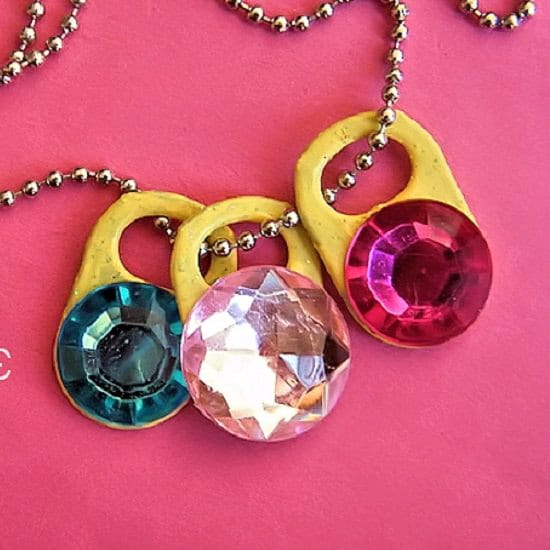 Who knew that soda tabs could be so pretty! If you think about it, they are lovely bases for colorful encrusting gemstones. String them up to create a standout necklace as this DIYer did.
24. DIY Tassel Gemstone Necklace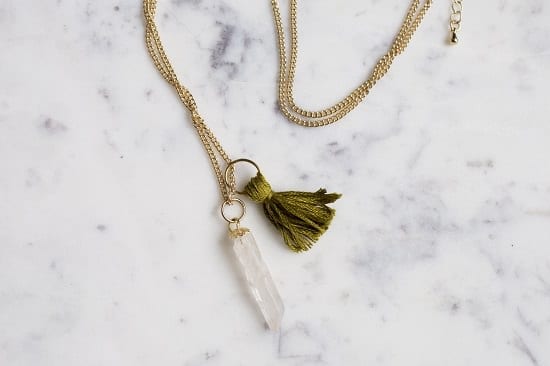 Get hold of tassels and gems salvaged from old pieces of jewelry to update an ordinary metallic chain and creating a unique geometric look in the process. Here's the DIY.
25. DIY Gemstone Anklets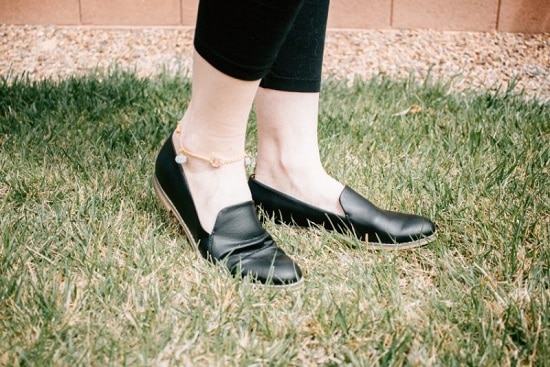 Exude stylish summer vibes with this DIY anklet featuring an eye-catching golden touch accentuated by charming gemstones. Get the instructions here.
26. Gemstone Briolette Earrings
Team up your gemstone necklace with these five-minute monotoned briolette earrings using a handful of tools. The DIY is in the video.
27.  DIY Handmade Gemstone Jewelry
Featuring beads, pendants, charms, gemstones, and clasps, this boho-chic statement necklace is a perfect excuse to use up craft supplies and make a gorgeous piece of jewelry in the process.
28. DIY Triple Wire Wrapped Gemstone Ring
Flaunt the Victorian-style with this fancy gemstone wrapped with wire and lobster clasps. Also, it's a lovely way to bring focus to a lone stone.
29. Chipped Gem Stone Pendant DIY
These chipped gemstone pendants look like age-old treasures from your grandmother's chest. Make yours with simple supplies and an unbelievably low cost.
30. Glass Gemstone Statement Ring Using Nail Polish
Get a pop of color on your crystal gemstones using acrylic nail colors with this simple DIY.
31. Gemstone Jewelry Set
The next level DIY to wire-wrapped gemstone rings is this beautiful gemstone necklace that will bring oodles of character to a simple outfit.
32. Opal Gemstone Ring
If you want a more delicate touch to your jewelry, consider going with the DIY opal ring.
33. DIY Love Knot Gemstone Earrings
As a token of the reassurance of your love, this DIY love knot ring is a beautiful V-day for your partner.
34. DIY Handmade Gemstone Jewelry
Bring drama to a boring outfit with this fascinating vintage-style necklace featuring pearls, colorful gemstones, and silver chains.