These DIY floating cat shelves will provide a safe spot for your cat without taking up much space, plus they are economical too!
1. DIY Floating Cat Shelves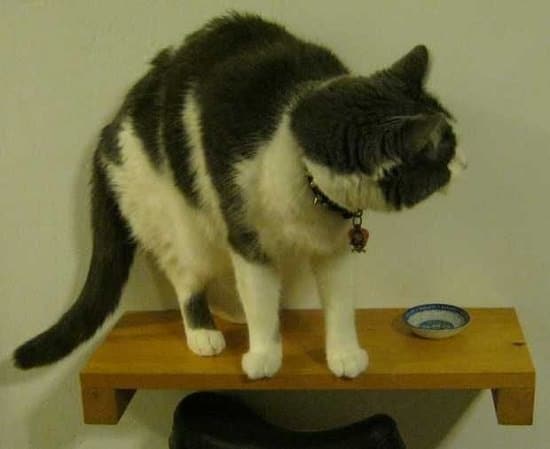 If your cat is a big chunky boi, the average entry-level shelf won't suffice. Try acquiring some spare plywood or using a drawer from an old shoe rack instead. This DIY has the details.
2. DIY Floating Cat Shelves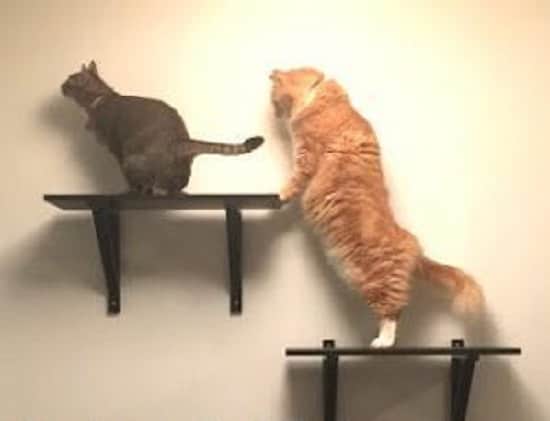 Making your DIY cat shelves from household organizing Ikea stuff is an economical and easy way to pamper your kitties with all the vertical freedom they want. Here's the DIY.
3. Wood Boards Floating Cat Shelves
These aesthetically pleasing shelves made from wooden boards and held by spray-painted braces are the perfect example of decor that also has your pet overlords' needs met. Here's the DIY.
4. Build Floating Cat Shelves
Made from scrap wood, L-brackets, and a couple of screws, these sturdy and safe shelves are sturdy and safe perch spots for the cat that loves to explore. Here's the DIY.
5. Simple Floating Cat Shelves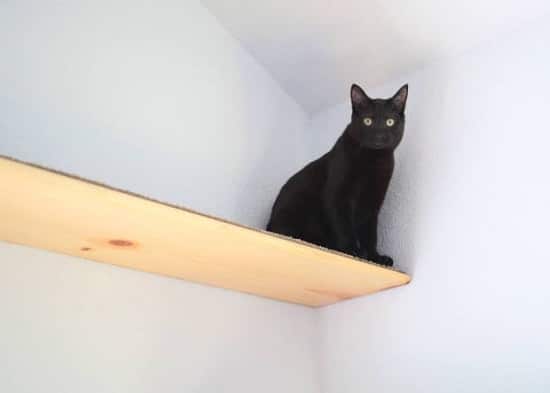 This simple and lightweight floating shelf requires no supporting brackets or a heavy-duty construction. It's also an elegant way to show off your cat. Get the DIY here.
6. Custom DIY Floating Cat Shelf
With the perfect size to fit the chubby kitties and a matted covering, these floating shelves offer an irresistible scratchy surface for cats that love to make mischief.
7. Cat Floating Shelves DIY
Provide a beautiful contrast to ebony-colored cats with the grainy and timeless finish of dark-stained walnut wood. Details are in the video.
8. Cat Floating Shelves With Carpet
Using carpet bedding on wall-mounted shelves is an easy way to get your finicky little ball of fur to like his new home.
9. Floating Cat Shelf Boxes
Using wooden cube organizers serves a dual purpose- you can keep the inside space for your knick-knacks while allowing your kitty to sprawl or perch on top.
10. Cat Floating Shelf & Stairs
Encourage fluffy kitties to exercise with this fun two-step floating shelf arrangement involving wooden headboards and corner braces.
11. Window Cat Floating Shelf
The combination of a vertical vantage point and a window-facing view makes this kitty lounge something your cat will definitely appreciate. The twenty-minute DIY is in the video.
12. Upcycle Old Drawers Cat Shelves
For maximum comfort, don't shy away from screwing drawers onto the wall. These are big enough for your cat to sprawl in and offers a more secure home for the tinier kitties. Simply, secure old drawers into the wall with drill and nails.
13. Climbing Cat Shelves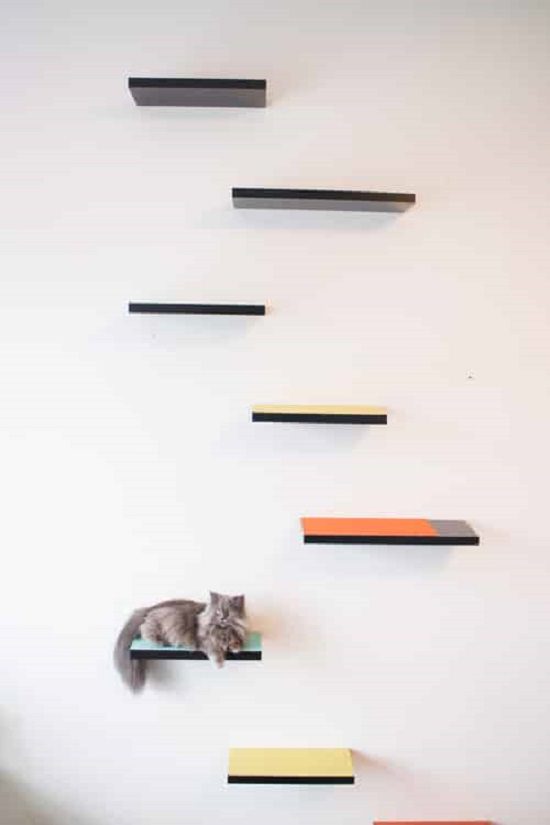 A series of brightly colored wall shelves offer a fun climbing spot for your cat and serves the same purpose as a cat tree but without eating up floor space. Here's the DIY.
14. Carpet-Covered Cat Climbing Shelves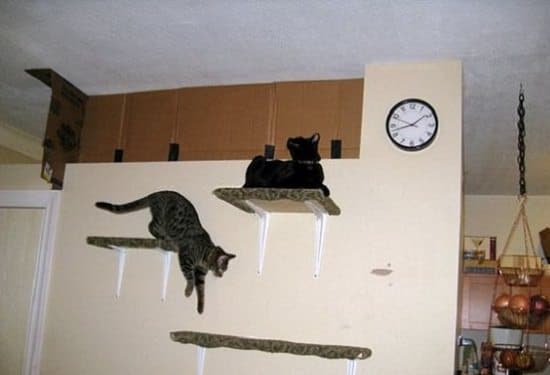 Create this fun cat playground where your kitties can run around and drift to sleep while you watch all the action from your couch below. All you need is some wooden boards and tools. The details are here.
15. DIY Wall Cat Shelves
Layering the top of wall shelves with rope offers a nice scratching pad, making their DIY home doubly useful.
16. DIY Pallet Shelves for Cats
Made from recycled wooden pallets, this 4×4 DIY cat shelf adds a farmhouse feel to your living room walls while recognizing the comfort needs of your furry little friends.
17. DIY Cat Place Mat wall Shelves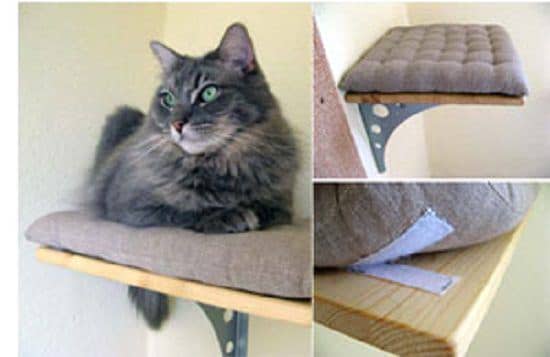 Give your precious kitty, a private perch of his own with this regal floating shelf propped up with a comfy placemat. Get inspiration here.