Love cats? Here are 25 best DIY cat door ideas you can make easily with limited supplies. So grab your favorite ideas and get started!
1. Classiest Cat Door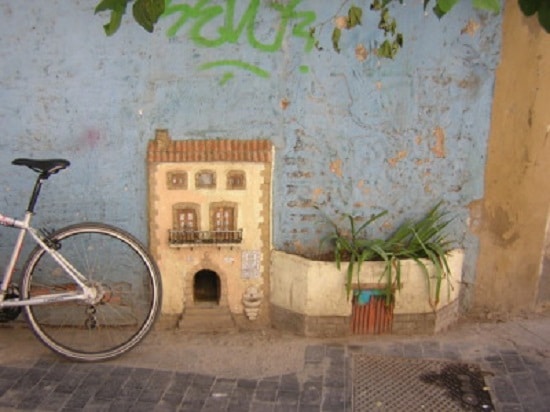 Inspired by the beautiful cat door of Valencia, this easy DIY shows you how to make one with a striking silhouette from decorative plywood, L-brackets, and paint, of course.
2. Simple DIY Cat Door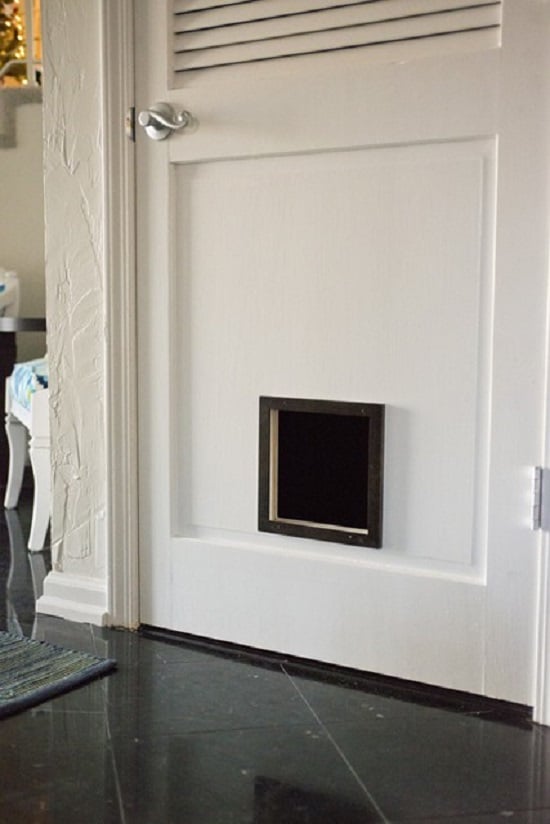 Making a cat door doesn't have to mess up the beauty of your door. Take a cue from this DIY and create a wonderfully artistic framed passageway that suits both budget and beast.
3. Homemade Cat Door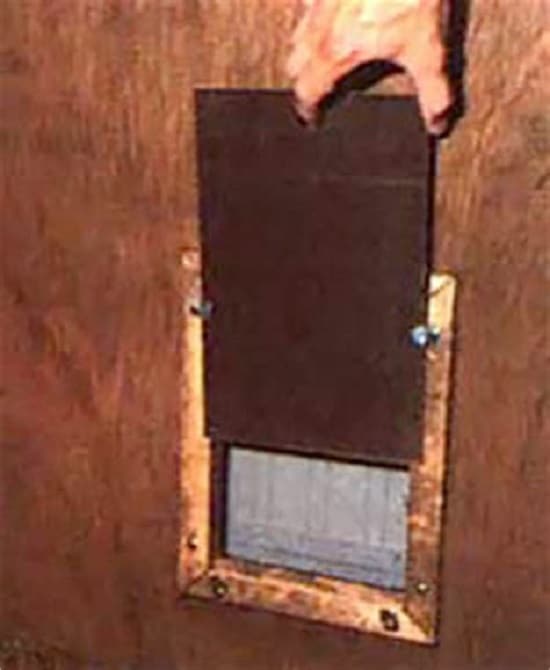 When the weather gets harsh and cold, here's a cost-effective solution that holds its ground in the face of storm and allows your cat to get across without you having to play the doorman. Make one with these instructions.
Also check out these 15 cat house ideas!
4. DIY Cat Potty Door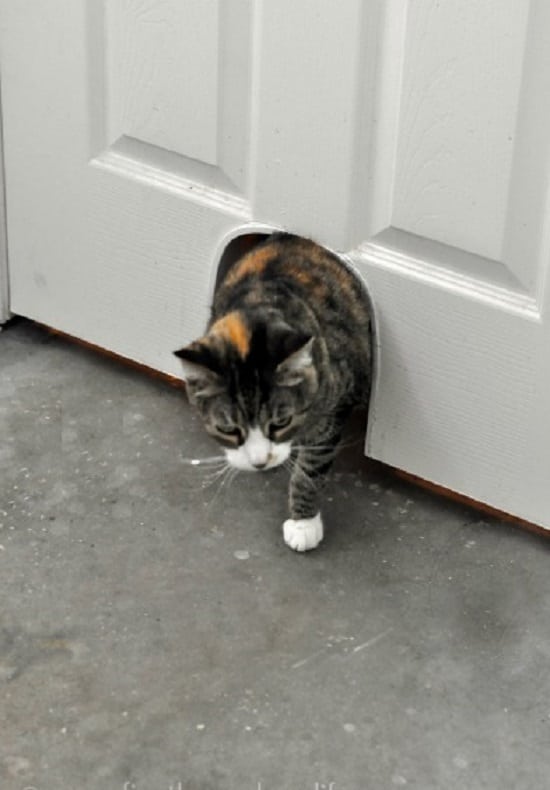 For someone with lots of pets, both cats and dogs, segregating the poo becomes important to abnormal eating patterns and hormonal imbalances. This DIY shows you how to create a cheap cat door that keeps the dogs out from the kitty litter box.
5. DIY Cat Passageway Door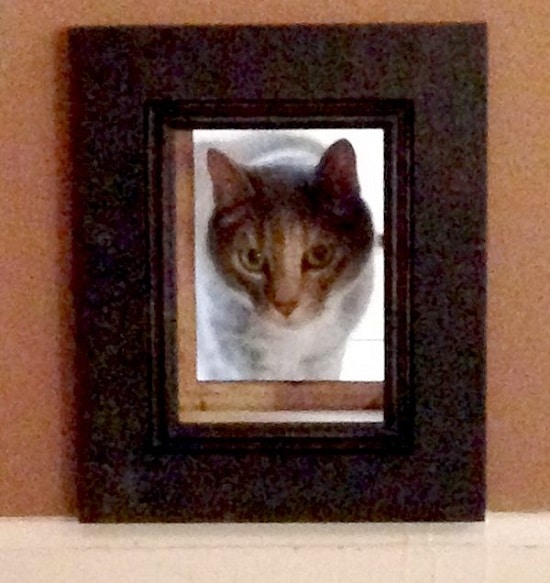 The problem with swinging cat doors is that they make too much noise and don't contribute to the aesthetics of your home. That is why this DIYer got hold of a power saw and a 5×8 picture frame to create a beautifully finished cat passageway in her door.
6. DIY Cat Door
A clever idea for specially abled cats, this DIY shows you how to make a durable cat door with a magnetic hinge that is easy to sense and a lightweight flap that moves in a jiffy.
7. DIY Cat Pet Door
This genius cat door DIY is ideally meant for keeping the dog out of the closet so only the cat can make it through. You can replicate this idea for the back door as well for increasing the security of your kitty.
8. Cat Door in 30 Seconds
With a saw and a template, this DIY teaches you to create a pet passage four inches off the floor, so your cat doesn't have to squat uncomfortably to make it through.
9. Kitty Cat Window Door
Convert a first floor, garden-view window into a classy kitty pass with 22′ poster hangers and a couple of transparent sleeves. This DIY gives you the know-how.
10. Economy Kitty Door
This DIY is for the economic cat servants. It shows you how to class up a simple hole-in-the-wall door with clean lines.
11. Hidden Cat Door in Panel Door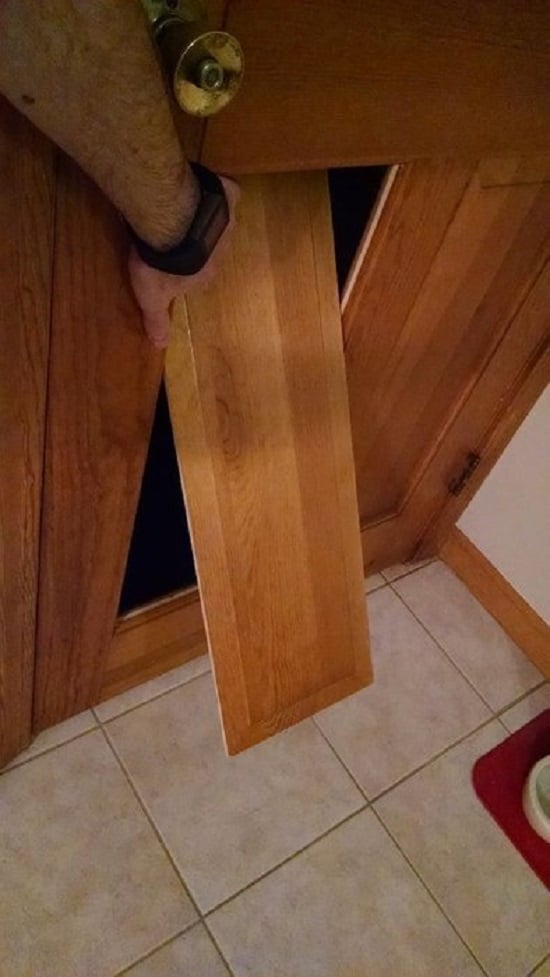 If you happen to have a wooden door, installing a commercial pet door won't quite do justice to its design. Why not cut the lower part of a panel and make it a swinging door? This DIY will help you out.
12. Tweeting Cat Door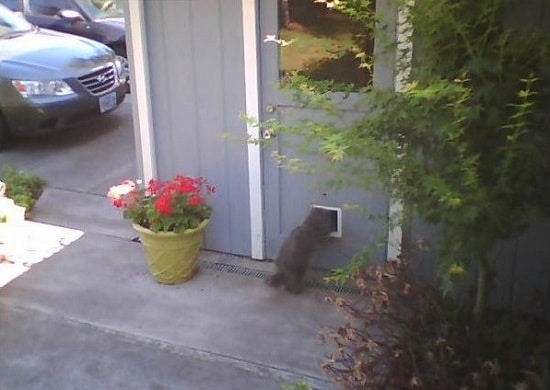 This version of a tweeting cat door is equally high-tech but doesn't need to be controlled by a computer and can be assembled by anyone with an iron and some time in hand. Follow the DIY here.
13. Temporary Cat Door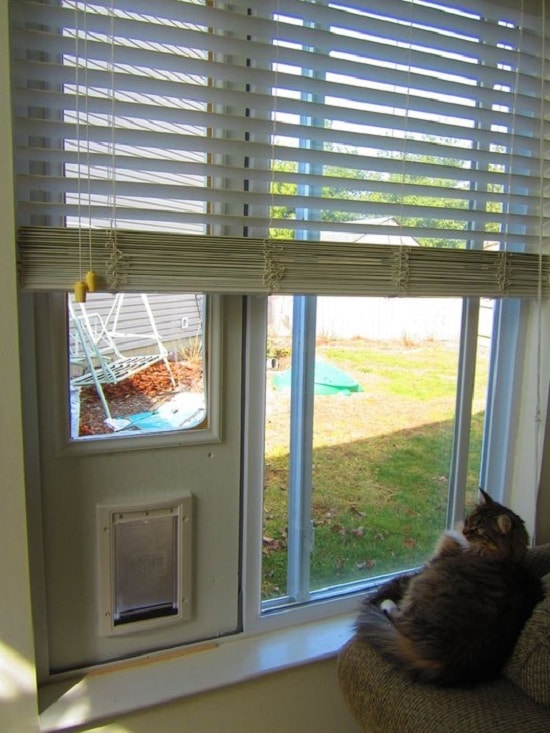 Using the first flow window as a makeshift cat door is an insanely cheap and clever idea for people who are looking for a temporary solution or don't want to mess up the back door with customized pet door options. Get the DIY here.
14. DIY Kitty Pass Interior Cat Door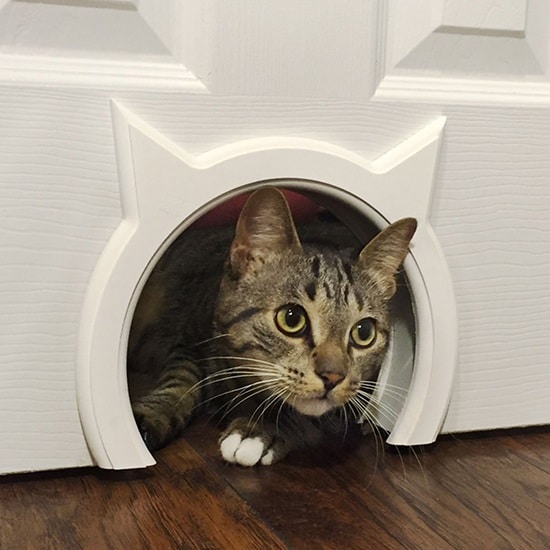 Cutting access holes into doors is something that anybody can do. This DIY goes the extra mile to help you create these cat-lover cutouts that can turn a hideous hole into a beautifully finished cat door.
15. Painted Cat Door
By now, you must have learned the basics of making a cat door; you follow a template and screw in pieces on your existing door. This DIY shows you how to make it a lot cuter with fun colors and a 'meow' tag.
16. Corner Of Door Into a Cat Pass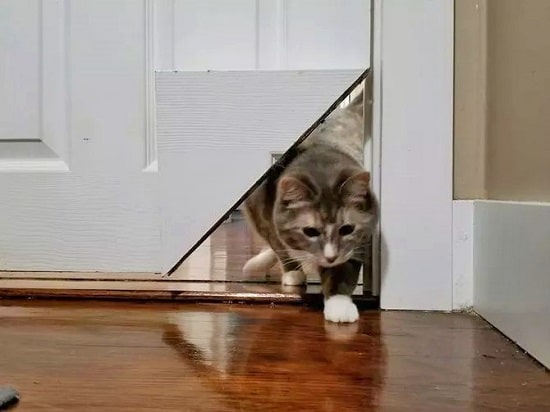 If you are not so keen on boring holes on your door, consider creating a tiny asymmetrical corner that lets your cats have free reign over your, err, their home. Make one with this DIY.
17. DIY Cat Flap Door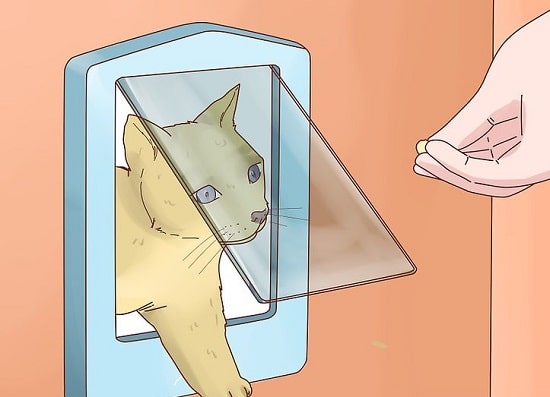 This simple cat flap is basically a hinged pet door that opens with a slight push, without requiring you to open the front door. Follow this DIY to make one yourself.
18. Cat Door in a Hollow Core Door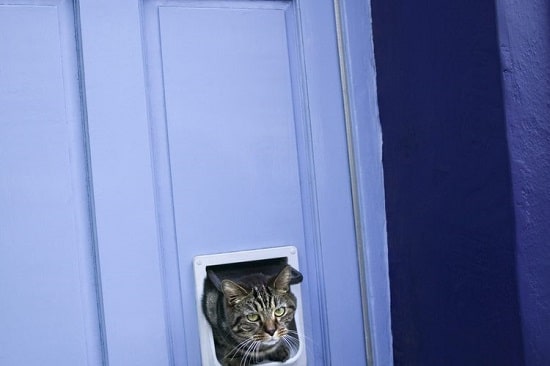 Installing a cat door onto a hollow core door is not easy, but this DIY has you covered. Also, it's a great hack to ensure easy access for your kitty while preventing larger dogs from entering the room.
19. Cat Door
Sometimes it helps to keep it simple-bore a hole on your back door and install a flap for easy access. This DIY is perfect for geriatric cats.
20. Cat Pass Wall-Mount Door
A wall-mounted pet door is a perfect choice for creating a temporary gateway for your cat without ruining the design of your main door. Follow the DIY in this video.
21. Pi 3 Cat Door
If you live in a neighborhood full of pesky critters that keep coming and stealing your kitty's food, consider fashioning this electronic door for them, complete with Bluetooth sensors and magnetic switches. Here's the DIY.
22. Easy Cat Window Door
If you want your cat to get in and get out in a jiffy, without letting all the air-conditioned air out, this cat window DIY is just what you need.
23. Paper Cat Door
If you don't want to unscrew your door, here's a less invasive technique to create a lightweight yet hardy door from the flexible plastic board. Find the DIY here.
24. Kitty Pass Door
As cute as your kitty is, his litter box is no potpourri. This DIY passage hole helps you keep it hidden from plain sight while allowing easy access for your kitty.
25. DIY Automatic Cat Door
This automatic pet door DIY helps you create one at a dirt cheap cost so that you control when your kitty can go out and keep her safe from marauding coyotes.