Test your skills with these Knitting and Crocheting Coffee Cozy Patterns. These are fun to make and will satiate your artistic side.
1. Custom-Sized Mug Cosy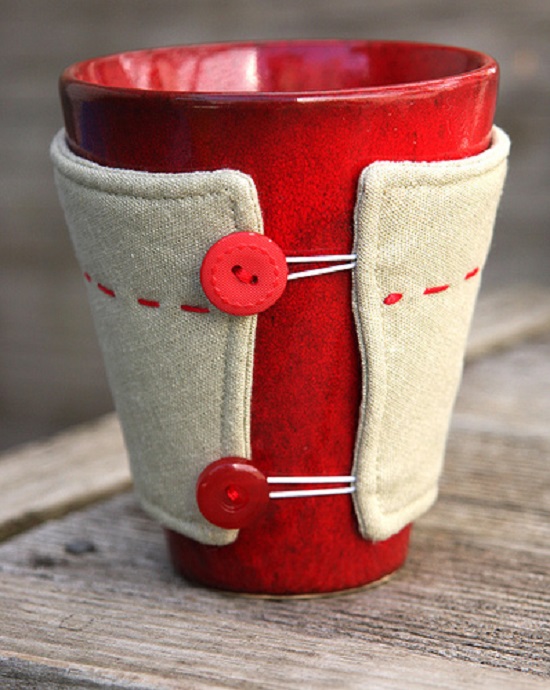 This linen mug cozy here has a good grip and keeps your hands warm. The red stitching makes for an eye-catchy detailing that can be used to contrast with the buttons.
2. Pick a Pocket Cozies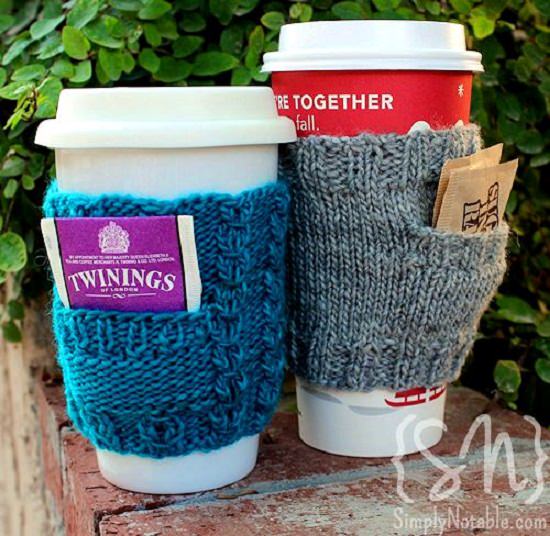 Here's a cozy that gives ample space to stuff in an extra tea bag or a toothpick. Or, you could even tuck in a sweet little message and give it as a gift to someone who loves their coffee to death.
3. Shocking Pink Mug Warmer & Hearty Button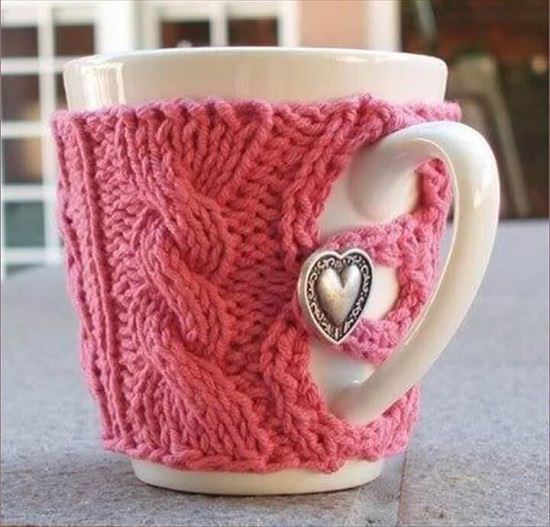 This candy pink mug cozy has a fairytale touch about it, which is suitable for all you princesses who hate waking up to the real world. The detailed post is here.
4. DIY Mug Coaster Cozy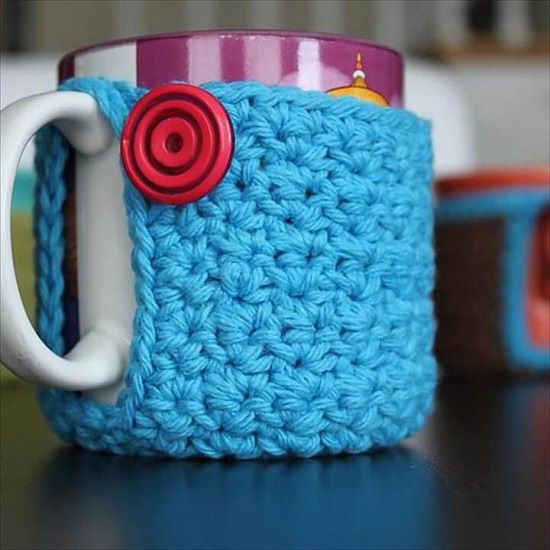 Add character and practicality to your ordinary coffee mug with this single crochet pattern cozy. Use big buttons for a whimsical touch. Here's the DIY!
5. Crochet Mug Hugs Free Pattern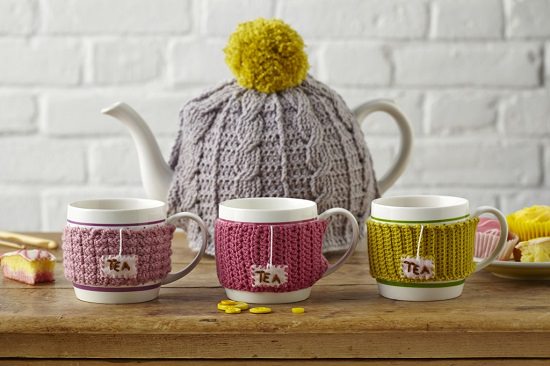 Use freestyle crochet patterns to take your cuppa game to the next level and have fun in the process. Click here, to know more.
6. Happiest Starbucks Coffee Cup Cozy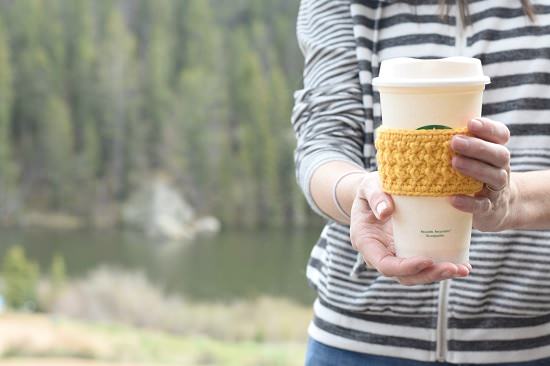 A vintage spin on the classic Starbucks coffee cup, this one is reusable and travel-friendly. The complete guide is here.
7. Adorable Crochet Coffee Cozy Pattern For Everyday Awesomeness!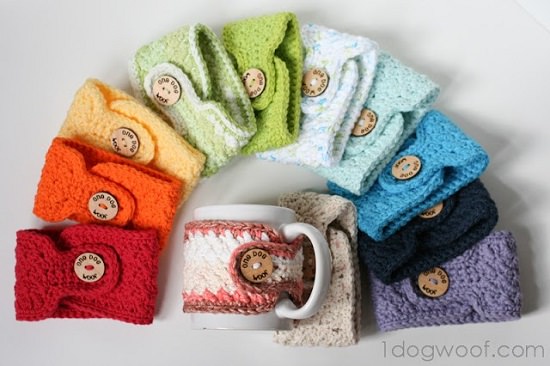 Make these crochet coffee cozies in rainbow colors and give them to a friend who likes their beverage hot at all times. Visit Daily Crochet for the tutorial.
8. Free Crochet Eeyore Coffee Cup Cozy Pattern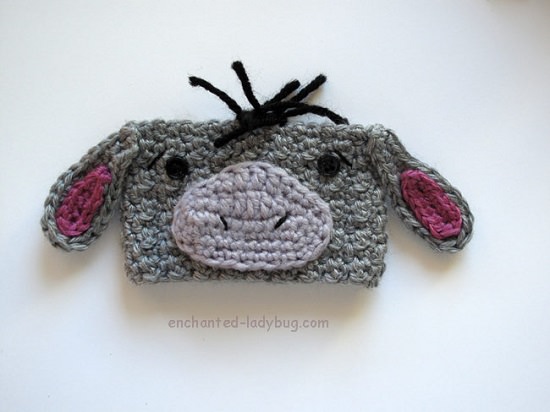 Unleash your creativity with these cute coffee cozy patterns that double as hand puppets. Here is the detailed post.
9. Cuddle Coffee Sleeve Gift Card Holder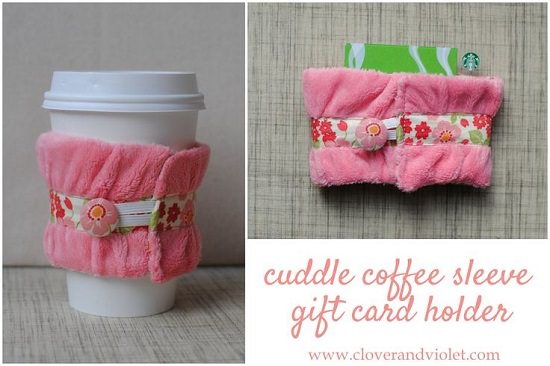 This cushiony soft coffee sleeve here is as pretty as it can get. Plus, it has a discreet pouch for tucking in a gift card for your friend.
10. Felt Coffee Cozies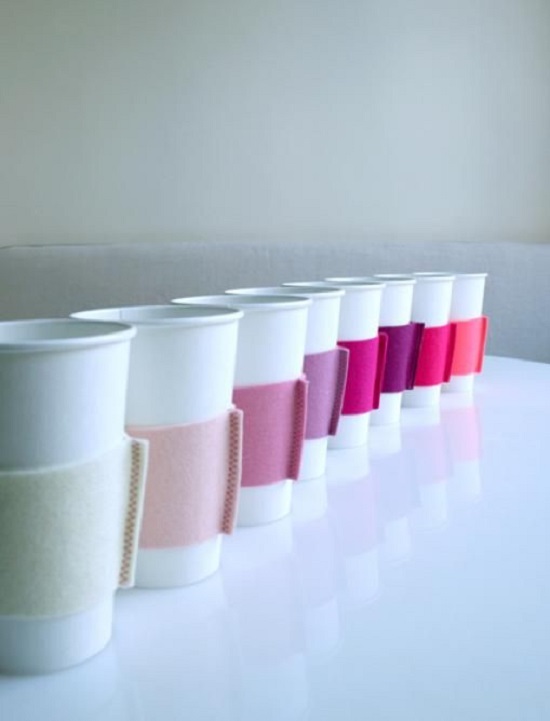 These felt mug hugs are perfect for formal setups. Or, you could make a bunch and give them to your university mentor. All you need to know about them is here.
11. Custom-fit Mug Cozy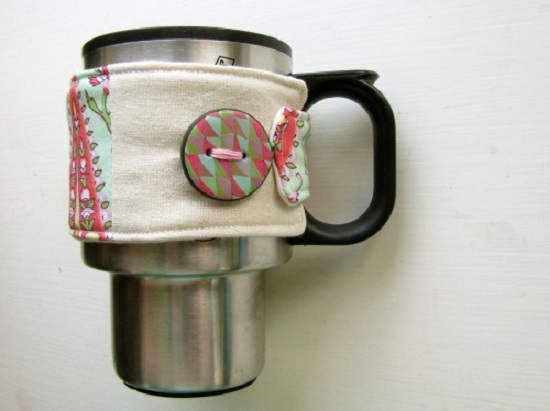 In this design, some elastic, buttons and a risk-free sew pattern combine to ensure a tailor-made mug cozy that is guaranteed to fit every cup. For more details, click here.
12. Rainbow Cozy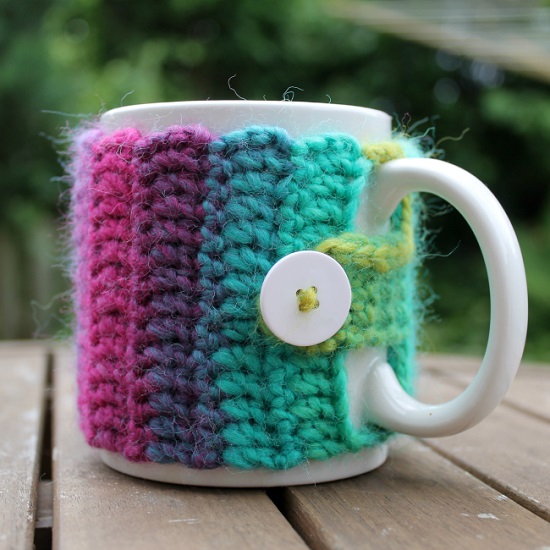 Embodying the seven hues of the rainbow, this woolen mug cozy is the answer to your morning blues. The step by step guide is here.
13. Reindeer Crochet Mug Cozy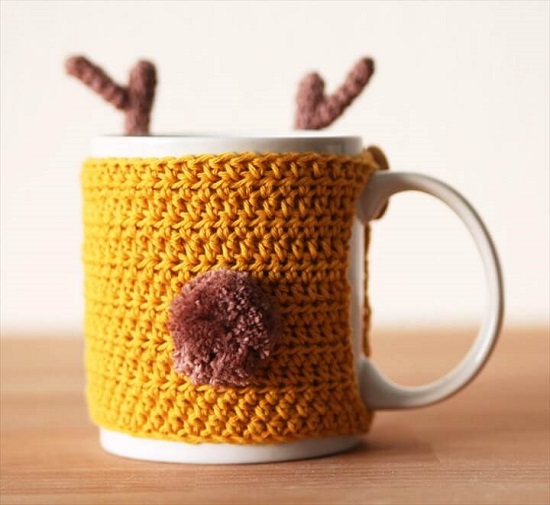 We love the Christmas-y feel of this reindeer-inspired mug sleeve, and also the fact that it doesn't need lots of yarn to make which makes it perfect as a last-minute gift. Favecrafts came up with this idea.
14. Mug Cozy Knit & Crochet Pattern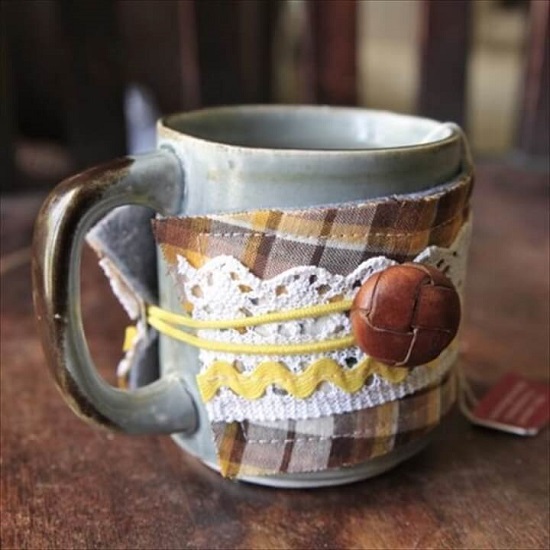 This coffee cozy combines the soft, minimalistic look of crochet with classic checkered pattern in a comfortably familiar yet stunning design. Follow this tutorial to know more.
15. Free Crochet Yoda Coffee Cup Cozy Pattern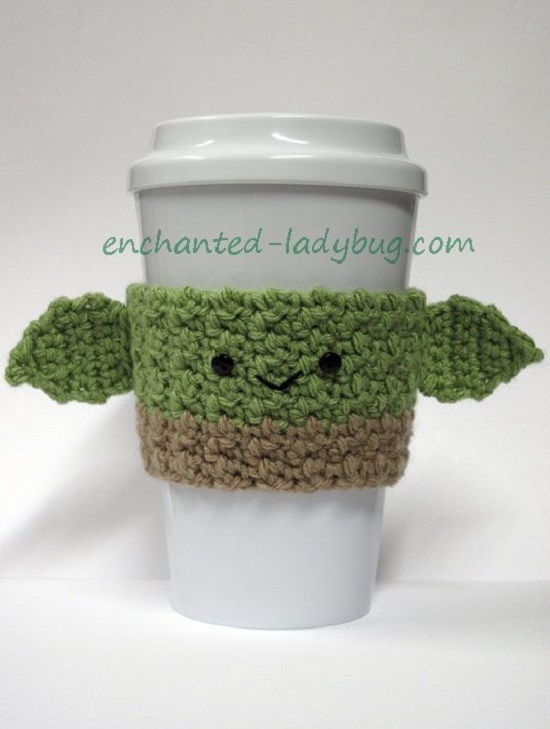 This Yoda-inspired rendition is perfect for people who can't get enough of the Jedi Master. Make them on your own with the help of this post.
16. Coffee Cup Cozies: Free Pattern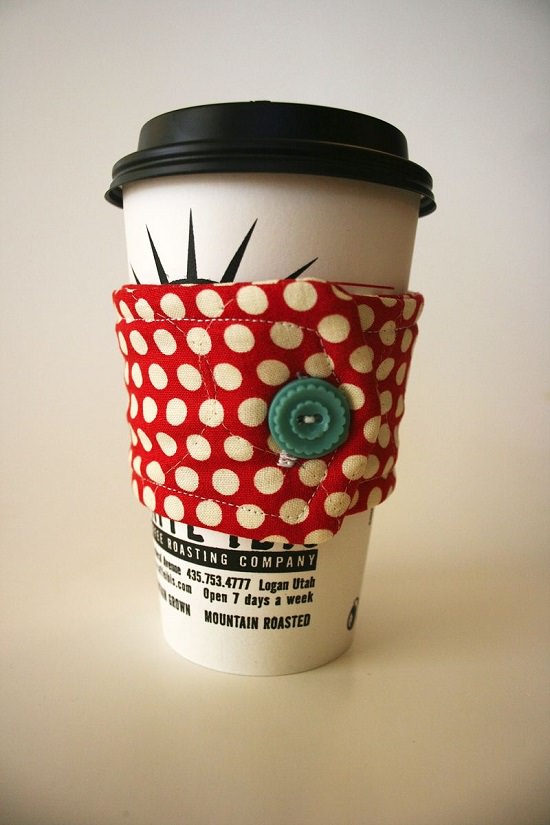 This polka-dotted crochet pattern is a nice way to jazz up old and dull coffee cups while making them more functional than ever. The DIY is here.
17. Crochet Pikachu Coffee Cup Cozy Pattern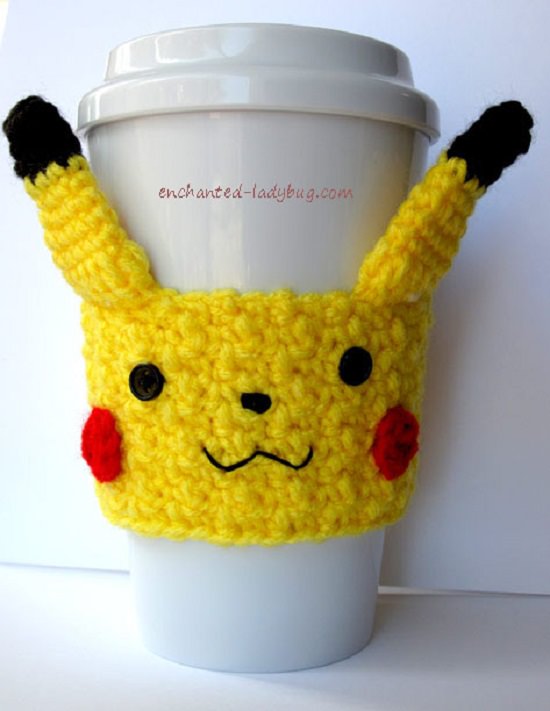 Trust me, this coffee cozy you're looking at is the cutest one on the list. It's a good reminder of the brighter side of life. Take help from this post.
18. Breast Cancer Awareness Pink Ribbon Cup Cozy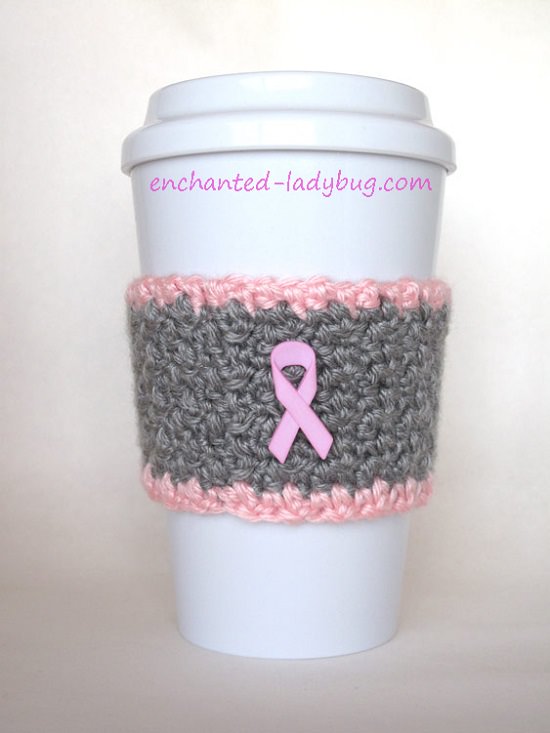 Fun things aside, this mug cozy is an elegant way to remember a somber cause. Create it by going through this post.
19. Tie Coffee Cozy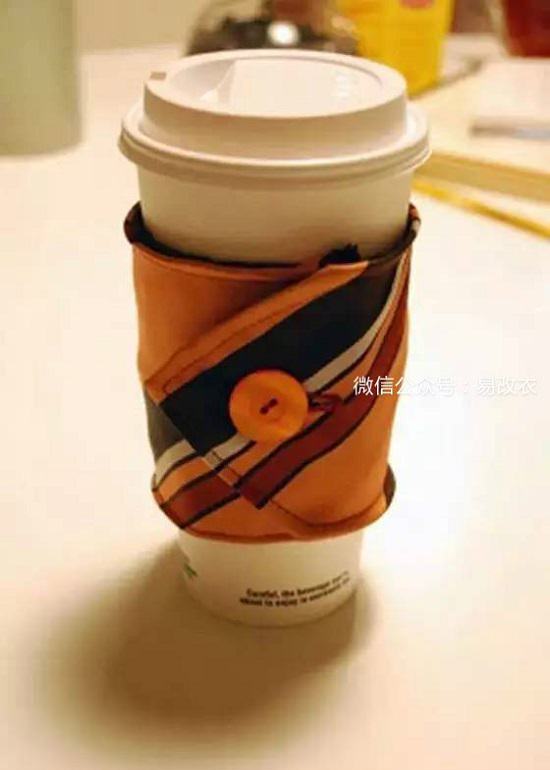 Forget about yarn and felt; here's a unique way to repurpose your ties for a wrap-and-go kind of a cup cozy. The complete tutorial is here.
20. Crochet Mug Cozy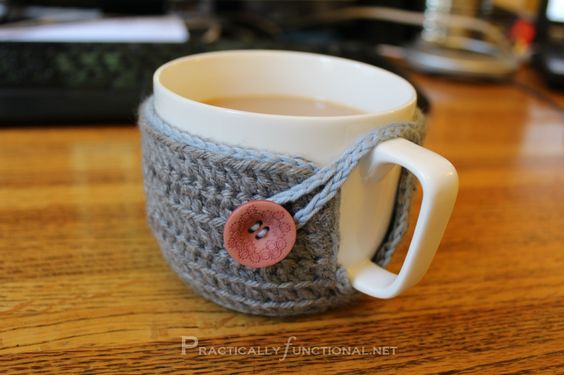 Not a fan of coffee? Dress up your tea cups with this full-bodied knitted sleeves instead. Check out this post for details.
21. Angry Birds Coffee Cozy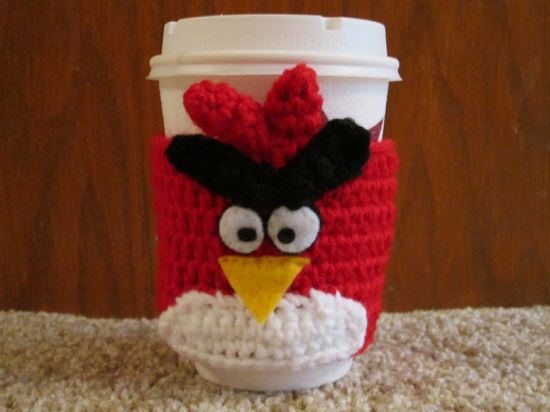 Don't go by the name; this angry bird-inspired mug cozy can actually shoo away your Monday mornings. Visit The Crochet Mommy for details.
22. Mickey Mouse Coffee Cozy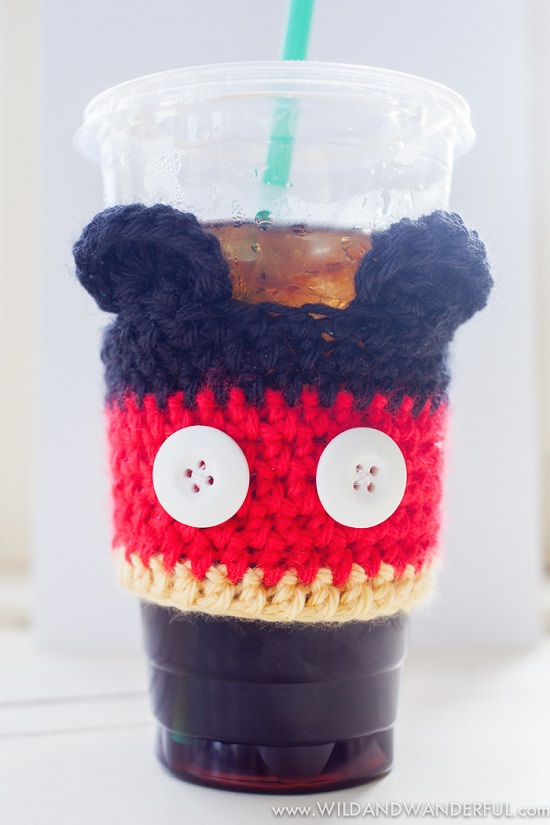 For a quirky cozy that sets apart your favorite cup from the others, go for this design. The complete tutorial is here.
23. Santa Cup Cozy For Christmas Season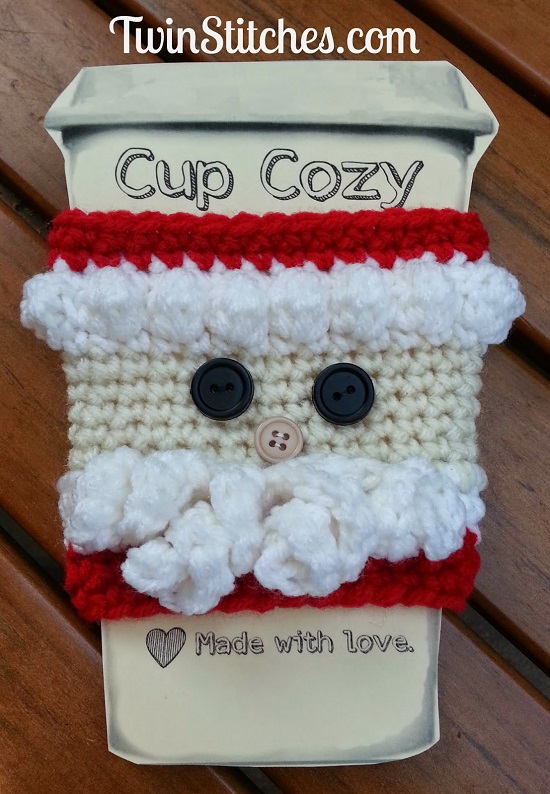 Usher in the festive season with this cute Santa cozy that keeps your coffee warm while it's snowing outside. Get complete instructions here.
24. FREE Crochet Poké Ball Coffee Cup Cozy Pattern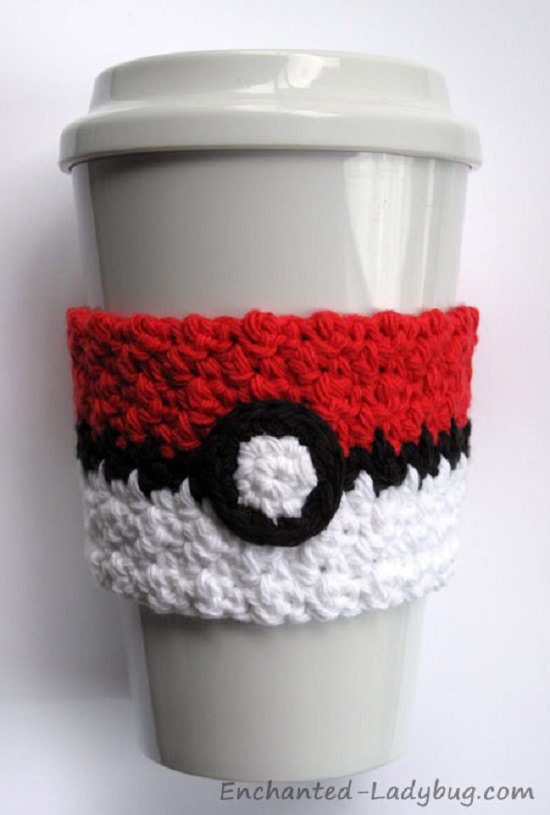 This Poké Ball-inspired cozy, with its acrylic colors and simple crochet design, makes for a mug hug that stays relevant year-round. We got inspired by this post.