These DIY Tall Candle Holders provide a statement decor to dining arrangements as well as spruce up your home aesthetics.
1. Thrift Store Tall Candle Holder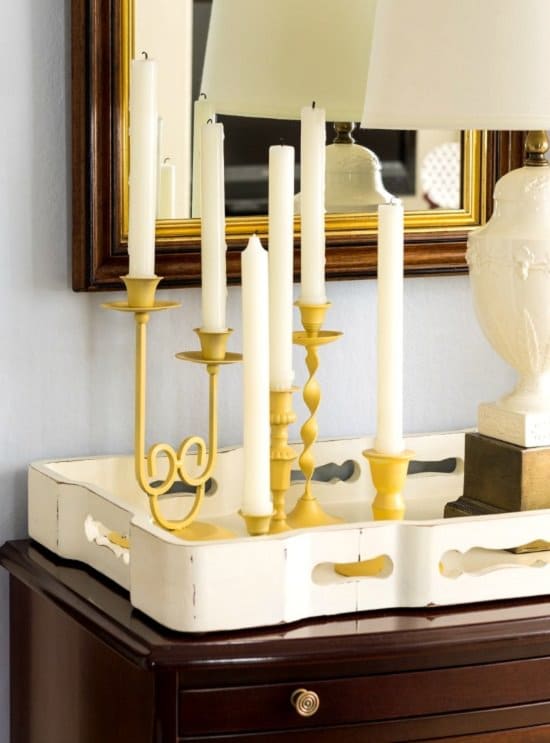 Update your coffee table for the fall with this easy DIY that involves a ten-minute long spray-painting of thrift store candle holders.
2. Tall and Textured Winter Candle Holders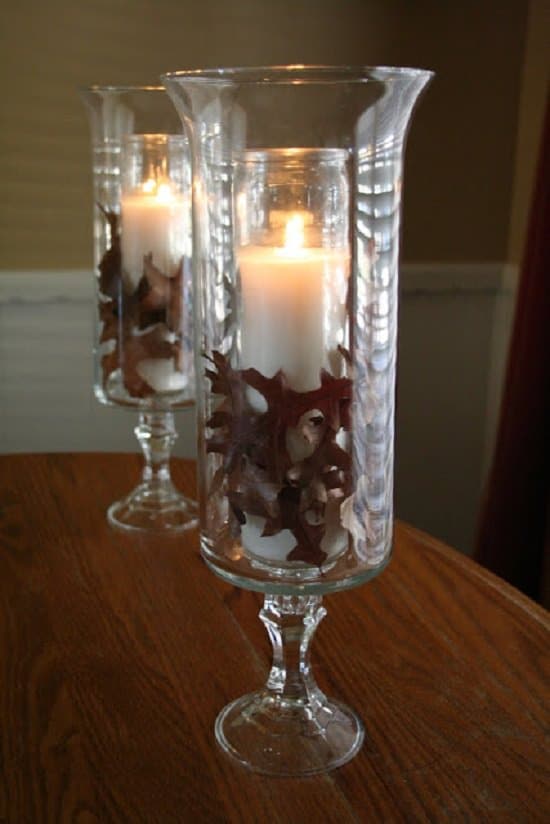 The concept of fitting in fall leaves in the empty space between your candle and the wall of the hurricane makes this candle holder a perfect way to spruce up the table for the holidays. Here's the full DIY.
3. Jewelry Wire Tall Candle Holder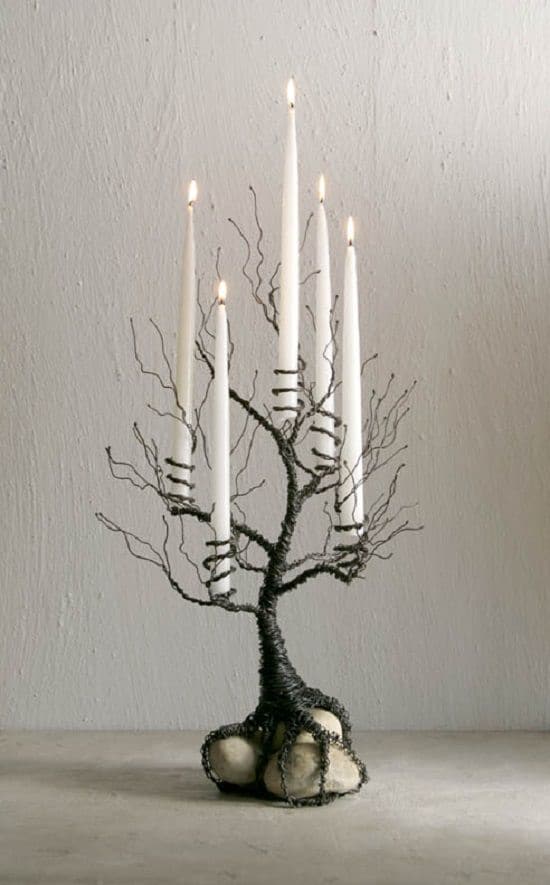 For the ambitious crafter, a jewelry wire holds many possibilities. For instance, wrapping it around in chaotic patterns gives you this fascinating candle holder tree that will add a Gothic touch to your center table. Here's the full DIY.
4. DIY Multiple Taper Tall Candle Holder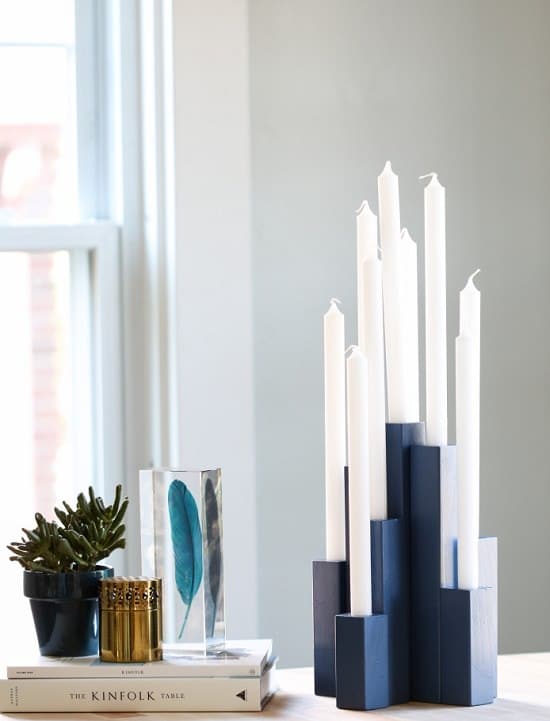 This pleasing arrangement of candleholders made from painted and sanded down wooden parson legs is a lovely accent to go alongside a stack of books. Here's the DIY.
5. DIY Tall Candle Holder Under $25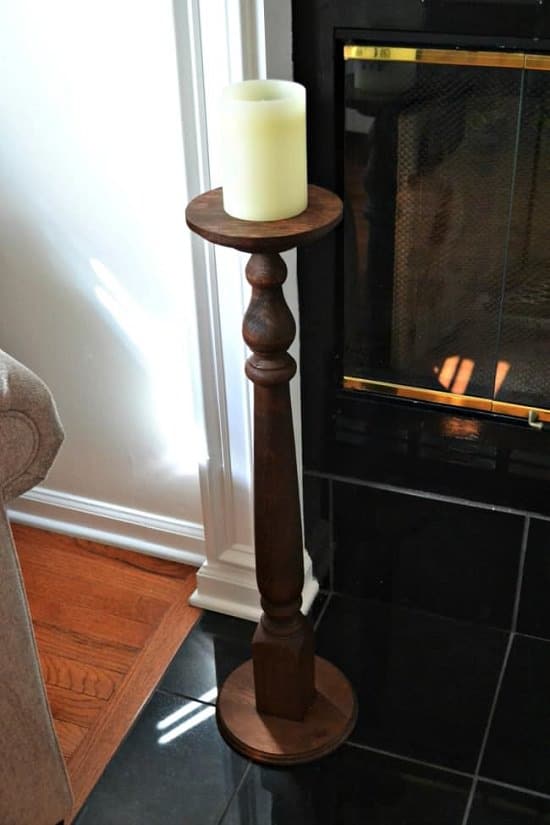 Made by a simple assembly of traditional table legs and wooden plaques spray-painted and screwed for a sturdier build, these tall candle holders get done in under 30 minutes straight. Here's the DIY.
6. DIY Tall Floor Candle Holders
Made with furniture legs and terracotta slats, these tall candle holders are a great accompaniment for LED lanterns to create ambient lighting for an outdoor party.
7. Dollar Tree Vase Triple Tall Candle Holders
Using leftover tiles as the sturdy base, mop sticks as the body and solitary glass vases as the candle holders, this DIYer created a tasteful wedding table decor at a fraction of the cost.
8. Farmhouse Tuscan DIY Tall Candle Holders
With cheap flea market finds including terracotta planters and traditional table legs, this DIY shows you how to create farmhouse-style candle holders that are sure to add a touch of Tuscan charm to your space.
9. DIY Floor Tall Candle Holders ONLY 10 mins & Less than $15
The beautiful detailing of the wooden table legs coupled with the grainy texture of the plaques come together to give off warm vibes, making this floor candle a great accent to go with the holiday mood. Follow this DIY video.
10. Rustic Tall Candle Holders
Sand down the raw rustic appeal of wooden plaques and legs and paint them white to create vintage candle holders that look like relics of the past.
11. Beautiful Tall Candle Holders
For a glamorous touch, rely on metallic spray paint and glitter to refurbish an old fishbowl and glass vase and make them festive-worthy decor. Get the full DIY in the video above.
12. DIY Diamonds And Pearls Tall Candle Holders
Perfect as wedding gifts, these dazzling candle holders are the result of embellishing plain glass vases with rhinestones and pearls in an orderly fashion.
13. Recycled Chair Legs Wooden Tall Candle Holder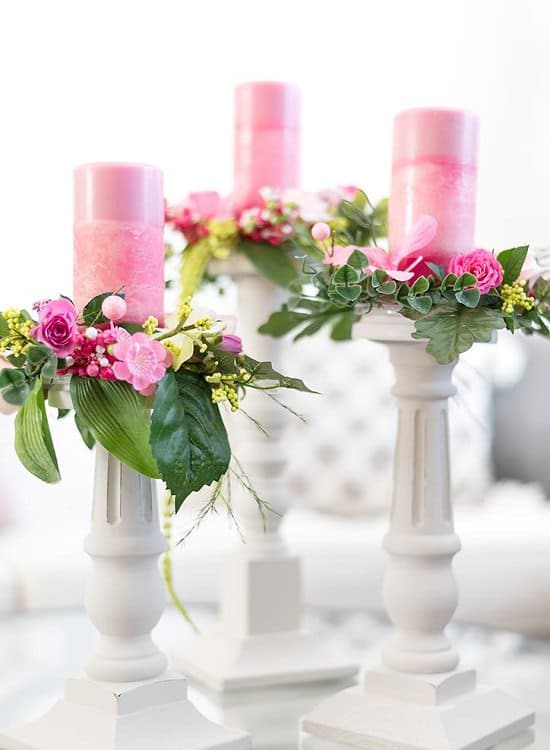 With Valentine's Day just around the corner, don't you think it's time you create these romantic and ridiculously cheap candle holders out of your old chairs' legs! Take a look at the DIY here.
14. Farmhouse Candle Holder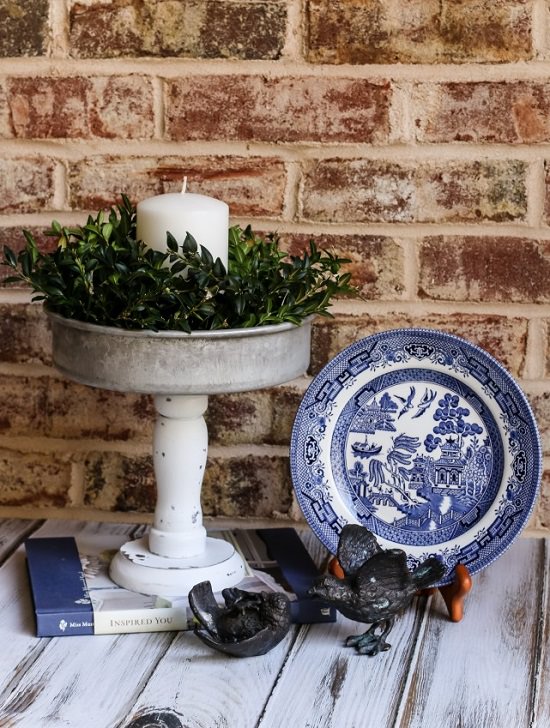 Combine a spray-painted cake tin filled with handpicked flowers or foliage and a spray-painted candle holder for a one-of-a-kind centerpiece candle holder. Here's the DIY.
15. Easy DIY Rustic Wood Candle Holders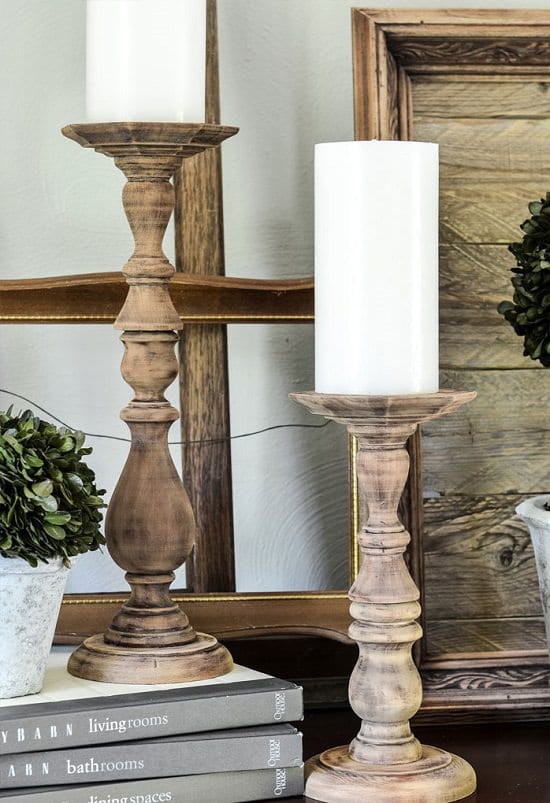 Rub thrift store candle holders with sandpaper to bring out their bare rustic finish. This DIY has the details.
16. DIY Concrete Tall Candle Holders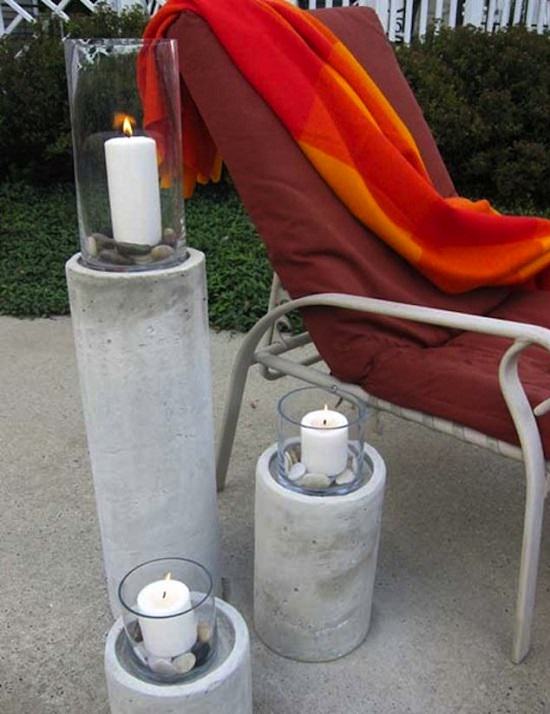 Made by shaping concrete molds into building tubes, these unique floor candle holders are a lovely companion to have by when you're out stargazing at the fall sky. Follow this DIY.
17. DIY Tall Candle Holders From A Milking Stool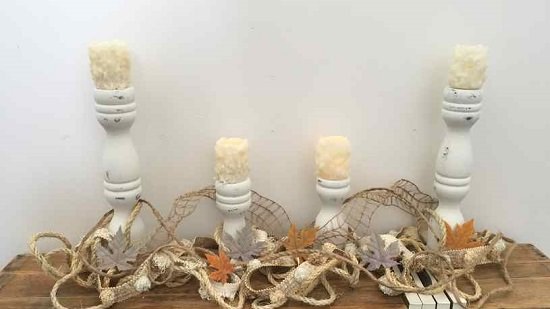 Salvaged from the spindle legs of a milking stool, this DIY set of candle holders have been painted creamy white and lightly distressed to mimic a subtle vintage effect to space.
18. DIY Tall Candle Holders from the Scrap Pile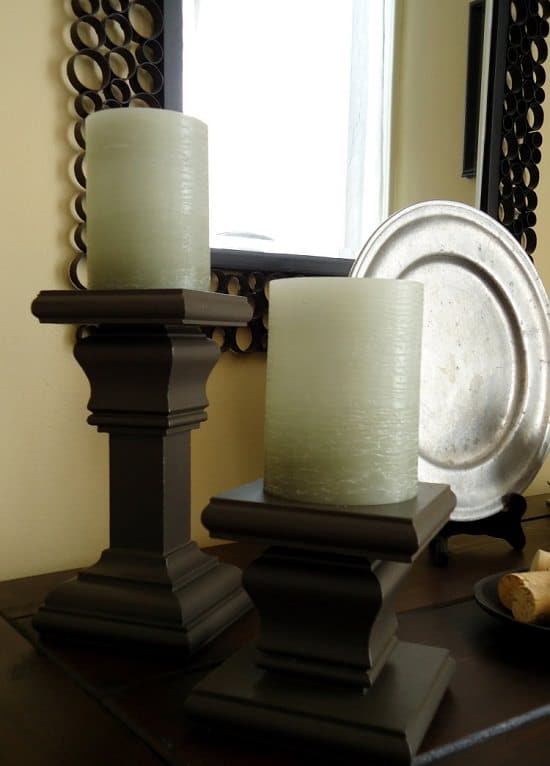 Using leftover molding from your scrap pile, you can create these candle holder to add a utilitarian look to your bedside table. Here's the DIY.
19. Paper Towel Rolls Tall Candle Holder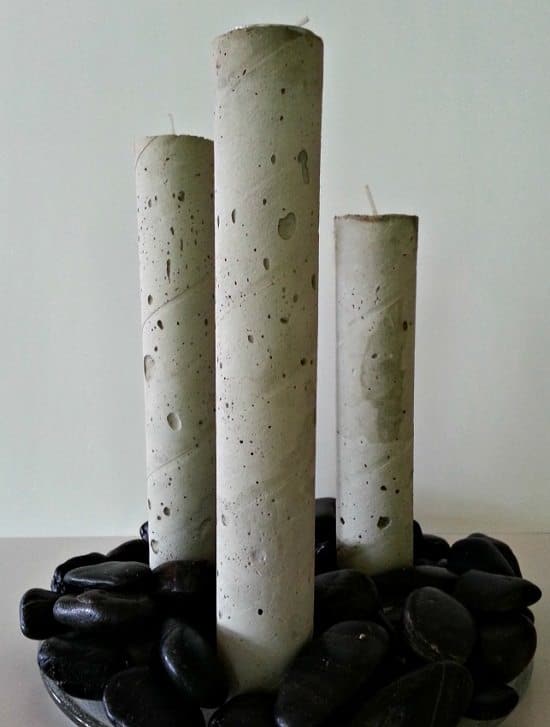 For a professional touch to your DIY candle-making endeavor, consider using concrete as the building material. It's easier to work with and the end result is weatherproof enough for outdoor parties. Instructions are here.
20. DIY Mirrored Holder
The glamorous mirrored finish of this DIY candleholder makes it a must-try for those who're looking to upgrade their coffee table on a budget.
21. DIY Tiered Holders
Stack up plastic organizers and slather them up with metallic spray paint to give them a bling look.
22. DIY Glam Geometric Holders
Get the perfect combination of contemporary-style geometric designs with the vintage charm of candle holders with this easy, one-hour DIY.
23. Aspen Wood Candle Holders
Easy to make and naturally textured for a rustic touch, aspen candle holders exude a warm glow when lit and perfect for creating a romantic mood effortlessly.
24. DIY Romantic Chandelier Candle Holder
Refurbish your floating candles with flower embellishments, crystal garlands and a bit of glue to create a multi-tiered arrangement of dazzling candle holders at an unbelievably cheap cost.