Would you believe that you can DO not just one or two but 82 DIY Egg Carton Crafts from empty egg cartons? Unbelievable!
1. Egg Carton Storage Container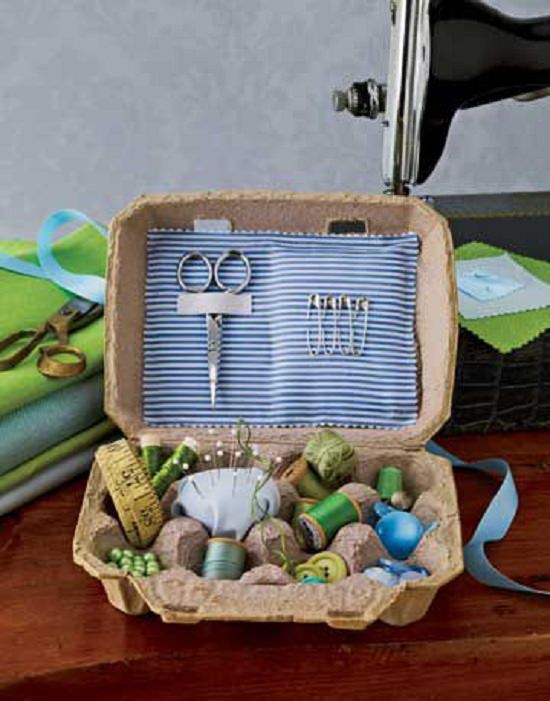 Transform empty egg cartons into fabulous storage containers complete with a compartmental organization to stay on the top of your home management routine. Here's the DIY.
2. DIY Boat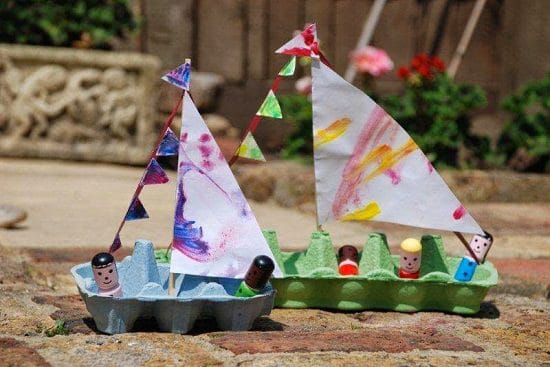 With plenty of room for stuffing in a figurine or two, these painted egg cartons are perfect as boats; adding the mast and the sail is however an extra step. Get instructions in this DIY.
3. Perfect Princess Crown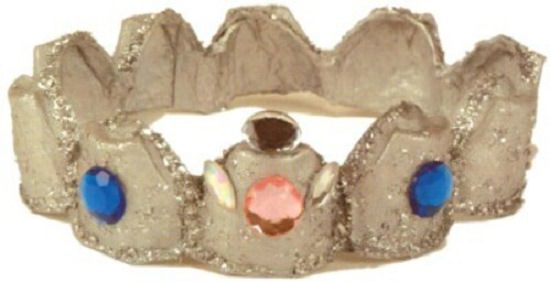 It's surprising how a ragged egg carton can give way to something as royal and sparkly as a crown. Get the complete DIY here. Also, check out these Mermaid Tail Craft and Costume Ideas!
4. Eco-Friendly Christmas Tree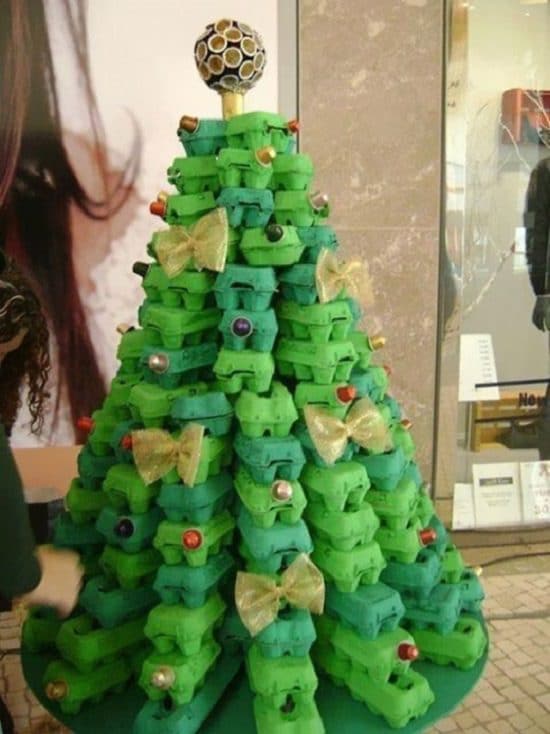 Replace age-old customs of felling trees for Christmas with this eco-friendly version made with egg cartons or just have it for Christmas decor. Follow this DIY.
5. Easter Wreath with Egg Cartons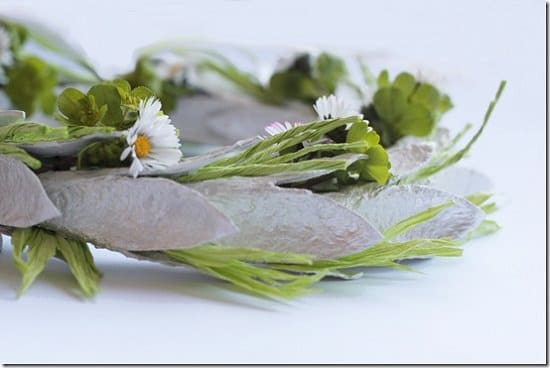 DIY this Egg carton wreath on Easter following this tutorial. It's easy!
6. Egg Carton Color Sorting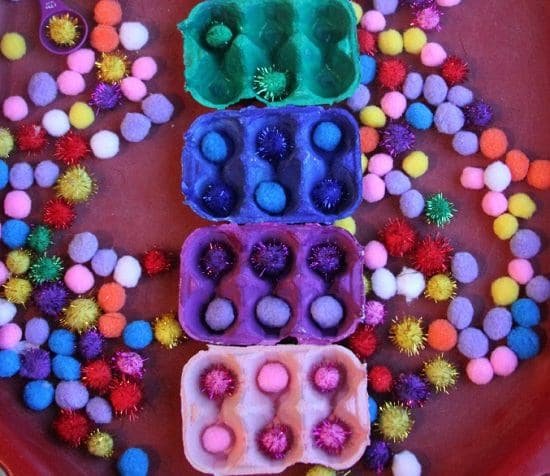 Colored egg cartons form the perfect plaything to teach your kids the basics of color sorting. Find details in this DIY.
7. Egg Carton Goggles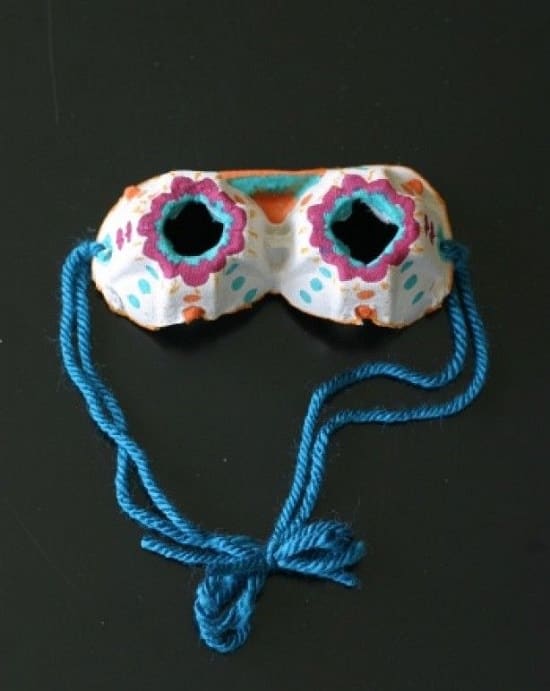 A fun prop for outdoor kid parties, this gets done using ordinary supplies, and all the painting and cutting also helps the kids enhance their motor skills. Find more details here.
8. Fairy House Lamp from Trash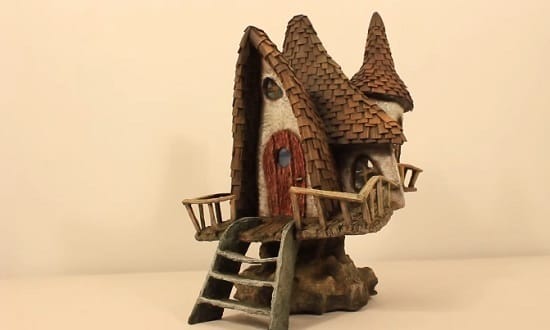 This is one of the best DIY egg carton crafts in this post. For this, you'll need some cardboard, egg cartons, pizza boxes, toilet paper tubes, and two plastic bottles. The tutorial is here.
9. Egg Carton HENS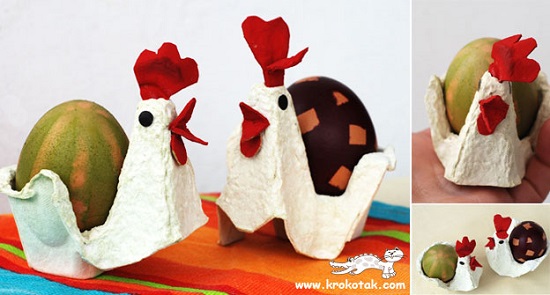 Made from upcycled egg cartons, these cute little hens are perfect for showcasing Easter goodies. Here's the DIY.
10. DIY Flower Lights Using Egg Cartons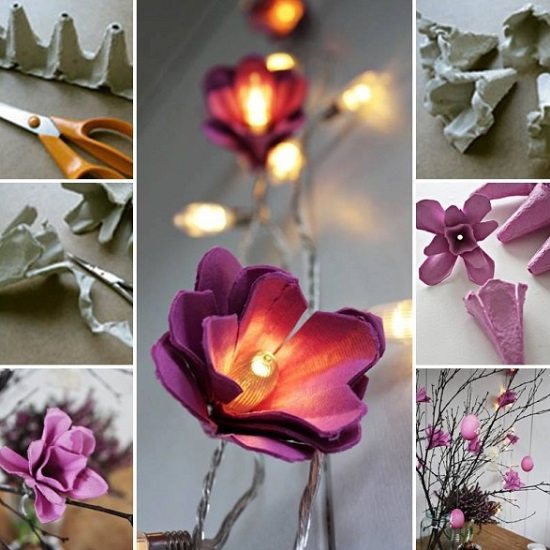 Fairy lights are too run-of-the-mill. Add the colorful splendor of these egg carton flower lights to make a dramatic difference to your lone corner. Here's the DIY.
11. Egg Carton Wind Chimes
This beautiful DIY egg carton wind chime will usher the music of spring into your home. Here's the DIY.
12. FURNITURE RECYCLING CARDBOARD EGG SEPARATORS

Create rustic outdoor seating for the front patio with stacks of egg cartons. But before that, don't forget to paint them in different colors for a whimsical look. Get the DIY here.
13. Egg Carton Decorative Mirror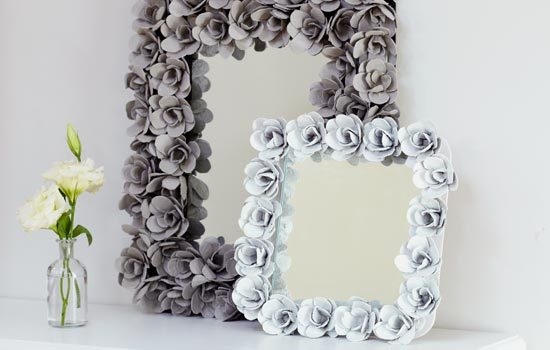 Once you complete it, you won't believe it was made from egg cartons. We found it here.
14. DIY Heart Wall Art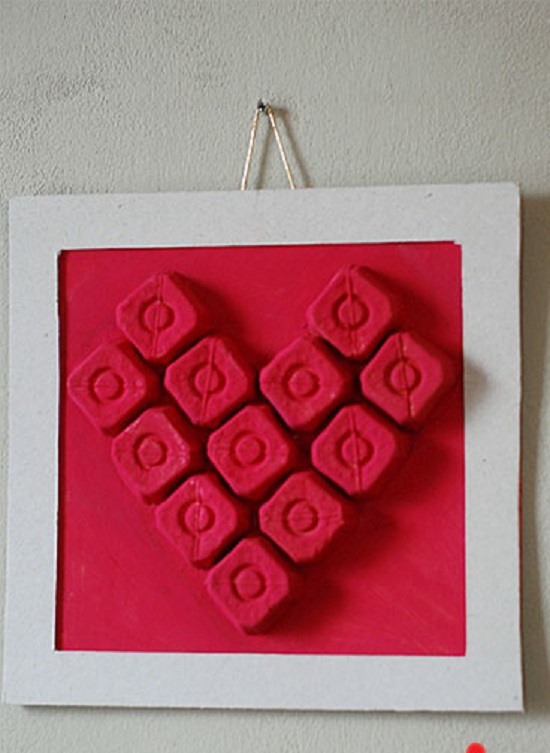 This three-dimensional heart mural requires no more than a couple of egg cartons, tempera paint, and glue to come alive. Get more details here.
15. Simple Recycled Chimes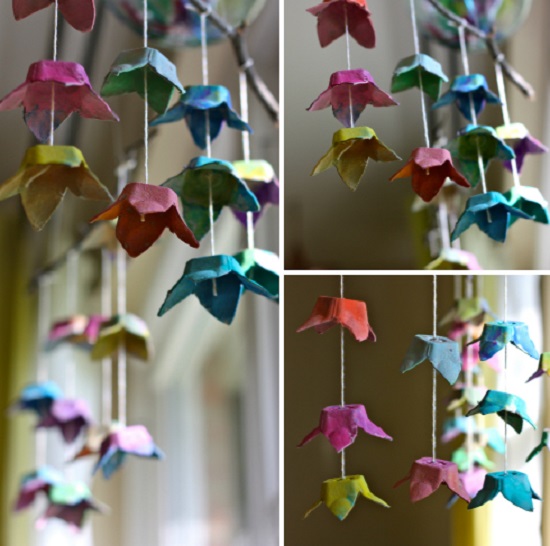 Cut out egg cartons in the shape of flowers and paint them in vibrant colors before stringing them together. Here's the complete DIY.
16. Egg Carton Rose Flower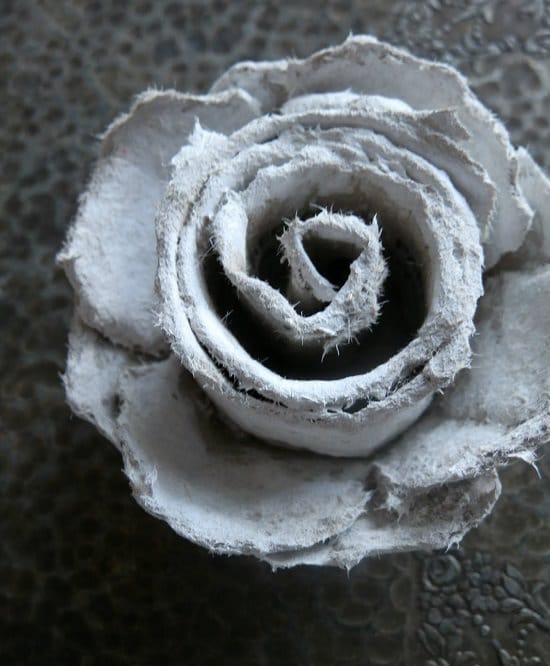 It's hard to guess that this fascinating, three-dimensional rose has been created using bits and pieces of egg cartons destined for the bin. Get the tutorial here.
17. Easy Egg Carton Ladybugs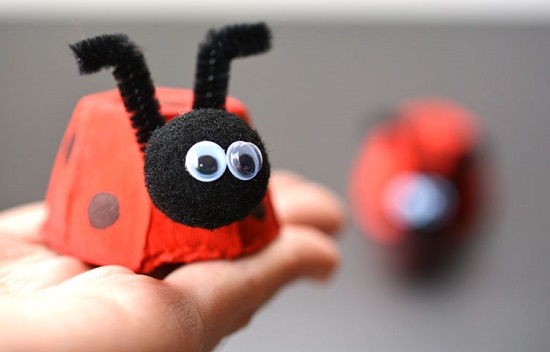 These adorable ladybugs are a fun project to get the kids involved; it uses egg cartons, pipe cleaners, and the power of paint, of course. Get the DIY here.
18. Cute Egg Carton Chicks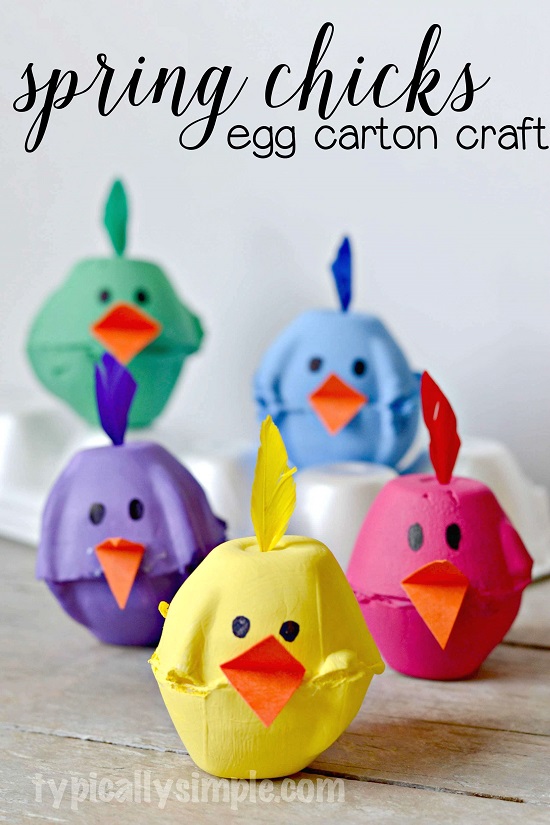 A perfect craft to celebrate spring or beat boredom on a rainy day, this DIY uses low-cost supplies and egg cartons to get done.
19. Egg Carton Flowers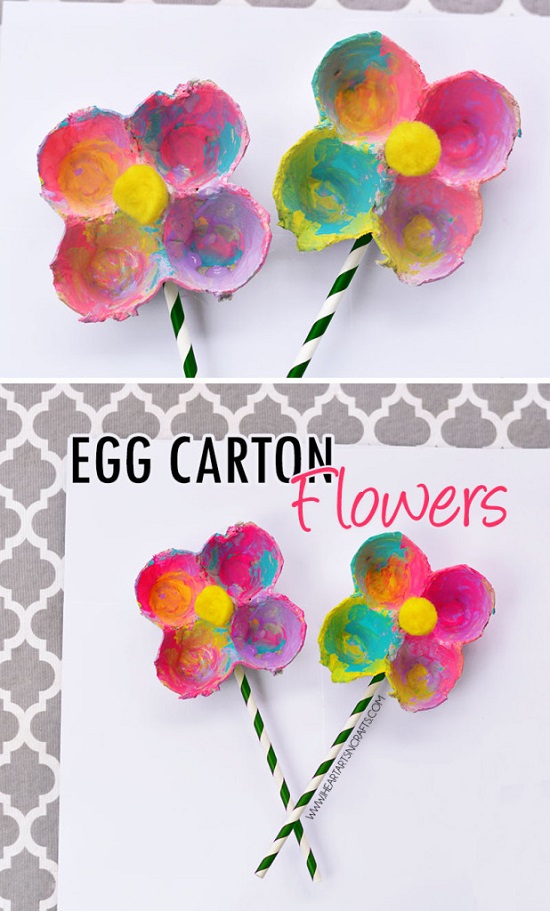 These egg carton flowers can become a quick addition to an empty flower vase anytime. Get the DIY here.
20. Egg Carton Sea Life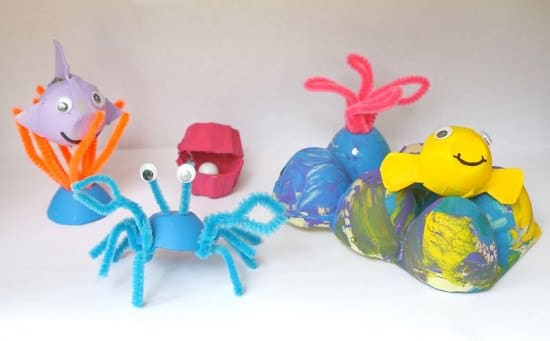 This DIY is a perfect summer activity for the kid that adores sea animals and is easily fascinated by the beach.
21. Pom-Pom Icecream Garland with Egg Carton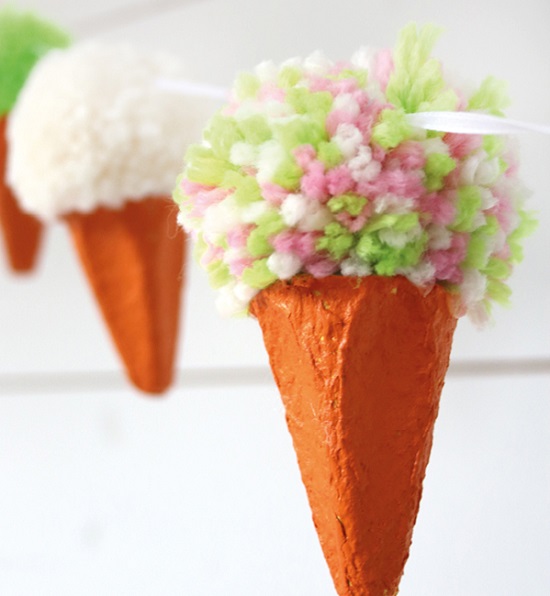 The premise behind this DIY is simple–you turn pompoms into ice-creams using egg cartons and string them together to create a festive garland.
22. Egg Carton Art on Canvas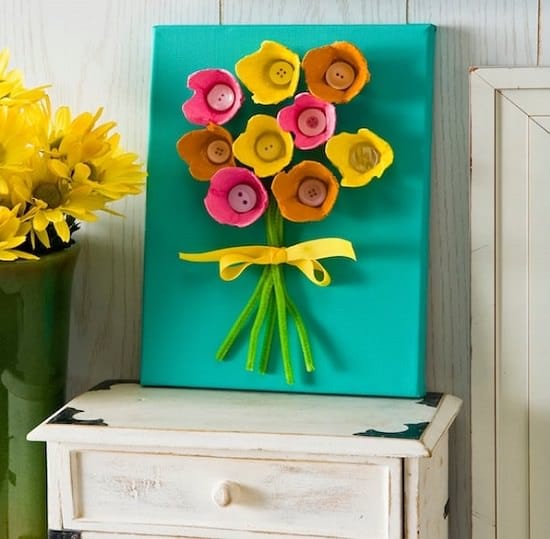 If you need a fascinating, no-fail children's craft that gets done by the time you finish cooking lunch, head over to this DIY.
23. Egg Carton Succulent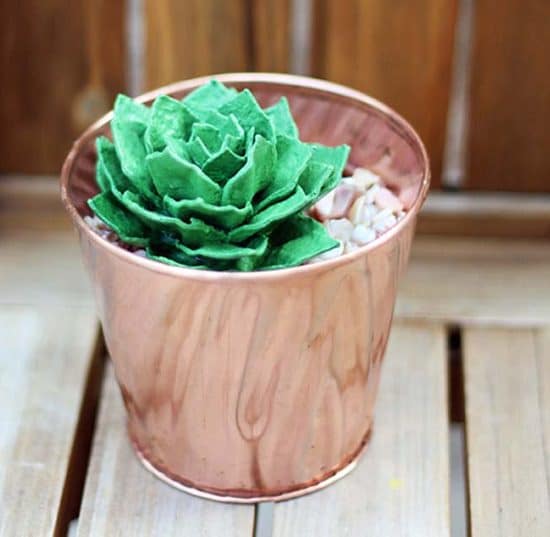 Recreate the intricate patterns of succulents with little twists and turns of an empty egg carton. Here's the DIY.
24. Blossom Fairy Lights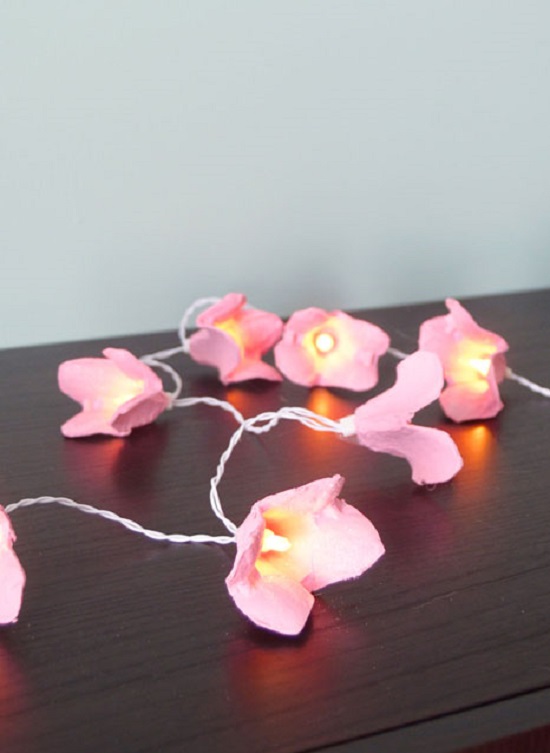 With paint and twinkly lights, you can transform boring egg cartons into an alluring nighttime light perfect for creating a cozy mood. Here's the DIY.
25. Egg Carton Spider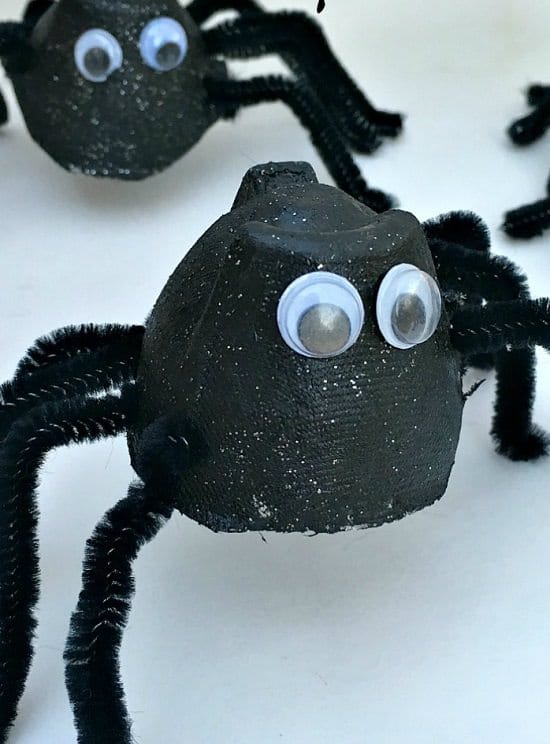 These adorable little buggers created by assembling egg cartons and pipe cleaners are a hit as Halloween party props. Find the DIY here.
26. DIY Beautiful Roses from Upcycled Egg Carton Box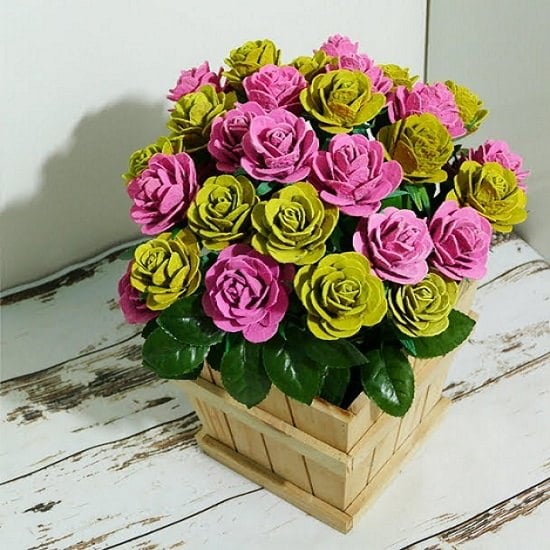 If you don't want to go through the hard work of growing roses in unfavorable climate, consider fashioning artificial ones from recycled egg cartons. Details are here.
27. DIY Paper Clay Using Egg Cartons
Recreate a vivid Disneyland scene with egg cartons and clay. Details are here.
28. DIY: Egg Carton and Old Boxes Wall Art Decor
Here, individual egg cartons have been cut out in different patterns and painted before being glued at overlapping edges to create a sleek wall accent. Find details here.
29. Cute Tea Cups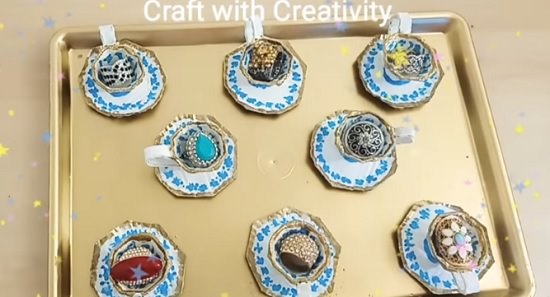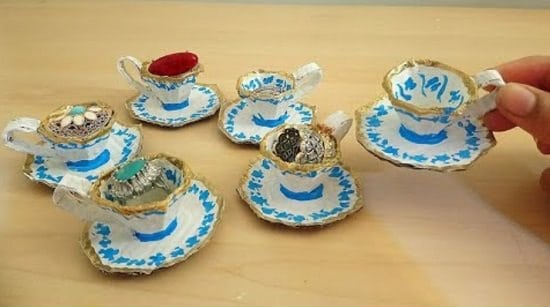 Encourage pretend play in toddlers with these pretty egg carton teacups. Here's the DIY.
30. Egg carton Snowman
These pint-sized snowmen created by joining individual egg cups from end to end are great for sprucing up the mantelpiece with holiday crafts. Here's the DIY.
31. DIY Egg Carton Earrings
With colorful yarn and beaded trimmings, you can create vibrant earrings out of egg cartons. Here's the DIY.
32. Egg Carton Flower Stick
Straightening out egg carton strips to create the stem is the hardest part of this DIY, but the good thing is you don't have to worry about having all of the same height.
33. Animals from Egg Cartons
Watch this tutorial to get a headstart on making cute woodland creatures. Also, check out these DIY Disney Shirt Ideas.
34. DIY Egg Carton Roses Picture Frame
Add glamor to a hand-painted photo frame with zero origami skills. All thanks to this easy egg carton rose DIY.
35. Egg Carton Flower Light
An eco-friendly version of electric nighttime lights, this one makes a great Mother's Day gift. Follow this tutorial.
36. Flower Showpiece DIY
Copying Mother Nature is never easy, but at least it's better than tearing off its offsprings for the sake of livening up your dining table, don't you think! Follow this DIY for inspiration.
37. Egg Carton Bus
The egg carton bus has multiple uses- it can be lugged around for fun with cute little plushies inside or even used as a fun prop to help kids get rid of the school fear. Follow this DIY.
38. Egg Carton Seed Starts
Egg cartons also come handy as tiny containers for starting seeds indoors before exposing them to the elements later. This DIY will show you how.
39. Hungry Caterpillar
This cute, five-minute caterpillar craft helps your kids sharpen their motor and color recognition skills. Here's the DIY.
40. CARS out of Egg Cartons
Using buttons for wheels, beads for the headlights and cute recycled egg cartons as the body, you can create paper cars that will look great as a neat little mantelpiece decor. Follow this DIY.
41. DIY Santa Penguin Ornament
Upgrade your home for the holidays with this easy and fun penguin craft that has a little Santa Claus touch added to it. Here's the DIY.
42. Gorgeous Flower Lamp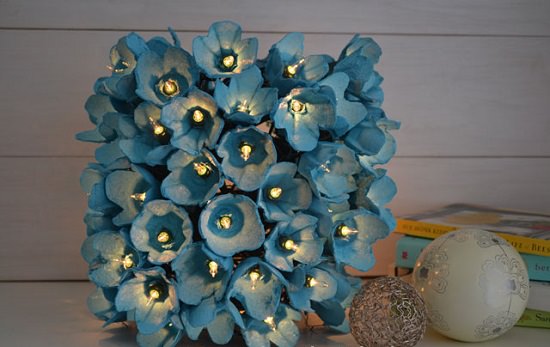 Take your DIY bedside lamp project to the next level with this one of the coolest DIY egg carton crafts.
43. Turning Egg Cartons into Stools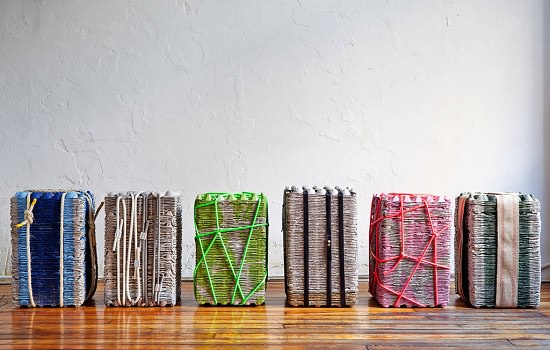 If you happen to have a ton of egg cartons to recycle, consider stacking them up and wrapping up with colorful yarn in chaotic designs for a quirky seating arrangement at your home bar. Details are here.
44. Egg Carton Piggy Bank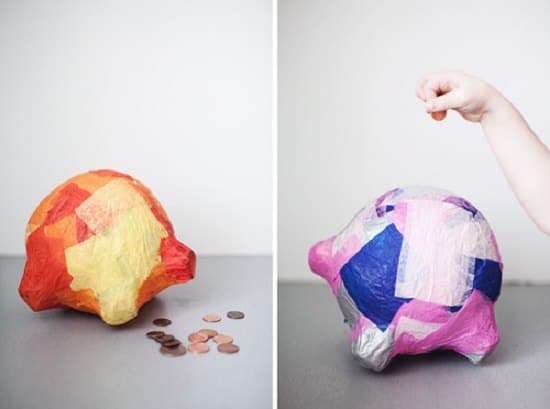 The funniest thing about this piggy bank is that despite being made from dirt-cheap egg cartons, it can be used to store money. Get your kids started with this fun DIY. See more DIY Piggy Bank Ideas here.
45. Big Egg Carton Wreath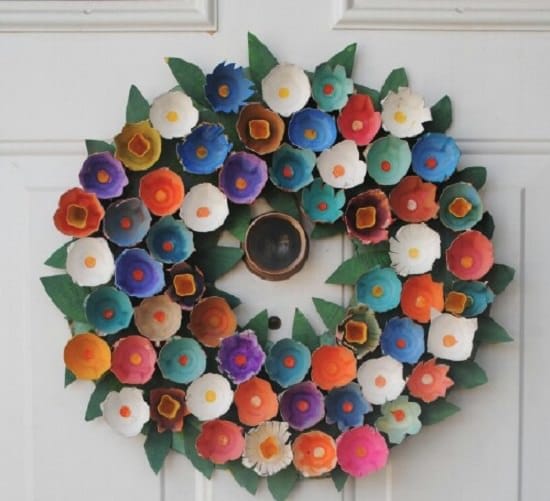 This oversized wreath of egg cartons fashioned into pretty spring flowers is a nice way to add interest to the front door while setting your home apart from others in the neighborhood. Here's the DIY.
46. Egg Carton Frog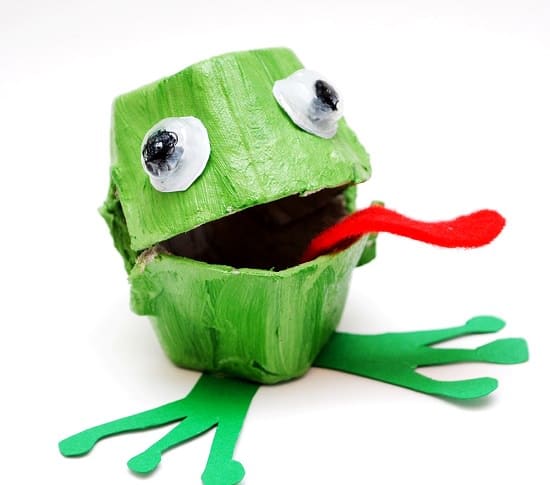 Staring at this adorable little critter as you sip your morning coffee is sure to lighten up your stress and approach everything with the positivity of this egg carton frog. Make one with this DIY.
47. DIY Cherry Blossom Branches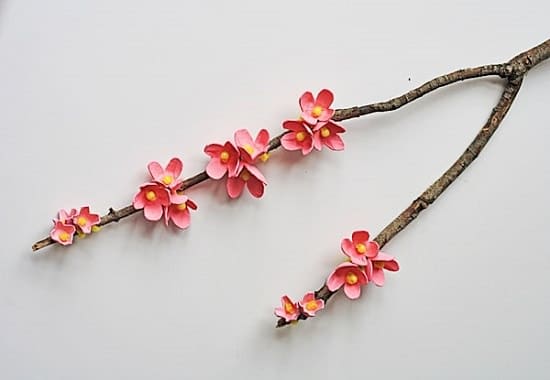 Get Oriental accents on your wall with these beautiful DIY cherry blossom branches made from pipe cleaners, pony beads, and egg cartons.
48. Egg Carton Turtle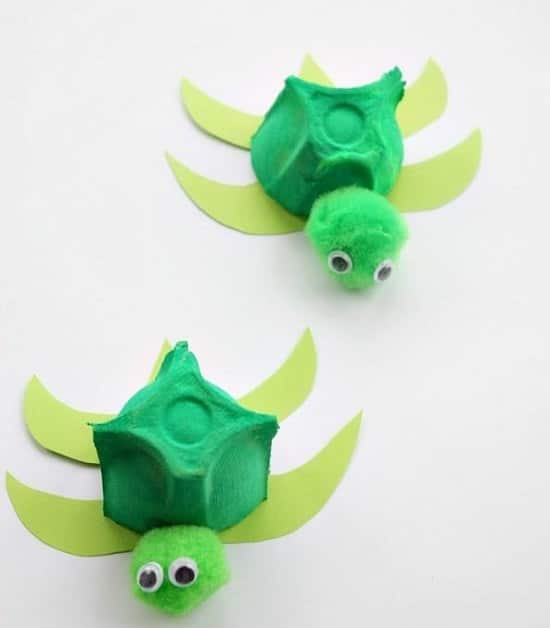 With Googly eyes and the power of paint by your side, you can bring life to essentially any egg carton project. Take this one, for example. Here's the DIY.
49. Egg Carton Tree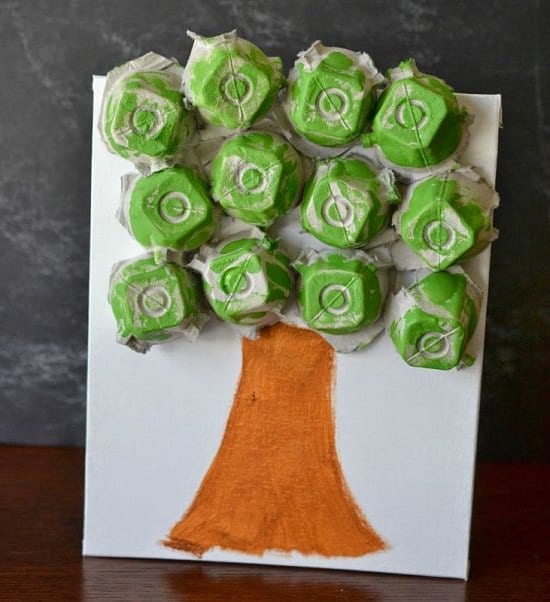 Now, this is one of those paintings that your kid would proudly love to display on your fridge. Make one with this tutorial.
50. DIY Bird Feeder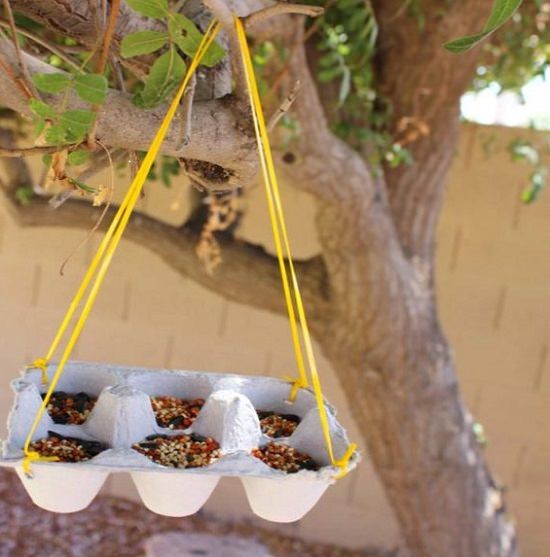 This portable and no-mess bird-feeder is ridiculously easy to bring together and gives you a chance to pamper the winged pollinators visiting your garden. Here's the DIY.
51. Sweet Springtime Baskets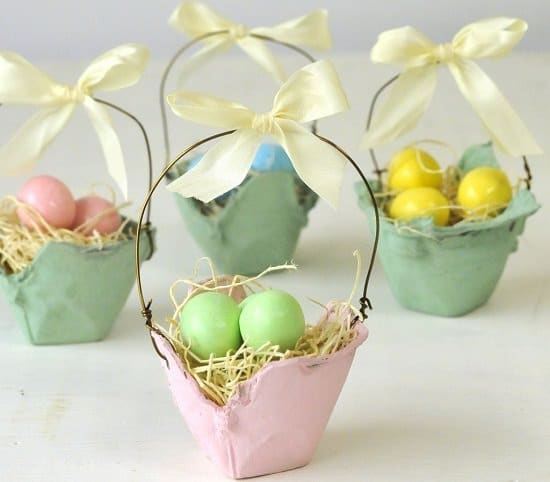 Use egg cartons to make this Easter egg basket. Here's the DIY.
52. Egg Carton Flower Vase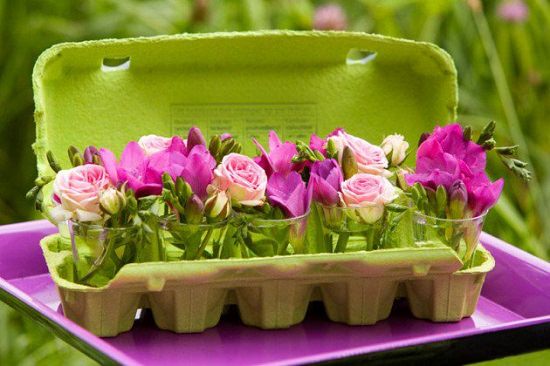 Find out 50 more DIY flower vase ideas here.
53. Colorful Hanging Pot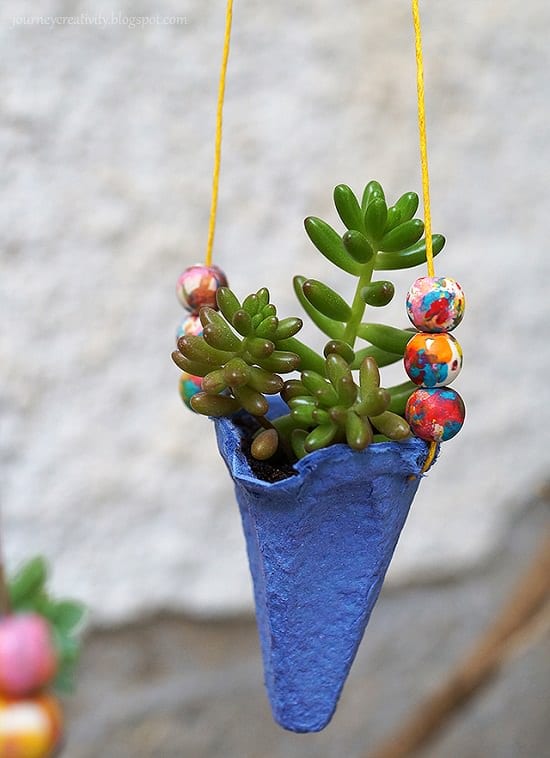 Make these colorful egg carton hanging pots to display live or fake succulents. Here's the DIY.
54. DIY Egg Carton Succulent Garden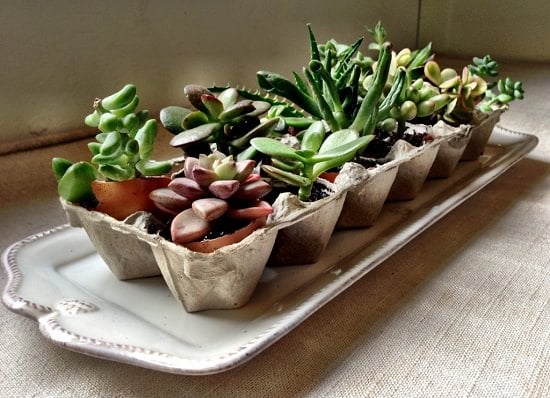 Or, if you want a center table arrangement to house your succulents, consider using an entire empty egg carton instead. Here's the DIY.
55. Egg Carton Flower Bouquet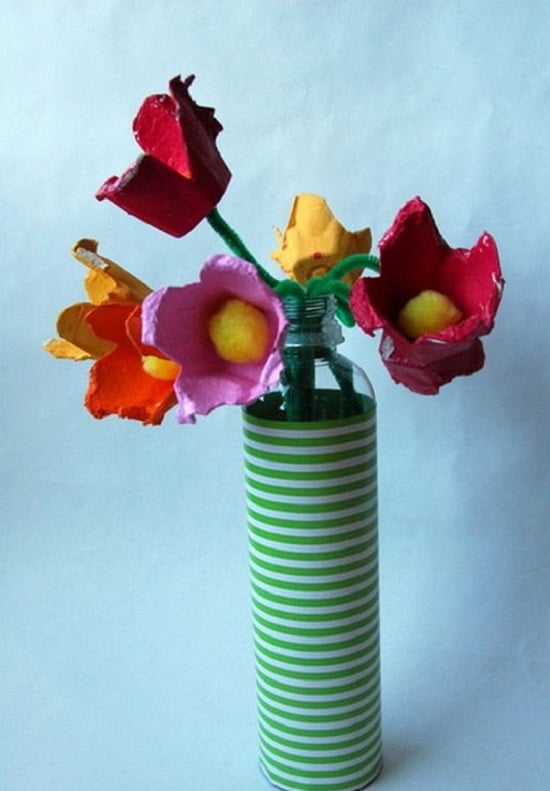 Using a water bottle as the vase and painted egg cartons as flowers, this DIY shows you that putting together a fancy look doesn't require money as much it requires a little creativity.
56. Easter Animal Egg Carton
Make whimsical bunnies that express many moods as a cheery living room decor with this DIY.
57. Egg Carton Lobster
The best thing about this egg carton lobster is that it doesn't bite. Plus, it adds a pop of red color to the children's playroom. Make one with this DIY.
58. Easter Bunny Egg Carton
Infuse life to your Easter bunnies with this fun DIY project that makes storing goodies all the more fun and memorable.
59. Recycle Egg Carton:: Quick Room Decoration
You don't always need expensive candles or lamps to create a relaxing nighttime mood in the bedroom. This egg carton DIY craft gives you a cheaper way out.
60. DIY Easter Egg Party Planters
These pint-sized planters are not only easy to fit in by the windowsill but also involve a unique labeling system that allows you to remember what plants have been grown. Make them with this DIY.
61. Dinosaur Hat
If you want a fun prop to add some character to your children's outfit for a Dinosaur-themed party, this DIY is the right pick.
62. DIY Egg Carton Tulips
This intriguing DIY is a nice project to undertake whilst you're waiting for your homegrown tulips to blooms and bring color to your garden.
63. DIY Dragon
This majestic egg carton craft is a fun activity for the preschoolers looking to celebrate St. George's day at school. And the best part is with little changes here and there, you can have your DIY dragon as ominous or cute as you want.
64. DIY Egg Carton Decoupage /Jewelry Organizer
Mask the raw appeal of egg cartons with decoupage, glitter and a string of pearls so that you have a compact jewelry organizer that looks fancy and hosts enough room for your precious accessories. Here's the DIY.
Also Read: 45 DIY Jewelry Display Ideas
65. DIY Table Lamp
The most noteworthy feature of this stunning egg carton lamp is that it looks just as good when not in use. And no one would be able to guess its humble beginnings either. Here's the DIY.
66. Egg Carton Bee
With egg carton cups, pipe cleaners Googly eyes and paint, you can create these fist-sized bees that will bring character to a lone corner of the table. Here's the DIY.
67. DIY Pirate Ship Out of Egg Carton
Get your dolls and plushies ready to sail with this impossibly creative and ageless pirate ship made using paper banners and egg cartons. Here's the DIY.
68. Reindeer Christmas Craft for kids
A nice, go-to craft for the holidays, these egg carton reindeers may be a good way for your preschooler to get started with making homemade gifts. Here's the DIY.
69. DIY Egg Carton Fairies
Clay figurines and popsicle scarecrows are too mainstream- give a hand at these super cool egg carton fairies for a sureshot chance at winning the best project in school. Here's the DIY.
70. DIY Halloween Bats!
As cute and tiny as they seem, these rather ominous egg carton bats can scare the living daylights out of pesky neighborhood kids, making them a great garden prop for Halloween.
71. Egg Carton Witch!
Give your paper witch a quirky and eccentric touch with this super-fast egg carton DIY.
72. Egg Carton Fire Engine
This DIY fire engine is one step forward for the kid that has already mastered the art of fashioning egg cartons into animals and toy buses.
73. Egg Carton Crab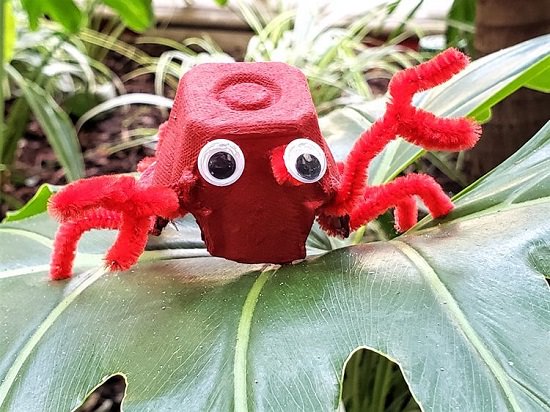 Made using pipe cleaners and egg cartons painted red, these cute crabs offer colorful accents in the garden when the flowers are still yet to bloom. Find this DIY project+more.
74. DIY Daffodils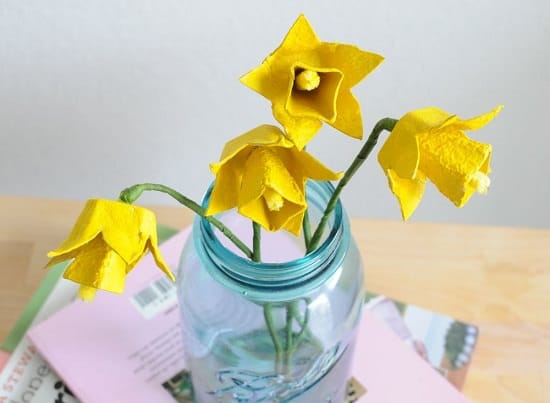 Use egg cartons destined for the trash into these 3D paper flower art that adds cheer to the center table. Here's the DIY.
75. Fox Craft from Empty Egg Cartons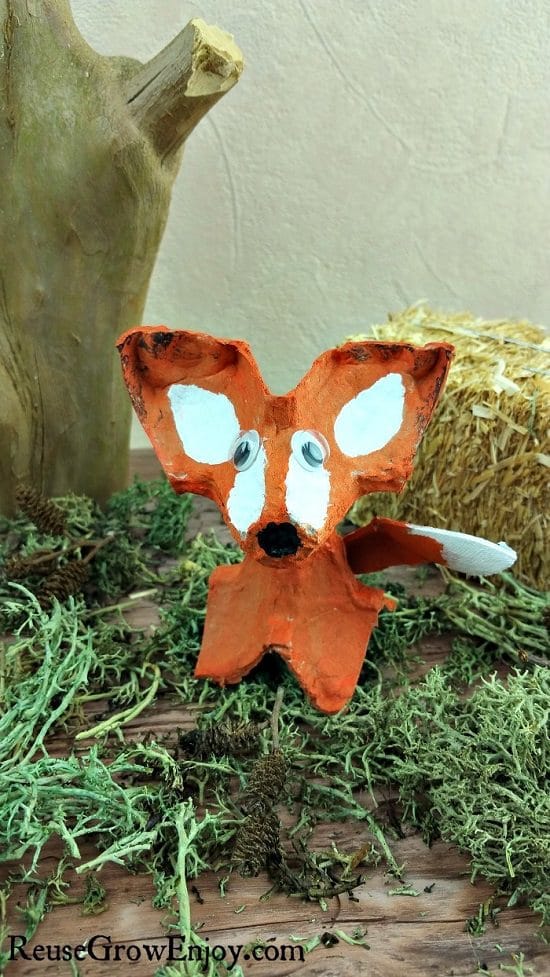 Create an arresting piece of garden decor with the magic of paint, googly eyes and of course, egg cartons. Details are here.
76. Egg Carton Rooster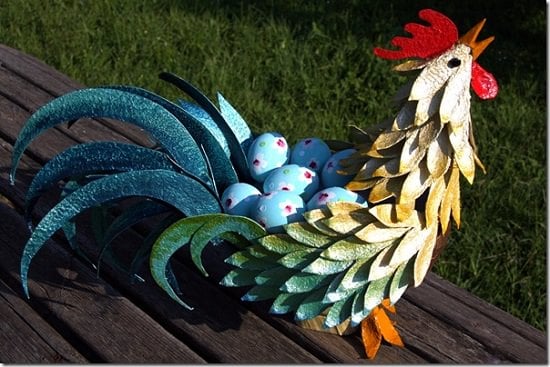 If you don't have the means to have an exotic pet at home, do the next best thing- fashion this gorgeous paper rooster from egg cartons with this DIY.
77. Super Colorful Wreath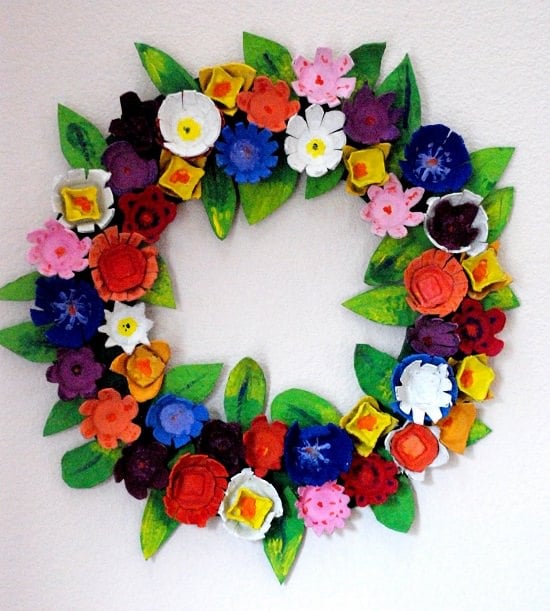 Hang up an eternal symbol of happiness on the front door with this stunning floral wreath. Here's the DIY.
78. Egg Carton Owls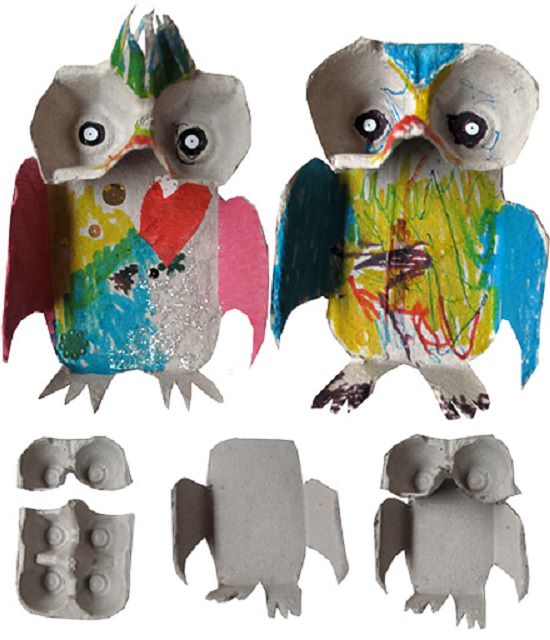 If you're fond of adding quirky, whimsical decor items to your home, consider crafting out these washed-out owls from egg cartons. Follow this DIY.
79. Egg Carton Tiara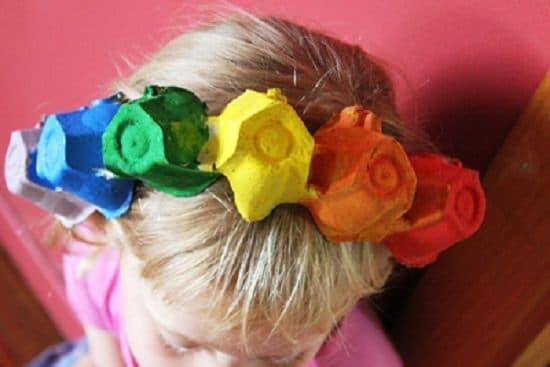 Tiaras don't have to be all about gemstones and paper flowers always. Make yours with egg cartons instead, and no one will be able to guess the difference. Here's the DIY.
80. Egg Carton Panda Bear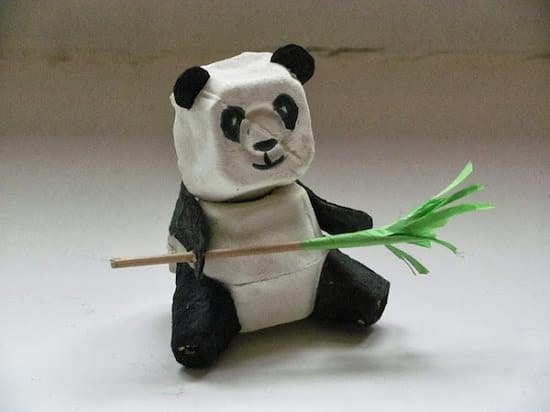 Nothing like a cute little panda companion to remind you of the good things in life when you're slogging overwork at your computer desk. Here's the DIY.
81. Choo-Choo Train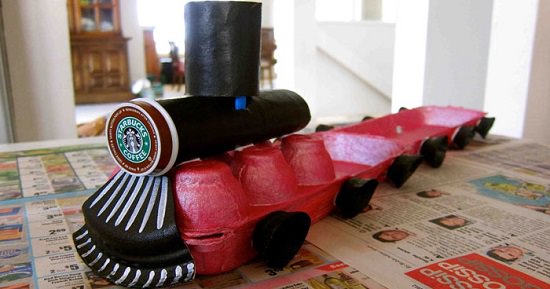 Egg carton toy trains are great for lugging around as they're lightweight and even offer extra space to fit in a plushie or two. Follow this DIY.
82. A Treasure Box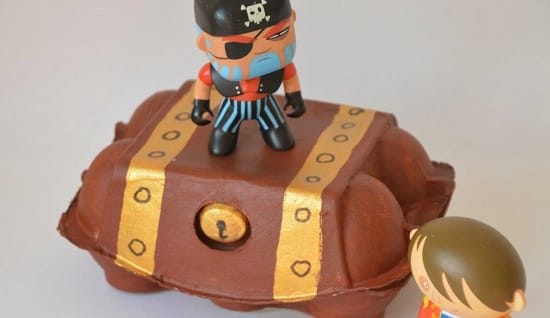 Encourage your children to hide the little treasures handpicked from hiking trips in this DIY storage box. Instructions are here.
Which one of these DIY Egg Carton Crafts do you like the most? Share in comments!