Find out the most creative ways to protect and show off your jewelry items with these DIY Jewelry Display Ideas in this article!
1. Rotating Jewelry Storage Using Cereal Box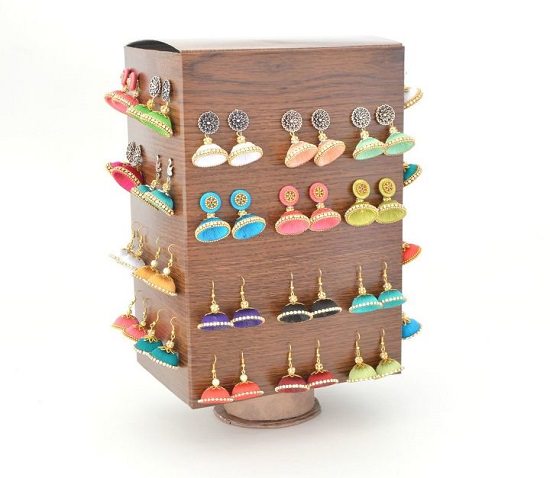 This rotating jewelry holder makes it easy to store your exhaustive jewelry collection in one spot, and the best part–It is made from a cereal box. Know more about it on Hometalk.
2. Wine Cork Hooks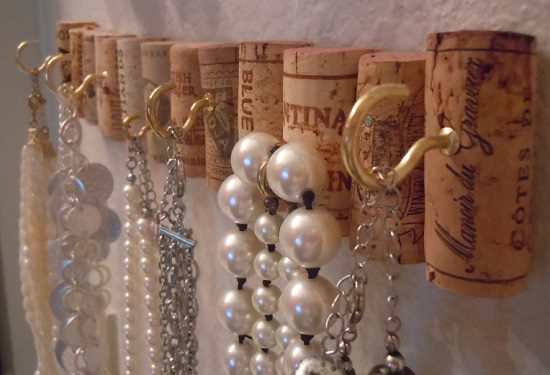 You can do countless things with wine corks and one of them is this DIY wine cork jewelry holder. Get the complete tutorial here.
3. DIY Jewelry Organizer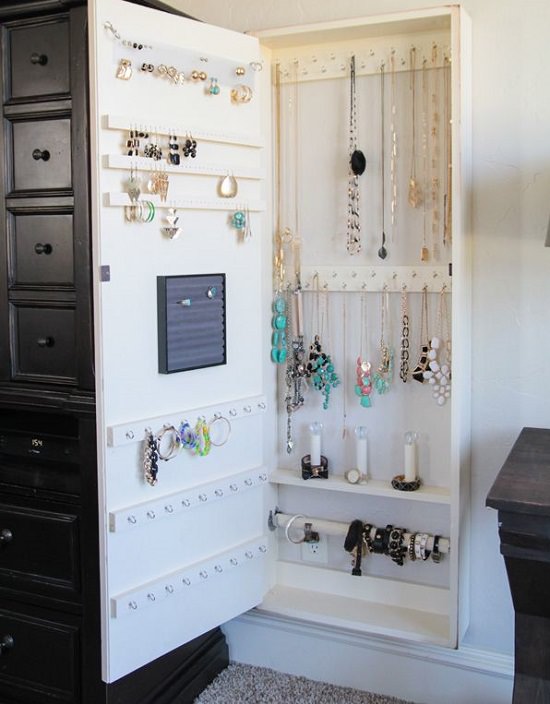 If you pride in having a vast selection of jewelry that won't fit in tiny jewelry holders, just give them what they want–A roomy cabinet. Make it by following these steps.
4. DIY Necklace Holder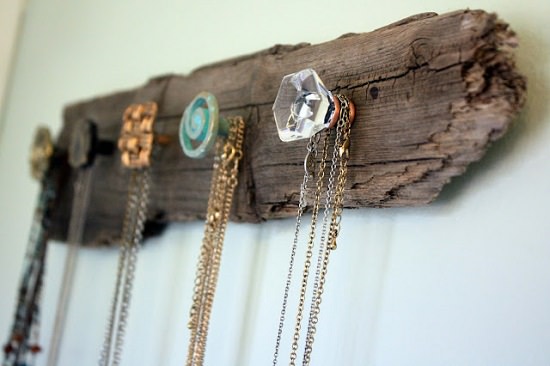 Get a piece of driftwood or any flat board and attach decorative knobs to it that suit your style. Your DIY necklace holder is ready! Head over to Visibly Moved to learn more.
5. Jewelry Tree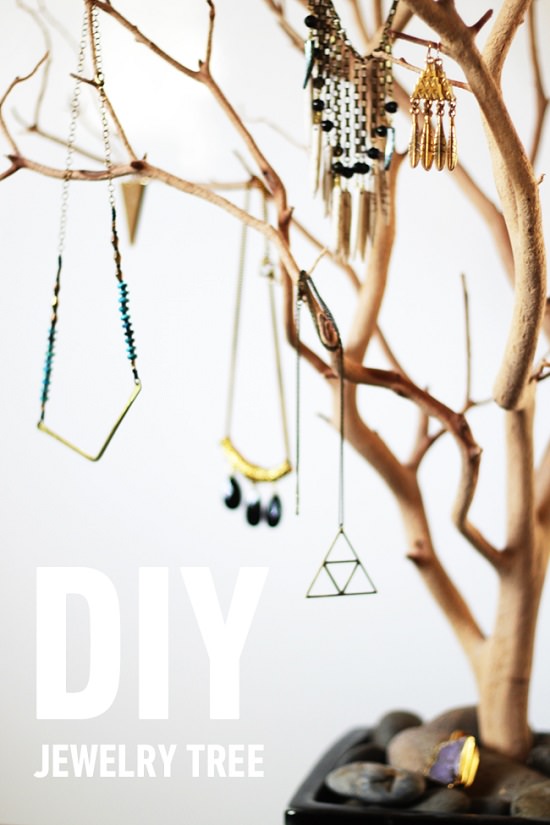 This DIY jewelry tree brings a touch of nature to your room. Check out this post for the DIY.
6. DIY Industrial Pipe Jewelry Organizer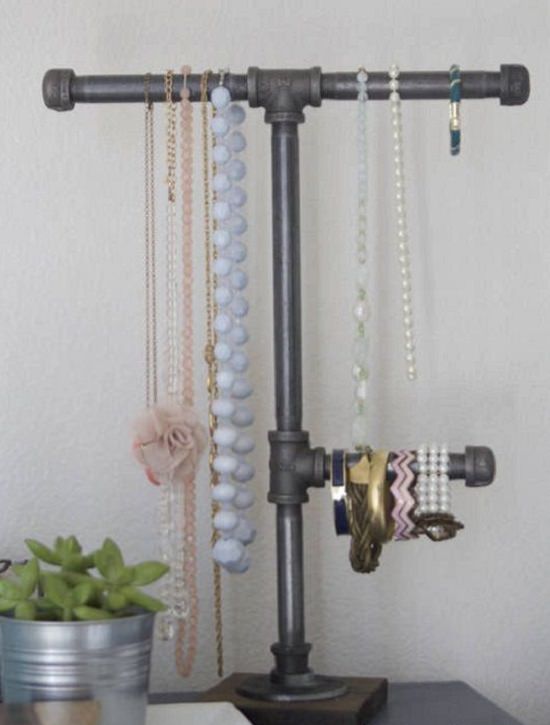 For this DIY jewelry organizer project, you can also use PVC pipes and the best part it uses vertical space
7. Jewelry Display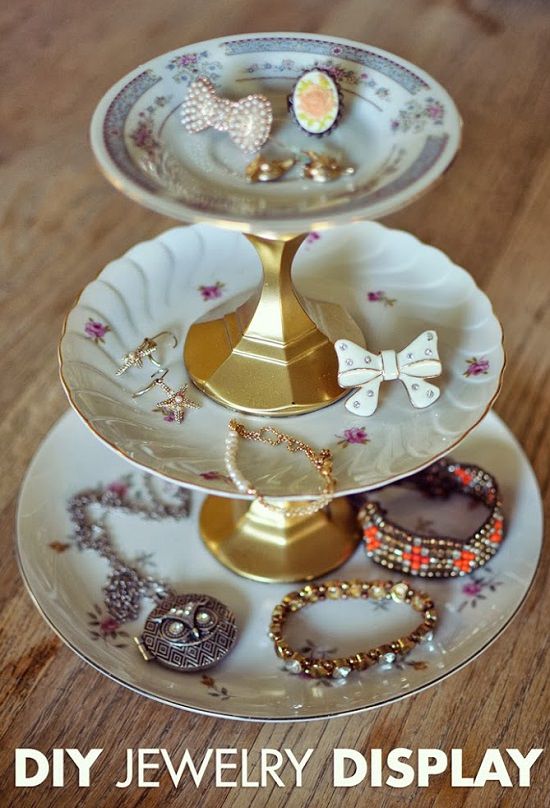 This tiered jewelry organizer is one of the coolest DIY Jewelry Display Ideas in this list. The tutorial is here.
9. Dreamcatcher Earring Caddy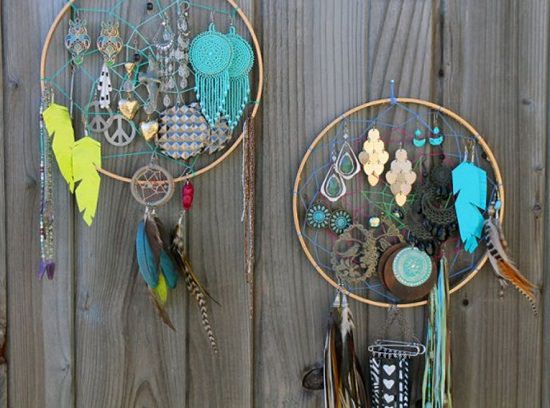 The basic concept behind this earring dreamcatcher is that it lets the best fashion ideas to seep down your dreams while ejecting out the bad ones, making it the perfect kind of gift for boho-chic DIYers. Get more details on brit.
10. Jewelry Bust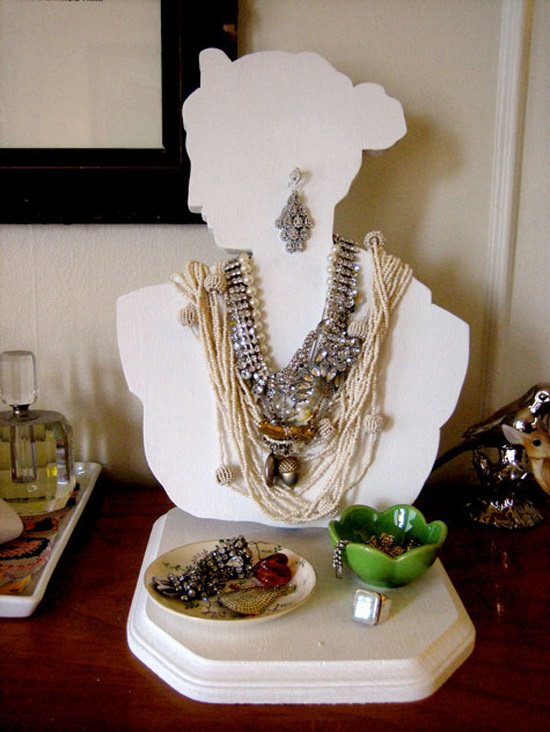 This lovely wall-mounted bust adds a classy touch to your walls and lets you showcase your exquisite neckpieces in a minimalist way. Get the tutorial at Design Sponge.
11. Jewelry Box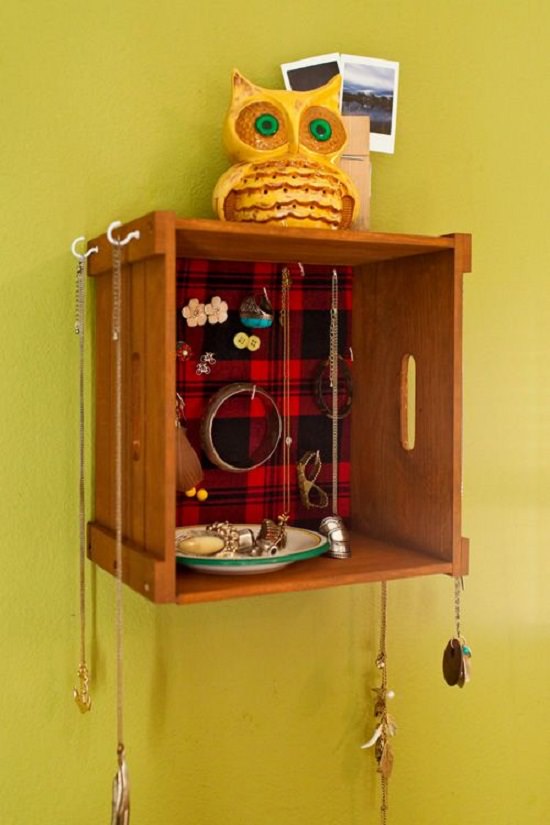 Soften the rustic appeal of your wooden jewelry box with a cheery flannel shirt or any fabric you may have. Visit A Beautiful Mess for the DIY.
12. DIY Jewelry Organizer with Ikea Utensil Holder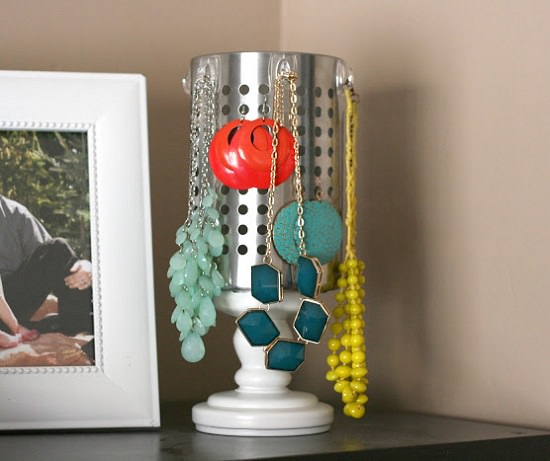 Probably one of the smartest and easiest DIY Jewelry display ideas here. Attach command hooks on the top part of a utensil holder to hold your necklaces and use the holes around it to hang necklaces. Learn more at Sister's Suitcase!
13. DIY Jewelry Storage: Frame Your Treasures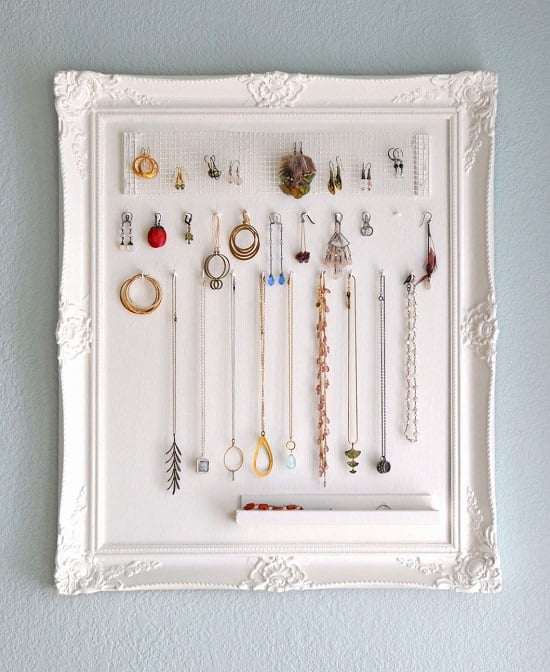 The picture frame provides a cushioned background for delicate pieces of jewelry, and the wall-mounted design puts them on display. We found the DIY here.
14. DIY Standing Necklace Display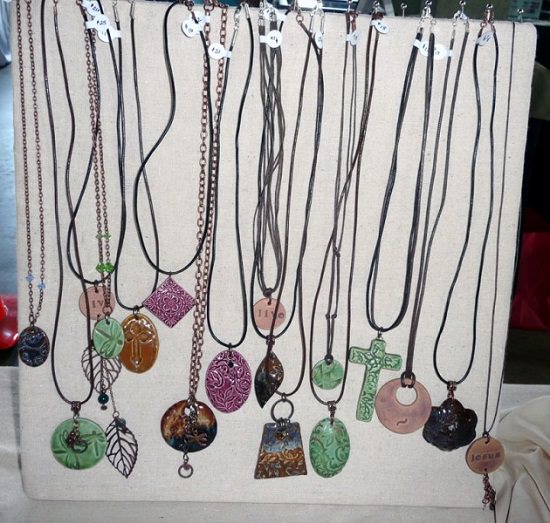 This fabric-covered foam board doubles as an erect necklace display that lets you decide what to wear without wrecking through your collection. Here are the simple steps.
15. Shadow Box Jewelry Holder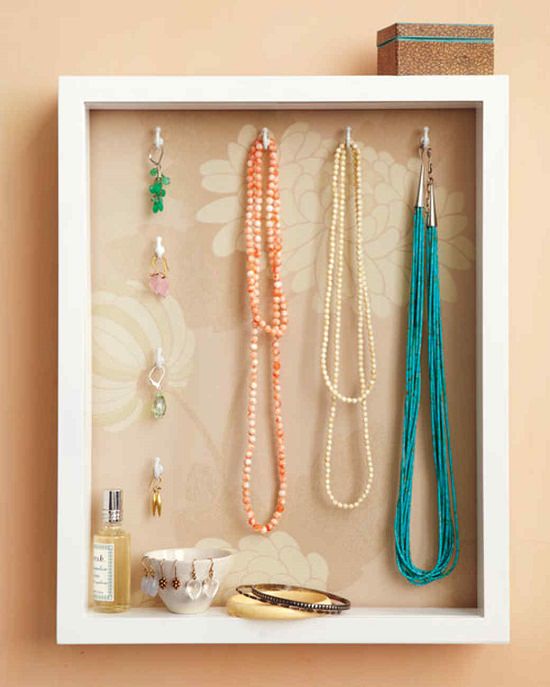 Incorporating the functions of a display case and a storage box, this shadow box is for those rings and neckpieces that look beautiful in an open showcase. The DIY is here.
16. DIY Jewelry Display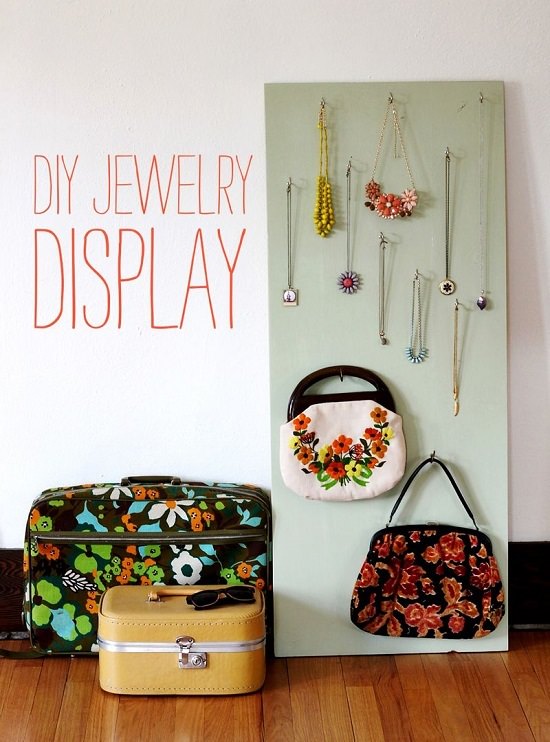 Here's an elaborate jewelry display especially for those who want to showcase their collection without boring too many holes on the walls or making a mess out of their necklace chains.
17. Handmade jewelry display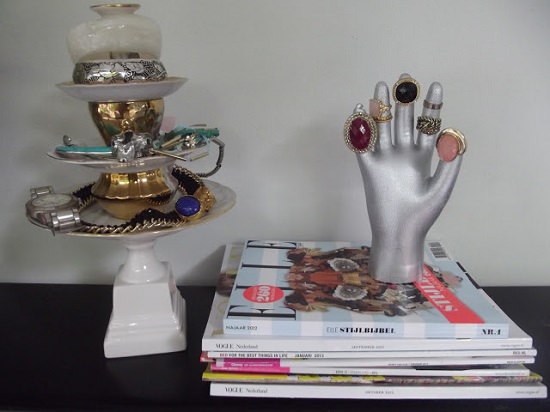 Part creepy and part quirky, this palm-style holder adds personality to your dressing table. You can make it for yourself with the help of this tutorial.
18. Brass Earring Pyramid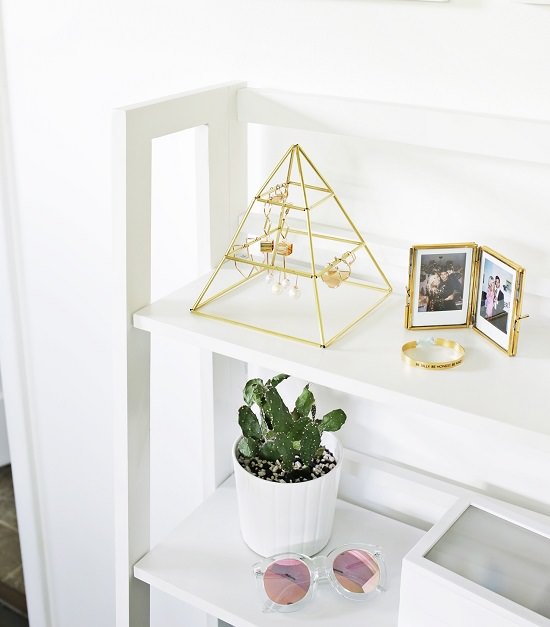 Made of brass tubes, this pyramid jewelry organizer gives a modern touch to your decor while solving a significant organization problem for you. The tutorial is here.
19. DIY Necklace Holder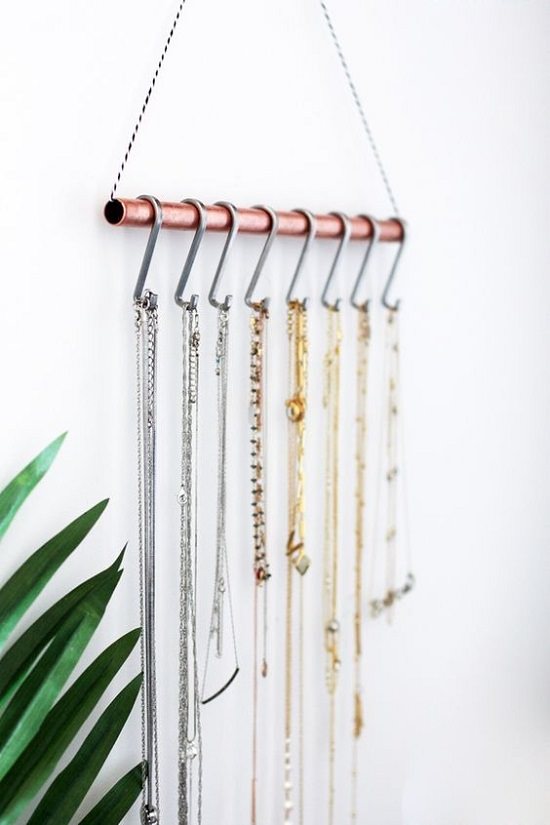 When you're trying to utilize limited space, this vertical necklace holder is a worthy addition to your list. Get full details here.
20. Geometric Industrial Wall Jewelry Organizer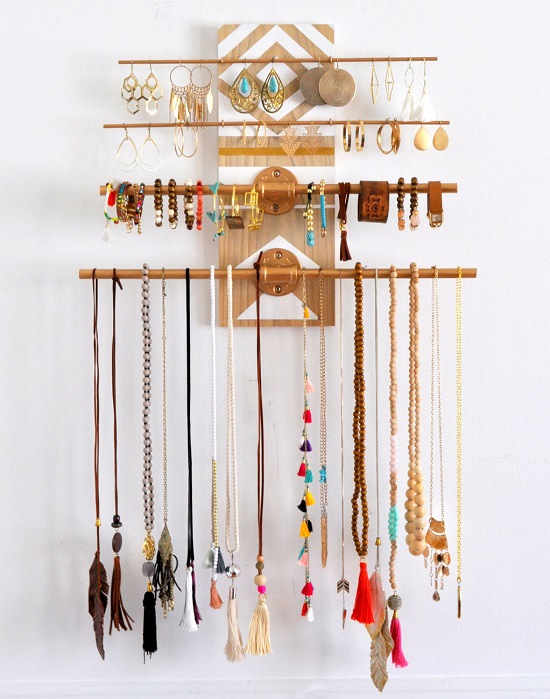 The utilitarian style of this hanging jewelry holder with its golden accents is sure to brighten up your makeup room. Try making it by reading this post.
21. Jewelry Holder From A Cork Board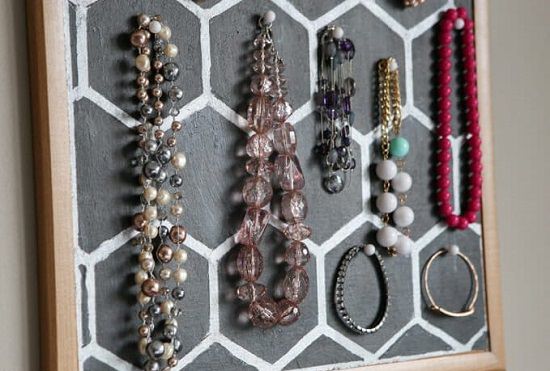 This corkboard jewelry holder with honeycomb imprints fits well in small space. The steps are here.
22. DIY Earring Holder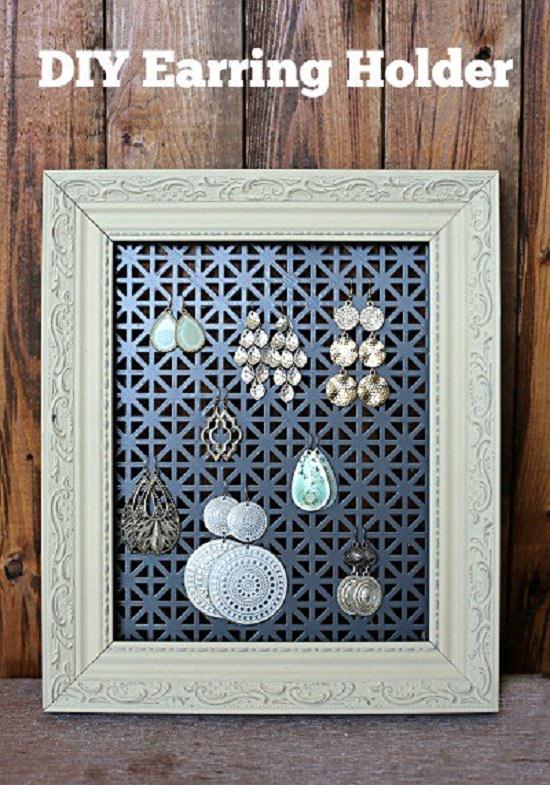 This DIY earring holder is easy to customize according to your personal style and decor. And what's more, it's just as pretty as your collection of earrings.
23. Wooden Jewelry Holder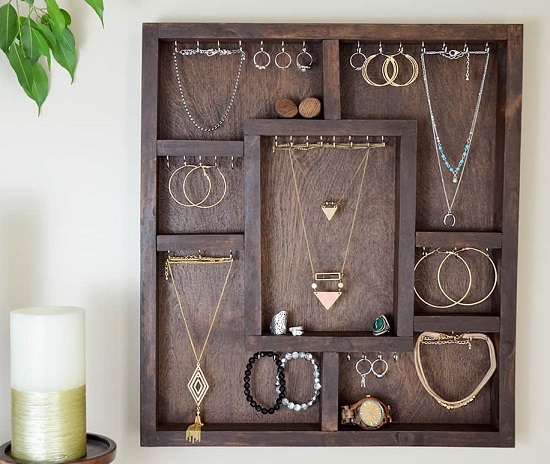 When you're hunting for a Mother's Day gift that shows you really care, this DIY jewelry holder here is your answer. It's pretty, functional and a great time-saver on weekend mornings.
24. Easy DIY Necklace Holder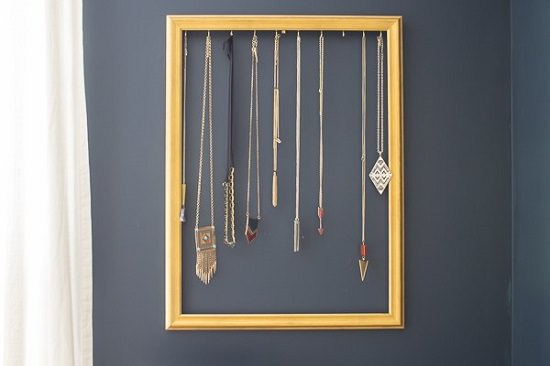 How about creating this picture frame necklace holder and keep it in your bedroom? Follow these steps to make it.
25. DIY Jewelry Holder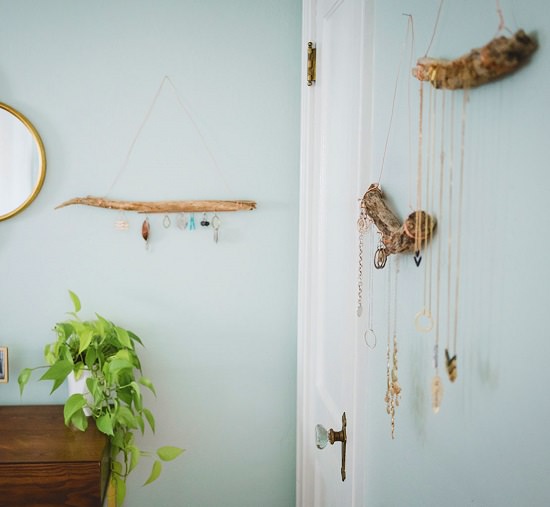 Get some driftwood or salvage some fallen branches and make them your DIY jewelry holders.
26. Paper Towel Rolls Jewelry Organizer
Can you believe it that a throwable item like paper towel rolls could be used to make this jewelry organizer? Watch the YouTube tutorial here.
27. Easy Jewelry Display For Necklaces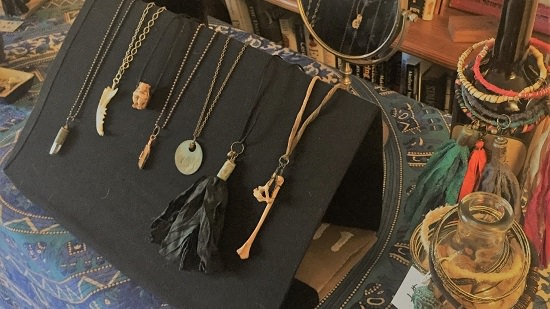 If you're looking for a quick and cheap DIY to display your jewelry items, this DIY here is for you.
28. DIY Fabric-Covered Jewelry Display Stand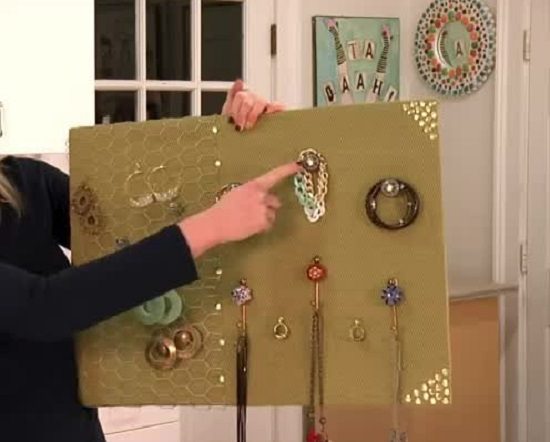 Make this jewelry display stand using a fiberboard, fabric, chicken wire and a few other basic supplies. Watch the tutorial here.
29. Jewelry Display Case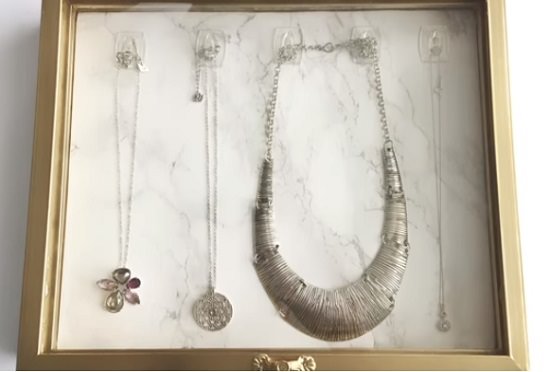 Make this expensive looking jewelry display case to organize your favorite necklaces. The tutorial for this excellent project is here.
30. DIY Cactus Clay Ring Holder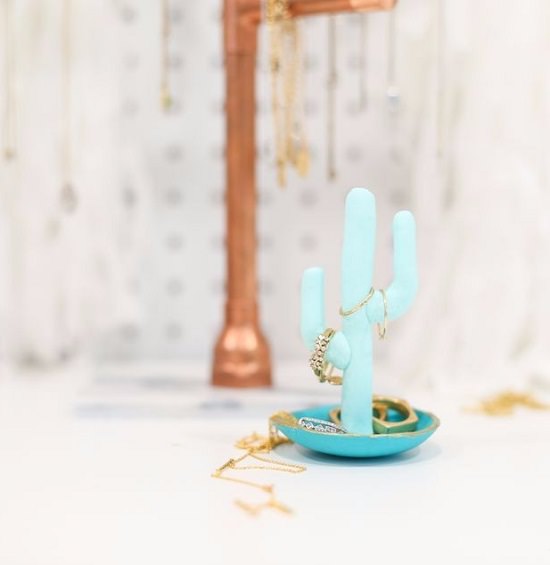 This trendy succulent gimmick is an excellent way to display your finest pieces and definitely a clever nod to the succulent and cacti craze taking over the world these days. Learn more here.
31. DIY Wooden Ring Holder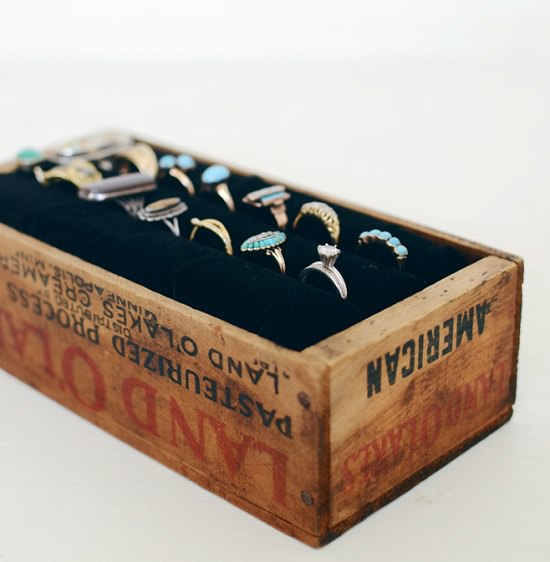 Combining fashion and function in one form, this DIY wooden ring holder gives you a good view of your ring collection, so you know what to wear for the occasion.
32. DIY Concrete Ring Cones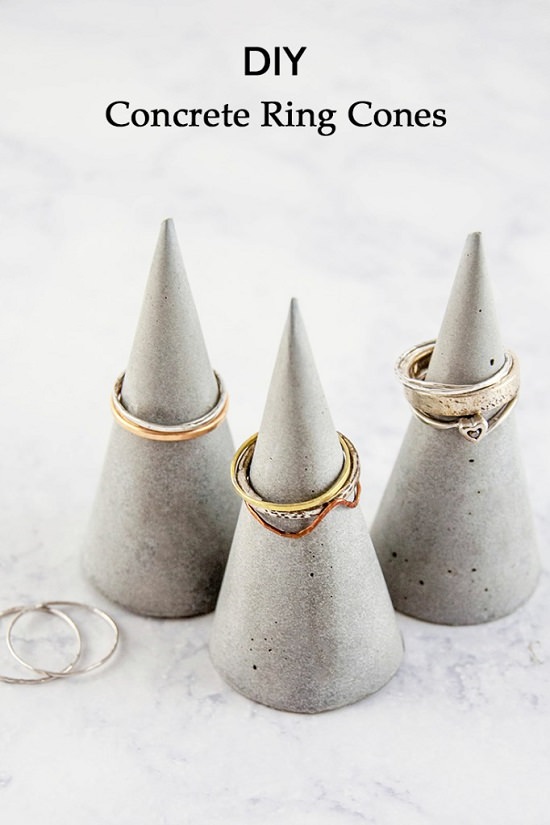 DIY concrete cones are sturdy stands for keeping jewelry handy and well-displayed. Here are more details.
33. 
Wine Crate Jewelry Display Boxes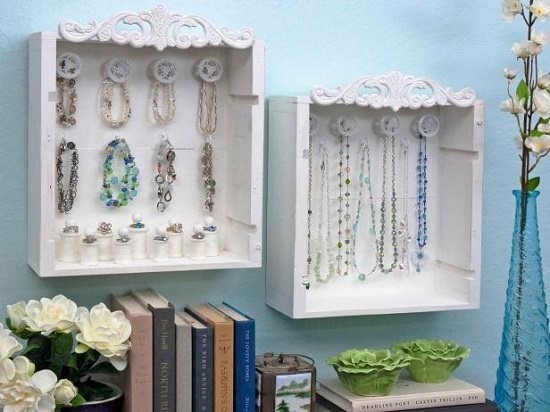 This vintage wall-mounted jewelry storage requires no more than a wine crate, some paint, and hooks. The complete tutorial is at HGTV.
34. Jewelry Display In Wooden Box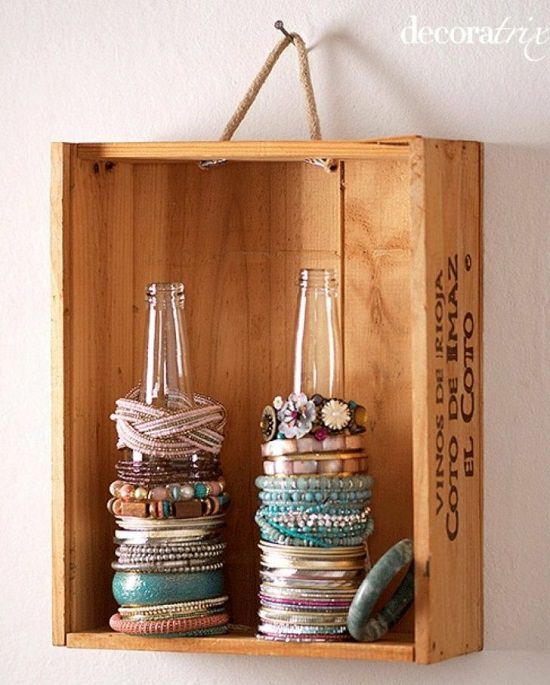 Slide your bangles and bracelets over empty wine bottles for a classy wall decor that can be swapped out any time for a season-specific look. Here is a simple tutorial to make it.
35. Hanger Jewelry Holder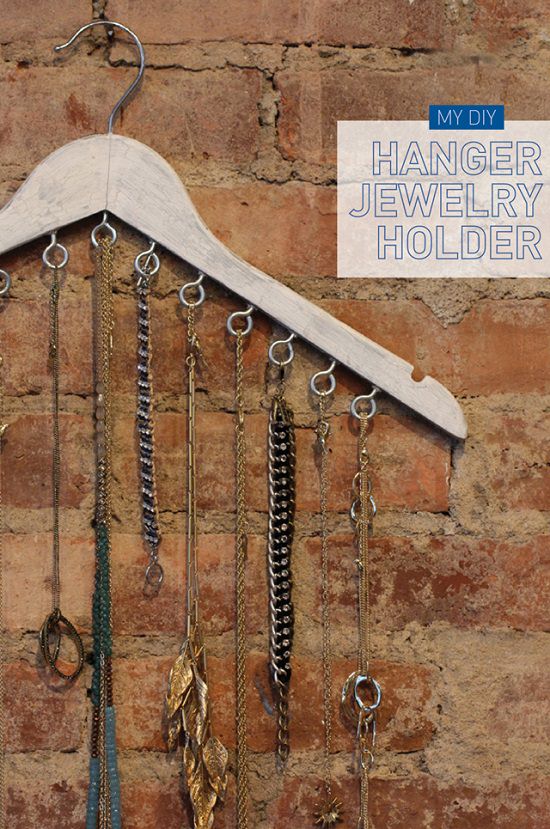 A spare hanger can go a long way to decorate a bare wall and organize your jewelry collection at the same time. This post will help you through this.
36. Jewelry Wall Organizer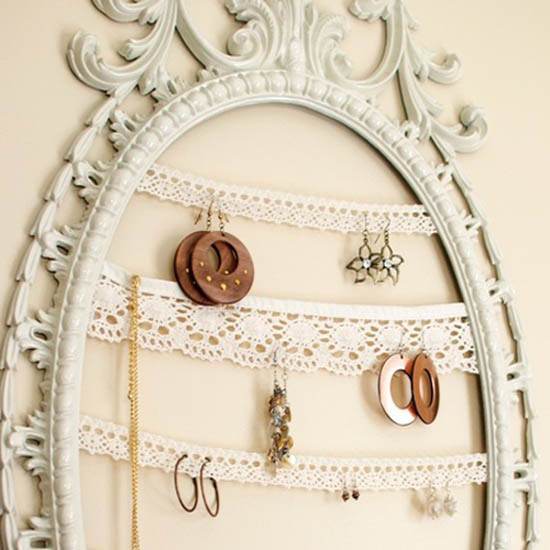 This fascinating jewelry storage idea lets you display your collection while organizing your clutter in a heartbeat. Get the instructions here.
37. Vintage Jewelry Storage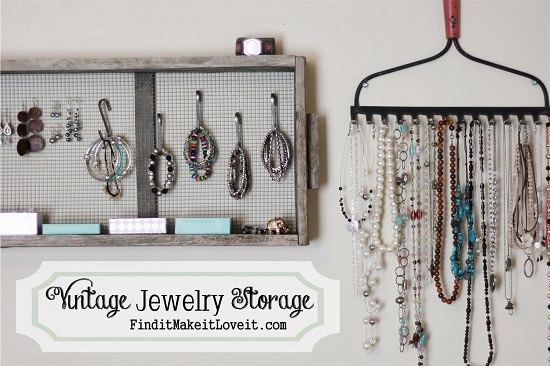 For vintage storage to match your style, consider using the combination of wire caging and S-shaped hooks. See the steps here.
38. Pegboard Jewelry Display Case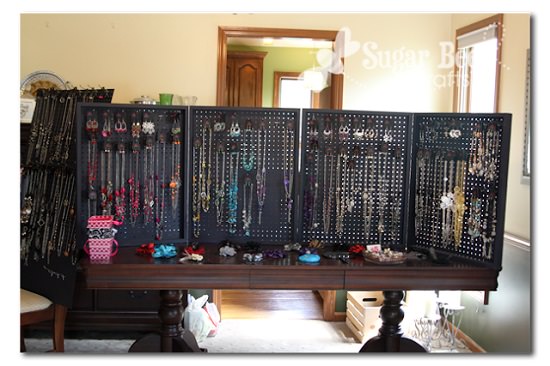 If you're looking for a way to organize a large collection of jewelry items this pegboard display case DIY here is worth looking at. The best part is it is portable and foldable!
39. DIY Bracelet Tower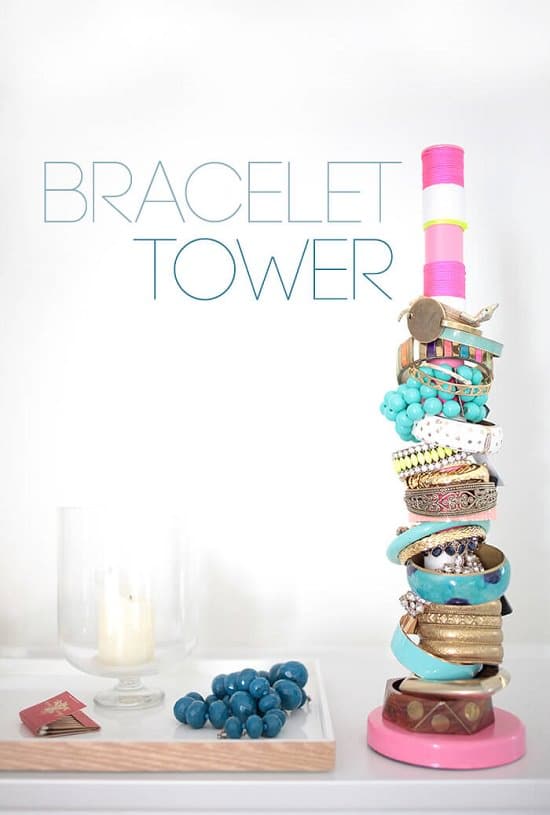 Create a beautiful bracelet holder or according to this blogger–"A bracelet tower."
40. Wine Bottle Jewelry Holder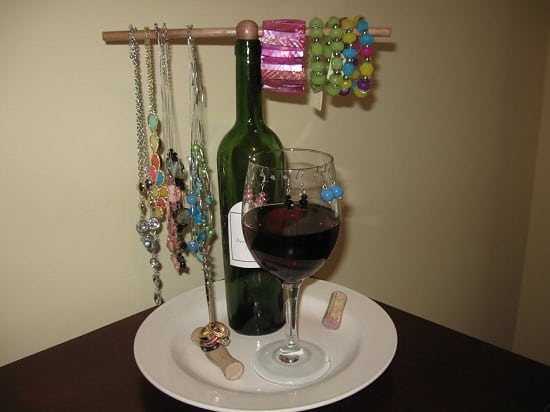 Recycle an empty wine bottle into this unique jewelry holder. The tutorial is here!
41. DIY Over Door Jewelry Display & Mirror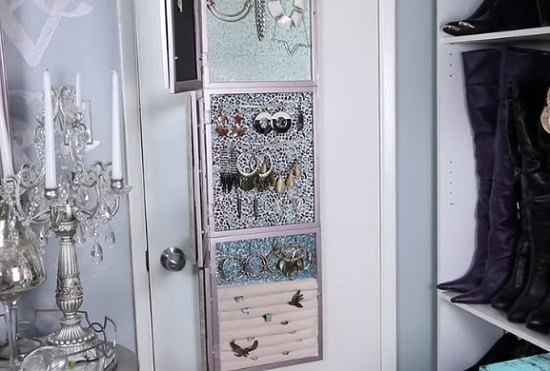 Not just a way to keep your jewelry organized, this on the door jewelry display can beautify your interior as well. Check out how it was made here!
42. DIY Jewelry Tower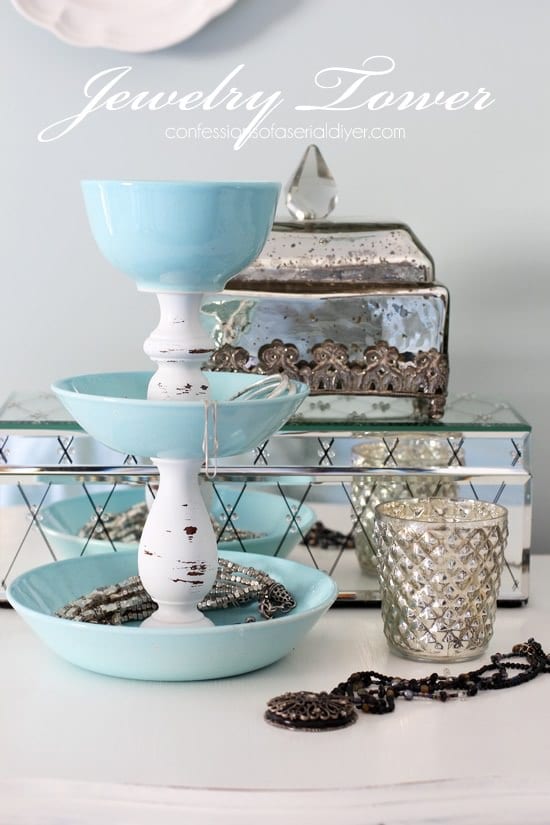 This blogger found pretty aqua dishes for cheap at a thrift store and what she made of that is above in the picture. Find out how she did it here.
43. Colorful Jewelry Trays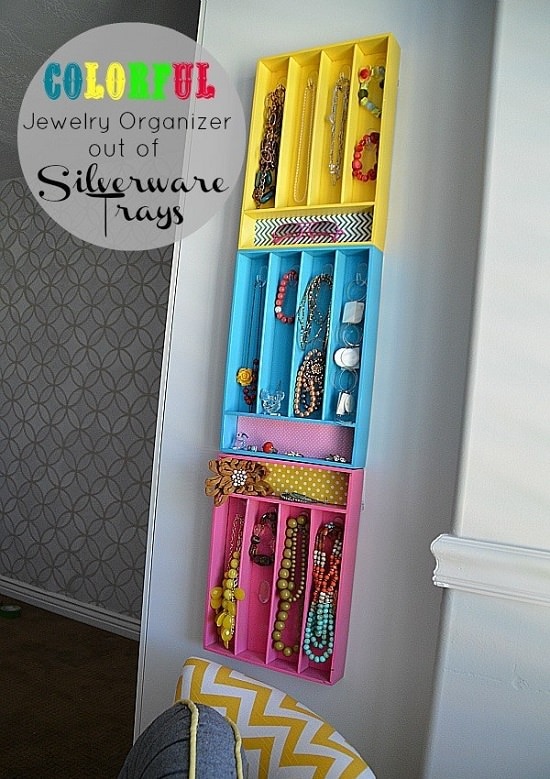 If you've some unused silverware trays, turn them into this colorful jewelry organizer. The tutorial is here.
44. DIY Pegboard Jewelry Organizer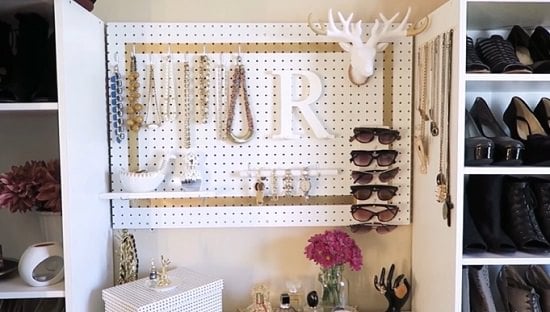 This pegboard jewelry organizer has multiple uses. Learn everything about it in this video.
45. DIY Chicken Wire Jewelry Holder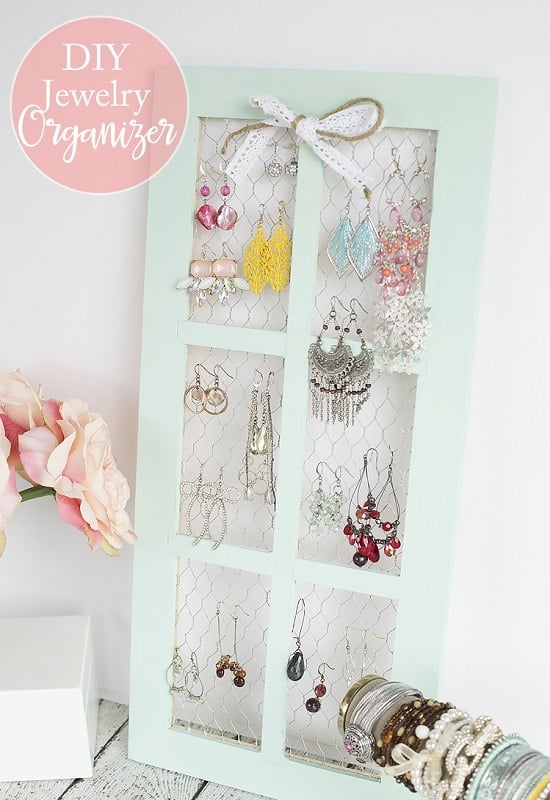 Get a chicken wire window and paint it–It's that simple! Check out the steps here.