If you're a parent or even if you're expecting a baby soon, a DIY baby crib is a primary thing you need. Personalize a baby bed with these 26 DIY baby crib ideas.
1. DIY Baby Crib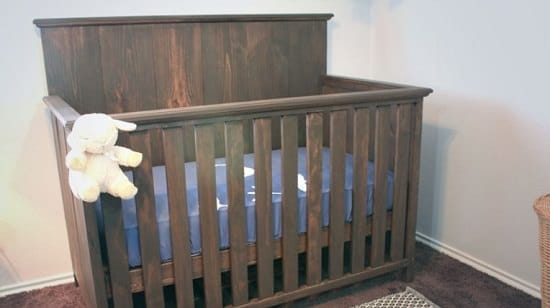 The handsome appeal of darkly stained poplar wood makes this DIY baby crib just the right home for your baby boy. The large backboard at the farther end makes the perfect canvas for creating contrast with lightly stained wood.
2. Moon-Shaped Baby Crib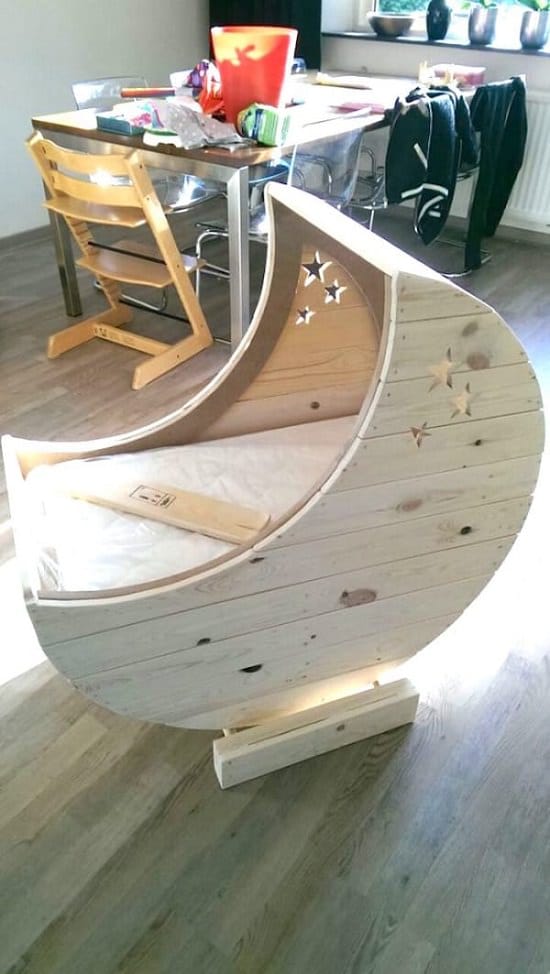 Sometimes it's okay to experiment with design as long as you keep the functionality practical, like this moon-shaped DIY baby crib, for instance. It's also easier to create, considering all the advanced woodworking DIYs down here.
3. Baseball Bat Baby Crib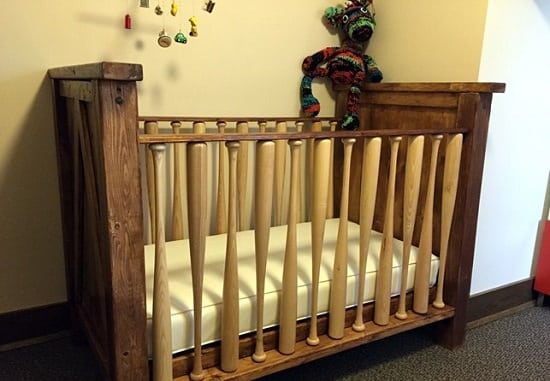 Made from baseball hats, this super cool baby crib makes a fun addition to the nursery and a creative way to show what a loving parent you are. Here's the DIY.
4. DIY Wooden Pillow Lounge Crib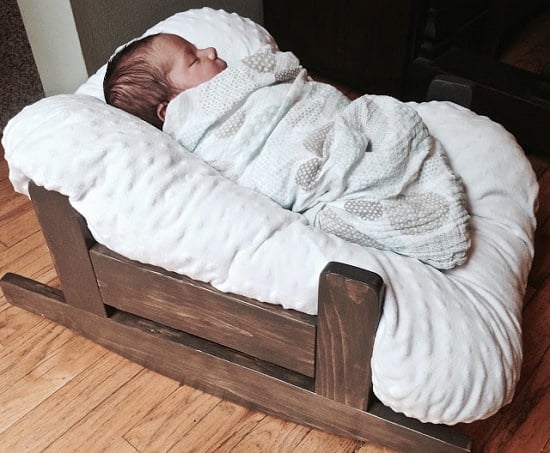 This wooden bassinet propped up with an oversized body pillow is great as a temporary bed to keep the baby in while you're busy with housework. Make it with this tutorial.
5. Rounded canopy baby crib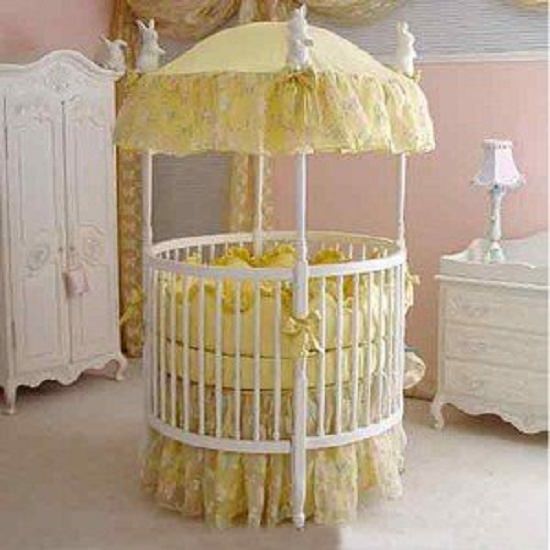 This gorgeous rounded baby crib instantly adds princess vibes to the nursery. No matter how old things get with the years, the canopy above will help maintain that royal look. Here's the DIY.
6. Rocking Chair With a Crib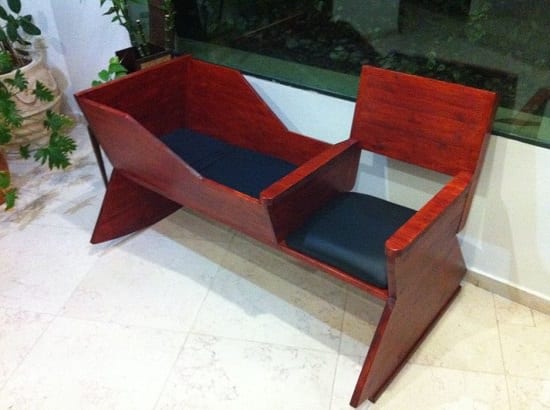 This cute, two-in-one crib comes with an attached rocking chair, making it a relevant part of the nursery room even when your baby grows up. Get the tutorial in this DIY.
7. DIY Circle Crib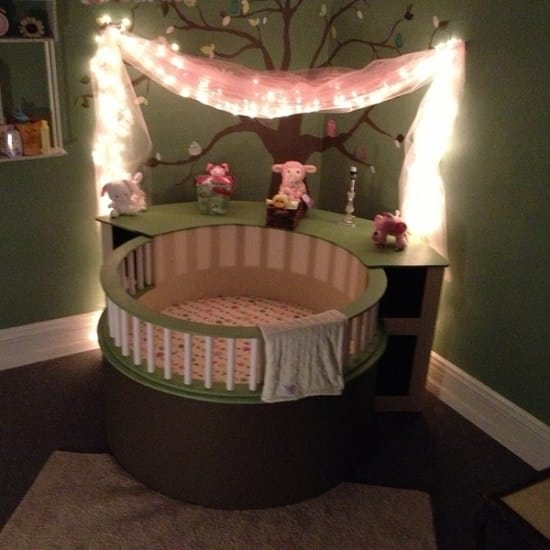 Building this DIY circle crib is not easy at all, but it's a wonderful gesture of love and will make for some of the prettiest pictures to look years down the line. Take inspiration here.
8. DIY Co-Sleeping Crib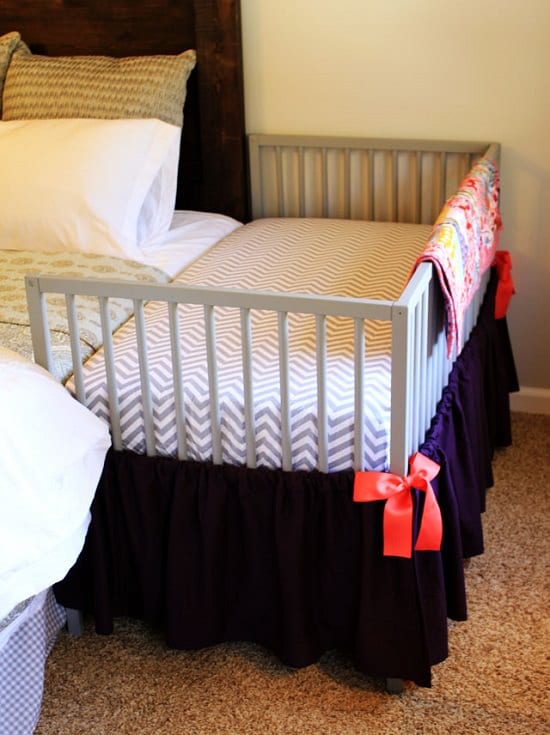 For the busy moms that don't have time to engage in a full-blown IKEA crib idea, the co-sleeping arrangement works just as well. A custom-size mattress can be used to level up to the bed, and lashing strips can help secure the ends to the bed, ensuring the crib doesn't move. All the details are here.
9. DIY Log Crib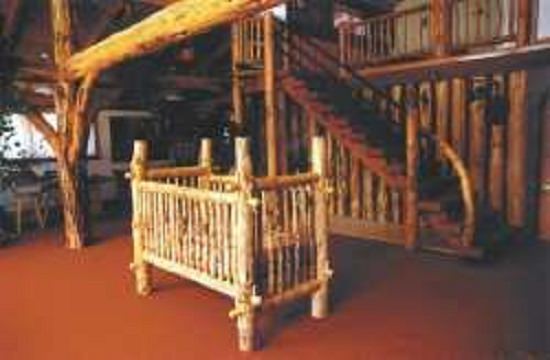 Besides the rustic charm, this beautiful crib made from reclaimed logs is easy to assemble and disassemble, so you can always move it upstairs or to a new room in the event of home improvement. Here's the DIY.
10. Baby Crib Building Guide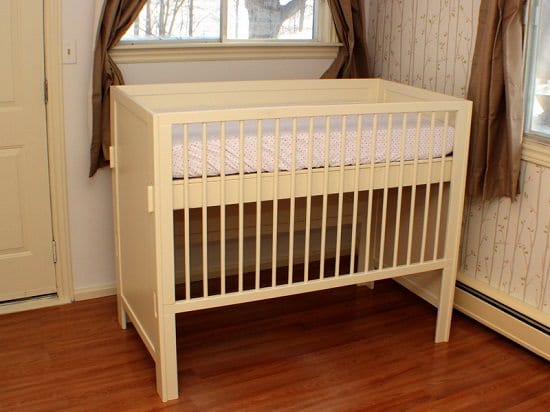 This DIY outlines a blueprint plan for a sturdy crib with frame-and-panel detailing and bars on the front. The design is basic, yet there's plenty of room for adding complexities.
11. DIY Baby Crib
Made from salvaged wood cut down to the correct size, this baby crib is further supported by adjoining posts, making it even more secure and stable.
12. DIY Mid Century Modern Baby Crib
What's particularly incredible about this low-rise baby crib is that it includes a double plywood base to ensure a wider area for the top to sit on, thereby ensuring the safety of your child.
13. Crib For Nursery
This DIY baby crib converts into a toddler bed with a tad few hardware changes, and the best part is you can customize it in minutes to fit a smaller room as well.
14. DIY Baby Crib Using Pallet Wood
Pallets are gorgeous starting materials to fashion a baby crib from; they're sturdy and easily available too, making this DIY even more worthwhile.
15. DIY Baby Crib Idea
The raw unstained finish of wood makes this baby crib look more like a farmhouse aesthetic. What a perfect way to infuse shabby chic charm on a budget!
16. 3-in-1 Convertible Crib
With a pleasing mid-century look and the promise of a quick transformation into a toddler bed, this 3-in-1 convertible baby crib is one that grows with your child.
17. Simple Baby Crib
Since your baby crib is bound to be the dining room, living room, and bedroom of your child, you might as well include some extra space and a double plywood base to support the whole structure.
18. DIY Custom Baby Crib
This DIYer suggests making a baby crib from reclaimed wood for an old barn look. Also, we love how crossroads at the sides contribute to the rusticness of this design.
19. Walnut & Maple DIY Homemade Baby Crib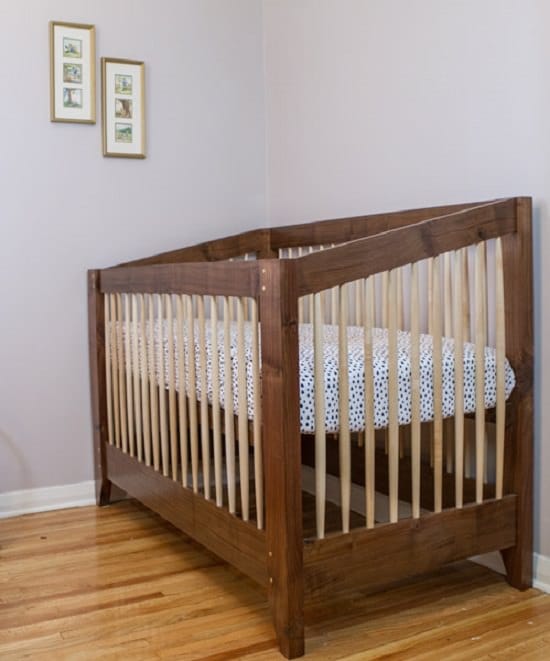 The combination of walnut frames and maple spindles means you have an artsy-looking crib that almost likes a piece of relic handed down in your family. Here's the DIY.
20. Farmhouse Baby Crib DIY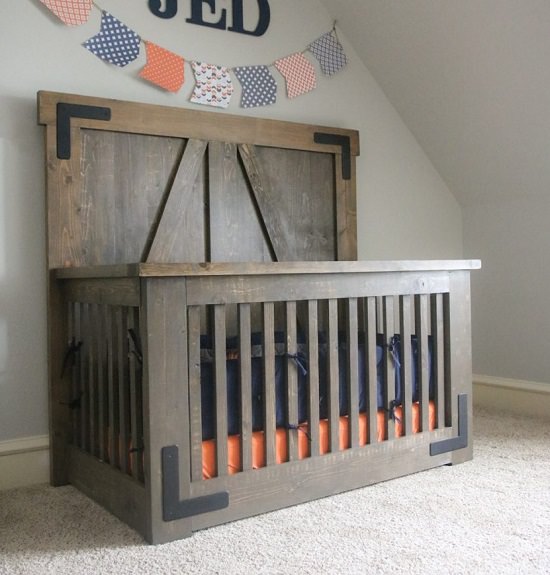 This farmhouse-style crib has been designed to sit low on the ground for safety and features bracket detailing on the corners for a heightened appeal. Make it with these instructions.
21. DIY Homemade Crib Plan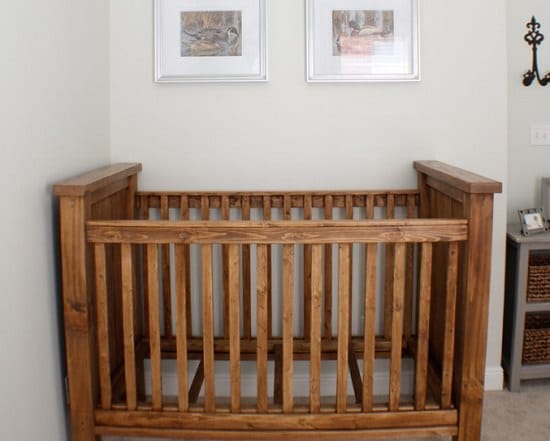 This DIY gives you a detailed tutorial along with wood-to-slat measurements to create a baby crib that fits your nursery room.
22. Two Chairs Rocking Baby Crib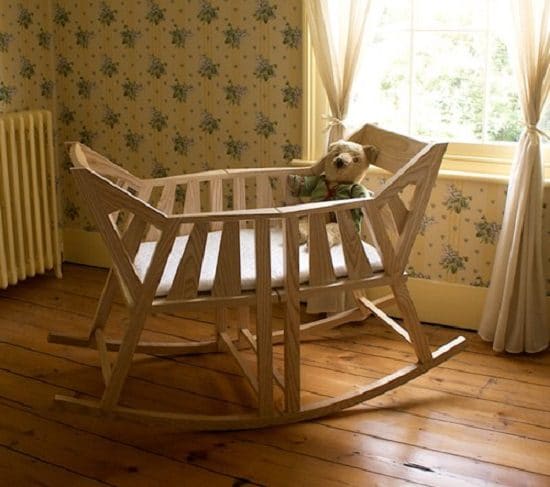 This rocking cradle serves a dual purpose-after it's done its part, you can saw it in half to create a pair of rocking chairs. Here's the inspirational idea.
23. Pallet Crib DIY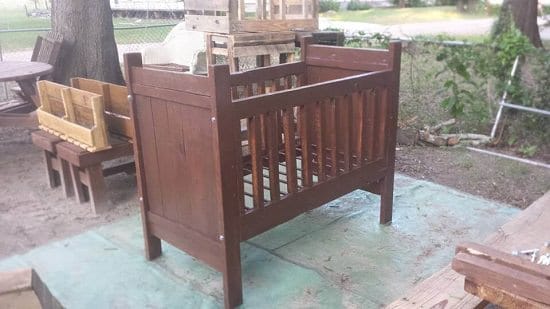 This DIY baby crib made from repurposed pallet furniture is a budget-friendly way to ensure your child stays safe while sleeping.
24. SideCar Crib
This DIY shows you how to create a portable crib that can easily fit inside your car as well.
25. DIY Cupboard Bed
Out of all the DIY baby crib ideas so far, this is probably the most unique and space-saving. Customize your crib to fit into your closet to provide a secure and comfy corner for your babies as they sleep.
26. DIY Upholstering/tufting Baby Crib
With memory foam and MDF, this DIYer upholstered an old crib to make it brand new and even more comfy for the upcoming baby in line.
We hope that these DIY baby crib ideas inspired you to customize a crib for your little one with love and affection. In case you've some unique baby crib plans, you can share them with everyone in the comments section.