These DIY flea shampoo for dogs will help you to combat fleas with added benefits of moisturization and exfoliation.
1. Homemade Dog Shampoo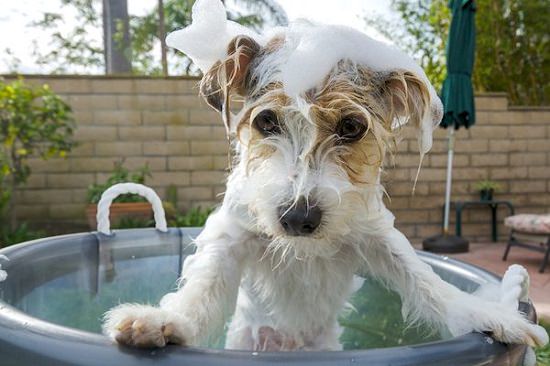 A perfect remedy for combating fleas and nourishing delicate skin, this organic shampoo uses common household ingredients like baby shampoo and white vinegar to deep cleanse your dog's coat. Get the recipe here.
2. Lemon Flea Shampoo for Dogs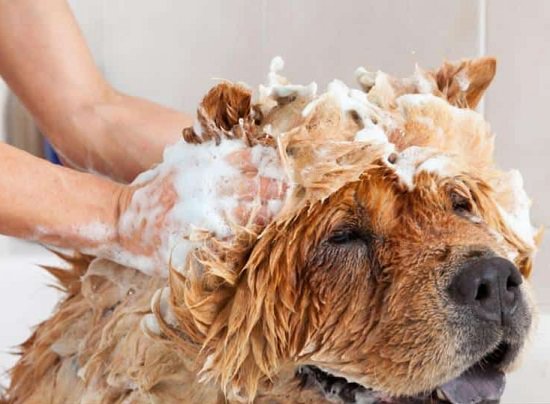 An excellent alternative for dogs that loathe water, this lemon dry shampoo freshens up your pooch's coat in a jiffy, leaving it hostile for fleas with its strong acidic aftertaste. Get the DIY here.
3. DIY Flea Shampoo For Dogs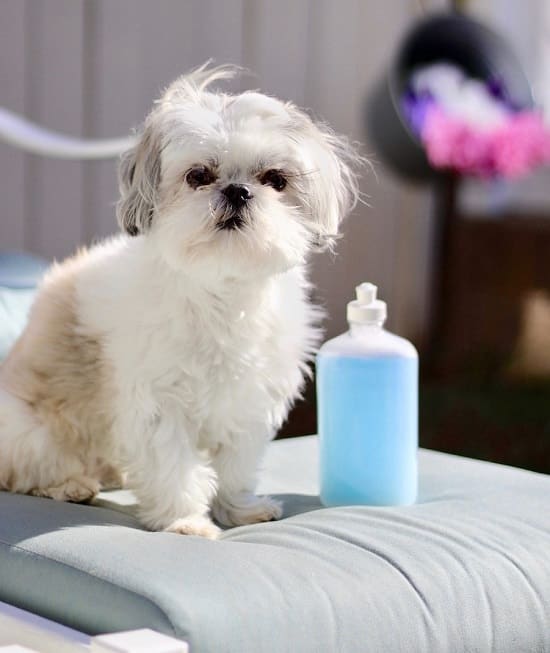 This simple, three-ingredient shampoo containing liquid soap and white vinegar offers you an inexpensive way to spritz up your dog's fur while getting rid of fleas in the process. Here's the full recipe.
4. All-Natural Anti Flea Dog Shampoo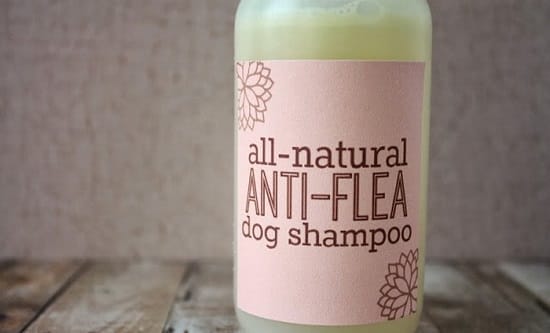 Whether you're looking for extra lather with your homemade flea shampoo or one that has a dry texture for a quick cleanup, this DIY has a bunch of recipes to fit in with your versatile needs.
5. Flea & Tick Shampoo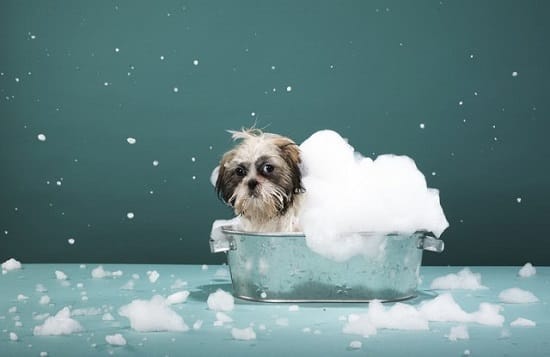 Made of part-soap and part-vinegar, this strongly scented dog shampoo deters fleas, preventing a future case of infestation and the lathering quality of the soap helps choke fleas harbored deep within his coat. Get the recipe here.
6. Essential Oils in Homemade Dog Shampoo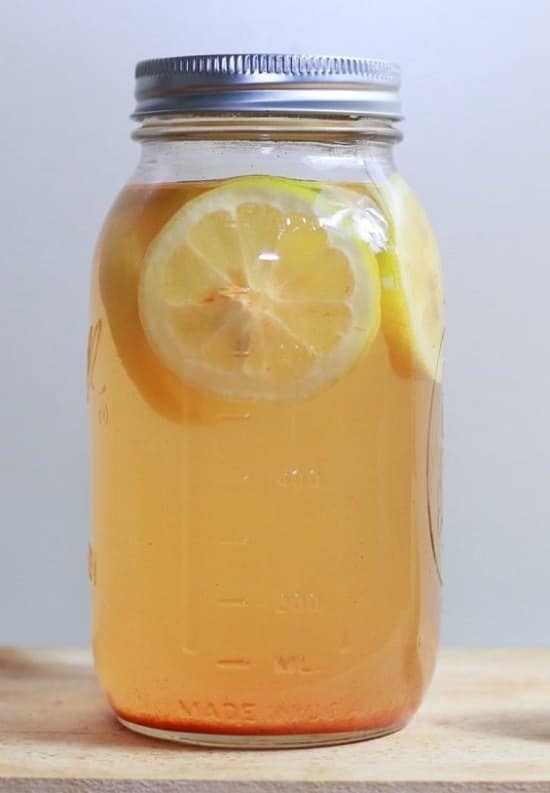 Filled with intelligent suggestions and step-by-step instructions, this detailed tutorial lets you make an informed decision and control exactly what goes into your organic flea shampoo.
7. Herbal Flea-Repelling Dog Shampoo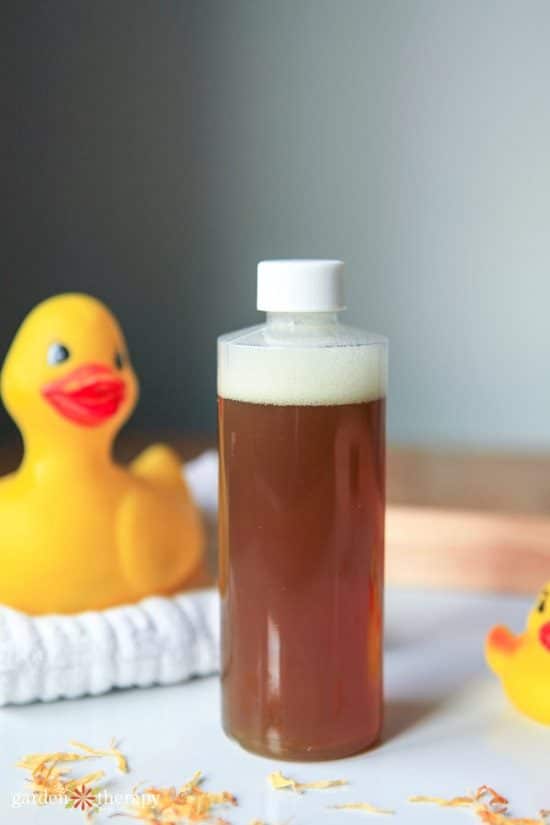 Including rosemary, calendula, and lavender, this herbal infusion shampoo may leave your pooch smelling like a garden but all those herbs come together to create an impenetrable shield on his coat, making it an unfavorable terrain for invaders. Get the recipe here.
8. Dog Flea Dry Shampoo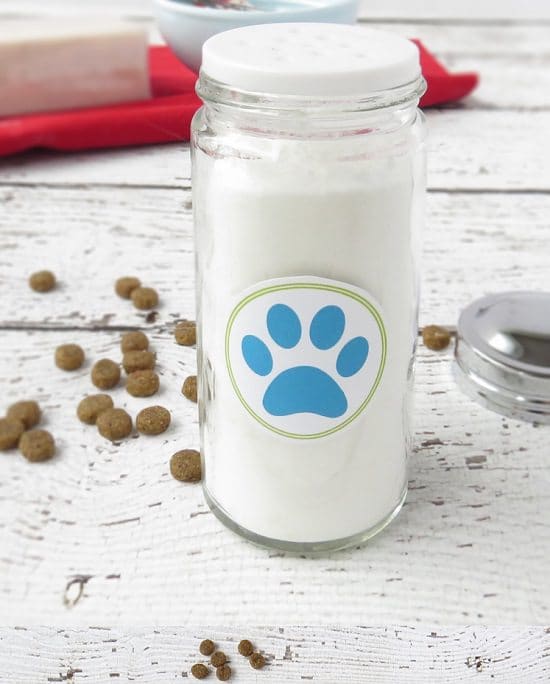 When you want to spruce up your dog's fur in no time, this no-mess, organic dry shampoo is your answer. It contains baking soda for its deodorizing property, cornstarch for moisture and few drops of lavender for freshness. Here's the DIY.
9. Flea Shampoo for Dogs
This nontoxic and soothing dog shampoo uses apple cider vinegar, liquid soap, and vinegar for killing fleas as well as getting rid of all the associated scratching and itching just after a single-use.
10. DIY (oatmeal) Dog Shampoo For Flea
If you're looking for a natural way to heal cuts and rashes from flea infection on your dog's coat, look no further than this oatmeal dog shampoo. It's naturally emollient quality also makes it a good choice for treating dogs with sensitive skin.
11. Moisturizing Dog Flea Shampoo
It's difficult to strike the correct balance between exfoliating and moisturizing ingredients when you're making your own dog shampoo, but this DIY is here to help.
12. Cheap, Flea Repelling Dog Shampoo
Make bathing your pooch a luxurious experience with this decadent dog shampoo enriched with moisturizing ingredients like aloe vera gel and coconut oil as well as a generous dose of essential oils.
13. Apple Cider Vinegar Flea Shampoo for Dogs
Apple cider vinegar is hands down, the Holy Grail of anti-flea dog shampoos. Its pungent taste and scent go a long way to detect adult fleas without causing an inch of discomfort or messing with the texture of your dog's coat. Get the full recipe in the video.
14. Flea Soothing Dog Shampoo
This soothing DIY coconut oil shampoo includes lavender and calendula essential oils to making the bathing experience deliciously scented while creating an impregnable barrier for intruding fleas.
15. Organic Dog Shampoo / Conditioner Plus Flea And Tick Control
The combination of apple cider vinegar and liquid soap gives you a gentle and 100% organic solvent to clean and condition your dog's coat without leaving toxic residues behind.
16. Best Natural Flea Shampoo for Dogs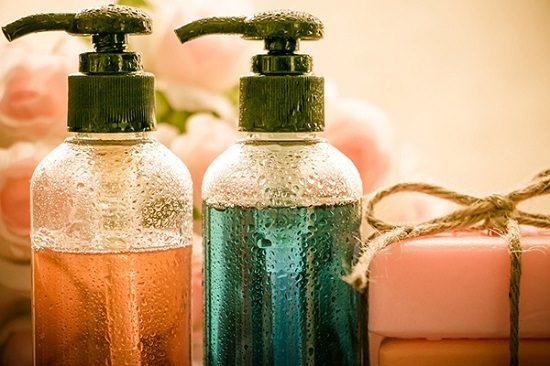 Whether your pooch has ultra-dry skin or a severe case of a flea infestation, this comprehensive DIY will give you the best homemade remedy out there using organic ingredients only.
17. DIY Almond Oil Flea Dog Shampoo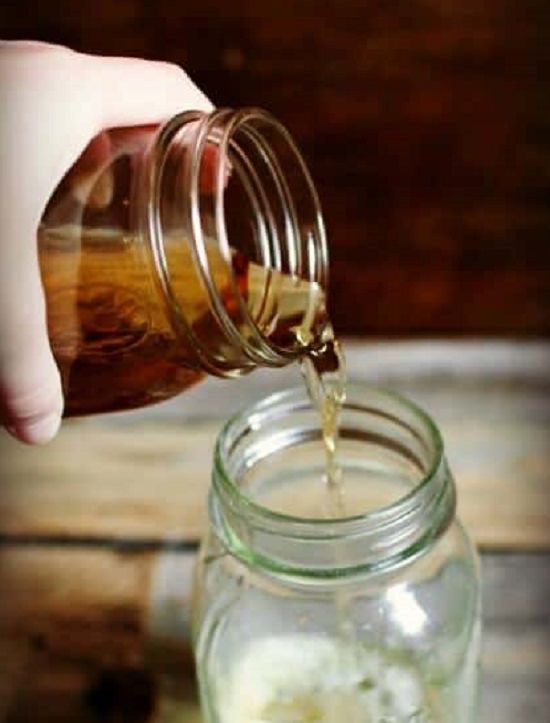 Infused with the disinfecting properties of eucalyptus and lavender oils, this sweet-scented dog shampoo lathers well and kills fleas almost instantly, thereby making your pooch's fur healthy and glossy. Here's the DIY.
18. Castile Soap Flea Shampoo for Dogs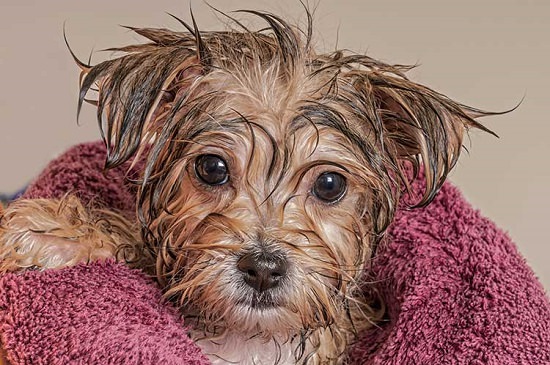 A divine-smelling and ten times more gentle alternative to those pesticide shampoos, this natural dog shampoo includes Castile soap for deep cleansing and a couple of essential oils to create a long-lasting flea-repellant shield for future protection. Here's the recipe.
19. Flea Shampoo for Dogs With Shea Butter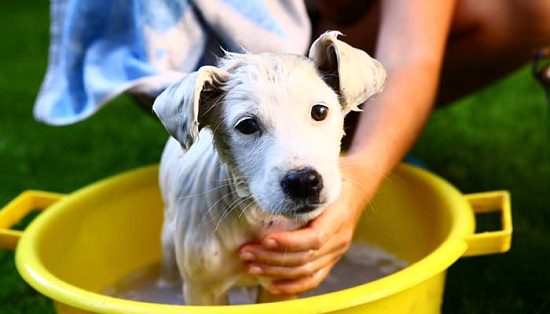 This basic recipe includes white vinegar and antibacterial liquid soap, but you can always add a few drops of olive oil or a dollop of shea butter to amp up the nourishment quotient.
20. Glycerin Natural Flea Shampoo For Dogs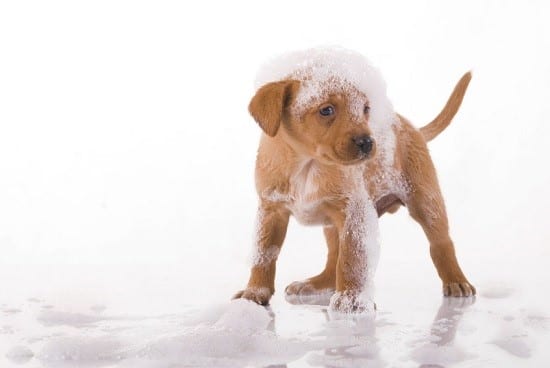 Combine the moisturizing properties of glycerin with the antibacterial and flea-fighting action of apple cider vinegar and you have a wonderful organic shampoo that cleans your pooch but also repels harmful offenders. Here's the recipe.
21. Ultimate Anti-Flea Shampoo for Dogs
Infused with drops of peppermint oil, this potent dog shampoo doesn't just kill flea eggs and larvae but also deters the adult ones.
22. Dynamic DIY Dry Dog Shampoo
https://youtu.be/p5VVw3_ZP7g
This DIY dry shampoo includes cornstarch that nourishes dry skin, baking soda for a long-term deodorizing action and lavender oil for a divine scent.
23. Rosemary Essential Oil Dog Flea Shampoo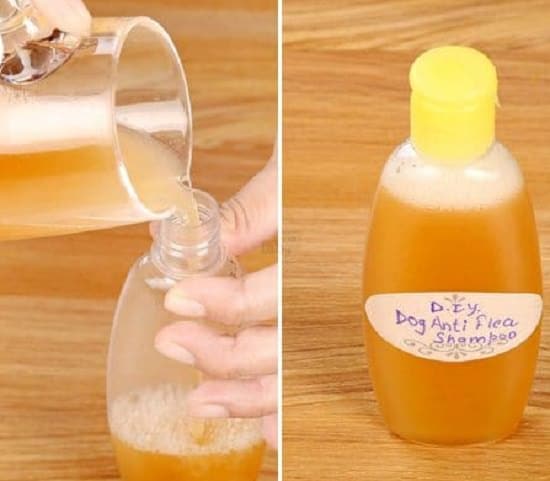 This powerful concoction of Dawn liquid soap and apple cider vinegar is your best bet for cleaning up layers of filth and tackle flea infestation, making your dog's fur clean as new. Here's the full recipe.
24. Aloe Vera Gel Dog Flea Shampoo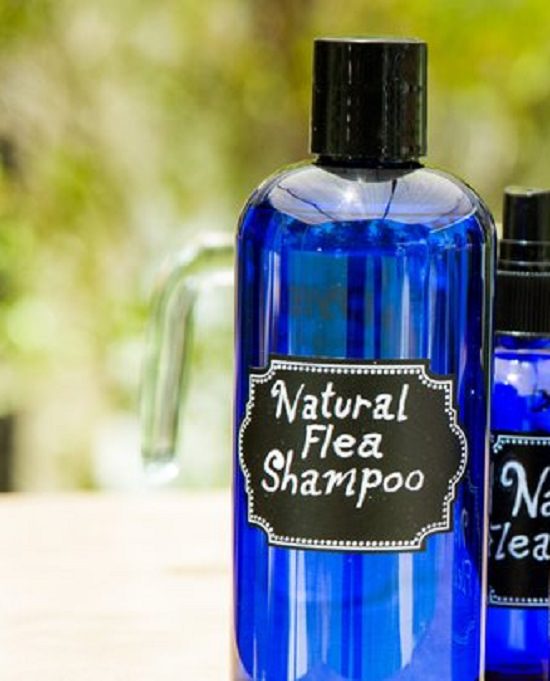 This detailed and lucid DIY gives you two recipes- one for making a flea shampoo and the other for making a flea shampoo. Both are 100% organic and gentle to your pet's fragile coat.
25. Rosemary Dog Flea Shampoo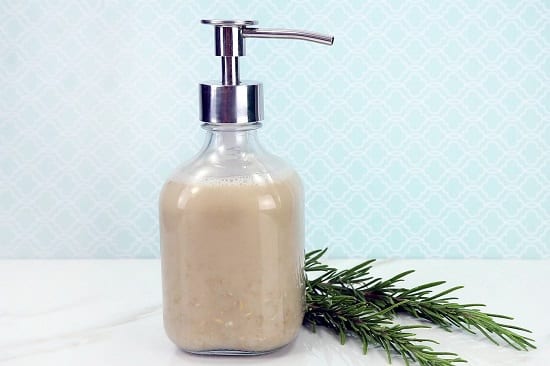 Combining castile soap, ground bits of rosemary and oatmeal gives you a nourishing shampoo that not only takes care of existing fleas on your dog's coat but also prevents new ones from coming in. Here's the recipe.
26. Homemade Flea Shampoo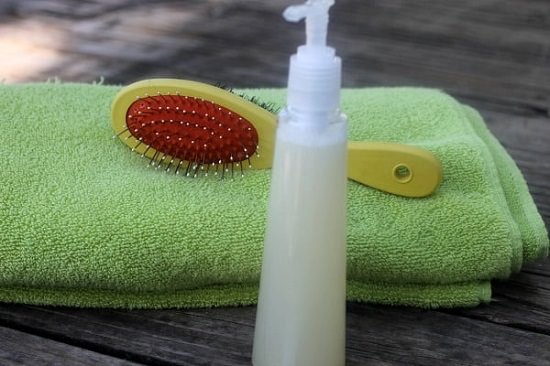 With few drops of castile soap for foaming action, lavender for repelling fleas and olive oil for moisture, this one-stop shampoo is an economical way to get rid of itchy pests. Heres the DIY.
27. Homemade Dog Shampoo Recipe

Enriched with the deodorizing properties of vinegar and the cleansing, lather-forming nature of dishwasher, this powerful flea shampoo is a great way to keep your pooch's coat clean. Get the recipe here.