If you've got a sense of construction with wood, these DIY wood coffee table ideas are sure to win your heart! They can be a great addition to your living room if you're seeking a modern makeover!
1. Coffee Table With Storage
The advantage of having a broad tabletop for the coffee table is you can easily fit your ottomans in the available space below. Get the details here.
2. Mission-Style Coffee Table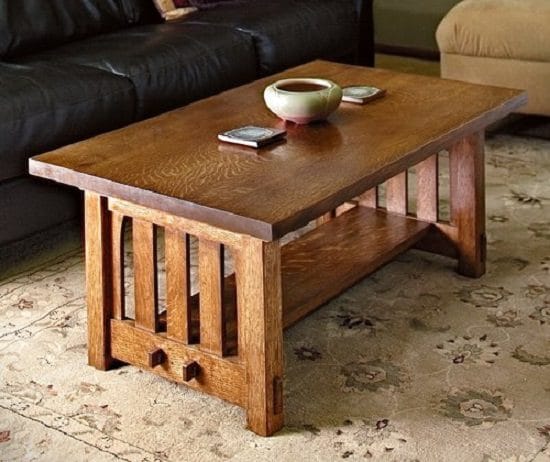 This mission-style coffee table is a contemporary piece of furniture that will suit every interior. Its side design brings a beautiful layer of complexity to the look. Get the DIY here.
3. Modern Wood Palette Coffee Table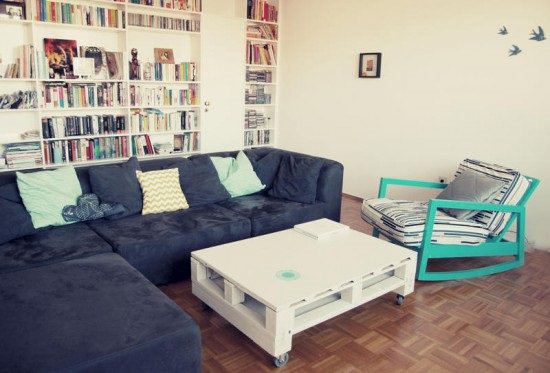 Made with wooden plates and pallet and whitewashed for a softer look, this portable coffee table has a modern touch to go with your sectionals. Here's the DIY.
4. Elegant Angled Wood Table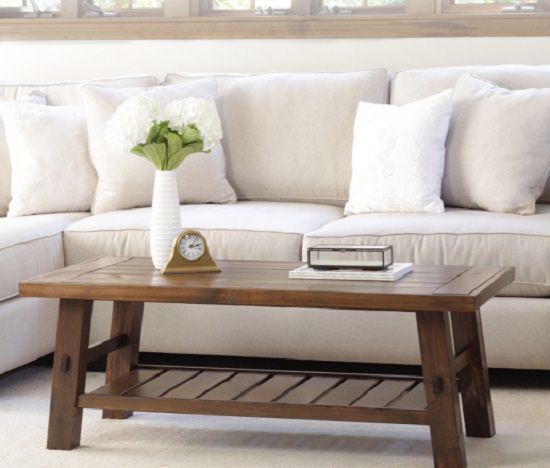 Using splayed legs for the basic coffee table not only adds up to side complexity but also makes for a more appealing look. Here's the DIY.
5. Whiskey Barrel Table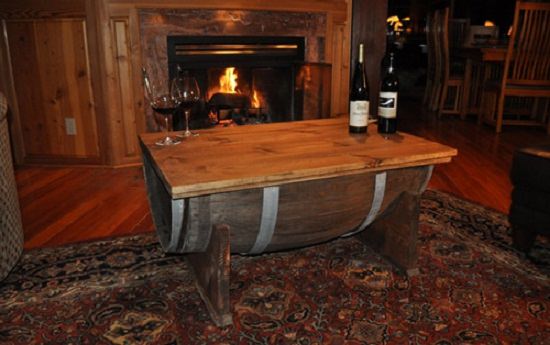 Creating a coffee table out of a whiskey barrel is a terrific way to prep your bachelor pad for the upcoming party. Here's the DIY.
6. Window Coffee Table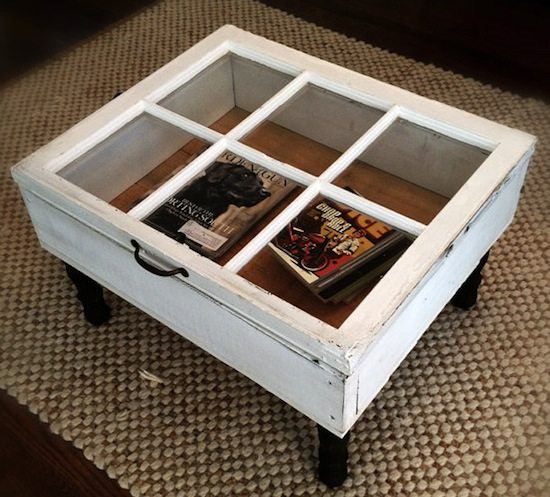 The premise of this window-to-table DIY is simple- just place a salvaged window frame over a whitewashed wooden top and attach regular table legs underneath.
7. $30 Farmhouse Coffee Table
Add a wooden coffee table to your sofa set seamlessly without worrying about a bold contrast. Just a fresh coat of white paint is enough.
8. $27 Coffee Table WITH STORAGE
With ample room for storage and an easy assembly procedure, this DIY coffee table is a great project to handle for beginners.
9. Scrap Wood Coffee Table
Create a unique textured surface combining varying shades of wooden scraps for a beautiful sculptural look.
10. Reclaimed Wood Coffee Table
Use lightly sanded wood to tone down the bulky appeal of a classic square coffee table. You can check out the tutorial in the video.
11. Coffee Table Using Crates
In the absence of pallets or advance woodworking skills, try assembling wooden crates together for a makeshift coffee table that gives you the option of concealed storage as well.
12. DIY Coffee Table With Hidden Storage
Speaking of storage, this design allows for an easy pull-down design for keeping books and children's toys handy.
13. Coffee Table from Rough Wood
The raw rustic appeal of unfinished wood may not fit in modern homes, but this DIY will show you how to incorporate that into your coffee table design.
14. DIY Rustic Pallet Coffee Table
A broad wooden tabletop coupled with short legs makes for unique farmhouse-style furniture that blends easily with the existing couch.
15. Tree Stump Table with Glass Top
Merge a mirrored surface over a reclaimed tree stump to sweeten the bold look. Here's the DIY.
16. Simple Coffee Table
Simplicity is the ultimate way to display sophistication. Take a cue from this DIY for inspiration.
17. Industrial Coffee Table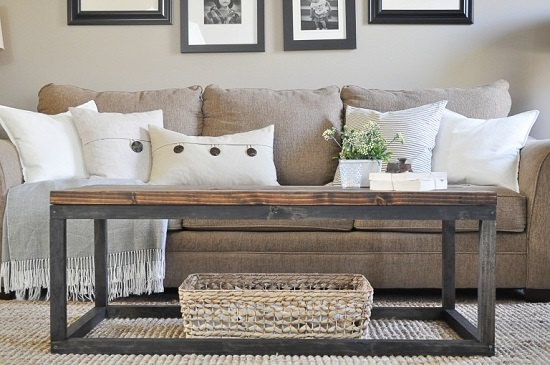 Lightweight yet sturdy, this industrial-style coffee table is super easy to maneuver and adds elegance to space. Here's the DIY.
18. Farmhouse Square Coffee Table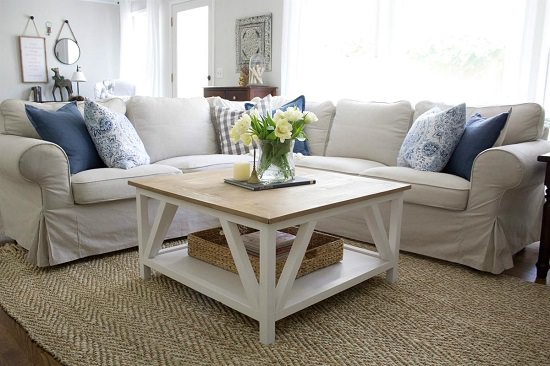 The classic square coffee table is a great thing to go with sectionals. Consider making one with a painted base and sanded tabletop. Here's the DIY.
19. DIY Geometric Wood Art Coffee Table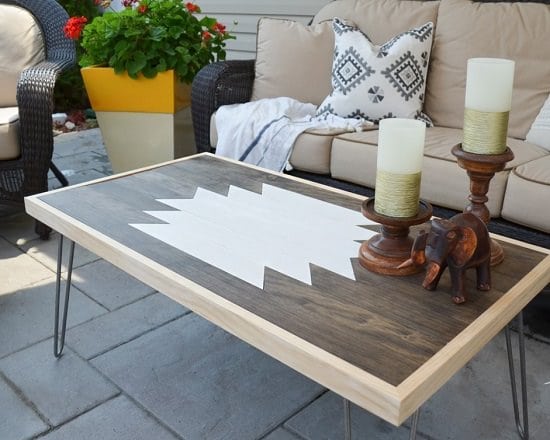 Nothing beats textures! Combine light and dark stained wood for the tabletop and add a nice pair of hairpin legs for a modern touch. Here's the DIY.
20. Rhyan Coffee Table
Albeit chunky, this gorgeous wooden table has complete drawers for added complexity and textures. Here's the DIY.
21. Birch Log Coffee Table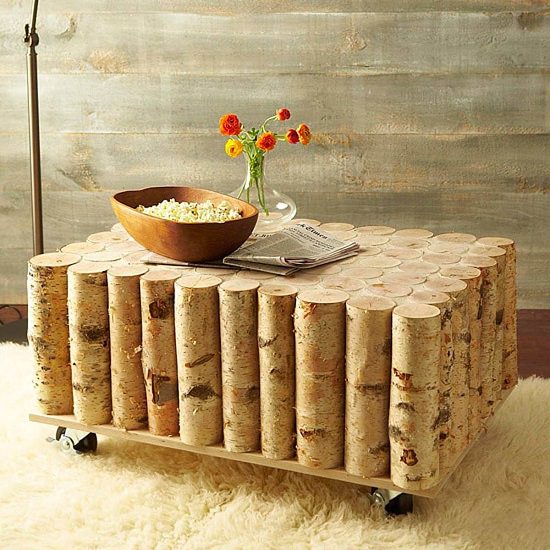 There's something so warm about the appeal of birch that it cozies up space instantly. Put it to use with this amazing coffee table DIY.
22. Anthropologie Inspired Coffee Table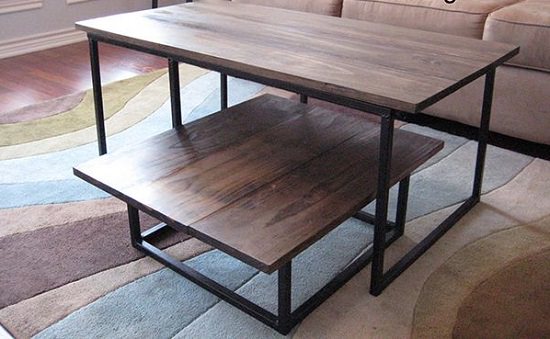 Replicate the look of aged wood for your coffee table to spruce up your room with industrial-style decor. Here's the DIY.
23. Reclaimed Lumber Coffee Table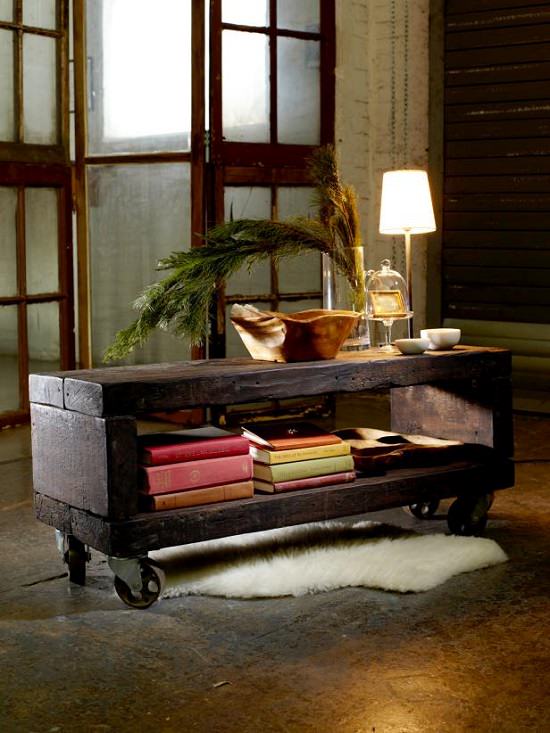 Combined wood reclaimed from an old shelf and castors to create a portable, industrial-style center table with this super easy DIY.
24. Coffee Table Using an Old Door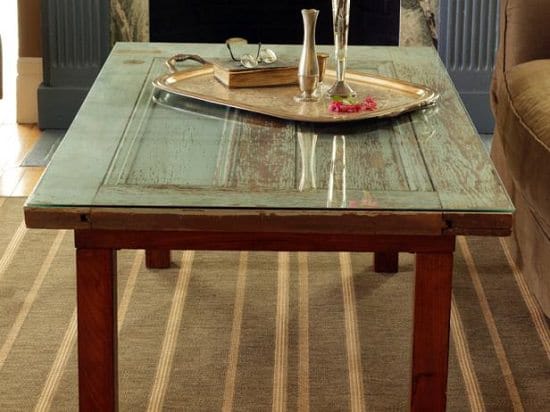 For the ultimate shabby chic look, try this door-to-table transformation DIY.
25. Wood Slab Coffee Table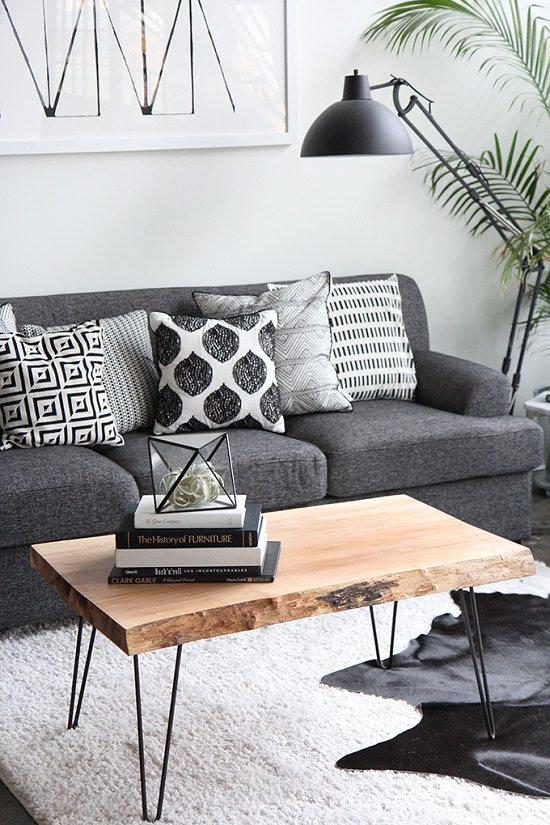 All you need is a trip down to the local hardware store to fashion a handsome coffee table from unfinished wood. Check out this DIY for inspiration.
26. Copper Pipe Wood Coffee Table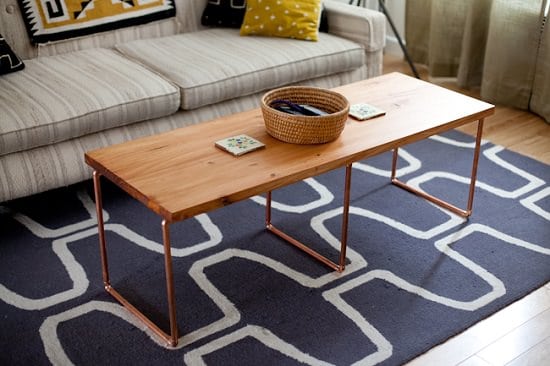 For a subtle elegant touch without trying too hard, consider adding copper legs to a wooden tabletop. This DIY has the details.
27. Balustrade Wood Coffee Table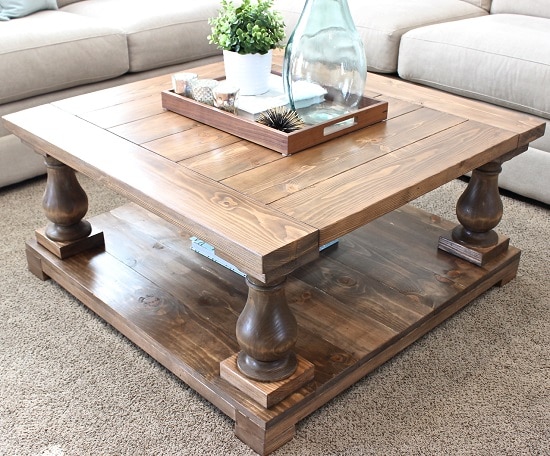 Uplift the look of a shoddy old coffee table with new monastery bench legs that would make it look like a family treasure. Here's the DIY.
28. 2×4 Boards Coffee Table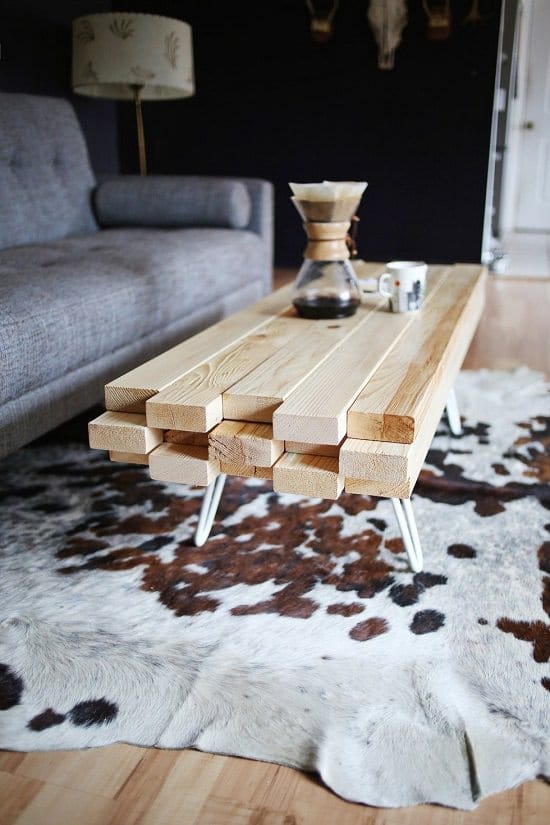 A 2×4 coffee table is a handy thing to have when you're on a budget and less than impressive woodworking skills to boast of. This DIY shows you how to create one using pallets and bench-style hairpin legs.
29. Mid-Century Wood Coffee Table
This mid-century DIY coffee table lets you set a nice vintage tone to the living room without changing the couch and chairs.
30. Lift-Top Wood Coffee Table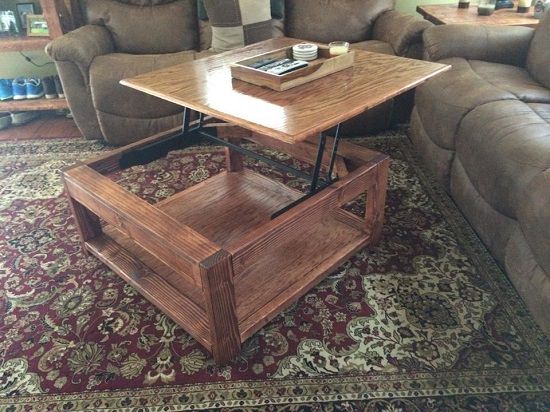 For handy access to storage, try the lift top table. Here's the DIY.
31. DIY Danish Modern Coffee Table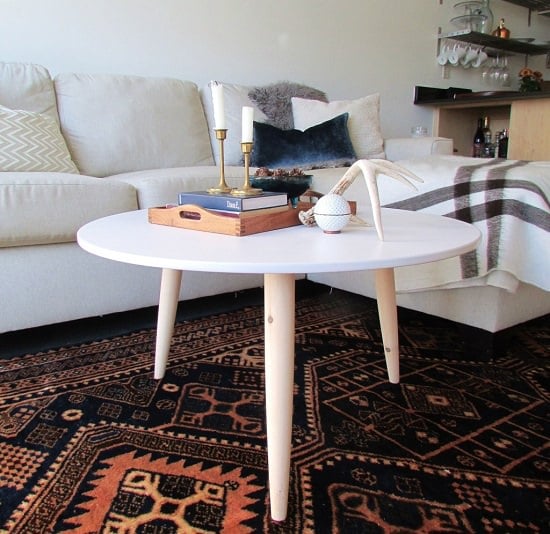 Upgrade an old center table by removing the base and painting the top with epoxy spray paint for a sparkly new finish. Details are here.
32. Display Wood Coffee Table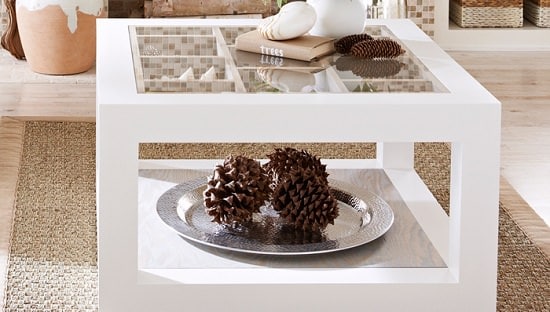 Here's the perfect coffee table design to showcase handpicked treasures for guests to see. Follow this DIY.
33. DIY Live Edge Slab Coffee Table
The myriad patterns intrinsic to raw live edge wood make it a timeless starting material to create your coffee table with.
34. DIY Rustic Concealment Coffee Table
Salvaged from old wooden furniture pieces, this DIY coffee table is a nifty piece to make; plus, adding a neat little pull-out shelf below makes for extra storage.
35. DIY Coffee Table with Concrete Legs
A wooden base combined with concrete legs makes for a sturdy and trendy coffee table that is likely to last generations.
36. Epoxy and Coffee Beans Coffee Table World Map
Using epoxy resin to etch world map and coffee beans to fill up the drawing, this DIY coffee table is a splendid addition to a geek's living room.
37. DIY Outdoor Coffee Table
If you're looking to make the most of your backyard space with some organization, this DIY is the best beginner's project to get your hands on.
38. Coffee Table with a Shelf
For a quick shelf-to-table conversion, consider this DIY. It gives you a way to reuse old pieces of furniture as well.
39. Chevron Coffee Table
Using pallet of different shades and sizes, this DIY shows you how to create a chevron pattern that adds a beautifully sublime touch to the room.
40. DIY Infinity Mirror Wood Coffee Table
Modify your existing center table with LED strips and square glass to create an infinity mirror top that is sure jazz up your living room at night.
41. DIY Bowling Alley Coffee Table
Good-looking wood deserves a second chance, which is why this DIYer converted a bowling lane into a beautiful coffee table.
42. Russian Rustic Wooden Coffee Table Made of Stump DIY
Add a fun factor to the children's bedroom with a handpainted tree stump. Get the DIY in the video.
43. DIY Factory Cart Coffee Table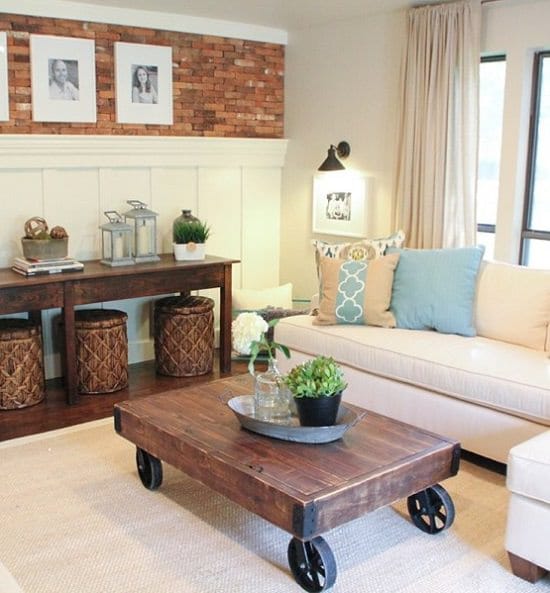 Featuring a reclaimed wooden top fastened to castor wheels, this DIY factory cart table brings shabby chic charm to the living room.
44. Free Crate Store Coffee Table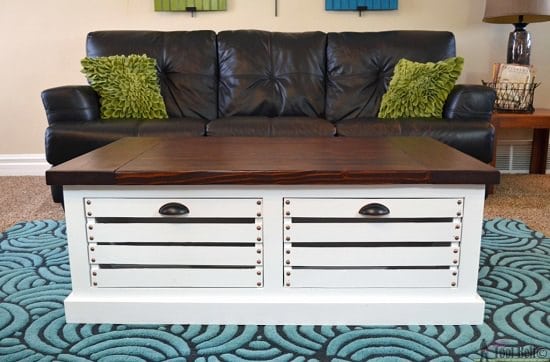 For building stylish coffee tables with lots of character, consider using crates instead of drawers and get ample room of storage as well. Here's the DIY.
45. Herb Garden Wood Coffee Table Ideas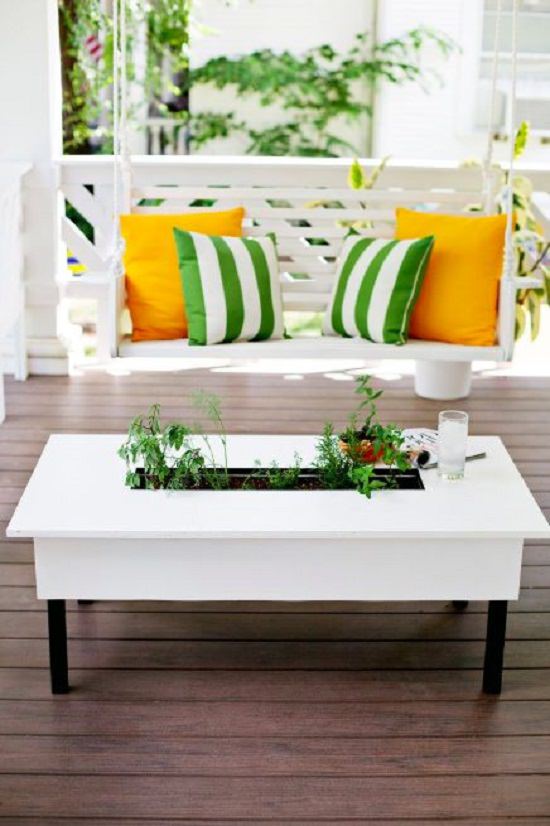 The idea of having a coffee table that incorporates a herb garden as well gives you ample culinary choices to spice up food and drinks while lazing on the sofa. Get the DIY here.
46. Coffee Table Using Old Wood Soda Crates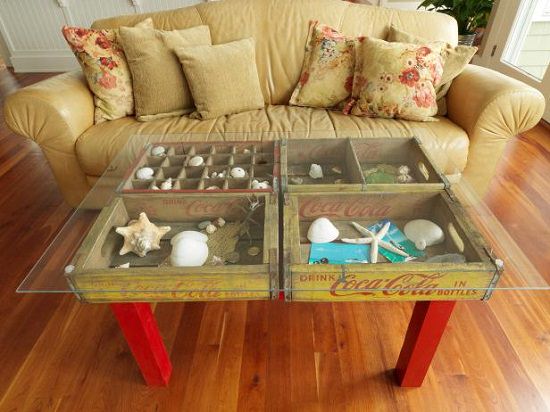 With wooden boxes as the table base and tempered glass for the top, this unique coffee table is a great place to showcase dainty decorative knick-knacks. Here's the DIY.
We hope that among these wood coffee table ideas, you were able to find a table that would suit your liking and spirit! If you've got more such ideas, you're free to share them in the comments below!