All these DIY mason jar storage ideas are apt if you're looking for some thrifty yet practical ideas to store your day-to-day supplies!
1. Mason Jars Vitamin Storage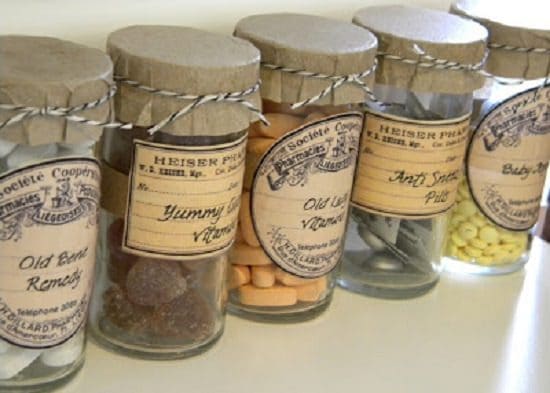 Turn your kitchen shelf into a vintage pharmacy corner with this interesting and inspiring DIY mason jar storage idea.
2. Mason Jar Meal Storage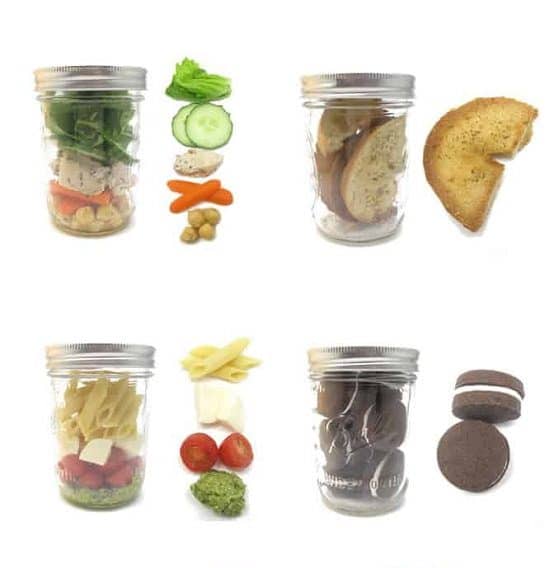 From grab-and-go breakfasts to shake-and-serve smoothies, mason jars are versatile and portable containers to ensure health is always your topmost priority.  Here's the idea for inspiration.
3. Coffee Station Mason Jars Storage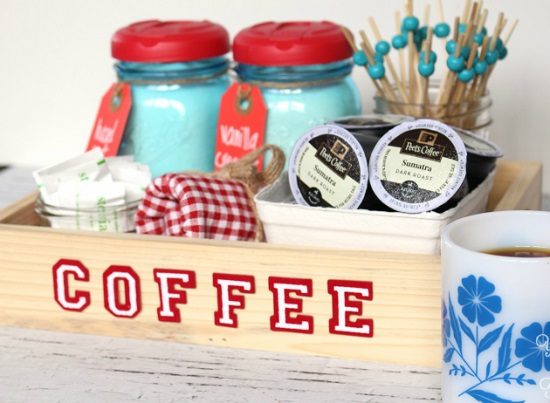 If you happen to have a wooden tray and some mason jars at your disposal. do take a cue from this DIY to fashion a little coffee station that is js super easy to take outdoors for a quick cappuccino.
4. Storage Buttons with Mason Jars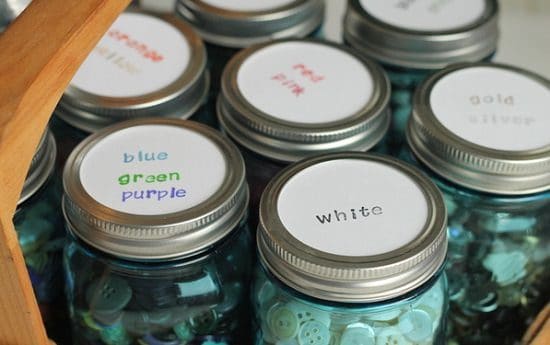 The smaller mason jars are perfect slots for arranging piles of buttons on the basis of color. That way, you won't feel daunted every time you decide to stitch something. Here's the idea.
5. Marker Storage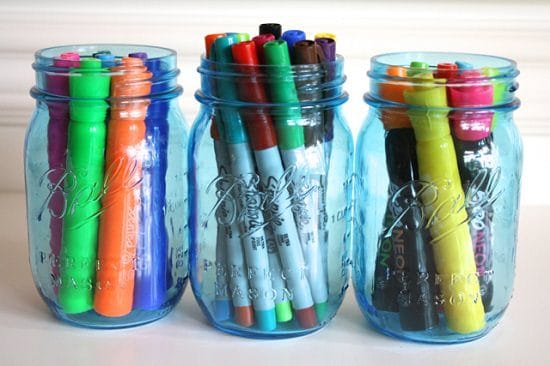 Adding blue paint on clear glass mason jars creates a mystical effect, making them several times fancier, which is particularly great for giving them away as gifts. Here's the DIY for inspiration.
6. Mason Jars Craft Storage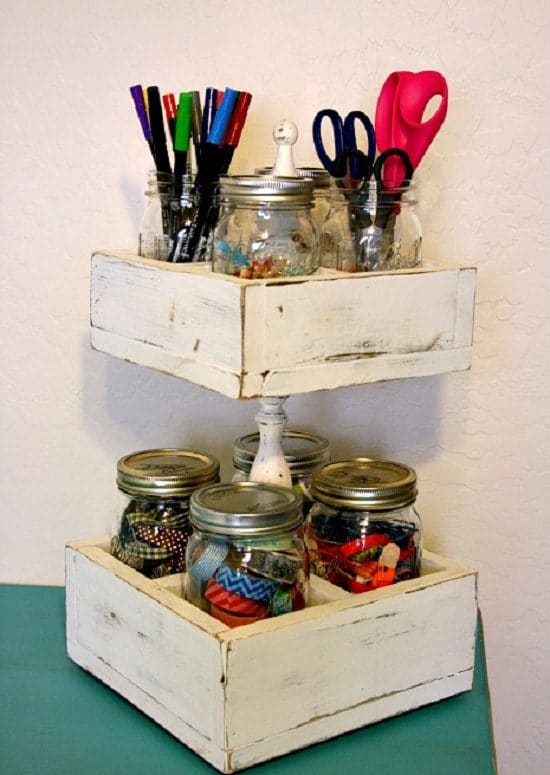 Flaunt your love for mason jars and organization with this shabby chic, double-tier wooden caddy. The DIY is here.
7. Mason Jar Toothbrush Storage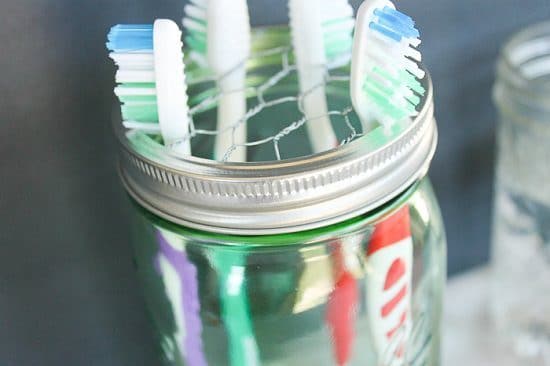 Storing multiple toothbrushes in a container leads to the gross mistake of picking up someone else's brush, which is why this DIY mason jar holder with a chicken wire lid is your best bet.
8. Paint Dipped Mason Jar Utensil Storage
For that lovely slated look, consider slathering a mason jar halfway through with chalkboard paint. Then write the item you want to store with chalk and get it up on the shelf. Here's the full DIY.
9. Kitchen Cleaning Wipes Storage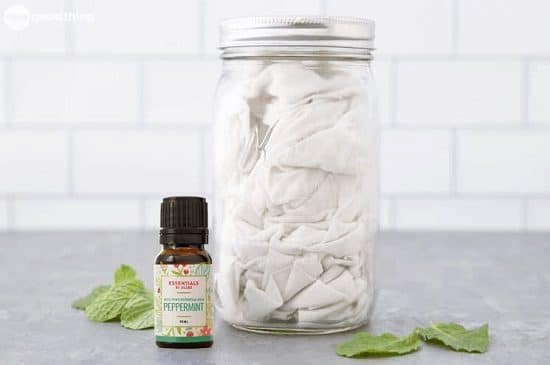 Keep your homemade kitchen cleaning wipes stored in a hassle-free manner and easy to reach with mason jar storage. Here's the DIY.
10. Mason Jar Spice Storage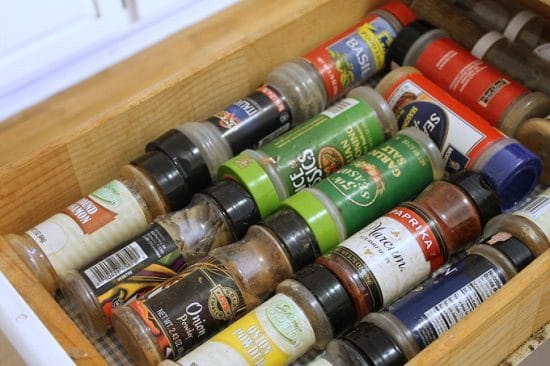 This spice organizer DIY is a great springtime venture to undertake that is sure to leave you in smiles every time you walk into the kitchen.
11. Silverware Storage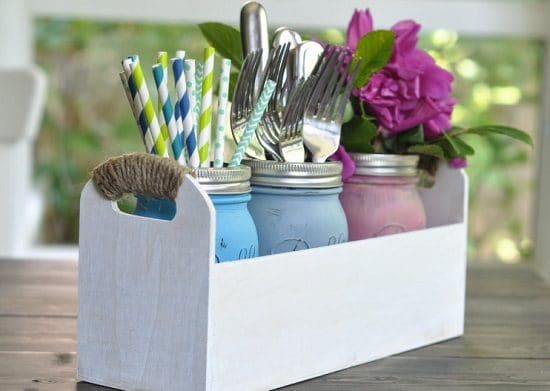 This portable utensil caddy using mason jars for storage brings cheer to the picnic table and makes it easier to transition outdoors for mealtimes. The DIY is here.
12. Mason Jar Toothpick Storage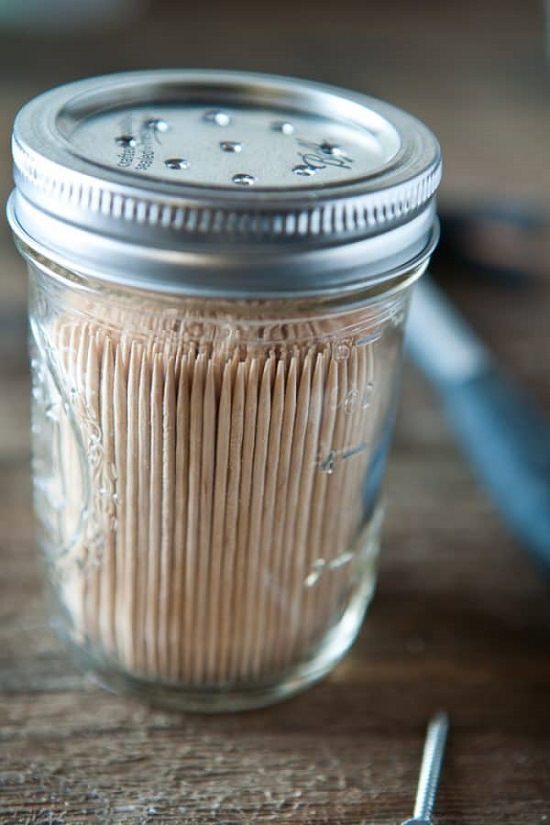 This compact toothpick dispenser makes a cute addition to the kitchen countertop. You can beautify it further with a pretty bow or some paint. Here's the DIY.
13. DIY Mason Jar Makeup Storage
Preserve the integrity of your choicest makeup brushes by keeping them stored in mason jars spray-painted in metallic colors. The end result is sure to glam up your vanity.
14. Mason Jar Bathroom Storage
Arrange your toiletries in individual mason jars to avoid shower caddy clutter and the associated morning hassle. This DIY is a sensible choice for big families that share a bathroom or two.
15. Mason Jars in the Kitchen for Storage
Mason jars painted in fall colors make a dramatic difference to freshen up the kitchen countertop instantly while allowing better usage of space.
16. DIY Pin Cushion Storage Mason Jar
Mason jars with pin cushion jars are like upholstered storage options that have the perfect texture to go with sewing supplies and small craft items.
17. Nail Polish Storage Mason Jar
If you have a certain nail color that is your mainstay for the entire week and a few others that are only meant for special days, this mason jar storage DIY will help you arrange them in the order of priority.
18. Mason Jar Tissue Dispensers Storage
Combine the pliability of mod podge with the storage feature of mason jars and you've got yourself a handy tissue dispenser that works like a charm.
19. Spices Storage Mason Jar
When it comes to spice storage, it helps to get back to the basics. Watch the video to know more.
20. Ear Cleaning Buds Storage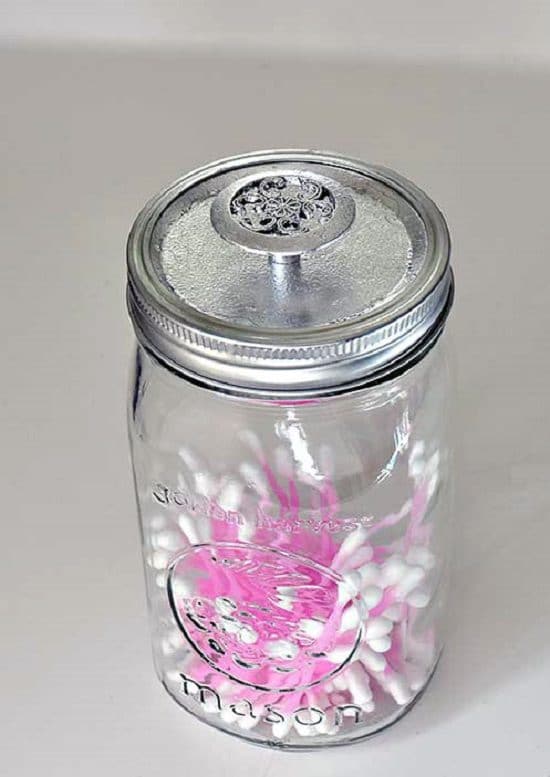 Silver leaf your ordinary mason jar to give it a trendy spin and make it ready for a glamorous addition to your bathroom shelf. Here's the DIY.
21. Back To School Mason Jars Storage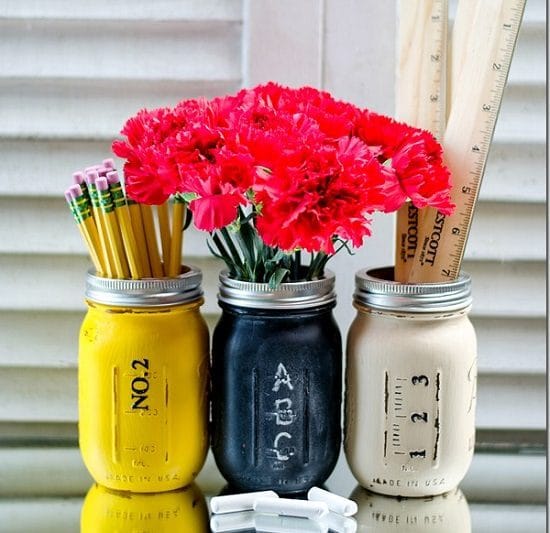 A bunch of these painted and distressed mason jar pencil holders make a wonderful token of appreciation on Teacher's Day. Here's the tutorial.
22. Cupcake Liner Storage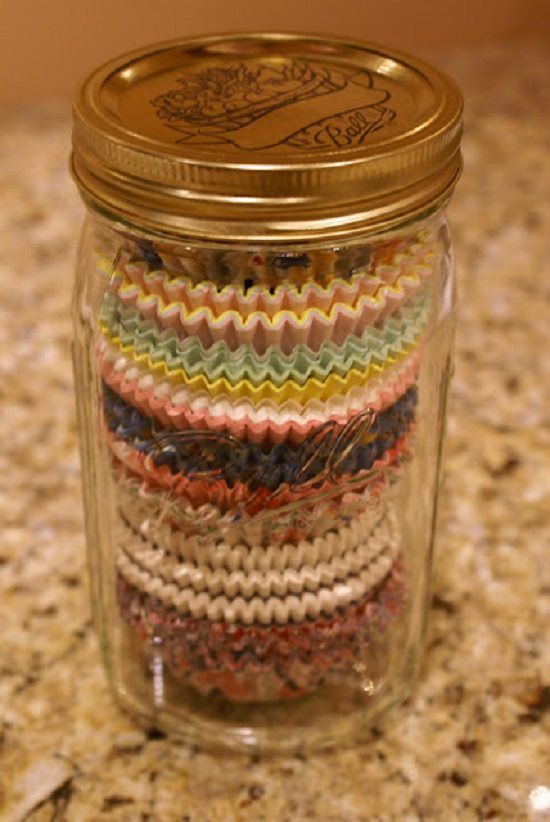 A wide-mouthed mason jar is just the space you want for storing cupcake liners in such a way that they retain their delicate shape. Here's the DIY to get you started.
23. Keep Matches in a Mason jar Storage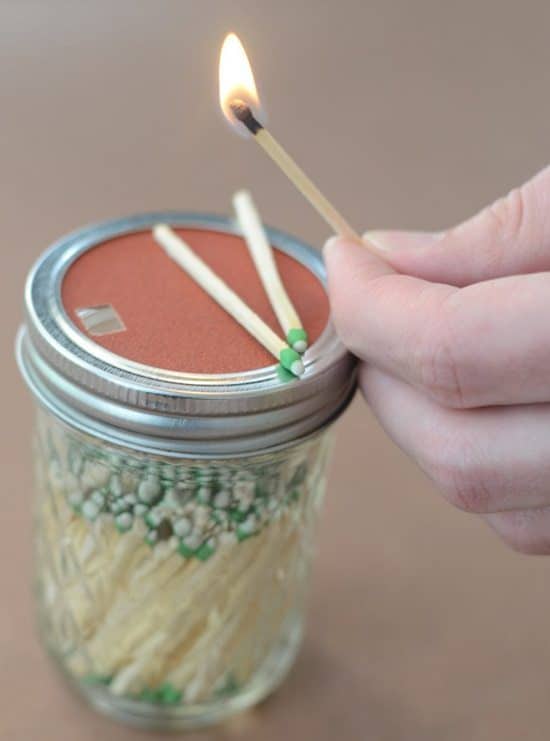 A sandpaper lid and a jar full of matchsticks-isn't that a great idea for a matchbox! Take inspiration here.
24. Mason Jars Twine Storage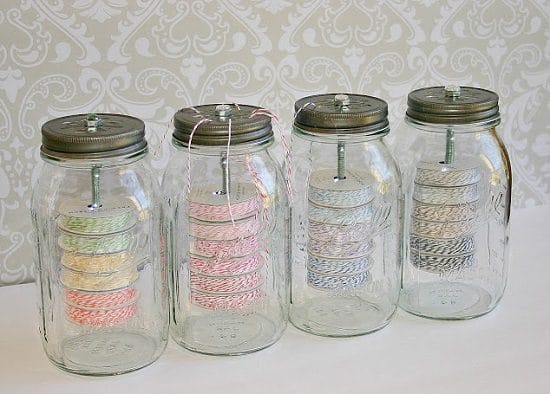 Storing the baker's twine is not easy. This DIY suggests keeping them in a mason jar with cut-out lids and threading the twine through the cut-out for easy reach.
25. Hanging Mason Jar Storage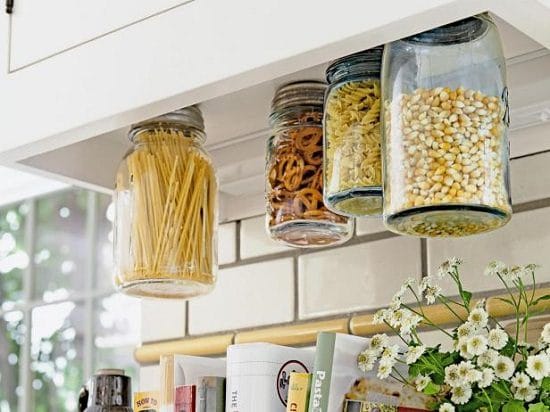 A hanging pantry is a smart hack to keep tasty nibbles from pesky little fingers. Create one using mason jars and a little help from your toolbox. Here's the DIY.
26. Mason Jar Snack Storage
Glue the lid of the mason jar with the spout of a plastic juice can for a nice, portable snack container that dispenses effortlessly. Here's the full DIY.
27. DIY Under the Cabinet Mason Jar Storage for Kitchen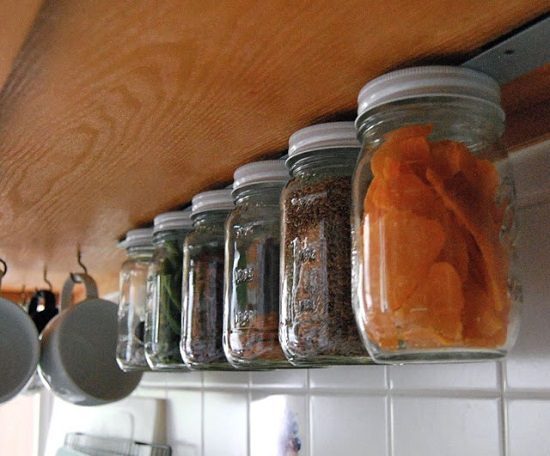 Maximize the space underneath kitchen cabinets by using the magnetic strip as the shelf and mason jars for storage. Here's the inspiration.
28. Chalkboard-Painted Mason Jar Pencil Storage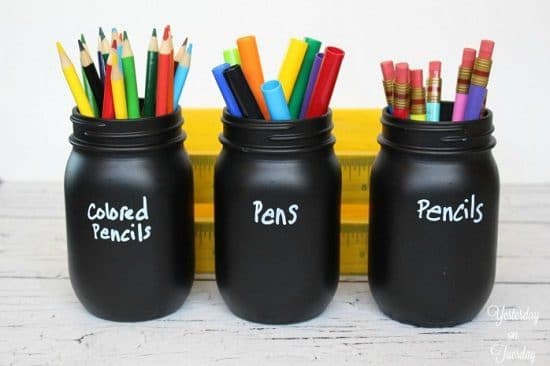 Looking for a fresh dose of motivation to do homework every day? Consider making this chalkboard-themed bunch of mason jars to hold your stationery. Find the instructions here.
All these DIY mason jar storage ideas can be easily executed with your kids too to bring some fun in your daily family routine!