Make use of your extra patio space to implement any of these DIY patio kitchen ideas; these are not only practical but adds to the beauty of the patio too!
1. DIY Tiled Outdoor Patio Kitchen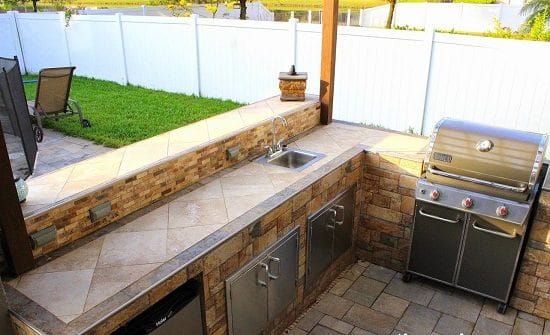 From electrical work to plumbing, sawing to tiling the kitchen, this DIY details an entire protocol of creating a contemporary and durable patio kitchen from scratch.
2. DIY Modern Patio Kitchen and Bar
Perfect for the basement or the balcony, this upcycled kitchen space made with reclaimed wooden pallets and concrete countertops hosts enough space for accommodating appliances as well as extra seating space.
3. DIY Outdoor Kitchen With Concrete Countertop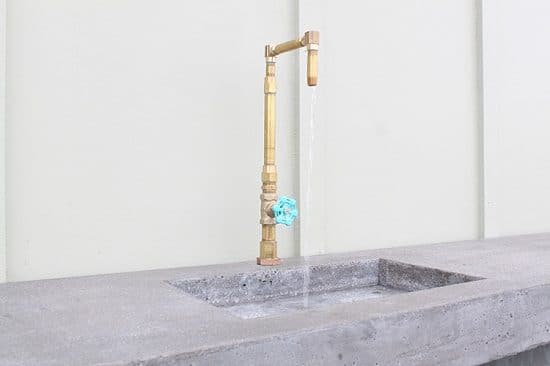 Convert an empty corner of your deck or patio into a kitchen with a concrete countertop, a sink, and some shelving. Later on, you can add a set of chairs and call it your cafe. Here's the DIY.
4. Wood And Brick Patio Kitchen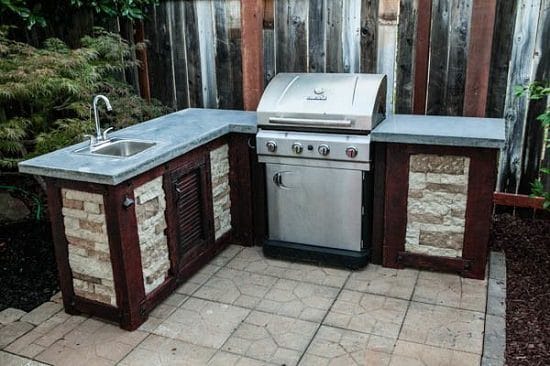 How fancy it is to have a complete backyard kitchen for the sole purpose of barbequing with friends! That might be the project to undertake before the breezy summer evenings kick in. DIY is here.
5. Inexpensive Outdoor Kitchen With Concrete Countertops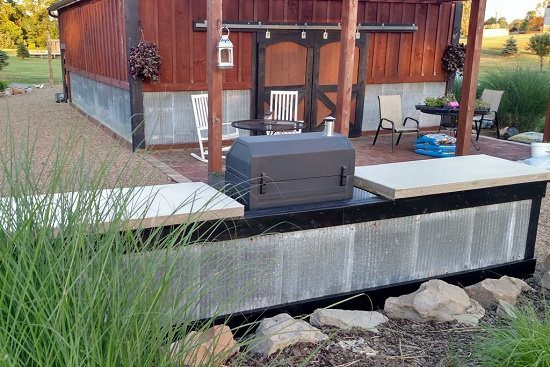 Concrete countertops, metal shelving, and reclaimed wooden frames all contribute to a rustic barn feel in this outdoor kitchen DIY. Take a look at this inspirational idea to replicate this at your farm/patio.
6. Patio kitchenette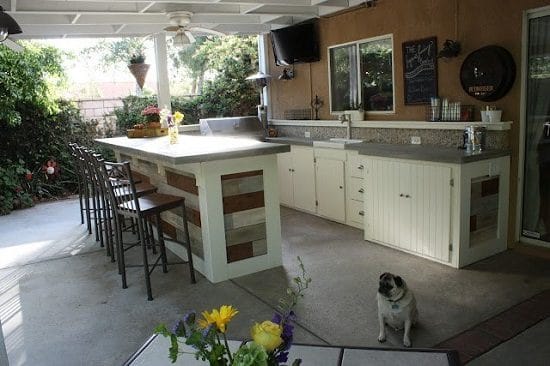 Turning wooden slats into a kitchen island and combining that with white beadboard cabinets makes for a casual, beachy look that is perfect for infusing fresh summer vibes to the patio. Take inspiration here.
7. Synthetic Stucco Patio Kitchen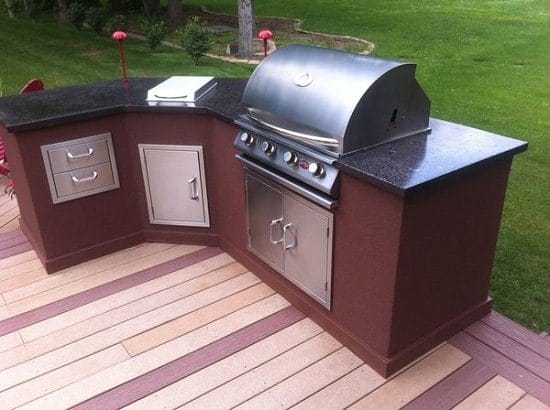 This stainless steel kitchenette hosts concrete countertops that neither buckle nor crack. Plus, the use of steel studs makes this project easy, to begin with. Consider adding tempered glass inlay on the countertops for a fresher feel. The DIY is here.
8. Patio Barbecue Kitchen With Pergola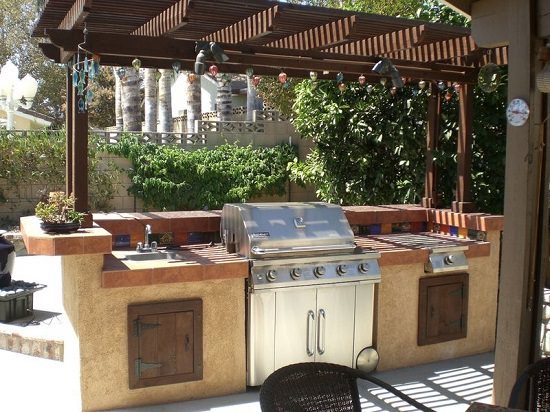 This mid-level DIY requires tons of brick-laying and basic carpentry skills, but it's also hands-down the easiest way to get a built-in barbeque done.
9. DIY Patio Deck Kitchen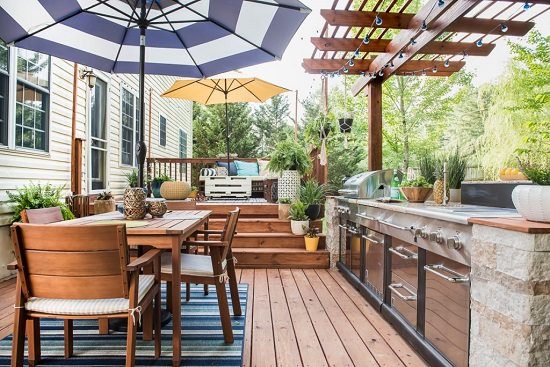 Make your patio cozier and party-ready with two-tier decks, a pergola, and a cooking area, This magnificent kitchenette idea is particularly suitable for those with a huge patio.
10. Patio Kitchen on a Budget
If you want a durable yet budget-friendly DIY that not only helps you convert an existing deck area into a kitchen but also fits in with the rustic mood, do take a look at this DIY.
11. Bricks Patio Kitchen
This DIY kitchen is centered around creating brick overlaid countertops to hold a gas grill primarily and for storing food. It's space-friendly and can be customized with bar stools for seating.
12. Build an Outdoor Patio Kitchen
The smooth look of concrete, coupled with its weatherproof nature, makes it a hit with those looking for a permanent cooking area outdoors. Understand the idea in this video.
13. Patio kitchen construction DIY
This DIY outdoor kitchen includes wooden cabinets encased with solid concrete frameworks and tile countertops, making it easy to build for beginners.
If you happen to construct a unique patio kitchen other than these DIY patio kitchen ideas, you can freely share your experience with us; we'd love to hear from you!