Show your creative skills in decorating a mason jar to spread love and surprise your Valentine with these DIY love jars ideas on a special day!
1. DIY Valentines: Snack Jars and a Love Note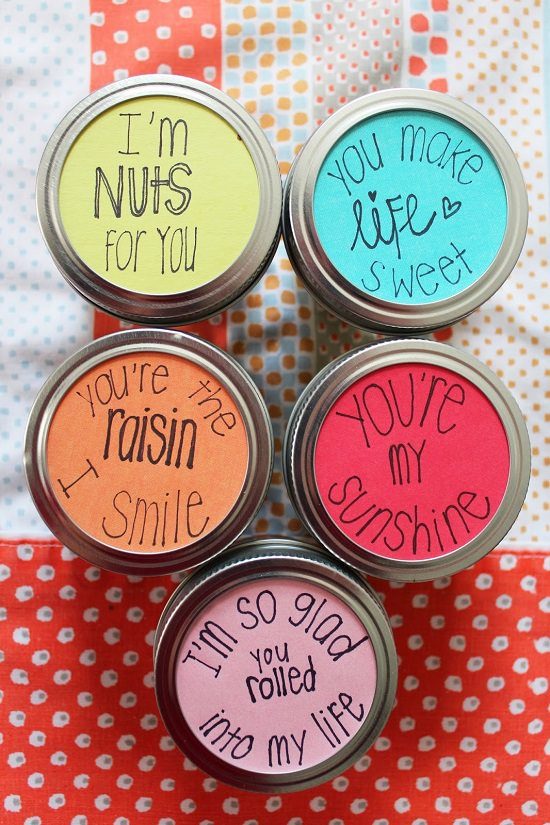 Stuff in tiny goodie jars personalized with heartfelt quotes into your little ones'lunchboxes to brighten up their boring day and make them feel more at home when in school. Follow this DIY.
2. Date in a Jar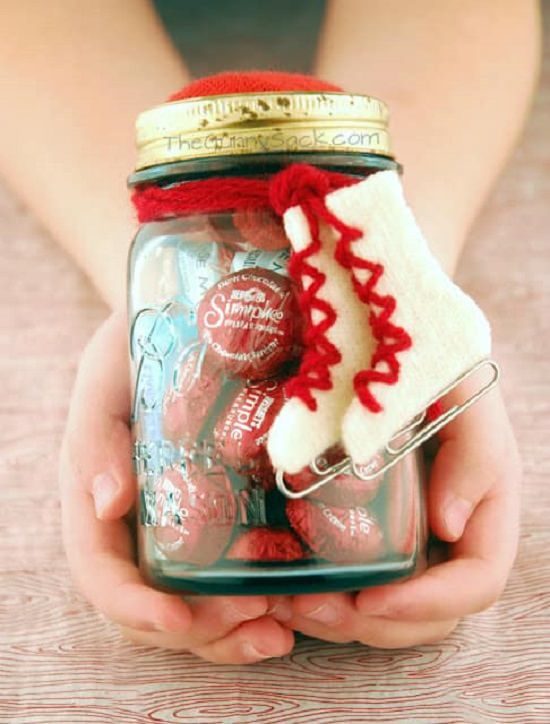 Stuff in winter wellness products inside your mason jar and pretty it up with fancy ribbon and snow icons like ice-skating boots to add a cute quotient to your handmade gift. Details are here.
3. DIY Heart Jar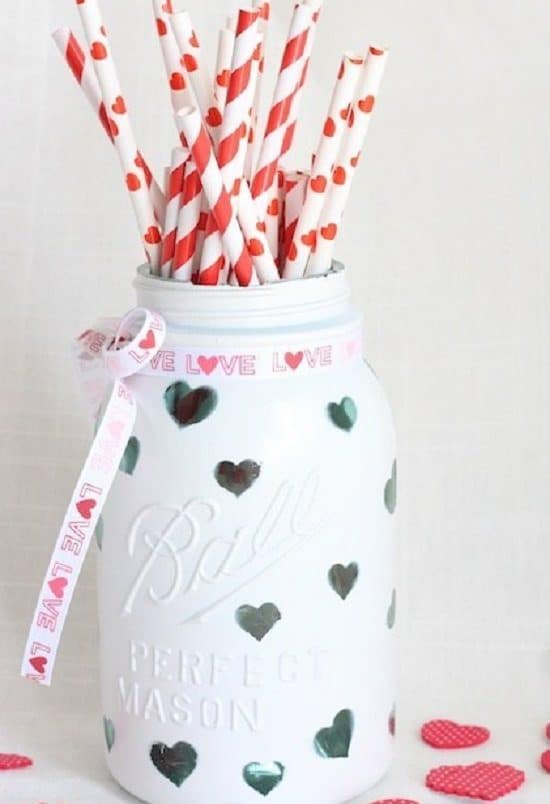 With acrylic glass paint and mason jars, you can create cute and whimsical love jars fit for every occasion, from Mother's Day to a baby shower. Here's the DIY.
4. Love Mason Jar Votives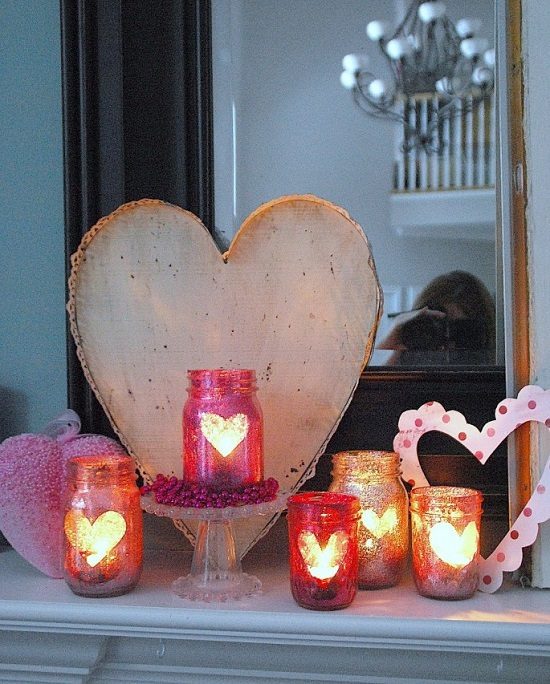 Pouring melted polyurethane into your decorated mason love jars and adding tea lights later creates a lovely shimmery look that is sure to set the right mood for a romantic evening for two. Here's the DIY.
5. "Heart Attack" Jar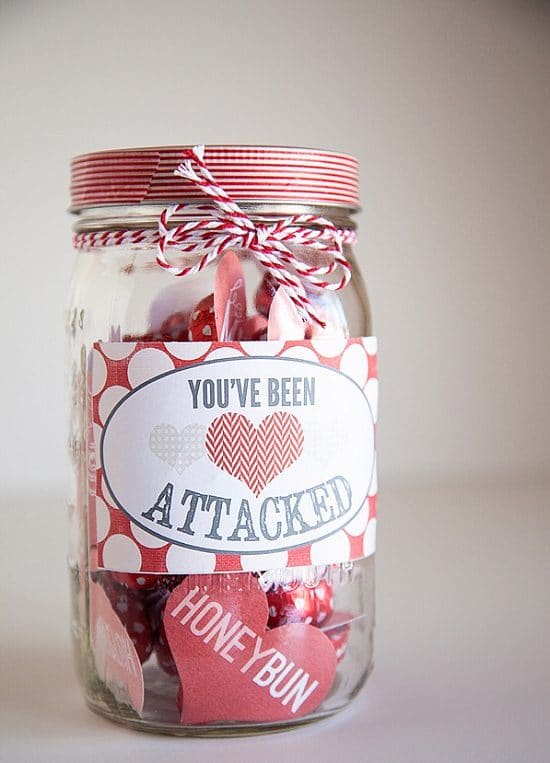 Filled with treats and printed heart cutouts, this mason love jar is a fun way to show your friends and family how much you love them. Here's the DIY.
6. DIY Love Jars Ideas

If you need an excuse to say thank you to someone this Valentine, consider this mason love jar DIY.
7. Heart In A Jar Valentine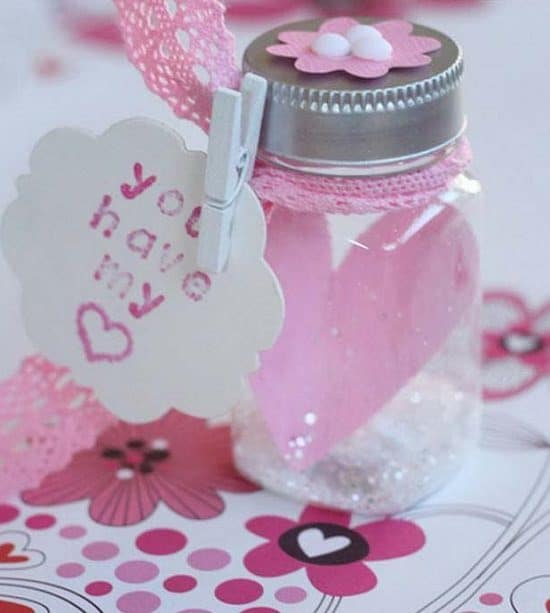 Give your heart to the one you love with this beautiful heart-in-a-jar gift idea. It makes a lovely keepsake of your first flush of romance years down the line. Here's the full DIY.
8. Photo In A Mason Jar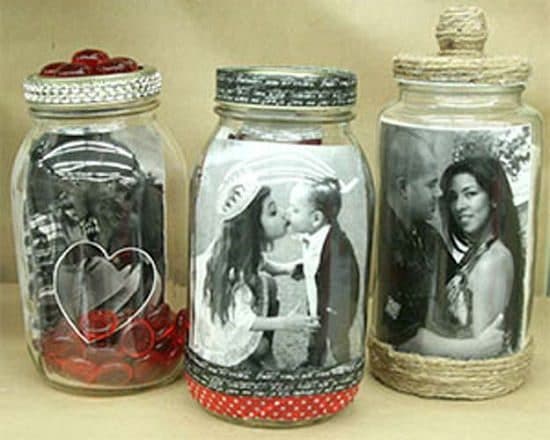 This effortless and super cheap DIY gives fascinating results in return. All you need is mason jars, photographs and double-sided tape to get a cute personalized gift for your Valentine.
9. Cute Valentine Love Jars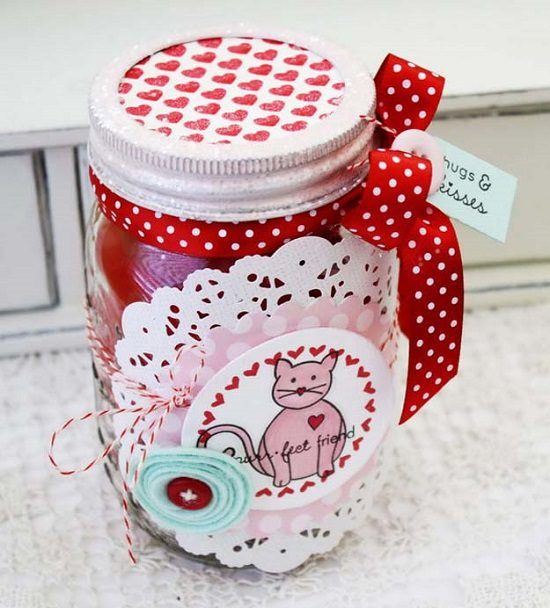 When creating Valentine Day gifts for all your friends, consider taking inspiration from this DIY. It involves using vinyl cutouts of animal cartoons, and pretty lace fabric as well as baker's twine for quaint charm.
10. Button Heart Mason Jar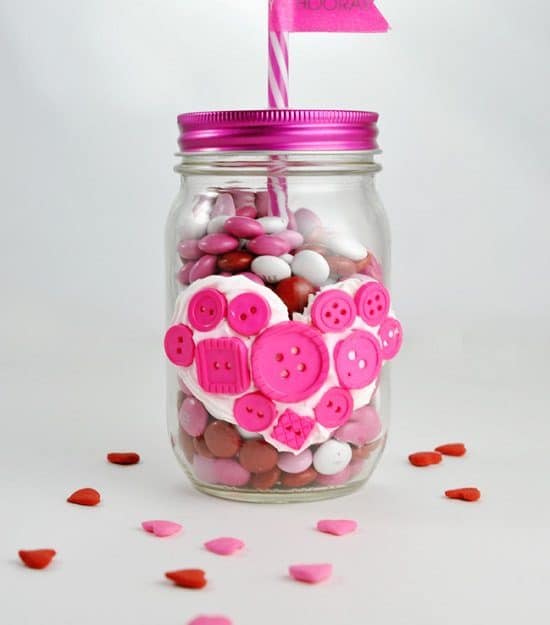 Make a collage of pink buttons pasted onto a Mod podge heart mold for a lovely accent to a Mason jar full of candies. Here's the DIY.
11. Decorated Valentines Mason Jar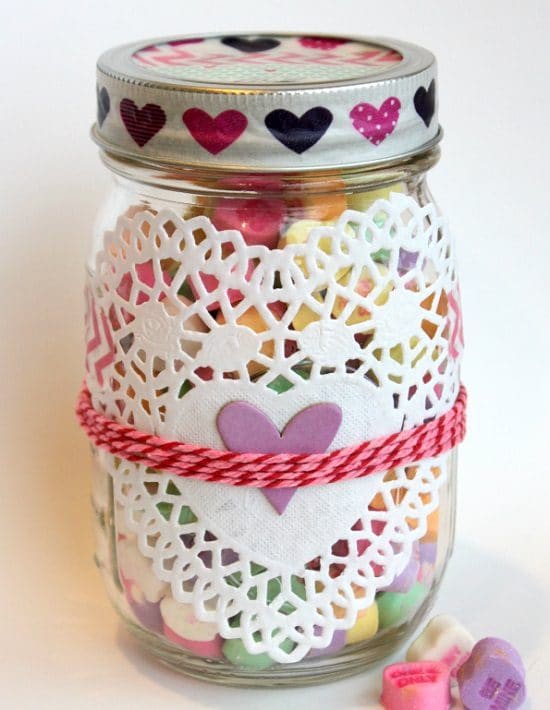 Here, baker's twine, cardboard heart cut-outs, and washi tape help make a plain glass jar Valentine-ready.
12. Red Valentine Jars with Glitter and Confetti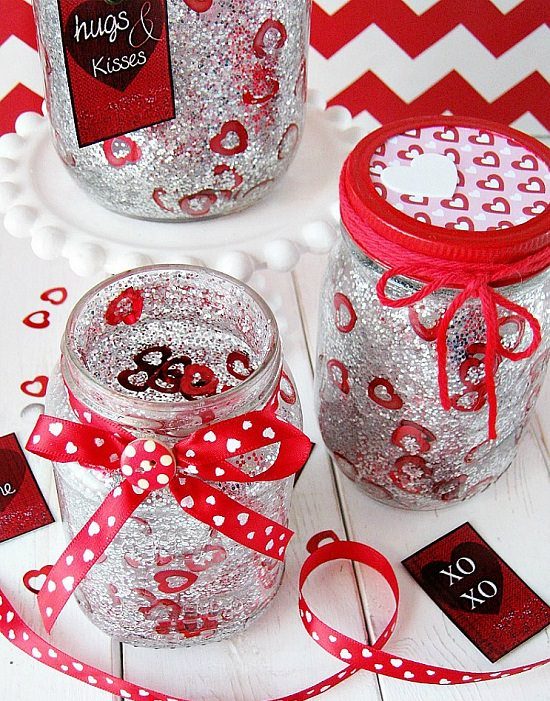 These gorgeous jars get their glamor from confetti and glitter, making them apt for not just Valentine's Day but relevant as year-round decorations. Here's the DIY.
13. Message in a jar
Pack in your message of the day with treats, heart cut-outs, and marshmallow goodies to make dessert times fun and romantic. Here's the DIY.
14. DIY Light Up Mason Jar for Him/Her
Have LED lights liven up a plain mason jar and fill it up with your favorite signs of love-like a few floral embellishments, initials of your names and lettered hearts. This DIY has more ideas.
15. DIY Happy Jar
Featuring a burst of colors, this DIY mason jar is a cheery gift to brighten up someone's day. Fill it up with goodies they like, and affectionate quotes to bring on the smiles and teary eyes. Here's the DIY.
16. DIY Notes Jar
Make sure your words have more meaning with this DIY notes jar. It is known to evoke instant smiles and renew the lost spark in your relationship. Here's the tutorial to make one.
17. "Thought Jar" DIY
Gather all your positive thoughts and stuff them into a tiny mason jar with some candies and glow lights to create pleasing sensations for anyone that opens it. Here's the DIY.
18. Love Slat Sign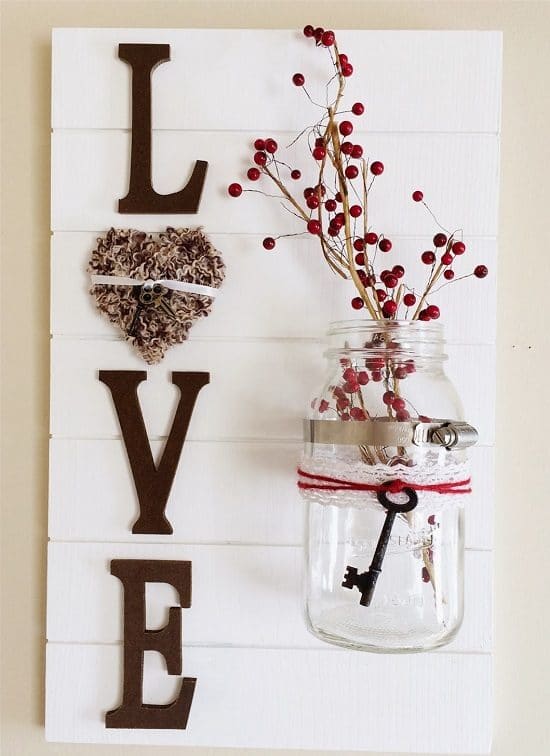 The combination of lace and jute creates a unique layer of texture inside mason jars and the wooden lettering makes it a bold display to surprise your loved one on Valentine's Day. Here's the DIY.
19. Thumbprint Hearts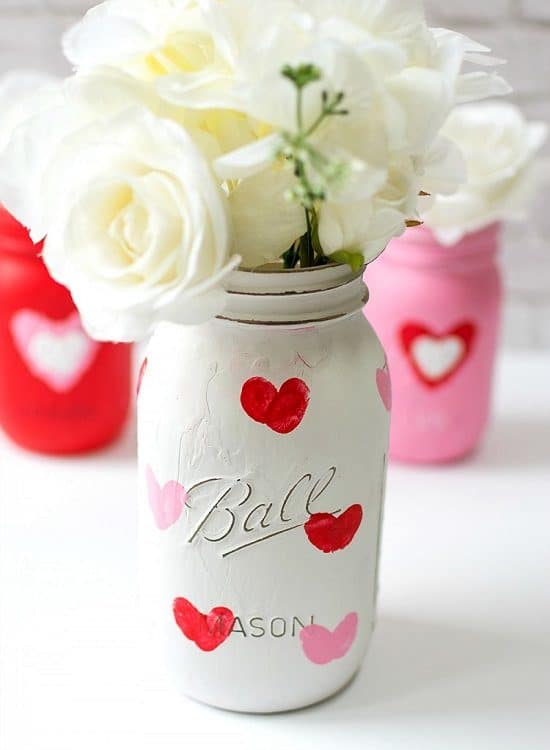 Painted in a vibrant red-and-white color palette, these pretty mason love jars spruce up the table when filled with seasonal blooms. Make them with this DIY.
20. Mason Love Jar Valentine's Day Setting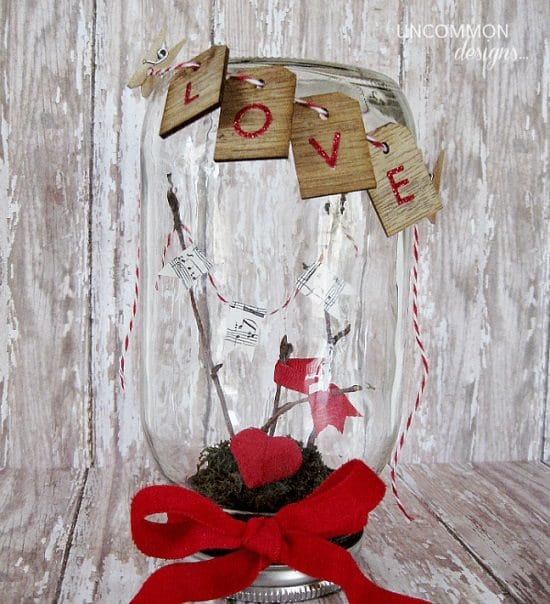 For a one-of-a-kind look, fill up the insides of a mason jar with some moss, branches and wooden banners that proclaim what you feel. Adding cute felt hearts creates lovely pops of color. Here's the DIY.
21. Red Hots Valentine's Candy Gift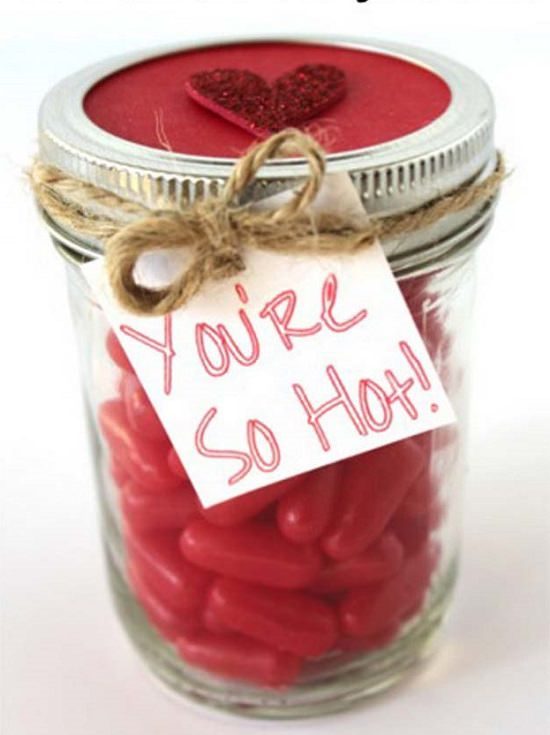 This frugal yet cute gift-in-a-jar idea is a lovely reminder for how hot your man is! Fill up a mason jar with fiery candies and tie a pretty bow on the lid for extra appeal. Here's the full DIY.
22. Hugs And Kisses Mason Jar Gift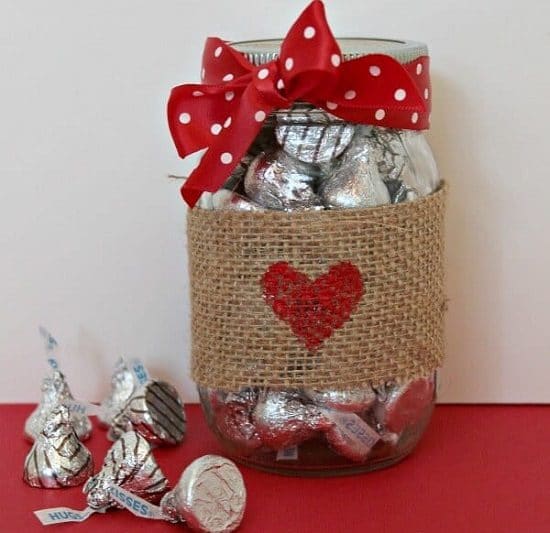 Pretty up a jar of chocolate goodies with a polka-dotted ribbon and burlap cover the covers midway. Details are here.
23. Mason Jar Candles With A Lovely Message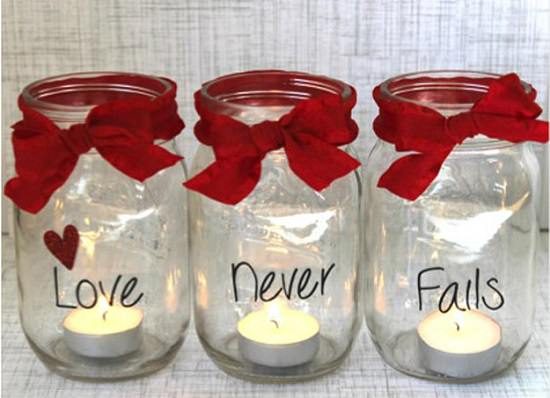 Decked up with vinyl lettering and pretty heart cutouts and ribbons, these mason jar candle holders are perfect for infusing warmth and mood to a dull corner. Here's the DIY.
24. Heart Snow Globe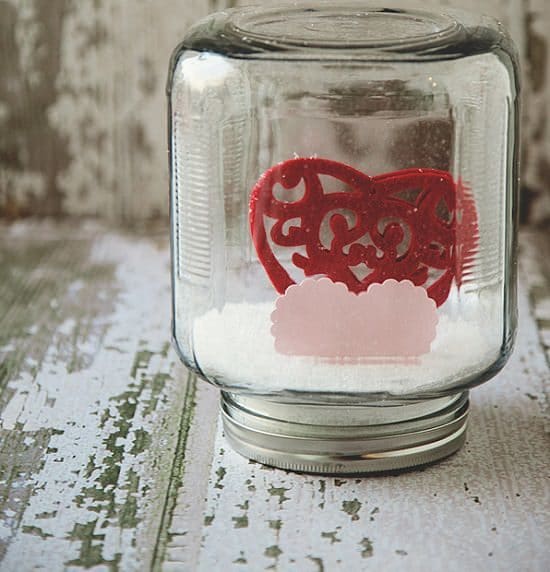 Make your snow globe ornaments ready for the Valentine season with this easy DIY. And don't worry, nobody will notice the straws and you can create the illusion of floating hears.
25. DIY Galaxy in a JAR-with Pastel Colors
Create a splash of colors and glitter in your mason love jars with this easy, ga1axy-inspired tutorial.
26. DIY Love Jars Ideas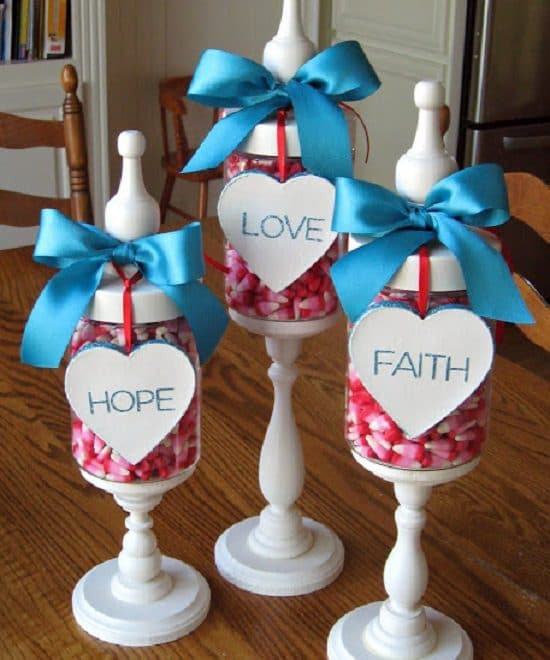 A set of these DIY apothecary mason jars is a lovely reminder of the things that actually matter in life. Make them with these instructions.