Make a customized bed in your home for your cat to rest and sleep with these DIY cat hammock ideas. A great way to pamper your kitty a little more!
1. DIY Hanging Cat Hammock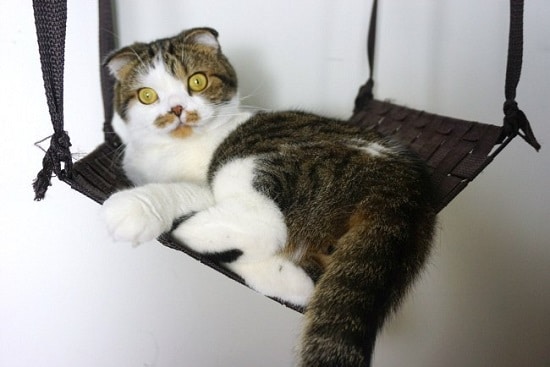 If you're the lazy kind that doesn't like complicated DIYs, get back to the basics. This project uses things you already have, like wire hangers and soft fabric to create a swinging bed that allows your kitty to establish his dominant status in the house.
2. Modern DIY Kitty Hammock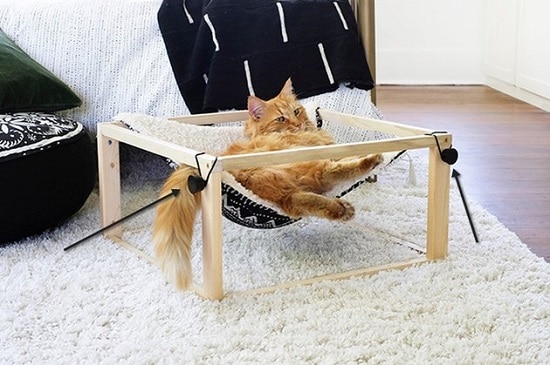 This novel kitty hammock design comes with the option of switching surfaces to provide a warm, snug place to curl up in or light cotton covering to lounge on. Follow the instructions in this DIY to make one.
3. DIY Cat Hammock From A Cardboard Box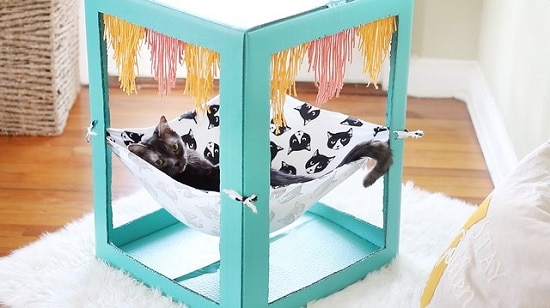 Featuring a cozy, sheltered nook with decorative trimmings, this attractive hammock is just as cute as your kitty and won't look awkward even if you place it right at the center of your living room. Follow the DIY here.
4. Two-Sided Reversible Cat Hammock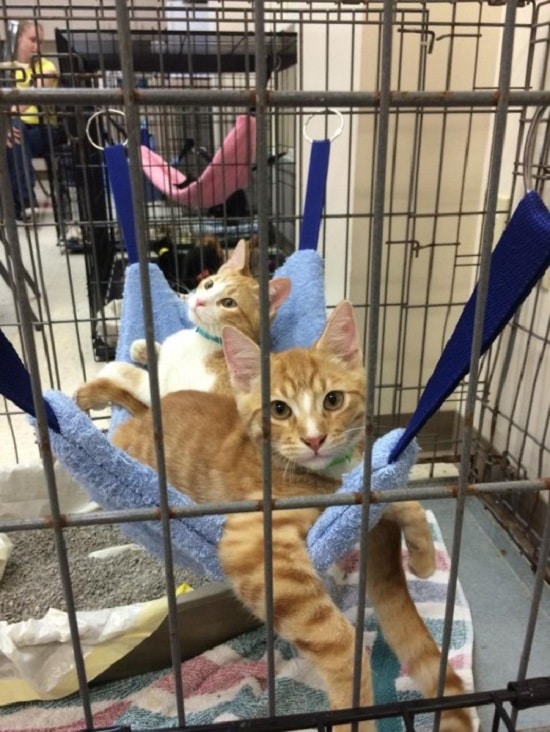 Cats love hammocks, especially the rectangular-shaped ones that fit snugly inside their cage without coming in the way of their walking space. This DIY shows you how to make one.
5. Cat Hammock Hung on An IKEA Table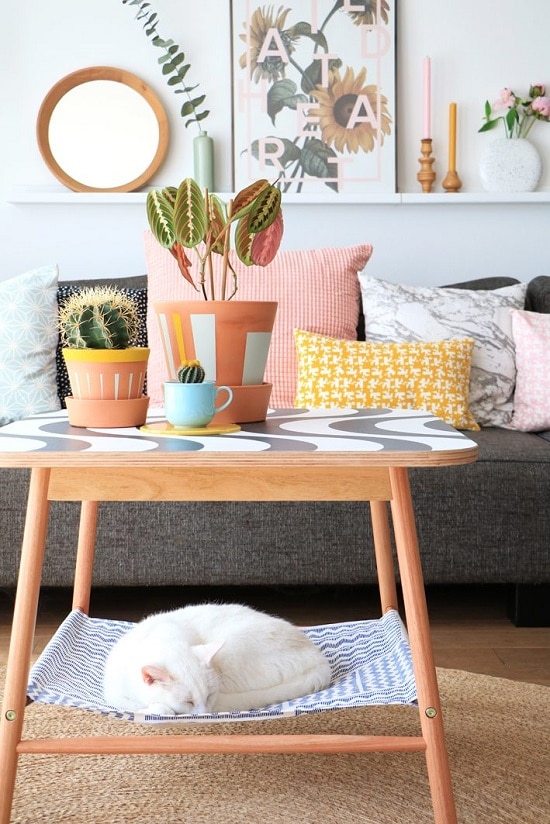 Repurpose an Ikea coffee table into a cozy kitty-corner with soft fabric and plywood for support. This DIY will walk you through the process.
6. Macrame Cat Hammock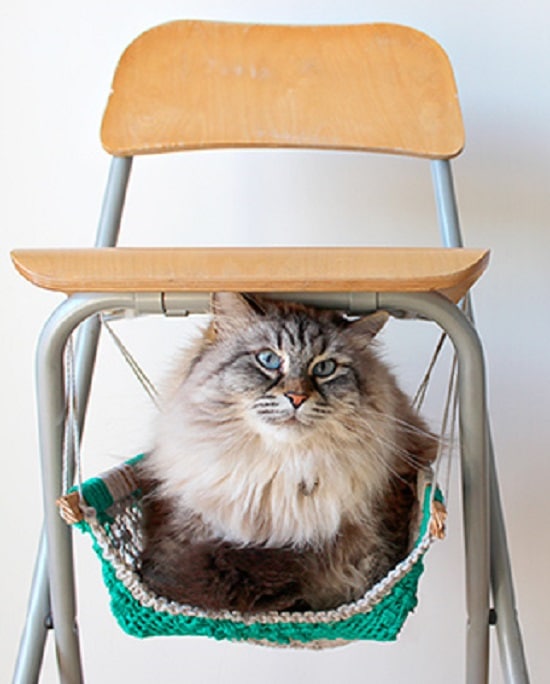 If you're good at tying macrame knots, this DIY is a breeze for you. And the best part is that you can use it to hide your goodies when the kitties get bored of it.
7. Plastic Coat Hangers Cat Hammock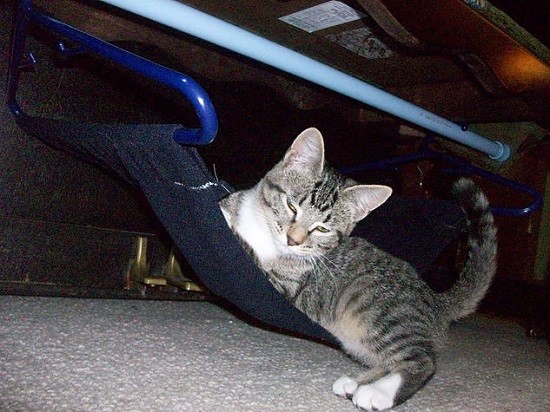 This five-minute DIY shows you how to make clever use of two hangers to create a loft for kittens that are just about learning to climb.
8. Simple DIY Cat Hammock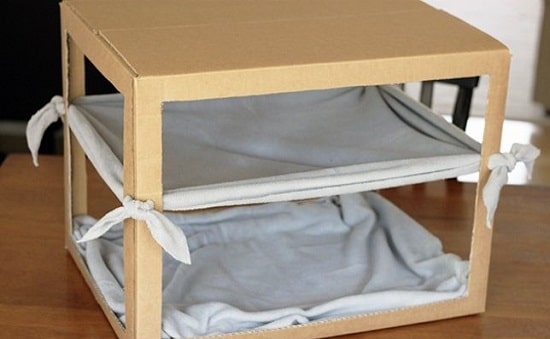 As you know cats love all things inexpensive, this DIY requires a large cardboard box and a fleece blanket to create super simple hammock that won't cost you a fortune to remake even if your kitty destroys it again and again.
9. DIY PVC Pipe Cat Hammock
Involving a simple assembly of PVC pipes, this DIY takes away the guesswork of creating the simplest cat hammock ever without using a stitching machine or any power tools.
10. DIY Old T-Shirt Cat Hammock
Tying the ends of an old, soft t-shirt to the legs of a wooden chair is all you need to fashion a comfy cat hammock for free. The video has a detailed DIY.
11. Piece Of Wood Cat Hammock
Playful kitties may need extra coaxing to warm up to the ordinary hammock design; amp up the stimulation with this interesting swing-like hammock that is sure to become an instant hit with your cats.
12. Low Budget Cat Hammock
With metal clasps and a towel, you create this tiny little hammock that fits easily into the cathouse and is perfect for making a new cat feel at home. Follow the DIY in the video.
13. DIY Cat Hammock With Iron Road Frame
Mounted on sturdy bed frames, this kitty seat manages to hit the sweet spot between a ground-level bed and a high-rise hammock. This video shows you how to make one yourself.
14. DIY Cat Hammock Chair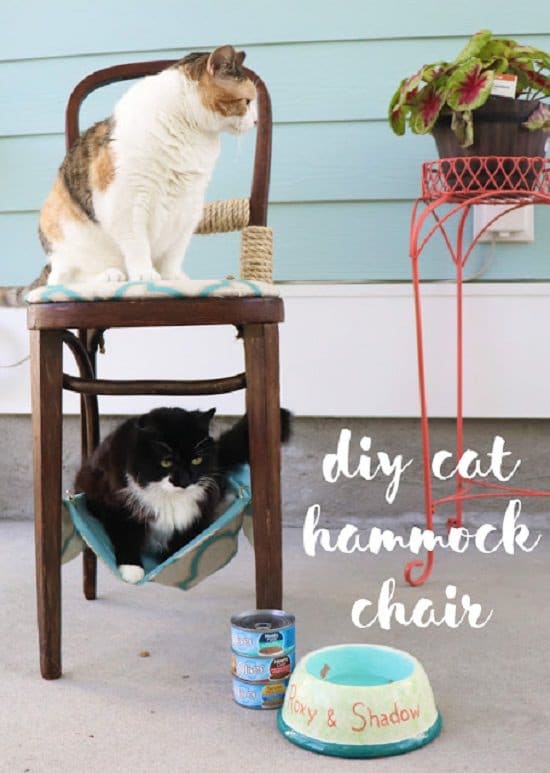 When you have two cats vying for the same seat, this cat hammock chair is your best bet. It features an airy perch on top for observing critters from a distance and a cozy bed below for daytime napping. Make one with these instructions.
15. DIY Magic Carpet Cat Hammock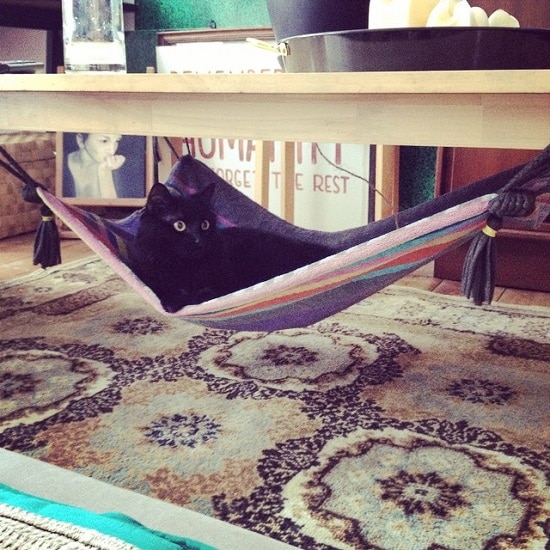 Some cats have this strange tendency of being among their chattering humans yet without quite being the center of attention. This cute little under-table hammock is tailored to suit that mood. Get the DIY here.
16. Wooden Cat Hammock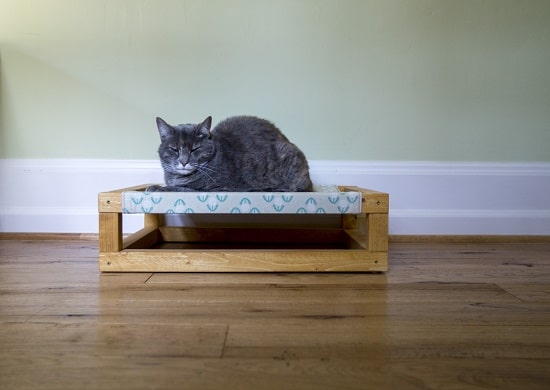 More like a nesting spot, this hammock is easy to create with a power saw, some screws, and wood. Afterward, when your cat has outgrown it, you can fiddle with the top a little and create a bedside table as well.  Follow the DIY here.
17. DIY Cat Hammock Under A Table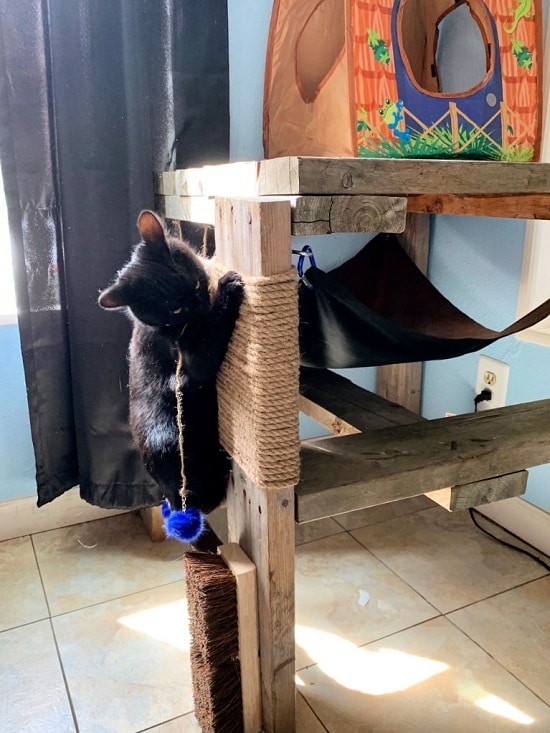 If you're looking to hit the middle ground between a daytime kitty escape and full-fledged cat condo that takes up way too much space in the living room area, this DIY will give you some idea to start off.
18. DIY Cat Bunk Bed With Two Hammocks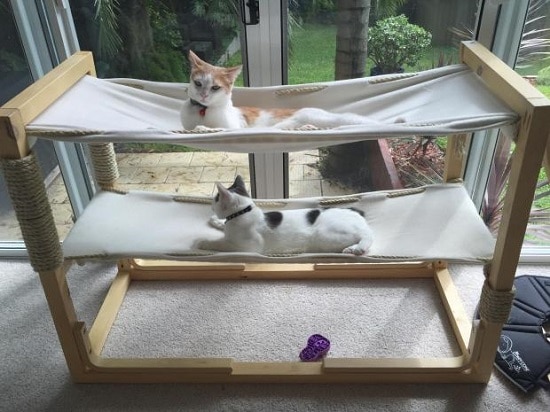 Thanks to the chic modern design, using blankets for fabric, or the two-tiered structure, this contemporary style hammock gives your cats a relaxing place to lounge and stare out of the window. Here's the DIY.
19. DIY Kitty Hammock With Elastic Belt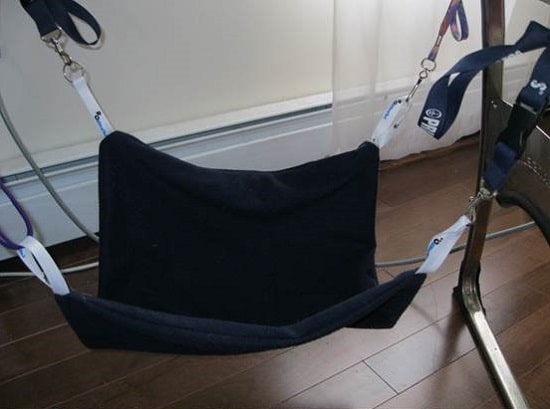 If your kitty is particularly shy or you don't have scrap wood to spare, consider using the legs of the chair to create this one-of-a-kind denim hammock perfect for the privacy-loving cat. This DIY has the details.
20. Cat Hammock Under The Side Table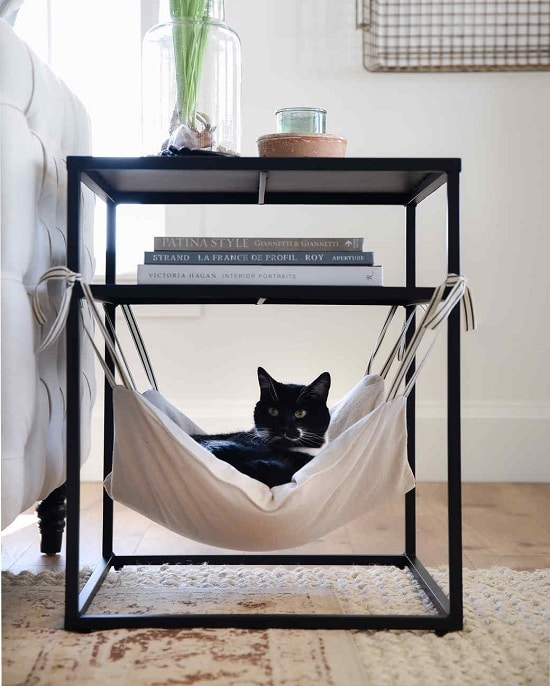 The only requirement for this DIY is a table with an upper platform opening for fastening ribbon ties. The end result is a comfy hammock-cum-bed that lets your kitty bask in the sunshine, sleep and gawk at the birds.
21. DIY Over Heat Register Cat Hammock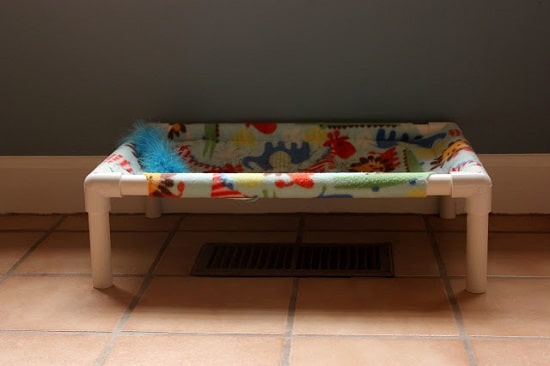 No tools, no skills. This easy, twenty-minute DIY requires just some PVC pipes and fleece fabric to create an adorable, low-rise hammock that is sturdy enough to accommodate the pudgy ones.
22. Cheap Hanging Cat Hammock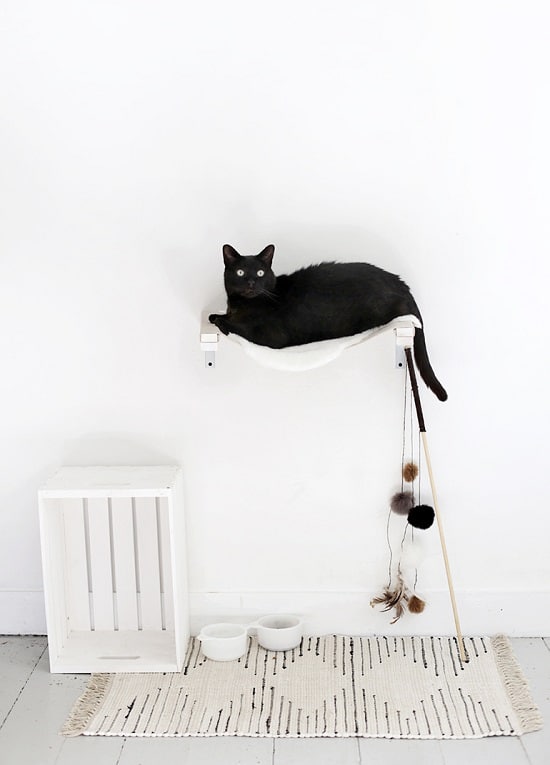 If flimsy cat toys, empty cardboard boxes, and awkwardly built hammocks are not quite enough to pamper your kitty, consider going all out and building his own special lounge space with these instructions here.
23. PVC Tiered Cat Hammock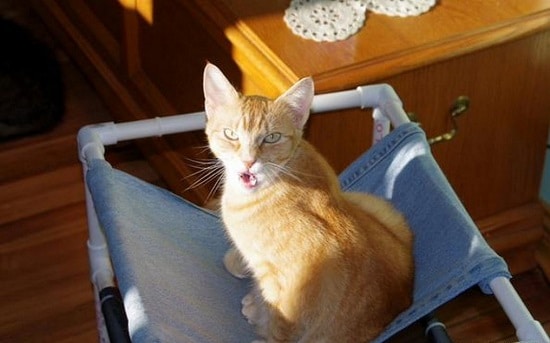 With PVC pipes handy, you can let your imagination run wild. Create a sturdy, weatherproof hammock that offers ventilation for warmer days, or a multi-tiered structure to provide room and safe level for the tiny kittens. This DIY has the details.
24. DIY Cat Loving Hammock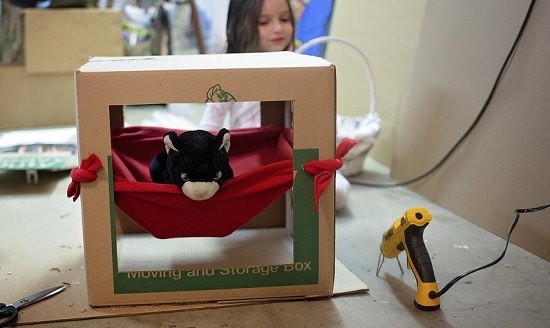 Inspired by a little girl's dollhouse, this adorable hammock idea is a blessing for the minimalist cat-lover and involves all the things that kitties love, from cardboard to soft fabric. Rub some catnip over the sides and your cat will go swooning off to his own dream world. This DIY has all the instructions.
25. Cool and Cozy Cat Hammock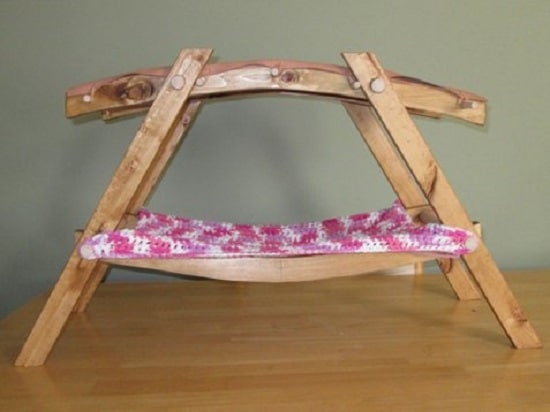 Creating a ventilated hammock with a canopy is easy when you have some scrap wood, screws and cushy fabric handy. This ten-dollar project is all about that.
26. Large Cat Hammocks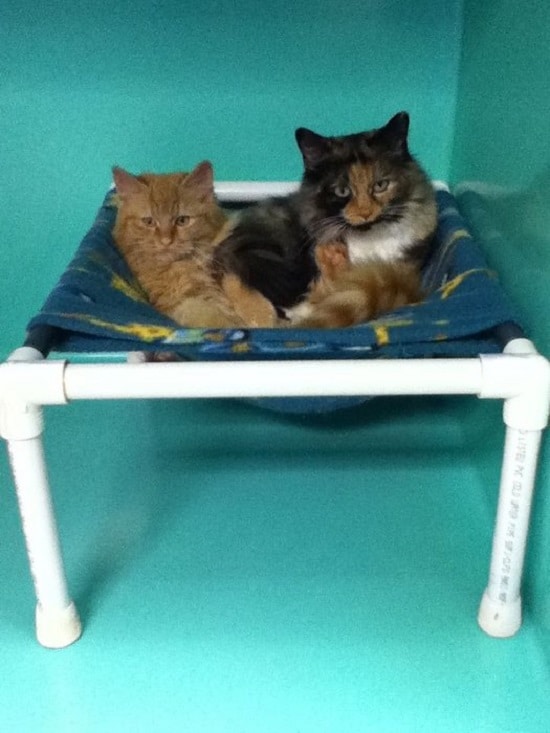 If you're looking for a flexible hammock blueprint that is easy to customize such that it fits easily into a cat kennel, or is large enough to add visual interest to the cat patio, consider taking a look at this DIY for inspiration.
27. Hammock Cat Bed
Made from wooden dowels and copper clasps, this budget-friendly cat hammock adds an interesting layer to the room and is sure to become the favorite spot of your cat. Understand the DIY by referring to the English subtitles in the video.
28. DIY Cat Hemmed Hammock Tarp
Pitching this lovely hemmed tarp out on the yard lets you create a sheltered outdoor retreat where your cats can survey its surroundings from. Find the instructions in this video.
29. Cat Heated Hammock
A snug kitty seat with insulation is all your feline furbaby desires to make it through stormy cold weather. Make one with these easy instructions.
30. Plastic Basket Cat Hammock
This DIY shows you how to put together an empty bin, soft fabric, and some basic knots to create a nice little loft where your kitties can lounge and you can display them as your cherished babies when the guests come over.