These DIY Cardboard Cat Toys are easy to build and cost-effective, make them to provide fun-filled time to your feline friend.
1. Skyscraper Cardboard Cat Scratcher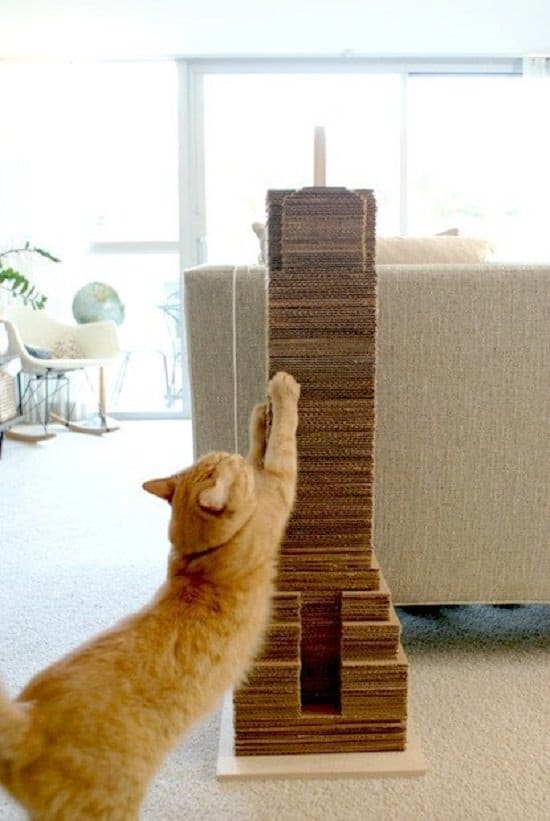 Recycle old cardboard scraps into this amazing skyscraper that not only contributes to living room decor but also gives your feline friend a nice scratchy surface. Here's the DIY.
Also Read: 28 Dog Toys DIY Ideas
2. DIY Cardboard Cat Puzzle Toy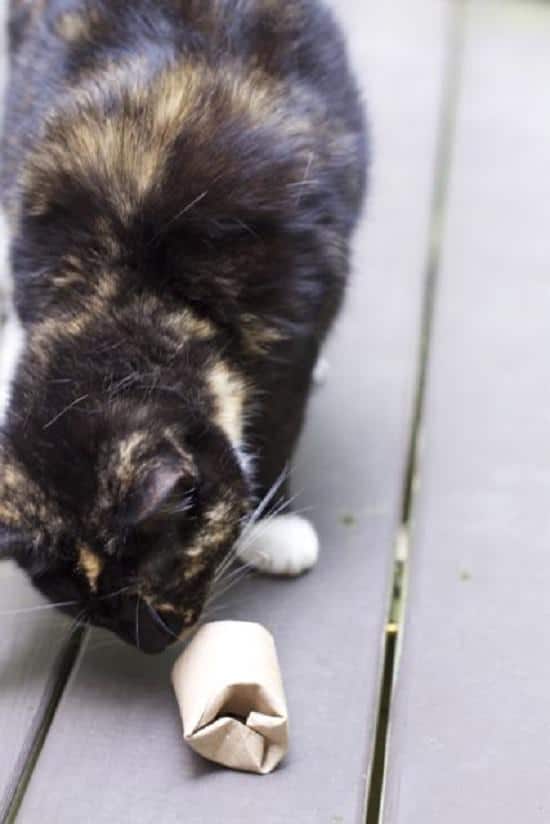 Folding empty toilet paper rolls around yummy cat treats is a nice way to make mealtimes extra fun for your kitty while promoting his innate hunting instinct. Get the stepwise tutorial here.
3. Practically Free Cat Toy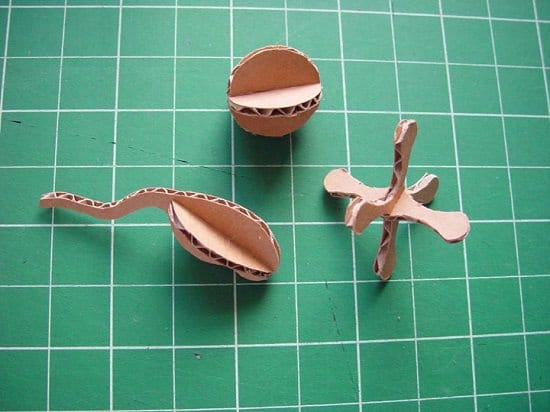 This zero-cost DIY is all about shaping cardboard pieces into different shapes of toys using an X-acto blade. The fun part though is watching your cat shred them into pieces within minutes.
4. DIY Cat Toys Using Empty Paper Towel Rolls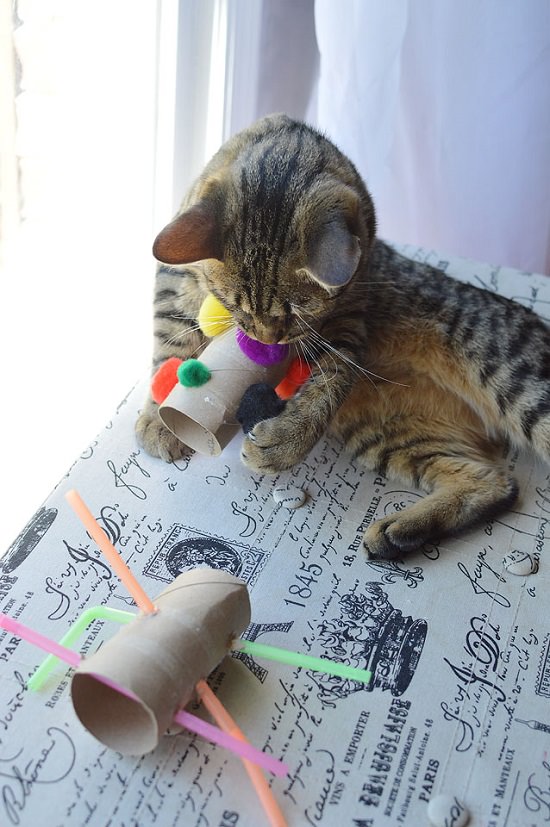 Make fun playthings for your kitty using bare toilet paper rolls and colorful straws. Or, you could add pom-poms for a fuzzy feel. Here's the full DIY.
5. Shredded Cardboard Tube Cat Toys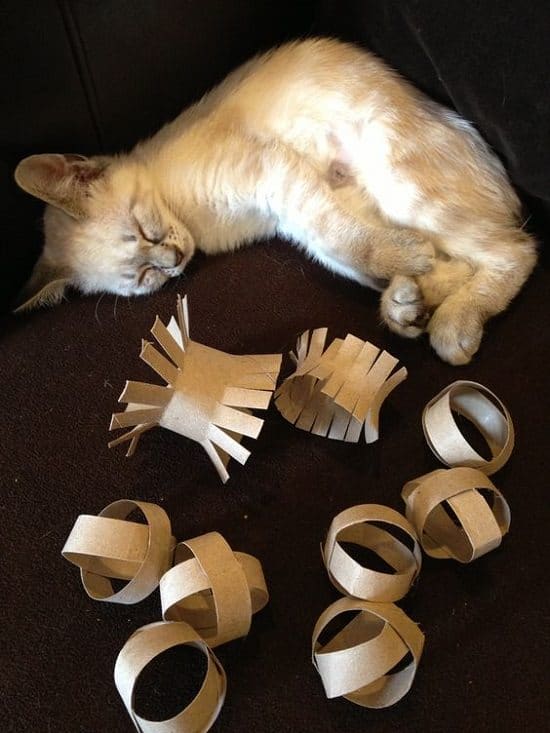 While your kitty would be more than happy to have empty toilet paper rolls at his disposal, you could always take a cue from this DIY to morph its humble base form into soccer ball shapes, chew toys and scratching posts.
6. Amazing Cat Toy from Cardboard
Get unlimited fun from watching your cats put out their cute little paws in anticipation of where the next treat is going to pop out from! Here's the DIY.
7. DIY Cat Toy Whack-A-Mole from Cardboard
Make your kitty's favorite toys hard to get by turning them into an awesome whack-a-mole game that is sure to get even the laziest of cats up and be active. Here's the DIY.
8. Custom DIY Cat Toy from Cardboard
Now here's a super funny Garfield-inspired toy that adds a pop of color to your kitty-corner and even keeps the little guy amused with all the dangling activity. Find the DIY here.
9. DIY Mammoth Cardboard Cat Scratcher
Using cardboard strips, create a raised circular scratching post that makes your kitty's me-times even more relaxing. Here's the DIY.
10. Mega Cat Puzzle Toy
Cats never get tired of toys that involve treats, which is why the most surefire way to entertain your fur buddy is to create a fort of toilet paper rolls and hide treats in random holes. Here's the full DIY. Also, check out these DIY Cat Exercise Wheel Ideas.
11. DIY Cardboard Box Cat Toys
Do you want a game that will satiate your kitty's curious gaze? Try this cute cardboard box of dangler toys. It's easy, non-expensive and even takes care of the aesthetics in the process of offering entertainment. Here's the DIY.
12. Mouse made of Cardboard
Keep your kitty amused as your work on your desk with this adorable fake mouse made with yarn and cardboard. Follow the tutorial to make one.
13. Easy Cardboard Box Cat Toy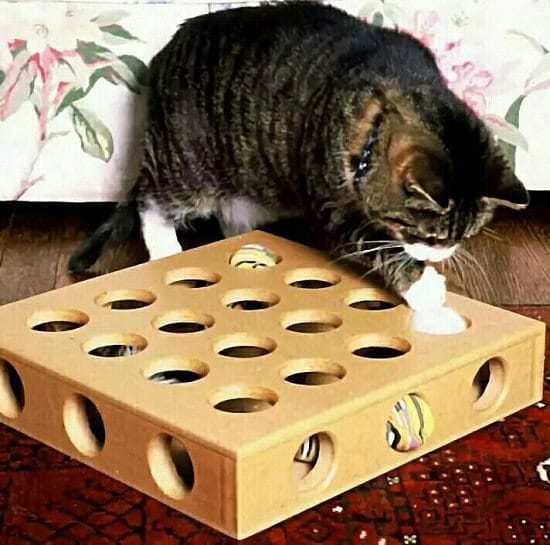 Getting dangler toys out of tiny holes is something your cat will love to try this paws at! Get the complete DIY here.
Also Read: 25 DIY Cat Enclosure Ideas