All these 40 DIY hammock stand ideas can be easily done at home if you know the basics of DIYing and stuff.
1. $40 DIY Hammock Stand that You Can Make this Weekend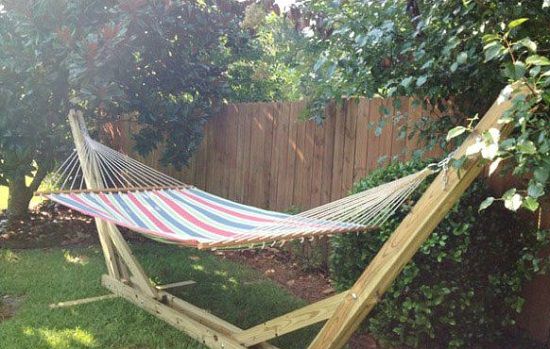 If you hate the idea of shelling out hundreds of bucks to stare at the floating clouds and enjoying the summer breeze, consider building your own hammock stand for under $40 with this easy DIY involving nuts and bolts and wooden boards.
2. 2×4 Hammock Stand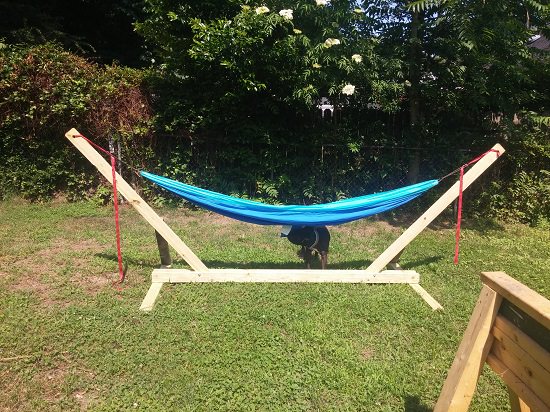 With angled wooden beams and platform for extra support at the base, this 2×4 hammock is easy to create with basic woodworking skills and hardware supplies. Get the instructions here.
3. Standing Hammock Stand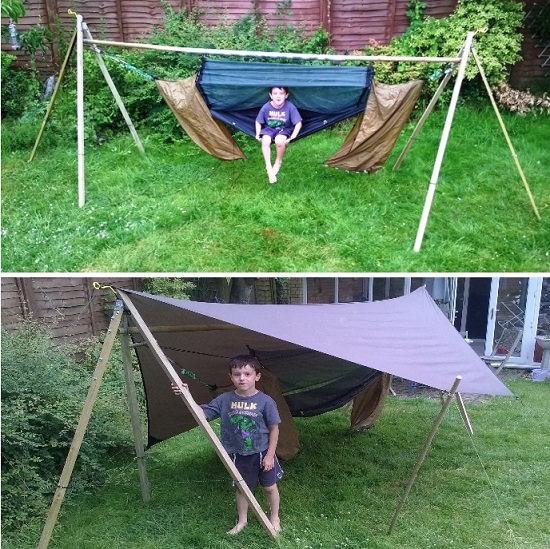 With a nylon tarp for the hammock and tripod posts for support, this freestanding hammock is a fun frolicking center for kids during the summer holidays. Follow this DIY.
4. Roofed Hammock Stand
Made from weatherproof cedarwood, this rock-solid hammock will give you years of relaxation and stability without wearing down even a bit. Make yours with these instructions.
5. Streamlined Hammock Stand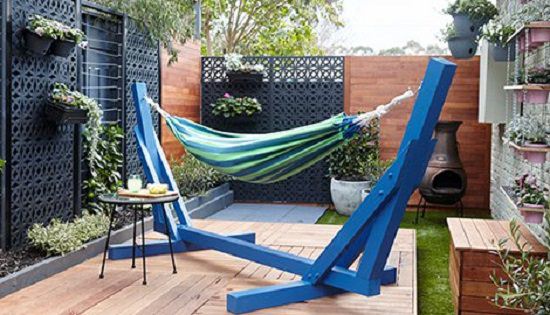 Bring a splash of color to your patio with this unique hammock DIY.
6. Backyard Hammock Stand from Scratch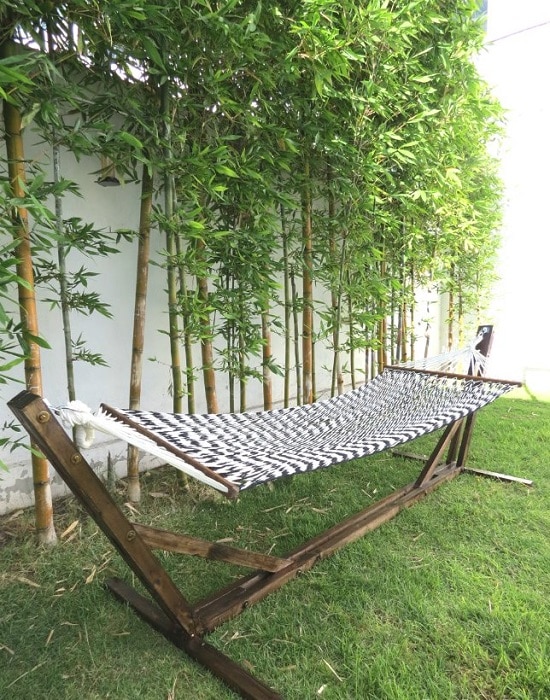 Sturdy enough for adults and lightweight to move around in the shade, this cost-effective wooden hammock design is a great way to benefit from the lovely weather of the summers. Here's the DIY.
7. DIY Indoor Hammock Stand
If you want a portable hammock stand that can be easily installed at the backyard as well, consider giving this DIY a try.
8. Pallet Hammock Stand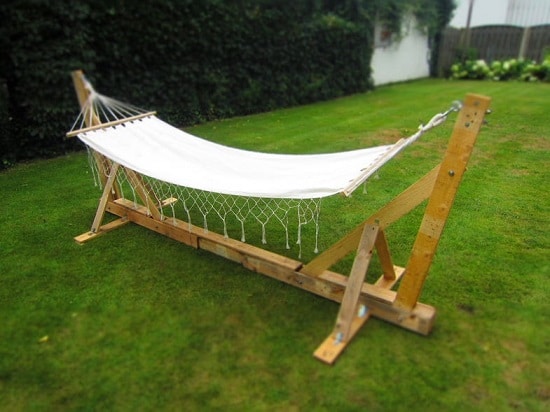 This simple DIY shows you how to assemble spare wooden pallets to create a nice naptime summer retreat in no time!
9. Collapsible Hammock Stand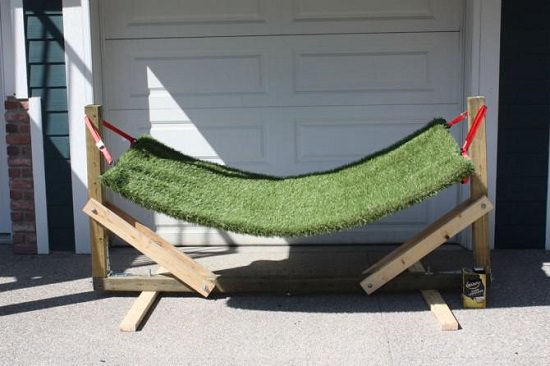 This easy instructable gives you a basic blueprint to create a hammock that's not only sturdy but also collapsible, making it portable for picnics.
10. Eno Hammock Stand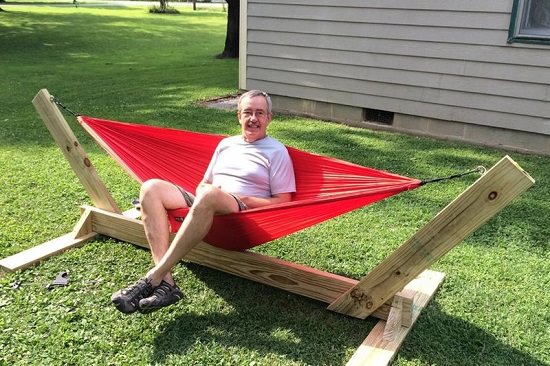 This unusual hammock structure sits low on the ground, thereby acting as a comfy summer seat for kids and geriatric family members. Here's the DIY.
11. Overhead Shading Hammock Stand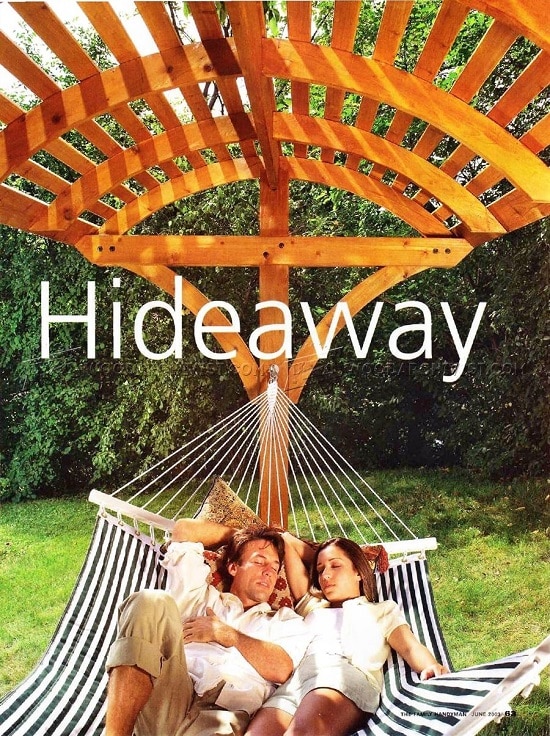 The combination of rock-hard posts and airy overhead shade make this hammock a nice naptime retreat for summer days. Here's the DIY.
12. DIY Tripod Hammock Stand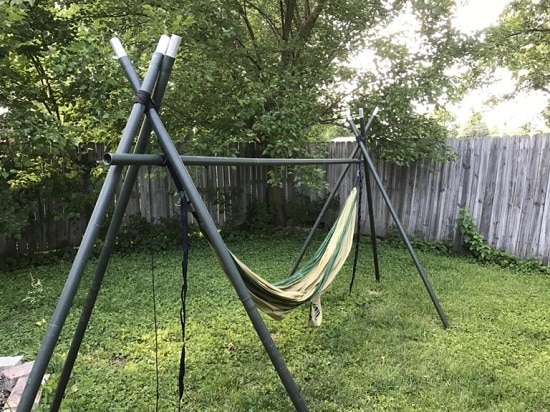 For a more heavy-duty take on the basic hammock stand structure, consider turning to aluminum poles with this DIY.
13. Rocking Hammock Stand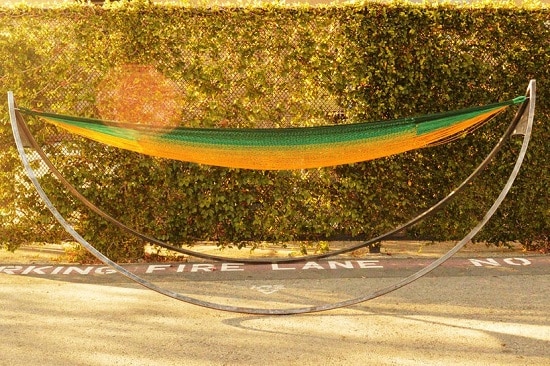 With this DIY rocking hammock, you'll feel like you're swaying atop a boat while sailing across the oceans. Recreate the sensation with this easy tutorial.
14. Fold-Able Hammock Stand
Your hammock doesn't have to be flimsy in order to be lightweight and portable. This DIY shows you how to strike the correct balance.
15. DIY Portable Camping Hammock Stand
This DIY gives you hacks to convert any hammock design into one that is easy to maintain and portable, or if you want you can even use these tricks to build one de novo.
16. DIY Turtledog Hammock Stand
The turtle dog hammock stands as shown here as an interesting color palette that blends right in with your outdoor space and a structure that is sure to last.
17. $35 Homemade Hammock Stand
This low-cost wooden hammock stand has a comfortable height from where you can relax and is low enough to climb for kids.
18. $20 DIY Hammock Stands
When making a makeshift relaxing spot for finicky kids and pets, this less than $20 dollar hammock DIY is your answer.
19. Macrame Hammock Stand
Designed like a chair, this snug little hammock fits in the tiniest of spaces while adding a vintage feel to your outdoor lounge area.
20. DIY Hammock Swing Stand
This artsy little DIY hammock mixes the functionality of a hammock with the swaying comfort of a swing to give you the perfect combination of fun and pleasure before you get back to your mundane schedule.
21. DIY Metal Hammock Stand
For a sturdy spin on the flimsy hammock structures around, consider swapping out wooden dowels for metal rods. Handpaint them and you have a lovely relaxation spot that adds a splash of color to the garden.
22. Metal and Wood Hammock Stand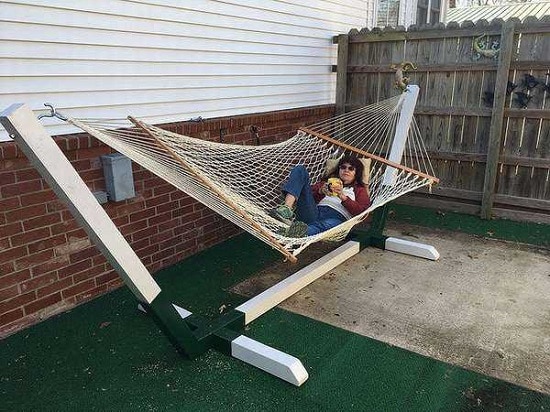 Involving a whole lot of drilling, welding, grinding and of course, paint, this advanced-level DIY is sure for the skilled tools man; but the end results are fascinating nevertheless, giving a robust hammock that it's likely to outlive you!
23. 3-Person Hammock Stand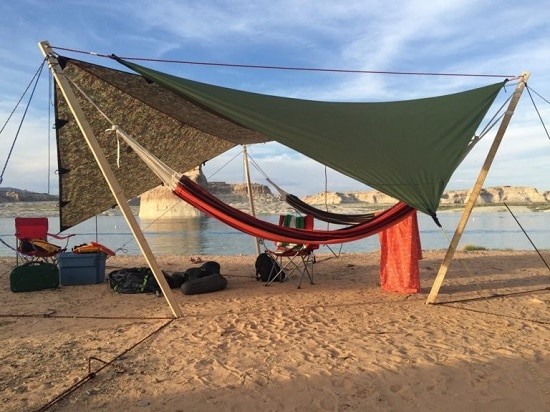 This detailed pictorial guide outlines the basics of creating a robust, anchored stand that can hold up to three hammocks; construction is fairly easy, involving only a wee bit of drilling.
24. DIY Pergola Hammock Stand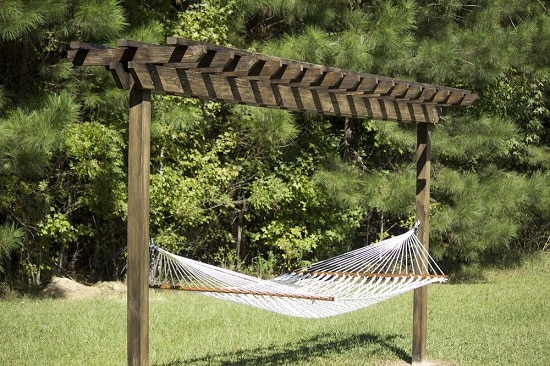 For the space that lacks towering trees, creating a pergola as the shade and support of your hammock only makes sense. Get started with this DIY.
25. Happy Hammock Stand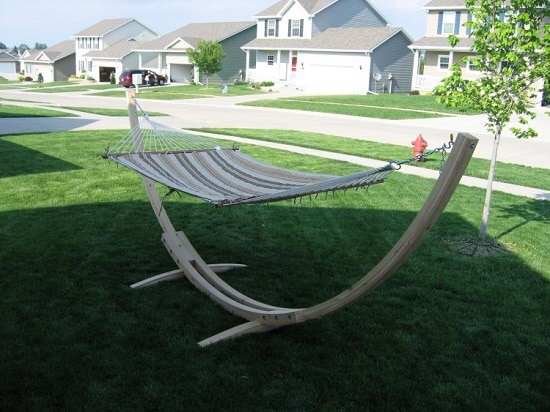 Made from spare cedarwood panels and loads of epoxy, this rock-hard bent-laminated hammock stand is easier to build than you think! Get the details here.
26. Cedar Hammock Stand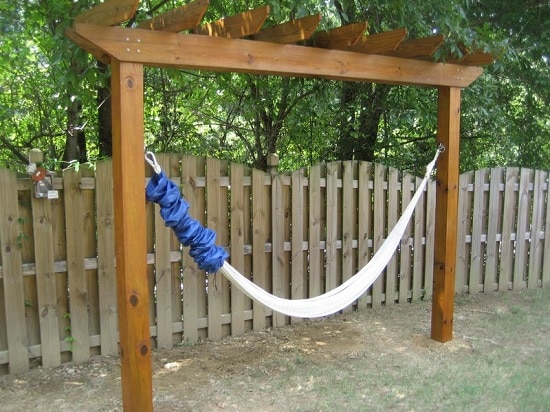 Don't wait for the trees to grow before you make your hammock. Big cedarwood posts are a nice alternative. This DIY will give you complete guidelines.
27. DIY Hammock Stand Hanging Chair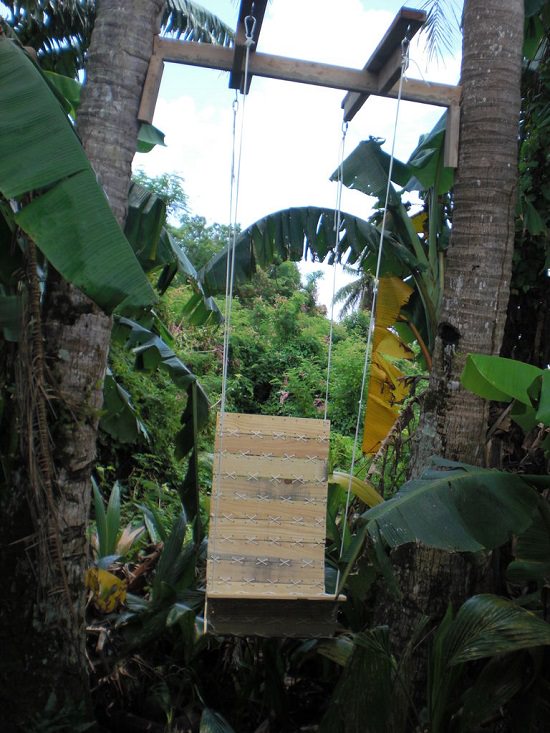 Made by drilling regular wooden boards on sturdy knotted ropes, this hanging hammock chair adapts to your spine with ease, giving you a comfortable posture to ponder on the ways of Mother Nature. Here's the full DIY.
28. Car Camping Hammock Stand
This part-portable hammock stand featuring wooden posts and a nylon tarp shade is easy to dismantle and put back up, making it a nice thing to carry for a camping trip.
29. Tensahedron DIY Hammock Stand
The tensadedron hammock described in this DIY is easy to assemble and fits neatly in the backseat of your car; plus it involves a single tether and can be staked in soft ground as well.
30. Hammock Chair With Rope And Wood Stand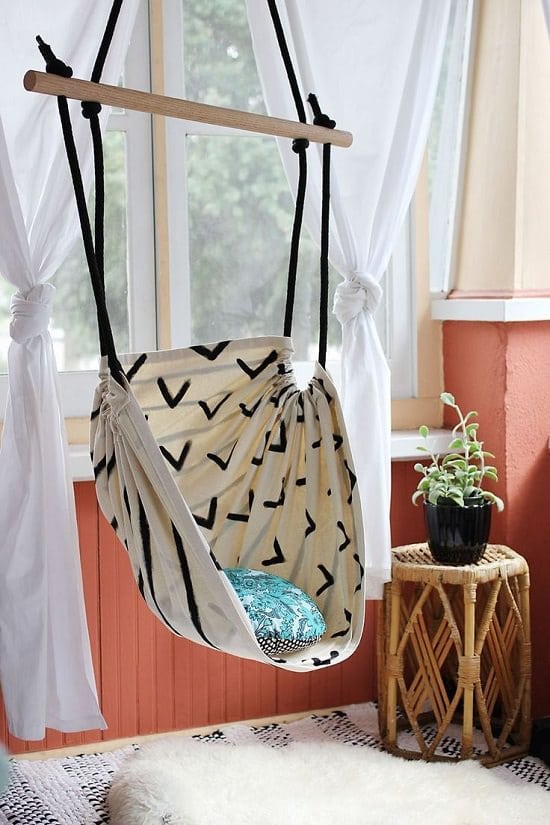 Strong enough to hold 200 lbs, this cute little hammock adds plush and cozy texture to the room, and the use of oak dowels to hold weight makes it a safe option for kids and adults alike. Here's the DIY.
31. Free-Standing Portable Hammock Stand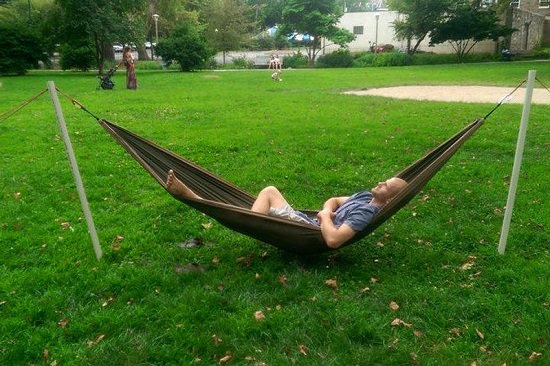 This two-hour DIY project lets you convert your favorite spot in the garden into a hammock spot, with trees or without. But first what you need is a quick trip to the hardware store.
32. DIY Custom Wood Hammock Stand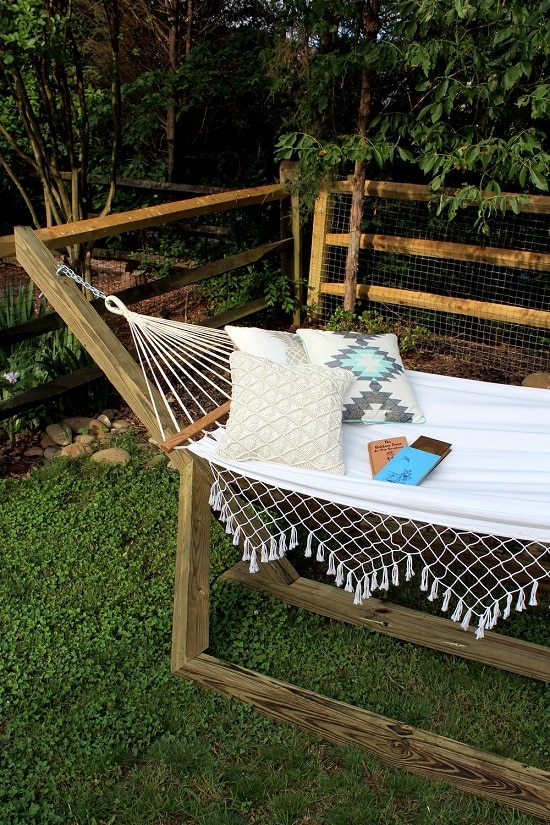 With pressure-treated wooden posts, you get to create a custom-made hammock stand at a fraction of the cost. Get the step-by-step tutorial here.
34. DIY Cheap Hammock Stand

Coated with steel powder and wood stain, this durable hammock stand is best for holding up two people in the face of unruly weather. This DIY also shows you a way to scale down the design for building a children's hammock.
35. DIY Portable Hammock Stand made of Pipe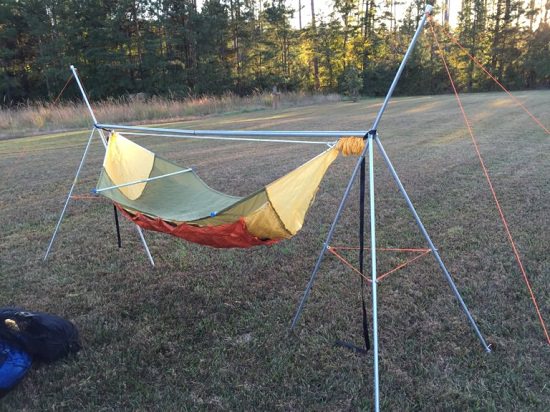 Made from assembling spray-painted PVC pipes, this lightweight and portable DIY hammock is a great option for taking advantage of the sunny weather in winters and the shade in summers.
36. DIY Hammock Stand From Bamboo
Using bamboo poles as your hammock support enables you to create a Zen-like feel in the garden, and is a great idea for people that love looking into the aesthetics with every addition to their space.
37. DIY Hammock Stand for under $100
Featuring wooden posts and planks, this concrete hammock stand is easy to replicate, and is a wonderful DIY that involves equal bits of customization and assembly and no woodworking skills whatsoever.
38. One Tree Hammock Stand
Get a mixture of rustic and modern design elements in your DIY hammock stand by taking advantage of that lone tree in your garden and a little inspiration from this DIY.
39. Hammock A-Frame Stand
If you hate spending $250 on a pre-built hammock, consider taking a trip to the hardware store and getting yourself some galvanized piping to recreate this DIY A-frame stand. The build is solid and the look contemporary enough to go with your home.
40. Camping Hammock Stand
If you like to switch between the outdoors and indoors for your afternoon fiestas, you're sure to love this portable and lightweight hammock stand DIY inspired from the convenience and design of tripod stands.