Upgrade your usual computer desk to a modern and stylish one by following any of these 52 DIY computer desk ideas that we've collected for you!
1. DIY Computer Desk Shelf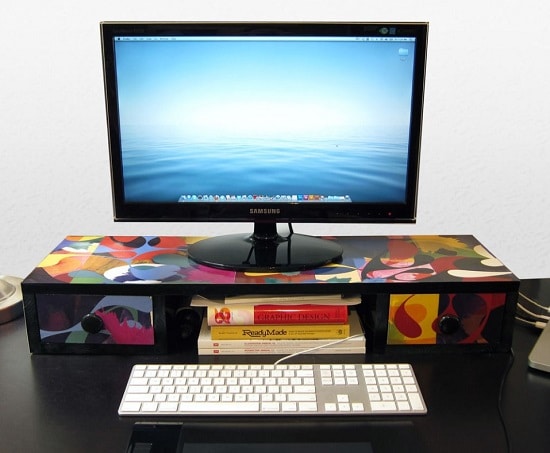 Turn your ordinary computer desk into a stylish desk shelf with lots of interior space for keeping stacks of magazines or books. Not only will it reduce clutter but also look stylish to boot! Here's the DIY.
2. Minimalistic DIY Computer Desk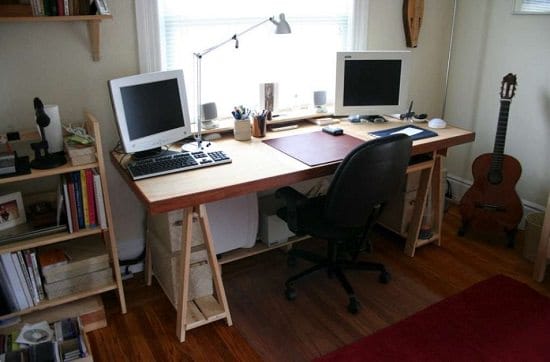 Made with scrap pieces of wood like a door panel and some pallets, this budget-friendly desk DIY is easy to replicate and perfect for those willing to create a cozy corner for their work.
3. Custom Ergonomic Computer Desk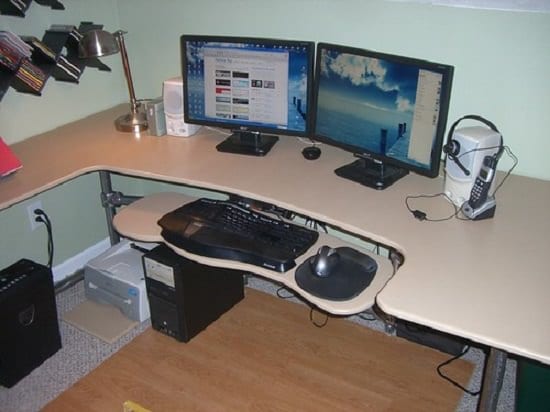 This wall-mounted desk doesn't just boast oodles of space but also has an ergonomic keyboard adjustable unit, making it a lasting addition to your workspace. Here's the DIY.
4. Easy DIY L Shaped Desk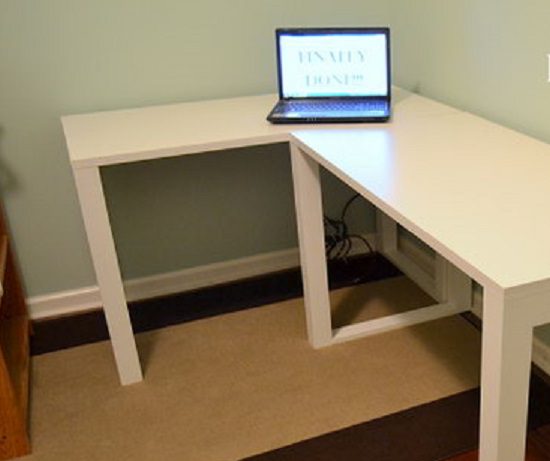 For a simple and sleek design sans drawers, try this DIY L-shaped desk that even lets you add function to lone corners. Here's the full DIY.
5. LACK Coffee Table Standing Computer Desk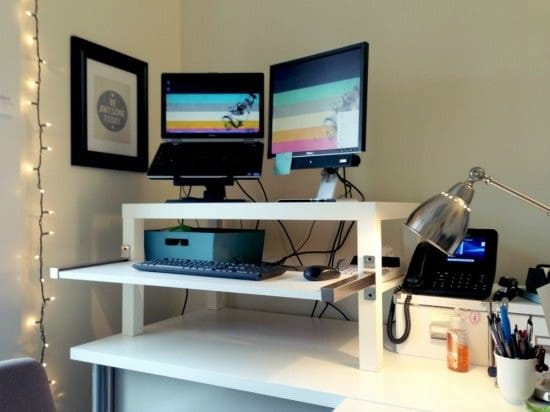 With bonus interior shelves and lots of desk space for dual monitors, this DIY standup desk is made by assembling a coffee table with an open shelf.
6. $40 Standup Computer Desk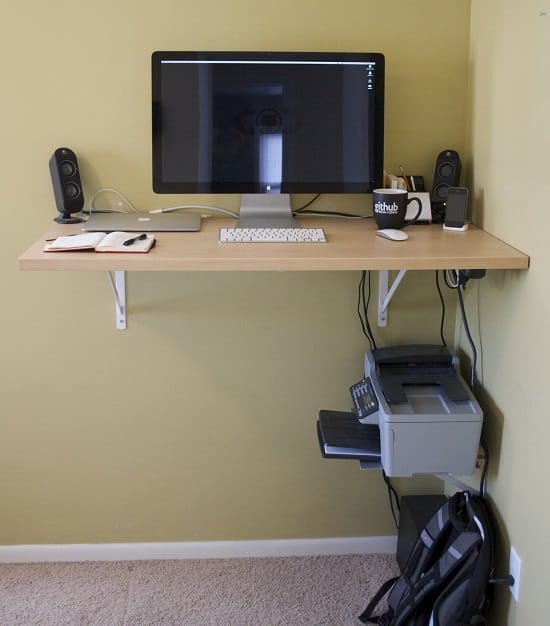 The advantage of having this DIY standup desk is that not only is it a great utilization of corner space but it also makes good use of leftover pallets. Get the tutorial here.
7. Office Corner Computer Desk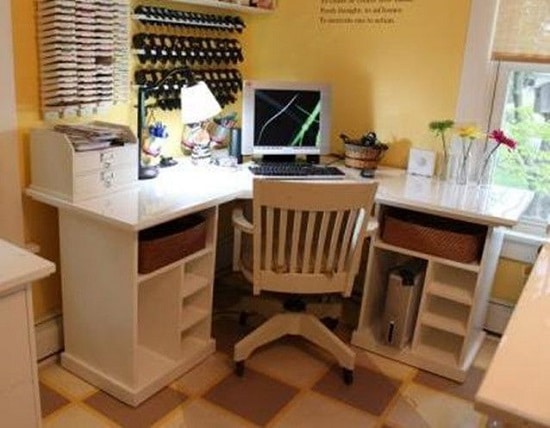 If you want to expand your workspace, consider using the corner for the desk. This DIY also offers the practicality of open base drawers for easier access.
8. Farmhouse X Office Desk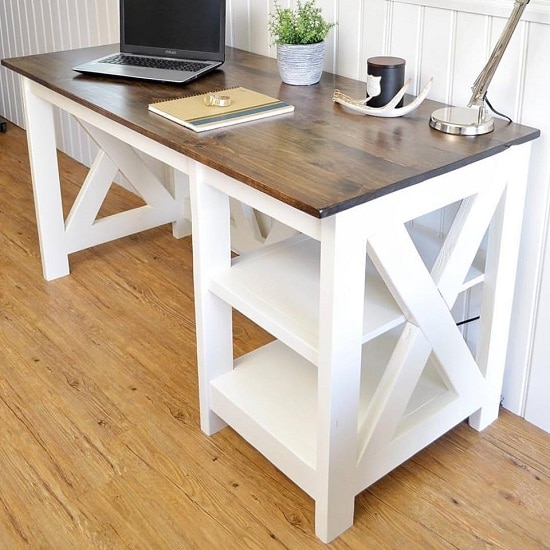 This rustic style computer desk with its X-shaped legs and in-built drawers is a great way to spice up the home office with a slice of vintage charm. Follow this DIY to get started.
9. DIY Industrial Stand Up Desk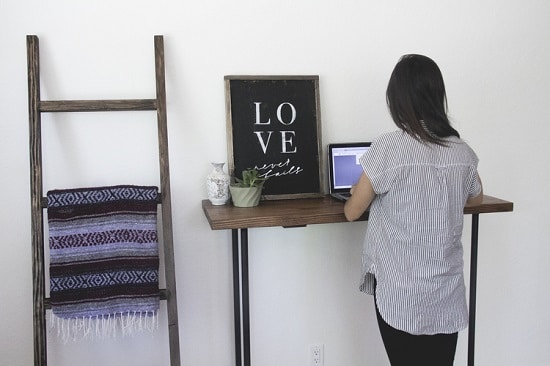 Give your workstation a much-needed update with this DIY standing desk that sends all your postural problems to rest. Its raw rural appeal makes it a lovely addition to a farmhouse-style room.
10. DIY Rustic Wood Desk
Budget-friendly and aesthetic, this DIY wooden desk comes with the advantage of offering more legroom, and it's particularly suitable for those with limited desktop accessories to boast.
11. DIY Wall Mounted Desk
Turn a marble open shelf into a computer desk for a quick, space-friendly workstation design that uses little DIYing skills.
12. Custom PC Desk
If pesky computer wires are ruining the aesthetics of your desk design, take a cue from this DIY and fashion hidden back panels for customized storage that's easy on the eyes as well.
13. Maker Computer Desk
With foldable storage units and a spacious open base for keeping clutter at bay, this DIY computer desk is a practical solution to your workstation needs.
14. Ultimate Computer Desk
Your computer desk is not complete without a display case storage. Apart from adding dimension, it offers maximum utilization of space.
15. Hang Wall Mounted Computer Desk
Perfect for small rooms, this rectangular-shaped floating desk with solid, L-shaped brackets is a nice option for bachelor pads.
16. Metal & Wood Computer Desk
With metal frameworks for support and wooden shelf panels, this conventional-style desk has uniformly-sized drawer units for a pleasing look and enhanced storage.
17. Polished Concrete Computer Desk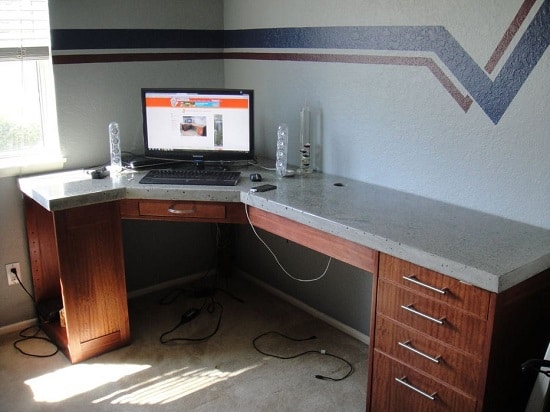 This contemporary-style desk with a solid concrete top adds a professional touch to your home office with its unique interplay of textures. Follow this guide to make one.
18. DIY Computer Desk with Concrete Countertop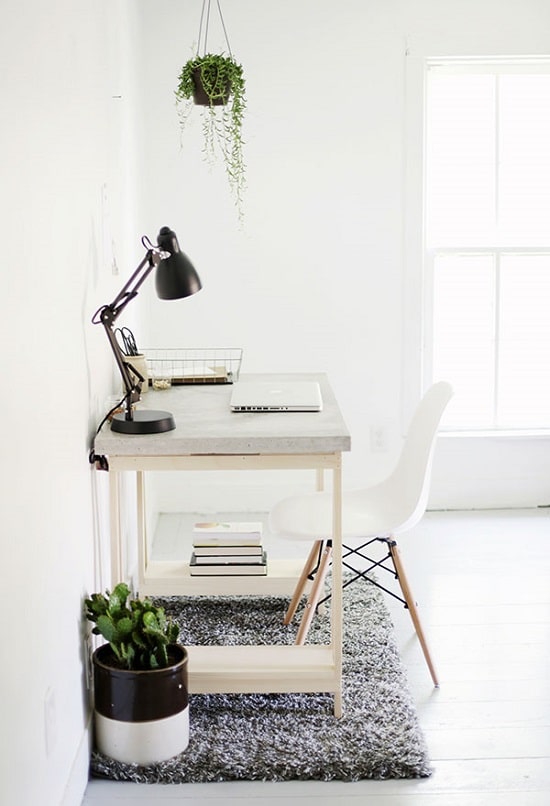 The raw industrial look of wood coupled with the eccentric X-shaped legs is a great choice for modern homes. Get the tutorial here.
19. Wall Mounted Computer Desk with Angled Supports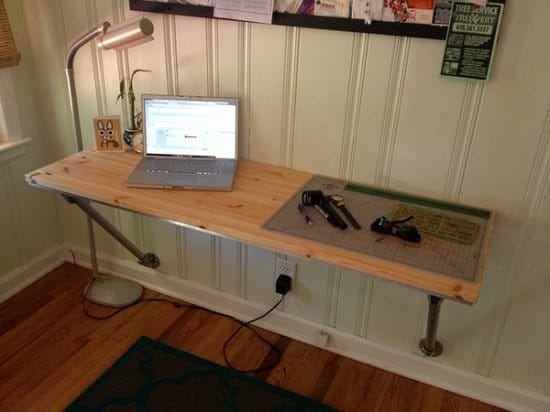 A wall-mounted desk is not only space-saving but also a stylish feature to have in the living room, thanks to its angled legs. Get the DIY here.
20. Billy Bookcase Computer Desk
A bookshelf with an in-built computer desk is a practical, multi-purpose piece of furniture to have.  Also, it makes for a cozy corner, which is perfect for concentration. Here's the DIY.
21. Double-Decker Computer Desk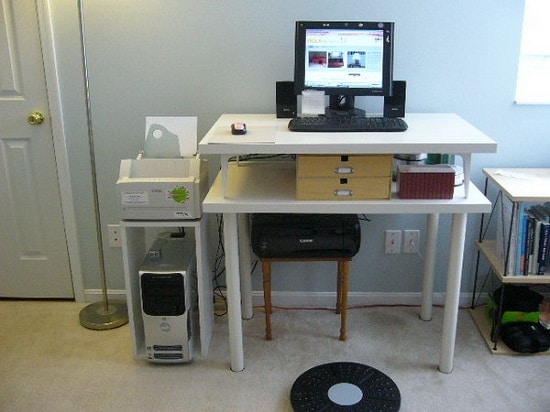 If you're a gamer or sitting for hours at your desk makes you sleepy, consider this standing desk solution. Here's the DIY.
22. DIY Truss Computer Desk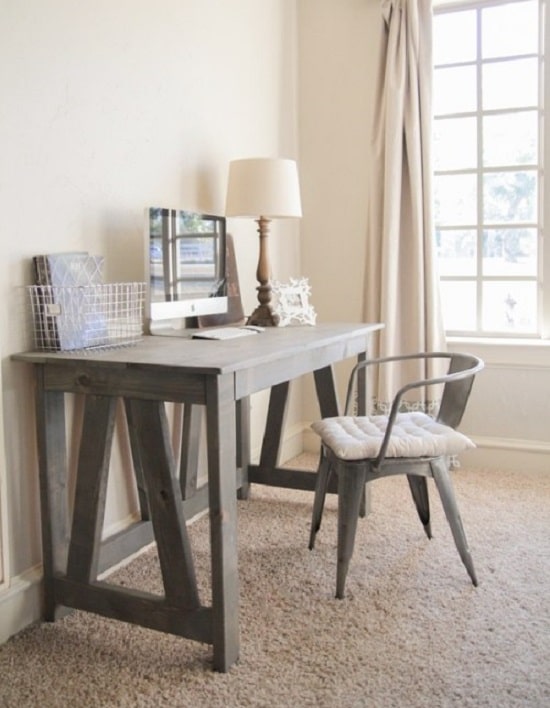 Infuse Barnhouse vibes to your work corner with this DIY truss desk that involves a simple layout with minimal compartmentalization for an elegant look.
23. L Shaped Double X Computer Desk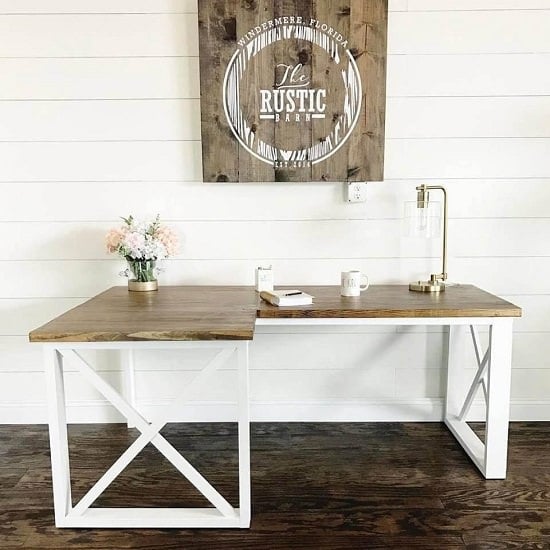 The symmetry of this L-shaped desk is what makes it so appealing. It's particularly great for a rustic-themed room. Here's the DIY.
24. DIY Floating Computer Desk With Storage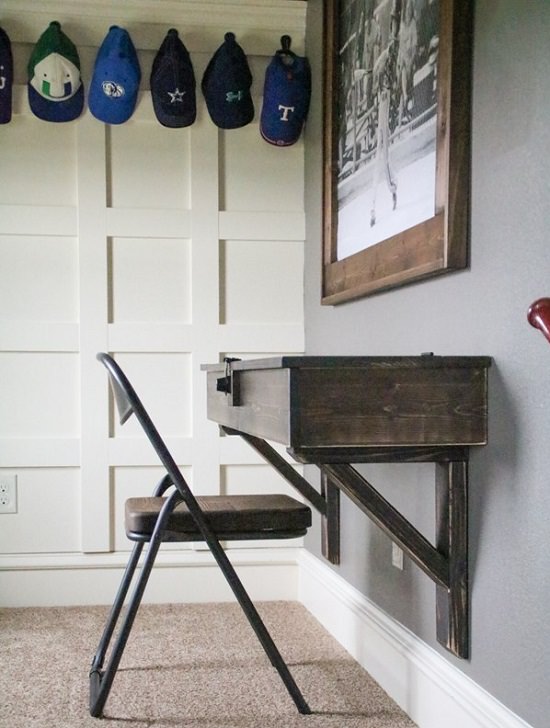 Maximize storage space with this DIY floating desk that features a flip-top as well for added compartmentalization.
25. Computer Desk with a Single Sheet of Plywood
For a makeshift work desk that serves a purpose and features an aesthetic design as well, try this plywood desk DIY in the video.
26. DIY Black Iron Pipe Computer Desk
Combine the smart and sleek look of iron legs with wooden desk-top and shelving units for a compact and space-friendly unit.
27. DIY Space Saving Foldable
This minimalistic wall-mounted desk is great for creating a cozy work corner at home but without eating up valuable floor space.
28. Old Pallet Into Your New Computer Desk
Fashion reclaimed pallets into an adjustable and ergonomic desk with little woodworking skills.
29. Floating Computer Desk With Hidden Storage
This DIYer turned an Ikea countertop into a floating computer desk with lots of open space to offer shelf-like practicality.
30. DIY Glass Computer Desk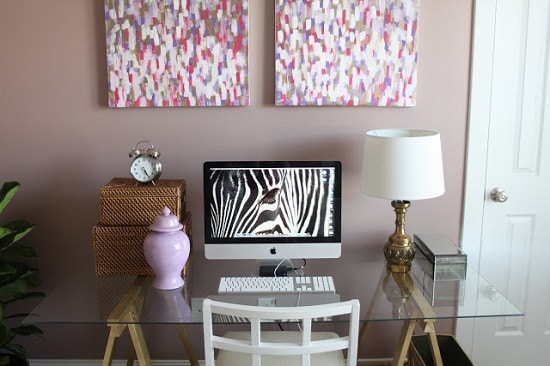 With two salvaged trestle bases, some spray paint and a glass top, this homeowner managed to create a cute little workstation for herself in under $10. Get the remarkable DIY here.
31. Wood & Steel Computer Desk
With steel legs and a wooden top, this modern desk hosts a unique combination of textures to amp up the aesthetics of your room.
32. Oak Computer Desk MM 79
With this DIY, it's all about going back to the basics. This desk has drawer cabinets on one end and hanging folder storage on the other. Besides, there's a hidden tray for keyboard storage too.
33. DIY Farm House Computer Desk
The best part of undertaking this farmhouse-inspired desk solution is that it relies little on your woodworking skills and more on the raw, grainy texture of sanded and stained wood.
34. IKEA Trestle Into An Adjustable Standing Desk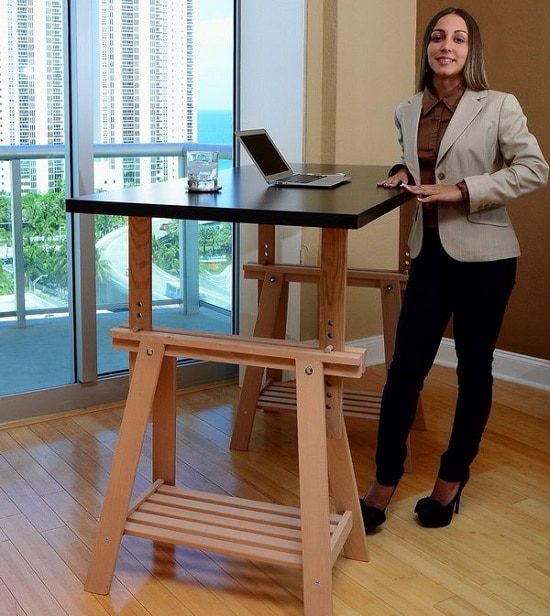 If you want the postural benefits of space-saving standing desks without the sky-high costs, do try out this Ikea-inspired hack here.
35. DIY Pallet Computer Desk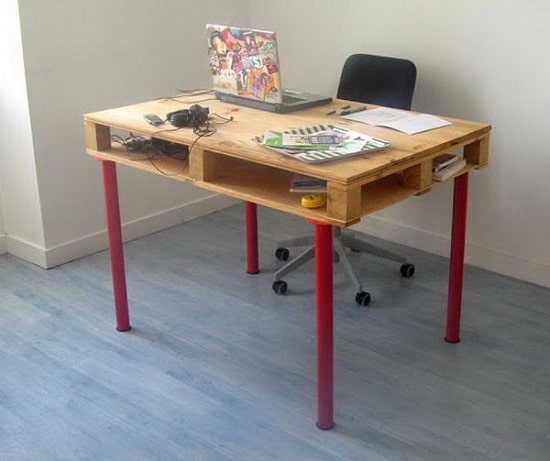 For those looking to lay their hands on the most functional and budget-friendly DIY desk solutions out there, this tutorial is the way to go. All you need is some plywood, curry legs and floorboards.
36. DIY Computer Desk Idea With Two Bookshelves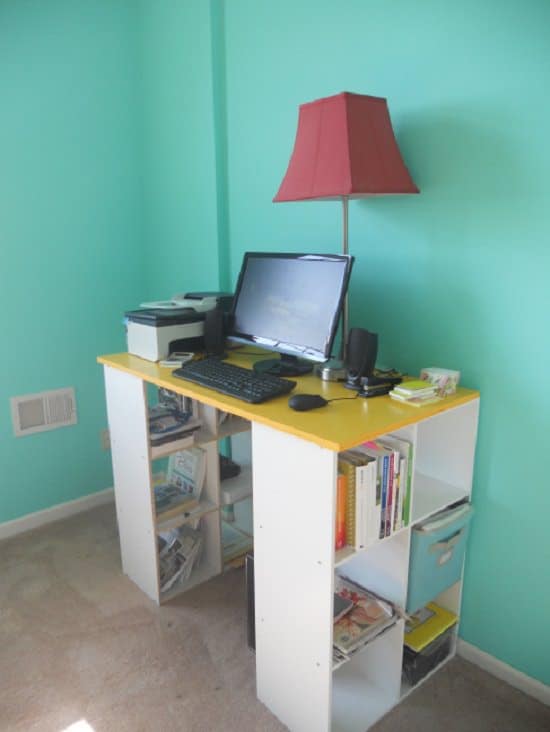 This DIY is all about really assembling two bookshelves with a piece of plywood, which makes the entire project very cost-effective and easy for beginners as well.
37. DIY Computer Desk Upcycled From A Broken Table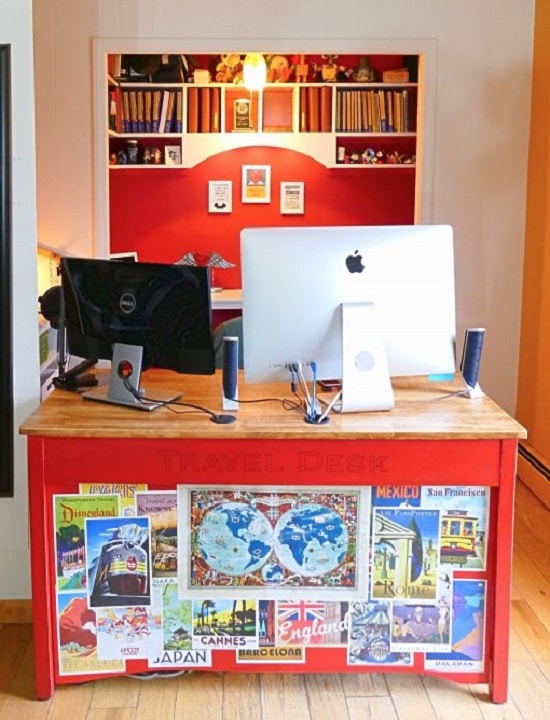 Before relegating your broken table to the trash, do take a look at this rather inspirational idea. It has step-by-step instructions to transform it into a computer desk and give it a personal spin as well.
38. Own Computer Desk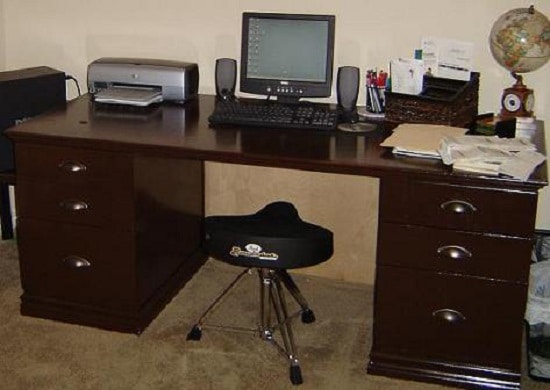 This beautiful dark wood desk is assembled from joining cabinet drawers with wooden biscuits and glue. The entire arrangement is designed to last a lifetime. Find it here.
39. Gold Leafed Ikea Computer Desk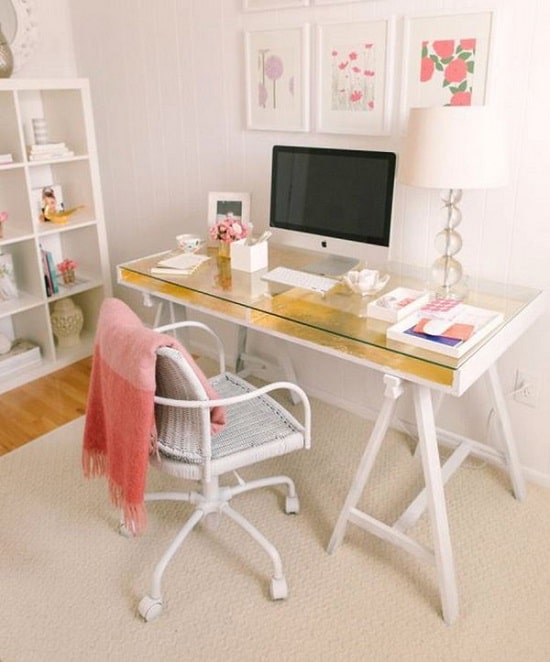 Featuring a reflective glass top with gilded gold underneath, this gorgeous desk is easy to create and enormously penny-saving. Get the complete hack here.
40. Floating Corner Computer Desk with Bamboo Flooring Top
Do you have an awkwardly built corner that you don't know what to make of? Consider this expansive bamboo top desk sans drawers for a contemporary, clutter-free look.
41. DIY Simple Computer Desk and Table
For those comfortable with wielding a power saw, this DIY is a cakewalk. Also, it takes roughly 24 hours to materialize and offers a long-lasting solution to meet your personal workspace needs.
42. $10 DIY Computer Desk With Changing Lights
When plain and boring computer desk designs fail to excite you, rely on the power of LED lights. They bring visual interest to the work desk and even light up the room.