These DIY hair bow holder ideas will help you to cut down your little princess' hair accessories clutter! Check out the extensive list below.
1. Picture Frame Holder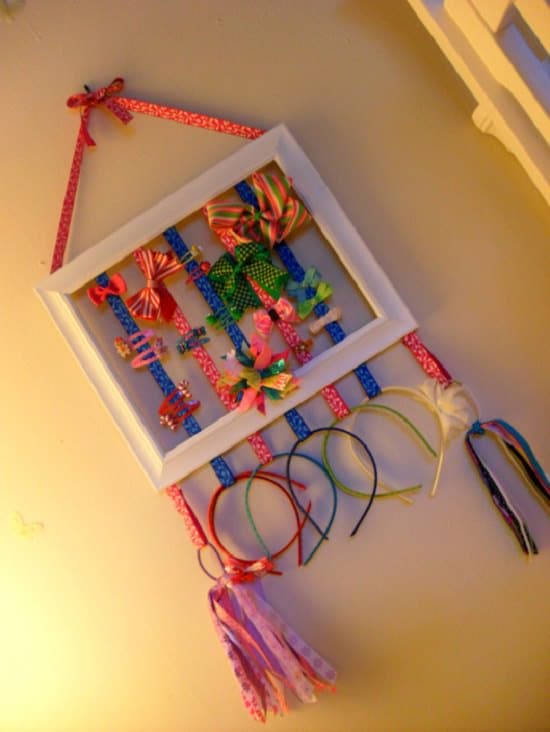 What makes this picture frame organizer so appealing is the fact that it's fun to customize and you can finally use up your leftover ribbons lying for ages in the craft stash. Follow this DIY for instructions.
2. Lilly Pulitzer Print Holder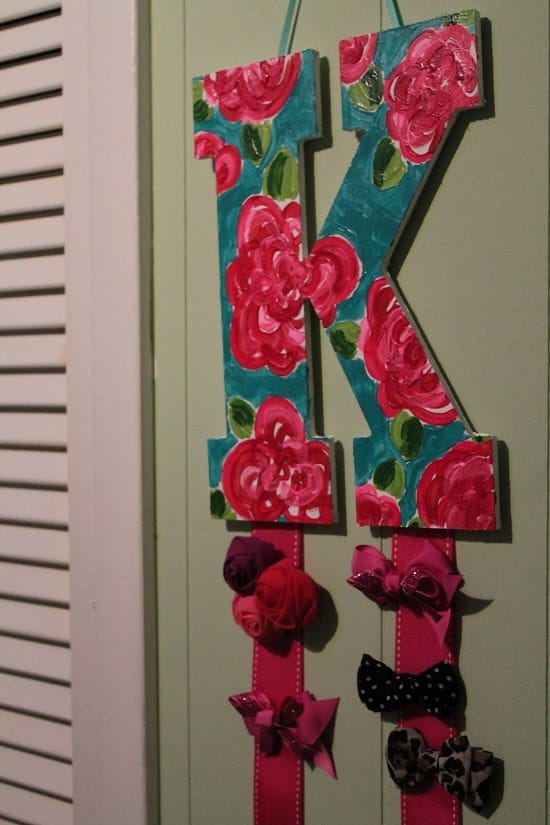 Deciding what to gift your best friend on her baby shower? Give this monogrammed hair bow holder DIY a try. It's likely to be loved and cherished for longer than diapers.
3. Personalized Hair Accessory Holder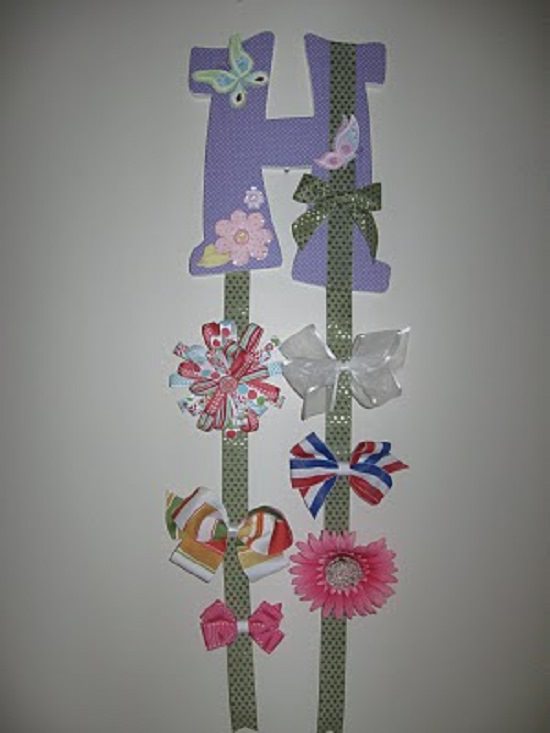 A perfect way to surprise your little princess on her birthday would be to give her this cute hairbow holder bearing the initials of her name. Make one with this DIY.
4. DIY Hair Bow Holder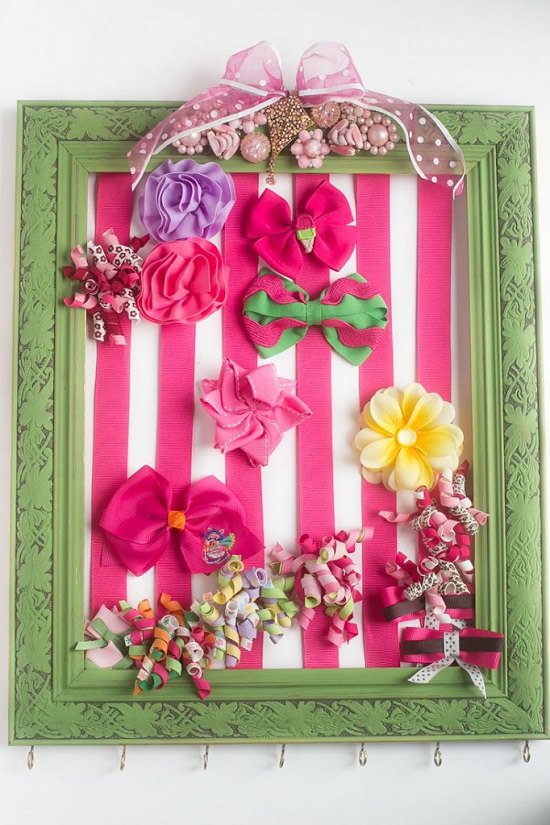 Create a gorgeous wall display for your choicest hair bows with a freshly painted wooden frame and costume jewelry as embellishments. DIY is here.
5. Inexpensive DIY Holder Organization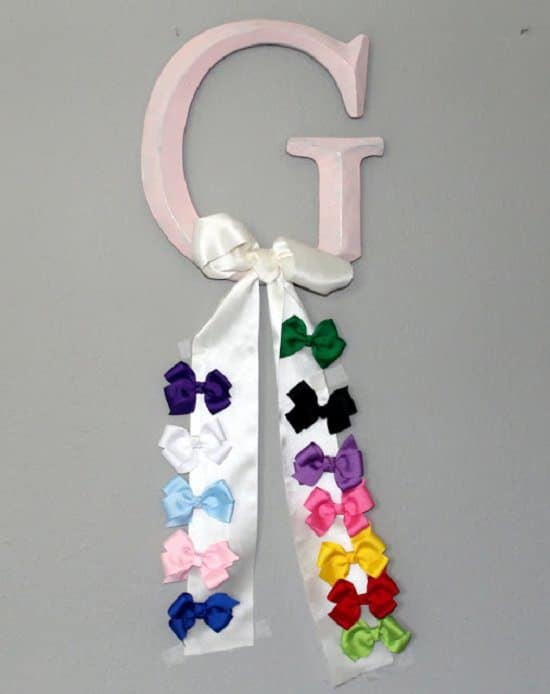 With a wooden letter and a wide satin ribbon, you can create this personalized hair bow holder that is sure to delight your little girl. Here's the DIY.
6. Ribbon Holder DIY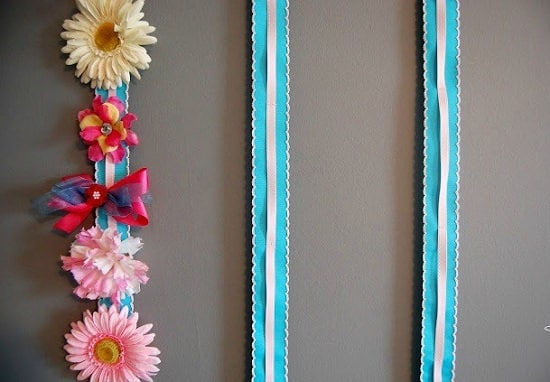 Playing with textures can indeed be fun- like in this DIY, something as simple as gluing thinner ribbons onto wider ones can form attractive holders for your hairbows.
7. DIY Holder from Art Canvas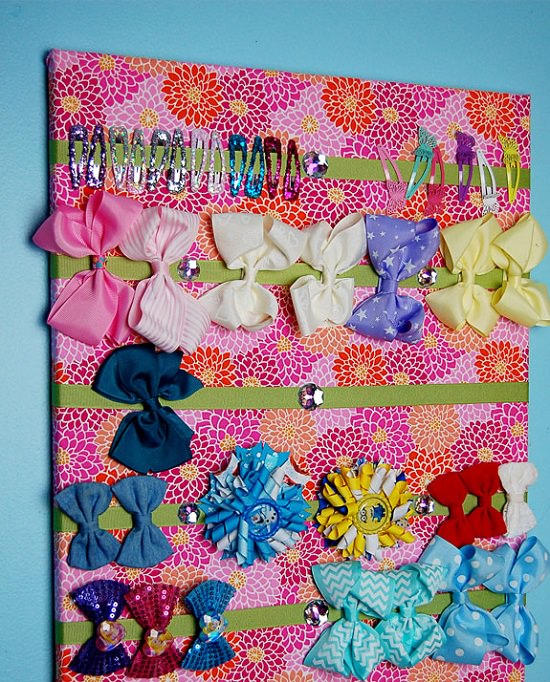 As pretty as it looks, this hairbow holder takes less than $5 to make, and just two supplies- art canvas and ribbons. Get the DIY here.
8. Plywood Holder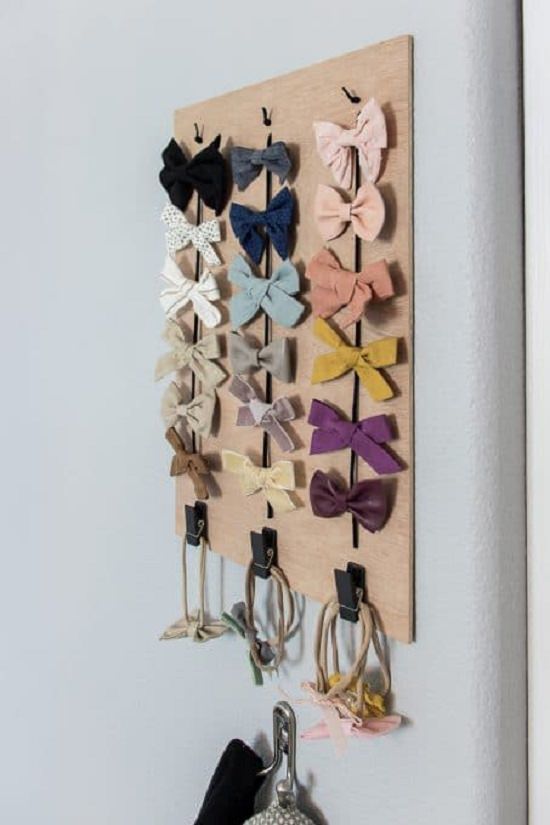 For the girl who loves her frills without the added fuss, this practical birch plywood wall hanging with versatile storage options makes for a sensible addition to her room. Here's the DIY.
9. Quick and Easy Hair Bow Holder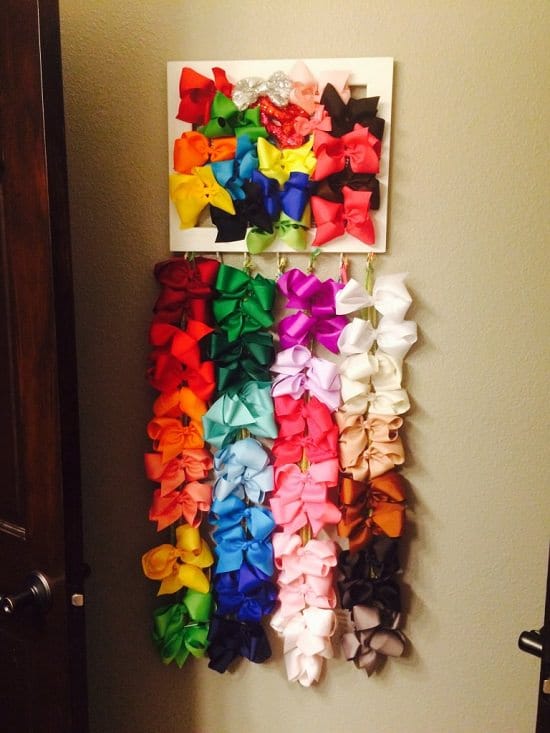 This picture frame hairbow holder lessens the hassle of picking out the best one amongst an exhaustive collection and makes daily organization easy as well. Get the 10-minute tutorial here.
10. Tutu Holder With a Bodice Template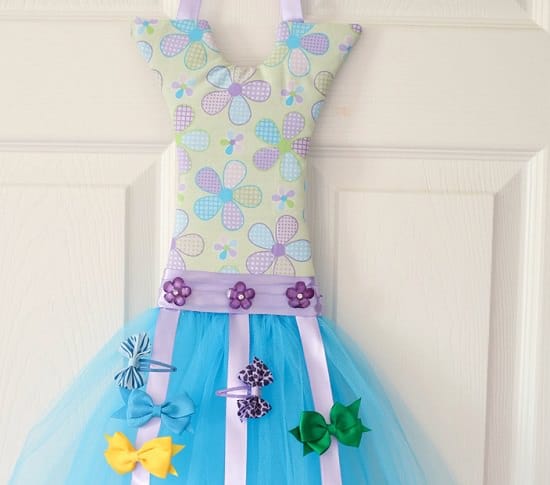 Who knew that a bodice cutout of cardboard could make way for such a stunning wall hanger for hairbows. Low on space requirements and easy on the wallet, this DIY is for all moms who want to please their little princess.
11. Christmas Hair Bow Holder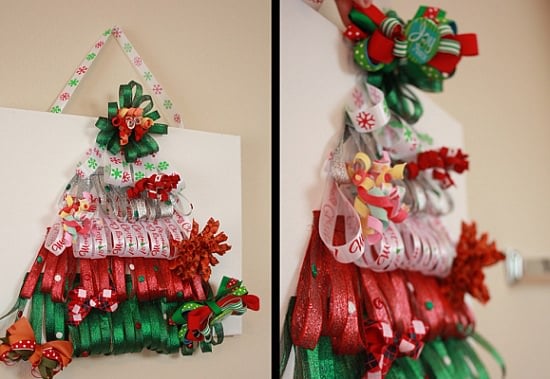 With this easy DIY, you can have the colors of Christmas on your wall all year-round. And what's best is that your hairbows will do the part of decorating the 'tree'.
12. Rainbow Holder DIY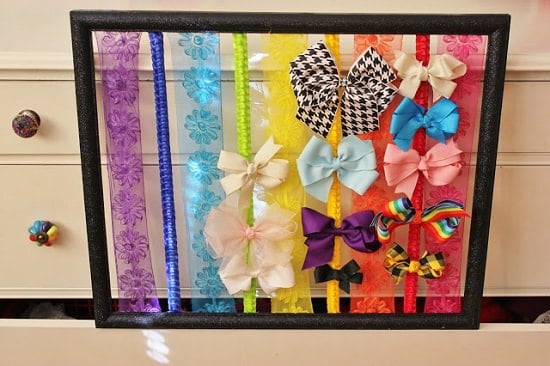 Add texture and color to your boring thrift store frame with dyed lace ribbons and you'll have a cheery holder for your hairbows in a jiffy. Here's the DIY.
13. Chicken Wire Frame Bow Holder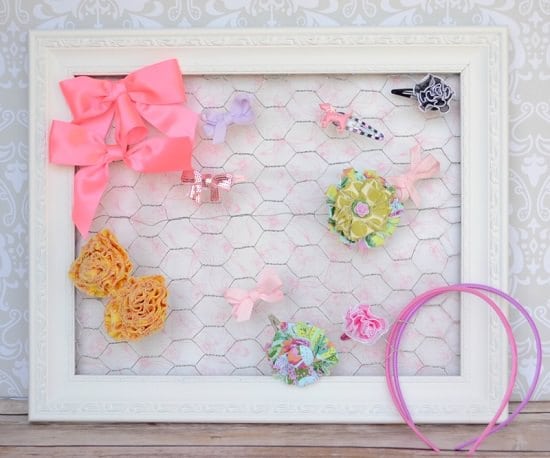 Not just hairbows and barrettes, the versatile chicken wire organizer can be used for headband storage too. And once you master this DIY, you can whip up another one for your jewelry.
14. DIY Wooden Hair Bow Holder
The beauty of this DIY holder comes from the uniform arrangement of color hair bows secured in place by clothespins. Get the easy tutorial in the video.
15. Custom DIY Hair Bow Holder
This lightweight twine hanger forms an elegant way to reduce hairbow clutter and it's so space-saving that you can actually hang it on your closet door without ruining the aesthetics.
16. Cloud with Rainbow Bow Holder
Colorful yarn, wooden shapes, and embroidered stickers-All make for a versatile DIY bow holder that can be customized in multiple ways to create a unique one for gift-giving.
17. DIY Holder From Scratch
A rectangular-shaped wooden canvas attached with rows of ribbons forms spacious wall-hanging storage to accommodate a growing collection of hair accessories.
18. Hair Bow Holder
With a blank wooden plaque as your canvas, you can let your creativity run wild. Paint it in pastel shades, or add your girl's name in vinyl lettering for a more professional touch.
19. Unicorn Hair Bow Holder
Grab unicorn shapes from your nearest craft store and yarn in rainbow colors to create this whimsical yet cute holder for your girl's bedroom.
20. Frozen Hair Bow Holder
This magnificent Elsa-themed holder is ridiculously easy to make. Just cut a corset and dress shape from foamboard and paste pink ribbons and flower stickers to create a regal, princess look.
21. Easy Hair Bow Holder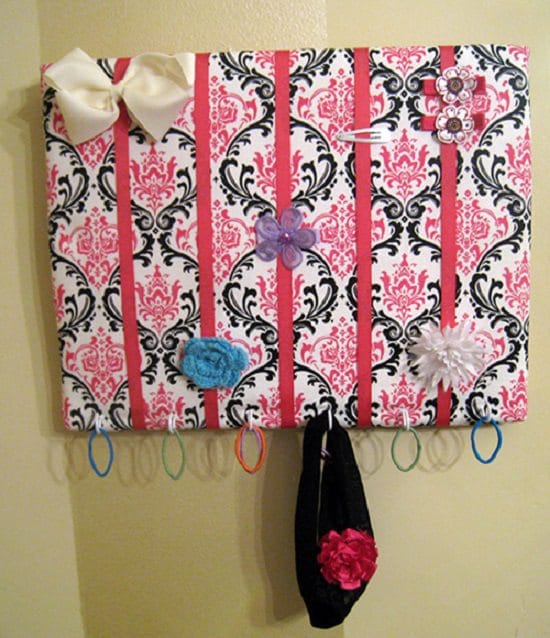 Cover a canvas with a pretty piece of fabric and attach command hooks in a single row below to create storage for your headbands and bows. Here's the DIY.
22. Embroidery Hoop Hair Bow Holder
Get some color on the walls while arranging your hair bows with this fun and practical embroidery hoop holder. Take inspiration from this DIY.
23. DIY Mirror Hair Bow Holder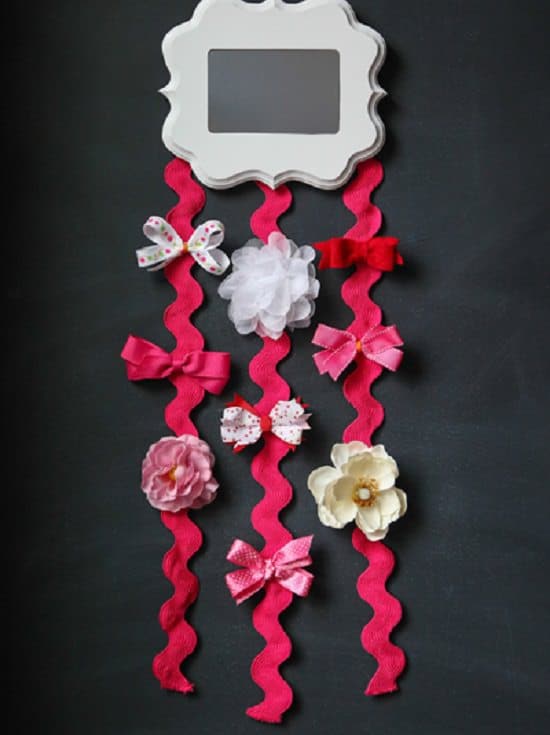 Wouldn't it be fabulous if you could check yourself in the mirror as you tuck a bow in your hair every morning? Well, this DIY takes care of that.
24. Decorative Letter Holder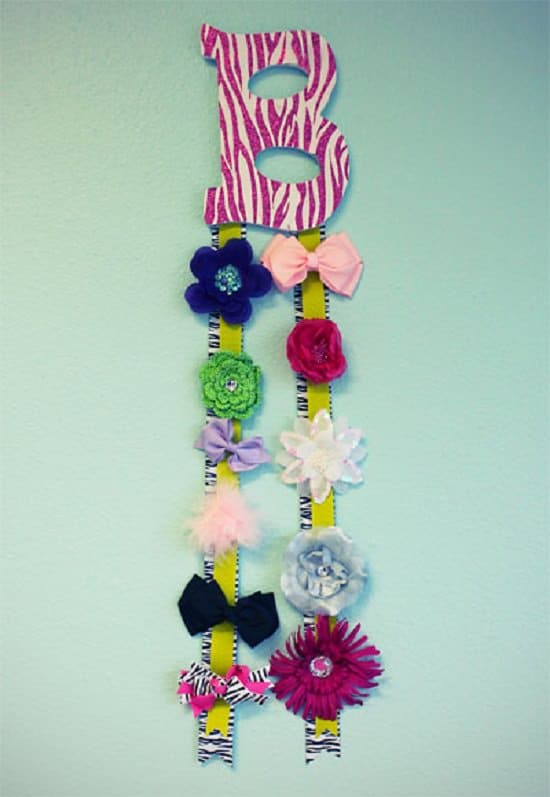 Nothing like customized decorative letters to personalize your little girl's bedroom! Get hold of a wooden monogram, some paint, and ribbons to get started. Here's the DIY.
25. Blank Wood Sign Holder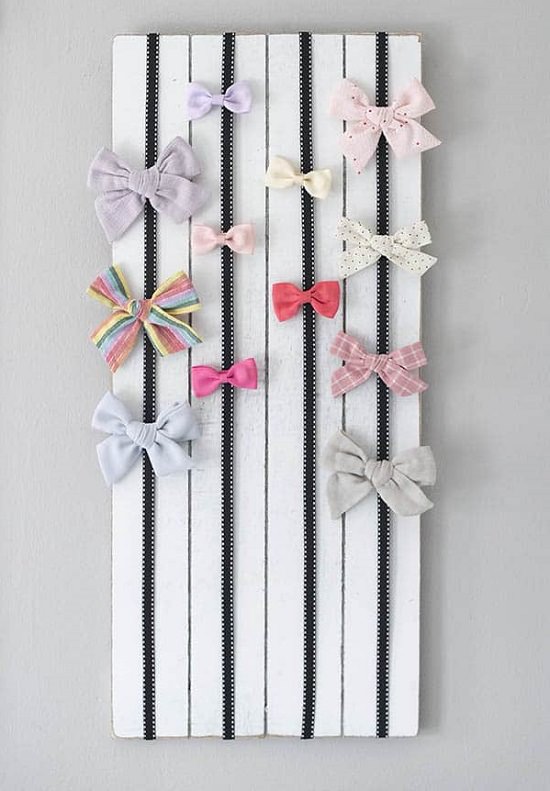 With just three supplies and $5 in your kitty, you can whip up this adorable blank sign holder for your never-ending collection of bows and barrettes. The best part? It gets prettier with every new addition. DIY is here.
26. DIY Little Girl Bow Holder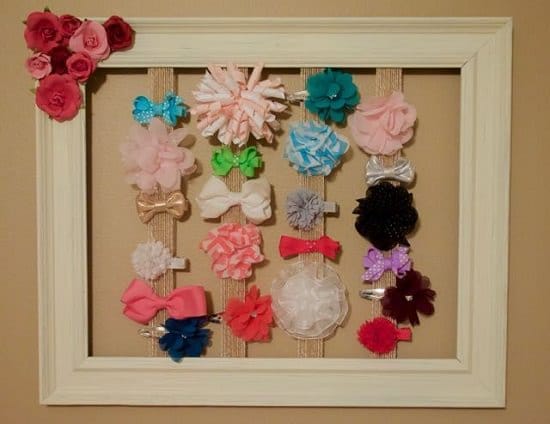 Here's a nice way to put a spare wooden frame to good use. Just get hold of colorful ribbons and your bow collection, of course. Follow this idea.
27. Doll Face Bow Holder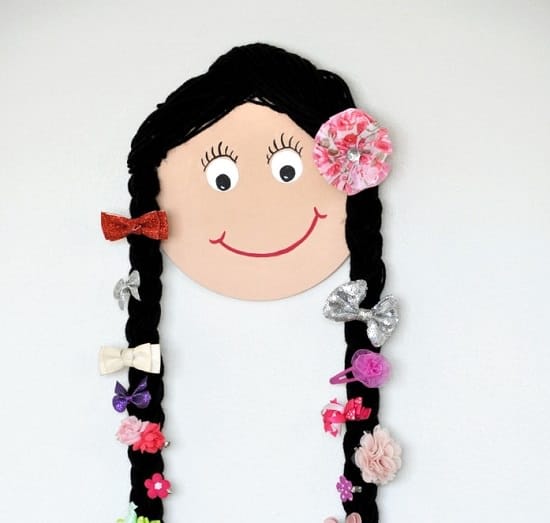 If you don't mind the hard work, here's an interesting DIY holder that actually looks way tougher than you think. Half the work is done when you manage to get hold of a wooden circle for the face and black yarn for the hair.
28. DIY Boho Minnie Mouse Holder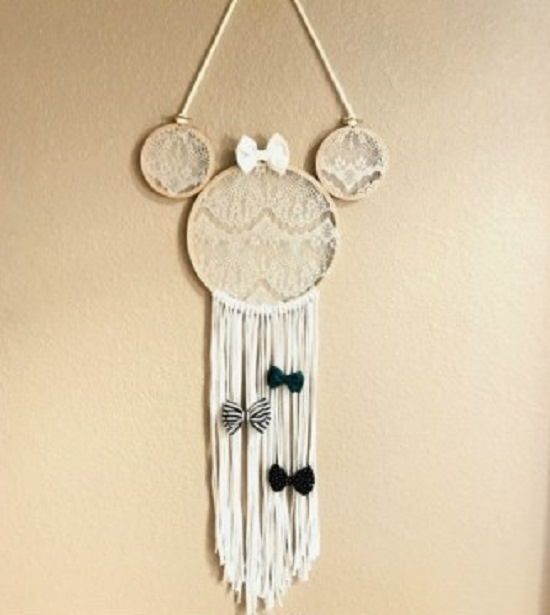 This adorable, Disney-themed wall hanger is just the trick you want to entice pesky kids into organizing their hair bows and clips. Follow this DIY to make one.
29. Hot Air Balloon Bow Holder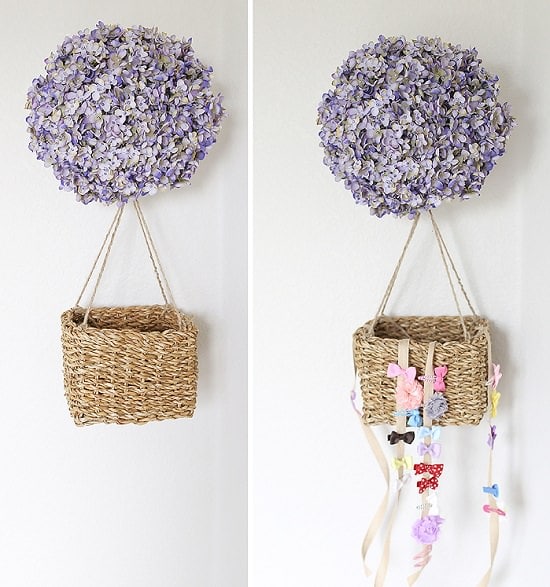 For a quirky touch to the walls, fashion this hot air balloon from a wicker basket and a posy of flowers. The look of cascading hair bows from stray ribbons adds dimension and visual appeal. Here's the DIY.
30. Dowel & Twine Hair Bow Holder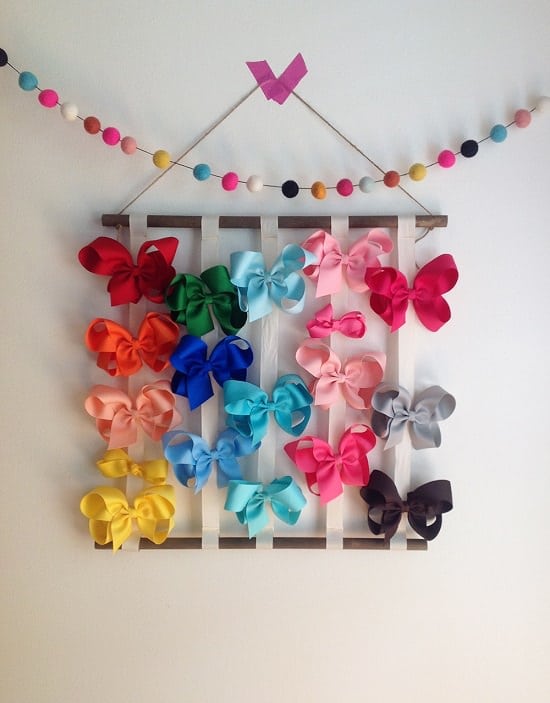 Do you don't have the money to spend on wooden frames? Consider using dowels suspended by twine to fake a wooden bow holder. Details are here.
31. DIY Girly Hanger Holder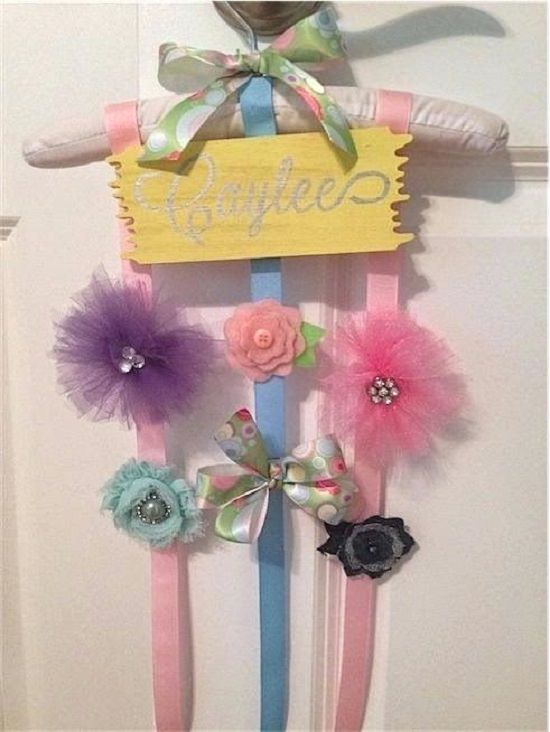 This is a nice DIY for those who want to create a closet storage-cum-display for just two or three of their prettiest bows.
32. Simple DIY Bow Holder
Fancy up a handmade bow display with pretty fabric, cartoon stickers, and colorful ribbons.
33. Mommy & Me DIY DOLLAR TREE Hair Bow Holder
For a more personalized touch, consider cutting letters out of foam board to use as an anchor for the ribbons.
34. Butterfly Holder
If you like a linear, symmetrical display option that takes less space, consider this neat little butterfly-themed holder.
35. Bow Holder for Girly Girls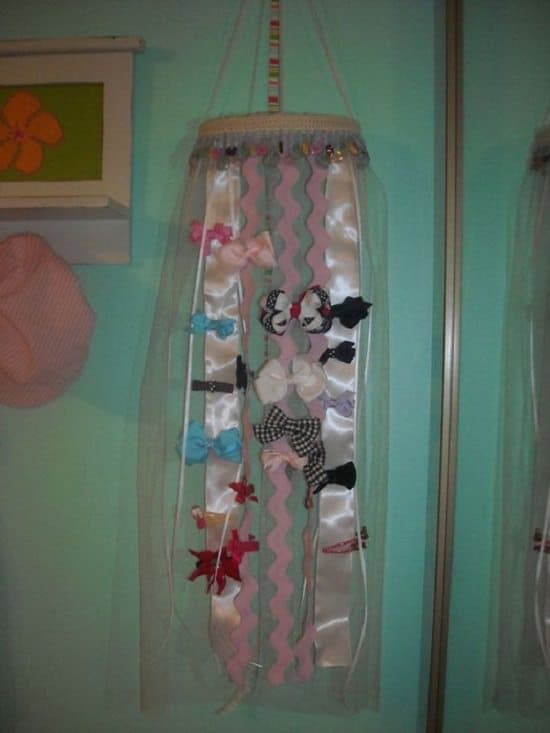 Perfect for creating princess vibes in the girl's bedroom, this tulle hair bow holder has the capacity for incessant bow storage while looking prettier with every addition. Here's the DIY.
36. Old Shutter Hair Bow Holder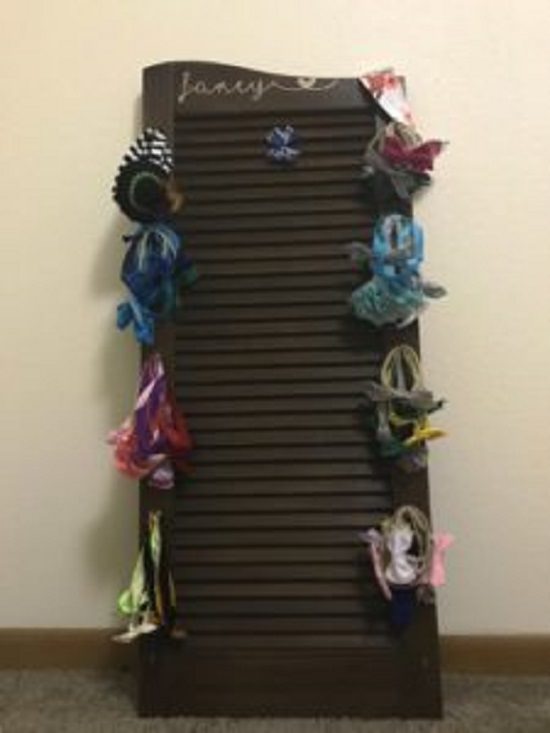 Having an old shutter as the bow storage station means you get easy access to your collection anytime. Also, you can always place it by a vintage mirror for a cohesive look Here's the DIY.
37. Wooden Frame With Command Hook Hair Bow Holder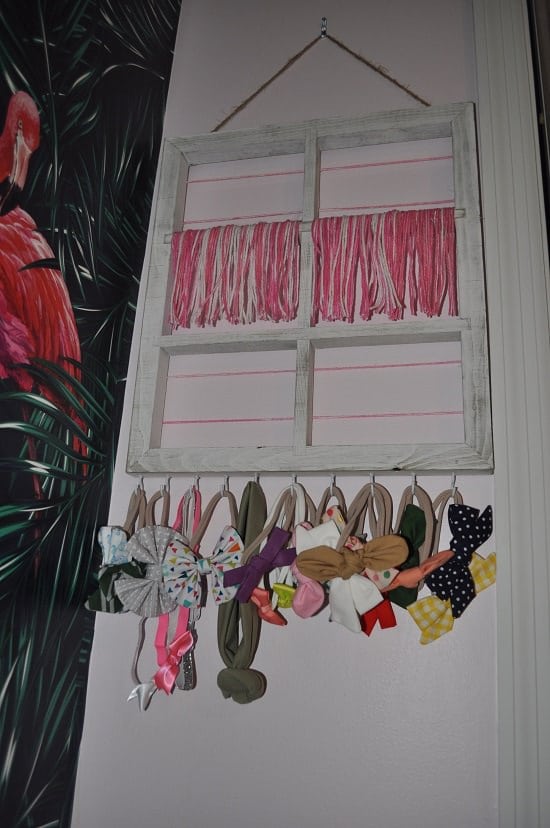 A reclaimed window frame plugged with command hooks serves as a nice, space-friendly option for keeping hair bows neatly arranged. Here's the DIY.
38. Clothespins Hair Bow Holder
Create a wreathe out of your pretty hair bow collection using clothespins as the base. That's a smart way to ensure maximum storage in limited space. Find the DIY here.
39. DIY Arrow Hair Bow Holder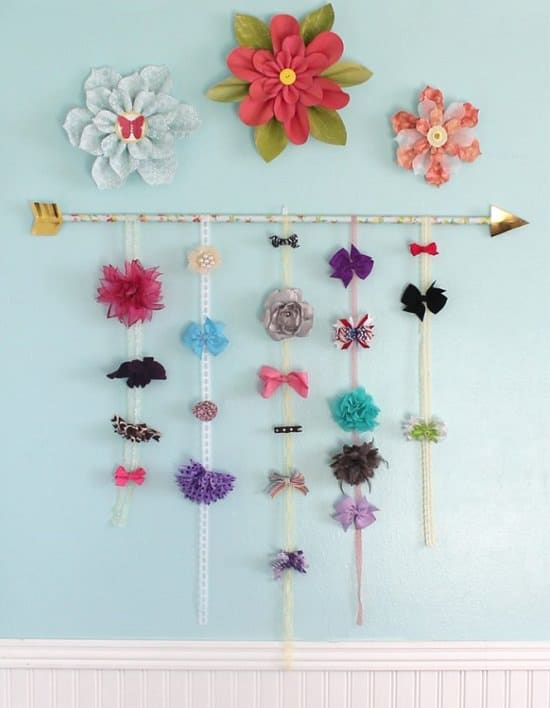 For this project, you need to have the prettiest scrapbooking paper in your stash and a few other supplies including dowels and ribbons.
40. Wire Wreath Bow Holder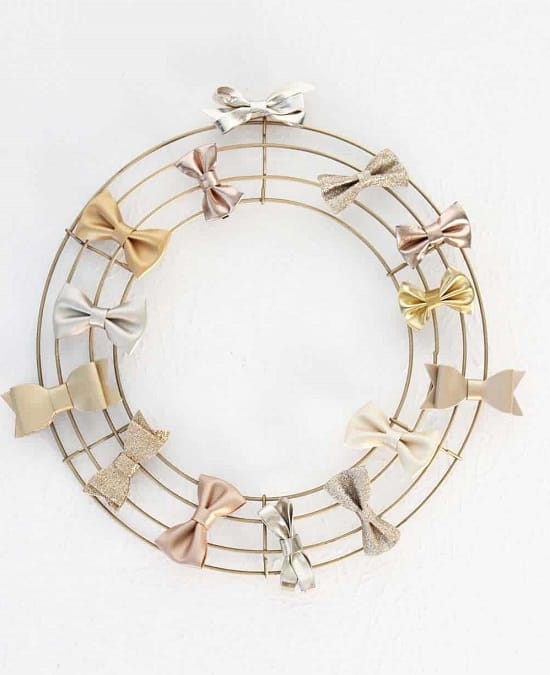 Glam up a wire wreath form with metallic spray paint and fasten your bows to it with the help of clips to create a lovely accent for the walls. Here are the instructions to follow.
41. DIY Hairbow Holder for Under $7.00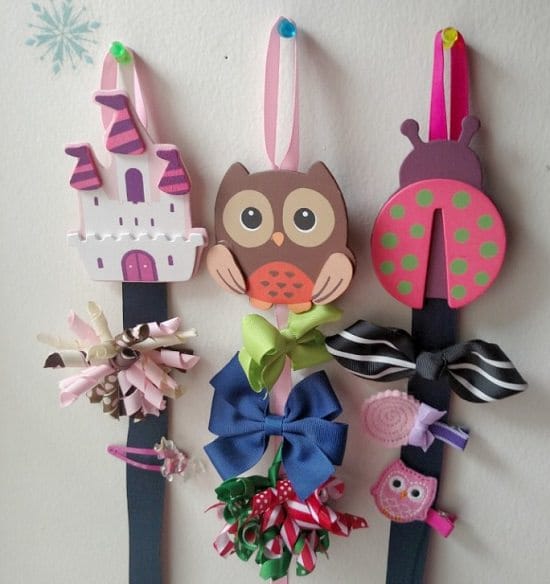 Individual wooden shapes hung from hooks serve as anchors for ribbons to accommodate hair bows of all your girls in a compact, wall-mounted storage solution. Make it with this DIY.
42. DIY Bow Holder with Horseshoes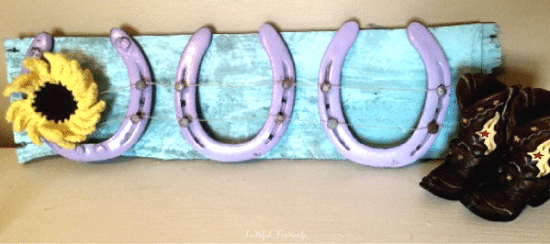 For little girls that love horses, this equestrian-themed bow holder is the perfect answer. All you need is an old board, nails, and horseshoes. Here's the DIY.
43. Painted Wooden Plaque Holder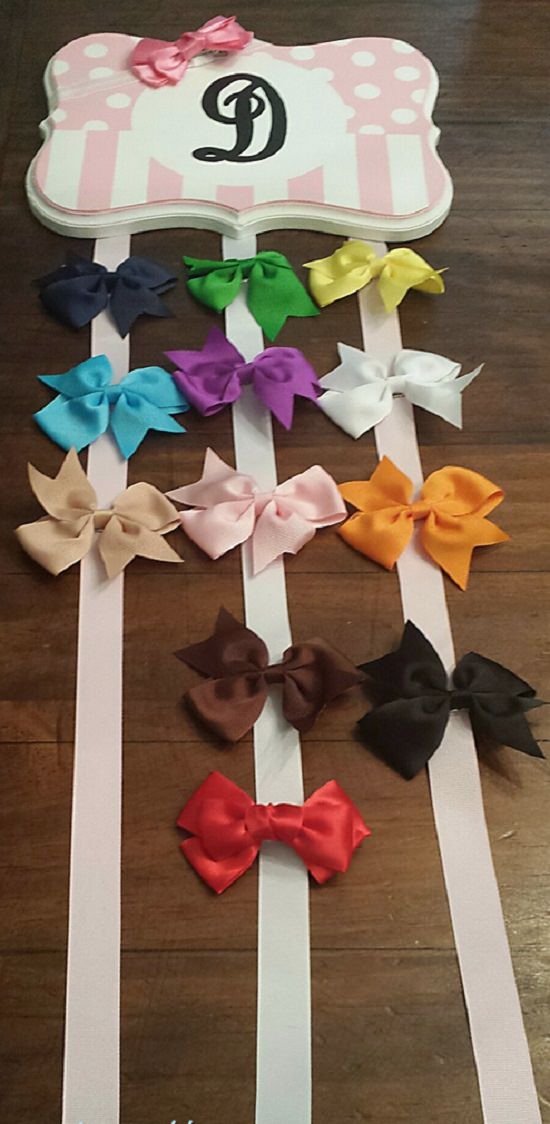 Here, this DIYer revamped a wooden plaque by painting stripes on it and sticking a vinyl monogram in the center. Follow it with cascading ribbons to secure your hairbows.
44. Monogram Hair Bow Holder
A giant monogram, colorful ribbons for hairbow storage and a wall-friendly make-isn't that a great combination for a baby shower gift! Get the details here.
45. Vintage Window Hair Bow Holder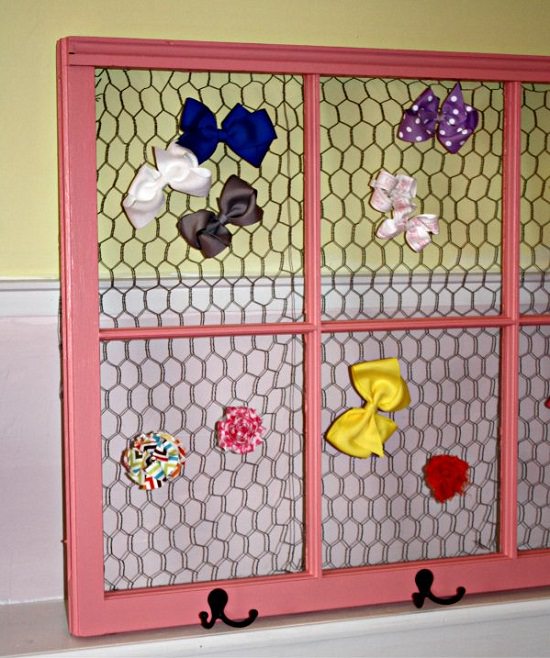 A vintage window with a chicken wireframe is a lovely canvas for flaunting your collection of hair accessories. Don't forget to mask the chipped wood with paint before. Follow this DIY.
46. DIY Holder in 3 Simple Steps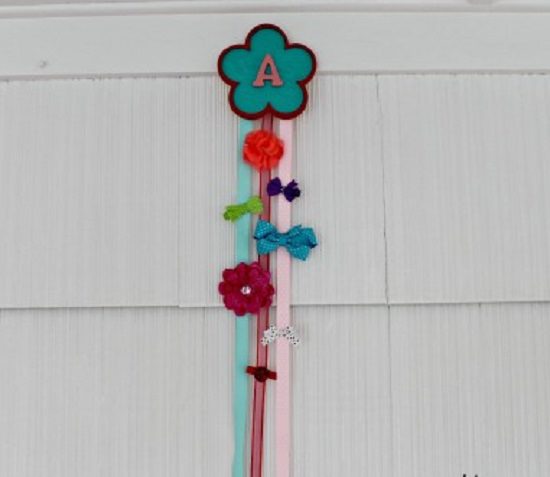 When you have wooden shapes, paint, and colorful ribbons to start with, your hair bow holder is bound to look like a pretty piece of craft. No problem though because your little girl will love it in her room. Make it with this DIY.
47. Turtle Bow Holder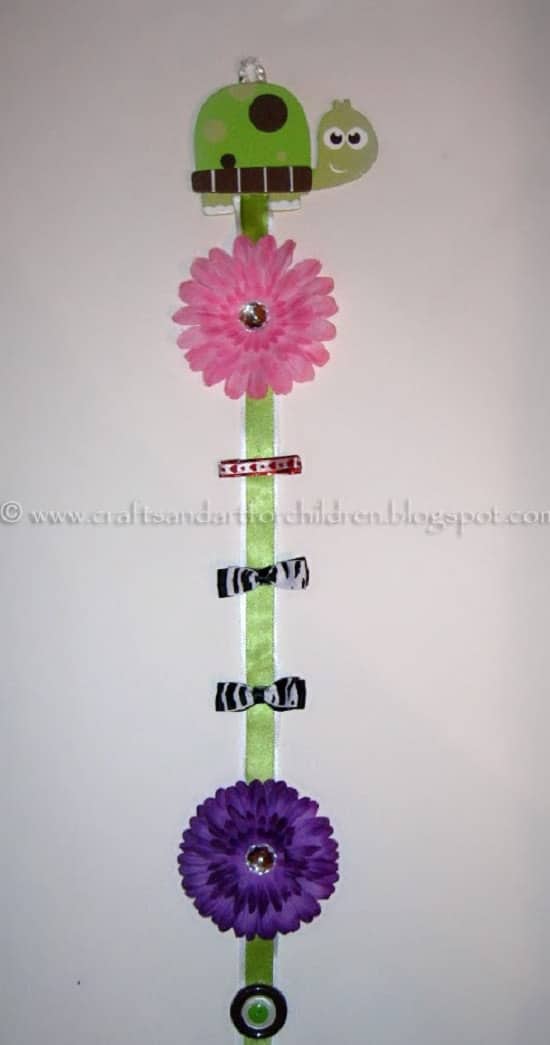 This safari-themed holder is not only super easy to make but even more fun to customize, which makes it a lovely craft for older kids. Here's the DIY.
You can customize these DIY hair bow holder ideas to complement your princess's bedroom or suit your needs! Ping us if you innovate something beautiful other than these DIY hair bow holder ideas!