Upgrade your cushion game with these modern and sleek DIY chair cushions that you can easily sew at a budget!
1. DIY Chair Cushions for My Kitchen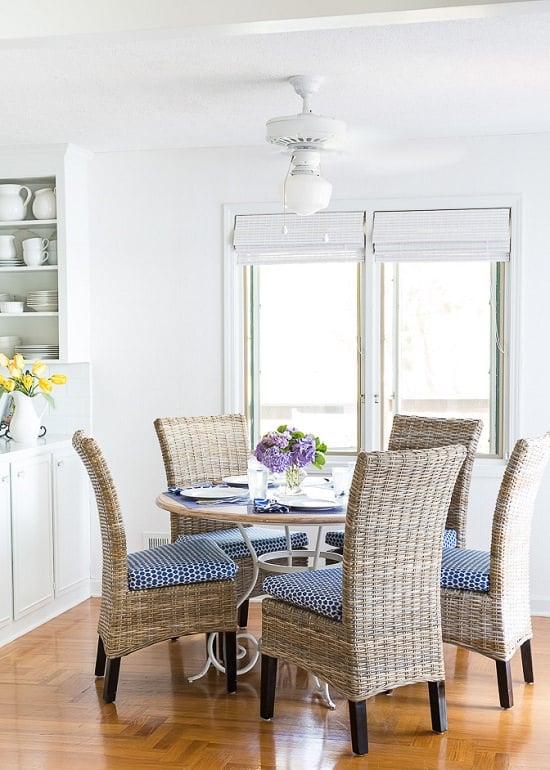 These DIY box-style cushions fit your chairs perfectly and do not require piping or ties to stay put. And the fact that they offer a streamlined look makes them a lovely addition to wicker chairs.
2. No-Sew Reversible Chair Cushions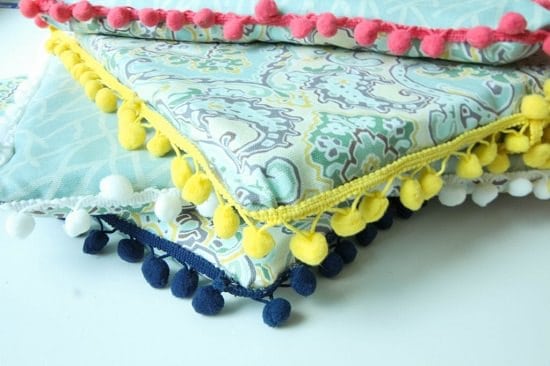 Comfy up bony chairs with these lightweight, no-sew DIY cushions that are perfect for taking to a picnic or outdoor gathering. This tutorial even shows you how to convert them into bench cushions.
3. Tie On DIY Chair Cushion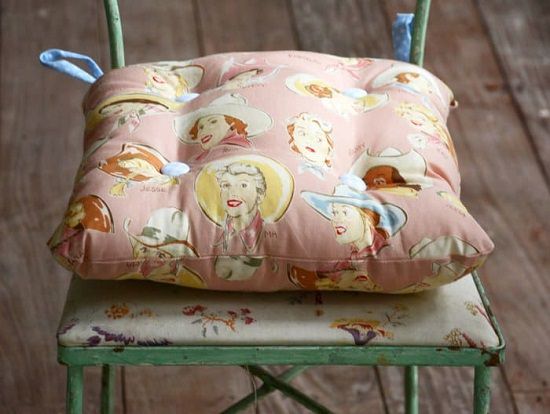 When you want to cozy up an uncomfortable chair but without reupholstery, consider using cushions with ties. This DIY shows you how to get it done in an hour.
4. Feed Bags Chair Cushion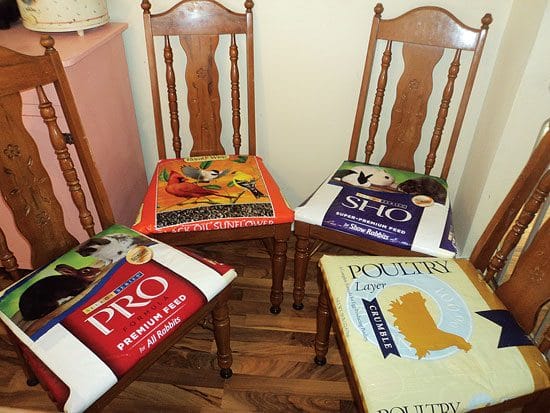 Resistant to stains and colorful to boot, these DIY chair pads are an upcycled version of feed bags, which makes them ridiculously cheap and easy to create.
5. DIY Leather Chair Cushion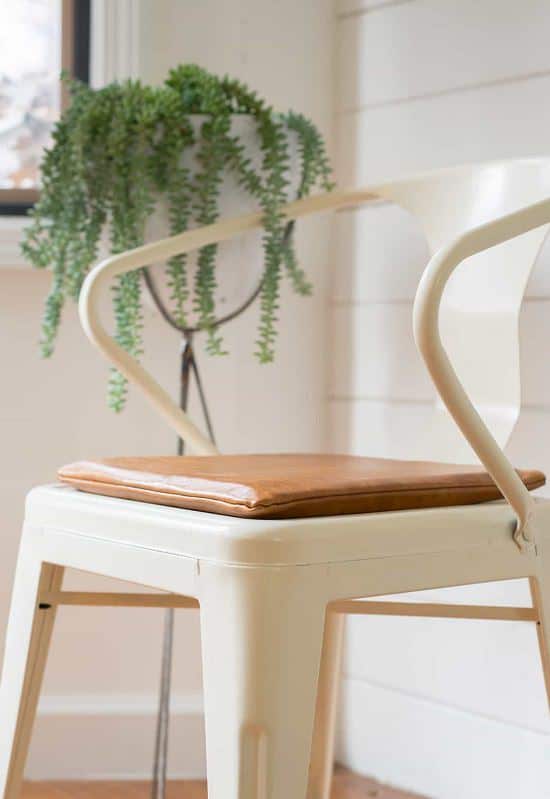 Leather cushions, with their unique look and texture, make a wonderful addition to bench-type seating. Learn to make them from scratch with this easy DIY.
6. Outdoor Chair Cushions in 30 Minutes or Less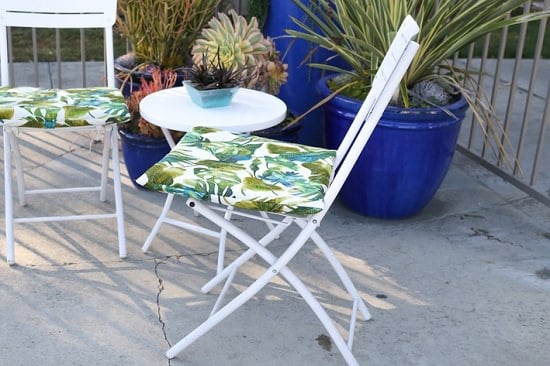 Sans zippers or stuffing, the envelope-style pillow cover is remarkably easy to create and remove after use. Also, it's perfect for lending comfort to metal chairs. Here's the DIY.
7. Own Comfort With Outdoor Cushions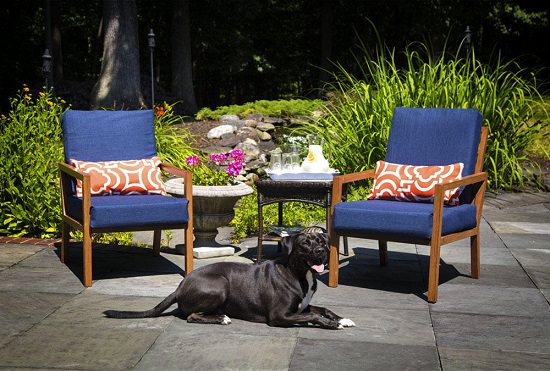 Create a matching set of outdoor seat cushions with some bias tape, fabric, and foam inserts. This DIY has the instructions.
8. DIY Funny Chair Cushions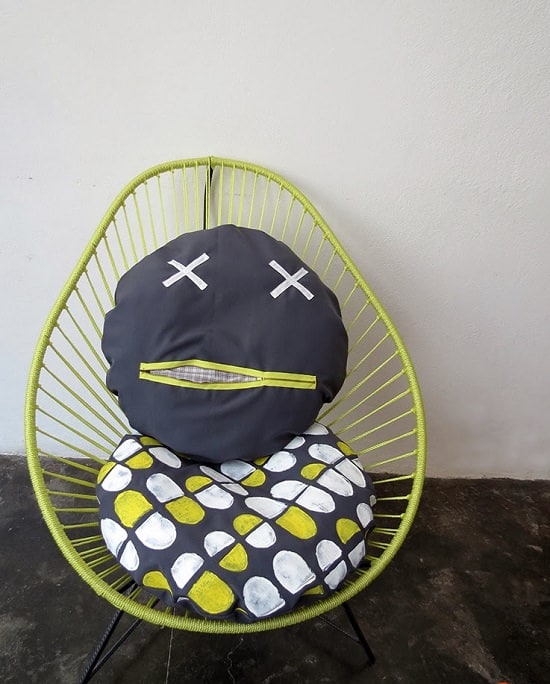 This fun DIY comes with three different ideas to show you how to use cushions to create a whimsical element in your home decor.
9. DIY Round Chair Cushions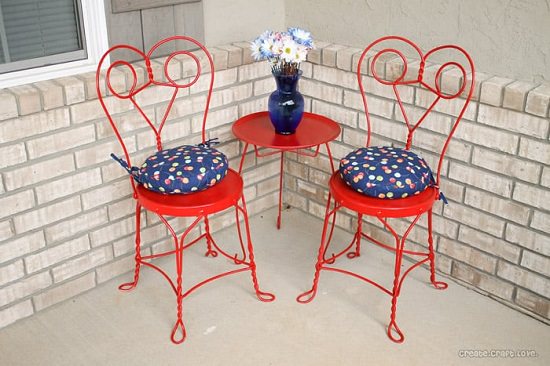 For an elegant,  farmhouse look, try sprucing up outdoor chairs with round seat cushions. All you need is some Polyfil, fabric, and a little help from your sewing machine. Here's the DIY.
10. Pretty Chair Cushions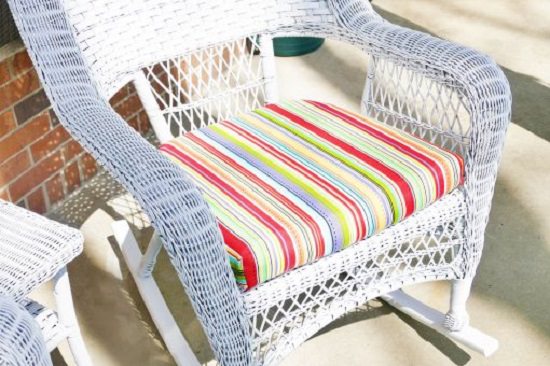 If your outdoor cushions seem to have taken a beating after a long winter, this is the easiest tutorial to restore their lost charm. All you need is a trip to the fabric store first.
11. Yellow Premier Prints Chair Cushion
The combination of cheery covers and foam cushions amp up the comfort quotient of your patio seating furniture.  Follow this DIY.
12. Rocking Chair Cushion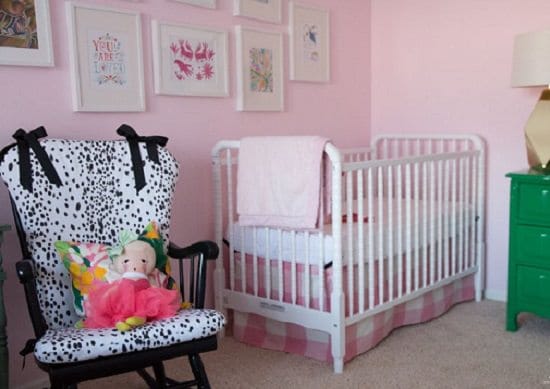 Add comfort and beauty to a simple rocking chair with upholstered cushions. The DIY is simple and gets done in an hour, provided you have foam inserts and fabric ready.
13. Chair Box Cushion with a Zipper
The adorable charm of box cushions meets the practical functionality of zipper in this DIY chair pads, making this an apt project for beginners.
14. Recover Chair Cushions DIY
Get hold of a pretty piece of fabric and your sewing kit to spruce up old cushions in a jiffy. The rest of the instructions are in this video.
15. Super Cheap Chair Cushion DIY
If you want to hold tight to your precious pennies, take a cue from this DIY and use up your old mattresses and curtains to create chair cushions that last.
16. Rae Dunn Inspired Chair Cushions
For an eccentric touch to patio furniture, consider giving this Rae Dunn-inspired cushion DIY a try.
17. Own Chair Pad Cushions
These custom-made seat pads come with ties and stitch detailing in parallel rows to offer a rustic touch to the dining table furniture. Recreate the look with this DIY.
18. DIY Chair Сushion Using Pillowcase In 10 Minutes
Customize foam cushions with reversible covers to create lightweight seat pads that can be removed easily and even taken outdoors to a picnic.
19. Adirondack Chair Cushion
Make your afternoon siestas even more comfortable with Adirondack chair cushions that cover the seat and back, while infusing a cheery summer look to the outdoor space.
20. DIY Chair Cushions for Kids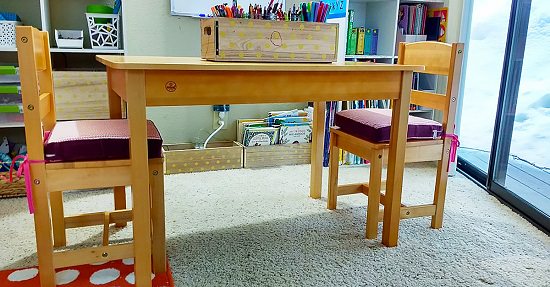 Dress up plain wooden chairs with DIY zippered cushion covers featuring panels of corduroy salvaged from an old pair of jeans.  Get the instructions here.
21. Simple Chair Cushions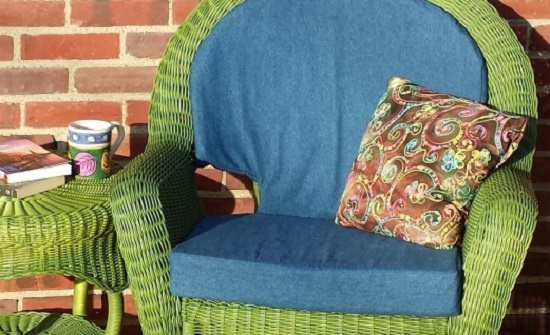 The beauty of this DIY project is that it uses foam of varying densities for extra comfort. Also, there's no need for pipings or zippers, so the entire look is very streamlined.
22. Vintage Chair With DIY Cushions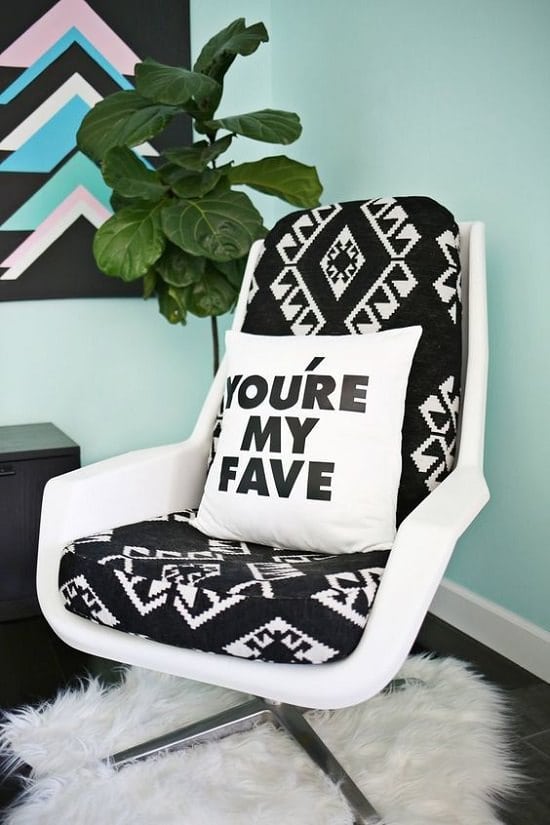 If you're looking for a beginner's DIY to get your feet wet in the basics of upholstery, this DIY involving the recovery of a vintage chair with simple cushions is a nice place to start.
23. Dining Chair Flat-Weave Cushion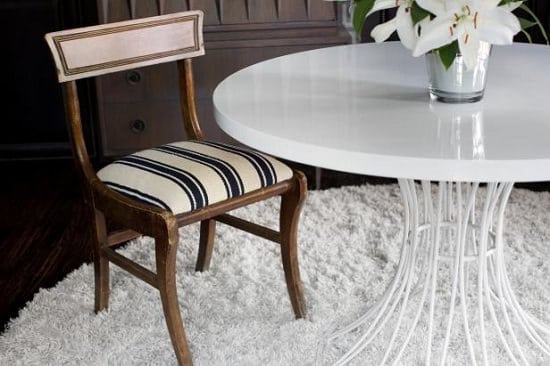 Customize and upgrade shabby seat cushions with a patterned rug and minimal sewing skills. Details are here.
24. Patio Chair Cushions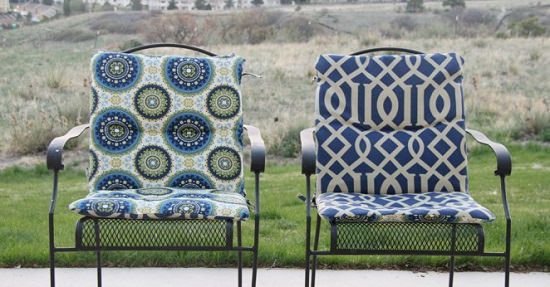 This DIY shows you how to create back-to-seat outdoor cushions with reversible covers for easy swapping with the seasons.
25. Cushions for Folding Chairs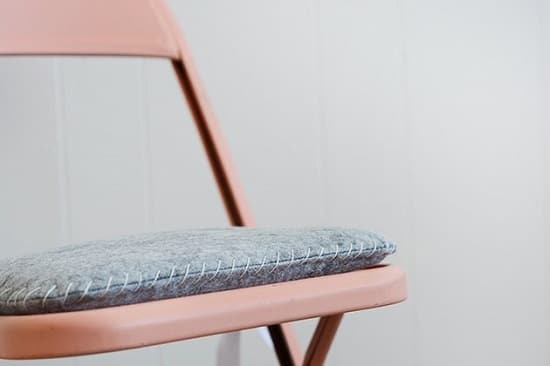 Rescue an old metal chair with these elegant seat pads featuring stitch detailing around the edge that gives it a nice, tailored look. Here's the DIY.
26. Chair Cushions with Bonus Embellishment Goodness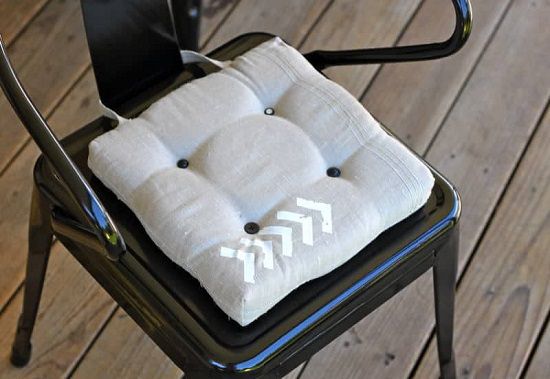 Pretty up thick foam cushions with trim squares and button detailing, both of which require beginner-level sewing skills. Here's the DIY.
27. DIY No Slip Chair Pads Cushion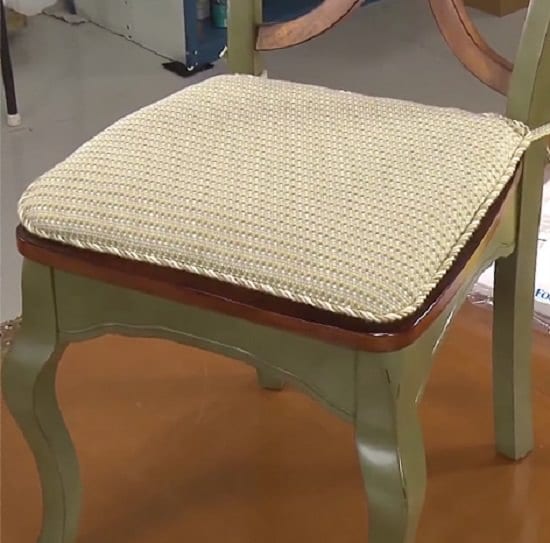 Bring comfort and color to the dining room with these polyurethane foam pads. This DIY has all the details you want-right from patterning your fabric to making the ties.
28. Chevron Chair Cushion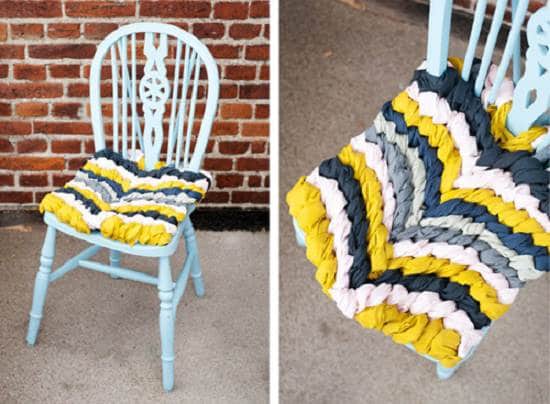 Arrange plaid fabric in a chevron pattern to create multi-colored cushions that combine contemporary and rustic elements. Here's the DIY.
29. Crochet Chair Cushion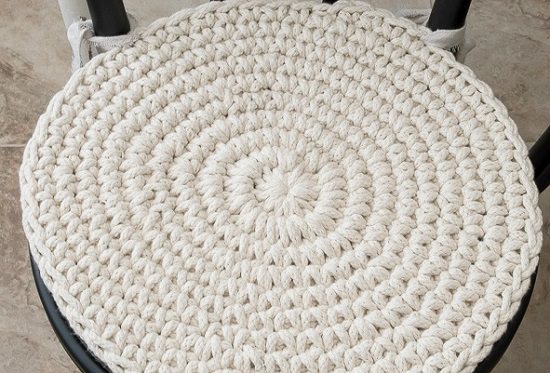 Convert crocheted placemats into round seat cushions with this no-sew, 15-minute DIY and any fabric of your choice.
30. Lounge Chair Cushions
Amp up the comfort quotient of your outdoor relaxation times with this 30 minute-long DIY. The result is a pair of fluffy lounge cushions that are easy to coordinate with changing seasons.
31. Custom Leather Chair Cushions
It's hard to beat the elegance of leather, but if the price daunts you every single time, do take a minute to survey this DIY.
32. DIY Summer Chair Cushion
Remove traces of a bleak winter with DIY chair cushions that add an instant dose of freshness and color to outdoor furniture.
33. Armchair Cushions
This DIY solves that one problem of getting the right fit with your armchair cushion. There are insightful tips for customization, and the supplies are minimal.
34. DIY No-Sew Rocking Chair Seat Cushion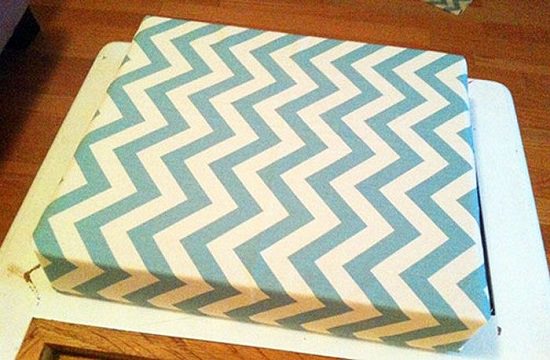 Dress up an outdoor rocking chair with these no-sew seat cushions stuffed with poly-fil foam. If you want to know how to create a matching backrest, this DIY has instructions for that as well.
35. Trunk Chair Cushions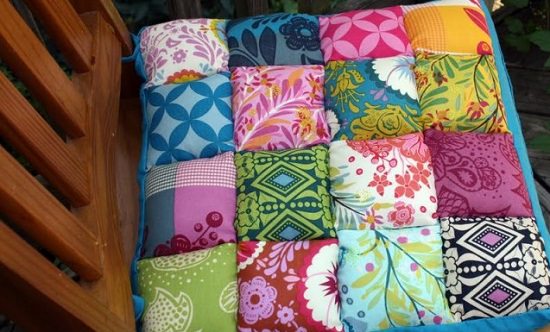 Featuring charm squares and quilted puffs, these uber comfy chair cushions feel lovely to sink into after a long, tiring day. Make them with this DIY.
36. Chair Cushion With Ties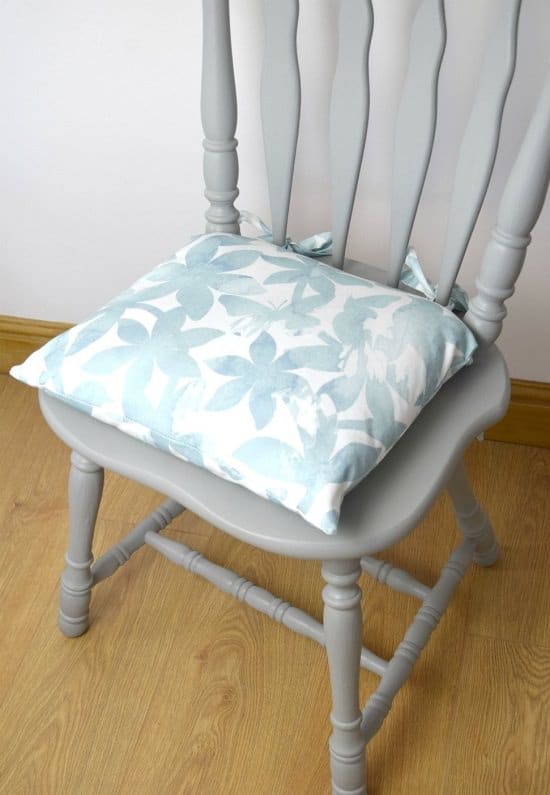 Using an empty cushion insert, cut out four cushion ties and sew the sides while leaving the top open. This is all you need to do to make a cute little cushion to prop up a lone chair. Get more details here.
37. Denim Chair Cushions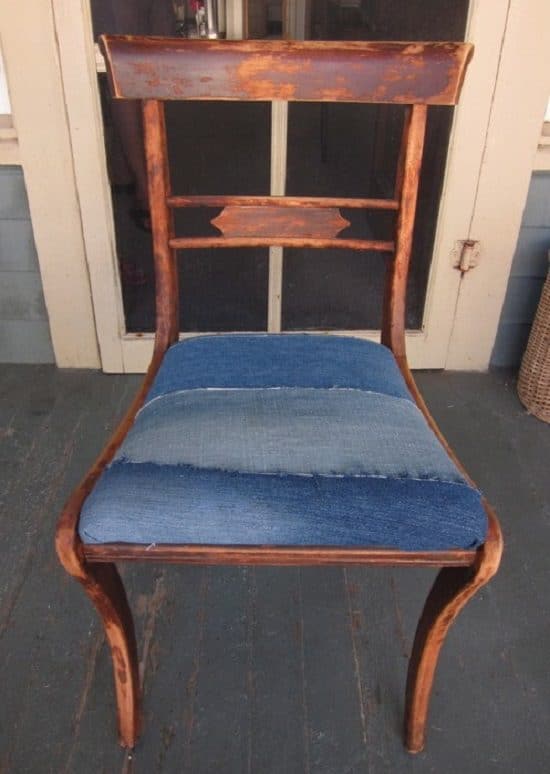 Upgrade an old, shoddy pair of jeans into artsy cushions to spruce up chairs in a boring dining table set. Here's the DIY.
38. Colorful Chair Cushion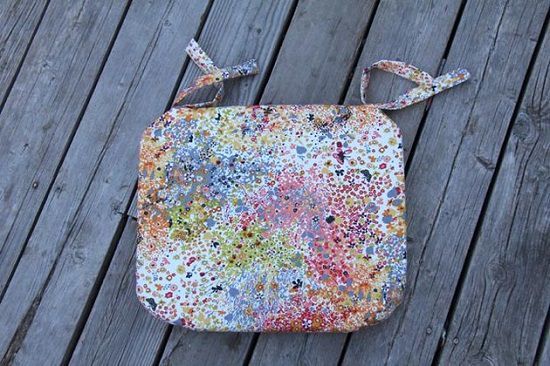 Stuffed with high-density foam, these patio cushions are a treat to the back, especially when you spend nights star-gazing or having conversations in the moonlight. Follow this DIY for instructions.
39. Toadstool Chair Cushions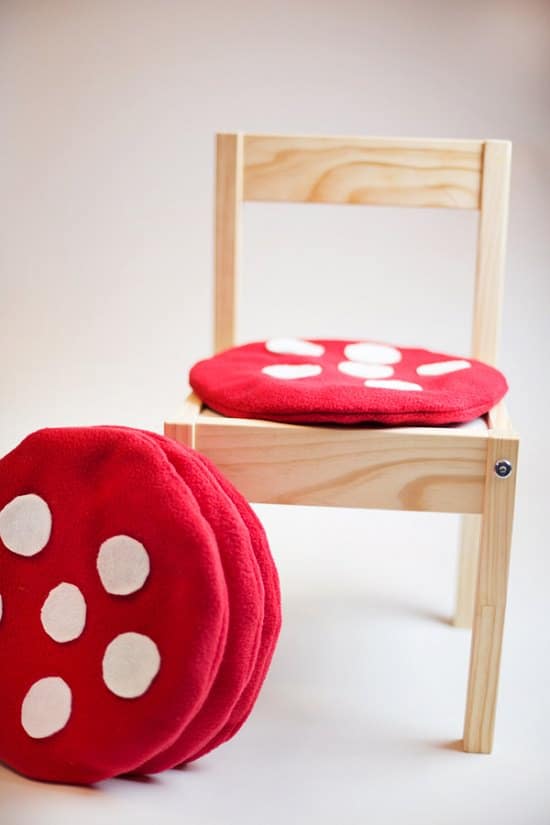 Made with red and white fleece, these cute and super cheap toadstool cushions are a lovely addition to the children's playroom. Here's the DIY.