Make it easy and convenient to carry water bottles while on the go by making any of these DIY water bottle holders with readily available supplies!
1. DIY O-Ring Water Bottle Holder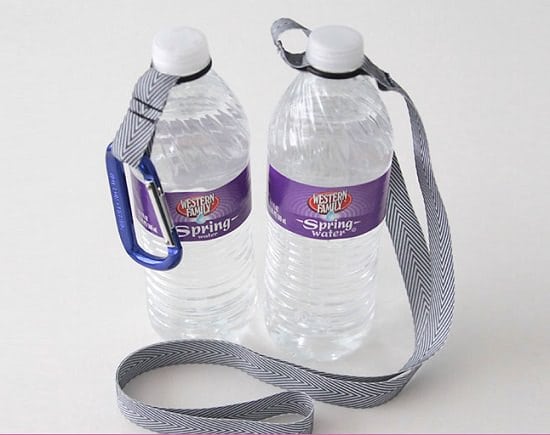 A handy little idea to attach a sewn ribbon to an O-ring can turn any water bottle into an easy to carry sling or a carabiner carry! Find out how to create these excellent, easy to carry bottle holders here.
2. DIY Water Bottle Holder for Kids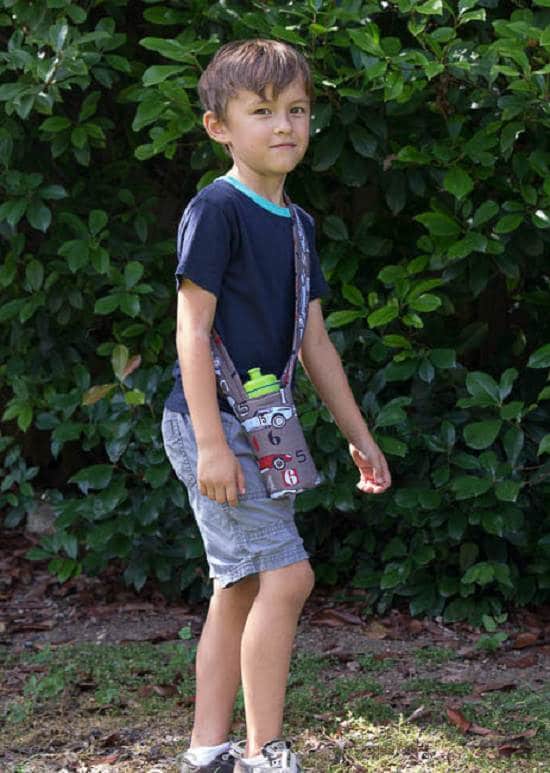 This groovy bottle holder can be sewn together to brighten up any summer camp, and it's sure to help your kid remember to bring it back home. Read more about it here.
3. Water Bottle Holder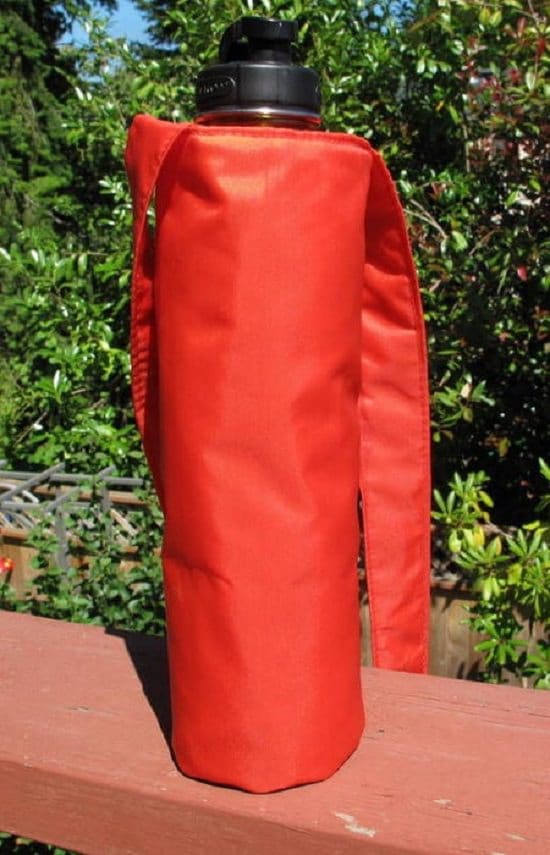 This easy to create bottle holder lets you thermally protect the bottle with intelligent padding and some careful lining that blends in seamlessly, wherever you go. Find out more at this easy to follow instructable here.
4. 15-Minute DIY Water Bottle Holder Sling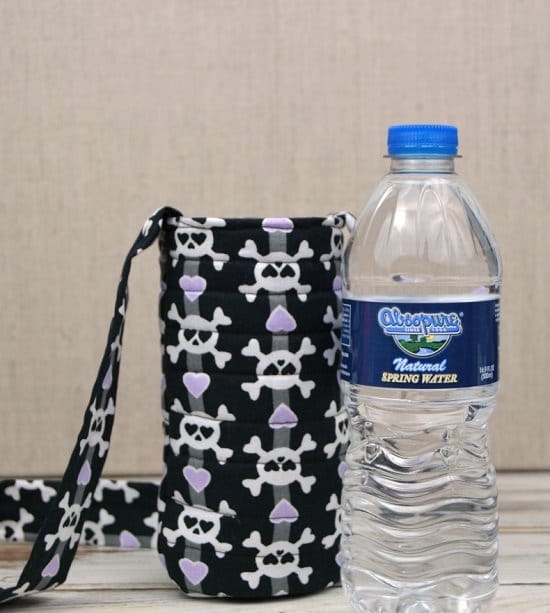 Turn your favorite bottle into an eye-catcher with this swappable sling that turns any plain bottle into a beautiful hands-free bottle in just 15 minutes! Read more about it here.
5. Duct Tape Water Bottle Holder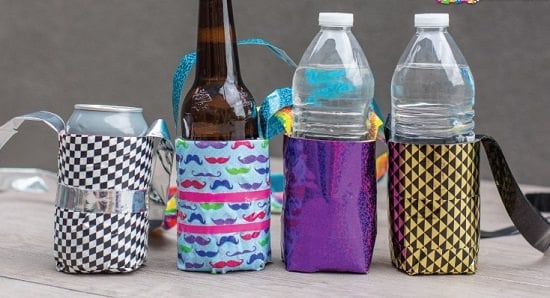 Did you know that you can refashion a simple can cooler into an attractive bottle holder with just some ribbons, decorative film, and duct tape? Follow this simple DIY to make yourself an innovative bottle holder in no time.
6. Decorative Ribbon Bottle Holder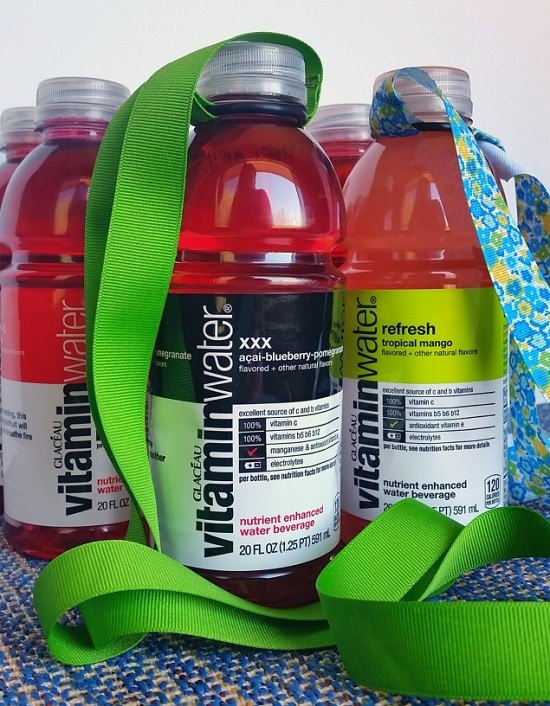 These O-ring bottle holders are terribly cute and highly functional. All you need is 4-5 feet of decorative ribbon and some thread (or some no-sew glue), and you can create your own very easily.
7. Tin Can DIY Water Bottle Holder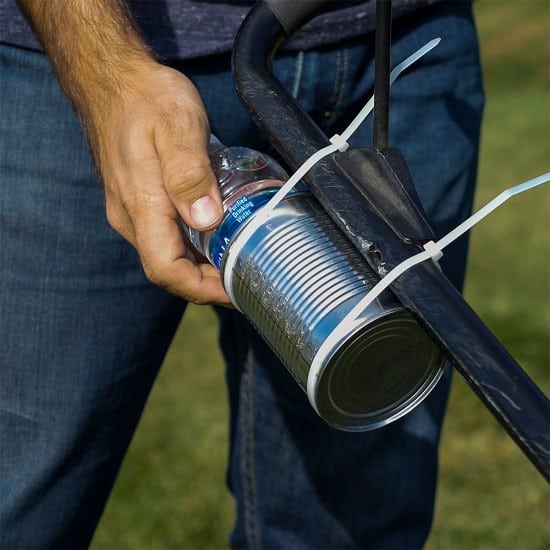 Fashion a couple of zip ties to a can to make this easy to hoist water bottle holder that you can carry around on your bicycle to stay hydrated anywhere you go! Follow this simple DIY tutorial to make one of your own.
8. DIY No-Sew Water Bottle Holder
This no-sew bottle holder comes together with some pieces of vinyl and patterned fabric and is very convenient to replace with the drink of your choice. Check out this informative DIY here.
9. Personalized Water Bottle Holder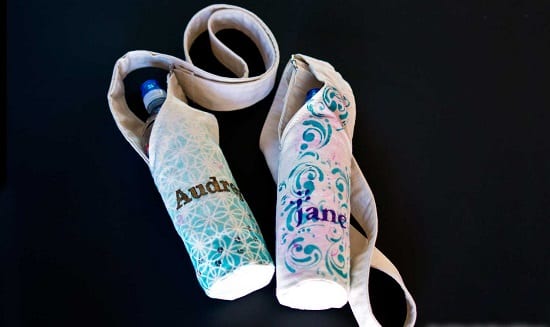 For the artsier of you, this personalized water bottle holder adds a sense of belonging to any plain water bottle you might carry anywhere you go. Just follow the tutorial here.
10. Wide Ribbon Water Bottle Holder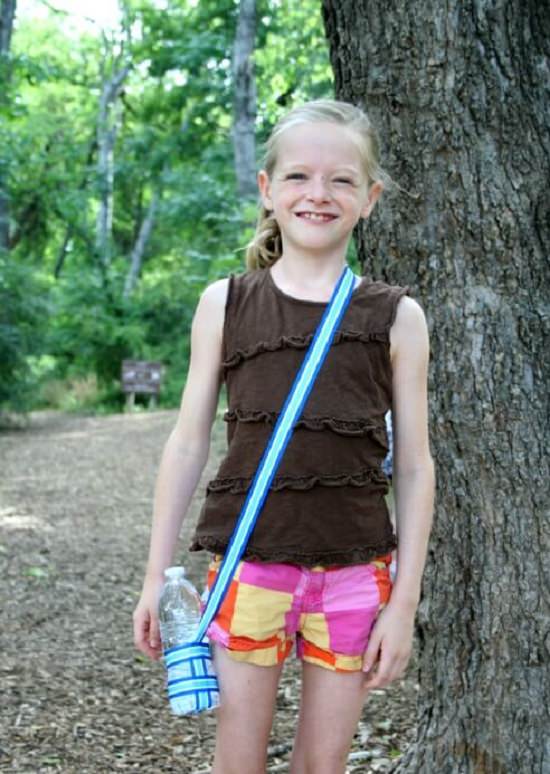 Go hands-free with this ribbon-only water bottle holder that you can fashion into place with just a wide ribbon, a pair of scissors, and some fabric glue! Find out how to do that here.
11. Wonderful DIY Water Bottle Holder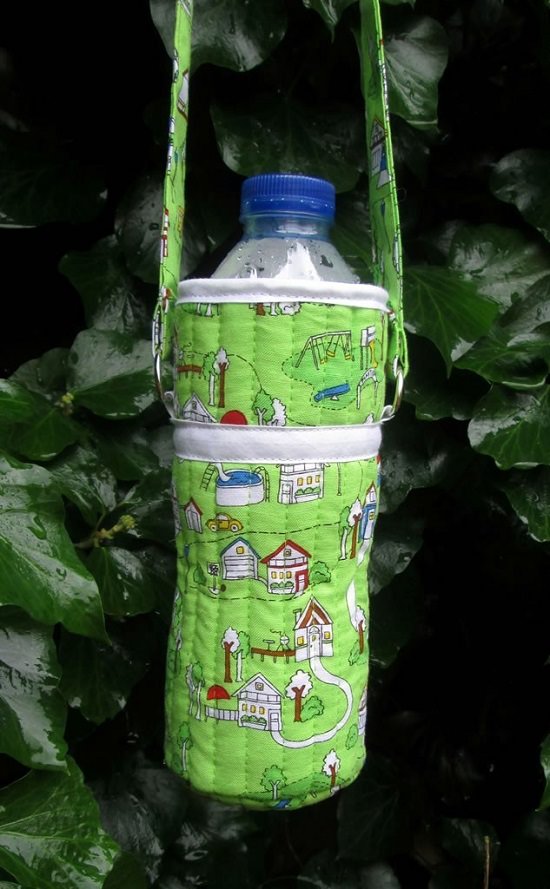 This double seamed water bottle carrier protects your favorite bottle from outside heat and looks beautiful too! Make one of your own by following this easy to follow guide.
12. Foam Water Bottle Holder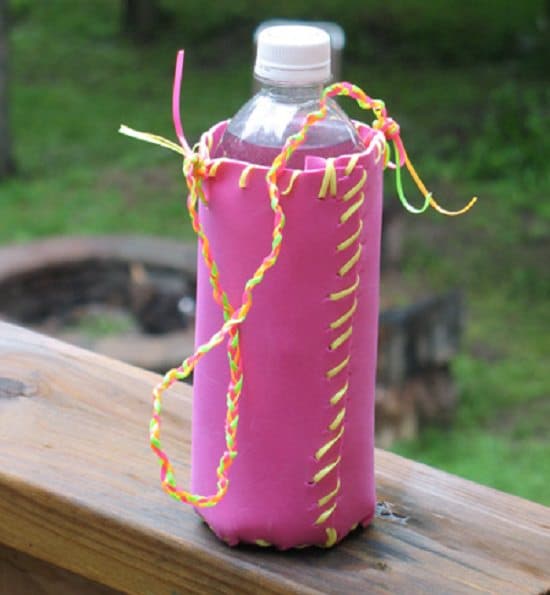 Here is one bottle holder idea that your kids can make on a crafty day with some lanyard and some foam sheets. Perfect for carrying along while biking or on trails along the shoulder!
13. Paracord Water Bottle Holder DIY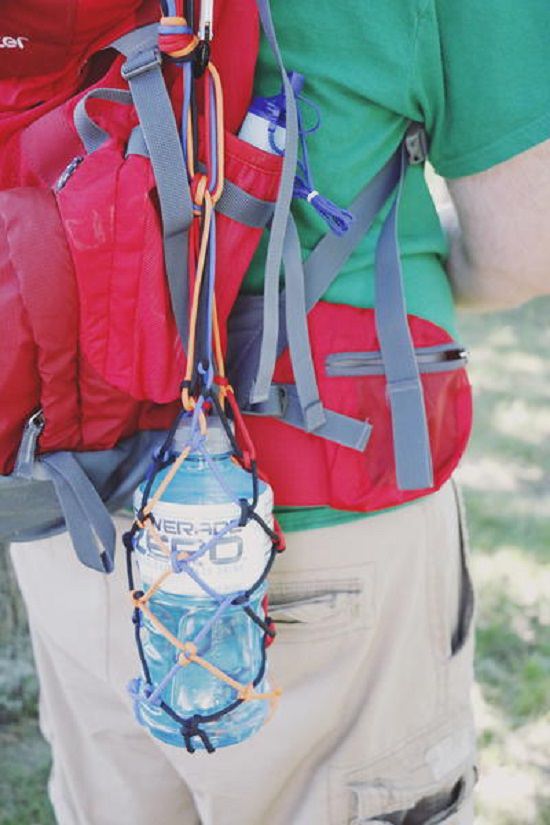 This paracord woven bottle holder is sturdy enough to go trekking with, and can support water bottles of any size! Just follow the DIY tutorial linked here, and have one of your very own sporty water bottle holders.
14. Cross Body Water Bottle Holder
Brighten up a sunny day with these cross body bottle holders that are so easy to create and pretty to look at! Follow this simple video tutorial to fashion one of your own.
15. Water Bottle Holder Bag From Old Jeans
Old denim can be used to create a great, easy to carry holder to ferry your water bottle around! Just follow the steps in the video, and you'll have a gorgeous looking water bottle holder wherever you go.
16. Easy DIY Water Bottle Holder
The only supplies you will need are a can cooler and duct tape! This craft is perfect for kids of all ages, schools, and clubs. Find your favorite duct tape colors and patterns and get creative when making this easy water bottle holder with your friends.
17. DIY Shoulder Strap Water Bottle Holder
Why not make your water bottle that you can shoulder strap and show off your craft to your friends? This one, in particular, is straightforward to make with a few pieces of string and some craft fabric.
18. Colorful Duck Tape Water Bottle Holder
This strap-around Water Bottle Holder ensures the safety of your favorite water bottle, and you can use your favorite color and pattern combinations with some clever use of duct tape and foam.
19. Insulated Water Bottle Holder
An insulated water bottle carrier that's super fast to whip up? Watch this video to find out how you can make one of your own.
20. Crochet: Mesh Water Bottle Holder
This DIY lets you have that little wiggle room for your bottle to be safely strapped in the water bottle strap that you can crotchet in your spare time!
21. Yeti Strap Water Bottle Holder
For a quick DIY on how you can sew together a very basic but elegant looking water bottle holder, check out this tutorial!
22. DIY Small Animal Water Bottle Holders
This animal water bottle holder is legitimately the most minimal bottle holder that you can create with just some pieces of metal string. It's sturdy enough to mount across your belt strap so you can take your pet's water with you.
23. Water Bottle Holders to a Fanny Pack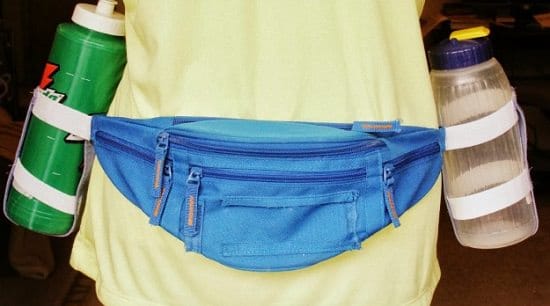 This water bottle DIY lets you hook up water bottles to a fanny pack for those family outings or picnics. It's very Batman-Esque and cool, and you can attach multiple to a single fanny pack and carry as much water as you need.
24. Crochet Diamond Mesh Water Bottle Holder
This diamond mesh crotchet water bottle holder has a style to it that's unmatched and elegant enough to wear daily. Just read this easy to follow DIY tutorial, and you'll have a style statement of your own.
25. Macrame Water Bottle Holder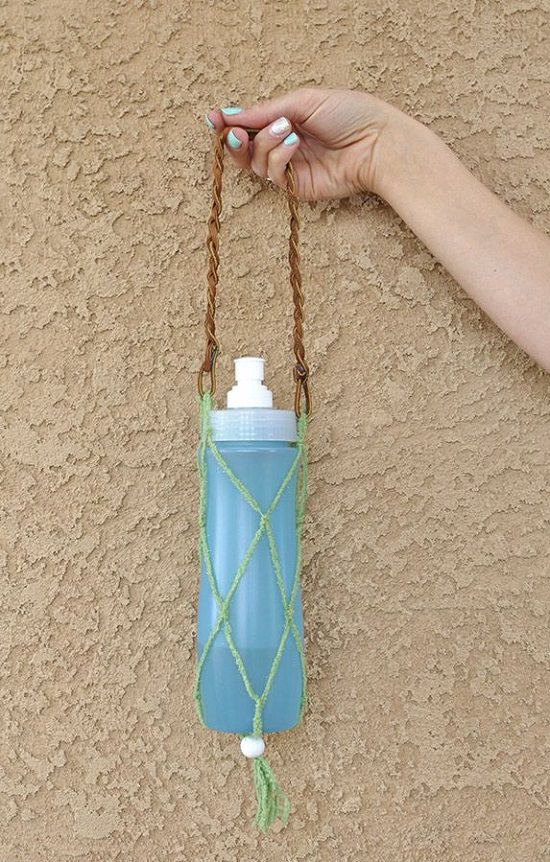 For those of you into macrame, this tutorial lets you craft an easy to carry, collapsible water bottle holder that you'd be proud to give and show-off amongst your friends.
26. DIY Running Gear Water Bottle Holder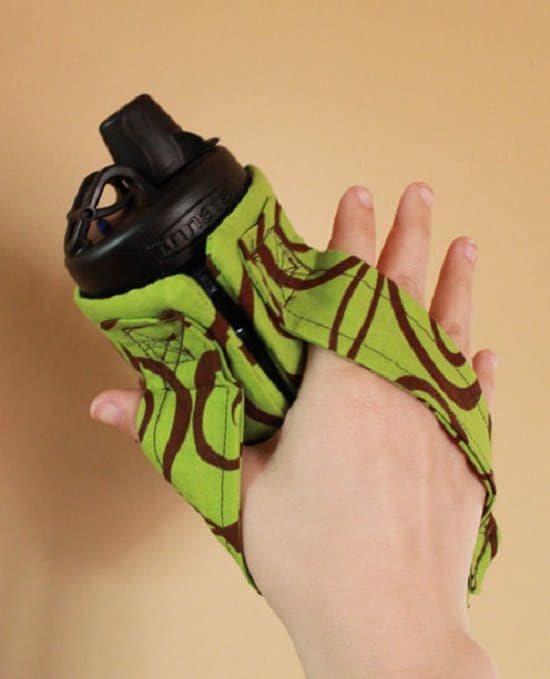 This water bottle holder is perfect for marathoners who wish their bottles had that extra grip to hold onto. Quite literally a water bottle "holder," this lets you slip in your hand to add extra grip to any bottle you fashion it into.
27. Knitted Water Bottle Holder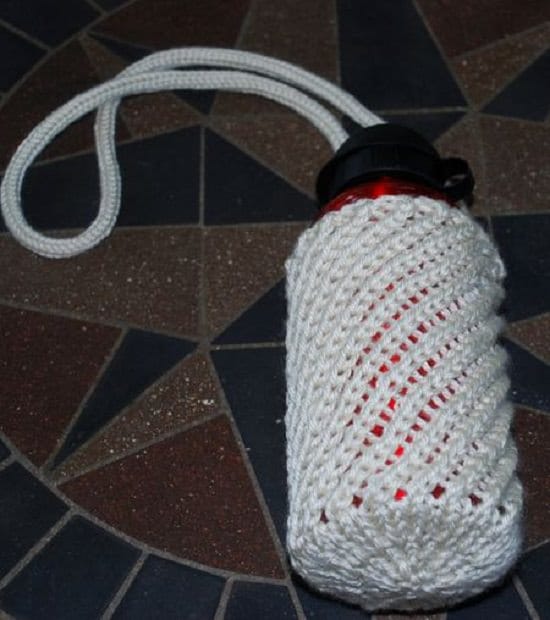 Knit together a cozy water bottle carrier that you can whip up when you're feeling particularly crafty. The paracord style strap lets you firmly secure the bottle along any strap or belt, so you're never far away from rehydration.
28. DIY Water Bottle Holder for Your Bike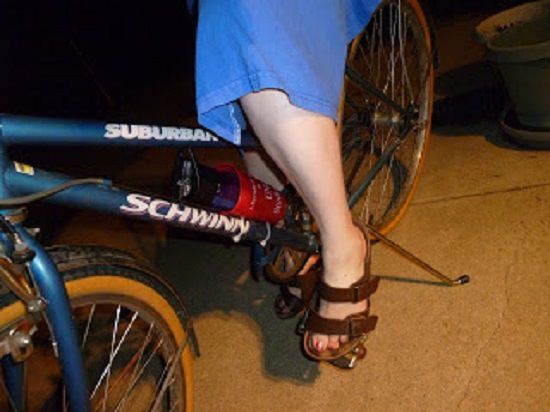 Zip ties and a cup, It can't get any simpler than this. A very easy to make DIY to make a custom mount for your bicycle ensures you stay hydrated while you workout, or for those long routes.
29. DIY Popsicle Water Bottle Holder
With some heavy-duty scissors and some popsicle sticks, you can piece together this cool looking water bottle carrier for the water bottles of your choice!
30. Modern Water Bottle Holder
For the woodworkers out there, this is a straightforward tutorial to follow to create this gravity-defying bottle holder that looks cool when put up on a desk.
31. DIY Toilet Tube Water Bottle Holder
Repurpose an empty toilet paper roll into the water can for your hamsters, rabbits, or others! Just cut a hole out from where the roll doesn't tip over and push the spout out from inside it.
32. Braided Water Bottle Holder
This incredibly detailed video illustrates how you can braid together your very own bottle holder that has a neck opening that you can string shut. Follow along with the steps in the video, and you'll be a crotchet master in no time.
33. Crossbody Water Bottle Holder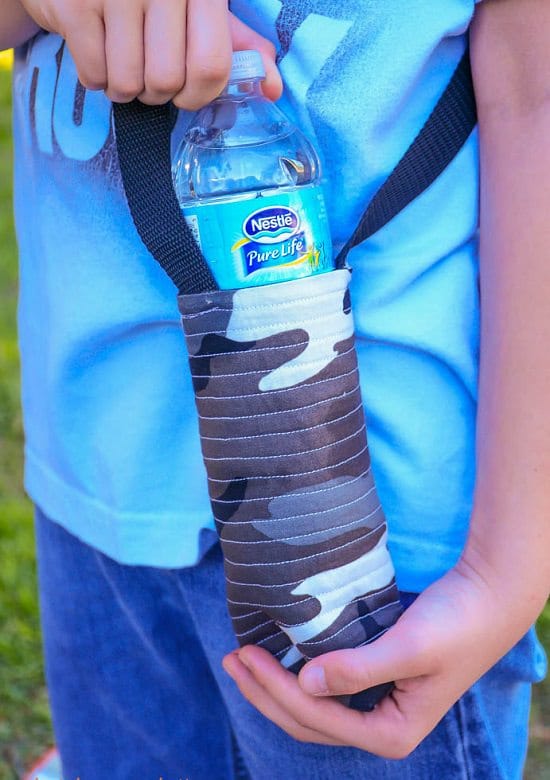 A DIY Water Bottle Strap Holder is a great way to keep water on your person at all times! Read on to find out how you can make a crossbody water bottle holder of your own.
34. DIY Upcycled Vintage Tablecloth Water Bottle Holder
Repurpose a tablecloth into a fancy, washable water bottle holder that keeps your bottle firmly locked in place and on your person whenever you plan on going out.
Apart from these DIY water bottle holders, you can innovate some out of the box ideas too; and if you do, feel free to share them with us!