Try your hands on some of the warmest Winter DIY Projects in this article. These ideas are fun and will absolutely win your heart!
1. Crocheted T-Shirt Yarn Rug
Set up a cozy spot for your tiny tots to frolick in the heart of their bedroom with this easy tutorial.
2. Orange Peel Fire Starters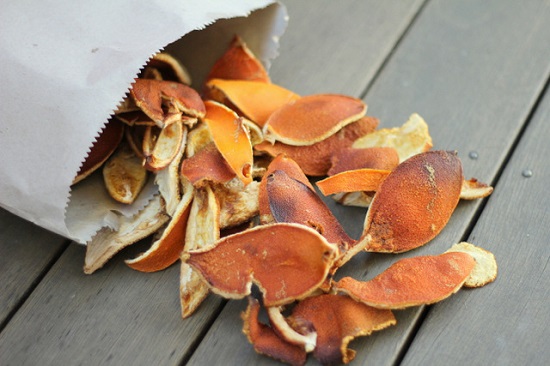 Start up a delicious smelling fire in your backyard to cozy up winter evenings with orange peel fire starters. Here's more of it.
3. Easy Winter Knit Blanket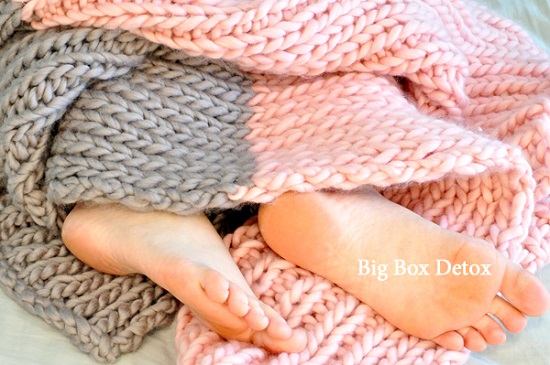 This squishy blanket may not beat the cold entirely but can surely provide warmth to icy cold toes. Here is the detailed post!
4. DIY Log Slice Display Dome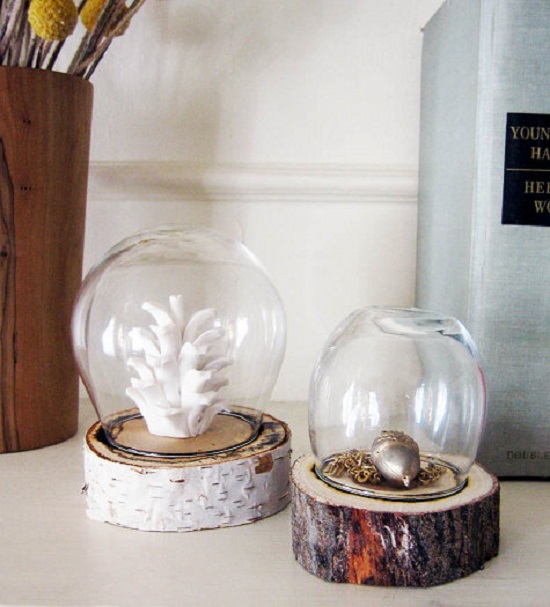 Replicate the nostalgic feel of a wood burning at the comfort of your tiny dining area with this super easy tutorial here.
5. Recycled Cardboard Kitty Pad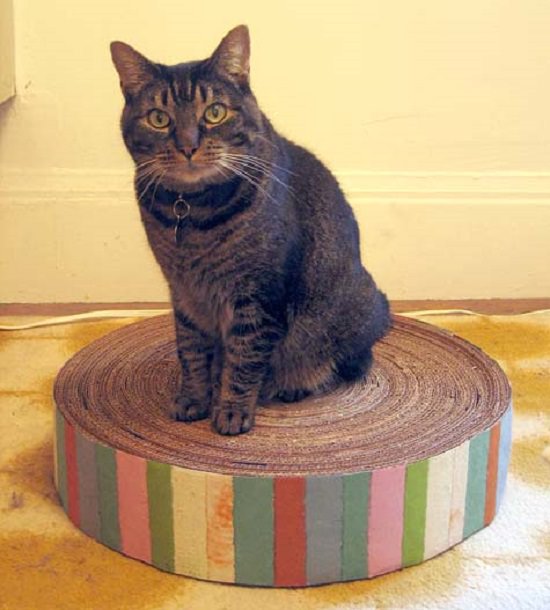 This high-rise seat for your cat is a welcome change from the stone cold flooring. We found the idea here.
Also Read: 15 Cat House Ideas Projects For Cat Lovers
6. Wine Bottle Candle Holder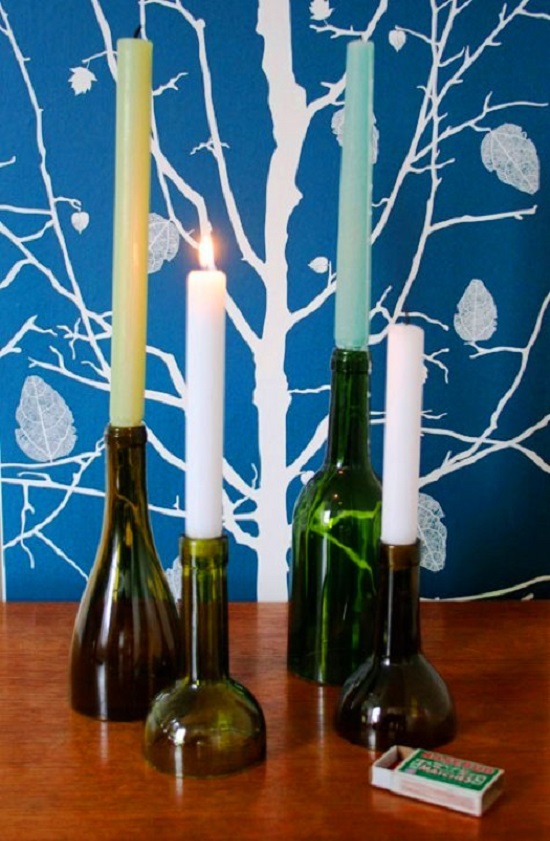 Recycle empty wine bottles by using them as holders for long white candles. Get the details here.
7. Snow Globe Cookie Jar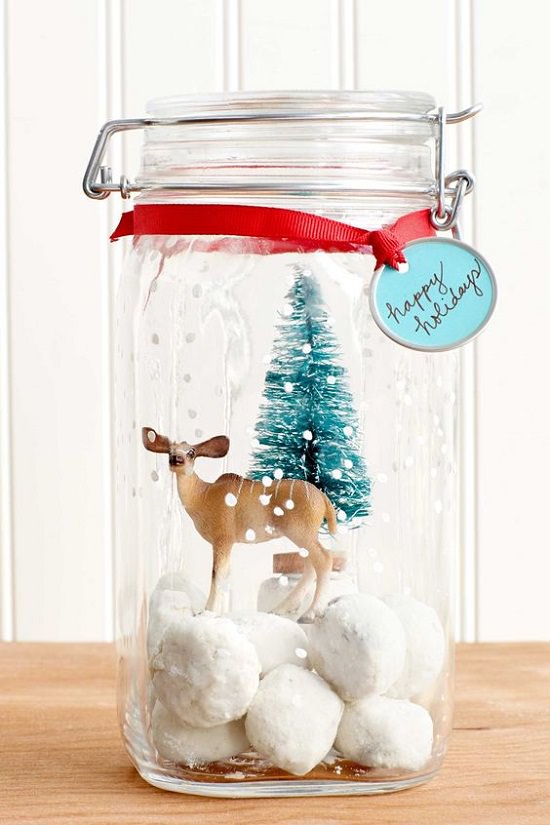 Store your homemade Christmas cookies in fancy jars embellished with deer figurines and mock trees. Visit country living for more details.
8. Wood Snowflake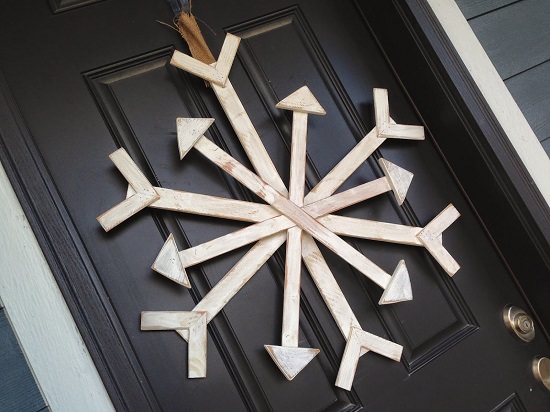 If floral wreaths are too commonplace, consider using this giant snowflake display instead. Here's the tutorial!
9. Mason Jar Lid Ornament Tree Wreath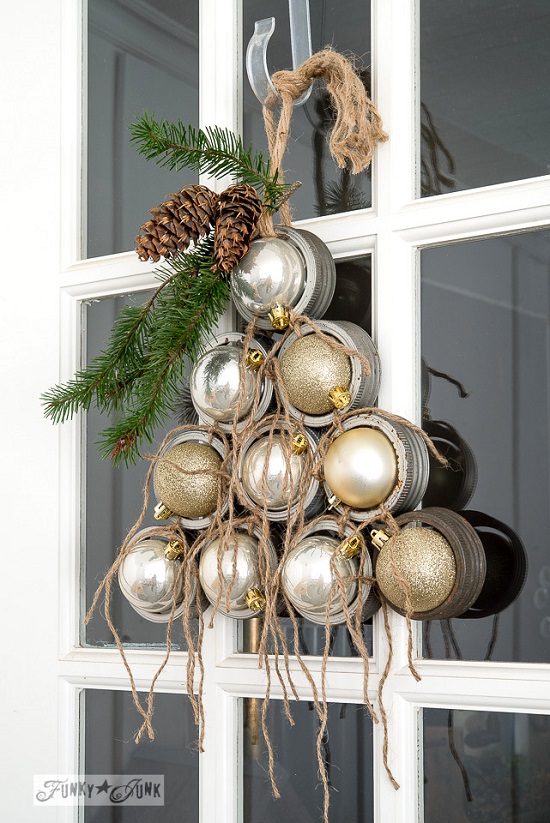 Replete with royal accents, this quirky metallic tree for the front door is a welcoming sign to invite guests. The detailed tutorial is here.
10. Front Door Decorating With Ice Skates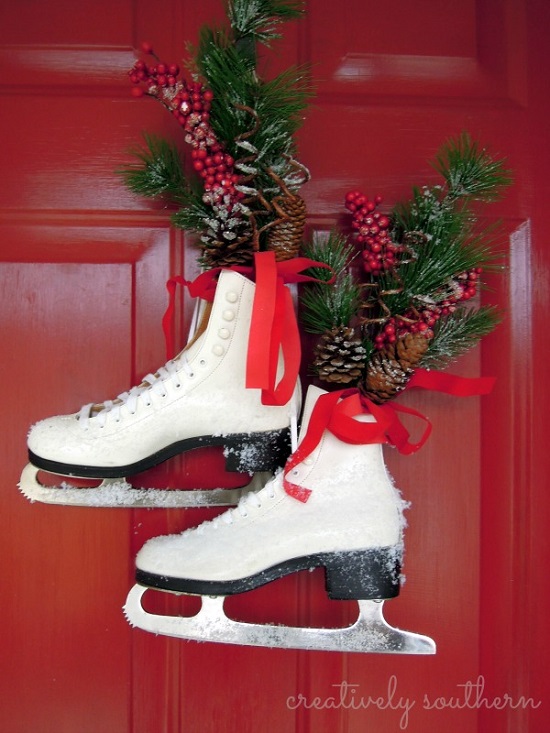 Don't wait for Santa to fill up ice-skates with gifts and ornaments; do it yourself with this simple tutorial.
11. DIY Woodland Sign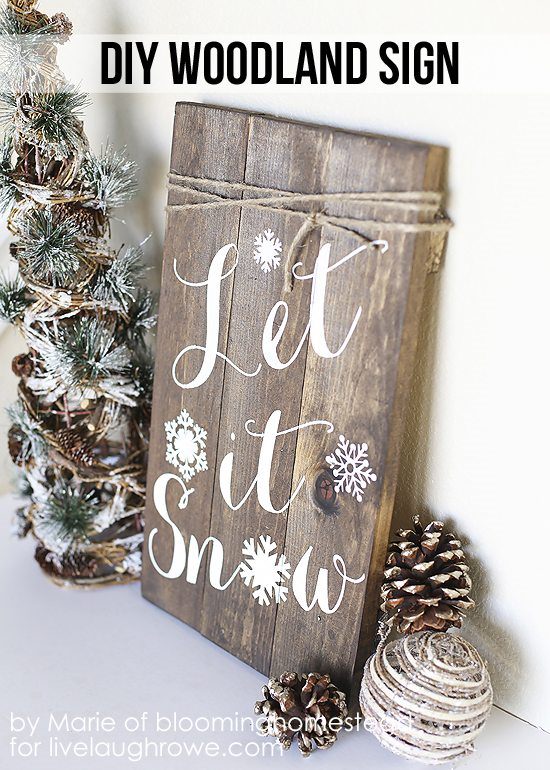 It's funny how blackboard and chalk blend so well with winter-relevant decor for the front porch. Here is the DIY!
12. Beaded Winter Gloves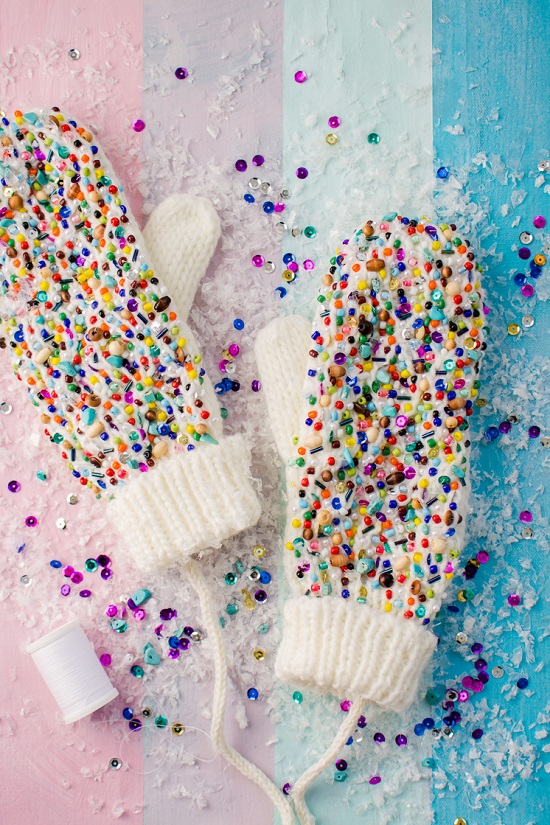 When cold days call for mugs of piping hot coffee, these beaded mittens keep your hands warm and toasty. Follow the instructions here.
13. Scarf Wreath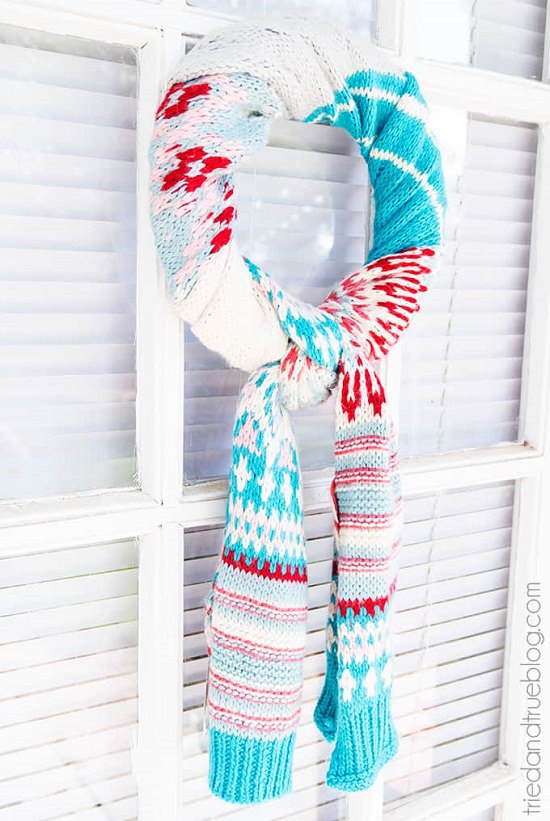 This cool blue scarf takes a dime to make and gets done in 10 minutes straight. Get the DIY here.
14. Winter Simmer Pot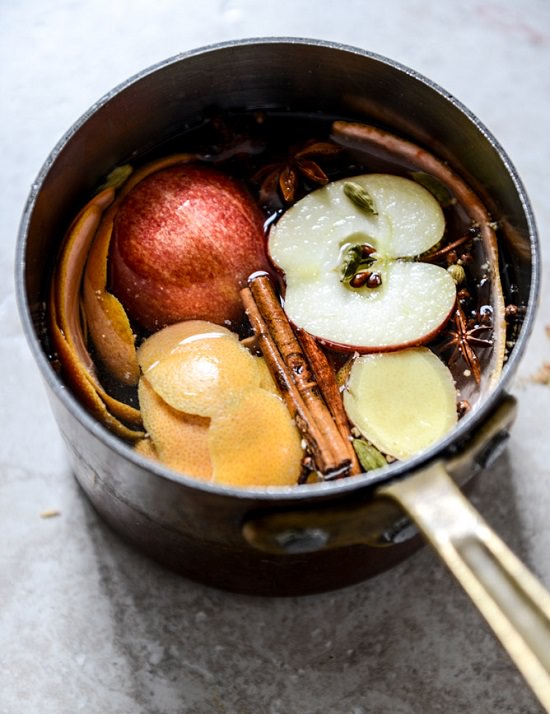 This simmering crockpot recipe full of spices and fruits makes your home smell like childhood. The steps are here.
15. DIY Pinecone Fire Starter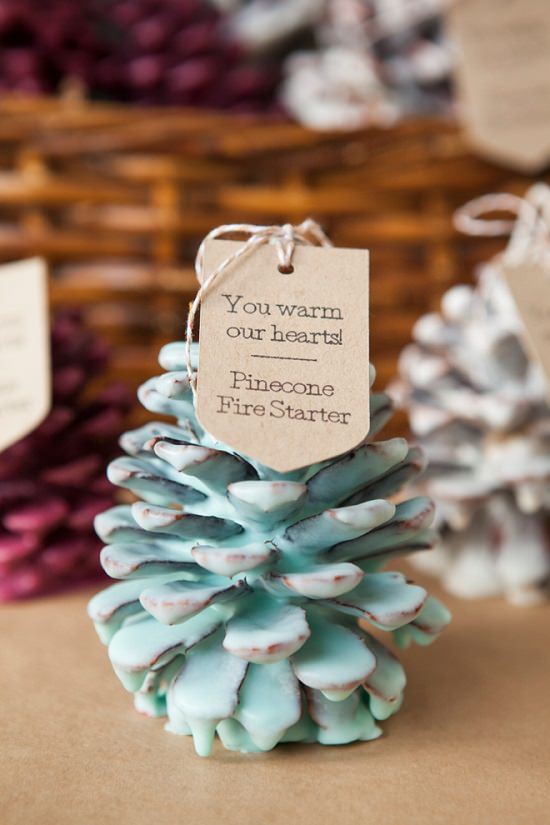 The only problem with these pinecone fire starters is that they look so good and smell so great that no one will want to burn them. Click here for the DIY!
16. Colorful Pom Pom Rug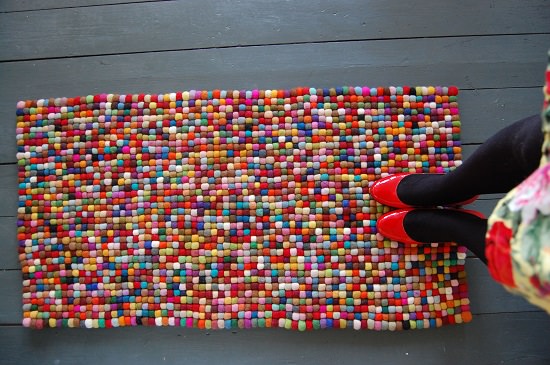 This crafty colorful rug is a bright focal point in a dull bedroom. We got the inspiration from here.
17. Winter Vintage Tin Candles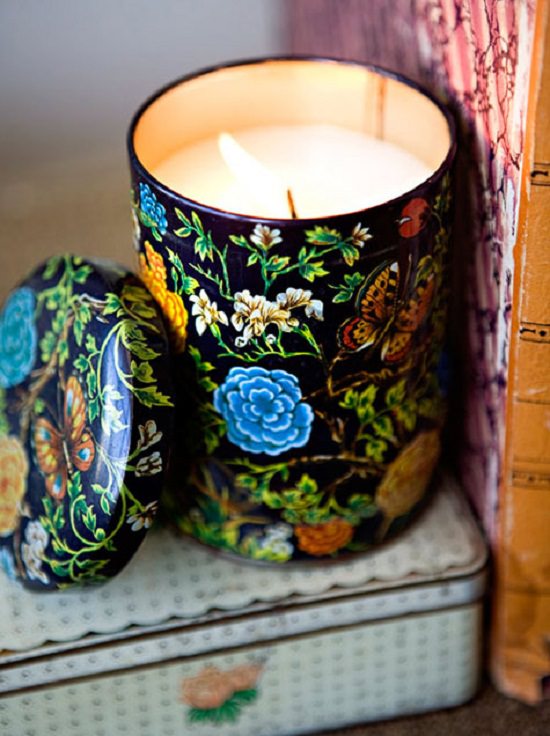 Here's the lazy DIYer's hack for those who don't want to get into the full-blown process of making pretty candles from scratch.
18. Ice Skate Pillow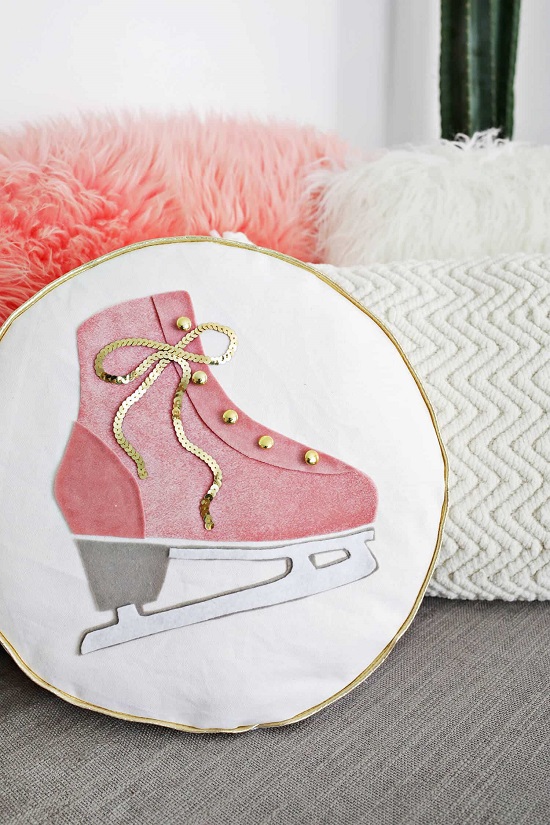 A unique gift for ice skaters, which will also do wonders to your interior home decor. We found the post at a beautiful mess.
19. Family Portrait Snow Globe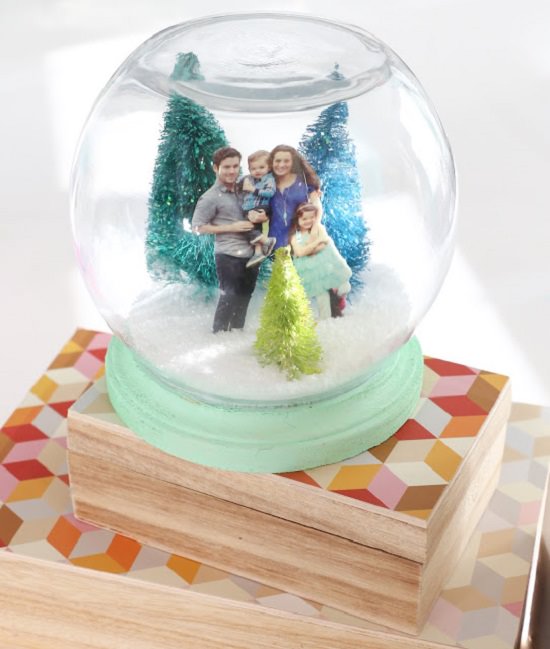 A happy reminder of family ties, this DIY snow globe adds warmth to a "lone" mantel.
20. "Baby It's Cold Outside" Sign from DIY Serving Tray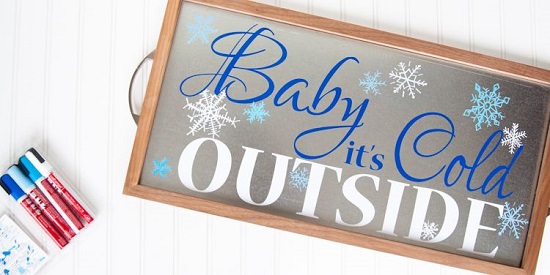 This perky serving tray is a perfect wintertime decor! Know more here.
21. Clothespin Snowflakes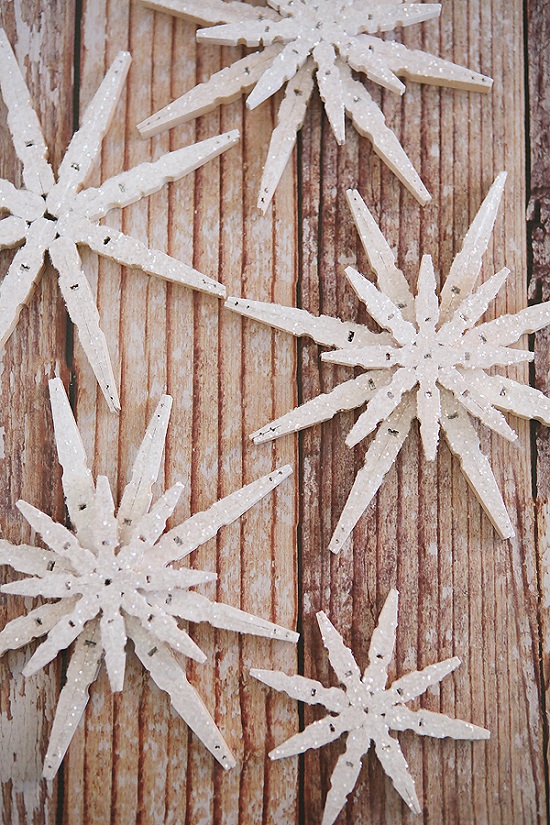 Who knew something this pretty could come out from an ensemble of clothespins. We found it here for you.
22. Arm Knit Blanket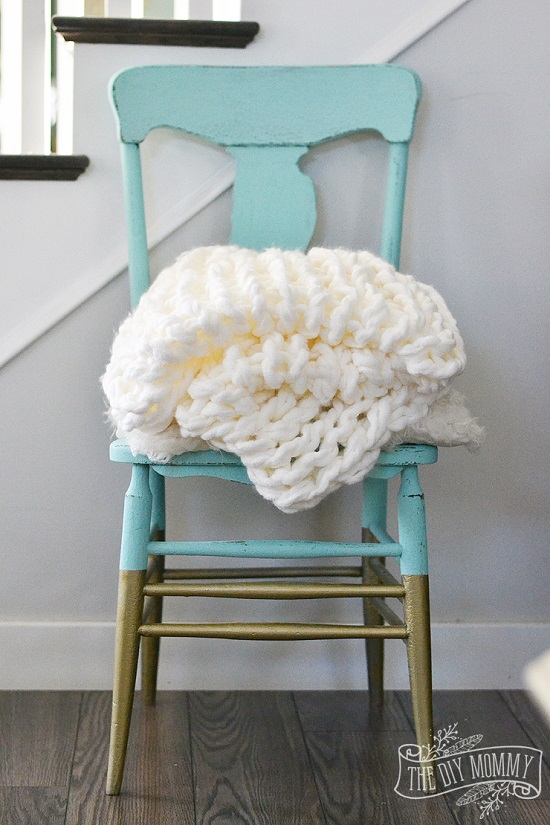 Propping on the couch on chilly movie nights with this warm, fuzzy blanket cover is an absolute delight. Learn how to make it here.
23. Faux Sheepskin Cloud Rug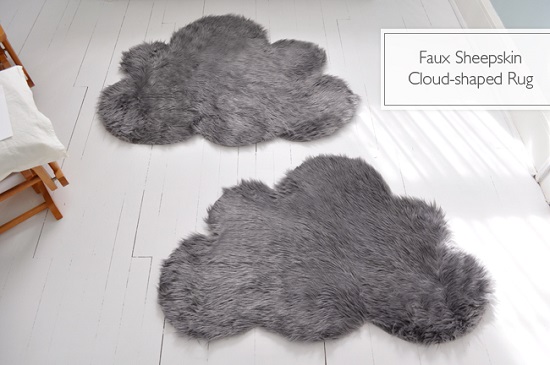 Fluffy sheepskin rugs make stepping out of bed easier and comfier on winter mornings.  Lifeflix came up with this idea.
24. Upcycled Sweater Slipper Boots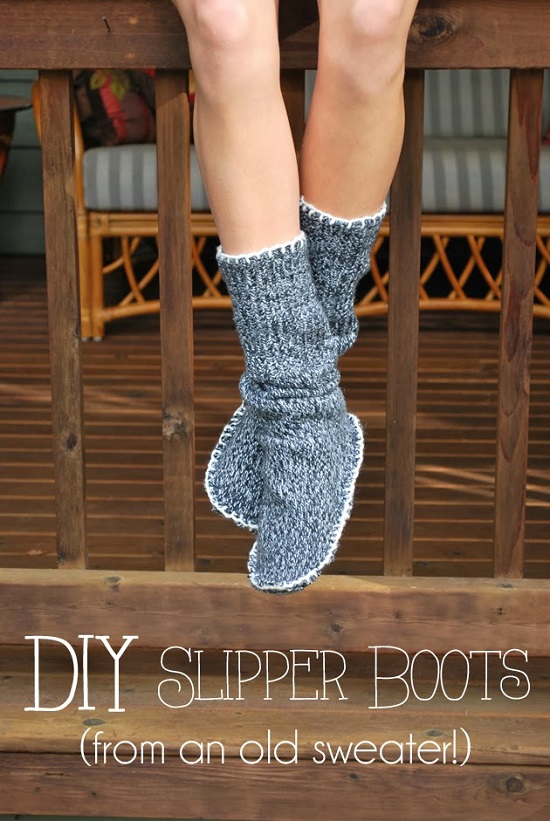 These adorable booties are a wonderful homemade gift for someone you truly care about. Get the details here.
25. DIY Furry Warm Stools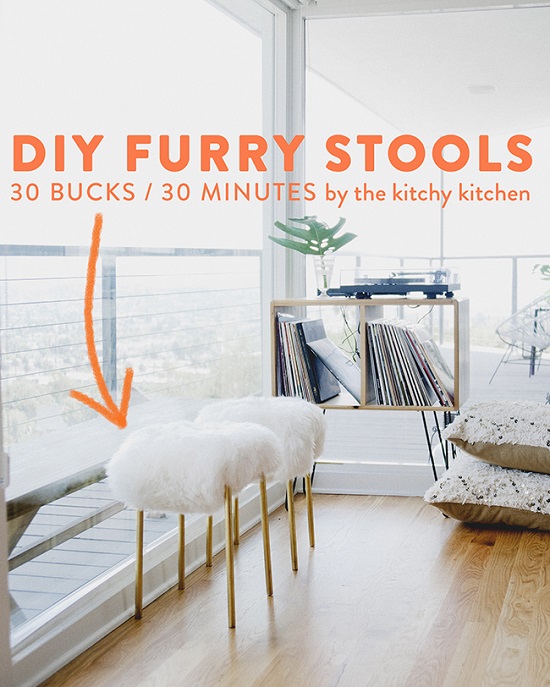 Furry stools offer a soft and warm seat when everything else is cold. Check out this DIY for details.
26. Knit Pom Pom Winter Garland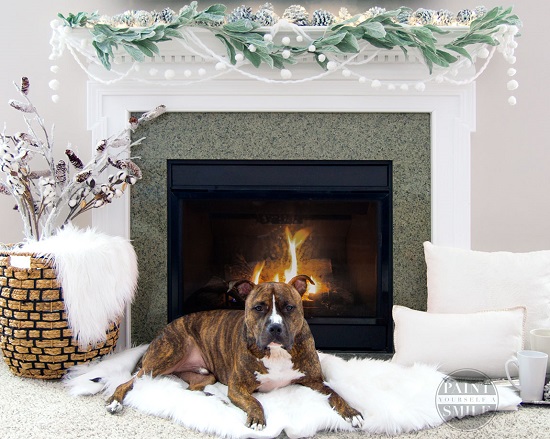 Woven within cool colors, this knitted garland makes an ordinary fireplace magical. Know all about it here!
Also Read: Unique Furniture Transformation Projects
27. Birch Vase
This birch vase will pair well with toasty winter breakfast dishes and luscious wine bottles. Here are the steps. See more DIY vase ideas here.
28. Snowflake Marquee Light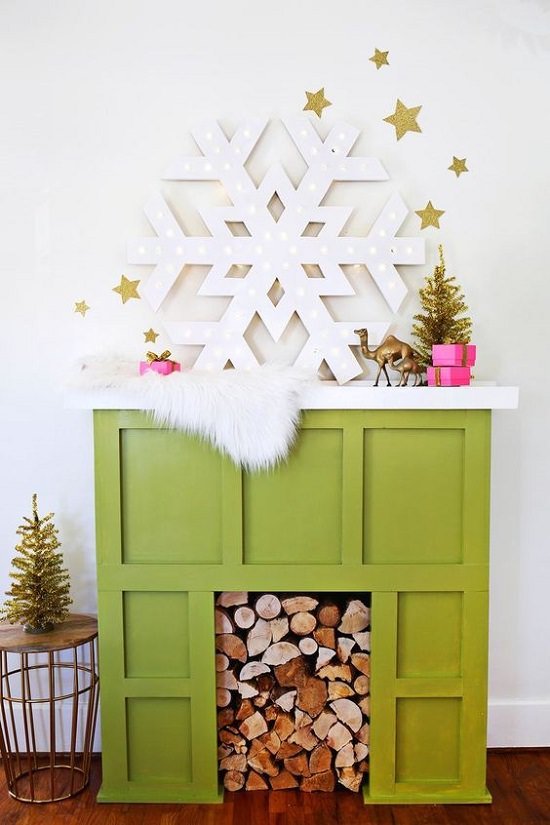 Giant marquee lights shaped like a snowflake shorten days further, while making cold winter nights a tad warmer. The step by step tutorial is here.
29. DIY Hand Warmer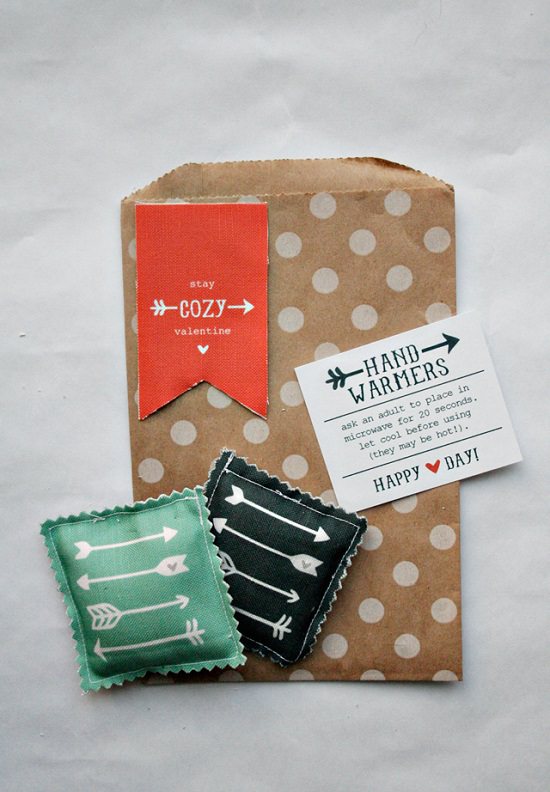 This winter keep your hands cozy and comfortable with the DIY hand warmers available here!
30. Hand-Stitched Felt Fox Coffee Sleeves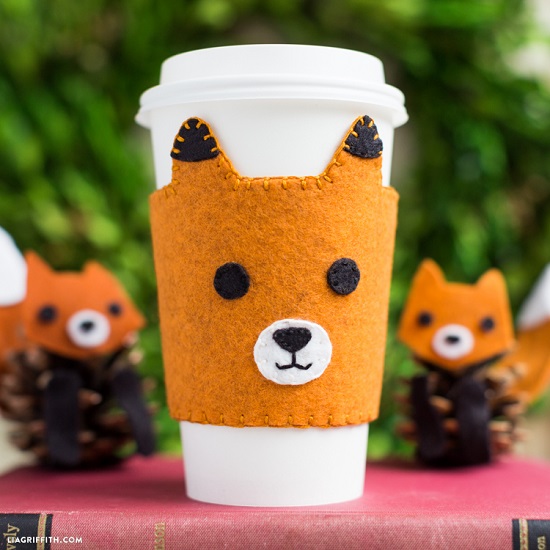 These fox-faced felt covers are sure to put a smile on your face when you reach for your coffee mug every morning. The simple tutorial is here!
31. Crochet Boots With Flip Flops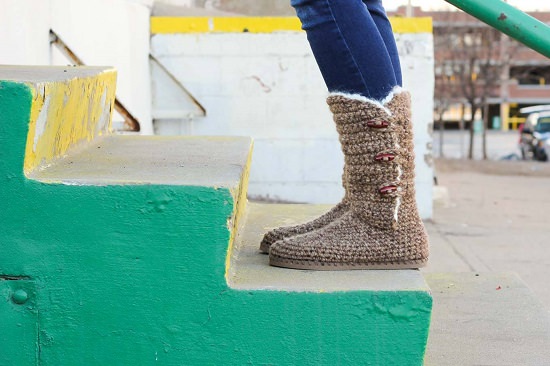 Crocheting is hands down, the best way to make winter booties a tad more comfy and cozy. Click here for the tutorial. Check out more crochet shoe ideas here.
32. DIY Winter Terrarium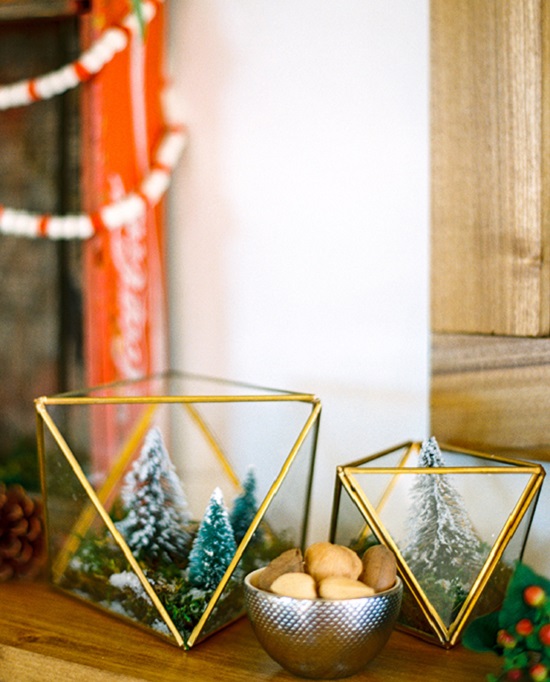 This winter-themed terrarium encloses seasonal plants and decorative elements for maximum impact. Get inspiration from avestyles.
33. Snowflake Candles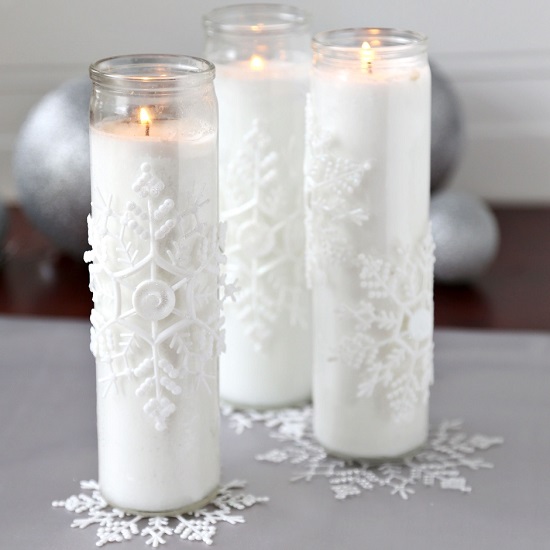 Snowflake-embossed candles exude a subtle charm that is hard to miss. Know more about the steps and ingredients here.
34. Hat from an Old Sweater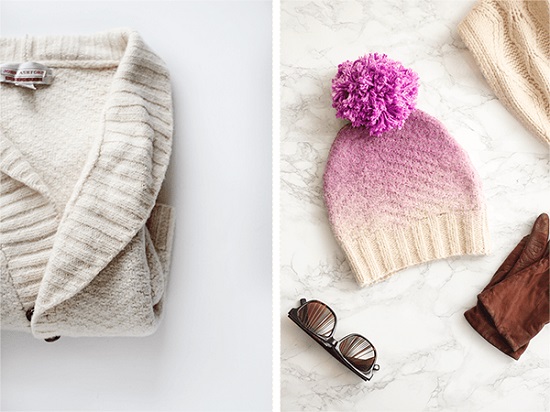 This easy tutorial by well nesting shows you how to fashion cute little caps from old sweaters in less than an hour.
35. DIY Heat Pack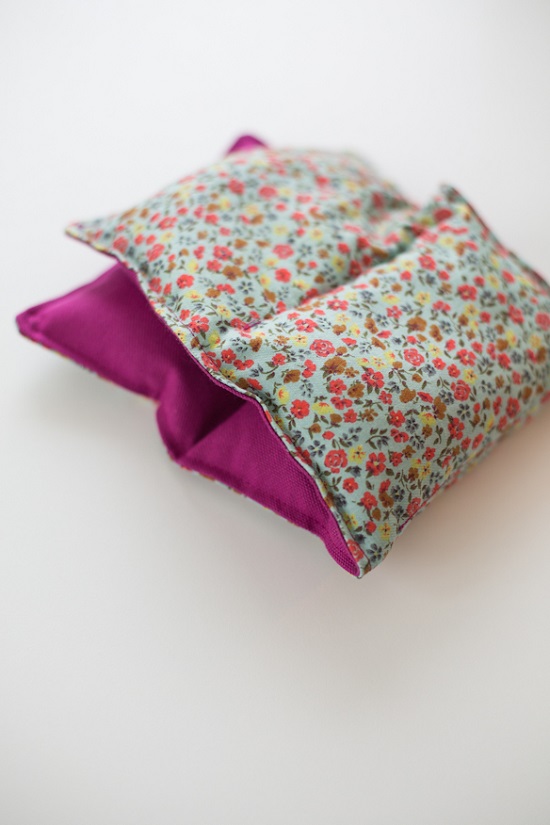 Beat winter cramps with this super soft and pliable hot water bag that takes an hour to make. DIY is here!
36. Iced Branches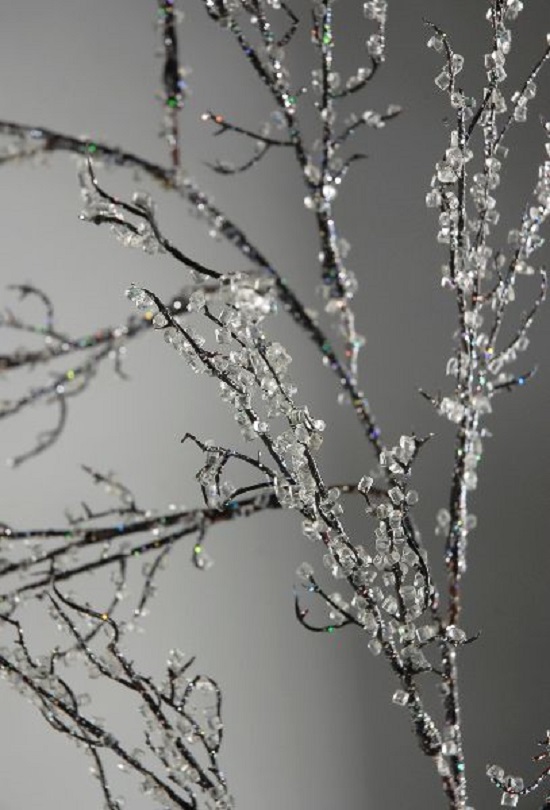 Fake ice branches add visual interest while giving you the satisfaction of watching ice-like crystals sans the cold.
37. Snowballs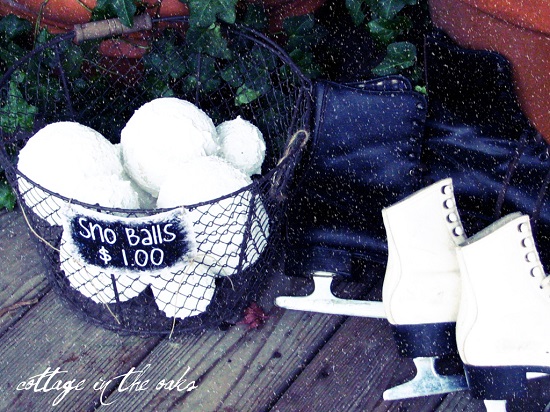 Snowballs that don't melt are a fun addition to your children's room. Make them by following this tutorial.
38. DIY Pinecone Garland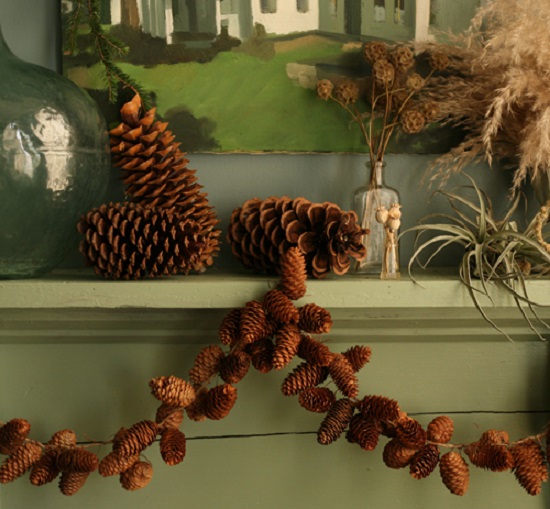 Hang this pretty pinecone garland on your fireplace for a festive feel in the run to Christmas. It's DIY is here.
39. DIY Knitted Vase Cover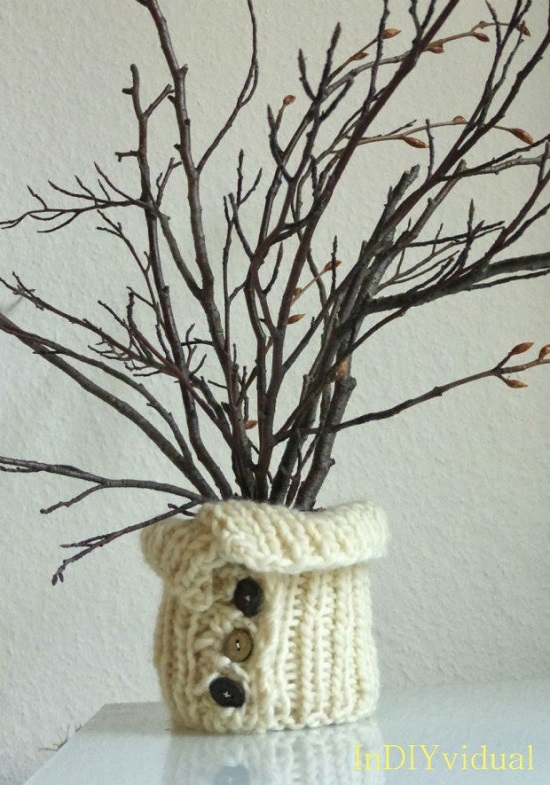 Knitted covers for flower vases create a cozy feel and add a pop of color if needed. Here is how to make it.
40. Homemade Scented Pinecones and a Pretty DIY Diffuser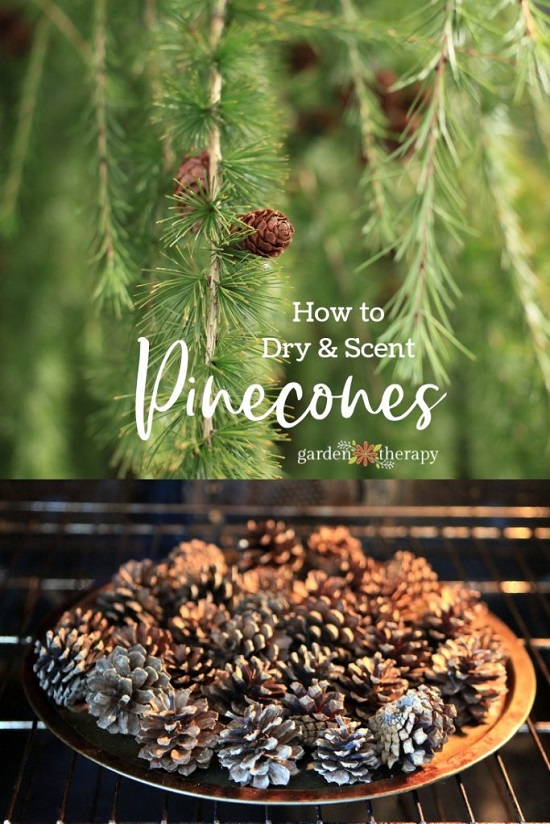 Ditch potpourri for this equally fragrant bowl of pinecones that spreads holiday cheer on your garden table. Visit garden therapy for the DIY!
41. Fish Bowl Snowman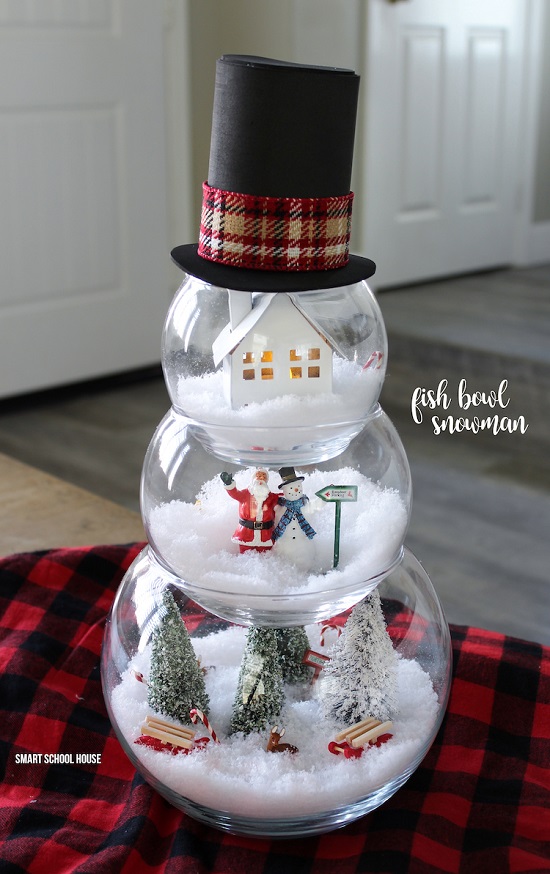 This elaborate depiction of a typical rustic winter scenery adds a rustic touch to your dinner table. Learn all the steps here.
42. DIY Turn your Old Sweater into a No-Sew Circle Scarf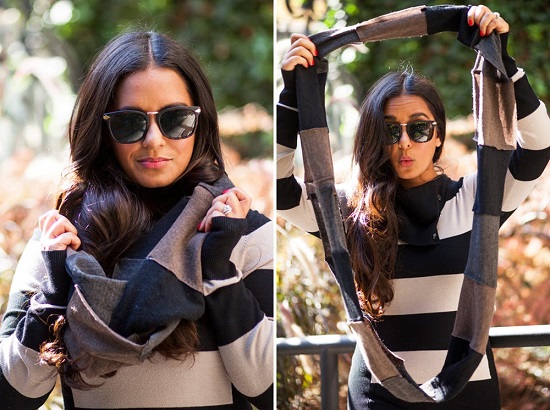 Style up an old faded sweatshirt into a no-sew scarf with this clever little hack by brit!