Are you bored of the ordinary clocks in stores? Well, it's time to DIY some fancy ones with your skills with the help of these 61 DIY clock ideas!
1. Crochet Colorful Clock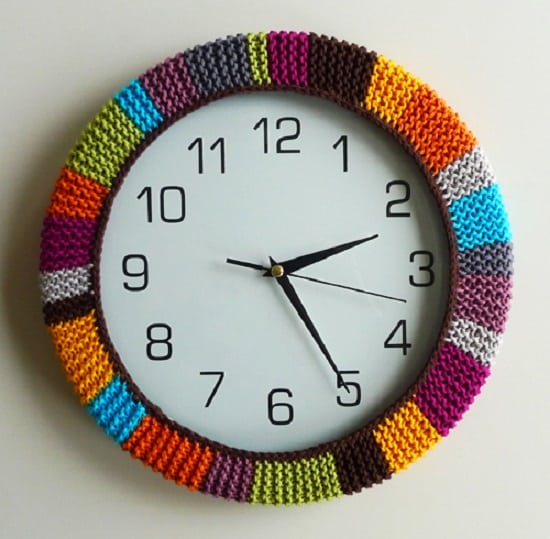 Crochet the inner edge of existing wall clocks with colorful yarn for a quick cheery update. Follow this DIY.
2. Bicycle Wheel Clock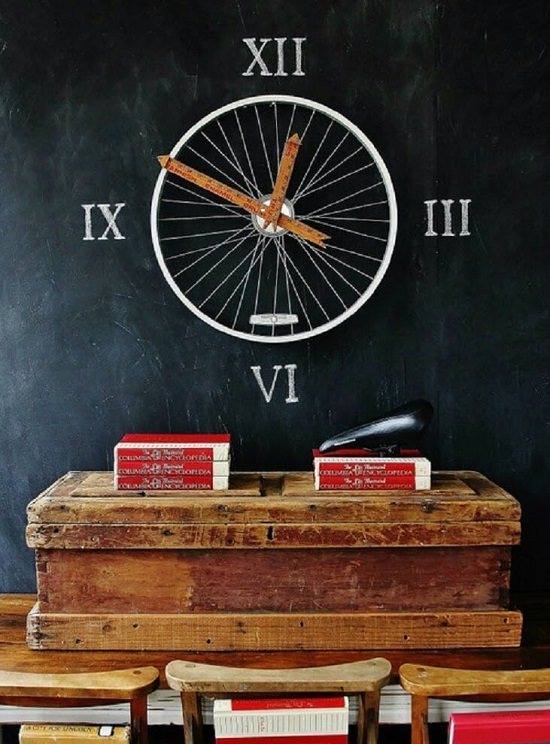 The combination of the chalkboard, roman numerals, and a bicycle wheel as the clock frame makes this DIY wall clock look like a relic of the past. Also, it's a great idea for a headboard design as well. Make it with these instructions.
3. Nautical Twine Rope Clock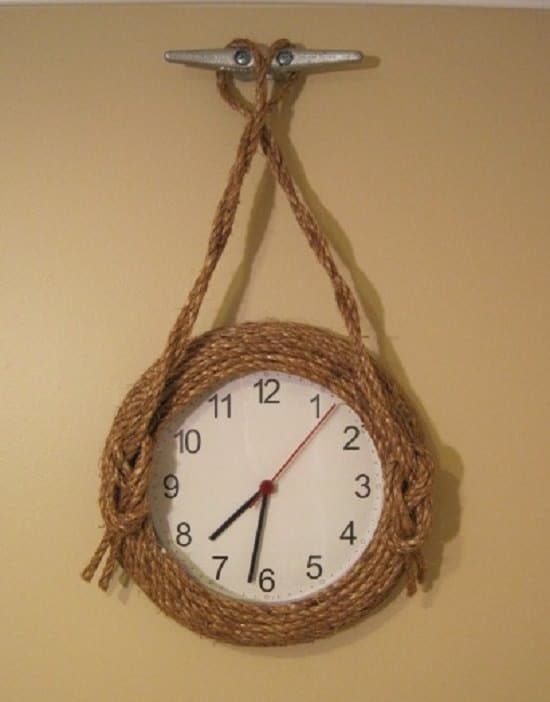 The thing about twine is that the messier you tie them, the prettier they look. It is this fact that makes this farmhouse-style wall clock DIY such a great hit with the beginners.
4. Rustic Wood Slab Clock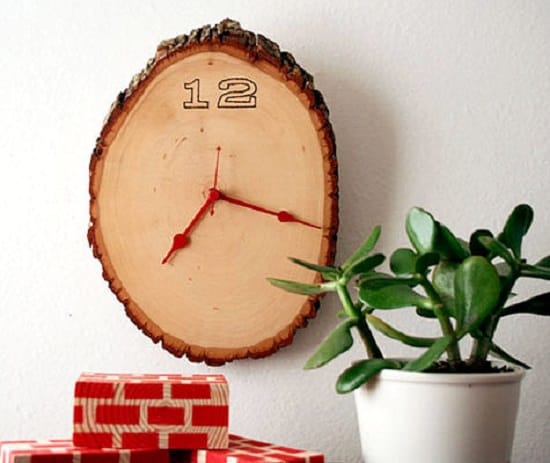 Aside from the challenge of cutting circular disks out of tree stumps, this DIY is easy to ace. And it's the perfect wall art to make your living room fall-ready.
5. Modernist Hexagonal Clock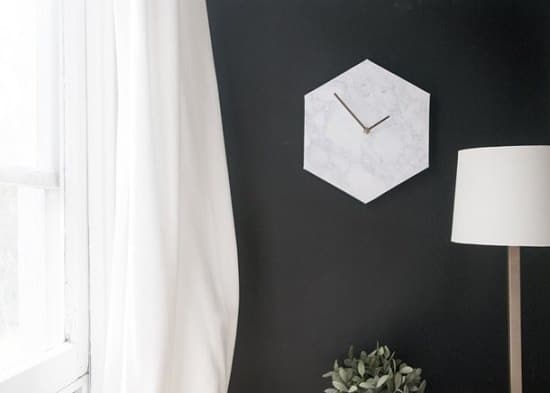 Replicate the elegant marble with this faux paper and plastic wall clock that lets you create quite a statement with little effort. Instructions are here.
6. Wood Honeycomb DIY Wall Clock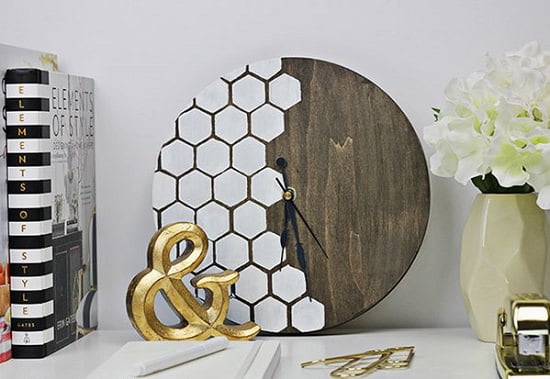 If you want your wall clock to look more in line with your millennial-style home, consider this DIY. It uses a stenciled honeycomb design that balances out the rustic vibe of the wooden half.
7. Rustic Wooden Clock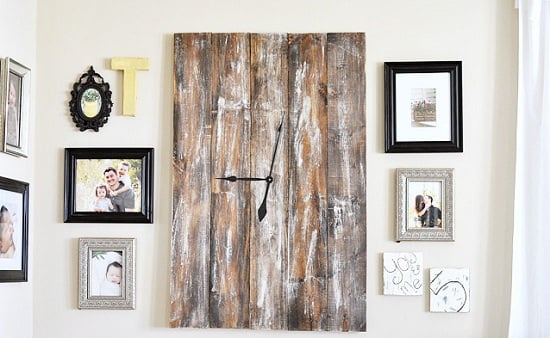 Why bother drilling holes when you can use up entire pallet pieces to make your wall clock! After all, that's a unique way to break the visual monotony of a gallery wall as well. Details are here.
8. Color-blocked, stripes, and dots clock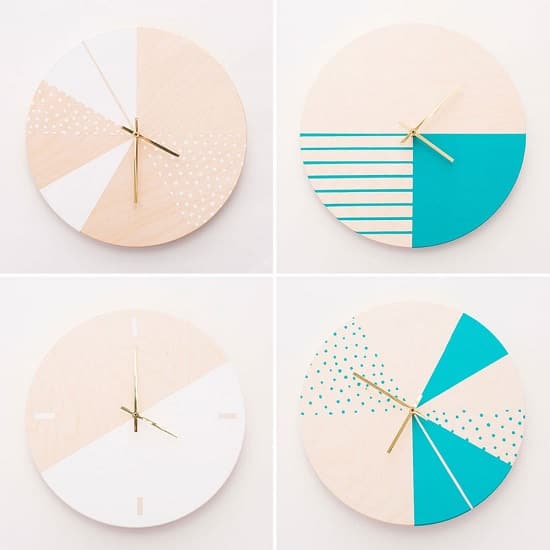 Grab some wooden clocks and get started with acrylic paint to create a stunning combination of stripes, dots, and color-blocked patterns. We suggest you go with the teal-and-white color palette for a fresh feel. Details are here.
9. Acrylic Painted Half Colour Clock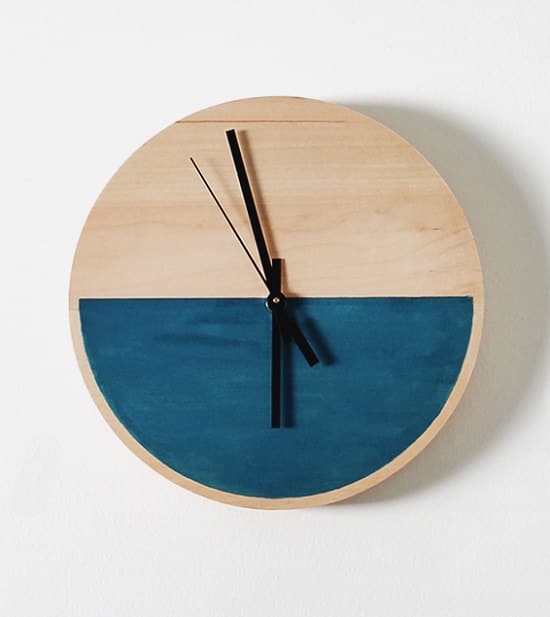 If you're looking for a simple yet chic look, try this nautical-themed wall clock DIY.
10. Domino Clock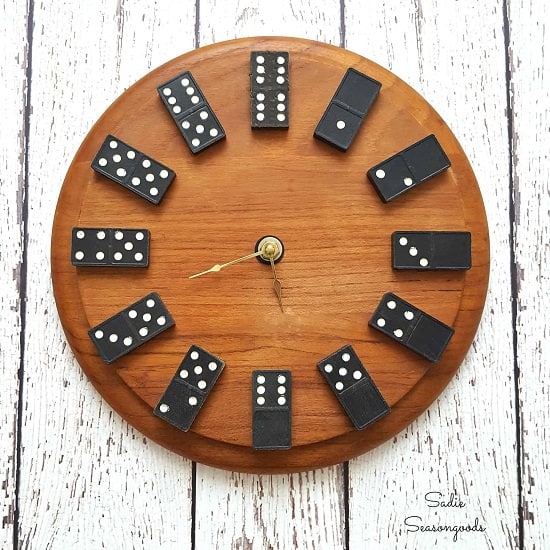 Made from a round cutting board, this Domino wall clock makes a wonderful gift for the avid gamer. Make it with this DIY.
11. DIY Pictogram Clock for kids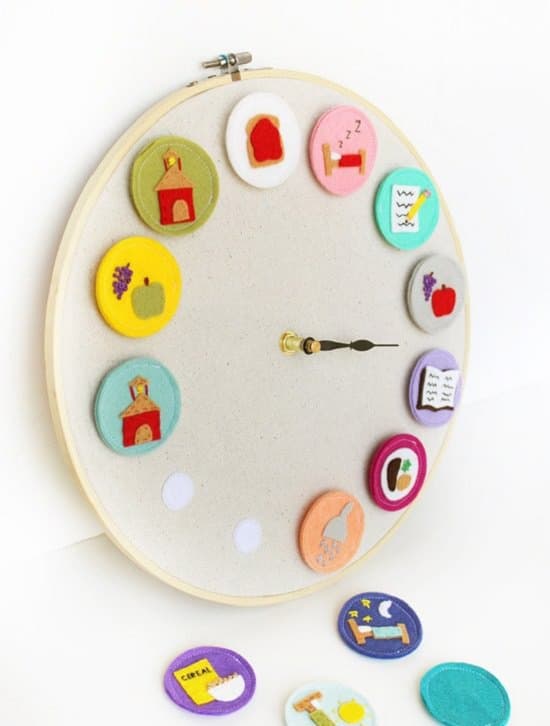 This incredibly genius wall clock idea uses embroidered symbols to tell your kids when it's time to do their daily activities. Check out this DIY for inspiration.
12. DIY Donut Clock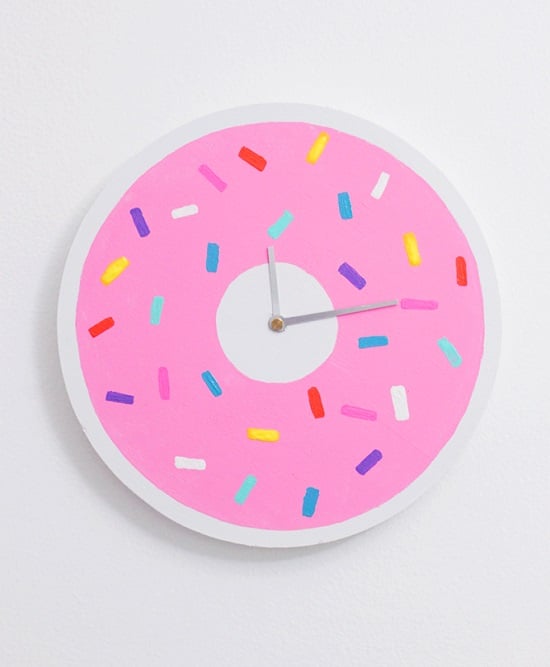 Whether you want a pretty wall accessory for your girl's bedroom or an ode to your love for doughnuts, this cute wall clock is a great way to go. Get the DIY here.
13. Marker Clock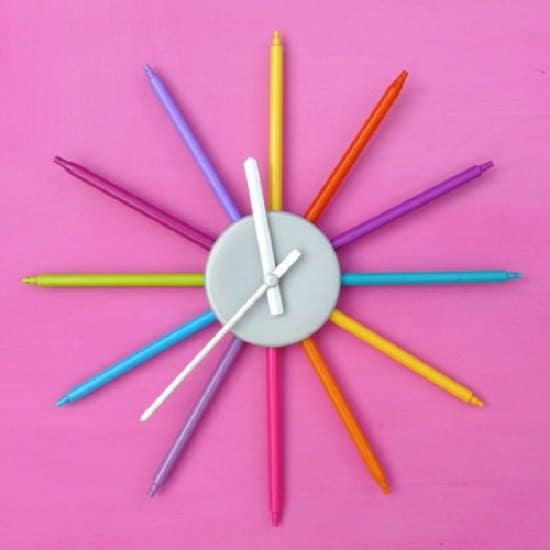 A perfect project for newbie parents and little ones, this DIY uses used color markers for the ultimate visual variety. Get the instructions here.
14. DIY Chrysanthemum Clock From Plastic Spoons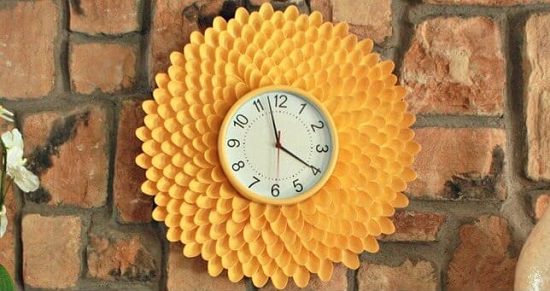 Inspired from a mirror-making tutorial, this DIY uses plastic spoons painted yellow for a fancy Chrysthanthemum-like effect.
15. Embroidery Hoop Clock
This no-sew combination of colorful wall clocks all set at different time zones acts as a lovely reminder of the fact that time is always on your side. Check out this DIY for the complete tutorial.
16. Designer Wall Clocks
With the whole wall as the canvas and rubber numerals, this one-of-a-kind DIY embodies the actual concept behind wall clocks. Get stepwise instructions in this video.
17. DIY Steel Effect Industrial Clock
Are you looking to create an industrial feel with your DIY wall clock? If yes, then this DIY has everything you need. It uses polystyrene XPS as the base, which brings down the cost dramatically while keeping the intriguing look of steel intact.
18. Vangold DIY wall clock
Most of this DIY is about assembling a clock kit and the fact that it uses an empty white wall as the clock base makes it a great project for beginners.
19. Glam Wall Clock
With a mirrored torque center and lots of glitter on the outer frame, this fascinating wall clock is a great accessory to decorate the part of the wall above the vanity.
20. Decorative Wall Clock
If you're too lazy to fashion a wall clock from scratch, take a cue from this DIY to glam up existing wall clocks instead. All you need is a couple of round mirrors, shower hooks, and skewers.
21. DIY Vinyl Record Clock
This unique DIY lets you create an analog that adds some funky flair to boring walls, and also gives you a genius way to use up some of the spare records lying in your house.
22. Guitar Clock
Creating a gift that incorporates both music and art is a perfect way to surprise a music-loving friend. Look no further than this guitar clock DIY in the video.
23. DIY Large Wall Clock
This two-dimensional wall clock uses squares of varying heights to create visual interest. We suggest you coat them with ombre spray paint for a glossy touch.
24. Star Shape Wall Clock Using Cardboard
Sometimes, it's the simplest of things that create the maximum effect- like this overlapping star pattern. The muted color palette is a great choice for making the clock hands stand out.
25. DIY Rose Gold Wall Clock
Slather a wooden base with rose gold pattern and attach popsicles connected to a hoop on all four meridians to create a chic wall display perfect for contemporary homes.
26. Glitter Clock
For a colorful wall clock update, try this more-is-less-themed glitter DIY project.
27. Pattern Table Accent Clock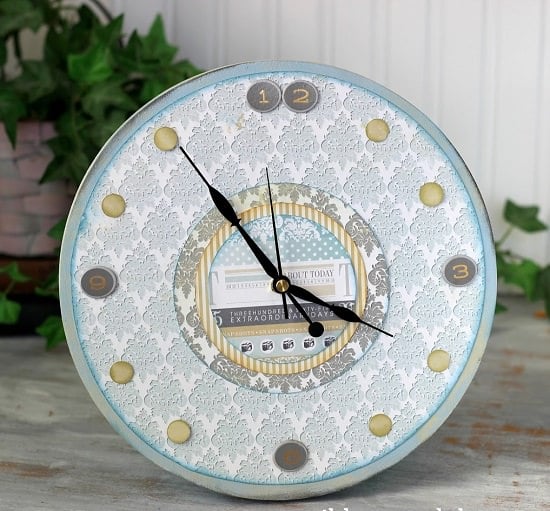 For a very distressed vintage look, consider swapping paint with patterned paper for embellishing your clock. Here's the full DIY.
28. Plates Clock In 5 Minutes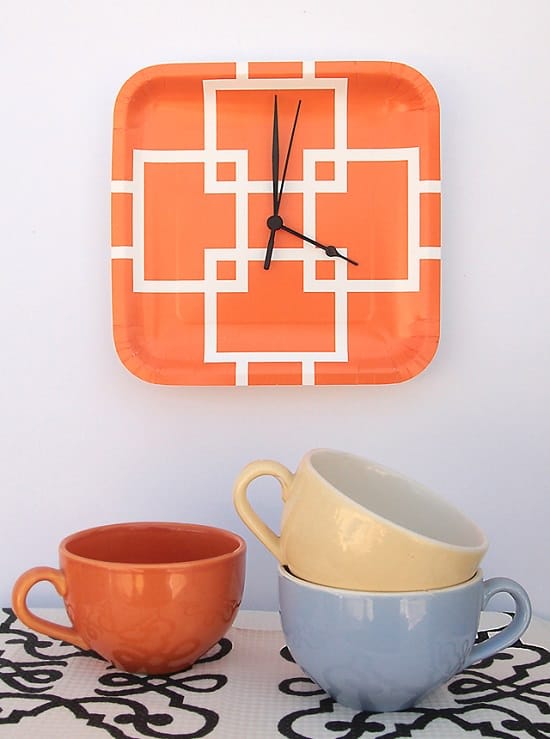 With a dinner-sized paper plate and the clock movement kit, this 5-minutes clock craft is easy and simple to do. Find the idea here.
29. Colorful Outdoor Clock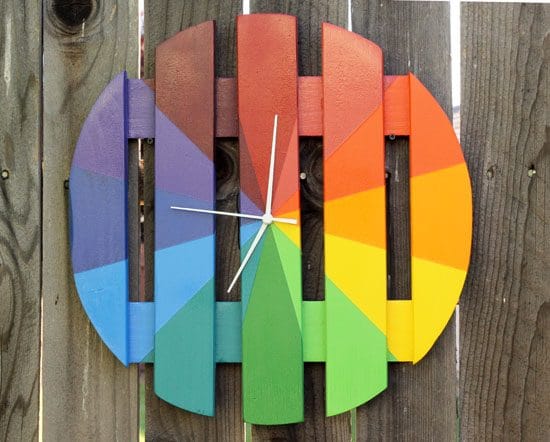 If you want your DIY wall clock to sit outside on the garden fence, there can be no better DIY than this- all you need is a plant stand with its castors removed, some paint and outdoor varnish to go.
30. DIY Holographic Clock
Made from inexpensive car vinyl, this gorgeous holographic wall clock with its pearlescent hues brings instant shine to the walls. Follow this DIY for the tutorial.
31. DIY Embroidered Basket Clock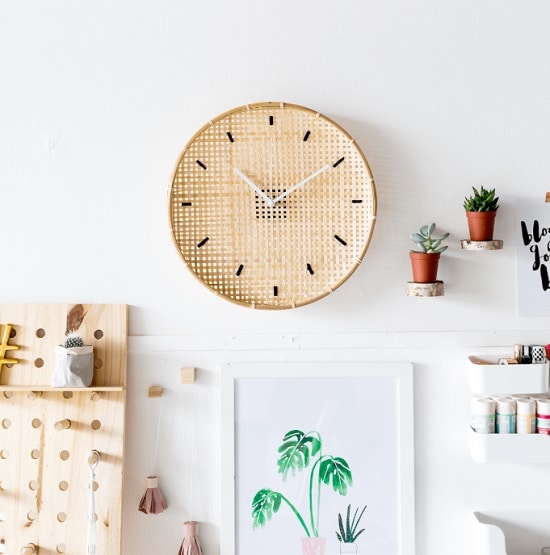 Here, the top lid of the basket acts as the face of a clock, and numeric markings are further embroidered in bold black yarn for the ultimate shabby chic effect. Get the look here.
32. Roman Numeral Clock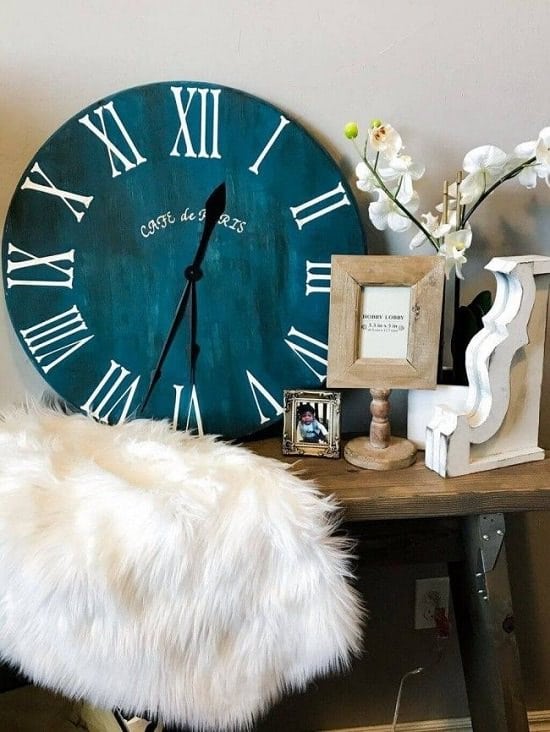 This simple yet elegant wooden wall clock derives it's from the rusticness of roman numerals and ombre paint. Make it yourself with these instructions.
33. Thrifted Clock Redo
With a pot lid and a wall clock, this DIYer created her own version for a fun and breezy look.
34. Photo Wall Clock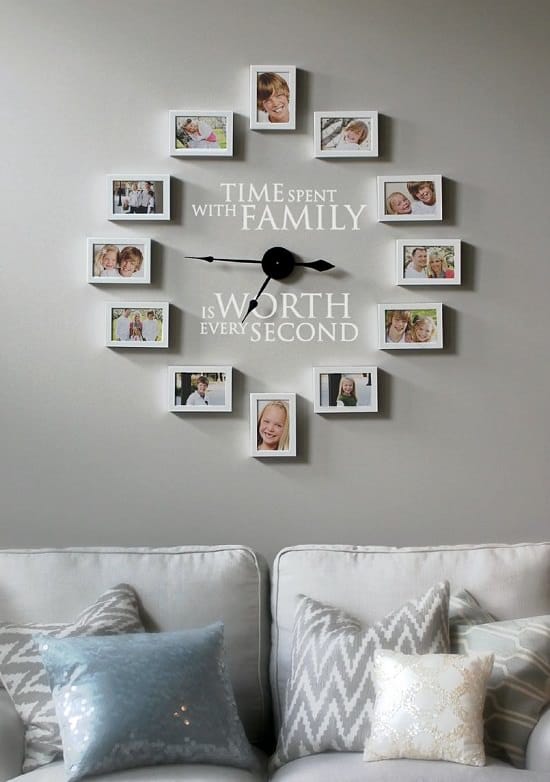 If you're among those that feel the time spent with loved ones are time well-spent, consider fashioning this wall clock. It's a great DIY project for beautifying narrow walls as it combines a photo gallery with clockwork.
35. Concrete Clock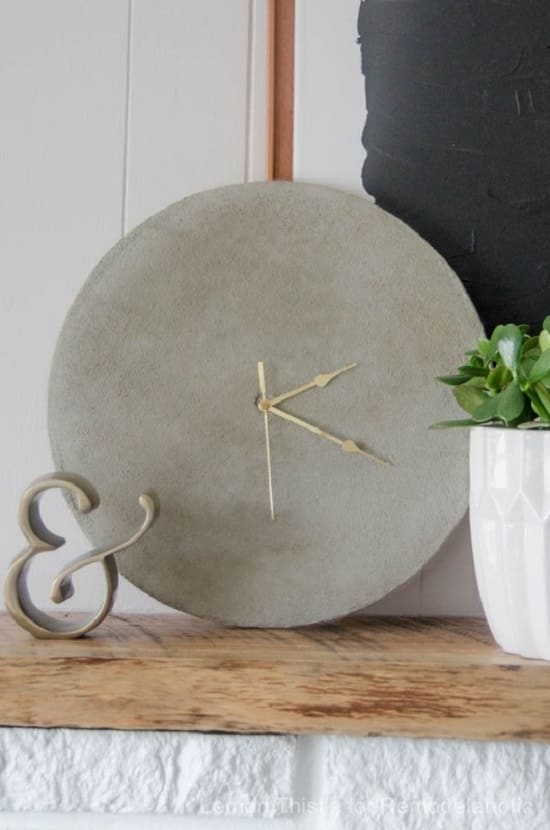 For those building enthusiasts looking to create a timeless wall clock, this DIY is the way to go. Plus, there are pro tips given to achieve an industrial concrete look sans the mold mess.
36. DIY Moon Clock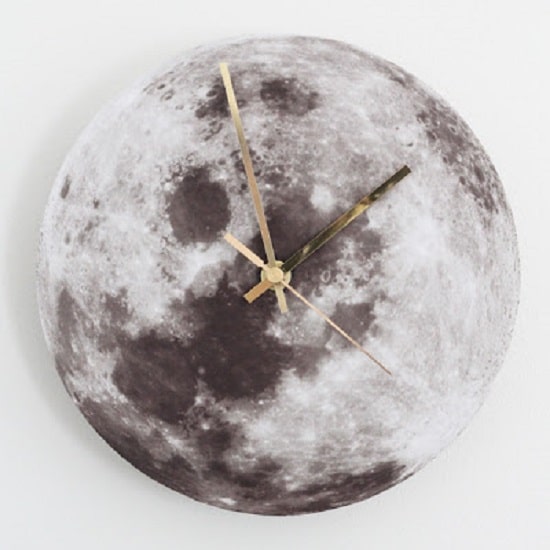 Don't get daunted by the marbled finish of this DIY wall clock. All you need is to get hold of a print of NASA moon image and half your work is done. Get further instructions here.
37. Personalized Photo Clock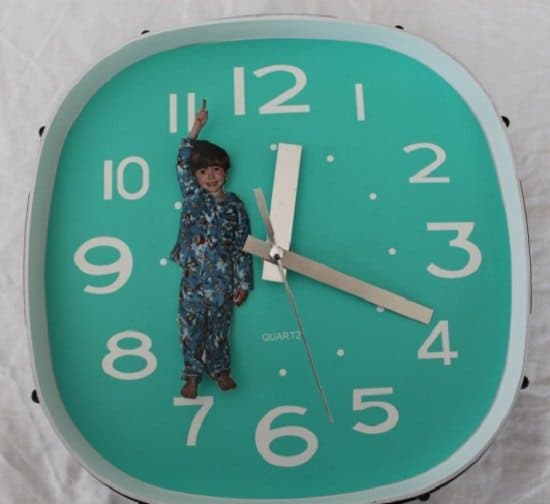 This DIY shows you how to add a fun twist to wall clocks with printed photos of kids. If you want to teach the tiny tots how to tell the time, this DIY may be a great way to start.
38. DIY Water Colour Wall Clock
39. Sliced Cake Wall Clock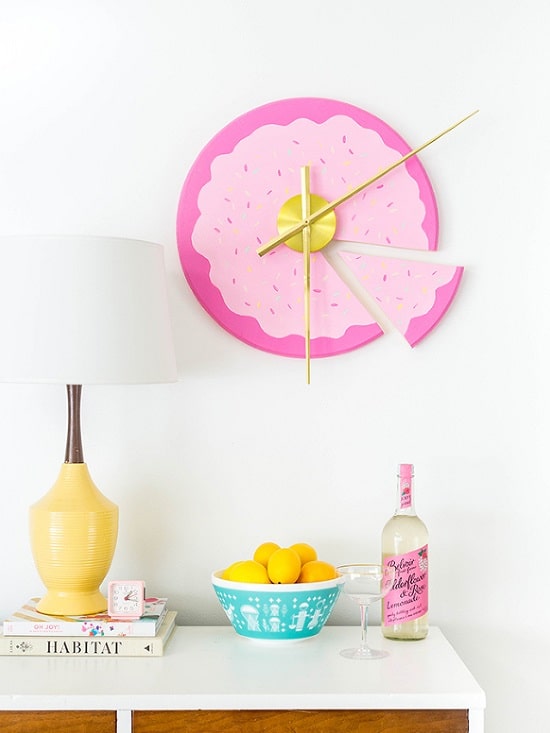 A great wall update for the kitchen or the children's bedroom, this pie-themed wall clock takes as much time to make as it takes to put food on the table. Here's the DIY.
40. Silverware Kitchen Clock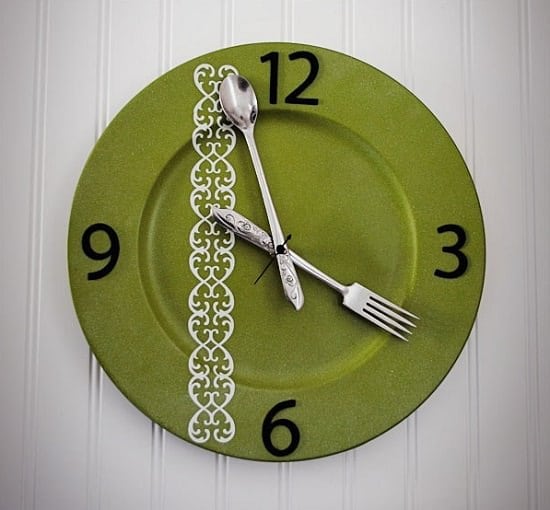 Making clocks out of antique silverware is probably the best way to showcase their intrinsic brilliance. Also, the possibilities of embellishment are limitless. Take a look at this DIY for inspiration.
41. DIY Penny Clock
Create a unique architectural appeal with copper coins for embellishment. The glossy overtones will make this DIY wall clock a perfect accompaniment for a mid-century-themed room.
42. River Clock
Inspired from the whole theme of how time passes by like a river, this intriguing wall clock DIY is a must for those who love creative projects.
43. DIY Wall Clock With Color Plate
Considering how much in trend is asymmetric these days, it would be a shame to opt for the boring round clock face, don't you think?
44. Wall Clock From Plastic Lids
This DIY gives new life to spare plastic caps by using them as embellishment for a fun DIY wall clock that infuses a quirky charm to the surrounding.
45. 3D Rainbow Clock
The premise of this DIY wall clock is simple-it uses a wooden disc as the clock face and color-coded numerals made by assembling matchsticks.
46. Old Wheel Cover Wall Clock
Integrate old car parts in your interior decor for a raw, utilitarian feel. This DIY wall clock salvaged from a car wheel is a great way to start.
47. Wooden Desk Clock
This uber-cool DIY is a definite must-try for those with advanced woodworking skills. And since there's a chance to experiment with size, you can have a unique piece for every room of the house.
48. Cutlery Kitchen Clock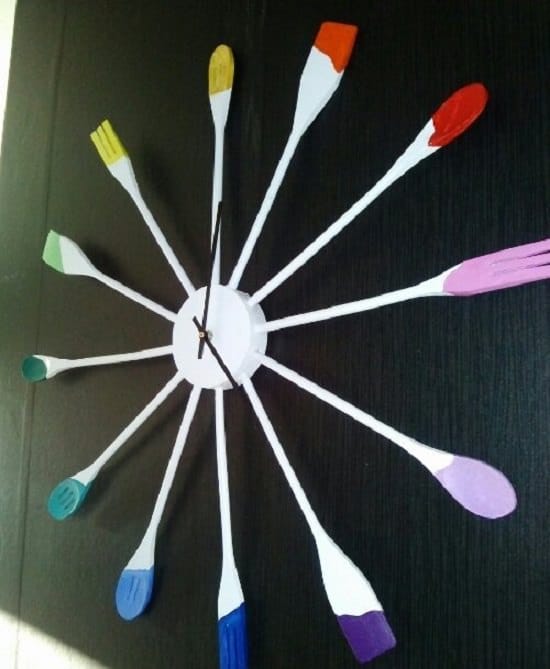 Made with scrap wood and kitchen tools, this $10 project is super fun to do and a perfect prop to hang on the kitchen walls. Get the details here.
49. Corkboard Lace Clock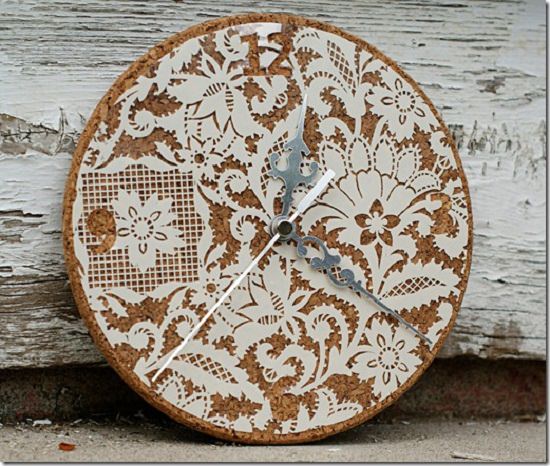 Corkboard and decorative paper are the real heroes of this vintage-themed wall clock that looks particularly good hanging by a shabby picket fence or window shutters. Here's the DIY.
50. Silly Walk Clock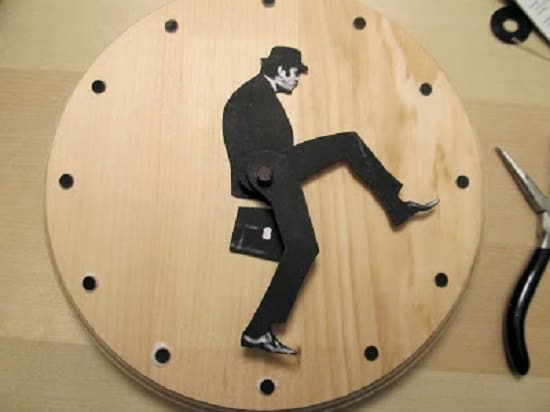 This cute and eccentric wall clock doubles as a great gift for Father's Day, one that is sure to put a smile on his face. Here's the DIY.
51. Goodwill Clock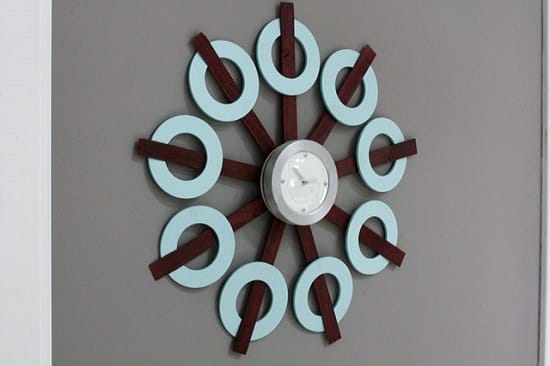 Restore the lost glory of old clocks with a glamorous update. This DIY uses wooden shims and floral hoops.
52. Watermelon Clock
The beauty of this project is that you opt for any base you like-from plastic to wood to paper, as long as you keep the watermelon theme constant.
53. Infinity Mirror Clock
When boring wall clocks don't quite fit your modern bedroom anymore, think twice before tossing them to the trash dealer. Take inspiration from this DIY and incorporate LED strips for a dazzling nighttime display instead.
54. DIY Spring Wall Clock
Erase traces of winter boredom from your living room wall with cheery canvas clock spruced up with painted flowers for a nice springtime feel.
55. DIY Walnut Wall Clock
Nothing exudes class quite like walnut wood. And the best part is there's no need for sanding and priming, just let its raw natural appeal do the talking.
56. Sheep Clock
Fun meets functionality in this super cute holiday-themed craft, one that your kids will be proud to hang on their bedroom wall.
57. DIY Plastic Bottle Caps Clock
String wooden skewers through colorful plastic caps for an interesting wall clock update brimming with texture and visual variety.
58. Pusheen DIY Table Clock
The next-gen version of paint, 3D pens can be a wonderful tool to create a more lasting version of a table clock with desktop usage as well. This DIYer chose the Pusheen cat caricature as the clock face.
59. DIY Globe Clock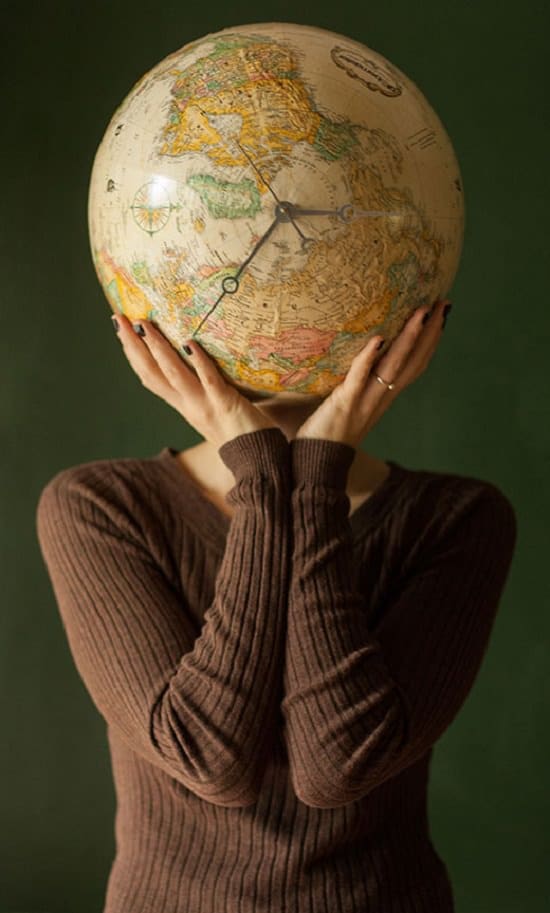 Only a genius could think of slicing a globe halfway around the equator and attaching clock batteries to the insides. The result is an awe-inspiring world map wall clock, find the DIY here.
60. Wooden Block Clock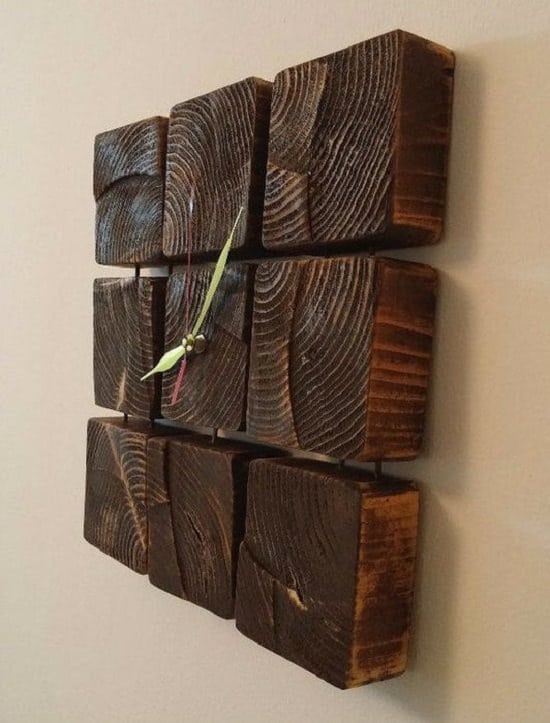 This DIY is all about sanding down and painting wooden squares before arranging them narrowly spaced apart for that curious floating effect.
61. DIY Vintage Book Clock Table Number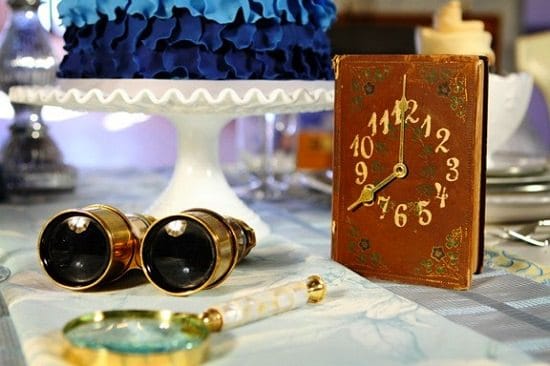 A nice tabletop accessory for midnight bookworm, this antique book clock provides a touch of uniqueness for weddings themed with clocks or books. Here's the DIY.
There are no limitations to one's creativity, and so, besides these DIY clock ideas, you can work up many other personalized formats and designs to craft a clock that'll suit your purpose!