These 31 DIY World Map Decoration Ideas are perfect for travel-inspired room decor themes.
1. DIY World Map Coasters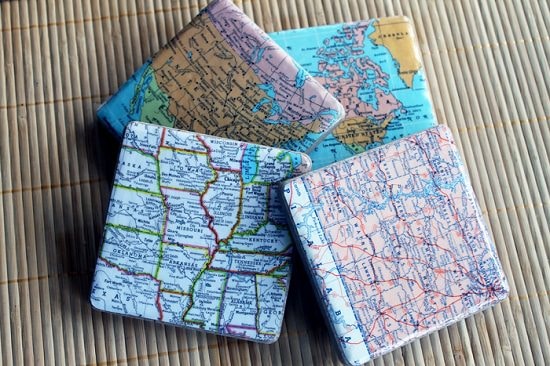 Revamp old tiles with maps and mod podge to create cute little coasters perfect for adding a personalized touch to the coffee table. Here's the DIY.
2. DIY World Map Shelf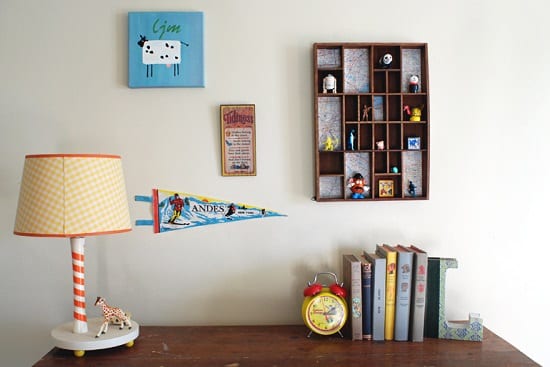 These wooden shelves are unique to look with an appeal that will never go out of style. Here's the DIY.
Also Read: 30 DIY Budget Home Ideas
3. Kitchen Command Center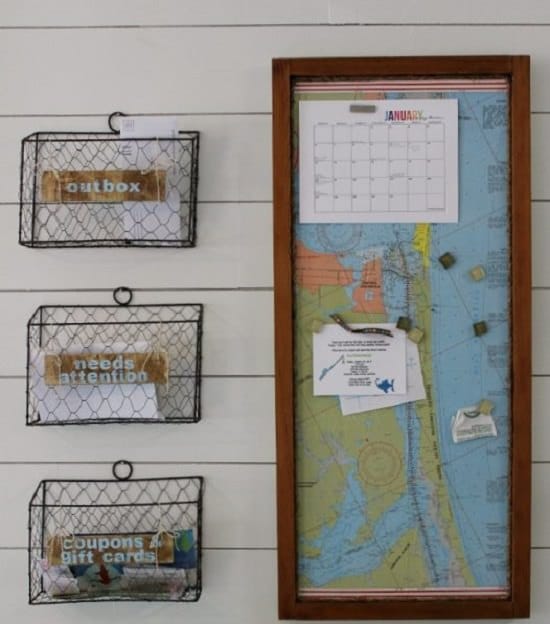 With its subtle blue-green color palette, a framed world map is the perfect canvas for writing kitchen commands. Get the details here.
Also Read: DIY Command Hook Ideas
4. DIY World Map Lantern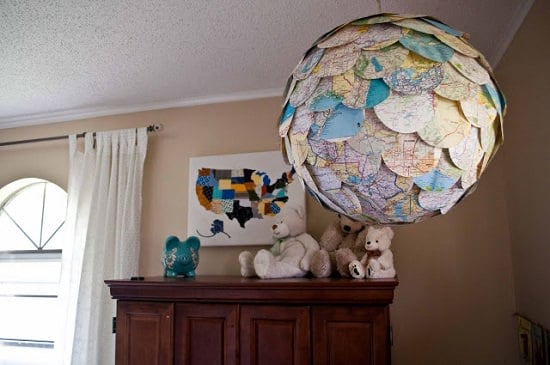 Wrap around a 22′ paper pendant with circular vintage maps collected from an antique store to create an eccentric-looking ball that gives off a wonderful warm glow at night. Here's the DIY.
5. Dino Map Headboard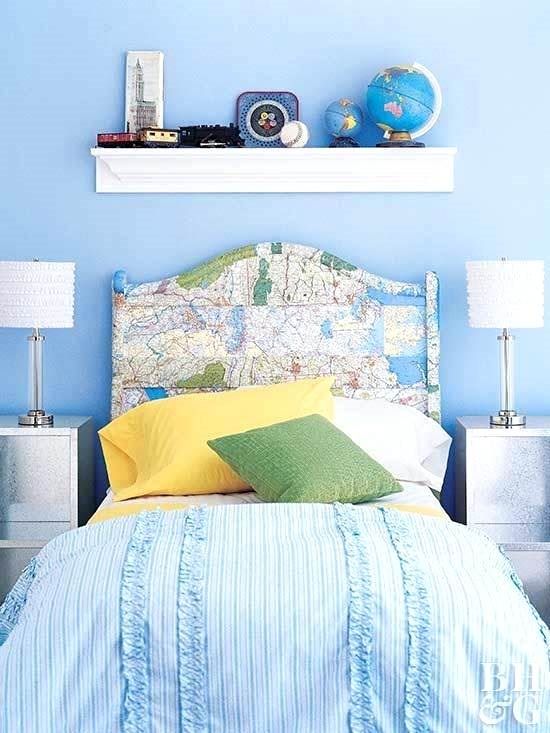 Easily adaptable to any bedroom decor, the printed map headboard covers the length from floor to ceiling and acts as the focal point in a children's bedroom. Get the tutorial here.
6. World Map Denim Floor Cushion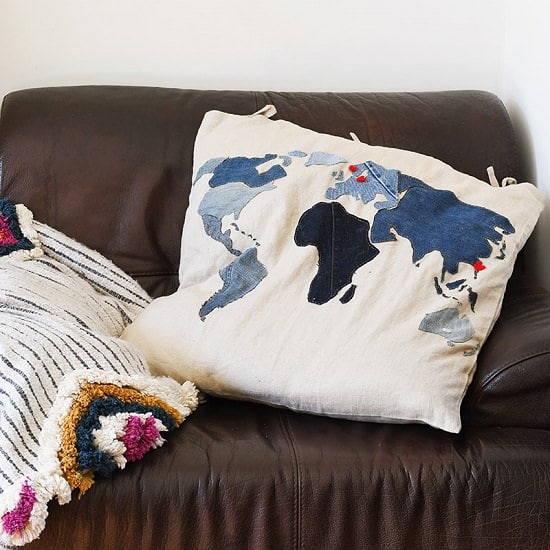 The look of linen combined with denim cutouts of world maps creates a farmhouse-style appearance perfect for giving a makeover to floor cushions. Don't forget to add red felt hearts to mark your favorite places. Here's the DIY.
7. Map Dresser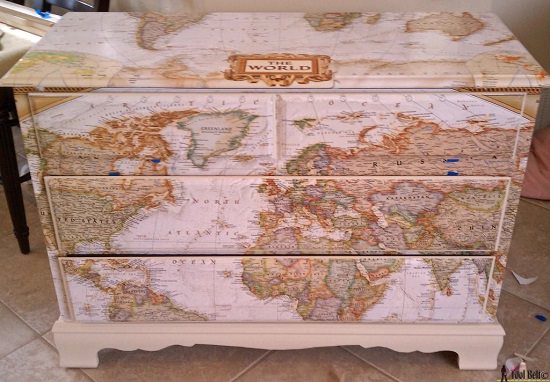 Giving a map-printed makeover to an old dresser table uplifts the room instantly with its quirky charm. Follow this DIY.
8. We Love World Map Art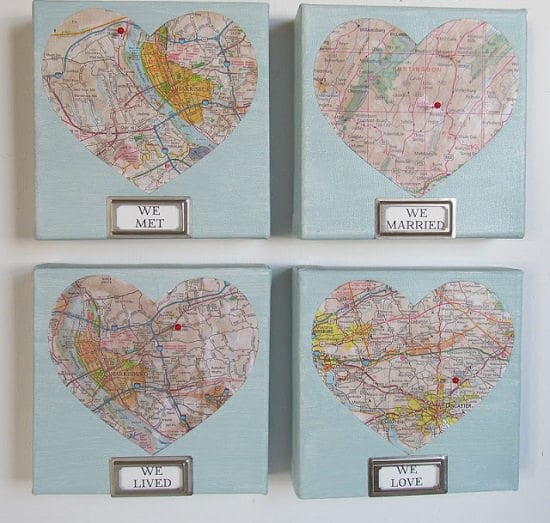 This heartfelt wall display uses map cutouts to tell the story of your love, right from the place you met to the place where your love flourished. The detailing is subtle yet strikes the right chords. Make it with this DIY.
9. Map Letters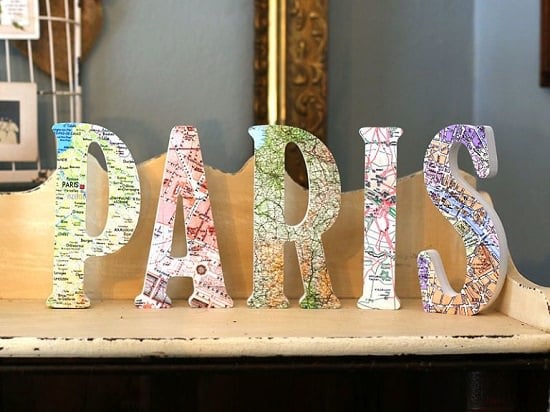 Print out maps of your favorite place and paste them on cardboard lettering to spell out your next travel destination in a shabby chic, tableside display. Get the DIY here.
10. Wall World Map Decor
If you're a travel freak, you'll enjoy this world map bedroom decor.
11. DIY Wall Clock with World Map
This world map-themed wall clock is easy to make by customizing old clocks with map printouts. Get the DIY here.
12. Paint a Map of the World
This paint a world map DIY art is unique and awesome!
13. DIY Reclaimed Pallet Wood LED World Map
Turn a boring piece of wood into a fascinating world map that glows! Here's the DIY.
14. Giant Wall World Map
The weather-beaten and aged look of old wooden pallets combined with the raw unfinished look of stenciled world maps gives a shabby chic charm to this wall display. Create one with this DIY.
15. DIY Cork Board Wolrd Map Art
A giant corkboard world map translates into endless possibilities; you can mark the places you have been or label those you intend to visit in the coming year. Follow this DIY for more inspiration.
16. DIY World Map Canvas
Sometimes, it's nice to experiment with a different color palette for your world map mural. Follow this DIY for more details.
17. Burlap World Map Wall Decoration
Drawing a world map outline on a burlap canvas gives you a rustic wall display with ample room to unleash your creativity. Get the details here.
18. DIY World Map 3-D Wall Art
You can try this 3-D world map wall decor in your home with the help of this video.
19. Living Room World Map Wall Paper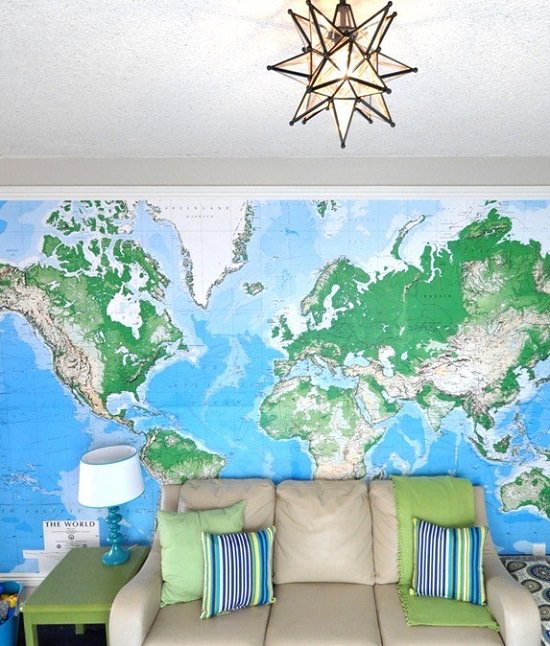 Print a giant world map to fit the size of your wall and prop a plush sofa against it to go with its vibrant blue-green color palette. What a unique way to tell the kids that the world has endless possibilities! Here's the DIY.
20. DIY Gold Leaf World Map Art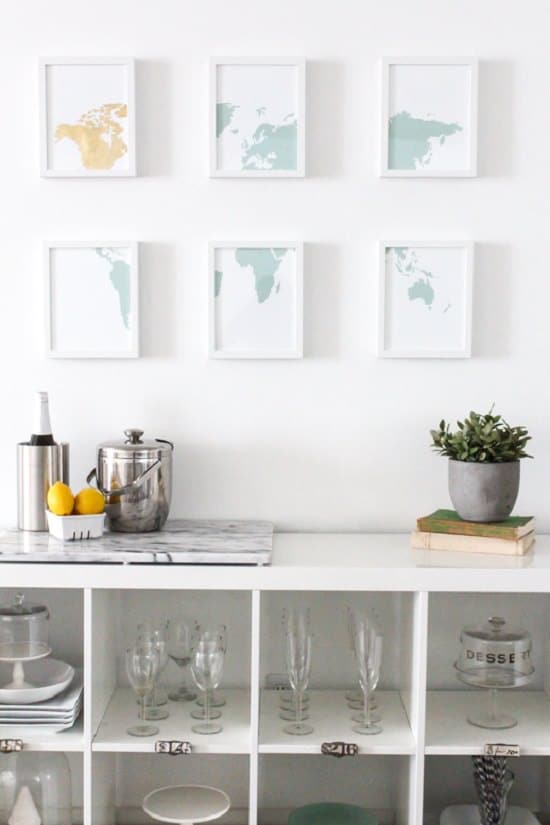 This DIY is so easy and the end results are fabulous- just print the same sizes of world maps, apply gold leaf over separate sections for each of them and frame them all. It's a subtle way to highlight the places you have traveled or want to travel.
21. DIY World Map Wall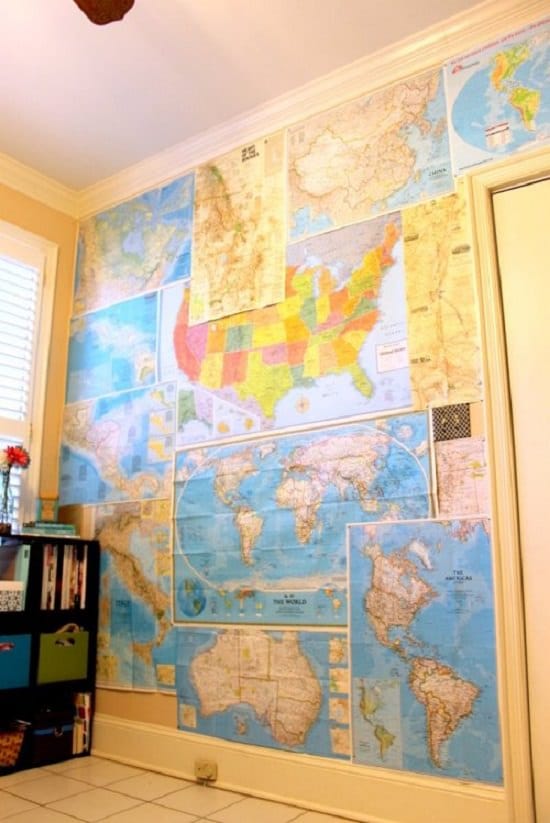 With some thumbtacks and the best world maps in your collection, you can create this lovely, travel-inspired wall mural to fill up your children's room and make geography lessons more fun. Follow this DIY.
22. World Mao Map Decoupaged Pots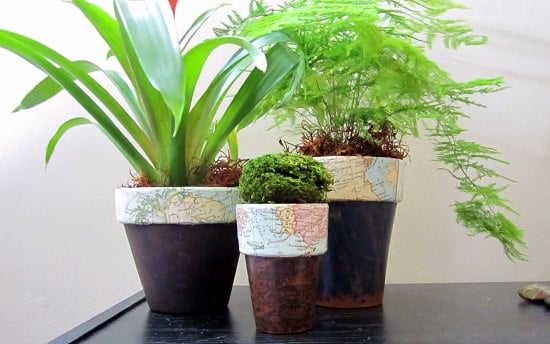 If you love gardening and traveling both, this is surely one of the best DIY world map decoration ideas for you–World Map Terracotta Planters.
23. World Map Table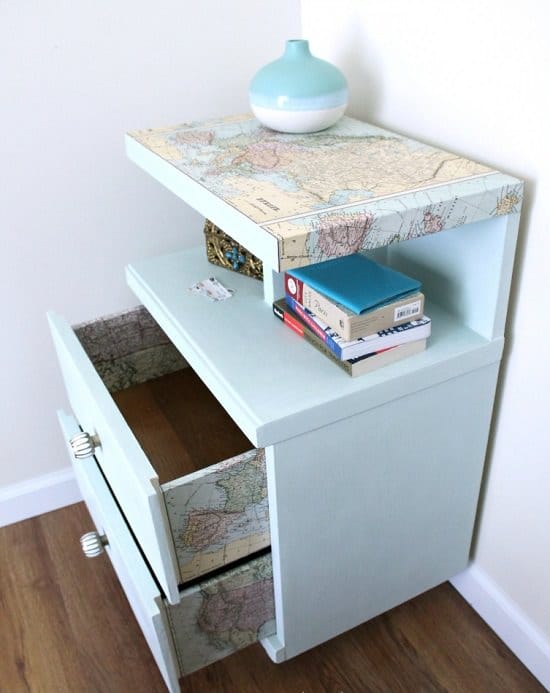 If you have a shoddy-looking bedside table that's actually too cute to get rid of, consider giving it an update with some fresh paint and map decoupage. This DIY gives you the details.
24. World Map Wall Panels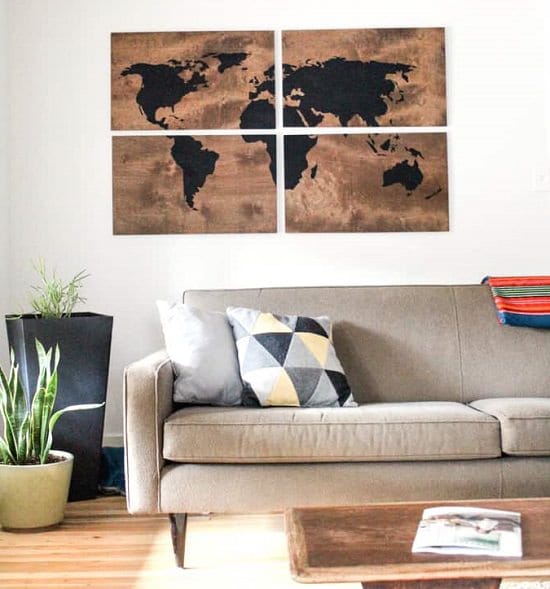 Using silhouette paper to create world map cutouts from contact paper is the craftier way to go. Using a sanded plyboard as the backdrop accentuates the look. Here's the DIY.
25. Black and White World Map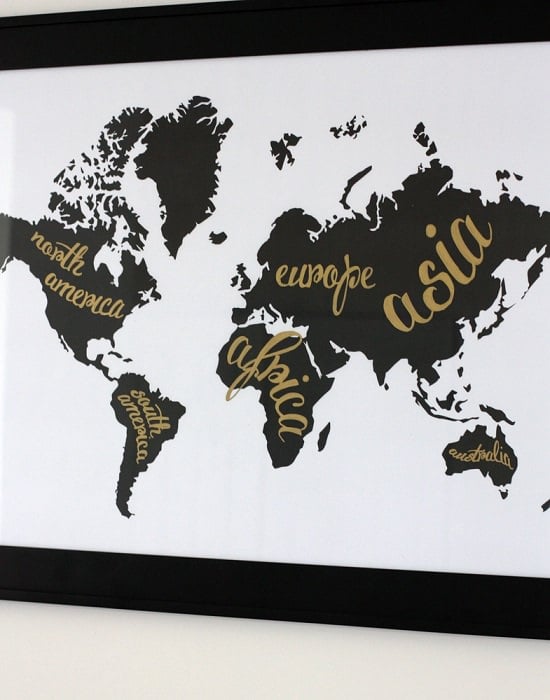 For a somber yet regal look, take inspiration from this DIY. With its black-and-white color palette, it's perfect for formal setups like a home office. Use sharpie markers to write the names in gold.
26. Frame World Map Table ART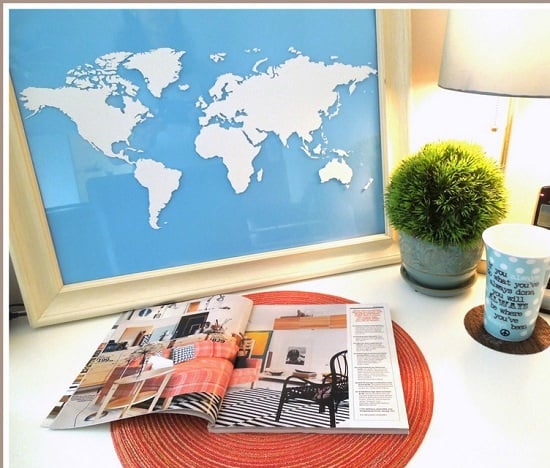 Make world maps with vinyl stickers in this super easy, ten-minute DIY project to modernize your home in a jiffy.
27. Resin & Wood – World Map wall art
For a timeless appeal, try etching world maps with resin on a wooden canvas. That way you have a fancy wall decal that will last. Follow this DIY.
28. DIY Travel World Map Pin Board
Flaunt your travel history with this cost-effective world map pushpin board. Make it with this DIY.
29. DIY $5 World Map Tapestry
World map drawn in patchwork tapestry patterns against a muted color backdrop adds a vintage flair to empty walls. Here's the DIY.
30. Metal World Map & Metal Wall Decor
The far-flung style of this metal world map assembled from nails and bolts makes it a great wall accessory to deck up your man cave. Here's the DIY.
31. DIY World Map Wall Nail String Art
Have colorful nails sprawl your world map drawing and rest it against a wooden block for typical, tribal-inspired wall art. Here's the DIY.