Keeping board games organized is no easy task but these board game organization ideas will help you keep the clutter at bay!
1. Board Gaming Tower Swivel Organizer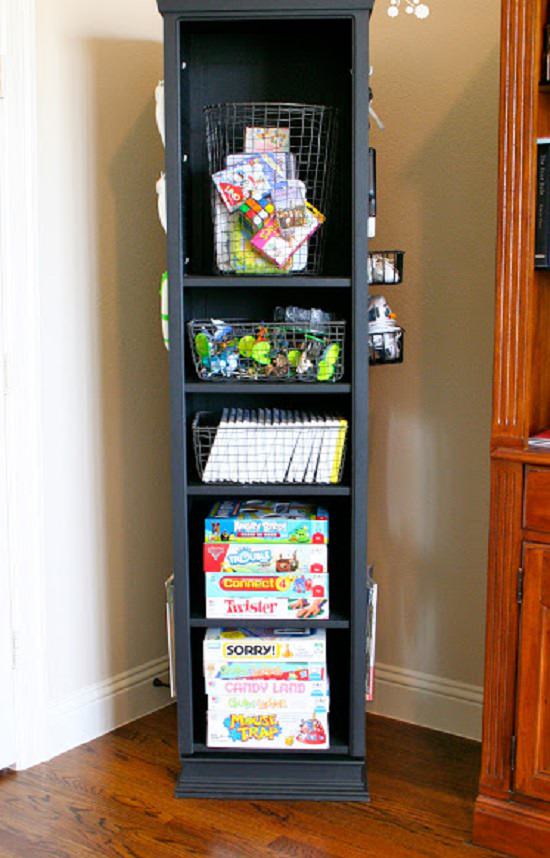 The idea of combining varying sizes of wire baskets and a multi-tiered shelving unit allows you sort play gear according to different categorizes like travel games, card games and so on. Here's the DIY.
2. Trapping Dice in Small Plastic Containers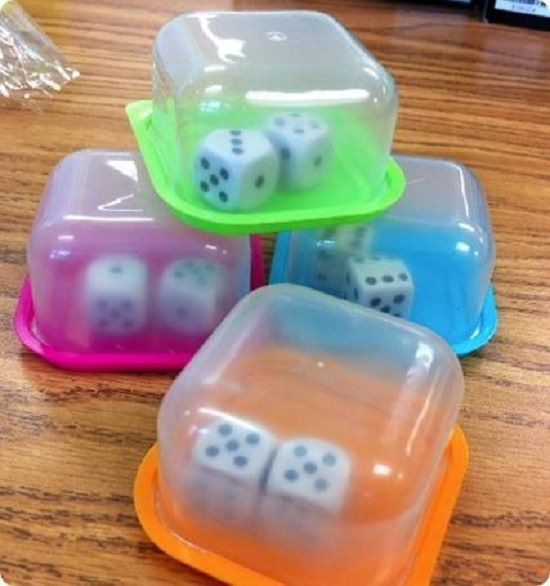 The trickiest part of storing games is when you have too many pieces to handle and all are small enough to fit in your palm. Well, these cute plastic containers can help. Get the DIY here.
3. Index Card Boxes Board Game Organizer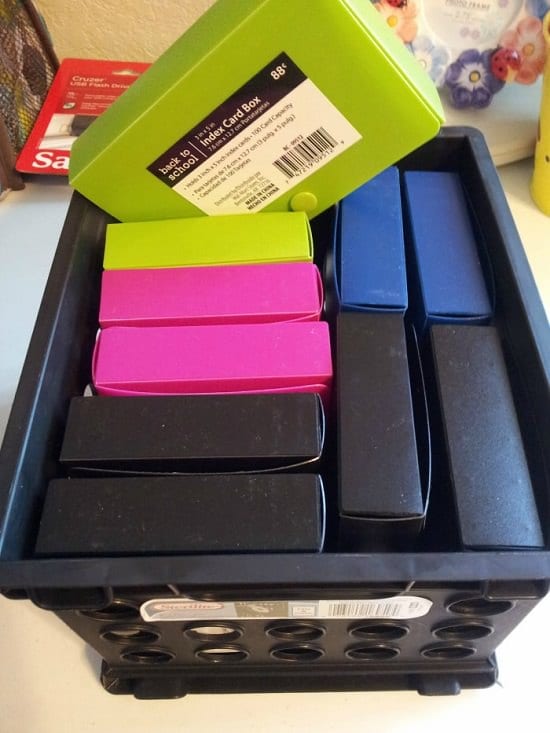 When you're challenged with the task of storing different sizes of board games while maintaining their form and function, try getting hold of some Index card boxes. Take a cue from this DIY.
4. Plastic Containers Board Game Organizer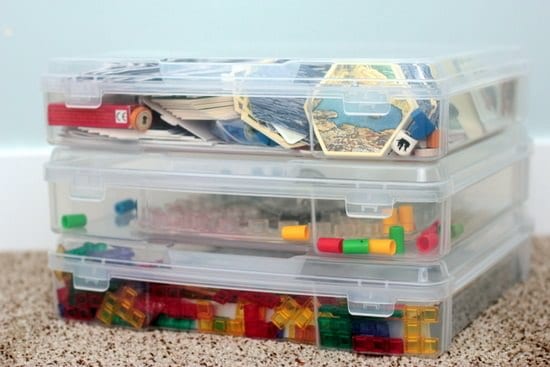 Clear plastic boxes allow the compact organization of your kids' play gear while showing off their colorful brilliance in a subtle manner. Here's the DIY.
5. Plastic Drawers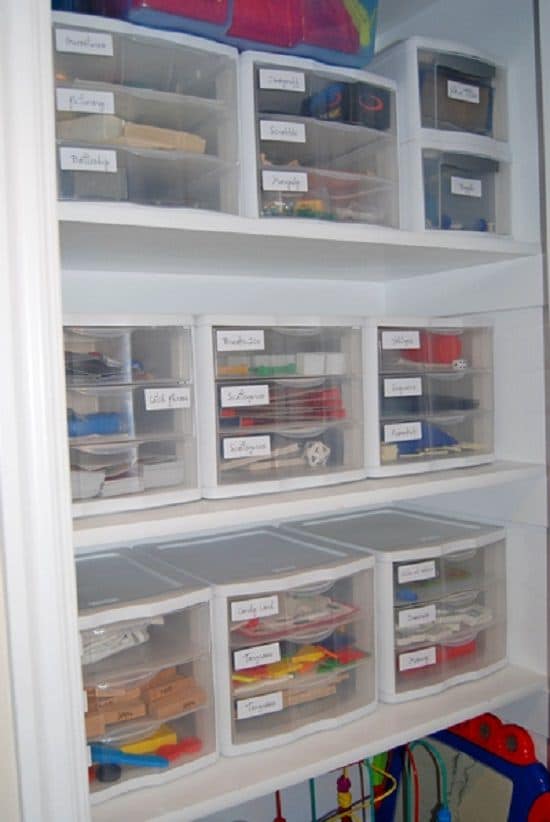 Perfect as a one-time investment, plastic bins allow you to create stable arrays of board games by simplifying the stacking process. Plus, they kind of look good in the closet as well. Follow this DIY for details.
6. Hanging Sweater Shelf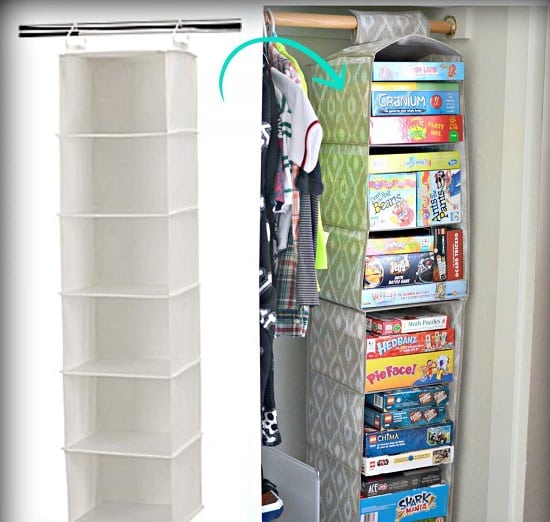 A hanging sweater shelf is an easily available storage solution for board games of all sizes. Get the full tutorial here.
7. Organized Board Games on a Shelf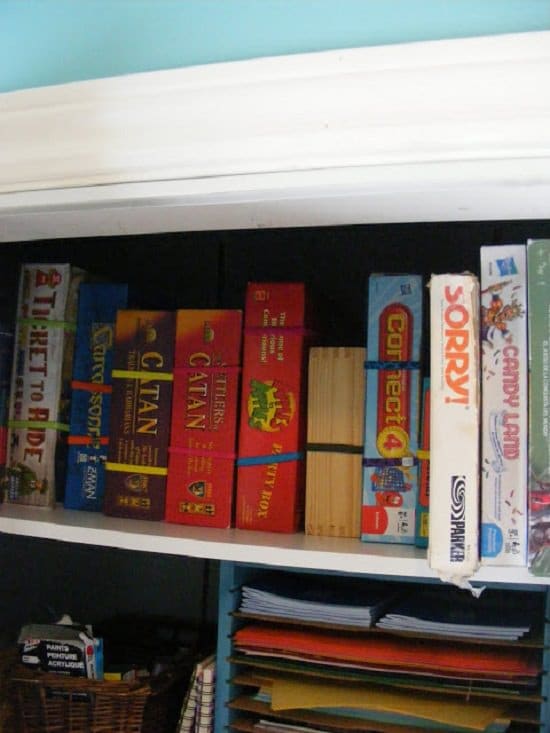 Get hold of some elastic headbands to wrap around your board game boxes and keep them upright in your closet without fearing about the lids coming apart. Get the DIY here.
8. Rolling Table Board Game Organized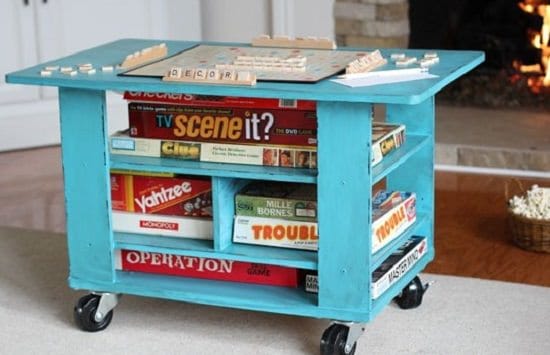 Get a tiny coffee table transformed into a portable flat surface for rolling games and assembling jigsaw puzzles. The storage underneath is an added plus! Here's the full hack.
9. Board Game Organization Ideas and Tips
Pop your board games in individual plastic containers and keep them neatly arranged inside drawers for cabinet storage. That way you'll never have to rest your hopes on sturdy stacking again.
10. Board Game Organization
Scrapbook cases are perfectly-sized to accommodate board games with plenty of extra room to hold all the pieces. Get a cost-effective hack in the video.
11. Adjustable Board Game Organizer
If you want to keep your children's board games out of the way yet accessible for the tiny tots, consider this adjustable wooden shelving unit. It's easy to create when you follow this tutorial.
12. Board Game Organization Ideas – Scrapbook Pouches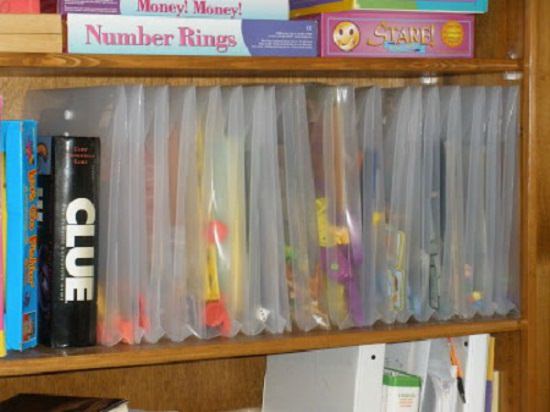 Using expendable polypropolene organizers for storing game pieces is a neat hack to maximize space utilization in forgotten corners like the area behind the sofa or under the cabinet. Here's the full DIY.
13. Repurposed Ladder Shelf Board Game Organizer
Screwing wooden blocks to the rungs enhances the utility of a ladder; paint and distress it further to obtain a rustic board game storage solution. Here's the DIY.
14. Wire Pan Rack Board Game Organization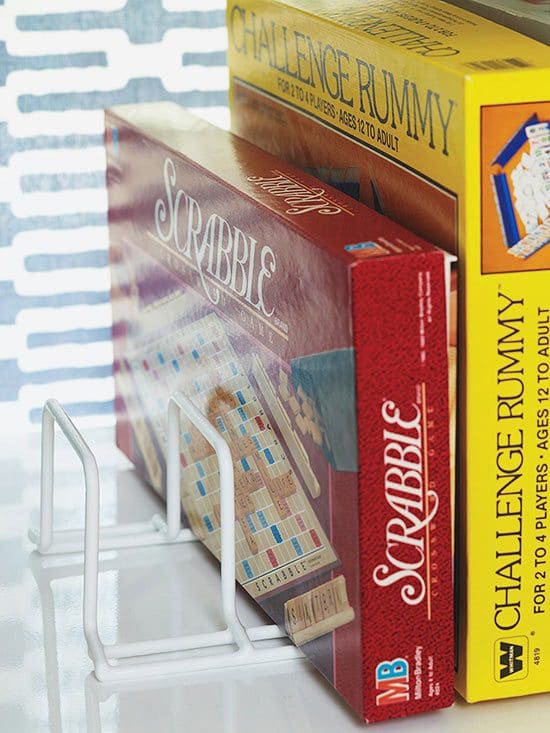 Coated with rubber, the wire pan rack has individual slots that will keep your kid's gear safe and easy to grab. Here's the DIY.